Man saves coyote pup in sweet rescue video New York Post (fury). The man is quite a character.
7 Ways Bees Continue To Amaze Us Popular Mechanics (resilc)
Survey of U.S. forests ties tree-killing insects to climate change NBC. UserFriendly: "LOL maybe 1 good thing about the bugpocolypse."
Carbon Pricing Is Not a Fix for Climate Change Scientific American. First, this is a straw man. I can't recall anyone treating carbon pricing as a magic one stop remedy. Second, then there needs to be a tax in advanced economies to reflect the proper pricing of carbon for imports and imported content from developing countries that won't impose carbon pricing. Mind you, this is only one element, and probably not the most critical one, to reducing carbon output (and a tax on exports won't address domestic use….) . Nevertheless, the article's position is tantamount to saying, "We can't afford to save the planet because developing countries need groaf" That is not an acceptable posture. It's those very same developing countries who are particularly vulnerable to climate-change-induced flooding and storms. They'll pay one way or another. Which poison do they pick?
Luxury ship enters Bering Strait, starts cruise on Russia's Northern Sea Route Berents Observer (Glenn F). FWIW, Silversea, which is a very upscale cruise operator.
David Keith's Carbon Removal Moonshot The Tyee (Mike R)
Modi's Independence Day speech: Call against single-use plastic can be a start Down to Earth (J-LS)
So how autonomous is 3D printed construction, really? SpaceFactory (guurst)
How Life Sciences Actually Work: Findings of a Year-Long Investigation Alexey Guzey (Bryan W)
China?
Pro-China nationalistic mainlander crowd insulting Hong Kong protesters by calling them "traitors" and "dogs", along with other Mandarin profanity. This is in Melbourne. #Melbourne#HongKongProtest pic.twitter.com/dMdrYR2slg

— Joshua Yakumangana (@joshyakumangana) August 16, 2019

Hong Kong Protestors Call for Disney Boycott After 'Mulan' Star Voices Support for Police Crackdown Hollywood Reporter (UserFriendly)

Trump Thinks He Is Winning the Trade War. The Data Tell a Different Story Fortune
Pacific islands will survive climate crisis because they 'pick our fruit', Australia's deputy PM says Guardian (Kevin W). Wowsers. A bit too obviously colonial….
Kashmir
Armed forces in Kashmir are detaining children and molesting women and girls amid a state-wide blackout, report claims Business Insider
Brexit
No-deal Brexit edges closer as key Tories refuse to back Corbyn Guardian (Kevin W)

Brexit: a loss of respect Richard North
New Cold War
The west has spent 20 years getting Putin wrong, and now it may be too late to get it right Independent
Big Brother is Watching You Watch
Trump Transition
What the next Democratic president should learn from the Trumpocalypse The Week (UserFriendly)

Appeals Court Narrows Injunction Barring Trump Asylum Restrictions Wall Street Journal
2020
Obama Cautioned Biden About Running for President: "You Don't Have to Do This, Joe" Vanity Fair (resilc)

Obama has taken active interest in Biden's campaign: report The Hill. UserFriendly: "Looks like someone is worried how Biden imploding will make him look. I see a Kamala endorsement in the future."

Bernie Sanders' Media Beef Is Legitimate, But the Press Can't Admit It Rolling Stone

The quiet death of the "white Bernie Bro" attack Carl Beijer (UserFriendly)

Bernie has been critical of Amazon's corporate practices and there are sporadic signs of discontent in the more than 5,600 contributions pic.twitter.com/BW0NZG8GHW

— Chris Zubak-Skees (@zubakskees) August 16, 2019

Tulsi Gabbard Gets Some Vindication Truthdig (furzy)

Warren's statements here are intentionally deceptive, crafted to paint a picture of Israel that lines up with the worst of neocon foreign policy. If she's willing to lie about America's role in occupied Palestine, how can we trust her to tell the truth about any policy? https://t.co/hZq0g9Scvv

— Plain Ol' Johnny Graz (@jvgraz) August 17, 2019

Trump is Losing Many of His 2016 Supporters Washington Monthly (resilc)
L'affaire Epstein. Boy, do I feel as if I have been played. Look at this diagram. And I insist you look before continuing with this text. Again, go here and scroll down to the large yellow diagram. See the hyoid and the other neck bones, as in the sum total of neck bones?
Now look yet again at the Washington Post account, which was one of the better earlier ones, on the initial Epstein autopsy. This is the first part of the headline: Autopsy finds broken bones in Jeffrey Epstein's neck. This is the top of the story:
An autopsy found that financier Jeffrey Epstein suffered multiple breaks in his neck bones, according to two people familiar with the findings, deepening the mystery about the circumstances around his death.

Among the bones broken in Epstein's neck was the hyoid bone, which in men is near the Adam's apple.
The story unambiguously says there more than one bone broken, as opposed to multiple breaks to the hyoid bone.
Go look at the diagram again. What are the other bones in the neck? The only other bones are all vertebrae, C-1 though C-7. What kind of force do you think it takes to break one of them versus the hyoid? Yet all the attention was directed to what it might mean to break the relatively thin hyoid, and not the spine. And I didn't even bother looking at what bones there are in the neck. Lordie. No wonder Espstein's attorneys aren't buying the medical examiner's findings. Google confirms my suspicions in 30 seconds:
Cervical spine injuries in suicidal hanging without a long-drop–patterns and possible underlying mechanisms of injury: an autopsy study.

The incidence of cervical spine injuries in suicidal hangings with a short-drop has been reported to be extremely low or non-existent. The aim of this study was to determine the frequency and pattern of cervical spine injuries in suicidal hanging.

METHODS: A retrospective autopsy study was performed and short-drop suicidal hanging cases with documented cervical spine injuries were identified. This group was further analyzed with regard to the gender and age of the deceased, the position of the ligature knot, the presence of hyoid-laryngeal fractures, and the level of cervical spine injury.

RESULTS: Cervical spine injuries were present in 25 of the 766 cases, with an average age of 71.9 ± 10.7 years (range 39-88 years). In 16 of these 25 cases, the ligature knot was in the anterior position. The most common pattern of cervical spine injury included partial or complete disruption of the anterior longitudinal ligament and widening of the lower cervical spine disk spaces, associated with absence of hyoid-laryngeal fractures.
https://www.ncbi.nlm.nih.gov/pubmed/24652079
And note these were still "short-drop suicidal hangings." According to the Wall Street Journal, the examiner didn't give any commentary:
In a brief statement, Barbara Sampson, the chief medical examiner in New York City, said Mr. Epstein's cause of death was suicide by hanging. She didn't elaborate further, saying she reached her determination after "careful review of all investigative information."
Perhaps the Washington Post account about multiple bones being broken was incorrect, even thought it came from two sources. That would make the obsession with the hyoid bone at the expense of the cervical vertebrae make sense. However, given that "broken bones" was in the headline, you would think someone would have asked for a correction if such a key point were wrong, particularly, as this discussion indicates, where that factoid takes you. That part of the account is still being treated as accurate with respect to the broken bones; The Hill replayed that part in its write-up of the medical examiner's findings on Friday.
Who Protected Epstein for Decades, and Why? Charles Hugh Smith
Our Fabulously Free Press
Twitter SUSPENDS Scaramucci for calling Trump 'the fattest President since William Howard Taft' Daily Mail (resilc)

Reported! Instagram to roll out special button letting users flag 'fake posts' RT (Kevin W). So what happens when right wingers (or Koch-funded trolls) flag every post on climate change as fake?
Gunz
Israel has thousands of young men who carry assault rifles. Why don't they commit mass shootings? Dallas News (resilc). Not a new question Michael Moore pointed out in Bowling for Columbine that there are a lot of guns in Canada too.
Customs and Border Protection Computers Are Returning After Shutdown NPR (Kevin W). Third world.
Powell orders media blackout for Fed staff Spectator (Scott)
Trump Recession Trend Is Going to Stick Bloomberg (resilc)
Wells Fargo Closed Their Accounts, but the Fees Continued to Mount New York Times (resilc)
Elon Musk says he wants to 'nuke Mars' and that he plans to make 'Nuke Mars!' T-shirts Business Insider (Kevin W). He needs to go back on his meds.
Class Warfare
Of course millennials are saying 'I don't' to wedding invites. We're completely broke Guardian (Dr. Kevin)

Farmers Reel After Sonny Perdue Mocks Them As 'Whiners' Amid Trade War Bankruptcies HuffPost (Chuck L)
Antidote du jour (Lawrence R courtesy the Pleasant Lake Protective Association). A milkweed bug: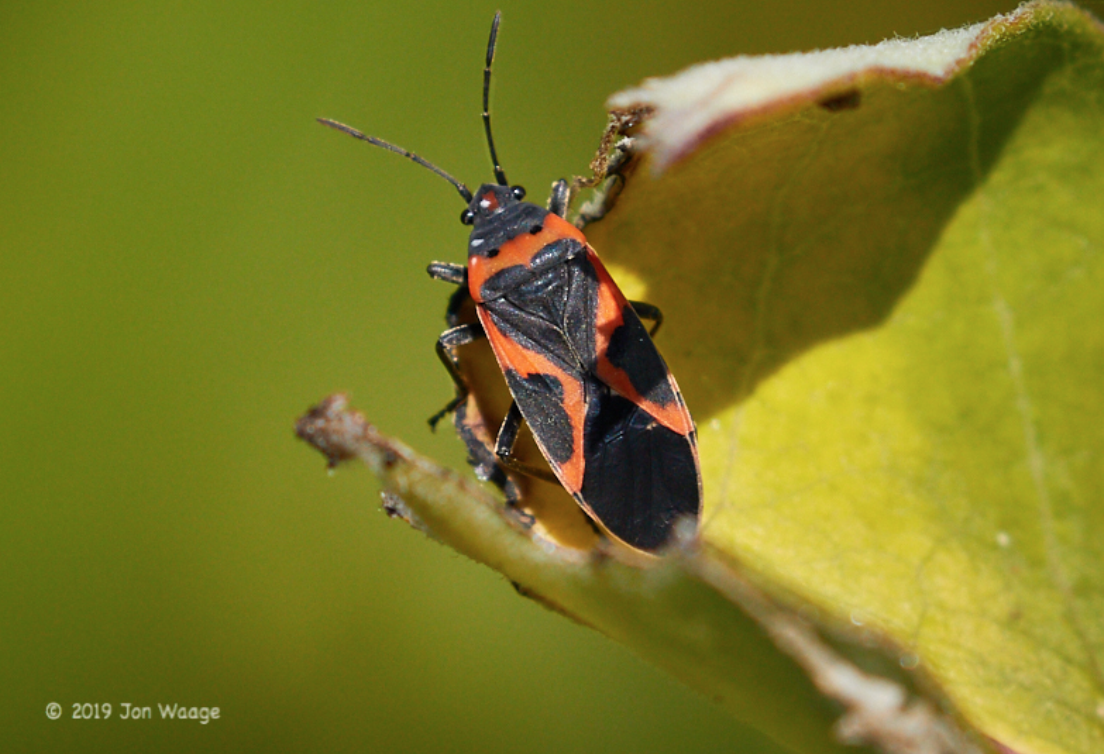 See yesterday's Links and Antidote du Jour here.