Forget "hygge." The most useful Danish word is "pyt" Quartzy
The Global Economy Lives in Wonderland Now Adam Tooze, Foreign Policy. Well worth a read.
Imperialism in the Anthropocene Monthly Review (AL). Thought provoking!
A Deluge of Batteries Is About to Rewire the Power Grid Bloomberg
Sites using Facebook 'Like' button liable for data, EU court rules Euractiv
Brexit
Syraqistan
From 2006 to 2019: after failures in Syria, Iraq, Palestine and Yemen, war is no longer an option for Israel Elijah J. Magnier
Pentagon Study Shows Violence Has Skyrocketed in Africa The Intercept. "The Moving Finger writes; and, having writ, Moves on….
The Koreas
Moon calls for 'peace economy' with N. Korea, slams Japan AP. When you think about it, a unified Korean peninsula would have at least one thing going for it that Japan does not currently have….
Amid growing diplomatic row, sales of Japanese cars in South Korea slump Japan Times
India
China
Strike grips Hong Kong as leader warns protests challenge China's sovereignty Reuters

Hong Kong shares tumble on trade war and protest worries Nikkei Asian Review

Hong Kong v. Beijing LRB. A must-read. Grab a cup of coffee.

The guerrilla must move amongst the people as a fish swims in the sea:

While buying a helmet at decathlon, an employee was kind enough to test it with a baseball bat à la Hong Kong police.

Second store employee today who was really nice to me (I was carrying around the tale-tell yellow hard hat) as I picked up supplies. 🥰

— Erin Hale (@erinhale) August 4, 2019

Protest Innovation (1). Thread:

Language development – in this case sign language – happens in real time, as the need arises. To ensure needed supplies reach them quickly, Hong Kong's protesters have developed a unique system of hand signals, to send messages through the crowd about what equipment is required. pic.twitter.com/1G5YTGhya0

— Incunabula (@incunabula) August 5, 2019

(IMNSHO, a continuous flow of creative tactics is a good sign of the health of any movement, although that's not a predictor of ultimate success.)

Protest Innovation (2):

Civil disobedience at its finest.🤣🤣🤣🤣

General strike in Hong Kong today, drivers in Tai Po are helping out by practicing their turning skills.#hongkongprotests #strike pic.twitter.com/Vb7kbEVJVP

— Denise Ho (HOCC) (@hoccgoomusic) August 5, 2019

Hong Kong: what next for China's halfway house? FT

Lessons From Moscow: How China Might Handle Hong Kong The Atlantic. Much less definitive than the headline suggests.

* * *

China Warming to Idea of Yuan as Trade War Weapon, Analysts Say Bloomberg
Mekong River at its lowest in 100 years, threatening food supply Thmey Thmey Media
Power outage hits Jakarta and Indonesia's Java and Bali islands UPI
Great powers jostle to buy, sell and woo Thailand Asia Times
Should Asia have a regional currency? Asian Correspondent
Trump Transition
How Trump's political appointees thwarted tougher settlements with two big banks The American Banker
El Paso Shootings
From The Department of They're Not Wrong, Are They?

Two U.S. mass shootings over the weekend once again underscore the problem of gun violence plaguing the United States.
Following is a chronology of the bloodiest and most notable mass shootings recorded in the United States in a decade: https://t.co/qNH1IypWG5 pic.twitter.com/lq06eORfUA

— China Xinhua News (@XHNews) August 5, 2019

'No Way To Prevent This,' Says Only Nation Where This Regularly Happens The Onion

Mexico vows to take legal action against U.S. after El Paso massacre NBC

James Comey: Mr. President, Please Take a Stand Against Racism James Comey, NYT. I have the distinct impression that the liberal Democrat hive mind began buzzing about "white supremacy" just when the RussiaGate storyline began to fade, at least on the Twitter. And here we see Comey skipping nimbly from the one to the other, rather like Eliza across the ice. Well played, all.

Terrorist Attacks El Paso The American Conservative

8chan Is a Normal Part of Mass Shootings Now Slate
Puerto Rico
Man Claiming to Be Puerto Rico's Governor Will Let Courts Decide Bloomberg. Seems legit.

Puerto Rico's governor is gone, but protesters say more change is needed CBC
Migration
'People are dying': how the climate crisis has sparked an exodus to the US Guardian

Amid Border Crackdown, White House May Shield Venezuelans From Deportation NPR.
The Dream of Open Borders Is Real—in the High Arctic The Nation (Re Silc).
Health Care
'Fox & Friends' Host Defends Obama, Says Former President and Biden 'Delivered Health Care in Remarkable Fashion' Newsweek. Unsurprisingly. ObamaCare was a Republican plan.
Black Injustice Tipping Point
How Watermelon's Reputation Got Tangled In Racism HuffPo. "But once [formerly enslaved Africans] were free citizens, watermelons provided a way to reclaim their lives and make money. They grew and harvested them, becoming vendors and selling them on street corners." Always follow the money.
Class Warfare
The age of wealth accumulation is over FT

Kentucky Miners Are Camped Out on Railroad Tracks, Blocking a Coal Train, Demanding Their Stolen Wages Labor Notes. @DSA stepping in to back workers in 21st Century Harlan County was brilliant optics. Oh, wait….
Artificial intelligence predicts which movies will succeed—and fail—simply from plot summaries Science. I suppose it's only a short time before this technology is weaponized for political narratives.
Antidote du jour (via). Leveling up my dog game: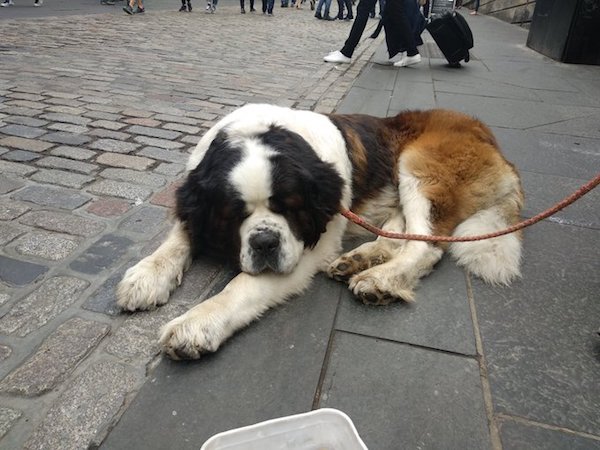 Bonus antidote. Legend:
Friday… pic.twitter.com/V984bGe1gr

— juan carlos rodri (@DireccionRodri) August 2, 2019
See yesterday's Links and Antidote du Jour here.