By Lambert Strether of Corrente
Trade
"Make Shoes in U.S., or Pay Tariffs? A Footwear Company Seeks a Third Option" [New York Times]. "'It's hard to imagine shoes and clothing coming back to the United States just because they are so labor intensive,' said Chad P. Bown, an international trade expert at the Peterson Institute for International Economics in Washington. 'What matters is wage costs. It's just cheaper to make those things in other places.' Even if tariffs succeed in forcing production back to the United States, Mr. Bown added, human beings are unlikely to secure the jobs. "The companies will figure out how to do the work with robots and technology,' he said." • Automakers haven't figured out how to make cars this way. Can shoemakers? Anyhow, since this company doesn't hire U.S. workers, why do I care? I mean, I'm sorry they're not getting rich, or as rich, on labor arbitrage in China or Vietnam. But not that sorry.
"The trade war is quiet. Smart money sees a chance to take risks" [CNN]. "After months of repeated escalation, the United States and China look no closer to hammering out a meaningful trade deal. But for now, at least, tensions look to be easing, not escalating. For investors, that provides an opening.
On Wednesday, Beijing said it had waived import tariffs on more than a dozen US goods — the first such exemptions since the trade fight began. They'll kick in on September 17, as US and Chinese officials prepare to resume face-to-face talks in Washington." • Mr. Market appears to agree, having flipped from Fear to Greed.
Politics
"But what is government itself, but the greatest of all reflections on human nature?" –James Madison, Federalist 51
"They had one weapon left and both knew it: treachery." –Frank Herbert, Dune
Alert reader dk (not to be confused with DK) is in the process of developing the following interactive chart:
And here is (are) the latest poll(s) as of 9/11/2019, 12:00 PM EDT: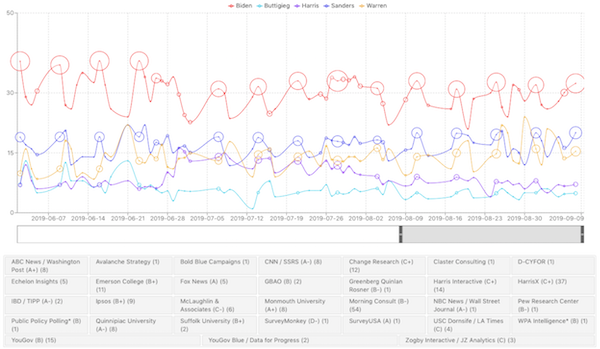 Morning Consult, the behemoth, weighs in. Biden up (32.39%), Warren (15.39%) and Sanders (20.03%) have exchanged the lead again, with Sanders stretching it out (if you accept an average of all polls with no "secret sauce" for poll selection). And the polling detail: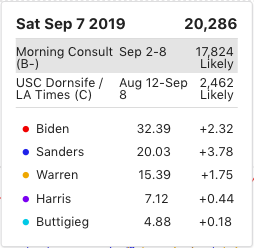 I think dk has started a really neat project, and in the near future we'll seek your feedback (within reason) for the tool "live."
UPDATE 2019-08-30: Now the polls aggregated (all available) are shown at the bottom of the poll. We also give more detail about each poll than RCP, and allow candidates to be selected or deselected. That's three reasons what dk is doing beats RCP, and if we can make the individual polls selectable/highlightable, that will be four reasons. With more to come, grid willing.
* * *
2020
Biden (D)(1):

Not the Onion:

Biden is Bartlett?

"I can tell you that no one in Washington comes as close to the fictional Bartlett as does Joe. Why? For one reason: He wants to do the right thing and has for his long record in public service." pic.twitter.com/0uuc3DI9e3

— John Batchelor (@batchelorshow) September 8, 2019

There really are voters for whom The West Wing is an ideal…

UPDATE Biden (D)(2): "California real estate billionaire George Marcus prepares to host Joe Biden for 2020 fundraiser" [CNN]. "Marcus, a billionaire megadonor who bundled more than $100,000 for Hillary Clinton in 2016, is expected to be the lead host at a lunch for Biden's return to San Francisco in the first week of October, according to people familiar with the matter….. The fundraiser signifies that Marcus is looking to dedicate his expansive donor network to Biden's candidacy for president. Beyond his previous assistance to Clinton, Marcus also hosted a fundraiser that featured former President Barack Obama in 2014."

Sanders (D)(1): "The Necessary Radicalism of Bernie Sanders" [Jamelle Bouie, New York Times]. • "Indeed, Sanders could probably go further [than his Workplace Democracy Plan]. … There is an opportunity, in other words, for Sanders or any other labor-friendly politician to give even more teeth to the right to strike, to dramatize exploitation through conflict and confrontation and to give labor the tools it needs to forge a path to a better world for people without the privileges of wealth or the power of capital." • I don't know what's come over the Times. First, Sidney Ember writes something on Sanders that isn't a hit piece; now this.

Sanders (D)(2): "Why you shouldn't count out Bernie Sanders" [CNN]. "I'm not sure what chance Sanders has of winning the nomination, but the national and early state polling suggest Sanders shouldn't be tossed aside as an afterthought. He remains a key player in this Democratic race. Sanders is at 15% nationally in an average of debate qualifying polls over the last month. That may not seem like a lot, but it's actually very close to Warren's 18% average. Sanders actually runs slightly ahead of Warren in a number of polls, including one released by ABC News/Washington Post this past weekend, in which Sanders was at 19% and Warren was at 18%. Importantly, Sanders isn't dropping. His 15% in national polls is what he's averaged basically all year with the exception of a post-announcement bump in March. Sanders is not like California Sen. Kamala Harris, who started in the single digits, rose after she announced, dropped, rose again after the first debate and then dropped a second time. Having 15% support is key because it means he's at the threshold to receive delegates in primary contests." • Dunno where this Warren at 18%, Sanders at 15% stuff comes from…

Sanders (D)(3):

College athletes are workers. Pay them. https://t.co/PNEefTbS2O

— Bernie Sanders (@BernieSanders) September 6, 2019

Sanford (R)(1): "Who's running Mark Sanford's presidential campaign? So far, it's Mark Sanford" [The State]. "The former South Carolina governor and congressman is banking on his own intuition to secure victories in primary states where he is eligible to compete, staffing his operation with a 'band of volunteers' with no expertise in his political history or experience running national campaigns. Further, Sanford says at this point he has no urgency to hire more seasoned political veterans to guide him…. 'It would call into question the seriousness of his bid,' said Kyle Kondik, the managing editor of Sabato's Crystal Ball — a prominent national political forecasting newsletter run out of the University of Virginia."

Trump (R)(1):

look at the pretty stasis ribbon https://t.co/VYidpO2J0k

— Ariel Edwards-Levy (@aedwardslevy) September 10, 2019

Averages conceal, however, in this case individual districts.

Warren (D)(1): "Elizabeth Warren is everything Hillary Clinton pretended to be" [Ryan Cooper, The Week]. From April, still germane: "As a presidential candidate, Warren's policy proposals are actually threatening to American oligarchs, and she evinces every intention of carrying them out as president. She wants to bust up corporate monopolies and oligopolies, and sharply regulate abusive tech platforms. She correctly wants to get rid of the filibuster, and has a decent proposal for guaranteed child care. She wants stiff tax hikes on the ultra-rich — a wealth tax on fortunes over $50 million, a larger one on those over $1 billion, and a 7-percent tax on corporate profits over $100 million. (In 2018, at least 60 Fortune 500 companies paid zero tax or even got a refund on tens of billions in profits, including titans like Amazon, IBM, Netflix, and Activision Blizzard.) Where Clinton mainly valued the appearance of being a policy wonk (remember the lavish articles about how she had rooms full of policy experts?), Warren is a genuine obsessive — and more importantly, values policy in terms of being able to improve the lives of the broad population, not just demonstrate her own competence. Currently Warren is bumping along somewhere around fifth place in most polls for the 2020 nomination, with about 6 percent support, which is surprising. ." • And now Warren is not fifth, but third, essentially because of the case Cooper makes here (for those who find it persuasive). Remember, there are voters for whom "a woman in the White House before I die" is paramount.
The Debates
"Here's What You Need to Know About the 2020 Democratic Primary Debates" [Elle]. "The third debate will be hosted by ABC News in partnership with Univision on September 12 in Houston, Texas, from 8 to 11 P.M. The debate will take place at Texas Southern University, a public historically black university. The moderators will be George Stephanopoulos, David Muir, Linsey Davis, and Jorge Ramos. [Candidates who will appear are]: Joe Biden, Cory Booker, Pete Buttigieg, Kamala Harris, Amy Klobuchar, Beto O'Rourke, Bernie Sanders, Elizabeth Warren, Julián Castro, and Andrew Yang. Notable people who didn't qualify, but you've seen on the debate stage before, include Tulsi Gabbard, Marianne Williamson, Michael Bennet, Steve Bullock, Bill de Blasio, John Delaney, and Tim Ryan…. This third debate is especially important considering it will be the first time all of the major 2020 candidates will appear on one debate stage at the same time."

"They Meet at Last: Biden-Warren Matchup Is Main Event in Debate" [New York Times]. "It's a highly anticipated matchup between the early front-runner, Mr. Biden, and a liberal standard-bearer, Ms. Warren, who has steadily climbed in the polls to challenge him. Mr. Biden is eager to stress his experience. And his advisers and allies suggested in interviews that, whether obliquely or overtly, he is prepared to seize on one of Ms. Warren's perceived strengths — her extensive and boldly progressive policy plans — and use that to accentuate his own record of liberal achievements despite the sometimes-challenging political realities in Washington." • The focus is on a contest between the candidate who leads, and the candidate who is third. Some horse race!
Obama Legacy
"Judicial Watch: New State Department Documents Reveal Last-Minute Efforts by Obama State Department to Undermine President Trump" [Judicial Watch]. • Interesting, but I want to know about "efforts" in October, November, and December 2016 (at the time of the "faithless electors" trial balloon).
Realignment and Legitimacy
I should put something together on 9/11, but I can't even. This is pretty much where I am–

UPDATE "The 9/11 Attacks Accomplished Every Goal That Osama bin Laden Wanted to Achieve" [Paste]. • Quintili Vare, legiones redde!

UPDATE "The generation that barely remembers 9/11" [The Week] • What I think they remember is that 9/11 was the day the adults lost their minds.

UPDATE "Liturgy is the Best Antidote to Identity Politics" [The American Conservative]. "So many theological and religious debates neglect the significance of the physical reality of collective worship. For the vast majority of believers, the weekly event is more important than any doctrine or pronouncement or even preaching. True, church attendance is often associated with staid village fustiness, sinister charismatics at mega-churches, and pleasing but empty smells and bells. Yet neither can the secular world offer anything more surprising and humbling than seeing a stranger kneeling before what we kneel before—especially one with whom we would not normally associate, who we might even avoid or deprecate. Stereotypes and prejudices are instantly demolished, even the ones we do not know we have. Suddenly the world and its people seem limitless in their possibilities. Nothing can do as much to break down barriers and let in new things, undoing what critical theorists like to call 'the Other.'" • Before you dismiss this, Arnade said the same thing, in his own way, in Dignity. I think DSA would do well to remember this. Because being in a congregation is the opposite of intersectionality, is it not?
Stats Watch
Atlanta Fed Business Inflation Expectations, September 2019: "Inflation expectations at the business level held unchanged… extending this year's extremely flat trend." [Econoday].
Producer Price Index (Final Demand), August 2019: "Sharp contraction in food and energy prices held down producer prices in August" [Econoday].
Wholesale Trade, July 2019: "The second estimate for wholesale inventories in July rose" [Econoday]. " roughly in line with the inventory build to keep the inventory-to-sales ratio in the sector unchanged at a favorable 1.36."
Retail: "It just got very hard for Amazon's online pharmacy to access patient medication data" [CNBC]. "Surescripts, a company that manages electronic prescriptions, said this week that it is ceasing its relationship with ReMy Health over a patient data dispute. That move has serious repercussions for Amazon-owned PillPack, which had a deal with ReMy that allowed it to access patient medication history collected by Surescripts. Now, PillPack officially has no clear way to access that data automatically and has to call the patient or their doctor. That's a highly manual process that might lead to errors." • Errors like people getting sick, or dying. But sure, let's run our pharmaceutical industry like cable fighting over a franchise.
UPDATE "Want to Do Business in Silicon Valley? Better Act Nice" [New York Times]. Venture capitalist Jason Palmer tweeted on why he passed on a deal: "We passed on @Altschool multiple times, mainly because disrupting school was a terrible strategy, but also b/c founders didn't understand #edtech." And the reaction: "Many said Mr. Palmer should be boxed out of future deals. A start-up founder funded by Y Combinator, an influential start-up training program and investment firm, flagged Mr. Palmer's firm to his funders: 'We might want to warn future edtech founders (YC or not) about their best practices,' Alex Bouaziz wrote on Twitter.'" • Lol, it's almost as bad as how DNC treats challengers to incumbents. Perhaps this is why Silicon Valley and liberal Democrats have formed such a bond.
UPDATE The Bezzle: "Equifax claims administrator says victims must provide more info to claim cash" [Ars Technica]. "[U]nless there are fewer than 240,000 claimants—unlikely, given that about 147 million people were affected—nobody's getting $125. You may, however, still get something if you fill out the required information before the deadline." • That something being "the free credit monitoring." Nice work from the FTC on this settlement. Equifax screws you over, and you get compensated by getting further enmeshed in their buggy, insecure system.
The Bezzle: "Uber Undone" [The Baffler]. "Kalanick, who Waymo considers to be something of an unindicted co-conspirator, is the name at the center of the cork board, to whom all the strings of Uber's sprawling improprieties and disasters can be traced. He urged Uber to ignore local taxi commission rules, presided over the creation of a software designed to fool city regulators, rejected any meaningful financial oversight, and built a corporate culture that became globally renowned for its callous treatment of its workers. Silicon Valley began this decade as the bleeding edge of the American economy, where new technologies were said to be building a better future for the whole planet. By its end, the American tech industry will be largely viewed as the labor-destroying, profit-hungry behemoth that it truly is. While Facebook's inadvertent election-rigging and Google's near-monopoly on digital advertising might draw more attention as the culprits behind that pendulum swing, it is Uber's Randian capitalism that most transparently lays bare Silicon Valley villainy. And even from outside the C-suite, from which he was ejected in 2017, Kalanick remains its smug, unapologetic face."  • "Unindicted co-conspirator." Great idea for a T-shirt. A very expensive one.
The Bezzle: "How does an autonomous car work? Not so great" [WaPo]. This is one interactive that actuall works; I just let the robot car roll and do random stuff. Here's a paragraph, where the car stops because there's a kangaroo in the other lane: "Yes, but the car had no idea what it was or what it would do. Despite how much engineers train their self-driving cars, there's always the possibility they'll encounter something unexpected. For example, Volvo tested its vehicles' Large Animal Detection System in areas with mooses, but, during a 2017 test in Australia, a car detected a kangaroo and was confounded by its unusual hopping habits." • It seems like the press is belatedly (see NC at 2016-09-29, 2016-10-03, 2016-10-20, and 2016-10-30)realizing that robot cars are an enormous Silicon Valley scam. The billionaires won't be able to depend on them to drive to the adjoining bunker!
UPDATE The Bezzle: Another start-up hellscape, PodShare:
Their own cover photo makes it look like hell pic.twitter.com/RQNtPPiWcv

— Mike Prysner (@MikePrysner) September 10, 2019
Looks like the staging for a Brecht play. Why are the Founders smiling? PodShare's labor practices:
¯\_(ツ)_/¯ pic.twitter.com/JTr3gWqYXZ

— Original Tweeter wants a #HomesGuarantee (@SteveDucey) September 10, 2019
Tech: "Apple Finally Confronts Its Growth-Starved Reality" [Bloomberg]. "With its most important product category not growing anymore, Apple Inc. on Tuesday confronted its changing circumstances by doing two unusual things: hustling hard and displaying a willingness to change its business model. The hustle is all about Apple's willingness to do something against its nature: go wide in the number of devices and internet-tethered products it offers…. Apple now has at least three different iPhone models that it refreshes every year, a dizzying number of iPad and Mac versions, many flavors of computers for the wrist, multiple headphones, a voice-activated speaker, smartphone cases, iPad keyboards, and a growing number of online collections of video entertainment, video games, news and much more. The potential downside of this explosion of products is that some of them may not be very good or in demand." • Steve Jobs was a brilliant editor. That seems to be gone, now. The iPhone is Apple's cash cow. Soon it's going to turn into a dog. What then?
* * *
Today's Fear & Greed Index: 57 Greed (previous close: 55, Neutral) [CNN]. One week ago: 28 (Fear). (0 is Extreme Fear; 100 is Extreme Greed). Last updated Sep 11 at 12:03pm. Note that the index is not always updated daily, sadly. Back to normal!
The Biosphere
"Veterans with PTSD, anxiety turn to beekeeping for relief" [Associated Press]. "Researchers are beginning to study whether beekeeping has therapeutic benefits. For now, there is little hard data, but veterans in programs like the one in Manchester insist that it helps them focus, relax and become more productive. The programs are part of a small but growing effort by Veterans Affairs and veteran groups to promote the training of soldiers in farming and other agricultural careers….. Similar stories have been heard from beekeeping programs from Brockton, Massachusetts, to Reno, Nevada. Those running the programs said there is plenty of anecdotal evidence that beekeeping is making a difference for those who spend time managing hives and harvesting honey. Beekeeping gives them a sense of purpose, helps them relax and allows them to block out dark thoughts, they said." • Honeybees respond well to calm, I think.
"Want More Energy and Less Climate Change? Plant Trees" [The American Conservative]. "[T]rees are central to any plausible plan for reducing greenhouse gases…. [In the] words of the U.S. Forest Service, "Forest ecosystems are the largest terrestrial carbon sink on earth and their management has been recognized as a relatively cost-effective strategy for offsetting greenhouse gas emissions…. So if we wish to rally as many people as possible to the cause of sequestering CO2, we should wish to plant as many trees as possible." • You can also plant trees, either as a guerilla aborists, or on land (if you have it). Tomatoes, that is annuals, are the gateway drug for gardening, but if you've just started gardening, plant trees at once, because that way (with nut trees, say) you'll have trees in five years. Don't be like me, and figure out that you need to think about the canopy after five years of thinking only of beds. Then you won't have trees until ten years!
Water
"As the Elwha River makes a comeback, beavers return and the wood chips fly" [Seattle Times]. "Beavers are back. It's not hard to tell. The signs are everywhere: felled trees and branches, with telltale tooth marks. Soft sedge meadows dimpled with belly tracks from beavers hustling to and fro. And in thickets of young alder and willow — a 24/7 beaver cafe — multiple dams, built in a side channel of this reborn river. The dams are subtle, just sticks pushed into a row, bank to bank, and a bit of mud. But the dams do the trick these genius eco-engineers are so good at, creating pools to ease their travels by swimming, rather than walking, to their favorite snack spot. Created in the making of their dams, too, is a boost for salmon: These pools are perfect spots for juvenile salmon to rest and feed…. The intertwined lives of beaver and salmon emerging here is one more sign that the ecosystem-scale restoration of the Elwha, with the world's largest-ever dam removal project, begun in 2011 and completed in 2014, is taking hold."
Groves of Academe
"Lawsuit claims former UIUC professor assaulted, bullied and raped multiple students" [Capitol Fax]. From the lawsuit: "Hanging over the entire relationship was the huge power imbalance between them. She was his student. He could fail her, drop her from his course. She could lose her F1 student visa status and be forced to leave the country if she displeased him. ….
Guillotine Watch
The excellent Francine McKenna. Thread:
KPMG's David Middendorf requests no jail time for his conviction on conspiracy and wire fraud charges related to theft and use of inspection data from his regulator. He says his "history and characteristics weigh against a custodial sentence."

— Francine McKenna (@retheauditors) September 10, 2019
Class Warfare
"Is Meritocracy to Blame for Our Yawning Class Divide?" (review) [Thomas Frank, New York Times]. Reviewing Daniel Markovits' The Meritocracy Trap: "in other ways Markovits doesn't go nearly far enough. When he squares off against the meritocratic elite, he keeps pulling his punches, assuring us that its members' educational credentials really are excellent, that their skills are real and that they work extremely hard. At times he even seems to lament the psychic toll that all that work takes on our white-collar professionals, as though one might simply persuade them to give up their system of privileges. A more resolute critique would zero in on the fraud and folly and hubris that always seem to accompany the deeds of the best and the brightest. A fuller account of the last real-estate bubble and the global financial crisis would have been helpful here; or the story of the Wall Street bailouts, when one set of high-achieving professionals simply forgave the sins of another; or a comprehensive discussion of the 2016 presidential election, when the Democratic team of geniuses managed to lose to the most unpopular presidential candidate of all time…. we have this book, which forcefully interrupts the comfortable bath of self-flattery in which our well-graduated professionals pass their hours." • Like I said, I don't know what's come over the Times; they took Thomas Frank off the black list?!
"California church leaders charged with forced labor of homeless, US attorney says" [CNN]. "Imperial Valley Ministries leaders recruited people by promising food and shelter, and instead forced them to beg for money for nine hours a day, six days a week and to give up their welfare benefits 'for the financial benefit of the church leaders.' prosecutors said in a news release Tuesday that announced the indictment had been unsealed."
"Trump pushing for major crackdown on homeless camps in California, with aides discussing moving residents to government-backed facilities" [MSN]. "Administration officials have discussed using the federal government to get homeless people off the streets of Los Angeles and other cities and into new government-backed facilities, according to two officials briefed on the planning. But it is unclear how they could accomplish this and what legal authority they would use. It is also unclear whether the state's Democratic politicians would cooperate with Trump, who has sought to embarrass them over the homelessness crisis with repeated attacks on their competency. Among the ideas under consideration are razing existing tent camps for the homeless, creating new temporary facilities and refurbishing existing government facilities, two other officials said. The officials spoke on the condition of anonymity because the planning hasn't been publicly revealed. The changes would attempt to give the federal government a larger role in supervising housing and health care for residents. The talks are fluid and concrete plans had not been reached." • California is a one-party state controlled by Democrats. And they gave Trump the opening.
"The Next Wave of Labor Unrest Could Be in Grocery Stores" [In These Times]. • A compilation of strike moves in the Pacific Northwest, California, and (earlier this year) New England.
News of the Wired
"TakNet: A Community White Space Network" [Adisorn Lertsinsrubtavee, intERLab]. "Plenty of spectrum allocated to TV broadcasting is currently idle, specially in rural areas of developing countries." • An interesting idea. I wonder how relevant this would be to the United States.
"We tested a messaging app used by Hong Kong protesters that works without an internet connection" [Abacus]. "Telegram has proven the most popular communication app in the "be like water" toolkit of the leaderless protest movement, helping with spontaneous road blockades and adapting to quickly-changing conditions on the ground. But Hongkongers are also looking into other options, and one of them is messaging app Bridgefy. The app received a sudden surge of downloads over the past two months in Hong Kong, according to Apptopia. The most attractive feature of Bridgefy is that it works without the internet, instead relying on Bluetooth to create a mesh network. Bridgefy's co-founder and CEO, Jorge Rios, told Forbes last week that the app is usually downloaded for mass events when there's a chance that the internet will be spotty. This could mean a large sports game or a big concert… or a mass pro-democracy movement." • Hmm.
"Robert Frank's Curious Perspective" (R.I.P. Robert Frank) [The Smithsonian]. Of Frank's frame-shattering The Americans: "Motorcycles and racial divisions are among the motifs that help to unify The Americans, along with jukeboxes, crosses, televisions, luncheonettes, cowboy hats, fedoras, cigars, highways, the old and the young, lonely offices, huge automobiles, run-down parks, blowhard politicians and American flags. Frank observed all of these things during years of cross-country wanderings, funded partly by the Guggenheim Foundation. He had stated on his 1955 grant application that the project would be driven by "what one naturalized American finds to see in the United States that signifies the kind of civilization born here and spreading elsewhere." Frank, who celebrates his 84th birthday this year and who long ago moved on to making films, videos and images that combine photographs with text, arrived on these shores in 1947 in search of artistic freedom. Trained as a photographer in Switzerland, he once said he knew after World War II that his future lay elsewhere: Switzerland 'was too closed, too small for me.' Europeans who venture to America often focus their cameras on the gulf between our ideals and a grimmer reality, between rich and poor, black and white. Although such differences were all too visible in '50s America, Frank did not take cheap shots at his adopted land. He never acted the shocked foreigner or wide-eyed innocent. Instead, his complicated feelings about the country were expressed so obliquely that the book remains as open to interpretation today as when it first appeared 50 years ago. Published in Paris in 1958 and New York the following year, it was denounced by many critics at the time as a sneak attack on Americans' general view of themselves as happy and harmonious. But as the book's downbeat style has been absorbed and widely imitated over the years, Frank's detractors have retreated." • This is not one of the famous photographs, but it's a favorite of mine: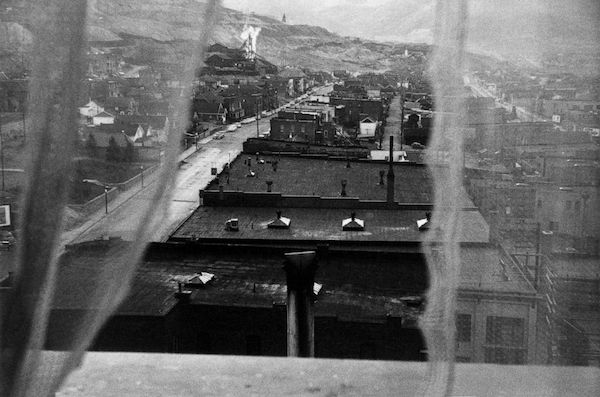 The West!
* * *
Readers, feel free to contact me at lambert [UNDERSCORE] strether [DOT] corrente [AT] yahoo [DOT] com, with (a) links, and even better (b) sources I should curate regularly, (c) how to send me a check if you are allergic to PayPal, and (d) to find out how to send me images of plants. Vegetables are fine! Fungi are deemed to be honorary plants! If you want your handle to appear as a credit, please place it at the start of your mail in parentheses: (thus). Otherwise, I will anonymize by using your initials. See the previous Water Cooler (with plant) here. Today's plant (CR):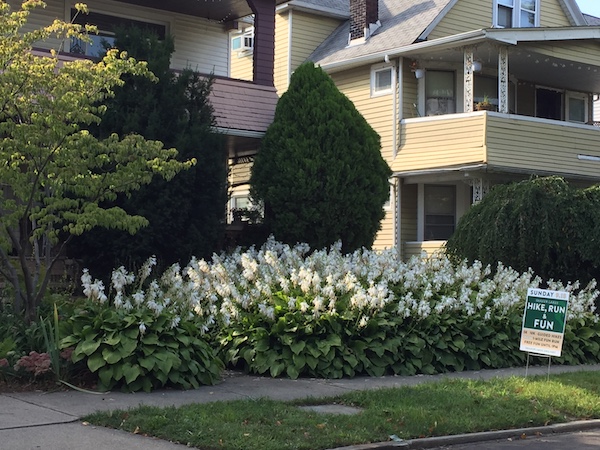 CR comments:"A hosta-lawn! Cleveland, Ohio." Impressive.
* * *
Readers: Water Cooler is a standalone entity not covered by the annual NC fundraiser.Remember, a tip jar is for tipping! So if you see a link you especially like, or an item you wouldn't see anywhere else, please do not hesitate to express your appreciation in tangible form. Regular positive feedback both makes me feel good and lets me know I'm on the right track with coverage. When I get no donations for five or ten days I get worried. More tangibly, a constant trickle of donations helps me with expenses, and I factor in that trickle when setting fundraising goals:
Here is the screen that will appear, which I have helpfully annotated.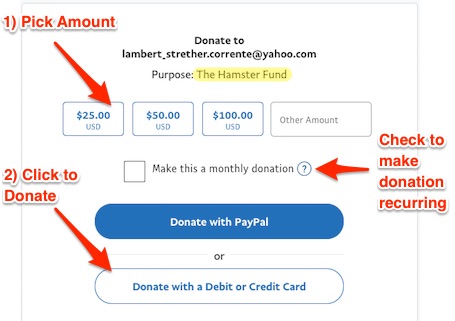 If you hate PayPal, you can email me at lambert [UNDERSCORE] strether [DOT] corrente [AT] yahoo [DOT] com, and I will give you directions on how to send a check. Thank you!