By Lambert Strether of Corrente
Politics
"But what is government itself, but the greatest of all reflections on human nature?" –James Madison, Federalist 51
"They had one weapon left and both knew it: treachery." –Frank Herbert, Dune
Alert reader dk (not to be confused with DK) is in the process of developing the following interactive chart:
And here is (are) the latest poll(s) as of 9/10/2019, 12:00 PM EDT: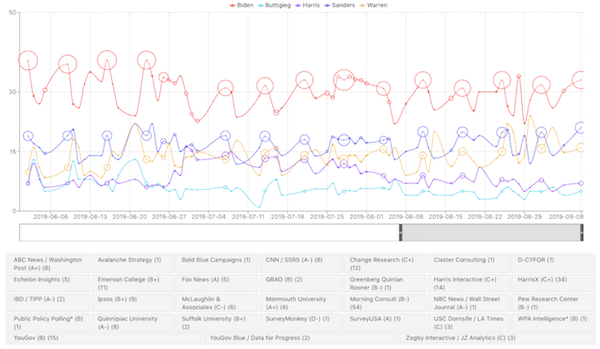 Morning Consult, the behemoth, weighs in. Biden up (33%), Warren (16%) and Sanders (21%) have exchanged the lead again, with Sanders stretching it out (if you accept an average of all polls with no "secret sauce" for poll selection). And the polling detail: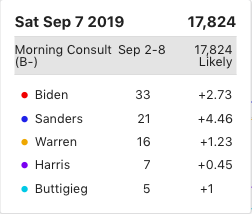 I think dk has started a really neat project, and in the near future we'll seek your feedback (within reason) for the tool "live."
UPDATE 2019-08-30: Now the polls aggregated (all available) are shown at the bottom of the poll. We also give more detail about each poll than RCP, and allow candidates to be selected or deselected. That's three reasons what dk is doing beats RCP, and if we can make the individual polls selectable/highlightable, that will be four reasons. With more to come, grid willing.
* * *
2020
Harris (D)(1): "Scavenged ballot box lids haunt S.F. elections" [San Francisco Chronicle (Cat Burglar)]. From 2002, still germane: "The bright red box tops that keep washing up around the Bay Area are floating reminders of a problem in San Francisco, the remnants of of the city's embattled Department of Elections. The corrugated plastic ballot box lids, each marked with the city seal and the words "Provisional and Absentee Ballots," first raised the concerns of election watchdogs shortly after the city's November election, when eight of them were found near the Golden Gate Bridge by the crew of a U.S. Coast Guard vessel. Since then, , the issue has resurfaced time and again." • I hoisted this from coments on the PG&E post, because we need to remind ourselves that, irrespective of anything that happened in 2016, the California Democrat Party has a rich, not to say fishy tradition of election theft, as Yves' recent post on CalPERS' see-through ballot envelopes shows. And Harris is the "favorite daughter" of the California Democrats.

Sanders (D)(1): Good press from Dr. Oz:

Did you know @berniesanders ran a 4:37 mile in high school? (4:37!) pic.twitter.com/9h69uBvuwz

— Dr. Mehmet Oz (@DrOz) September 9, 2019

Sanders (D)(2): "Bernie Sanders Went to Canada, and a Dream of 'Medicare for All' Flourished" [New York Times]. "A review of hundreds of pages of documents from the first chapters of his political career — including speeches, correspondences and newspaper clippings — as well as interviews with those who have known him throughout his life, show that while his democratic socialist worldview underpins his "Medicare for all" pitch, he was also guided by other factors. Chief among them were his mother's illness and death, which instilled in him the desire to ensure everyone had access to medical care, and the adjacency of Vermont to Canada, which afforded him a blueprint for universal health care. Together, they help explain why he has staked not only his campaign, but also much of his political legacy, on promoting "Medicare for all.'" • I don't know what's gotten into Sidney Ember; this doesn't read like a hit piece. Does Ember stick in the shiv in some subtle way that I've missed?

Sanders (D)(3): "What Bernie Sees in the New Deal" (interview) [Seth Ackerman, Jacobin]. "[Sanders] also says his campaign is about extending the principle of democracy to the economy with ideas like worker ownership funds. Decommodification and democracy at work are big parts of what socialism has meant from the very beginning. The earliest models of socialism that people fought for would sound remarkably modest today. In the early nineteenth century, the first socialist mass movement in France was pretty vague about socialism's definition, but what it often meant in practice was a government program to give unemployed workers loans to start cooperatives. That was the de facto program of a literal revolutionary movement, with bloodshed, barricades, and all the rest of it. Politics changes over time and so do definitions of socialism. When we look at Bernie's concept of socialism, we should remember that Marx and Engels always said it was more important to have a real movement of workers who understand their real interests than it is to have a perfect, doctrinally correct program. When Engels talked about American politics in the late nineteenth century, he said he much preferred the populistic Knights of Labor or "agrarian reformers" to the hyper-orthodox Marxists of the Socialist Labor Party, who sounded like Marxoid robots when they talked. He much preferred the messy, ideologically incoherent Knights of Labor because they actually represented a real movement of workers fighting for some kind of egalitarian vision in opposition to the established order." • Many Jacobin articles feel like they're written by grad students. This is not one of them.

Trump (R)(1): "Trump Under Fire For Forcing Astronauts To Stay In Irish Trump Hotel While On Specialized Space Mission" [The Onion]. • The Onion is, once again, a pitch perfect index to our level of discourse.

Warren (D)(1): "The Legitimization Machine: Elizabeth Warren" [Jeremey Toback, Medium (CI)]. "While Warren did provide symbolic bluster as chairperson, [The Congressional Oversight Panel on TARP (COP)] did nothing to alter TARP's commitment to funneling relief money through banks or prevent 10 million people from losing their homes. Whether COP was powerless to do more or not is immaterial….. Despite Warren's claim that the [Consumer Financial Protection Bureau (CFPB)] was 'about making markets work for people, not making markets work for a handful of companies that scrape all the value off to themselves,' the agency's cop schtick has functioned as performative cover for escalating bank industry power, with profits of 236.7 billion in 2018, a record increase from 2017 of 44%-72.4 billion. The CFPB's individualist 'bad-actor' approach has also made it vulnerable to rollback under Trump, because it has done nothing for the majority of millions impacted by usurious but legal practices. Both COP and CFPB are textbook examples of neoliberal legitimization. They brag about punching the big bad bully in the arm, while allowing him to smash his other elbow into our face, take our wallet, and leave us lying on the blacktop, breathing blood."

* * *

"Just Who Are These Undecided Voters, Anyway?" [Charles Cook, Cook Political Report]. "The key takeaway from this analysis is that while swing voters don't look too different from the overall electorate in terms of demographics, they are very different temperamentally. Since they pay less attention than other voters and are less likely to believe that the outcome is important, you just have to wonder how many of these undecided will really vote. Further, we can expect those who do to check into the race very late."
Our Famously Free Press
"One America News Sues Rachel Maddow, NBC Over 'Russian Propaganda' Claim" [Hollywood Reporter]. "One America News Network, a small cable news channel that strongly supports President Donald Trump's agenda, filed a lawsuit filed a lawsuit alleging that MSNBC host Rachel Maddow defamed the company by saying that it The convoluted $10 million suit begins with the network's claim that Maddow's comment was partially in retaliation for a decision by MSNBC parent company Comcast to not carry OAN. 'The Complaint alleges that Comcast refused to carry OAN as part of its cable programming because OAN counters the liberal politics of its own channel, MSNBC,' the company said. 'The Complaint further alleges that one week after OAN's President, Charles Herring, called out and objected to Comcast's anti-competitive censorship in an email to Comcast's President of Content Acquisition, MSNBC's most popular show — The Rachel Maddow Show — opened with the show's host, Rachel Maddow, telling her audience that OAN 'really literally is paid Russian propaganda.' MSNBC has not yet commented on the suit, but OAN claims that Maddow 'knew this statement was false' and made it 'to damage OAN's business and reputation' because of the network's strong conservative leanings. A lawyer for OAN, Skip Miller of Miller Barondess, LLP, said the network ;is wholly owned, operated and financed by the Herring family in San Diego. They are as American as apple pie. They are not paid by Russia and have nothing to do with the Russian government.'" • As far as the apple pie goes, Robert Herring founded Wealth TV, so, yeah. "[R]eally literally is paid Russian propaganda," though, yikes. I don't know defamation law, but surely there's a prima facie case here?
Health Care
"Where the top Democratic U.S. presidential candidates stand on 'Medicare for All'" [Reuters]. "'I think for the general public, the debate's been baffling,' said Tricia Neuman, the director of the Medicare policy program at the nonprofit Kaiser Family Foundation. 'There's been a lot of talk about Medicare for All and a lot of these other proposals, but the differences between them are fairly hard to decipher.'" • Lol, KHN is supposed to be educating the public, and if the debate's confusing, that's because they're not doing their putative job. Also, there are two Medicare bills on the floor: Sanders's and Jayapal's (Jayapa's is better). When Neuman says "there's been a lot of talk about Medicare for All," wowsers, what a tell.
Realignment and Legitimacy
UPDATE Union-busting at Neera Tanden's talking shop, how surprising:

Thank you all so much for the outpouring of support. Please see below for our statement on CAP's decision to lay off our entire unionized newsroom. pic.twitter.com/cVFKbnvegJ

— ThinkProgress Union (@TP_Union) September 10, 2019

UPDATE "The Center for American Progress Is a Disgrace" [Splinter News]. "If there's any lesson to be gleaned from this, it's that liberal think tanks like the Center for American Progress are not a friend to media workers, or workers in general. These places, and the people who run them, spend an inordinate amount of time trying to 'unify' all of the various wings of the progressive and liberal movements (with a desire for less input from some wings than others, I imagine) under the banner of being on the same 'team' against the Republican Party. But it ultimately didn't matter that these bosses were liberal and nice, rather than being some obvious shitbag like Joe Ricketts. The workers at this site still got jerked around for quite a long time before being unceremoniously dumped under the reasoning that the media industry just isn't profitable enough. (This coming from an organization that gave the totally cash-poor Georgetown University law school over half a million dollars in 2017.) The fact is that these people, as they have proven time and again, will never really be on the same 'team' as workers. If CAP is the best that liberals can do when it comes to creating moral and principled institutions to further the progressive movement, it's worth asking: With friends like these, who needs enemies?" • Apparently, CAP intended to refresh the TP brand with scabs doing to the writing, but that idea was shelved after the predictable outcry, and the site will now be archived.

UPDATE Somebody should ask SEIU if union-busting is what they intended their money to be used for:

Unions, including the NEA, SEIU, & AFSCME give around $700k a year to CAP, which just busted its ThinkProgress union. https://t.co/eC3pCrKsbI

— Lee Fang (@lhfang) September 10, 2019

"Poor People's Campaign to register voters on 20-state tour" [Associated Press]. "The Rev. William Barber, co-chair of the campaign, said Monday at a news conference in Washington, D.C., that the tour begins Sept. 16 in El Paso, Texas, and will culminate on June 20 with an assembly on the National Mall in Washington. Three stops are planned in at least 22 states, with Day 1 focusing on the communities and their stories; Day 2 on voter registration and Day 3 on a march and rally." • Shocking and shameful liberal Democrats do nothing to expand the base.
Stats Watch
JOLTS, July 2019: "[J]ob openings continue to edge lower in an indication that the risk of capacity stress in the labor market is easing" [Econoday]. "Yet quits, in a counter signal of labor market strength, rose sharply in the month.
NFIB Small Business Optimism Index, August 2019: Unexpectedly, "small business optimism in August eased to its lowest level since March" [Econoday]. "Fewer respondents expect business conditions to improve and fewer see better sales volumes ahead, offsetting gains in hiring, earnings trends, and capital spending plans."
Banking:
Wow. Just got an email from Chase Bank about how they are removing human tellers from the location I frequent. Notice how they craft the messaging so it is all about value for me. pic.twitter.com/TJlaeQ9Ksg

— Mike Smith (@MrMikeSmith) September 6, 2019
My bank has been bought (again). I hope they don't get rid of the tellers for my branch, but I bet they'd like to…
Shipping: "Trucking companies—like Uber and Lyft—say their drivers aren't employees, worsening inequality and pollution" [Fast Company] (original). "'The dirtiest trucks in the state [are] driven by a largely immigrant workforce that is highly exploited,' says [Sam Appel of the UC Berkeley Labor Center]. These aren't the people who can afford to pay more than $200,000 for a zero-emission electric truck, the projected cost of such a vehicle in 2024."
Shipping: "Amazon Pushes Fast Shipping but Avoids Responsibility for the Human Cost" [New York Times]. "Amazon's promise of speedy delivery has come at a price, one largely hidden from public view. An investigation by ProPublica identified more than 60 accidents since June 2015 involving Amazon delivery contractors that resulted in serious injuries, including 10 deaths. That tally is most likely a fraction of the accidents that have occurred: Many people don't sue, and those who do can't always tell when Amazon is involved, court records, police reports and news accounts show. Even as Amazon argues that it bears no legal responsibility for the human toll, it maintains a tight grip on how the delivery drivers do their jobs."
The Bezzle: "It looks like Uber is getting into the small loan business for its drivers" [Recode]. • The drive toward profitability! Microloans have been very good to lenders elsewhere in the Third World, so I expect Uber will do well.
The Bezzle: "Welcome to San Diego. Don't Mind the Scooters." [New York Times]. "Since scooter rental companies like Bird, Lime, Razor, Lyft and Uber-owned Jump moved into San Diego last year, inflating the city's scooter population to as many as 40,000 by some estimates, the vehicles have led to injuries, deaths, lawsuits and vandals. Regulators and local activists have pushed back against them. One company has even started collecting the vehicles to help keep the sidewalks clear. 'My constituents hate them pretty universally,' said Barbara Bry, a San Diego City Council member. She called for a moratorium on the scooters when they arrived, saying they clogged sidewalks and were a danger to pedestrians." • Some of us were skeptical from the beginning…
Manufacturing: "Federal labor board overturns Boeing SC union bid" [Post and Courier]. "The National Labor Relations Board on Monday ruled that flight-line workers at Boeing Co.'s North Charleston plant can't join the International Association of Machinists union as their own separate group.The board, in a 3-to-1 vote, said the proposed flight-line bargaining unit of just two job descriptions did not meet federal standards because the workers aren't distinct from the site's overall workforce of about 2,700 maintenance and production workers…. The aerospace giant argued that the flight-line readiness technicians and inspectors who voted to join the IAM must be included in the larger community of workers at the plant, where Boeing builds its 787 Dreamliner commercial jet. That larger community of Boeing employees voted overwhelmingly in 2017 not to join the IAM, which has tried for years to organize the plant's workers. The IAM already represents about 35,000 Boeing workers at the planemaker's plants in Washington state."
Manufacturing: "SpaceX satellite was on "collision course" until ESA satellite was re-routed" [Ars Technica]. ""For the first time ever, ESA has performed a 'collision avoidance maneuver' to protect one of its satellites from colliding with a 'mega constellation,'" the ESA said on Twitter. The "mega constellation" ESA referred to is SpaceX's Starlink broadband system, which is in the early stages of deployment but could eventually include nearly 12,000 satellites." • The larger satellite, where the operator has more skin in the game, had to move for Musk's satellite, which is disposable and has buggy software. Commercialization!
* * *
Today's Fear & Greed Index: 51 Neutral (previous close: 45, Neutral) [CNN]. One week ago: 25 (Extreme Fear). (0 is Extreme Fear; 100 is Extreme Greed). Last updated Sep 10 at 12:09pm. Note that the index is not always updated daily, sadly. I guess Mr. Market has priced in whatever he was dithering about pricing in?
The Biosphere
"Negative emotional contagion and cognitive bias in common ravens (Corvus corax)" [PNAS]. "Emotional contagion is described as an emotional state matching between subjects, and has been suggested to facilitate communication and coordination in complex social groups…. [Our result] critically expands upon observational studies of contagious play in ravens, providing experimental evidence that emotional contagion is present not only in mammalian but also in avian species. Importantly, this finding also acts as a stepping stone toward understanding the evolution of empathy, as this essential social skill may have emerged across these taxa in response to similar socioecological challenges." • The word "contagion" seems a little loaded.
"Crabs and shrimp are looking for love, finding sickness at the polluted Deepwater Horizon spill site" [The Times-Picayune]. "Deep-sea crabs and shrimp have been appearing in droves at the oil-soaked site of the Deepwater Horizon rig. The likely reason, according to new research: Chemicals released from old, degraded oil mimic the hormones that put crustaceans in the mood for love. But potential mates flocking to the polluted site 40 miles off the Louisiana coast aren't exactly keepers. 'Their shells were black, and they had a lot of parasites on them,' said Craig McClain, director of the Louisiana Universities Marine Consortium, which led the research. 'Many (crabs) were missing claws. They looked really unhealthy.'" • I'm reminded here of Dick Cheney. On several levels.
Water
Rivers like tree structures:
If you doubted rivers are the arteries of our country, check out this cool image of US river basins. https://t.co/RlTChkQMHu

— American Rivers (@americanrivers) September 7, 2019
Health Care
UPDATE Census reports on health insurance coverage:
The most pronounced coverage losses were among Medicaid enrollees, but people enrolled in employer-based plans and direct-purchase plans also lost coverage. Medicare remained stable, and would be an ideal starting point for a #SinglePayer national health program. pic.twitter.com/9PmfSjeKEI

— PNHP (@PNHP) September 10, 2019
I'd argue that Medicare enrollment is "stable" because the eligibility requirements are simple. They're age-based, and can't be gamed by income, location, etc.
UPDATE "'UVA has ruined us': Health system sues thousands of patients, seizing paychecks and putting liens on homes" [WaPo]. "The hospital ranked No. 1 in Virginia by U.S. News & World Report is taxpayer supported and state-funded, not a company with profit motives and shareholder demands. Like other nonprofit hospitals, it pays no federal, state or local taxes on the presumption it offers charity care and other community benefits valued at least as much as those breaks. Gov. Ralph Northam (D), a pediatric neurologist, oversees its board. UVA officials defended the institution's practices as legally required and necessary 'to generate positive operating income' to invest in medical education, new facilities, research and the latest technology." • Ralph Northam. Liberal Democrats, gotta love 'em, right? More seriously, funding capital investment out of revenues from patient care is insane and evil suboptimal, and preventing that is one reason Jayapal's bill is better than Sanders' bill.
Speaking of Canada:
When you go to a hospital in Canada, the only fee you have to pay is for parking — so this is the political debate they're having. https://t.co/Z9Koif6r5b

— Hamid Bendaas ? (@HBendaas) September 5, 2019
Good one-liner for the next debate…
Class Warfare
"On "AI" replacing jobs and humans" [Nodes in a Social Network]. "While 'AI' company founders, Venture Capitalists, autonomous car fans, politicians hoping for a new industrial revolution to replace car manufacturing or scientists claim that 'AI' is basically just very few years if not months away (just as it has been for at least 60 years now) reality doesn't fully comply with these vision statements. 'AI' services more often than not have to admit outsourcing work to underpaid and exploited humans – so-called fauxtomation. Or their impressive results fall apart upon closer inspection when their amazing emotion recognition system just doesn't see black people or the self driving car just can't deal with people moving around on streets." • As we saw yesterday with companies that verify AirBnB addresses.
UPDATE "Tackle the epidemic, not the opioids" [Nature]. "The current opioid epidemic is a symptom of the fraying of the socio-economic fabric of the rural United States. The epidemic arose in the 1990s in areas that had experienced economic decline, a brain drain and population loss over decades. Many factors combined to create a monstrous situation in which small towns were flooded with prescription opioids: the preponderance of injury-prone hard labour jobs, requirements that physicians routinely ask patients about pain, aggressive marketing by the pharmaceutical industry, greed and extensive job losses from the collapse of key rural industries such as coal mining…. Federal grants come tagged for combating opioids and cannot be repurposed to deal with the rising incidence of methamphetamine misuse. The narrow focus on opioids means we cannot keep up with the drug du jour cycle: we will just keep playing whack-a-mole. Similar short-sightedness has kept us from addressing syndemics — epidemics that accompany the use of injection drugs." • Everything's going according to plan!
News of the Wired
"What's next in making Encrypted DNS-over-HTTPS the Default" [Mozilla]. • Seems like it could be important?
UPDATE "The Alpha Hypothesis: Did Lateralized Cattle–Human Interactions Change the Script for Western Culture?" [Animals]. From the abstract: ". By contrast, the same stimulus viewed predominantly within the right visual field promotes a significantly greater frequency of dispersal from a standing position, including flight responses. The respective sets of behaviours correspond with the traditional terms of "near side" for the left side of cattle and horses, and the "off" or "far side" for the right side. These traditional terms of over 300 years usage in the literature communicate functional practicalities for handling livestock and the recognition of lateralized cognitive processing. In this review, the possibility of even earlier recognition and the significance of laterality in cattle-human interaction was argued, from the earliest . By extension, this knowledge of lateralization in cattle may represent the earliest written example of applied ethology—the study of the behaviour of animals under human management."
* * *
Readers, feel free to contact me at lambert [UNDERSCORE] strether [DOT] corrente [AT] yahoo [DOT] com, with (a) links, and even better (b) sources I should curate regularly, (c) how to send me a check if you are allergic to PayPal, and (d) to find out how to send me images of plants. Vegetables are fine! Fungi are deemed to be honorary plants! If you want your handle to appear as a credit, please place it at the start of your mail in parentheses: (thus). Otherwise, I will anonymize by using your initials. See the previous Water Cooler (with plant) here. Today's plant (Re Silc):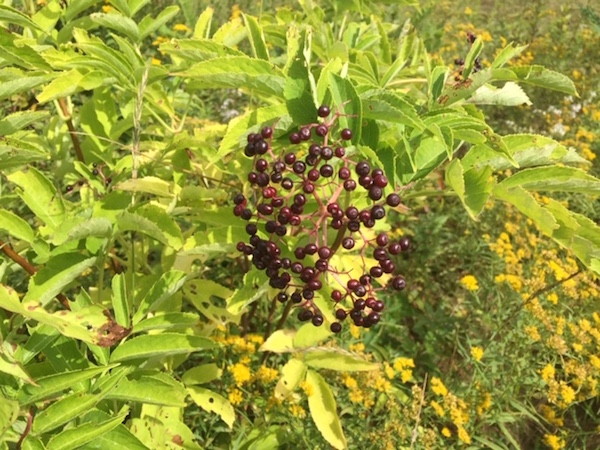 Re Silc writes: "Doing well in southern Vermont."
* * *
Readers: Water Cooler is a standalone entity not covered by the annual NC fundraiser.Remember, a tip jar is for tipping! So if you see a link you especially like, or an item you wouldn't see anywhere else, please do not hesitate to express your appreciation in tangible form. Regular positive feedback both makes me feel good and lets me know I'm on the right track with coverage. When I get no donations for five or ten days I get worried. More tangibly, a constant trickle of donations helps me with expenses, and I factor in that trickle when setting fundraising goals:
Here is the screen that will appear, which I have helpfully annotated.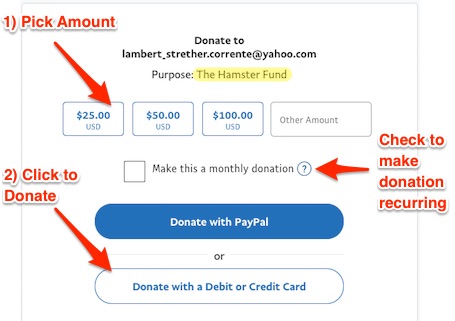 If you hate PayPal, you can email me at lambert [UNDERSCORE] strether [DOT] corrente [AT] yahoo [DOT] com, and I will give you directions on how to send a check. Thank you!