By Lambert Strether of Corrente
Patient readers, I had a lot of trouble uploading graphics today, so this is a lighter Water Cooler than it should be. (Also reading about the debate made me think I was being beaten around the head and ears with bags of wet sand). And I don't have time today to catch up with UPDATEs, as I usually can. So, enjoy your weekend and hopefully I'll come back strong on Monday! –lambert
Politics
"But what is government itself, but the greatest of all reflections on human nature?" –James Madison, Federalist 51
"They had one weapon left and both knew it: treachery." –Frank Herbert, Dune
The Debate
"A Complete List of Everyone Who Lost the Democratic Debate" [Paste]. "1. Joe Biden lost because he rambles and his teeth maybe almost fell out." The writer had this exchange in mind:

Here is my transcript of Joe Biden's record player moment.

Asked about his past comments denying responsibility, as a white man, for America's sins, he gives an answer insinuating that black parents don't know how to raise kids. pic.twitter.com/Z39NtsiVkd

— Anand Giridharadas (@AnandWrites) September 13, 2019

Holy moley…

"The Official Rolling Stone Debate Drinking Game, Part III" [Matt Taibbi, Rolling Stones]. • Taibbi hadn't published this by the time I posted. The lead: "The first rule of the third Democratic Party presidential debate probably should be, "Don't watch." The Democratic National Committee has been so imperious and annoying with its rules, excluding a host of candidates who are clearly (or at least arguably) outperforming some of the participants in tonight's debate, that it feels wrong to reward these arbitrary rulemakers with an audience." • But Taibbi watched anyhow:

"Access" should have been a rule, but thankfully isn't.

— Matt Taibbi (@mtaibbi) September 13, 2019

"Democrats clash over health care and more in debate that started with calls for unity" [WaPo]. "But the lengthy discussion appeared to do little to change the overall contours of the Democratic primary, with few standout moments or major missteps during the course of the nearly three-hour event." And: "Warren, who has been ascendant in the polls in recent months, spent long stretches without speaking Thursday, and did not end up challenging Biden directly during her first face-to-face debate with the former vice president, who sits atop most polls." • So Biden v. Warren turned out to be a damp squib.

"Joe Biden Cleared a Very Low Bar in Last Night's Debate" [Politico]. "By clearing the extremely low bar of appearing coherent and not having any of his body parts malfunction on stage, Biden has already been awarded top marks for his performance, even declared the winner. But it's important to remember that Biden's performance rested on a patina of lies. Challenged by moderator Jorge Ramos on the distinctly Trumpian nature of the "Obama-Biden" administration's immigration policies, Biden dubbed the comparison "outrageous." "We didn't lock people up in cages," he said. "We didn't separate families." Both are untrue. As fact-checkers quickly pointed out, Obama and Biden infamously did detain immigrants, including children, in cages. And . Pressed by Ramos for dodging the question, which asked if Biden and Obama had made a mistake by deporting as many people as they did, Biden was forced to re-endorse the policy, saying that Obama "did the best thing that was able to be done at the time." • Perhaps this is why all the virtue-signaling on immigration has died down for now.

"7 Key Moments From the Third 2020 Democratic Debate" [Vogue]. "Last, but certainly not least, let it sink in that during the approximately 180 minutes of debate time, the moderators failed to ask the candidates a single question about abortion access or reproductive rights." • It doesn't seem that ABC did a very good job.
Impeachment
"Dems stumble on impeachment messaging" [Politico]. "Some see the muddled messaging as a strategic boon — it allows moderate Democrats to sidestep politically explosive questions about impeachment while permitting progressives to insist they're aggressively hammering President Donald Trump. But others doubt the tactics are intentional and note that it has strained the Democratic Caucus, that it has aroused suspicion among the party's base and that it could weaken the House's hand in court." And:

Sixteen House Democrats, in interviews, offered conflicting assessments of the status of the House Judiciary Committee's investigation of Trump, which its chairman — Rep. Jerry Nadler — bills as an "impeachment investigation."

"We have been in the midst of an impeachment investigation," said Rep. Pramila Jayapal (D-Wash.), a member of the Judiciary Committee.

"No, we're not in an impeachment investigation," said Rep. Jim Himes (D-Conn.), a member of the House Intelligence Committee.

A third, Rep. Gregory Meeks (D-N.Y.), said the House is investigating to determine "whether or not there should be an impeachment investigation."

Lol, with any luck, the Democrats will end up impeaching Trump in an election year, politicizing another piece of Constitutional machinery.

"House Judiciary Committee Approves Impeachment-Themed Resolution" [HuffPo]. "On a 24-17 party-line vote, the committee approved the resolution, which has a stated purpose of determining 'whether to recommend articles of impeachment.' That may sound like the beginning of an impeachment inquiry, but Democratic leadership has been all over the place in describing the significance of this vote." • You'd think that an "impeachment inquiry" is the sort of thing that party leadership would be able to explain.
Realignment and Legitimacy
"In an Age of Policy Boldness, Think Tanks Have Become Timid" [The Nation]. "Biden's campaign is idiosyncratically personal, emphasizing the former vice president's friendship with Barack Obama. Sanders and Warren, by contrast, have been running the most ideas-fueled campaigns in living memory…. Yet the new hunger for policies hasn't been a boon to the outfits that traditionally provide Democratic candidates with their ideas. With a few exceptions, liberal and centrist think tanks such as the Center for American Progress (CAP), New America, the Brookings Institution, Demos, and the Roosevelt Institute have had little impact on the campaign season. And when these influential think tanks have made nods at the big policy debates within the Democratic Party, they've often done so in the spirit of hold-your-horses caution, with quibbles about feasibility, or by struggling to play catch-up with campaign proposals…. If Democratic think tanks remain out of sync with the nominee's policy preferences, this could hobble a future administration." • I bet it won't. I'm guessing there are plenty of who've been banished from the Ivies. I think it would be a good think if this particularly inbred region of the dense network of NGOs in which the Democrat Party is embedded were razed to the ground. With some minor expections, of course. It doesn't do not to be nuanced.

NC-09: "Democrats see silver lining in suburbs, but rural challenges remain after close loss" [Reuters]. "McCready won the densely populated Charlotte suburbs in Mecklenburg County by 12 percentage points, continuing the national trend of traditionally Republican suburban areas shifting toward Democrats as highly educated voters tire of Trump. Those gains were not enough to overcome a poor performance in rural counties like Robeson and Bladen." • As it turns out, Chris Arnade visited Robeson County for his book, but that chapter didn't make the cut. Since Arnade sets his tweets to auto-delete, so here are some screen shots:

So, Robeson County is diverse. And (see above) flipped from Obama to Trump. One wonders why:

(Lumberton is in Robeson County.) Democrats winning Republican suburbs while losing Robeson County says notning good about the party's direction. I was commenting as early as 2015 (here, here) that voting for Trump was a gigantic upraised middle finger, and here we have one such in real life!
Health Care
"When will Democratic debates move past 'Medicare for All' fight?"' [Politico]. "Moderators have used the issue to frame all five debate nights so far, and even advocates say they're tired of rehashing the often-wonky differences in candidates' health coverage plans. Democratic strategists also have urged candidates to shift the focus to broader health care topics, regardless of what moderators ask them. Polls increasingly show that while swing voters prioritize health care issues, they're worried about problems like high drug costs and out-of-pocket spending — which have gotten relatively little attention on the national debate stage." • So the liberal Democrat strategy of creating brand confusion is working. At the same time, the concept that not only can you walk into your doctor's office and get the care you need and end up with more money in your pocket doesn't seem to be taking hold either. But to answer the question in the headline: When the bill passes.
Stats Watch
All the statistics I missed yesterday, plus today's.
Jobless Claims, week of September 7, 2019: "Both payroll growth and job openings may have moderated this year, but layoffs based on unemployment claims have remained historically low" [Econoday]. "There are no special factors in today's report and no states were estimated. Employers, however much their business optimism may be easing and however fewer jobs they may be creating, continue to hold firmly to their existing staffs." • A big deal, given all the recession talk.
Consumer Sentiment, September 2019 (Preliminary): "Following a steep drop in August tied to heightened tariff concerns, consumer sentiment rebounded but only moderately" [Econoday]. "Despite September's general improvement, the headline index is still sitting at one of its very lowest readings of the last three years which, however, is an indication that is offset by still very solid readings from the rival consumer confidence report that unlike this report has held in very well on the strength of the labor market."
Retail Sales, August 2019: "In a report that in sum is favorable, a big lift for auto sales gave a boost to retail sales" [Econoday]. "Total sales were up 4.1 percent in August, an unspectacular but solid rate that speaks to the strength of the consumer and in turn the strength of the US jobs market."
Import and Export Prices, August 2019: "[I]mport prices continue to slump to three-year lows in a trend that reflects slowing global demand as well as the strength of the dollar and which will make it harder for the Federal Reserve to reach their 2 percent inflation goal" [Econoday]. "Export prices fell" more sharply than expected.
Business Inventories, July 2019: "Business inventories rose…. largely in line with business sales" [Econoday]. "The headline build for today's report gets inventories off to a positive start for third-quarter GDP and, given the steady growth in sales, do not point to the risk that higher inventories are unwanted."
Consumer Price Index, August 2019: "Core inflation in the consumer price report [was] higher-than-expected" [Econoday]. "Though mostly centered in medical costs, the overall 0.3 percent for core prices — again the third in a row — is less than moderate and does suggest that the Federal Reserve may be able to limit its efforts to stimulate inflation." • Hmm. Medical bills, eh?
"Crisis-hit Boeing readies huge effort to return 737 MAX to the skies" [Reuters]. "Although regulators must still approve the jets for flight, Boeing and airline staff and executives say the world's largest planemaker is weeks into an elaborate blueprint for production, maintenance and delivery that one source said involves 1,500 engineers – as many as it takes to design a small new jet."
* * *
Today's Fear & Greed Index: 68 Greed (previous close: 65, Greed) [CNN]. One week ago: 35 (Fear). (0 is Extreme Fear; 100 is Extreme Greed). Last updated Sep 13 at 11:59am. Note that the index is not always updated daily, sadly.
Our Famously Free Press
Judy Miller's mini-me:
a thing i still think about all the time is the fake list of grunge slang that a 25-year-old woman in Seattle made up and got printed in the new york times pic.twitter.com/ACAtbLSqYs

— rachel syme (@rachsyme) September 11, 2019
I think "harsh realm" for "bummer" ought to be real, even if it isn't.
Groves of Academe
"The Choirboy" [New York Magazine]. • A horrific article about Lawrence Lessig's experience at a boy's choir school, which lends some nuance to his views on Epstein and MIT.
Photography
"All you see is lazy photography everywhere" (interview) [Martin Parr, It's Nice That]. • Amazing color photos of people in the UK.
Class Warfare
The case for handing HR over to AI:
Man hires emotional support clown for a redundancy meeting.

"The @nzherald understands that the clown blew up balloons and mimed crying when the redundancy paperwork was handed over to the staffer."

Legend.https://t.co/xYQs9Xugj2

— Jerome Taylor (@JeromeTaylor) September 13, 2019
News of the Wired
"How to repair the parts that explode in Lenovo Yoga laptops" [Adam Munich]. "Lenovo Yoga laptops, especially those from the "900", "920", "930", and "940" series, have a design defect where their power circuitry can self-destruct. The company will not acknowledge this defect as serious enough for a recall, and has left many customers with broken audio (or worse) on their notebooks…. I have received no response from Lenovo and decided that the only productive way forward was to take the issue into my own hands." • Yikes.
Real-life affordances:
Okay, so I love "struggle marks." These are everyday markings and indicators of some sort of failure (missed key hole scrapes, handprints on a glass door you pull, coffee splashes by a door, slip trails on a snowy path, etc.)

If you find them, send them my way. ? pic.twitter.com/4KwdbBga3p

— Kristen Seversky (@KR1573N) September 8, 2019
"United by feelings" [Aeon]. "Without the same fanfare, a group of intensively creative scientists, including the neuroscientists Jaak Panksepp and Antonio Damasio and the neuropsychologist Richard Davidson, have been developing a new field of affective (or emotional) science since the 1990s. The field of affective neuroscience isolates emotional brain systems (largely in regions of the brain that we share with other mammals) that undergird adaptive behaviours in vertebrates. With the help of neuroscientific and behavioural research, we are beginning to appreciate how the ancestral mammal brain is alive and well inside our higher neocortical systems. Unlike the computational approach to mind, the affective turn is deeply rooted in what we know about the brain as a biological reality." • Fascinating, but I'm not sure I want to hand the keys to our emotional brain systems over to capital.
* * *
Readers, feel free to contact me at lambert [UNDERSCORE] strether [DOT] corrente [AT] yahoo [DOT] com, with (a) links, and even better (b) sources I should curate regularly, (c) how to send me a check if you are allergic to PayPal, and (d) to find out how to send me images of plants. Vegetables are fine! Fungi are deemed to be honorary plants! If you want your handle to appear as a credit, please place it at the start of your mail in parentheses: (thus). Otherwise, I will anonymize by using your initials. See the previous Water Cooler (with plant) here. Today's plant (TH):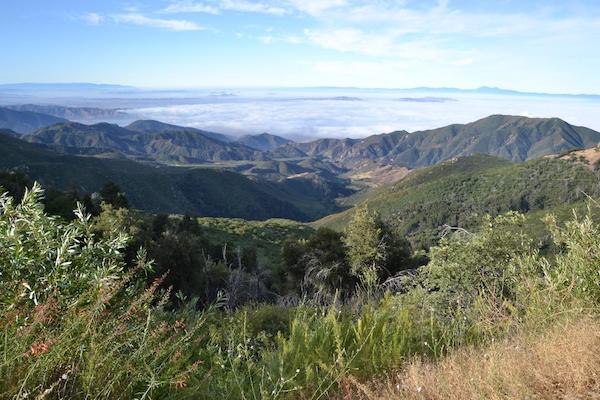 TH writes: "This shot is taken from a pull-out on Highway 330 which runs between Highland (funny, because it's not—it's the low land) and Running Springs in the San Bernardino mountains (California). The orange tubular blooms in the lower left are a pretty little blooming chuparosa bush, a favorite of hummingbirds, though not this morning. We left a perfectly sun drenched morning cooled by mountain breezes to descend into the overcast world of San Bernardino, then on to (also overcast) Orange County." California. One does see the attraction!
* * *
Readers: Water Cooler is a standalone entity not covered by the annual NC fundraiser.Remember, a tip jar is for tipping! So if you see a link you especially like, or an item you wouldn't see anywhere else, please do not hesitate to express your appreciation in tangible form. Regular positive feedback both makes me feel good and lets me know I'm on the right track with coverage. When I get no donations for five or ten days I get worried. More tangibly, a constant trickle of donations helps me with expenses, and I factor in that trickle when setting fundraising goals:
Here is the screen that will appear, which I have helpfully annotated.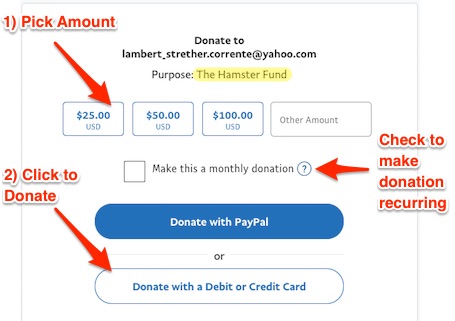 If you hate PayPal, you can email me at lambert [UNDERSCORE] strether [DOT] corrente [AT] yahoo [DOT] com, and I will give you directions on how to send a check. Thank you!