By Lambert Strether of Corrente
Patient readers, there was so much political material over the weekend I got wrapped round the axle getting my head around it. I will flesh that section out shortly. –lambert UPDATE All done. And this makes up for my miserably inadequate Water Cooler on Friday!
Politics
"But what is government itself, but the greatest of all reflections on human nature?" –James Madison, Federalist 51
"They had one weapon left and both knew it: treachery." –Frank Herbert, Dune
Alert reader dk (not to be confused with DK) is in the process of developing the following interactive chart:
And here is (are) the latest poll(s) as of 9/16/2019, 11:00 AM EDT: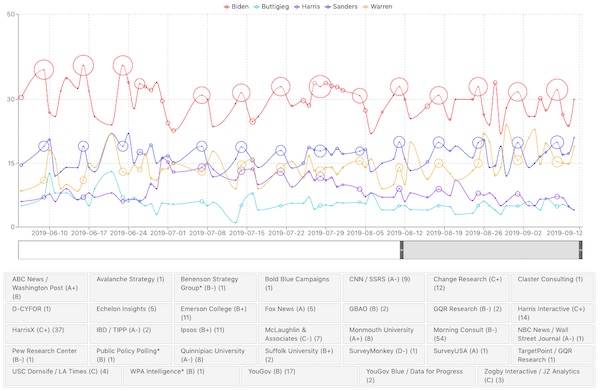 Biden, Sanders, Warren, again. (Note that the circles denote the size of the population(s) polled; so the big circles are Morning Consult). And the polling detail: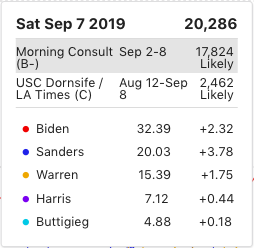 I think dk has started a really neat project, and in the near future we'll seek your feedback (within reason) for the tool "live."
UPDATE 2019-08-30: Now the polls aggregated (all available) are shown at the bottom of the poll. We also give more detail about each poll than RCP, and allow candidates to be selected or deselected. That's three reasons what dk is doing beats RCP, and if we can make the individual polls selectable/highlightable, that will be four reasons. With more to come, grid willing.
* * *
2020
Biden (D)(1): "Biden Praises Pharma to Donors as He Pushes to Cut Prices" [Bloomberg]. "'By the way, great drug companies out there — except a couple of opioid outfits,' the former vice president told donors at the Dallas home of David Genecov, a craniofacial surgeon."

UPDATE Biden (D)(1): "Biden's Brain Is Swiss Cheese And It's Creepy That We're Not Talking About It" [Caitlin Johnstone, Medium]. Includes a transcript of "Record Player," from the debate: "Play the radio, make sure the television, [closes eyes tightly] the — 'scuse me, make sure you have the record player on at night, the-the-the-the phone, make sure the kids hear words. A kid coming from a very poor school, [closes eyes] a very poor background, will hear four million words fewer spoken by the time they get there." And: "What's really weird and creepy is how few people are discussing the obvious fact that the presidential forerunner is also clearly suffering from the early stages of some kind of dementia." But–

UPDATE Biden (D)(2): The "Corn Pop" story, worth listening to all the way through:

What is going on? I'm really confused and I feel like I'm losing my mind pic.twitter.com/S0B4xMyJCW

— Yashar Ali ? (@yashar) September 15, 2019

Forget about the content of the story, which involves the white Biden confronting a black kid ("Corn Pop") using a chain for a weapon. Also, watch the kids in the background. However, Biden gets all the way through the story just fine, and it has some twists and turns. Despite the press covering for Reagan's Alzheimers, I am still, contra Johnstone, extremely leery about doing armchair diagnosis remotely (oldsters will remember Bill Frist doing that in the Terry Schiavo case). I'm doubly leery of Democrats doing it, because they always call their opponents stupid, often call them insane, and have been doing it for years, even though it doesn't work (look who's President). So who's really stupid, and what's that definition of insanity?

UPDATE Biden (D)(3):

I bet Corn-Pop's mamma didn't turn on the record player for him at night, things could have turned out so much better for him.

— Mrs.Liberty (@LibertyJen) September 15, 2019

Ouch.

Harris (D)(1): "Kamala Harris Was Ready to Brawl From the Beginning" [New York Times]. In the midst of the beat sweetening, this: "'San Francisco is the bluest of blue,' said Tony West, her brother-in-law and longtime informal adviser. 'All political wars there are civil wars. And so it's like a family fight. And those are often the worst.'" • Oddly, or not, the Times fails to mention that West is "Senior Vice President, Chief Legal Officer, and Corporate Secretary at Uber."

Sanders (D)(1): Thread:

What's the most absurd medical bill you have ever received?

— Bernie Sanders (@BernieSanders) September 15, 2019

UPDATE Sanders (D)(2): "Veteran saddled with medical debt tells Sanders he's going to kill himself" (with video) [KTUU]. " The exchange between Sanders and the man occurred as Sanders listened to attendees tell about their experiences with private insurance… When Sanders asked the man how he was going to pay his medical expenses, he answered: "I can't. I can't. I'm going to kill myself." Sanders replied, "Don't. Hold it, John. Stop it. You're not going to kill yourself. Stop it."… After the town hall, Sanders and his wife spent some time talking to the man, but there's no word on what they talked about." • I should hope not! And: "CNN's Mark McKinnon Praises Bernie Sanders' 'Humanity' For Response to Veteran Who Threatened Suicide at Town Hall."

UPDATE Sanders (D)(3): Advance work counts:

Bravo to the @BernieSanders advance team pic.twitter.com/swHtfFYKlN

— Cara Korte (@CaraKorte) September 15, 2019

Two good things the advance team took care of. Can you spot them?

UPDATE Sanders (D)(4): "'The View' co-host derides Bernie Sanders' debate showing: 'Looked like he crawled out of a garbage can'" [FOX]. • Now, to be fair, the View had a Sanders campaign staffer on. But can we at least have a modicum of respect?

Warren (D)(1): "Democrats Love to Nominate 'Brainiacs.' That's Good for Elizabeth Warren" [Bloomberg]. "The party's last six Democratic presidential nominees had one thing in common: All were perceived as the cerebral heavyweight in their race, and all six went to either Harvard or Yale." • Great. Remember President Kerry? President Clinton II?'

UPDATE Warren (D)(2): "Warren's latest anti-corruption plan would put strict new limits on lobbyist power" [CNN]. "The measures unveiled Monday would ban federal lawmakers and their senior staff from serving on corporate boards and would require every new member of Congress to make public any potential financial conflicts before they take office. Corporate lobbyists would have to wait six years before becoming eligible for government jobs, and a range of other powerful officials — from the president to federal judges and cabinet secretaries — would be permanently disqualified from working as lobbyists after leaving office."

* * *

"A GOP pollster said $2 billion would be spent in the 2020 election on convincing 6% of voters which party to vote for" [Business Insider (KW)]. "Luntz specified that the 6% included people who were 'conflicted, the ones that liked aspects of the Trump presidency, but not all of it, or the ones who disliked much of what he's done,' not those who could flatly deny a candidate. The slice of voters Luntz thinks candidates will be spending big on has 'never been that small,' he said. 'I don't think more money will be spent with more effort and more intensity on a smaller group of people than what will happen in this election,' Luntz said. 'Because in the end, if you're undecided in Texas or California or New York, you don't matter. So it's 6% who are undecided in 20% of the states that could actually move.'" • Or expand the base. But we won't know if that's even possible for a campaign until it's done.
Impeachment
"For the First Time in My Life I'm Against Impeaching the President" [David Swanson, Counterpunch]. "'Impeachment' simply means Russiagate to U.S. Congress Members and television viewers. So, I am against it. At the risk of having all the wrath of the impeachers redirected to myself, let me say that I am in favor of friendship and peace with Russia, and of survival for the human species."

Hoo boy:

— Quinta Jurecic (@qjurecic) September 15, 2019

However–

"New York Times issues correction on Kavanaugh story" [The Hill]. "The correction notes that friends of the woman allegedly involved in the incident with Kavanaugh during college say she does not recall it." • Oh. Here it is:
The Debate
"The Third Democratic Debate In 7 Charts" [FiveThirtyEight]. Most interesting result to me: "Biden and Sanders had the most exclusive supporters — 24 percent of Biden's supporters and 18 percent of Sanders's supporters aren't considering any of the other candidates who participated in the debate." • So significant non-overlap between Sanders and Warren.
Realignment and Legitimacy
UPDATE Stoller is correct:

This is how Democrats used to campaign in the south. Notice how they are like 'here's how your life is better.' pic.twitter.com/Y5bTTll8jP

— Matt Stoller (@matthewstoller) September 15, 2019

Universal concrete material benefits.

"Inversions in US Presidential Elections: 1836-2016" [NEBR]. From the abstract: "Inversions—in which the popular vote winner loses the election—have occurred in 4 US Presidential elections. We show that rather than being statistical flukes, inversions have been ex ante likely since the 1800s. In elections yielding a popular vote margin within one percentage point (which has happened in one-eighth of Presidential elections), 40% will be inversions in expectation. Inversion probabilities are asymmetric, in various periods favoring Whigs, Democrats, or Republicans."
Stats Watch
Empire State Manufacturing Survey, September 2019: "Empire State's sample continues to report flat conditions" [Econoday]. "A prominent negative in the report is a significant decline in general optimism…. the bulk of September's report is flat to negative especially the six-month outlook which underscores this year's sluggish trend for the US manufacturing sector which continues to struggle with declining exports and general concern over tariff tensions and slowing global growth."
Banking: "Wells Fargo pushes wrongly accused N.J. pastor toward arbitration" [American Banker]. "A New Jersey pastor who was falsely arrested because of errors made by Wells Fargo employees may be forced to resolve legal claims against the bank in arbitration, renewing questions about banks' use of the process. Jeff Edwards, the pastor of Parsippany United Methodist Church for the past 29 years, sued Wells Fargo in May to recoup costs related to his arrest, which was eventually dismissed after it became clear the bank had mistakenly identified the wrong person related to cashing fraudulent checks. But now the bank is seeking to move the case out of court, arguing that the pastor is bound by an arbitration clause he signed when he opened his account with First Union 22 years ago."
The Bezzle: "Uber customers paid more than $6 billion in cash last year, and accounting for it isn't easy" [Francine McKenna, MarketWatch]. "Accepting cash contradicts some of Uber's biggest selling points for consumers and the company — the safety and convenience of paying via credit/debit card, and collecting payments on behalf of drivers who don't have to handle cash. Uber has to implement expensive systems for drivers to collect and deposit cash and the company to collect, deposit and properly account for the cash received. When it sets those policies, they are not always 'effective, convenient or widely adopted by drivers,' Uber admitted in its prospectus." • Complexity,
The Bezzle: "The FBI is investigating a venture capital fund started by Peter Thiel for financial misconduct" [Recode]. "Mithril's leader, Ajay Royan, has worked with Thiel for almost two decades and has used that relationship to raise over $1 billion. But in recent years, Royan has frustrated some of his investors by sitting on some of their money rather than investing it in startups — while almost certainly raking in millions of dollars in fees for himself…. The drama around Mithril pulls back the curtain on a venture capital industry that is awash in money but governed by relatively few rules. And it raises questions about how often similar situations are unfolding quietly in high finance but don't manage to draw the scrutiny of the federal government."
The Bezzle: "Voyage Snags $31 Million As It Targets A Self-Driving Niche: Retirement Communities" [Forbes]. "'We do take people from their doorstep to any other doorstep and as long as that speed doesn't exceed 25 miles an hour and can [sic] handle unprotected left turns, roundabouts, all-way or two-way intersections, lane changes, all that sort of stuff," [31-year-old CEO and cofounder Oliver Cameron] says." • If your algorithm doesn't work, control the inputs…
The Bezzle: "SoftBank Investments Slammed From Wall Street to California" [Bloomberg]. "SoftBank has put more than $10 billion into WeWork and is a key financier of businesses in the gig economy. It's the biggest investor in Uber Technologies Inc. and also holds large stakes in food delivery startup DoorDash Inc. and dog-walking app Wag Labs Inc., all of which are built on contract labor…. First, SoftBank urged WeWork to shelve its controversial initial public offering after investors recoiled. WeWork instead elected to make some changes to its corporate governance and proceed with a march to the Nasdaq. On the opposite coast, the California Legislature passed a labor bill that could force gig economy companies to incur substantial new employment costs and dramatically reshape their business models." • Maybe the bet on "contract labor" isn't quite as solid as they thought.
* * *
Today's Fear & Greed Index: 66 Greed (previous close: 68, Greed) [CNN]. One week ago: 45 (Neutral). (0 is Extreme Fear; 100 is Extreme Greed). Last updated Sep 16 at 11:38am. Note that the index is not always updated daily, sadly.
Rapture Index: Closes up one on Oil Supply/Price. "A terrorist strike in Saudi Arabia has put upward pressure on oil prices" [Rapture Ready]. Record High, October 10, 2016: 189. Current: 185. Remember that bringing on the rapture is a good thing.
The Biosphere
"The Amazon's Neocolonial Problem" [BrazilWire]. "The G7's cursory offer of $22 million US dollars [to fight Amazon fires] is not money that Brazil actually needs, the country has $385 billion in reserves. The key failure of this thinking is the notion that the Amazon fires are some kind of tragic accident. It is not through oversight, incompetence or "failure to act" that the rainforest is in flames, it is a deliberate, planned and genocidal deforestation strategy, from which G7 companies are themselves in line to benefit. A leaked presentation by Washington DC lobbyists close to the Trump administration shows US companies being recruited to exploit the Amazon, from the Mining, Agribusiness and Gas/Chemical industries. A myriad of G7-based companies are already directly benefitting from the far-right Brazilian Government's policies."
"Indonesia haze: Why do forests keep burning?" [BBC]. "The burning usually peaks from July to October during Indonesia's dry season. Many farmers take advantage of the conditions to clear vegetation for palm oil, pulp and paper plantations using the slash-and-burn method. They often spin out of control and spread into protected forested areas…. The haze usually measures hundreds of kilometres across. It has spread to Malaysia, Singapore, the south of Thailand and the Philippines, causing a significant deterioration in air quality…. In Palangkaraya, the capital of central Kalimantan, the Air Quality Index (AQI) reached 2000 on Sunday, according to Greenpeace Indonesia. Anything between 301-500 is considered hazardous."
"Before-and-After Riverside Park Photos Show That the Goats Didn't Just Nap This Summer" [West Side Rag]. "[P]hotos released on Thursday by the conservancy show that the animals devoured just about everything on a weed-stricken hill between 119th and 125th Street. The goats ate up about three acres of vegetation, 'clearing the way for more ecologically ideal plants and a healthier forest!' the conservancy tweeted." • No carbon-based fuel required.
Water
"Our Secret Delta" [Post and Courier]. The Santee, in South Carolina. Gorgeous long-form piece:
[L]et's follow the water. From the Blue Ridge Mountains of North Carolina, it flows toward South Carolina. It gains force as foothills give way to South Carolina's Midlands, forming the Saluda, Catawba and Broad rivers, brown with loam. Past Columbia, the land flattens and the rivers expand like lungs into the great cypress swamps of the Congaree. The water slows at Santee Cooper's dams, forming the shallow lakes Moultrie and Marion. Then it shoots through spillways. Some goes into the Cooper River toward Charleston's busy harbor. But most pours into the much-less-busy Santee. With no real slopes to guide it now, the Santee meanders like a haphazardly thrown rope until it splits in two, the North and South Santee. Finally, in the flats between Georgetown and McClellanville, those strands meet an opposing force, the rising tides of the Atlantic.This meeting place is where the delta becomes the delta, where sediment flowing from Upstate fans out and makes marshes and barrier islands. And, because this soppy land is low, and because of the tides, the ground isn't always solid. It's something in between: swamps so quiet you hear blood rush in your ears, old rice fields with flocks of blackbirds that lift as one and move back and forth, like a conductor's hand.
The 420
From The full results of the 2018 Cannabis Price Index, total consumption: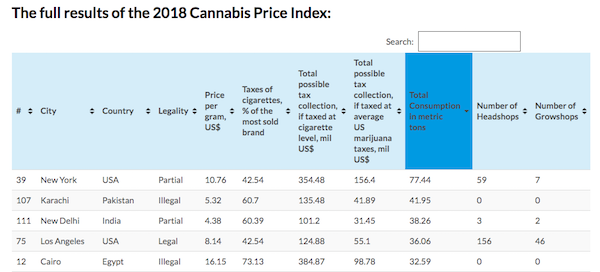 We're #1! We're #1! And only #39 on price, so, good deal.
"Can cannabis go green?" [Nature]. "Despite its being one of the world's oldest crops, the production of cannabis remains somewhat mysterious. Thanks in part to decades of prohibition, little has been published about the water or energy requirements of growing cannabis. Cultivation in the laboratory is expensive because of the need for secure facilities, so researchers often turn to information from growers, as well as the law-enforcement officials who target illegal cannabis enterprises. Those data paint a bleak picture…. Wildlife-disease ecologist Mourad Gabriel, a co-director of the Integral Ecology Research Center in Blue Lake, California, joins law-enforcement officials on raids to study these cultivation sites. … A licensed, energy-efficient cannabis farm is a world away from the illegal cultivation sites that feature in Gabriel's research. Yerba Buena in Hillsboro, Oregon, for example, is the first cannabis-cultivation enterprise to rank in the top ten greenest workplaces in the state."
"Michigan's ban on flavored vaping products ignores the dangers of THC cartridges" [Detroit Metro Times]. "Michigan's unprecedented ban on flavored nicotine vaping products failed to target the primary culprit of the fatal lung illnesses sweeping across the country — marijuana cartridges. While Gov. Whitmer and the state's health department insist flavored e-cigarettes and e-liquid constitute a "crisis," they have done little to nothing to address the THC — or tetrahydrocannabinol, the psychoactive component of marijuana — vape cartridges that have been linked to the outbreak."
Black Injustice Tipping Point
"They were once America's cruelest, richest slave traders. Why does no one know their names?" [WaPo]. "[Isaac Franklin and John Armfield], who headquartered their slave trading business in a townhouse that still stands in Alexandria, Va., sold more enslaved people, separated more families and made more money from the trade than almost anyone else in America. Between the 1820s and 1830s, the two men reigned as the "undisputed tycoons" of the domestic slave trade… Their success was immense: The duo amassed a fortune worth several billions in today's dollars and retired as two of the nation's wealthiest men… Even while actively trading slaves, the two men enjoyed an excellent reputation and moved in top-tier social circles, according to [Joshua Rothman, a professor of history at the University of Alabama]. Franklin went to the theater with other rich whites and threw dinner parties, earning a reputation as a 'gregarious' host with 'the best liquors.'" • I'll bet.
L'Affaire Joffrey Epstein
"My Tea with Jeffrey Epstein" [Edward Jay Epstein, Air Mail News (Furzy Mouse)]. "It was all dazzling fun, but in late 1988 a dark cloud poked its way into the festivities. It began when I tried to board an All Nippon Airways flight that Epstein had upgraded [for me] to first class. The A.N.A. representative told me it could not be a first-class ticket, which cost $6,000, because I had paid only $655. When I pointed to the first-class sticker, she said anyone could steal one and paste it in. I was unceremoniously moved to coach." • Plenty more highly regrettable detail at the link! [Boston Globe].
"A meeting with Jeffrey Epstein led to a gift — and, now, regrets" [Boston Globe]. "n 2017, Ito requested that [Neri Oxman's] design lab, which often produced donor gifts for the university, send a token of appreciation to Epstein: a grapefruit-sized, 3-D printed marble with a base that lit up. It came with a pair of gloves to avoid getting fingerprints on the surface. She complied, and asked lab members to mail it to Epstein's Manhattan address…. In recent weeks, journalists have asked questions of MIT about Oxman's lab sending the gift to Epstein. According to e-mails obtained by the Globe, Ito asked Oxman how she wanted to respond to media questions. Oxman's husband, William Ackman, a hedge-fund billionaire, in a phone conversation and e-mail to Ito raised concerns about Oxman's name being tied to the Epstein situation, according to multiple people aware of the situation." • Quite the rarefied atmosphere! And yet another billionaire connection, note well.
Guillotine Watch
"America's Billionaire Playgrounds: Rockets, Ranches and Rivers" [Bloomberg]. "Acquiring land for recreation is a common motivator for today's ultra-rich buyer. A unique property with stunning vistas and vast acreage has become its own class of luxury asset and, unlike, say, fine wine, it can be enjoyed while it appreciates. The quirky pastimes of billionaires often require huge amounts of open land. " • Quirky pastimes.
"A penthouse, limousines and private jets: Inside the globe-trotting life of a W. Va. bishop" [Daily Progress]. Cf. Matt 19:21. Handy chart: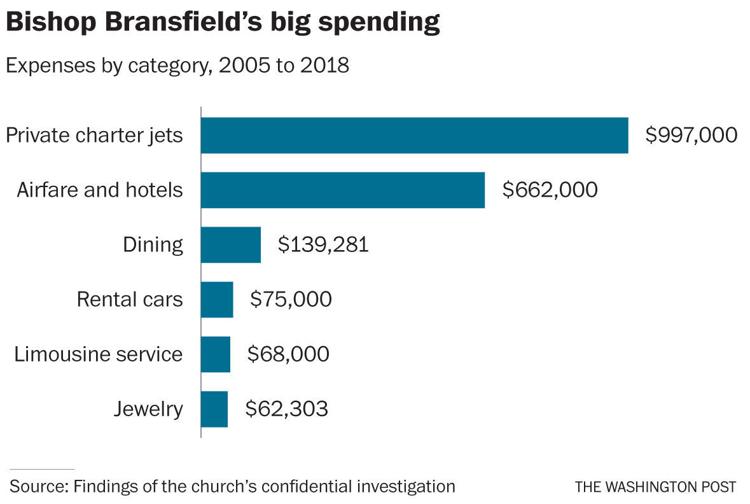 On the bright side, I guess we're lucky Bishop Michael Bransfield (Wheeling-Charleston diocese, W.Va.) didn't have a friend with a private jet….
Class Warfare
"In the new game of Monopoly, women make more than men" [CNN (JBird)]. • I don't see the issue. I mean, it's still Monopoly.
"Auto Workers Go on Strike After Years of Tirelessly Helping General Motors Reach Record-Level Profits" [UAW]. • Maybe not ideal messaging?
"Inside the Carpenters' Fight for Control of Their Union" [The Nation]. "The terms of the agreement became available to carpenters just a few days before the contract was formally agreed upon. Members cannot vote directly on contracts…." • (!!!!)
"The School to Prison Pipeline: Long-Run Impacts of School Suspensions on Adult Crime" [NBER]. From the abstract: "Students assigned to a school that has a one standard deviation higher suspension rate are 15 to 20 percent more likely to be arrested and incarcerated as adults. We also find negative impacts on educational attainment. The negative impacts of attending a high suspension school are largest for males and minorities." • Everything's going according to plan.
News of the Wired
"Americans are not using umbrellas as they were intended" [Quartz]. "But walking outside under the fierce summer sun—even if it's to run a quick errand—can be taxing: We sweat, we get exhausted, we burn, and we expose ourselves to dangerous UV rays. In Asian countries, many people have a convenient tool at their disposal: They'll often use umbrellas to shield them from the sun's powerful rays. In the US, even though most people own an umbrella to keep them dry when it's raining, almost no one uses one for sun protection. Yet at one time, trendsetting American women did use umbrellas for sun protection…. The origin of the word "parasol" comes from the French 'para,' for 'stop,' and 'sol,' for sun. And 'umbrella' originates from the Latin 'umbra,' which means 'shade" or 'shadow.'" • Eesh, how could I not know this?
"The grandmaster diet: How to lose weight while barely moving" [ESPN]. "Robert Sapolsky, who studies stress in primates at Stanford University, says a chess player can burn up to 6,000 calories a day while playing in a tournament, three times what an average person consumes in a day. Based on breathing rates (which triple during competition), blood pressure (which elevates) and muscle contractions before, during and after major tournaments, Sapolsky suggests that grandmasters' stress responses to chess are on par with what elite athletes experience…. The 1984 World Chess Championship was called off after five months and 48 games because defending champion Anatoly Karpov had lost 22 pounds."
"An important quantum algorithm may actually be a property of nature" [Technology Review]. "Back in 1996, a quantum physicist at Bell Labs in New Jersey published a new recipe for searching through a database of N entries. Computer scientists have long known that this process takes around N steps because in the worst case, the last item on the list could be the one of interest. However, this physicist, Lov Grover, showed how the strange rules of quantum mechanics allowed the search to be done in a number of steps equal to the square root of N. That was a big deal. Searching databases is a foundational task in computer science, used for everything from finding telephone numbers to breaking cryptographic codes. " • And from there we move to organic material, like DNA, also implemented Grover's algorithm. I guess our non-quantum computer models might have a hard time keeping up. Well worth a read.
* * *
Readers, feel free to contact me at lambert [UNDERSCORE] strether [DOT] corrente [AT] yahoo [DOT] com, with (a) links, and even better (b) sources I should curate regularly, (c) how to send me a check if you are allergic to PayPal, and (d) to find out how to send me images of plants. Vegetables are fine! Fungi are deemed to be honorary plants! If you want your handle to appear as a credit, please place it at the start of your mail in parentheses: (thus). Otherwise, I will anonymize by using your initials. See the previous Water Cooler (with plant) here. Today's plant (TH):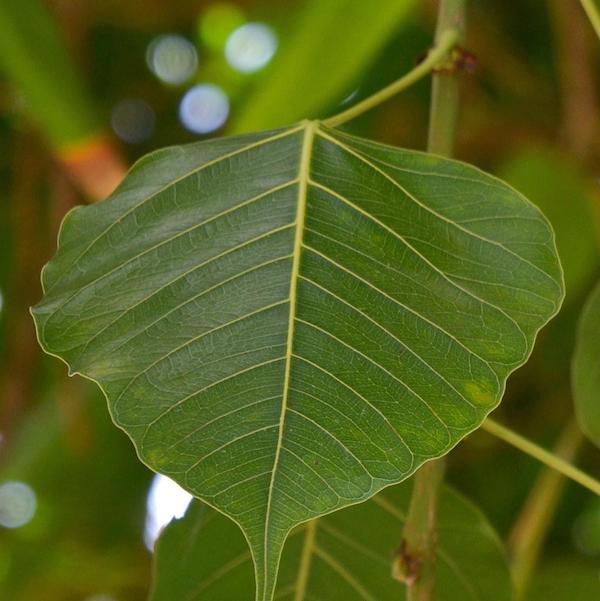 TH writes: "This leaf is on the Bodhi Tree in the Fullerton Arboretum. Also known as the 'Tree of Knowledge' (though doubtless, not in Christian circles) and the 'Tree of Enlightenment.' It bears a dedication to the 14th Dalai Lama in honor of his visit on September 13th, 2000. We (my husband and I) were fortunate enough to be able to attend that event and get a signed copy of 'The Art of Happiness.'" I could certainly use more enlightenment. Nevertheless, with Yves, I'm dubious about seeking happiness instead of contentment.
* * *
Readers: Water Cooler is a standalone entity not covered by the annual NC fundraiser.Remember, a tip jar is for tipping! So if you see a link you especially like, or an item you wouldn't see anywhere else, please do not hesitate to express your appreciation in tangible form. Regular positive feedback both makes me feel good and lets me know I'm on the right track with coverage. When I get no donations for five or ten days I get worried. More tangibly, a constant trickle of donations helps me with expenses, and I factor in that trickle when setting fundraising goals:
Here is the screen that will appear, which I have helpfully annotated.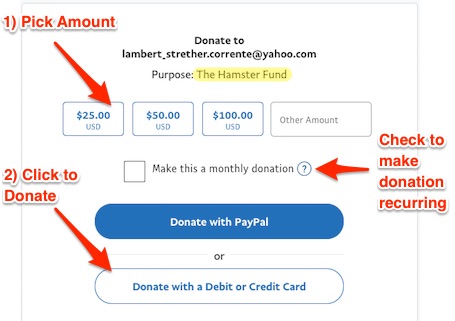 If you hate PayPal, you can email me at lambert [UNDERSCORE] strether [DOT] corrente [AT] yahoo [DOT] com, and I will give you directions on how to send a check. Thank you!