By Lambert Strether of Corrente
Politics
"But what is government itself, but the greatest of all reflections on human nature?" –James Madison, Federalist 51
"They had one weapon left and both knew it: treachery." –Frank Herbert, Dune
Alert reader dk (not to be confused with DK) is in the process of developing the following interactive chart:
And here is (are) the latest poll(s) as of 9/23/2019, 4:00 PM UTC/12:00PM EDT: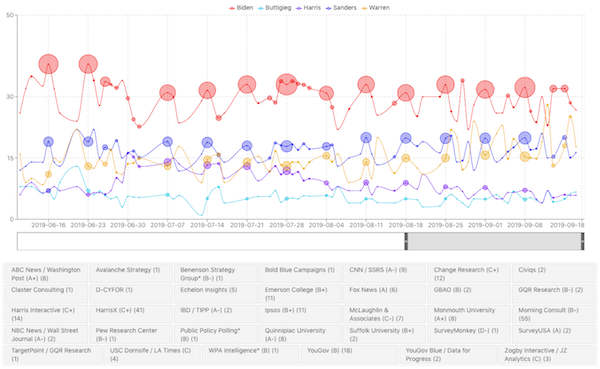 Biden still sagging, Sanders hacks away at Warren's small lead. (If you squint your eyes so the big sample shares dominate, the trends are visible: Biden's slow deflation, Sanders' consistency, and Warren's rise to parity with Sanders. You will also note that the narrative that there are only two top contenders (Silver; Cillizza) arose after the last large sampling on September 7. Since then, volatility has been great, but sample sizes small. And the polling detail: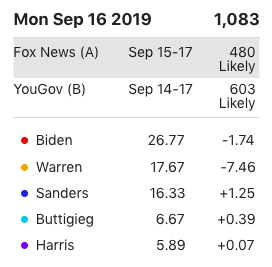 I think dk has started a really neat project, and in the near future we'll seek your feedback (within reason) for the tool "live."
UPDATE 2019-08-30: Now the polls aggregated (all available) are shown at the bottom of the poll. We also give more detail about each poll than RCP, and allow candidates to be selected or deselected. That's three reasons what dk is doing beats RCP, and if we can make the individual polls selectable/highlightable, that will be four reasons. With more to come, grid willing.
* * *
2020
* * *

Biden (D)(1): I'm not sure the Ukraine sequel is going to be as good as the Russia original. I guess we'll have to see:

The same people who don't trust voters to understand rising taxes being offset by lower health costs are ready to roll with "Biden was influencing Ukrainian prosecutors for GOOD ANTI-CORRUPTION reasons while his unqualified son was making a fortune from a Ukrainian oligarch"

— Ecclesiasticus44 (@Ecclesiasticu12) September 23, 2019

Also, isn't the current President of Ukraine supposed to be a good guy, at least by Ukrainian standards? (So I can't help but wonder what The Blob thinks of all this.)

Booker (D)(1): "Cory Booker's 2020 bid, still sluggish in SC, has campaign manager questioning path forward" [Post and Courier]. "In a memo to staff and supporters Saturday, Booker's campaign manager said that if they don't raise $1.7 million in the next 10 days, he does not see a "legitimate path forward" in the race… Booker's aides and supporters readily admit that his candidacy has not caught on to the level they expected at this stage in the race. While many of his campaign events in the state draw sizable crowds, most polls of the state's Democratic primary voters have placed Booker in the low single digits. Part of the struggle has been about overcoming voter perceptions of electability, with many saying they view Biden as the "safe choice" to accomplish their overriding goal: beating Trump."

Sanders (D)(1): "Bernie Sanders Calls for Eliminating Americans' Medical Debt" [New York Times]. "In a plan released Saturday, Mr. Sanders, the Vermont senator and presidential candidate, proposes wiping out an estimated $81 billion in existing debt and changing rules around debt collection and bankruptcy. He also calls for replacing the giant credit reporting agencies with a "public credit registry" that would ignore medical debt when calculating credit scores." • Nuking the horrid social credit credit reporting agencies is just as big a story as writing off the debt.

Sanders (D)(2):

Bernie was on a flight and this is what the passengers did. pic.twitter.com/EQ5bjul4A5

— Digital Left (@DigitalLeft) September 21, 2019

Other campaigns in 3, 2, 1….

Warren (D)(1): More on that super-sketchy WFP endorsement. The quote is from Maurice Mitchell, national director of the WFP:

This explanation of why the WFP did not disclose the results of their membership vote only makes sense if Bernie Sanders won the membership vote. If Warren won it, there obviously wouldn't be a concern about a wedge between the National Committee delegates & the members. pic.twitter.com/FaHcg6yEux

— Ben Spielberg (@BenSpielberg) September 23, 2019

First, if the superdelegates from the Board voted one way, and the membership another, that's not a "false wedge." It's a real wedge and a wedge, moreover, that mirrors real splits in the Democrat Party. Second, if you're concerned about superdelegates determining the Democrat nominee on a second ballot, then legitimizing superdelegates at the WFP is a great way to ease you into the idea that it's good, actually.

Warren (D)(2): "Warren to headline major DNC fundraiser' [Politico]. "Massachusetts Sen. Elizabeth Warren and House Speaker Nancy Pelosi will headline a big-ticket fundraising event for the Democratic National Committee in October… The pair will star at the DNC's Women's Leadership Forum conference, taking place in Washington, D.C., on Oct. 16 and 17. The event, which has been held each year since 1993, will focus on the 2020 election. Past headliners have included former Secretary of State Hillary Clinton and former President Barack Obama…. In addition to Warren and Pelosi, the Women's Leadership Forum event will feature more than a dozen lawmakers, including freshman Reps. Ayanna Pressley of Massachusetts, Abigail Spanberger of Virginia and Lauren Underwood of Illinois and other Democrats, including Kentucky Senate candidate Amy McGrath and former Obama White House senior adviser Valerie Jarrett." • Spanberger: CIA Democrat. Underwood: "Underwood said that health care is "'a human right' and that single-payer/universal coverage/Medicare for all was 'a great goal' but would have to wait until we have good answers to the questions about costs." McGrath: "Trump promised to bring back jobs. He promised to lower drug prices for so many Kentuckians. And that is very important. "And you know what? Who stops them along the way? Who stops the president from doing these things? Mitch McConnell. And I think that that's very important, and that's going to be my message – the things that Kentuckians voted for Trump for are not being done. He's not able to get it done because of Senator McConnell." If only Joe Manchin were a woman! Oh, and if you use the DNC's voter file, as Warren does (and Sanders does not), you are contractually obligated to fundraise for them. No doubt that figured in Warren's decision.

Warren (D)(3): "The Attack On Elizabeth Warren That Could Actually Matter" [Yahoo News]. "But the attacks that could land the most damage focus on Warren's trustworthiness on health care, the No. 1 issue for voters in both the Democratic primary and in the general election, according to polling. Though Warren has rolled her out own detailed policy plans on everything from gun control to child care to rural economic development, she is the only leading candidate to avoid releasing her own health care plan, instead endorsing Sanders' "Medicare for All" legislation while saying she remains open to alternatives.The position has left her vulnerable to attacks from Sanders supporters as well as from opponents of Medicare for All, which would eliminate private health insurance and require the government to pay for Americans' health coverage. Warren's steady rise in the Democratic primary has come, in large part, from her ability to appeal to both the party's mainstream and left-wing branches, but health care is an issue that could turn chunks of both groups against her and undercut her central image as a candidate with a brilliant idea for every problem." • As I've been saying.

Yang (D)(1): "I Was Andrew Yang's First 'Freedom Dividend' Recipient – When He Fired Me" [Gotham Gazette]. "Imagine my surprise, then, that on the third day that I was back to work after my honeymoon in 2007, Andrew Yang fired me. Our private discussion, in his office with the door closed, began with Andrew's remarks that because I was married, I wouldn't want to continue working as hard as I had been. That as a wife, I'd be focused on my new life." • Whoops.

* * *

"The Seven Stages of Establishment Backlash: Corbyn/Sanders Edition" [Glenn Greenwald, The Intercept]. From 2016, still germane. I think we are well into Stage 4. In other words, you ain't seen nuthin yet.
2019
"AOC fighting to block massive 'Walmart of Liquor' from her Queens district" [New York Post]. "Rep. Alexandria Ocasio-Cortez is fighting to block a massive booze retail store that critics call the "Walmart of Liquor" from opening on her turf in College Point, Queens…. 'I am deeply concerned about the potential impacts that MCT Fine Wine & Spirits would have on the local small business community. As a large retailer with ties to a billion dollar nationwide chain, Total Wines has access to resources and economies of scale with which smaller retailers could not compete,' she said." • Good for her (says Stoller). Makes me wonder who Total Wines owns — or, to be fair, rents — in New York.
Health Care
As I keep saying, forestalling #MedicareForAll is liberal Democrats' #1 policy priority:

Nancy Pelosi on NPR again today, "..they have their plan, their Medicare for All or whatever they call it…"

Seriously Nancy? This is your brand of "unity"?

This hubris is gonna kill us all.

— PUSH FROM THE LEFT #MedicareForAll ? (@JeremyWard33) September 21, 2019

So Warren crawfishing (here, here) on it makes all the sense in the world, from the perspective of "the party decides."
Impeachment
"The impeachment panacea" [Damon Linker, The Week]. "The endless debate about whether this or that example of Trumpian bad behavior is "impeachable" therefore completely misses the point. The fact is that anything can be impeachable, provided there is sufficient public support. Likewise, impeachment (let alone conviction and removal by the Senate, which requires a super-majority of 67 votes in the upper chamber) will never happen if there isn't sufficient consensus in favor — or if those in a position of power lack confidence in their ability to change minds and build such a consensus through persuasion once the process has gotten underway. Pelosi obviously has no such confidence. Is her fatalism warranted? At the level of brute electoral calculation, it may well be. A number of her party's gains in 2018 were won in conservative-leaning districts that she fears could flip back to the GOP if the House majority goes too far in challenging the president." • I love the way that everybody, even the reasonably aware writers at The Week, treats the Democrat focus in 2018 on "conservative-leaning districts" as some sort of natural event, instead of a conscious political choice. In fact, the Democrats ran exactly the same play in 2006, when the Blue Dogs first got their start. More: "[M]any others are well aware that [Trump is] corrupt. They just see the corruption as a slightly more egregious form of the debasement that pervades Washington and elite culture more broadly…. As my colleague Bonnie Kristian recently put it in an insightful column, other presidential aspirants hire expensive and highly skilled teams of hard-nosed opposition researchers to dig up dirt on their opponents. Trump just calls the president of Ukraine and twists his arm to get him to do the work for him. The two approaches are different, yes. But precisely how different? Are they really different in kind?" • They are different and different in kind because the liberal Democrat approach makes highly credentialed professionals essential to the process. I mean, surely sending your clothes to the laundry isn't the same as doing the washing yourself, personally [aghast face]?
Pollsters
I suppose I can throw Silver into this bucket:

Sorry, did Nate Silver just refer to non-white Sanders supporters as "the residue?" https://t.co/gHVHvZq4YW

— MrDoomsAndGlooms (@AdamLoBue) September 22, 2019

Surely dregs leavings dross scum trash balance would have been a better word?

"Some Polls Come Up With Conclusions First– And Then Fill In The Numbers… Especially When They Think God Is On Their Side" [Down with Tyranny]. More on that Focus on Rural America poll: "An organization called Focus on Rural America– that's founded by someone who worked for Bill Clinton, ran paid campaigns for Obama– that's advised by someone who worked as State director for Hickenlooper– that's chaired by someone who has apparent allegiance to one of the Democratic primary candidates– specifically– Elizabeth Warren– publish just memo of the poll where Bernie is getting lower vote share than Pete Buttigieg."
Realignment and Legitimacy
"Democrats rally behind incumbents as Lipinski takes liberal fire" [The Hill]. "Democrats are rallying behind their incumbents after a small band of liberal lawmakers endorsed a primary challenge to Rep. Daniel Lipinski (D-Ill.) in a deep blue Chicagoland district…. But the attacks on a sitting colleague have unsettled a number of Democrats now rushing to Lipinski's defense…. Backed by Speaker Nancy Pelosi (D-Calif.) and other party leaders, these voices are urging Democrats to stick together, protect their incumbents and embrace the diversity of views — even conservative ones — that could pay dividends in battleground districts next year. 'We all need to realize that the Democratic Party is a party of a big tent, and so we have to be tolerant of other member's views and not go after each other in party primaries,' said Rep. Wm. Lacy Clay (D-Mo.), a member of the Congressional Progressive Caucus (CPC) who faced his own primary challenge last year. " • "Don't ever take sides with anyone against the Family again. Ever."

"2020 campaigns get Trump administration help on cybersecurity, counterintelligence" [NBC]. "As campaigns work to safeguard their websites, databases and email systems, the federal government has been providing defensive briefings to all the Democratic campaigns that will take them, U.S. and campaign officials tell NBC News. The effort has involved the FBI, the Homeland Security Department and the Office of the Director of National Intelligence, which oversees all the U.S. spy agencies." • Awesome. Frankly, I think the only way to be safe is placing a representative of the intelligence community in every campaign's staff. I mean, if there isn't one already.

"The Democratic Party is suffused with wretched cowardice" [Ryan Cooper, The Week]. "In the run-up to the 2018 midterms, a major element of Democratic Party messaging was that the party would serve as a check on President Trump and the Republican Party [lol]…. There's just one problem: Great swathes of the Democratic structure are permeated to their very marrow with moral rot and cowardice, unwilling to do anything but the most superficial acts to check the GOP — and indeed often conspiring with them to preserve Republican dominance, as Democrats in the North Carolina state legislature did Monday…. For years now, activists and civil rights groups have been pursuing expensive legal action to overturn the egregious Republican gerrymandering of the state's district boundaries (at both the state and federal level). They recently succeeded with a state Supreme Court ruling tossing out the current maps and asking the legislature to draw new ones. Then Monday night Republicans proposed a new gerrymander only somewhat less bad than their previous effort — and about half the state's Democratic senators voted for it…. If America is to survive as a democratic republic into the medium term, these tepid dishwater Democrats have to go." • Sounds like there's rather a lot of them at the DNC's Women's Leadership Forum conference!

"Which 2020 Democrats get the most campaign cash from wealthy donors?" [Open Secrets]. "South Bend, Ind., Mayor and top-tier fundraiser Pete Buttigieg is the most popular among CEOs, consultants, realtors, accountants and physicians, among others. Former Vice President Joe Biden gets the most from investors, presidents, attorneys and chiropractors. Sen. Kamala Harris (D-Calif.) wins with executives and entrepreneurs."

The more lavish the executive suites, the sicker the institution?

The President's Office, White House, May 1904 – a look into the modest office of President Roosevelt. See more: https://t.co/Q9dFFewJY1 pic.twitter.com/mKKfreFwPT

— History Lovers Club (@historylvrsclub) September 23, 2019
Stats Watch
Chicago Fed National Activity Index, August 2019: "A snapback for manufacturing production led a jump into the positive column for the national activity index" [Econoday]. "Manufacturing has been the center of weakness for this indicator but posted a strong gain in August's industrial production report."
Purchasing Managers' Index Composite FLASH, September 2019: "Nearly flat are the results of both September's manufacturing PMI, at 51.0, and services PMI, 50.9. The composite for the month is 51.0 and little changed from August's 51.2 in a two-month stretch that is the weakest for these data in more than three years" [Econoday]. "Companies can keep up activity like production, at least for a time, by working down backlog orders which they are doing in these samples. Low backlogs are a negative for employment which the report notes saw cutbacks. In fact, indications from the samples, for the first time in nearly 10 years, point to contraction in September private payrolls. A small plus is a slight pick up in business expectations which, nevertheless, remain near seven year lows. Confirmation of weakness comes from prices which contracted for inputs, especially in the service sector, and were unchanged for selling prices. The report notes that export orders for the manufacturing sample continue to weaken."
Retail: Choice:
I toured a huge frozen food processing plant in Salem, Oregon with my students . We saw huge rolls of plastic packaging bearing the names of about 30 different brands. The fruits and vegetables that went into those bags were EXACTLY THE SAME. https://t.co/QFMU4HOlFa

— Seth Cotlar (@SethCotlar) September 21, 2019
The Bezzle: "Valuations Director, Finance, SoftBank Group International" [Indeed]. "SoftBank Group International ("SBGI") is seeking an enthusiastic and experienced Valuations Director to join the Finance team in either our London UK office or New York, NY office. This position represents a unique opportunity to provide valuations expertise within a dynamic corporate venture capital environment, working with visionary senior management team on strategic investments, performance monitoring and valuation of our investments primary focused on growth stage world-class technology companies. The Valuations Director will be primarily responsible for determining the fair value of investments for quarterly financial reporting and providing valuable and timely insight to management on our investments." • Oh, the humanity! Will no one think of the stupid money?
The Bezzle: "WeWork board members seek to remove Adam Neumann as CEO" [Los Angeles Times]. "Any coup might mirror the replacement of another enigmatic CEO before a public offering. Institutions including Benchmark Capital, one of WeWork's investors, pushed out Uber Technologies' Travis Kalanick before the ride-hailing company went public. Still, even if some directors want to oust Neumann, it won't be easy given the company's governance structure. Based on the number of shares he controls, , according to the prospectus." • What kind of moron signs up for a board structured like that?
The Bezzle: "SoftBank turns against WeWork's parent CEO Neumann: sources" [Reuters]. "Benchmark, SoftBank and Chinese private equity firm Hony Capital each have one representative on We Company's seven-member board, that includes Neumann. Hony Capital's position on whether Neumann should remain CEO could not immediately be learned. No challenge to Neumann has yet been tabled, the sources said. A We Company board meeting will be held this week, and the issue of his leadership could be raised then, the sources added. One option that SoftBank is considering is asking Neumann to become interim CEO while a headhunting firm is hired to find an external replacement, the first source said."
The Bezzle: "I'm an Electric Rental Scooter, and I Didn't Ask for This Bullsh*t Either" [McSweeney's Internet Tendency]. "How many hellish fifteen-cent-minutes must I endure before the world recognizes my capacity for good? Before my inherent dignity and utility are acknowledged by those with a moral compass? Before the fringe elements of humanity find another way to desecrate the social contract?"
Tech: "The Politics of Images in Machine Learning Training Sets" [Excavating AI]. Grab a cup of coffee, this is extremely important:
You open up a database of pictures used to train artificial intelligence systems. At first, things seem straightforward. You're met with thousands of images: apples and oranges, birds, dogs, horses, mountains, clouds, houses, and street signs. But as you probe further into the dataset, people begin to appear: cheerleaders, scuba divers, welders, Boy Scouts, fire walkers, and flower girls. Things get strange: A photograph of a woman smiling in a bikini is labeled a "slattern, slut, slovenly woman, trollop." A young man drinking beer is categorized as an "alcoholic, alky, dipsomaniac, boozer, lush, soaker, souse." A child wearing sunglasses is classified as a "failure, loser, non-starter, unsuccessful person." You're looking at the "person" category in a dataset called ImageNet, one of the most widely used training sets for machine learning.

Something is wrong with this picture.
Tech: "Google CEO Sundar Pichai warns against 'rushing' into regulating AI, which happens to be vital to Google's future growth" [Business Insider]. "Speaking in Helsinki, Pichai warned against broad regulation of AI, arguing instead that existing laws could be repurposed sector by sector 'rather than assuming that everything you have to do is new.' 'It is such a broad cross-cutting technology, so it's important to look at [regulation] more in certain vertical situations,' Pichai said. 'Rather than rushing into it in a way that prevents innovation and research, you actually need to solve some of the difficult problems,' he added, citing known issues with the technology such as algorithmic bias and accountability." • See above; now you know why. Garbage in, garbage out.
Tech: "VSCO CEO Joel Flory on Social-Media Metrics and the Summer's Biggest Meme, the 'VSCO Girl'" [New York Magazine]. "VSCO, like the apps from which it received this summertime boost, is itself a social platform — but it differs in significant ways from its peers and rivals. It doesn't display engagement metrics such as likes and follow counts, and it doesn't make money from ads. Its money comes from a subscription product with plenty of flaw-wiping filters and photo tweaks. Earlier this week, the company released the results of a study about its Gen-Z users (no surprise: the study validates VSCO's approach) that showed many of its young users reportedly deal with online-related anxiety." • Self-Medication As A Service…
Manufacturing: "Apple will manufacture its new Mac Pro in Texas" [Engadget]. "The company has confirmed that it'll assemble the workstation at the same Austin, Texas plant that has produced the cylindrical Mac Pro since 2013. The company isn't shy about the reason for the move: it's reportedly enabled by exemptions from Trump's China tariffs for 'certain necessary components; in the system. Production starts 'soon.' Apple had received 10 out of its 15 requested exemptions for components like partial circuit boards. While Apple has a network of US suppliers for its products, many of the parts for computers (and those of rivals) are still made in China — the company wouldn't have seen much benefit from US assembly if it had to pay a premium for some of the Mac Pro's key ingredients." • More accurately, assembled in Texas. But it's a start, I suppose. More: "Apple can produce the Mac Pro stateside due to both its low volume (few people will buy a $6,000 tower for home use) and the high levels of automation at the Austin plant. This won't lead to an abundance of new jobs, and it may still be more practical to make high-volume products like iPhones and MacBooks in China even if future tariffs cut into Apple's profit margins."
Intellectual Property: "Off-White is Trying to Register One Specific Use of its Famed Quotation Marks" [The Fashion Law]. "According to a trademark application for registration that counsel for Abloh's Milan-based brand filed with the U.S. Patent and Trademark Office ('USPTO') in May, Off-White is seeking a registration for the words '"Product Bag"' along with the quotation marks surrounding it, which it is using – and has been using, according to the application, since 2016 – on clothing, namely "tops [and] bottoms." In the August letter, USPTO examining attorney Drew Ciurpita took issue with the mark because based on the specimen (i.e., a photo of how the trademark is being used) that Off-White's counsel submitted to the USPTO, 'the applied-for mark … does not function as a trademark." In other words, the '"Product Bag"' mark does 'not indicate the source of [Off-White's] goods,' nor does it 'identify and distinguish [Off-White's goods] from [those of] others.' That is primarily because the specimen in which the '"PRODUCT BAG"' mark appears is … a product bag. It is what Off-White products are packaged in. As such, Ciurpita asserted that the mark 'merely references' – or describes – 'the packaging for the goods,' as opposed to 'creat[ing] a connection between the mark and the goods identified in the application,' including "tops [and] bottoms."" • Turning irony into trade dress turns out to be hard!
* * *
Today's Fear & Greed Index: 59 Greed (previous close: 58, Greed) [CNN]. One week ago: 58 (Greed). (0 is Extreme Fear; 100 is Extreme Greed). Last updated Sep 23 at 11:47am. Drifting toward neutrality.
Rapture Index: Closes down one on Earthquakes. "The lack of activity has downgraded this category" [Rapture Ready]. Record High, October 10, 2016: 189. Current: 184. Remember that bringing on the rapture is a good thing. I wonder when, in 2020, the index will start flirting with 190 again.
The Biosphere
Past student strikes. Thread:
Don't know about anyone else, but seeing all the photos and videos from the #climatestrike is really inspiring us, and giving some hope for the future. So thought we would make a little thread of previous school strikes organised by schoolchildren… pic.twitter.com/1OUzFuVSRI

— Working Class History (@wrkclasshistory) September 20, 2019
"The hard truths of climate change — by the numbers" [Nature]. • Handy charts; horrid mobile-friendly format.
"A "Sneaky" Asteroid Narrowly Missed Earth This Summer. Internal Emails Show How NASA Scientists Totally Missed It." [Buzzfeed]. "'This object slipped through a whole series of our capture nets,' Paul Chodas of NASA's Jet Propulsion Laboratory wrote in an email to his colleagues two days after the July 25 flyby, describing what he called the 'sneaky" space rock. 'I wonder how many times this situation has happened without the asteroid being discovered at all.'… 'If 2019 OK had entered and disrupted in Earth's atmosphere over land, the blast wave could have created localized devastation to an area roughly 50 miles across,' according to a news release sent out by the agency weeks after the flyby. Such an impact has been estimated to happen about once every 3,000 years." • Pretty often!
"Something Is Killing the Universe's Most Extreme Galaxies" [LiveScience]. "Galaxy clusters are the most massive and most extreme environments in the universe, containing many hundreds or even thousands of galaxies. Where you have mass, you also have gravity and the huge gravitational forces present in clusters accelerates galaxies to great speeds, often thousands of kilometres-per-second, and superheats the plasma in between galaxies to temperatures so high that it glows with X-ray light…. As galaxies fall through clusters, the intergalactic plasma can rapidly remove their gas in a violent process called ram pressure stripping. When you remove the fuel for star formation, you effectively kill the galaxy, turning it into a dead object in which no new stars are formed. In addition, the high temperature of clusters can stop hot gas cooling and condensing onto galaxies. In this case, the gas in the galaxy isn't actively removed by the environment but is consumed as it forms stars. This process leads to a slow, inexorable shut down in star formation known, somewhat morbidly, as starvation or strangulation."
Black Injustice Tipping Point
"Running the Numbers on Closing the Racial Wealth Gap" (PDF) [William Darity, Samuel DuBois Cook Center on Social Equity, Duke University].
In this national election season, pressure is mounting for presidential candidates to make a commitment to a Black Agenda, a policy program directed at the particular interests and needs of African Americans. A primary goal of the emerging Black Agenda is to narrow the racial gap in well-being and opportunity. To achieve this, the Agenda must build around a program that will eliminate the gulf in wealth between blacks and whites.

Racial wealth inequality—where wealth is the difference between the value of what you own and what you owe (net worth)—is a critical source of racial differences in well-being and opportunity. The best available evidence demonstrates that the intergenerational transmission of resources and associated benefits are the most pronounced drivers of the gap. Families with wealth are able to provide access to high quality, debt-free, education, social networks linked to well-paid employment, better health, entrée into safe, high amenity neighborhoods, and negligible economic anxiety to their children, access not available to young people from more limited circumstances. Indeed, with sufficient wealth, even black families can purchase some degree of separation from historical and current discriminatory practices.
Class Warfare
"Grad student unions dealt blow as proposed new rule says students aren't 'employees'" [Science]. "Graduate students are not "employees" with a right to unionize, according to a rule proposed today by the National Labor Relations Board (NLRB), an agency that's tasked with enforcing U.S. labor laws. If implemented, the rule would undercut a recent wave of grad student unionization efforts at private U.S. universities. The NLRB will be accepting public comment on the announcement for 60 days." • Goodthinking liberal college administrators everywhere stand up and cheer.
News of the Wired
"Goodbye Paul Smith" [Egypt in the Golden Age of Travel]. This is before Thomas Cook went belly-up:
No, not the British fashion designer, the other one, the archivist at Thomas Cook. He's just been in touch with the sad news that after 23 years he has been made redundant…. The Thomas Cook Archive is a wonderful thing, an extensive repository of the history of tourism, the equal of which I doubt exists anywhere in the world. At the company headquarters in Peterborough, north of London, from his desk just off a corridor (itself an indication of the way things were going), Paul has presided over a storeroom absolutely stuffed with journals, letters, diaries, contracts, posters, tickets, plans and schedules, not to mention crockery and cutlery, uniforms, an ancient Egyptian statuette (once used as a doorstop) and much, much more. Paul made sure all this was accessible to historians, researchers and authors from around the world, myself included….

The archive is currently closed and while it will re-open at the beginning of July, after Paul's departure in June, there are no plans to appoint a professional archivist as Paul's successor. The archives will be managed for the foreseeable future by internal marketing staff, which means it can only be a matter of time before the whole lot is sold off.
Now sooner rather than later.
YouTube, the bright side:
There is an ongoing revolution in the transmission of tacit knowledge driven by a surprising force: YouTube https://t.co/IIL8gDbEwU

— Samo Burja (@SamoBurja) September 17, 2019

This is, actually, true. There's a ton of DIY stuff on YouTube; I use it a lot to figure out the more obscure features of LightRoom. Just don't wander in to one of the bad neighborhoods….

I don't think I can handle yet another social media platform, especially not one as mind-bending as TikTok ("the destination for short-form mobile videos"):

Quintessential Indian bathroom accessories. Audio signature of a global brand. Combine the two and you get this TikTok ? pic.twitter.com/aGbAvlAPTK

— Subrahmanyam KVJ (@SuB8u) July 15, 2019

Don't they do this everywhere?

apparently in texas they wear this thing called a "mum" for homecoming in high school… no one can convince me that texas is real… i will not be reading replies to this tweet. pic.twitter.com/wF6CaaM7ri

— ? spooky peeps? (@yungsuccubus) September 18, 2019

* * *

Readers, feel free to contact me at lambert [UNDERSCORE] strether [DOT] corrente [AT] yahoo [DOT] com, with (a) links, and even better (b) sources I should curate regularly, (c) how to send me a check if you are allergic to PayPal, and (d) to find out how to send me images of plants. Vegetables are fine! Fungi are deemed to be honorary plants! If you want your handle to appear as a credit, please place it at the start of your mail in parentheses: (thus). Otherwise, I will anonymize by using your initials. See the previous Water Cooler (with plant) here. Today's plant (TH):

TH writes: "A restaurant's kitchen garden." I love borage!

Readers, I'm running a bit short on plants. Perhaps you are all too busy harvesting? All plants and honorary plants welcome (as well as more of those very interesting garden projects).

* * *

Readers: Water Cooler is a standalone entity not covered by the annual NC fundraiser.Remember, a tip jar is for tipping! So if you see a link you especially like, or an item you wouldn't see anywhere else, please do not hesitate to express your appreciation in tangible form. Regular positive feedback both makes me feel good and lets me know I'm on the right track with coverage. When I get no donations for five or ten days I get worried. More tangibly, a constant trickle of donations helps me with expenses, and I factor in that trickle when setting fundraising goals:

Here is the screen that will appear, which I have helpfully annotated.

If you hate PayPal, you can email me at lambert [UNDERSCORE] strether [DOT] corrente [AT] yahoo [DOT] com, and I will give you directions on how to send a check. Thank you!