By Lambert Strether of Corrente
Politics
"But what is government itself, but the greatest of all reflections on human nature?" –James Madison, Federalist 51
"They had one weapon left and both knew it: treachery." –Frank Herbert, Dune
Alert reader dk (not to be confused with DK) is in the process of developing the following interactive chart:
And here is (are) the latest poll(s) as of 9/23/2019, 4:00 PM UTC/12:00PM EDT: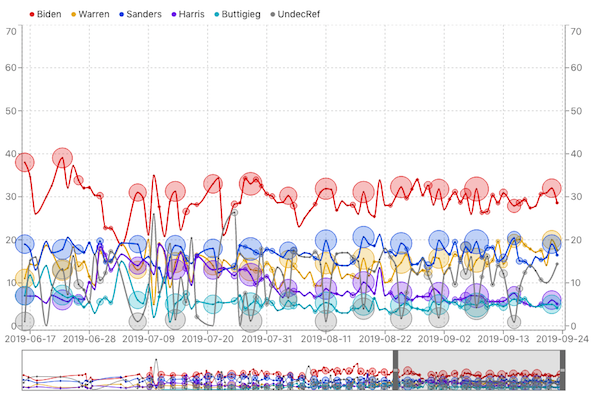 Biden still sagging, Sanders hacks away at Warren's small lead. (If you squint your eyes so the big sample shares dominate, the trends are visible: Biden's slow deflation, Sanders' consistency, and Warren's rise to parity with Sanders. You will also note that the narrative that there are only two top contenders (Silver; Cillizza) arose after the last large sampling on September 7. Since then, volatility has been great, but sample sizes small. And the polling detail: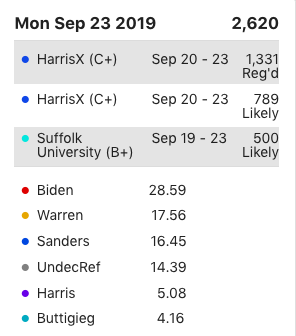 I think dk has started a really neat project, and in the near future we'll seek your feedback (within reason) for the tool "live."
UPDATE 2019-09-24: These screens are from a revised version that now includes Undecided-Refused, which is in grey. As you can see, Biden, Warren, and Sanders all went down, and undecideds went up! Which is a slightly different picture from the Warren triumphalism we are seeing. Of course, this is just one or two polls, groupthink/common methodological issues could be messing with all the aggregates, etc.
UPDATE 2019-08-30: Now the polls aggregated (all available) are shown at the bottom of the poll. We also give more detail about each poll than RCP, and allow candidates to be selected or deselected. That's three reasons what dk is doing beats RCP, and if we can make the individual polls selectable/highlightable, that will be four reasons. With more to come, grid willing.
* * *
2020
Biden (D)(1): "Biden-Linked Firm Tests Messages to Undercut 'Medicare for All'" [Bloomberg]. "A new poll by a firm linked to Joe Biden is testing messages designed to undercut support among Democrats for Medicare for All, one of the most contentious issues splitting the party's top presidential contenders. The survey, commissioned by the centrist Democratic think tank Third Way, found that primary voters start off favoring the government-run health care system by a margin of 70% to 21%, but can be persuaded to oppose it. The study showed that Democrats are most swayed by the arguments that the program would impose a heavy cost on taxpayers and threaten Medicare for senior citizens." • Kelton subtweets:

This is why it's so important to message M4A correctly. The opposition is waiting to pounce on any misstep. M4A works like a tax cut. It will leave the average family with ~$3,000 MORE to spend every year. It will SAVE you money. Positive messaging!! Every time. Every sentence. https://t.co/PFo9PN2Hrt

— Stephanie Kelton (@StephanieKelton) September 23, 2019

"More money in your pocket" is normally an easy sell. I wonder if Sanders is being too wonkish on #MedicareForAll

Biden (D)(2): "Democrats Pursue Trump Probe on Ukraine Despite Risks for Biden" [Bloomberg]. "Three House committees announced earlier this month that they were investigating whether Trump used the withholding of military aid as leverage to get Ukraine's new President Volodymyr Zelenskiy to probe the Bidens — an allegation that has been bolstered by a new whistle-blower complaint from inside the U.S. intelligence community. Democrats could turn up damaging information about Trump's dealings with a foreign leader by conducting a full-scale inquiry, but they could also give a lot of additional air time to allegations about Biden, linking their party's 2020 presidential front-runner to a whiff of corruption, whether or not the evidence backs that up. The last thing Democrats want is another candidate on the defensive, after Trump was able to cast doubt on Hillary Clinton in 2016." • Or not. Important factions within the intelligence community clearly had a candidate in 2016. Do they also have one in 2020?

UPDATE Biden (D)(3): "The whistleblower complaint may end up being worse for Joe Biden than Trump" [Ed Rogers, WaPo]. "Voters may think Biden isn't just too old to be president, but that maybe he carries too much baggage to be the party's nominee, as well. In the strangest of ways, the whistleblower incident is more likely to end the political career of Biden before that of Trump. Biden is a fragile front-runner and the whole matter involving his son's foreign business dealings not only raises unflattering questions but provides plenty of reminders about his life in the swamp. Trump, on the other hand, is exceptionally durable with his base, to say nothing of the fact that his entire presidency has practically been defined by his ability to outlive Democratic "witch hunts.'" • Rogers is a Republican. It's odd that we're hearing this from both sides of the aisle.

Sanders (D)(1): "The Sanders climate plan can work. Warren's can't." [Carl Beijer]. "Warren's plan is centered around building a green export industry that will develop technologies and products and sell them to poor countries at a profit for US businesses. Sanders' plan is centered around taxing the rich and global demilitarization to secure the funds and then turning them over to the United Nations. One plan is plainly grounded in Warren's faith in markets and promoted with the rhetoric of "economic patriotism". As I noted elsewhere, Warren's climate plans are also deliberately designed to accomodate US militarism. The other plan expresses Sanders' skepticism in markets. His is the only plan that even begins to grapple with the magnitude of the international climate finance problem, and he does it, correctly, by positioning militarism and the fight against climate change directly at odds." • Important!

Sanders (D)(2): "Sanders targets highest-income Americans with 'extreme wealth tax' and 'national wealth registry'" [Politico]. "Sen. Bernie Sanders on Tuesday proposed an 'extreme wealth tax' on the highest-income Americans, along with a 'national wealth registry' that he said would help prevent them from avoiding the tax. The tax rate would start at 1 percent on net worth of more than $32 million and rise with income above that, topping out at 8 percent on wealth over $10 billion." • Seems low.

Sanders (D)(3): "Sanders proposes sweeping wealth tax, an idea highlighted by Warren" [WaPo] • The URL gives the original headline: "/sanders-taking-a-page-from-warren-proposes-sweeping-wealth-tax." Some editor changed it, since it was false. From the Sanders Senate website, September 6, 2014: "Sanders Proposes Wealth Tax; Piketty, Reich Applaud."

Sanders (D)(4): Hard to imagine anybody but Sanders saying this:

Billionaires should not exist. https://t.co/hgR6CeFvLa

— Bernie Sanders (@BernieSanders) September 24, 2019

Laudable policy goal, but I don't see how the 8% extreme wealth tax achieves it.

Sanders (D)(5): Or this:

If you think you don't know enough to run for local office, trust me, I know the United States Senate. You know enough.

— Bernie Sanders (@BernieSanders) September 23, 2019

Well, so much for comity.

Trump (R)(1): "'3 Musketeers' or '3 Stooges'? Republicans Running Against Trump May Fall in Between" [New York Times]. Of Mark Sanford, Joe Walsh, and William Weld: "The reality of their shared project of depriving Mr. Trump of his party's nomination may fall somewhere between fearless and farcical. His challengers were all defeated in their last races and have little to lose in taking on what appears to be a fool's errand: challenging a president whose approval rating in his own party ranks consistently in the high 80s. But with three Republicans running — each representing a different constituency in the party — coupled with a softening economy and Mr. Trump's own falling poll numbers against almost any Democrat, the theory of the case is that reluctant Trump voters may start to see a way out." • Let me know how that works out.

Warren (D)(1): "Warren's rise shakes up Democratic field" [The Hill]. "A new poll showing Sen. Elizabeth Warren (D-Mass.) leading former Vice President Joe Biden in Iowa has shaken up the Democratic nomination battle — and insiders across the party are gaming out what it all means. Warren currently has 22 percent support to Biden's 20 percent, according to the well-respected Des Moines Register–CNN–Mediacom poll, released Saturday night. The two are well clear of the rest of the field, with Sen. Bernie Sanders (I-Vt.) in third place with 11 percent support…. With more than four months to go, the experts all agree that it's too early to make solid predictions. But the battle for Iowa is heating up by the day."

Warren (D)(2): Yesterday, I ran this tweet:

Bernie was on a flight and this is what the passengers did. pic.twitter.com/EQ5bjul4A5

— Digital Left (@DigitalLeft) September 21, 2019

By contrast:

What cheering in the Quiet Car looks like. Thanks @WorkingFamilies! pic.twitter.com/kuPZlWBlbp

— Elizabeth Warren (@ewarren) September 16, 2019

Of course, there are some distinctions to be drawn: (1) Cattle car v. Acela, and (2) bottom-up list given to candidate v. top-down selfie of candidate ("not me, us"). Warren also, after a few days of controversy her crack staff must surely have told her about, gives her stamp of approval to the WFP's super delegate-driven endorsement process. Also, where I come from, nobody, but nobody, has the privilege of making noise in the Quiet Car. Of course, in the world of Acela Corridor groupthink, things may be different. But I think the Norms Fairy should slay them all.

* * *

"Democrats increase qualifying thresholds for November debate" [Associated Press]. "The Democratic National Committee is increasing the polling and fundraising requirements for presidential candidates to qualify for the primary campaign's fifth debate in November. But in a nod to the potential for late-surging campaigns, the increases are not as steep as those from the first and second debates during the summer to the third and fourth debates after Labor Day…. To make the November debate, candidates must have at least 165,000 unique donors, with at least 600 each in at least 20 states. That's up from 130,000 donors — with 400 donors each in at least 20 states — for September and October. Candidates also must hit 3% in at least four national or early state polls — or hit 5% in two early state polls. That separate early state threshold is a new polling pathway that DNC officials say is meant to reward candidates who may be generating enthusiasm in states like Iowa or New Hampshire even if similar support isn't registering in national polls. The DNC has not yet announced the date or location of the November debate."

UPDTATE "To beat Trump, try running an outsider" [Vox]. "the fact of the matter is that Hunter wasn't on the board because of his expertise in Eastern European energy issues. He's part of a long and perfectly legal tradition of family members of influential politicians profiting off a vague sense that it's politically and economically useful to cultivate these connections. That this kind of sleazy stuff has been going on for years doesn't make Trump's abuses of power okay, and it certainly doesn't make his stepped-up and more-egregious forms of corruption okay. But Democrats are kidding themselves if they don't think it helps explain why Trump's corruption is tolerated." • But then this: "Moreover, there is a world of difference between setting yourself up with a boutique lobbying or consulting shop after your time in politics and getting paid by a few clients whose causes you think are reasonable and having a hotel in downtown Washington where you openly collect bribes from all comers. Beyond the corruption, Trump now routinely dabbles in abuses of power that should shock the conscience." • I'm not sure I agree. There are many, many, many of those "boutique lobbying or consulting shops" — they may be thought of, along with NGOs, as they dark matter in which political parties are embedded — and in the aggregate, they have do far more damage than a single outside figure can do. Would I rather have my house burgled, or discover termites? I think the termites are worse.
Impeachment
UPDATE "Trump authorizes release of transcript of controversial Ukraine call that mentioned Joe Biden on Wednesday" [CNBC]. "President Donald Trump on Tuesday said he has authorized the release Wednesday of a complete trancript of a phone call with Ukrainian President Volodymyr Zelensky." • Hoo boy.

* * *

"Trump scoffs at rising impeachment calls: 'It's nonsense'" [The Hill]. Trump: "I think it's ridiculous. It's a witch hunt. I'm leading in the polls. They have no idea how they stop me, the only way they can try is through impeachment. It's nonsense, and when you see the call, when you see the readout of the call, which I assume you'll see at some point, you'll understand. That call was perfect." • Which he would say. And does. That said, so far as I know, nobody has seen a transcript of the call, and we don't know where it really comes from. I mean, besides an anonymous source.

"POLITICO Playbook: How the ground is shifting on impeachment" [Politico]. "PERHAPS THE CLEAREST SIGN of the shifting dynamics is what Speaker NANCY PELOSI'S closest allies are saying. On Monday, after the latest news of the conversation between the Ukrainian president and TRUMP broke, Connecticut Rep. ROSA DELAURO — one of the speaker's closest allies and friends — said that 'an impeachment inquiry may be the only recourse Congress has if the president is enlisting foreign assistance in the 2020 election. Congress must meet this pivotal moment in our nation's history with decisive action.' Michigan Rep. DEBBIE DINGELL said it this way: "This country is divided. We cannot be divided on the rule of law. As an elected official my oath is to protect national security and the Constitution. After recent revelations, I support an impeachment inquiry because we must follow the facts and hold the president accountable.'" • As a parenthesis, Dingell's oath is "[I] do solemnly swear (or affirm) that I will support and defend the Constitution of the United States against all enemies, foreign and domestic…" which isn't really the same as "national security" (although The Blob would beg to differ, I think).

"Seven freshman Democrats: These allegations are a threat to all we have sworn to protect" [WaPo]. By Gil Cisneros, , , , , * and *. I've helpfully underlined the MILOs readers will remember from my 2018 midterms spreadsheets, and asterisked the actual CIA operatives.

"Trump Impeachment: House Dems Are Discussing a 'Select Panel' to Handle the Task" [The Daily Beast]. "As House Democrats find themselves once more navigating the tricky politics of impeachment, a new idea is being floated: creating a select panel of members that would handle those responsibilities."
Realignment and Legitimacy
Stats Watch
Consumer Confidence, September 2019: "The consumer confidence index had been showing exceptional strength but did fall back unexpectedly in September
" [Econoday]. "[T]his index has been trending higher this year in continued contrast to the rival consumer sentiment index which has been slumping noticeably. The difference between the two indexes is the focus on labor market factors which are central to the consumer confidence report and where today's results are mixed… A strong negative in today's report is a sharp decline in those who see their income improving over the next months… Today's report offers a measure of caution and if nothing else suggests that further acceleration in consumer spending, which the Federal Reserve considers to be by far the strongest segment of the economy, may be limited."
Richmond Fed Manufacturing Index, September 2019: "Fifth District manufacturing activity slumped back into contraction in September" [Econoday]. "Coming in much weaker than consensus and the range of analysts' forecasts, the decline was led by the resumption of weakness in shipments…. The weakness in today's report contrasts with the strength seen in last week's Philadelphia Fed's manufacturing survey but does confirm the Federal Reserve's concerns about weakness in the manufacturing sector and its exposure to global trade risks."
S&P Corelogic Case-Shiller Home Price Index, July 2019: "Home prices are mostly flat, confirmed by this morning's FHFA data and especially Case-Shiller data and indicative of a housing sector that has failed, despite low mortgage rates, to build much momentum this year" [Econoday].
FHFA House Price Index, July 2019: "FHFA's house price index rose a better-than-expected" [Econoday]. "Yet the yearly rate, outside of June, is still the lowest in nearly four years to underscore this year's sluggish performance by the housing sector."
The Bezzle: "How Carlos Ghosn Hid $140 Million in Compensation From Nissan
Honey for the Bears: "Opinion: The U.S. economy isn't out of the woods yet" [MarketWatch]. "A funny thing happened on the way to the recession, which had been lightly penciled-in for sometime next year: the U.S. economic data showed a marked improvement. From housing starts and home sales to manufacturing production and jobless claims, the economic news last week was upbeat, even as the Federal Reserve administered a second dose of monetary stimulus in as many months to offset the risks from slowing global growth and a trade war."
* * *
Today's Fear & Greed Index: 58 Greed (previous close: 59, Greed) [CNN]. One week ago: 66 (Greed). (0 is Extreme Fear; 100 is Extreme Greed). Last updated Sep 24 at 12:07pm. Still drifting toward neutrality.
The Biosphere
"Greta Thunberg's Magic Word: 'Strike!'" [John Halle]. "For some of us who were there, Friday's Climate Strike brought back memories of Feb. 15, 2003 when one to two million of us flooded the streets of New York City. It was a huge organizational success, over 3000 groups collaborating to bring together what remains the largest demonstration in history. But our pride in accomplishing what we did should not obscure the bitter truth: we failed. 'When the people lead, the leaders will follow,' we told ourselves. But they didn't. And so, when Thunberg asked the question "will they listen?", she knew with 100% certainty what the answer would be. 'No' roared back a quarter million voices in unison. But at that point, Thunberg turned the tables from naivete into defiance, 'We will make them listen.' How would she do it? She didn't say but she didn't have to. The magic word is in the title of the event. That word is 'strike.' A strike is the only word we have which communicates with those in power in the language they understand. And that is the language of money-of the bottom line cost imposed by refusing to play our part in the system converting our labor into their profits." • I think Thunberg does "have to" say that. Look at the discouraging detail below on the UAW below. Though I think Halle is right in the abstract…
"Exploring the origins of the apple" [Frontiers in Science News]. "Several recent genetic studies have demonstrated that the modern apple is a hybrid of at least four wild apple populations, and researchers have hypothesized that the Silk Road trade routes were responsible for bringing these fruits together and causing their hybridization. Archaeological remains of apples in the form of preserved seeds have been recovered from sites across Eurasia, and these discoveries support the idea that fruit and nut trees were among the commodities that moved on these early trade routes…. Understanding how and when apple trees evolved to produce larger fruits is an important question for researchers, because fruit trees do not appear to have followed the same path towards domestication as other, better-understood crops, such as cereals or legumes. Many different wild and anthropogenic forces apply selective pressure on the crops in our fields, it is not always easy to reconstruct what pressures caused which evolutionary changes. Therefore, looking at evolutionary processing in modern and fossil plants can help scholars interpret the process of domestication. Fleshy sweet fruits evolve to attract animals to eat then and spread their seeds; large fruits specifically evolve to attract large animals to disperse them." • I wonder how plants are evolving for climate change; they surely must be (and has labor migration due to globalization caused an upsurge in seeds that have traveled between continents? (I note, for example, my forsythia now has two flowerings, one in the spring, and one in the fall. Perhaps it knows what it's doing?
"Oil industry refuses to back away from fossil fuels" [Financial Times]. "A who's who of the global oil industry sketched out a persistent role for fossil fuels on Monday, blocks away from the UN where 66 nations pledged to reach 'net zero' carbon emissions by the year 2050.  The meeting of the Oil and Gas Climate Initiative highlighted the dilemma of addressing growing demand for energy while reducing greenhouse gas emissions that are warming the earth.  The group's 13 members include ExxonMobil, BP and Saudi Aramco, which collectively account for more than 30 per cent of global oil and gas production. Under pressure from investors and politicians, they have voluntarily endorsed the 2015 Paris agreement that aims to cap global temperature rises at well below 2C, and preferably below 1.5C." • Let's nationalize them.
"Scared Central Banks Face Up to Threats From Climate Change" [Bloomberg]. "Carney did [in his Sept. 29, 2015 speech at Lloyd's of London] was to start conversations at the highest levels of financial services about global warming, as almost every major central bank began a dialog with the institutions they work with…. Contemplating such dangers, Carney has warned of a 'Minsky Moment,' in which a climate-related alarm could cause asset prices to collapse. Bank of France Governor Francois Villeroy de Galhau said this month that global warming could hit growth and lead to upward price pressures, generating a 'stagflationary shock.' Bank of Japan Governor Haruhiko Kuroda and Bank of France Governor Francois Villeroy de Galhau Speak At The Paris Europlace Financial Forum
Francois." • Hoo boy. I have to say that my disaster scenario is something tangible, not finance-driven; something we can't talk ourselves into or out of. A collapse of some segment of our supply chain, for example. Or a pandemic spread by air travel. Of course, nobody knows anything.
"Fukushima bosses cleared over nuclear disaster" [Nature]. "Prosecutors had accused Katsumata, TEPCO's former chairman, and former vice-presidents Muto and Takekuro of failing to act on information that showed the plant was at risk, and of causing the deaths of 44 people in hospital who were forced to evacuate. The court's ruling, according to the Associated Press, stated that it was unrealistic for the company's leaders to prepare for all tsunami scenarios, and that the TEPCO executives' actions had been in line with government safety guidelines. Following the verdict, TEPCO apologized in a statement for the accident and its impact on the region. But the company declined to comment on the outcome of the trial." • Because of course they were.
Guillotine Watch
"The World's Wealthiest Families Are Stockpiling Cash as Recession Fears Grow" [Bloomberg]. "Rick Stone, a former partner at Cadwalader, Wickersham & Taft, sees treacherous times ahead for family offices trying to deploy cash. 'It's a very hard time for family offices to allocate money,' said Stone… The head of Stone Family Office said he doubts the bond market will provide any real return over the next decade, that equity markets will suffer a substantial drop and then be flat, and that too much venture capital and private equity money will continue to chase too few opportunities… That view of the markets is shared by many of the 360 global single- and multi-family offices surveyed for the 2019 UBS Global Family Office Report, which was done in conjunction with Campden Research and released Monday. A majority expect the global economy to enter a recession by 2020, with the highest percentage of gloomy respondents in emerging markets. About 42% of family offices around the world are raising cash reserves…. Family offices have become a greater force in global financial markets. Campden estimates that such firms manage around $5.9 trillion." • Hmm.
Class Warfare
"GM strike, day 9: Negotiations press on as layoffs mount" [Detroit News]. "Bargainers for the two sides worked a long day Monday, with negotiations ending at about 8 p.m. Their divide is centered around wages and health care and securing a pathway for temporary workers to get seniority." • Yes, that mushy "pathway* for temporary workers to get seniority" is and end to two-tier. NOTE * "Path" and "pathway" seem to be entering the liberal Democrat lexicon, The Book of Crawfishing™. "Path to citizenship," "pathway to Medicare for All." A "path" means that you have nice things, just not today.
"GM Strikers Say 'No More Tiers!'" [Labor Notes]. "Picketers on the line September 16 at GM's Detroit assembly plant all said that equality for temps and second-tier workers was their priority…. Today, contracted-out janitors in the plants make as little as $15 an hour, but in the past they would have been direct employees of GM and covered under the auto contract, which pays Tier One "legacy" workers about $31. Such jobs were often reserved for employees with high seniority whose bodies were worn ragged from years on the assembly line. Today most such jobs that GM considers ancillary, such as sequencing parts to feed the line, are done by contractors…. 'These aren't workers just filling a 90-day hole so that another worker can go on vacation,' [said Michael Herron, UAW Local 1853 chairman at Spring Hill] said. 'They have worked every week for three years non-stop. So they deserve to be compensated just like anyone else.'" • Solidarity, what a concept. And more:
Striking auto workers are trying to climb out of the hole they are in, but leaders have done little to offer a ladder. International leaders organized no contract campaign to energize members and pressure management before the strike and did not publicize their demands. Picket signs say simply "UAW on Strike." At the Detroit-Hamtramck assembly line, a supporter was told not to carry his handmade "Solidarity" sign; only the official signs were welcome.

Not a button was distributed in the plants. There was no survey of the membership, no rank-and-file contract action teams, no bargaining bulletins to keep members in the loop. No "practice picketing," no turn-down of overtime, no outreach to the public, no open bargaining—none of the tactics that have become common in many unions.

As they have for decades, UAW officials played their cards close to the vest, with only management allowed a peek. Members knew what they read in the media, explained materials handler Sean Crawford at Flint Assembly.

And the strike got off to a bad start when union leaders directed GM workers to cross their fellow union members' picket lines.
Yikes. (And we should also get rid of two-tier everywhere. Social Security, especially.
News of the Wired
She's right:
This is actually my favorite TikTok pic.twitter.com/PWtVOSkO77

— Dave Jorgenson ? (@davejorgenson) September 23, 2019

* * *

Readers, feel free to contact me at lambert [UNDERSCORE] strether [DOT] corrente [AT] yahoo [DOT] com, with (a) links, and even better (b) sources I should curate regularly, (c) how to send me a check if you are allergic to PayPal, and (d) to find out how to send me images of plants. Vegetables are fine! Fungi are deemed to be honorary plants! If you want your handle to appear as a credit, please place it at the start of your mail in parentheses: (thus). Otherwise, I will anonymize by using your initials. See the previous Water Cooler (with plant) here. Today's plant (TH):

TH writes: "I liked the lighting on this cycad."

Readers, I'm still running a bit short on plants. Perhaps you are all too busy harvesting? All plants and honorary plants welcome (as well as more of those very interesting garden projects).

* * *

Readers: Water Cooler is a standalone entity not covered by the annual NC fundraiser.Remember, a tip jar is for tipping! So if you see a link you especially like, or an item you wouldn't see anywhere else, please do not hesitate to express your appreciation in tangible form. Regular positive feedback both makes me feel good and lets me know I'm on the right track with coverage. When I get no donations for five or ten days I get worried. More tangibly, a constant trickle of donations helps me with expenses, and I factor in that trickle when setting fundraising goals:

Here is the screen that will appear, which I have helpfully annotated.

If you hate PayPal, you can email me at lambert [UNDERSCORE] strether [DOT] corrente [AT] yahoo [DOT] com, and I will give you directions on how to send a check. Thank you!