By Lambert Strether of Corrente
Politics
"But what is government itself, but the greatest of all reflections on human nature?" –James Madison, Federalist 51
"They had one weapon left and both knew it: treachery." –Frank Herbert, Dune
Alert reader dk (not to be confused with DK) is in the process of developing the following interactive chart:
And here is (are) the latest Dem Primary Polling as of 9/25/2019, 12:00 PM EDT: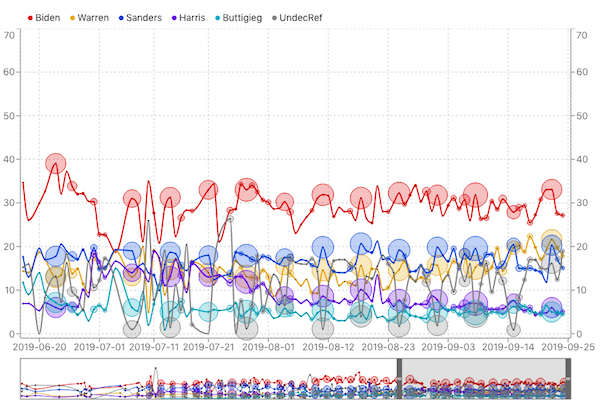 Now we can see Undecideds-Refused. Here is a view from the middle of August, which may make the trend lines a little more clear: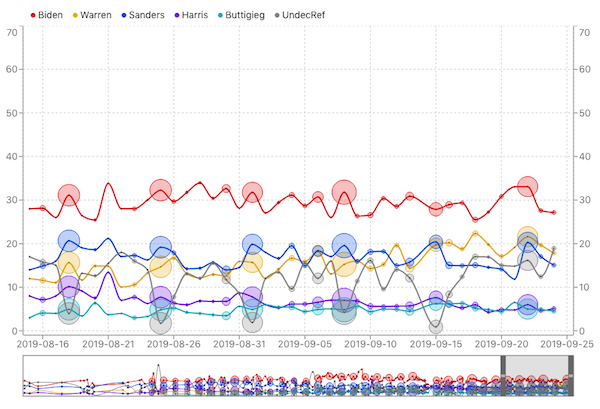 As you can see, Biden, Warren, and Sanders all went down, and undecideds went up! Which is a slightly different picture from the Warren triumphalism we are seeing. Of course, this is just one or two polls, groupthink/common methodological issues could be messing with all the aggregates, etc. You will also note that the narrative that there are only two top contenders (Silver; Cillizza) arose after the last large sampling on September 7. Since then, volatility has been great, but sample sizes small (with the exception of Morning Consult on September 22, which has Warren and Sanders more or less tied). And the polling detail: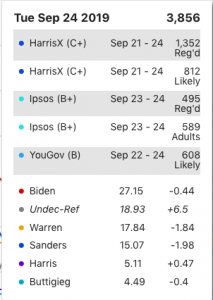 I think dk has started a really neat project, and in the near future we'll seek your feedback (within reason) for the tool "live."
UPDATE 2019-09-24: These screens are from a revised version that now includes Undecided-Refused, which is in grey.
UPDATE 2019-08-30: Now the polls aggregated (all available) are shown at the bottom of the poll. We also give more detail about each poll than RCP, and allow candidates to be selected or deselected. That's three reasons what dk is doing beats RCP, and if we can make the individual polls selectable/highlightable, that will be four reasons. With more to come, grid willing.
* * *
2020
Sanders (D)(1):

Sounds from the @berniesanders medical debt town hall, pt. 2:

"We were in the hospital when the child was critically ill and in Intensive Care and the collection agencies came in to us. They had to call security on me because I lost my mind."

(Watch the audience reaction) pic.twitter.com/FZEh0NprmX

— Cara Korte (@CaraKorte) September 24, 2019

She had "access" to care, here. What's the issue?

Sanders (D)(2): "Bernie Sanders, John Cusack rally with Chicago teachers as strike vote begins" [Chicago Tribune]. "When the Vermont senator later took the stage, he thanked the teachers union for 'becoming the conscience of the United States of America.' 'What we are seeing is teachers standing up and fighting for justice,' Sanders said. ;… Every problem in society — hunger, domestic violence, poverty — it walks into your doors, doesn't it? You see it every day and at a time when we, in the wealthiest country in the history of the world, have the highest rate of childhood poverty of almost any major country on earth.'" • Eew. Why won't Bernie play nice?

Trump (R)(1): "Trump's farm bailout has cost taxpayers more than double the auto bailout" [Detroit Free Press]. "Back when General Motors and Chrysler faced bankruptcy during the Great Recession, Presidents George W. Bush and Barack Obama pumped billions into a rescue of the auto industry. That bailout ultimately cost the public about $12 billion when everything was settled and loans repaid. But that looks like small potatoes compared with the farm bailout underway now. So far, Trump's direct payments to farmers hurt by his trade dispute with China have totaled some $28 billion — more than twice what the auto bailout cost…. And the payments are still flowing with no end in sight to the trade dispute."

Warren (D)(1):

Almost all of Warren's gains are coming from a fading Biden. https://t.co/0JvDUQglAb

— Ryan Grim (@ryangrim) September 25, 2019

Warren (D)(2): "Elizabeth Warren's Working-Class Problem" [David Leonhardt, New York Times]. "Boston's North Shore seems as if it should be prime Elizabeth Warren territory. It is home to working-class towns, and it's a short drive from Warren's own house. But ever since she entered electoral politics in 2012, she has struggled on the North Shore… As Warren has risen to the top of the presidential primary field, her North Shore struggles underscore the biggest question about her campaign: If she were the nominee, could she win back working-class voters who swung to Donald Trump in 2016? There are real reasons for concern. In her 2012 and 2018 Senate races, Warren struggled in other blue-collar parts of Massachusetts, like the areas around Springfield and Worcester. And in most state polls asking voters to choose between Trump and potential Democratic nominees, Warren looks considerably weaker than Joe Biden." • I'm glad Leonhardt raised this question, because I've never understood the contrast between Warren's relatively weak support in her home state, and her national stature. A standing ovation in the Acela Quiet Car, but not on the Red Line. At least the Red Line south of Central Square.

* * *

"You Can Have Brandeis or You Can Have Debs" [Jacobin]. "Warren is a regulator at heart who believes that capitalism works well as long as fair competition exists; Sanders is a class-conscious tribune who sees capitalism as fundamentally unjust. Warren frames her most ambitious reforms as bids to make capitalism 'accountable'; Sanders pushes legislation called the 'Stop BEZOS Act' and denounces ceos for exploiting workers. Warren seeks a harmonious accord between workers and employers; Sanders encourages workers to fight back…. Warren's political tradition is the left edge of middle-class liberalism; Sanders hails from America's socialist tradition. Or, to put the distinction in more personal terms: Warren is Louis Brandeis, Sanders is Eugene Debs."

Sure hope the pollsters' models take this into account:

all the pollsters' likely voter models are pretending that this didn't happen: pic.twitter.com/JmUNTrxH8g

— ?IPM?#ClimateStrike (@IPM_HQ) September 25, 2019
Impeachment
Lambert here: I will have more to say tomorrow when I have digested the transcript. However, we would all do well to remember that both sides have form: Trump has repeatedly been able to wriggle out of situations that would have destroyed a lesser politician, in his own primary, in the general, and as President. And liberal Democrats always f*ck things up (because if they didn't, they'd have to govern).

There's always a tweet:

As President Trump promised, here is the full, unredacted transcript of his call with the Ukrainian President: https://t.co/XURxHAjTDK

— The White House (@WhiteHouse) September 25, 2019

(Here is the link for those who have issues with Twitter embeds.) Hilariously, the document is not a "transcript." At the bottom of page one:

CAUTION: A Memorandum of a Telephone Conversation.· (TELCON) is not a verbatim transcript of a discussion. The text in this document records the notes and recollections of Situation Room Duty "Officers and-NSC policy staff assigned t_o listen.and memorialize the conversation in written form as the conversation takes place. A numper of factors can affect 'the accuracy of the record, including poor telecommunications connections and variations in accent and/or interpretation. The word "inaudible" is used to indicate portions of a conversation that the notetaker was unable to hear.

It might be better to call the document a "call summary." And ellipses aside, there's this argument:

The transcript text is right around 2,000 words, and the call took exactly 30 min — that's about 66 words per minute.

That's quite slow — roughly half normal speaking rate. (Zelensky is fluent in English.)

Could suggest how much text isn't included. https://t.co/xoU7r6bxgr

— Joshua Benton (@jbenton) September 25, 2019

And what's this about the McGuffin CrowdStrike server? This is getting to be like the Maltese Falcon:

The part we didn't know about is that Trump also asked Zelensky for a "favor" regarding Crowdstrike and "the server." Crowdstrike is the company that the Democratic National Committee hired to investigate and respond to the Russian hack. pic.twitter.com/0qTUF8CGdu

— Daniel Dale (@ddale8) September 25, 2019

(Of course, we don't really know anything about the hack from the server, because CrowdStrike contaminated the chain of custody.)

Impeachment is performative speech:

History and social studies teachers, take a look at the graph that @KevinMKruse has posted. What a wonderful document to use to teach historical empathy and against teleology. https://t.co/gNksKn9sYl

— Joe Schmidt (@HSGlobalHistory) September 25, 2019

But see my comment above. Trump is not Nixon, and today's Democrats are not the Democrats of 2019 – 1974 = 45 years ago. Where's Sam Ervin? Heck, where's Howard Baker?

* * *

"Impeachment: Is the dam finally breaking?" [Brookings Institution]. Summarizing the case for the prosecution: "What happened to break the logjam? First, a whistleblower revealed that in a conversation with Ukrainian President Zelensky the president allegedly held up $391 million in aid appropriated for Ukraine's military defense against Russia. This move was an effort to push for the Ukranian president's promise to investigate alleged corruption by Democratic presidential hopeful Joe Biden and his son Hunter. The aid to Ukraine was held up even after other aid that the Mr. Trump had called 'wasteful' was released. As Republican senators and government officials grew concerned about the delay, the Ukranian aid remained on hold. It was finally released two days before news of the phone call between Trump and Zelensky hit the press. . It made Richard Nixon's break-in at the Democratic National headquarters at the Watergate look like child's play. Second, amidst all the usual demands for investigations, a group of Democratic members of Congress wrote a letter to the Washington Post saying, "These allegations are stunning, both in the national security threat they pose and the potential corruption they represent." They went on to say, "If these allegations are true, we believe these actions represent an impeachable offense." This letter, more than any other previous chapter in the Trump impeachment story, hit Washington like a bomb because of who these members of Congress are." • "These members," as I pointed out yesterday, are the DCCC's hand-picked MILO's, two of them CIA Democrats, and most 2018 freshmen. They are, in other words, the fruit of liberal Democrats' continuing efforts to move the party toward conservatives.

"So You Want to Impeach the President" [Lawfare]. "it is critically important to be disciplined at this juncture—to base articles of impeachment only on that activity which is not merely a plausible basis for removal but is unambiguously justified as a basis for removal. That means that anything that is a matter of policy—no matter how much one might disagree with the policy or how abhorrent one might find it—should not be included. For example, Congress should strongly resist the temptation to include disputes over border security—including both spending on the wall and the grotesque policy of family separation—in any articles it might draw up." • So naturally, their first move is to revivify RussiaGate.

"Pelosi's dramatic impeachment move is really just another stall" [New York Post]. "House Judiciary chief Jerry Nadler has already been calling his committee's work an "official" impeachment inquiry, after all; now the speaker says the same. But she's still not allowing any actual votes on the House floor about it. All she's 'done' is instruct six committee chairmen, including Nadler, to pull together all the dirt they've got. That's apparently to go to Judiciary, which then might eventually vote on whether to recommend the full House vote on taking some next step. In short, Pelosi is stalling. Now that two-thirds of her members (and most of the party's base) is howling for impeachment, she needed to do something. But she still doesn't have the votes — a majority of all 435 representatives — to pass anything."

About the timing (1):

Nancy Pelosi didn't want to impeach, but once Trump crossed the Rubicon by trying to make it hard for the children of Democratic leadership to earn 600 grand lobbying for a foreign government it became personal.

— Medicare For All (@David_Feldman_) September 24, 2019

About the timing (2): "Why an Impeachment Inquiry Now? Democrats Cite the Clarity of the Case" [New York Times]. "The sudden embrace of an impeachment inquiry by previously reluctant House Democrats — most notably Speaker Nancy Pelosi — is attributable to one fundamental fact: They believe the new accusations against Mr. Trump are simple and serious enough to be grasped by a public overwhelmed by the constant din of complex charges and countercharges that has become the norm in today's Washington." • So after three years of yammering about Russia, the problem is that Democrats couldn't explain it? Isn't a functional political party supposed to be able to do things like that? (Granted, the Republicans could never explain Benghazi, but that proves my point.)
Realignment and Legitimacy
"In the Mood for Democracy? Democratic Support as Thermostatic Opinion" [Christopher Claassen, American Political Science Review]. The abstract: "Public support has long been thought crucial for the vitality and survival of democracy. Existing research has argued that democracy also creates its own demand: through early-years socialization and later-life learning, the presence of a democratic system coupled with the passage of time produces widespread public support for democracy. Using new panel measures of democratic mood varying over 135 countries and up to 30 years, this article finds little evidence for such a positive feedback effect of democracy on support. Instead, it demonstrates a negative thermostatic effect: increases in democracy depress democratic mood, while decreases cheer it. Moreover, . These novel results challenge existing research on support for democracy, but also reconcile this research with the literature on macro-opinion." • Hmm.

"The Dead End of the Left?" [Commonweal]. "[Marx] had prophesied that the expansion of capitalism would inevitably lead to revolution, followed by the 'new man,' the 'classless society,' the 'reign of freedom.' But what if the revolution did not arrive, if the 'new man' never materialized? In that case, Del Noce realized, Marxist historical materialism would degenerate into a form of radical relativism—into the idea that philosophical and moral concepts are just reflections of historical and economic circumstances and have no permanent validity. This would have to include the concept of injustice, without which a critique of capitalism would be hard, if not impossible, to uphold. A post-Marxist culture—one that kept Marx's radical materialism and denial of religious transcendence, while dispensing with his confident predictions about the self-destruction of capitalism—would naturally tend to be radically bourgeois." • Hmm.
Obama Legacy
He's not wrong:

One of the most repulsive photographs of the last three years. https://t.co/6bDF7lTOKt

— Eoin Higgins (@EoinHiggins_) September 25, 2019

But since liberal Democrats would rather slit their wrists than appeal to the working class, wealthy suburban Republicans it is!
Stats Watch
New Home Sales, August 2019: "New home sales are definitely pivoting higher" [Econoday]. "[R]eport is clearly about strength, and accelerating strength that is getting a major boost from low mortgage rates and major support from the strong US labor market. Residential investment has pulled down GDP for the last six quarters in a row but increasingly looks to be a positive for the third quarter…."
Survey of Business Uncertainty, September 2019: "The index for business uncertainty decreased… to indicate easing uncertainty over the year-ahead outlook. August was a volatile month marked by rising US-China trade tensions and sharp swings in the financial markets, two factors that have since cooled" [Econoday]. "Yet the business expectations index, which tracks expectations for year-ahead growth, showed no improvement but overall deterioration instead… One positive for expectations is a sharp jump in the capital expenditures component that, however, was offset by declines for expected employment growth and especially sales growth."
State Street Investor Confidence Index, September 2019: "Global institutional investors reduced their exposure to equities at a slower pace in September" [Econoday].
The Bezzle: "Australia audits PayPal for money laundering, terror law compliance" [Reuters]. "Australia's financial intelligence agency on Tuesday ordered an audit of PayPal Holdings Inc's compliance with local anti-money laundering and counter-terrorism financing laws, saying it was concerned reporting obligations had not been met."
The Bezzle: "Behind WeWork Leader's Rise and Fall: A Wall St. Bank Playing Many Angles" [Andrew Ross Sorkin, New York Times]. "While SoftBank, the Japanese conglomerate, is the biggest and most notable investor in WeWork's parent company, JPMorgan has been one of its most ardent backer for years, working multiple sides. It lent Mr. Neumann money personally (with his inflated shares as collateral), provided equity and debt for the company, served as a corporate adviser for the I.P.O. and secured nearly $6 billion in financing as part of the now scotched offering. If there was one institution best placed to fully understand the various conflicts of Mr. Neumann, it was JPMorgan." • Whoops….
The Bezzle: "WeWork, Bankers Have Discussed Laying Off One-Third of Workforce" [The Information]. "In recent days, a group of executives from WeWork's parent company and bankers have been discussing ways to reduce costs, including laying off as many as 5,000 employees—a third of its workforce. Other ideas include slowing expansion plans and shutting side businesses." • WeWork to Uber: "Hold my beer."
The Bezzle: "How WeWork's "fiasco" could threaten Silicon Valley's rich and powerful" [Recode]. "And so SoftBank's daring bets made for a grand experiment. If you pump enough money into young, unprofitable tech companies and press their founders to dream big, can they become the next Alibaba (which made SoftBank $58 billion)? WeWork, according to some observers, has answered that question. 'The emperor has no clothes,' Sandy Kory, a tech investor at Horizon Partners, told Recode. 'I think it's clear that the most negative version of SoftBank's impact on the companies that it invested in is true.'"
Manufacturing: "Daimler Fined $960 Million to Settle Rigged Diesel-Car Probe" [Bloomberg]. "German prosecutors fined Daimler AG 870 million euros ($960 million) for "negligent violation of supervisory duties" to settle a probe into selling rigged diesel cars…. The fine is the latest fallout from heightened scrutiny in the aftermath of Volkswagen AG's diesel-cheating scandal, which continues to reverberate across the German auto industry four years later." • I hate the way that Manufacturing and The Bezzle are overlapping; see also the Boeing 737 MAX…
Manufacturing: "SpiceJet Eyes $10 Billion-Plus Airbus Deal Amid Boeing Woes" [Bloomberg]. "India's SpiceJet Ltd. is weighing an order for at least 100 Airbus SE planes as Boeing Co. grapples with the fallout over its grounded 737 Max…. The discussions with Airbus threaten Boeing with a high-profile defection at a time when the U.S. planemaker is enmeshed in one of the biggest crises in its 103-year history. SpiceJet, India's second-largest airline, has 13 Max jets already in its fleet and has committed to buy as many as 205 of the single-aisle workhorses as it expands capacity to handle the nation's fast-growing demand for air travel." • Hoo boy.
* * *
Today's Fear & Greed Index: 60 Greed (previous close: 54, Neutral) [CNN]. One week ago: 66 (Greed). (0 is Extreme Fear; 100 is Extreme Greed). Last updated Sep 25 at 11:49am. A dip into outright neutrality! How horrid.
The Biosphere
"'We're all in big trouble': Climate panel sees a dire future" [Associated Press]. "The IPCC increased its projected end-of-century sea level rise in the worst-case scenario by nearly 4 inches (10 centimeters) from its 2013 projections because of the increased recent melting of ice sheets in Greenland and Antarctica. The new report projects that, under the business-as-usual scenario for carbon emissions, seas by the end of the century will rise between 2 feet (61 centimeters) and 43 inches (110 centimeters), with a most likely rise of 33 inches (84 centimeters). This is slightly less than the traditional 1 meter (39 inches) that scientists often use."
"Rewilding will make Britain a rainforest nation again" [George Monbiot. Guardian]. "Among our missing ecosystems are rainforests. Rainforests are not confined to the tropics: a good definition is forest wet enough to support epiphytes – plants that grow on other plants. Particularly in the west of Britain, where tiny fragments persist, you can find trees covered in rich growths of a fern called polypody, mosses and lichens, and flowering plants climbing the lower trunks. Learning that Britain is a rainforest nation astounds us only because we have so little left. We now know that, alongside keeping fossil fuels in the ground, natural climate solutions – using the mass restoration of nature to draw down carbon from the air – offer perhaps the last remaining chance to prevent more than 1.5C, or even 2C, of global heating. Saving the remaining rainforests and other rich ecosystems, while restoring those we have lost, is not just a nice idea: our lives may depend on it. But in countries like the UK, we urge others to act while overlooking our own disasters. Foreigners I meet are often flabbergasted by the state of our national parks. They see the sheepwrecked deserts and grousetrashed moors and ask: "What are you protecting here?" In the name of "cultural heritage" we allow harsh commercial interests, embedded in the modern economy but dependent on public money, to complete the kind of ecological cleansing we lament in the Amazon. Sheep farming has done for our rainforests what cattle ranching is doing to Brazil's. Then we glorify these monocultures – the scoured, treeless hills – as 'wild' and 'unspoilt'."
Health Care
"Air Methods in talks to contract directly with large employers" [Health Care Dive]. • They're crooks!
MMT
Nice parlor game:
"The more I think about it, Pete Peterson was probably right." https://t.co/nUOJl66os0

— Stephanie Kelton (@StephanieKelton) September 23, 2019
Our Famously Free Press
"Dow Jones and IPG Mediabrands tempt advertisers back to news with alternatives to blacklists" [The Drum]. "Interpublic Group's IPG Mediabrands and The Wall Street Journal's publisher, Dow Jones, are both experimenting with alternatives to word blacklisting – a practice borne out of brand safety concerns that has led to the defunding of legitimate news platforms. In August, the Wall Street Journal reported on advertisers' growing aversion to publishing their content next to certain words and phrases on publishers' sites. Top words blacklisted by advertisers include 'dead', 'shooting', 'murder', 'gun' and 'rape', according to data from Integral Ad Science." • 'Sanders'… More: "As an alternative, the publisher has begun experimenting with sentiment-based targeting. This means advertisers can review not only the overarching sentiment of an article (whether that be lighthearted, critical, opinionated, and so on), but the sentiment towards a brand, industry or topic within the article itself." • Read the article for how brain-dead keyword-banning is. How on earth did management sign off on that?
Games
"89-Year-Old Grandma Says Video Games Keep Her Mind Sharp" [Kotaku]. "'The graphics for the recent games are truly amazing,' [Hamako Mori] said. 'I think it's truly wonderful to have lived this long.' 'As you get older, I recommend single-player games over multiplayer,' she said. 'Inevitably, if you're on the battlefield with younger players, you'll slow them down… But, I think as the number of elderly players increases, there will be dedicated servers where that won't be a concern.'" • Business model!
Black Injustice Tipping Point
"The Conservative Black Nationalism of Clarence Thomas" (interview) [Corey Robin, Boston Review]. "But by the end of the book you begin to see that at the heart of Thomas's jurisprudence is this belief that, in some ways, Jim Crow was a golden age for the development of black self-organization and black virtues. A word that recurs throughout Thomas's writings is "survival," which is a word that also features quite prominently in a lot of Afro-pessimist writing. He thinks that under Jim Crow, black people developed the habits, organizations, independence, and self-sufficiency to survive against all the odds; they managed to build up a thriving civilization and culture."
Guillotine Watch
"World's richest families fret about geopolitics, climate change" [Reuters]. "The world's richest families are worried about the U.S.-China trade spat, Brexit, populism and climate change and are keeping more of their money in cash, according to a survey of family offices by the world's largest wealth manager…. Fifty-five percent of family office executives expect recession to begin by next year." • More on those "family offices"….
Class Warfare
"Kaiser strike called off as company, unions reach tentative agreement" [Health Care Dive]. "Following two days of discussion, Kaiser Permanente has come to an agreement with the Coalition of Kaiser Permanente Unions, which has called off the strike. Under the terms of the four-year tentative agreement, some 85,000 unionized Kaiser employees will receive guaranteed annual wage increases through 2023, additional education, training and advancement opportunities, a defined benefit pension plan, higher travel reimbursement and incentives for using Kaiser's mail-order prescription service. The coalition of unions and Kaiser reached a consensus Tuesday following roughly five months of bargaining. The agreement still needs to be ratified by coalition union members."
"What's at Stake in the General Motors Strike" [Portside]. "The main problem—a truly existential one—has been the inability of the UAW to make inroads among the hundreds of thousands of Americans who work in the "transplant" parts and assembly plants that Toyota, Nissan, Honda, Kia, VW, Mercedes-Benz, and other foreign-based firms have built in Kentucky, Tennessee, Alabama, Mississippi, and elsewhere in the mid-South. Fully half of all U.S. auto production is today non-union… And then there is the corruption scandal that is destroying the credibility of the UAW leadership… But despite all this, the strike is solid and public support is growing. GM has offered a modest wage increase, an $8,000 signing bonus, and $7 billion of investment in existing production facilities."
News of the Wired
How was your day?
Machine malfunctions spraying molten metal everywhere pic.twitter.com/RfFcwRhbE8

— Catastrophic failure (@SafetyFlrst) September 11, 2019
* * *
Readers, feel free to contact me at lambert [UNDERSCORE] strether [DOT] corrente [AT] yahoo [DOT] com, with (a) links, and even better (b) sources I should curate regularly, (c) how to send me a check if you are allergic to PayPal, and (d) to find out how to send me images of plants. Vegetables are fine! Fungi are deemed to be honorary plants! If you want your handle to appear as a credit, please place it at the start of your mail in parentheses: (thus). Otherwise, I will anonymize by using your initials. See the previous Water Cooler (with plant) here. Today's plant (TH):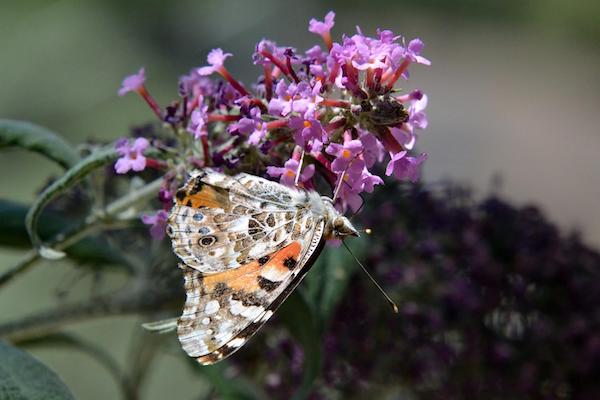 TH: "Painted Lady *hanging* out on our butterfly bush." A fine thing, to have a butterfly bush.
Readers, I'm still running short on plants. Several new people have sent in photos, but I could still be more comfortable about not ending up with bare walls in the gallery. Perhaps you are all too busy harvesting? All plants and honorary plants welcome (as well as more of those very interesting garden projects).
* * *
Readers: Water Cooler is a standalone entity not covered by the annual NC fundraiser.Remember, a tip jar is for tipping! So if you see a link you especially like, or an item you wouldn't see anywhere else, please do not hesitate to express your appreciation in tangible form. Regular positive feedback both makes me feel good and lets me know I'm on the right track with coverage. When I get no donations for five or ten days I get worried. More tangibly, a constant trickle of donations helps me with expenses, and I factor in that trickle when setting fundraising goals:
Here is the screen that will appear, which I have helpfully annotated.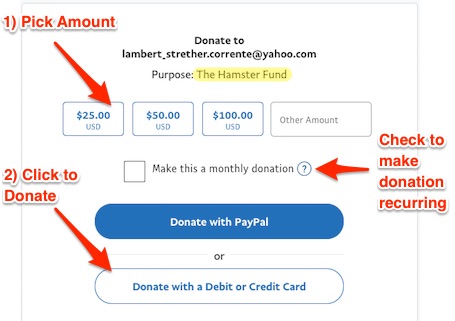 If you hate PayPal, you can email me at lambert [UNDERSCORE] strether [DOT] corrente [AT] yahoo [DOT] com, and I will give you directions on how to send a check. Thank you!