By Lambert Strether of Corrente
Patient readers, comments are open once more. Moderation will be slow, and please be even more excellent to each other than usual, to minimize the need for it. Thank you! –lambert
TPP
"A growing tug-of-war over tariffs is underway between suppliers and retailers. Target Corp.'s recent directive to suppliers to absorb the costs of new levies highlights the financial strains that are stretching from factories to store shelves" [Wall Street Journal]. "Target and other store chains have warned the U.S. government that consumers would be on the hook for the new tariffs on imports from China, with higher prices at checkout. But Target sent a letter to suppliers late last month saying it 'will not accept any new cost increases' related to the levies that started taking effect Sept. 1."
Politics
"But what is government itself, but the greatest of all reflections on human nature?" –James Madison, Federalist 51
"They had one weapon left and both knew it: treachery." –Frank Herbert, Dune
Alert reader dk (not to be confused with DK) is in the process of developing the following interactive chart: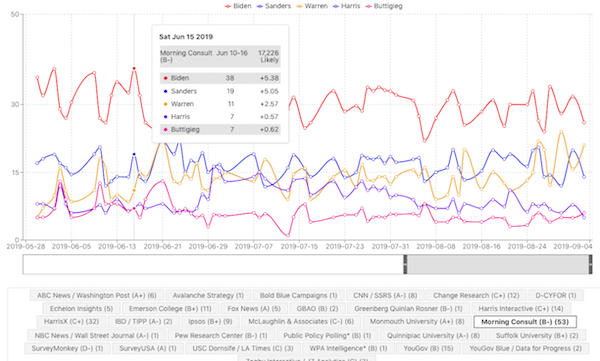 And here is (are) the latest poll(s) as of 9/6/2019, 12:00 PM EDT: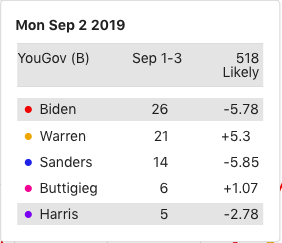 I think dk has started a really neat project, and in the near future we'll seek your feedback (within reason) for the tool "live."
UPDATE 2019-08-30: Now the polls aggregated (all available) are shown at the bottom of the poll; unlike RCP, there is no "secret sauce" for poll selection. We also give more detail about each poll than RCP, and allow candidates to be selected or deselected. That's three reasons what dk is doing beats RCP, and if we can make the individual polls selectable/highlightable, that will be four reasons. With more to come, grid willing.
* * *
2020
Readers, the Yahoo debacle below in Stats Watch > Tech screwed up my link gathering process, so this section isn't as granular as it should be. (If the Yahoo mailserver doesn't send my mail, it builds up in the Outbox, but Apple's brain genius mailer gives no indication that the mail has not been sent. Great UI/UX!) I'll have to catch up next week…

Biden (D)(1): "It's Not Whether You Win or Lose, It's How You Set the Expectations" [Amy Walter, Cook Political Report]. "This week, the Biden campaign put reporters and political insiders on notice: despite being the longstanding frontrunner in national polls, they are not counting on winning the Iowa caucus. The Biden campaign seems to have taken notice of Sen. Elizabeth Warren's steady rise in the polls over the summer…. Biden is in a similar situation to Clinton's. Like the former New York senator, Biden is leading in national polling. Unlike Clinton, he's also been consistently on top of the Iowa polls. More importantly, he's based his candidacy on his electability. Once you lose, that's a harder message to sell." • Yes, the dreaded frontrunner status comes with many narratives of failure…

Biden (D)(2): "Curb Your Enthusiasms. Biden's the One" [RealClearPolitics].

Perhaps, just perhaps, support and excitement are not all that connected. Perhaps relatively passive Democrats — who greatly outnumber the excited ones — just want to replace Donald Trump. Although several polls suggest that any of the leading Democrats could beat Trump in a national popular vote, they show Biden beating him more easily, especially in Michigan, Wisconsin and Ohio, the swing states considered key to Trump's Electoral College victory. He's the safest bet. Four years ago, we saw similar crowd-size delusion in the primary coverage of Sanders versus Hillary Clinton." • Yes, Sanders' strategy of bringing in new voters means it's white-knuckle time until an actual election (unless their internal polling — or whatever they're using — leaks).

UPDATE Biden (D)(3): "The Perils of Biden's Campaign Strategy" [Vanity Fair]. "'[Biden's] campaign has done an excellent job staying on-message, hammering home that Trump is the issue and Biden is the most electable,' a top strategist for a rival Democrat says. 'But if you're betting everything on electability, what happens if the perception of his electability starts to slip? Then he's got nothing to stand on.' Biden's advisers can, and do, dispute the notion that their man is relying solely on his supposedly greater odds of defeating the incumbent president. 'His message about why he's running—the middle-class economy, restoring the soul of America, and uniting America—is one that really does resonate with people,' says Anita Dunn, a senior adviser to Biden. 'The problem with focusing on electability is not going deeper to why voters think he's the most electable—their belief that he can clean up the mess Donald Trump has created, their familiarity with him as vice president, and their having a firm knowledge of who he is, what his values are, and the priorities he would pursue.'" • Personally, I think that what Democrat strategist Dunn is saying is somewhere between bizarre and surreal, but there's no question that a significant part of the Democrat base believes it.

Biden (D)(4): "What is a subconjunctival hemorrhage? Blood in Joe Biden's eye causes concern" [Today]. "The bright red spot looks frightening, but it's usually harmless, the American Academy of Ophthalmology said…. In rare cases, it may be a sign of a serious vascular disorder in older people. Patients who frequently experience such broken capillaries in the eye may get tests to try to find an underlying cause, such as a blood clotting disorder, the Cleveland Clinic noted." • Oddly, or not, this story still hasn't made the majors. You can imagine the reaction if Sanders' eye had filled with blood: The calls for him to drop out would have been immediate and vociferous, and they'd still be going on. The Jeff Bezos Daily Shopper would probably be running videos of hemorrhaging eyeballs!

Sanders (D)(1): "Bernie Sanders struggles to win over older voters" [The Hill]. "Bhaskar Sunkara, a Sanders ally who is the founder of the socialist magazine Jacobin and the author of the book The Socialist Manifesto: The Case for Radical Politics in an Era of Extreme Inequality, said the lack of support from older voters is 'definitely a problem.' 'He can't win a coalition with primarily young voters,' Sunkara said, adding that Sanders needs to highlight his record on 'Medicare for All' and Social Security, while hammering home the fact that he can defeat President Trump. Other supporters say the campaign needs to do more to convince older voters that the campaign isn't just about issues concerning young people. 'Seniors are often more concerned about not losing what they earned and fearful about what might lie ahead,' said Larry Cohen, a longtime Sanders ally who runs Our Revolution, an organization that began after Sanders's 2016 campaign to champion his agenda. 'We have to convince older voters that they can be ushers for the future not just ushers for the past.' 'Sometimes older voters are fearful that change means change for the worse,' Cohen added." • With good reason. Yes, loss aversion is a real thing. Hard to dismiss this as a hit piece, when it quotes so many Sanders supporters. Still, the older voters aren't going away. And a Sanders strategy of expanding the Democrat base means that they are necessarily later along the campaign timeline.

UPDATE Trump (R)(1): "Dismissing Trump as a crumbling, unfit fool will get us four more years. Don't buy it." [USA Today]. The bottom line: "We should all be doing what Georgia's Stacey Abrams is doing — everything we can to ensure every voter gets to the polls. For our greatest threat is underestimating the threat we face." • Lol, if Abrams were really interested in that, she wouldn't have rushed off to Washington to get on Neera Tanden's board right after losing, and then starting a paper NGO. She'd be on the ground in Georgia, which is having real and horrible problems with election fraud.

Lambert here: On Trump, I've never been able to find the YouTube I hve in mind again, but it's a slow motion video of a lion pursuing a gazelle. The gazelle is superbly built for speed and running desperately, but the big cat — which moves a lot like my small cat — is just a little faster. Ultimately, the lion's front-most paw just barely catches the gazelle's hind-most hoof, and that's it. Crunch crunch go the gazelle's bones, as the lion settles in to feed. Yum. Trump is that lion. It may be that we need to think of him as a superbly functional predator — and not much else. Florida, Pennsylvania, Michigan: Crunch crunch. Yum.

Trump (R)(2): "Trump Vulnerability in a Primary is More Fiction than Fact" [Inside Elections]. "Even if you look past the huge hurdles of the president's popularity among the Republican base and the humongous fundraising advantage, the anti-Trump movement is simply running out of time, and it's arguably too late to mount a serious presidential campaign at all…. First of all, the president's job approval rating among Republicans is extremely high…. Secondly, there's the money problem. Trump's campaign and the affiliated committees reported collecting $105 million in April, May and June, shattering quarterly records… Finally, there's the lack of time. There's no example in recent history of a candidate starting this late and becoming president."

Trump (R)(3): "White House Plans Biofuel Quota Boost Amid Appeals From Iowa" [Industry Week]. "Top administration officials have developed plans to give a 5% boost to U.S. renewable fuel-blending quotas in 2020, as President Donald Trump seeks to temper farm-state criticism he has undermined U.S. mandates compelling the use of corn-based ethanol and soybean-based biodiesel…. The efforts respond to an outcry in Iowa and other politically important farm states over the oil refinery exemptions. Although federal law authorizes the exemptions for small refineries facing an economic hardship, biofuel advocates say the Trump administration has handed out the waivers too freely, even as farmers bear the brunt of the president's trade war with China and retaliatory tariffs on U.S.-grown soybeans." • Ethanol's been a horrid boondoggle for years; as usual, Trump spoke the quiet part out loud, once in cutting it back, then in backing off to win the Farm Belt.

Warren (D)(1): "Notes on the State of Politics" [Sabato's Crystal Ball]. "Biden [is] clearly leading the other candidates and garnering a little over 30% of the vote. That's essentially what the polls have shown all year. But amidst the stability, there has been at least one noteworthy change in the polling: Of all the candidates, Warren is the one whose standing has most clearly improved over the last several months…. If the RealClearPolitics average were a real poll with a margin of error — it isn't, but bear with us for the overall point — we might characterize much of the change for many of the candidates from the start of the year to the end of August as being statistically insignificant, meaning that the changes are so slight that they may essentially be statistical noise as opposed to an actual change in support. That's particularly true for Biden, Harris, and Sanders. But Warren's rise, from 4% to 16%, is the kind of change that any half-decent poll would suggest is statistically significant. That does not mean she is leading — Biden still clearly is, based on the bulk of the data — or even necessarily that she has surpassed Sanders for second place. But she is also, along with Sanders and Biden, one of the frontrunners, a group that at the moment is hard to expand beyond three. That said, we also cannot necessarily make the assumption that the shape of the race is set in stone — months remain until Iowa votes in early February."
Stats Watch
Employment Situation, August 2019: "Stagflation is an initial reaction to a widely mixed August employment report that builds up cases for both a rate cut at the mid-month FOMC and no action at all" [Econoday]. "Data supporting a rate cut are weakness in payroll growth…. Now the data supporting no action which are led by an outsized 0.4 percent rise in average hourly earnings, a result that speaks to wage pressures tied to a narrowing supply of labor. Earnings have now posted four straight elevated readings… The participation rate supports the risk of diminishing supply… Sandwiched between slowing employment growth and rising wages is not the ideal policy combination for the Federal Reserve which would find itself in a bind should inflation begin to accelerate at the same time that global growth and the nation's manufacturing sector are turning lower. The latter underscores the weakness in manufacturing payrolls that, on the margin, probably tilts the conclusion toward the need to add more stimulus." • Hmm.
Quarterly Services Survey, Q2 2019: "[S]ector revenue for the second quarter of 2019 increased" [Econoday]. "Year-on-year, second-quarter information sector revenue grew 6.0 percent."
Retail: "Amazon's Automation Overreach" [Industry Week]. "With Amazon retraining its workforce to the tune of $700 million, nearly a third of the company's U.S. workers will become accustomed to more tech-intensive responsibilities. This effort—one of the most historically forceful on Amazon's part—sets the stage for the company to figure out whether its stated mission of ditching its own human workforce in favor of smart robots is a go. The tech behemoth has made no secret of its desire to go fully automated: It's been investing in automation technology for years…. So it came as a bit of a shock earlier this month when the company said that …. For now, Amazon's 600,000-plus employees will work alongside the robots, which—surprisingly—perform only a fraction of tasks, mostly limited to moving large stacks of products in the warehouses. They simply lack the higher-order cognitive abilities, like applying insight and making decisions, that are required for more precise, nuanced work." • Lol, how would a working class job require "higher-order cognitive abilities"? Or anything at all that requires "precise, nuanced work." Bezos must be ticked at the fancy consultants who sold him a bill of goods. Unless this was all his brain-genius idea, of course.
Shipping: "The escalating dispute souring relations between Japan and South Korea could reach the maritime industry. Officials in Seoul are getting concerned that Tokyo may derail plans to merge South Korea's two big shipyards" [Wall Street Journal]. "The conflict over Japan's use of forced labor in World War II hasn't drawn the attention of the U.S.-China trade war, but it's already buffeting supply chains and raising alarms for the way a diplomatic impasse has threatened to sever important trade ties. The tensions are growing as Hyundai Heavy Industries Holdings Co. prepares to seek antitrust approvals from several countries for its planned tie-up with Daewoo Shipbuilding and Marine Engineering Co. The combination would create a shipbuilding behemoth to compete with yards in China and Japan."
The Bezzle: "The Big Short's Michael Burry Explains Why Index Funds Are Like Subprime CDOs" [Bloomberg]. (Note that Michael Burry, whose CDO short is deservedly famous, is not the semi-fictional "Michael Burry" of The Big Short, whether the book of the movie.) Quoting Burry: "Central banks and Basel III have more or less removed price discovery from the credit markets, meaning risk does not have an accurate pricing mechanism in interest rates anymore. And now . The simple theses and the models that get people into sectors, factors, indexes, or ETFs and mutual funds mimicking those strategies — these do not require the security-level analysis that is required for true price discovery. This is very much like the bubble in synthetic asset-backed CDOs before the Great Financial Crisis in that price-setting in that market was not done by fundamental security-level analysis, but by massive capital flows based on Nobel-approved models of risk that proved to be untrue." • Readers? What do you think? Especially those with skin in the game, as we say….
Tech: "Yahoo! customers! wake! up! to! borked! email! (Yes! people! still! actually! use! it!)" [The Register]. Deck: "FFS!" More: "Updated Yahoo!, it appears, is still a thing. Unless it's Thursday morning, in which case it isn't. Those still clinging to the past, and their Yahoo! email accounts, found the service had developed a distinct wobble in the early hours of the morning before collapsing in a heap around 07:15 BST. While it has tottered back to life for some users in the UK at least, it hasn't been a happy time for those around the globe, who have found themselves unexpectedly free of email for several hours thanks to the outage. At one point, even the homepage for the service had dropped over. Verizon-owned Yahoo! itself initially maintained a dignified silence on the matter as users wailed, eventually deigning to tell customers what they already knew via an emission from the company's social media orifice."
Manufacturing: "Aviation CEOs Warn of Europe-US Split on Boeing Max Return" [Industry Week]. "Sounding the alarm this week over the increasingly tenuous alliance were Aengus Kelly, who heads the largest global jet lessor, and United Airlines boss Oscar Munoz. Alexandre de Juniac, who heads global airline trade group IATA, said he was 'worried and disappointed" by the lack of unity among regulators. Aircraft-financing pioneer Steven Udvar-Hazy called it "uncharted territory.'… The regulatory discussions, which had been playing out behind closed doors, spilled into the open after the head of the European Union Aviation Safety Agency said this week that his group is conducting its own study of Boeing's design changes along with a broader review…. EASA has a favorable view of an extensive change Boeing has proposed for the flight-control computer architecture, including autopilot, that will compare readings for the plane's two onboard computers, according to [EASA Executive Director Patrick Ky's] presentation. But . The redesigned system would compare readings from two vanes to guard against the erroneous data that tripped MCAS on the doomed flights operated by Ethiopian Airlines and Indonesia's Lion Air. 'Still no appropriate response to angle of attack integrity issues,' said a slide in Ky's presentation at the European Parliament." • Which is tantalizing. Are the "integrity issues" in software? Or hardware? More–
Manufacturing: "European aviation safety agency sets strict demands for Boeing 737 MAX return to flight" [Seattle Times]. This story elaborates on Ky's slide without specifying precisely what those integrity issues are. And then there's this: ". The latter requirement should go some way to satisfying one gnawing public concern about the MAX. On the Internet, many Boeing critics have expressed concern that the jet is 'inherently unstable' with engines that are too big, and that a software 'band-aid' isn't good enough to fix that. The EASA requirement to fly safely without MCAS should demonstrate otherwise." • Oy.
* * *
Today's Fear & Greed Index: 36 Fear (previous close: 39, Fear) [CNN]. One week ago: 23 (Extreme Fear). (0 is Extreme Fear; 100 is Extreme Greed). Last updated Sep 6 at 11:59am. Note that the index is not always updated daily, sadly.
The Biosphere
"The deadly hidden risks within the most prominent economic model of climate change" [The Week]. "Is climate change a crisis demanding immediate aggressive action to smash down carbon emissions, or is it an annoying inconvenience that can be dealt with slowly over decades? Most climate scientists are in the former camp… But many economists are in the latter camp, taking a relatively cavalier attitude about climate change. They have built models showing the economic damage of warming will not be that great, or that the costs of mitigation could be even greater, and therefore we shouldn't be too aggressive in keeping emissions down — which could be even worse than doing nothing, by their lights. As a result, they generally serve to advance policy responses centered around putting a price on carbon, or, in other words, using market mechanisms to gradually wean our existing economic structures off fossil fuels, but foregoing any sort of massive intervention that would disrupt the status quo. These models, however, have some hellishly risky assumptions buried deep in their guts. If we take the economists' advice, we will be taking a terrific gamble with all of human society." And here's a good question: "So how can Nordhaus propose an "optimal" climate future is one which might compromise such seemingly-important activities like 'growing food or working outdoors'?" • And speaking of working outdoors—
"Professor Doug Tallamy urges homeowners to cut lawn area in half" [Yale Climate Connections]. "'Lawn has been a status symbol for centuries, and we have bought into the commercials that tell us if it's not a perfect lawn, our neighbors will hate us and, you know, we're just not good citizens,' says Doug Tallamy, an author and professor at the University of Delaware…. 'What I suggest is we cut the area of lawn in half,'Tallamy says, 'We have an area of lawn the size of New England in the U.S. right now. We've got to reduce that. So just look at your yard, and say, 'I'm going to cut it in half and I'm going to cut it in half by putting plants into my yard.' But not just any pretty plants. Tallamy urges people to use native species that provide food and habitat for pollinators and other wildlife. And to help the climate, he says to include more than flowers. Plant shrubs and trees that will absorb and store more carbon." • Of course, there are home owner covenants to attack, and the real estate industry needs to get on board with the idea that lawns decrease property values. But, does anybody really want to "mow the lawn"?
Adaptation:
Waffle House has four "disaster menus" ready for each storm: no water, no power, limited (when some other non-WaHo stores/restaurants in the area are open) and emergency (when they're literally the only place open). Prices are rounded to nearest 10th cent to make math easier pic.twitter.com/GMeQEI7bof

— Annie Blanks (@AnniePNJ) September 2, 2019
UPDATE "Typical Pitfalls of Simulation Modeling – Lessons Learned from Armed Forces and Business" [Journal of Artificial Societies and Social Simulation] From 2012, still germane: "In practice, simulation modeling is not always as straightforward as the simulation modeling cycle in Figure 1 suggests. Users of simulation methods might encounter the following five pitfalls: distraction, complexity, implementation, interpretation, and acceptance.[4] Every pitfall is associated with a specific step along the feedback cycle (see Figure 2). We will describe and analyze the pitfalls in more detail next." • Here is Figure 2: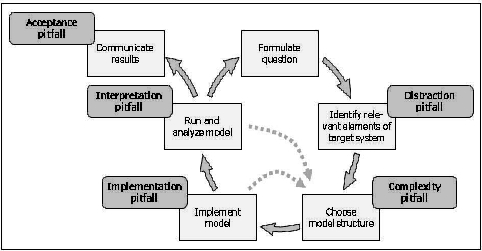 (Figure 2 incorporates Figure 1's white square boxes and overlays the grey boxes with rounded corners.)

Guillotine Watch
"Two men specifically targeted and set fire to Eagle Rock homeless encampment, officials say" [Los Angeles Times]. "Two men [Daniel Michael Nogueira and Brian Antonio Araujocabrera] have been accused of setting a blaze at a homeless encampment that grew into a large brush fire and prompted evacuations in Eagle Rock and Glendale late last month, authorities said…. Fire officials said the men specifically targeted the homeless encampment, but did not offer a motive for the attack or explain how the fire was set…. Nogueira's father, Michael, is the president of the Eagle Rock Chamber of Commerce." • Oh. And then: "The fire was set one day before another arson rocked Los Angeles' homeless community. The following night, prosecutors allege, 38-year-old Jonathan Early set a tent ablaze in downtown Los Angeles' skid row, severely burning 62-year-old Dwayne Fields." • Your Gini co-efficient at work…
Class Warfare
"Botched Bankruptcy Leads to Standoff in Kentucky Coal Country" [Bloomberg]. "A little more than a mile down the tracks, some 100 CSX Corp. railcars are piled high with coal mined by Blackjewel LLC from the hills of Harlan County. David Pratt Jr., a 29-year-old father of three, is one of more than 200 people who helped dig out that coal and haven't been paid for it. That's why he's helped block the tracks that lead out of the coal mine south of Cumberland for more than a month. No wages, no coal…. Making good on payroll is usually routine in bankruptcy, one of the first matters of business. But that hasn't happened for everyone, and far from the hills of southeast Kentucky, the omission is creating headaches for white-shoe investment firms with millions of dollars at stake…. The Harlan County blockade might've been a minor irritant if not for the U.S. Department of Labor, which sided with Pratt and his fellow workers, arguing in court that coal produced by unpaid miners amounts to 'hot goods.'" • Lol, Trump's Department of Labor doing the right thing for once. And: "The miners' old-school display of solidarity highlights a theme emerging in the world of troubled enterprises: workers have power and bankrupt companies must reckon with it."
UPDATE "Addiction and Poverty, Dignity and Friendship: An Interview with Chris Arnade" (interview) [The Fix]. Arnade: "People are resilient. So, even faced with these awful structural problems that are kind of put on them, they do their best. It's like in Hunts Point. The things I worried about that didn't get a lot of attention are like the pigeon keepers, right? People who take pigeons and make beauty out it. A lot of people think it's nothing, they're just rats with wings, but if you go up on a roof and watch the pigeons fly, they're gorgeous. The same with the guys who fix up Schwinn bicycles, which are literally being tossed out by wealthy people, or ignored, they turn them into these really cool things. So, I think what I appreciated is the resilience. Even in harsh situations people can find dignity, and create these beautiful things. Even in the crack houses, even in the drug spots there is beauty. Where there's people putting together small works of art, and there's humor. It's not just all down and out. There are funny moments, people have fun. It's not just all evil." • Well worth a read, particularly if you know anybody grappling with these issues.
News of the Wired
"Systematic quantitative analyses reveal the folk-zoological knowledge embedded in folktales" [Archiv.org]. "The most important knowledge for foraging and pastoral society is folk-zoological knowledge, such as the predator-prey relationship among wild animals, or between wild and domesticated animals. Here, we analysed the descriptions of the 382 animal folktales using the natural language processing method and descriptive statistics listed in a worldwide tale-type index (Aarne-Thompson-Uther type index). Our analyses suggested that first, the predator-prey relationship frequently appeared in a co-occurrent animal pair within a folktale (e.g., cat and mouse or wolf and pig), and second, the motif of 'deception', describing the antagonistic behaviour among animals, appeared relatively higher in 'wild and domestic animals' and 'wild animals' than other types. Furthermore, the motif of 'deception' appeared more frequently in pairs, corresponding to the predator-prey relationship.:" • Read Beatrix Potter from this perspective. She's brutal!
* * *
Readers, feel free to contact me at lambert [UNDERSCORE] strether [DOT] corrente [AT] yahoo [DOT] com, with (a) links, and even better (b) sources I should curate regularly, (c) how to send me a check if you are allergic to PayPal, and (d) to find out how to send me images of plants. Vegetables are fine! Fungi are deemed to be honorary plants! If you want your handle to appear as a credit, please place it at the start of your mail in parentheses: (thus). Otherwise, I will anonymize by using your initials. See the previous Water Cooler (with plant) here. Today's plant (TH):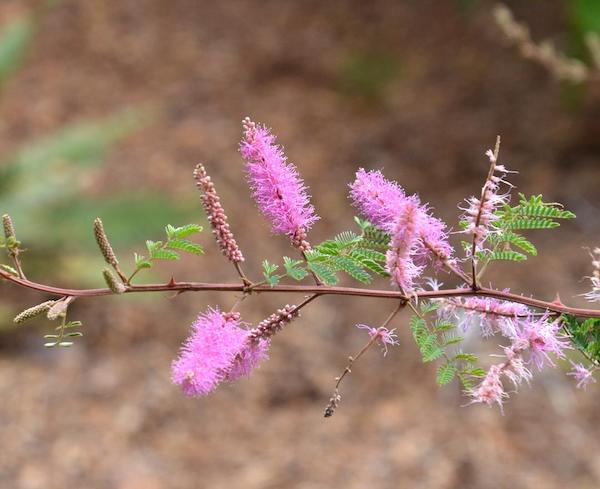 TH writes: "I can't decide which I like best, the flowers or the leaves. There was no label my this bush at the arboretum, so sadly, I do not know what it is." Readers?
* * *
Readers: Water Cooler is a standalone entity not covered by the annual NC fundraiser.Remember, a tip jar is for tipping! So if you see a link you especially like, or an item you wouldn't see anywhere else, please do not hesitate to express your appreciation in tangible form. Regular positive feedback both makes me feel good and lets me know I'm on the right track with coverage. When I get no donations for five or ten days I get worried. More tangibly, a constant trickle of donations helps me with expenses, and I factor in that trickle when setting fundraising goals:
Here is the screen that will appear, which I have helpfully annotated.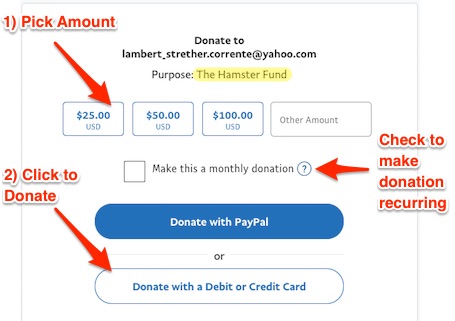 If you hate PayPal, you can email me at lambert [UNDERSCORE] strether [DOT] corrente [AT] yahoo [DOT] com, and I will give you directions on how to send a check. Thank you!