By Lambert Strether of Corrente
Patient readers, I have returned, and opened comments once more. Moderation will be slow, and please be even more excellent to each other than usual, to minimize the need for it. Thank you! –lambert
Politics
"But what is government itself, but the greatest of all reflections on human nature?" –James Madison, Federalist 51
"They had one weapon left and both knew it: treachery." –Frank Herbert, Dune
Alert reader dk (not to be confused with DK) is in the process of developing the following interactive chart. A reader said they preferred curves to stairsteps, so curves it is: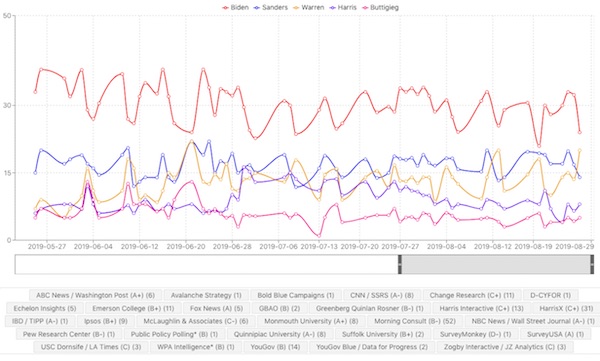 And here is the latest poll as of 9/5/2019, 1:00 PM EDT: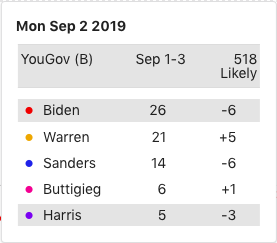 I think dk has started a really neat project, and in the near future we'll seek your feedback (within reason) for the tool "live."
UPDATE 2019-08-30: Now the polls aggregated (all available) are shown at the bottom of the poll; unlike RCP, there is no "secret sauce" for poll selection. We also give more detail about each poll than RCP, and allow candidates to be selected or deselected. That's three reasons what dk is doing beats RCP, and if we can make the individual polls selectable/highlightable, that will be four reasons. With more to come, grid willing.
* * *
2020
Biden (D)(1): "Joe Biden, MIA" [Harold Meyerson, The American Prospect]. "the most important piece of legislation currently pending in any of the nation's 50 state legislatures has seen something of a generational divide among Democrats. The bill, AB5, would conform California's labor law to a ruling of the state's Supreme Court that required employers to reclassify workers currently mislabeled as independent contractors into their correct classification as employees… Not surprisingly, the bill is the subject of a titanic battle between Uber, Lyft and other app-based driving services on one side, and their drivers, backed by the state's labor movement, on the other. But it also has split the state's Democrats. Many Obama-era Democrats, who have been flocking to Silicon Valley sinecures or received the Valley's campaign contributions throughout the past decade, have lined up on Uber's side… Responding, in part, to the labor-left militancy of today's Democratic electorate, however, a host of Democratic presidential candidates have backed the bill, including Bernie Sanders, Elizabeth Warren, Cory Booker, Pete Buttigieg, Beto O'Rourke, and even Tony West's sister-in-law, Kamala Harris. That's every Democrat who polls in the top seven of the Democratic presidential field—with the single exception of the guy who polls first, Joe Biden."

Biden (D)(2): "Joe Biden will return to Wall Street for fundraisers after climate town hall" [CNBC]. • C'mon, man. (One characteristic Biden shares with Trump, and it's not unattractive, is that he gives zero f*cks.)

Biden (D)(3): "Biden's eye fills with blood during CNN climate town hall" [Washington Examiner]. "Former Vice President Joe Biden appeared to have a blood vessel burst in his left eye while participating in CNN's town hall on climate change. A broken blood vessel in the eye, also known as a subconjuctival hemorrhage, can be caused by several things, including high blood pressure, bleeding disorders, blood thinners, or even excessive straining." • And not for the first time. Since today is my day to be kind, I won't make jokes; mortality is something all humans share.

Sanders (D)(1): "Sanders, Killer Mike talk income inequality, health care" [The Hill]. "Killer Mike, who endorsed Sanders's 2016 presidential bid, told the Vermont senator that his economic policy was 'the only policy that matches up with the Poor People's Campaign,' the sweeping effort led by Martin Luther King Jr. to combat income inequality." • Sanders looks like he's having fun, too.

Weld (R)(1):

Unlike @realDonaldTrump, if elected I will NEVER redraw a National Weather Service map to cover up my own dumb mistake.https://t.co/NS9oEouRye

— Gov. Bill Weld (@GovBillWeld) September 4, 2019

I was wondering whether Weld was still alive. Apparently he is!

* * *

UPDATE "Joe Biden and Elizabeth Warren: Frenemies from way back, now 2020 rivals" [Los Angeles Times]. "As Vice President Joe Biden contemplated challenging Hillary Clinton for the Democratic nomination in August of 2015, he scheduled an important, private Saturday lunch at his official residence.

Sen. Elizabeth Warren was the guest, and Biden had an audacious idea on his mind: He was eyeing Warren as a potential running mate, according to associates. The two met for more than an hour without any aides present…. 'They both faced these moments of truth in 2016 and for different reasons walked away,' said a former Obama administration official, who spoke on condition of anonymity. 'Here they are about to appear on the debate stage together, and just a few years ago, he was thinking, 'Wouldn't she be a good running mate?'" • It's rich to hear an Obama administration official talk about a "moment of truth," but it is true that both, for different reasons, blinked at a critical time.
Climate Town Hall
Interesting schedule:

CNN's Climate Crisis Town Hall on Sept. 4:

• Castro: 5 p.m. ET
• Yang: 5:40 p.m.
• Harris: 6:20 p.m.
• Klobuchar: 7 p.m.
• Biden: 8 p.m.
• Sanders: 8:40 p.m.
• Warren: 9:20 p.m.
• Buttigieg: 10 p.m.
• O'Rourke: 10:40 p.m.
• Booker: 11:20 p.m.https://t.co/hPtOhP1Lrh

— CNN Politics (@CNNPolitics) August 27, 2019

Not really a debate, but kudos to CNN for at least dedicating the time and allowing the candidates to stretch out. I couldn't watch it, so if readers who did have reactions they want to share, that would be great.

"CNN's epic town hall on climate was a perfect time capsule for an unprecedented moment" [WaPo], "The town hall was exhausting but not exhaustive, and an admission that the topic deserves more airtime but won't get it during the Democratic debates. (The general-election debates in autumn of 2020 will feature even less climate talk than the primaries: perhaps a few minutes on the topic, with a Republican saying there's no problem and a Democrat saying there's a huge problem.)" • Thanks, DNC! This article is a compendium of quotes Biden: "There's not a damn thing we can't do." Sanders: "There will be a transition. And there will be some pain there." Warren: "They want to be able to stir up a lot of controversy around lightbulbs, around your straws, and around your cheeseburgers — when 70 percent of the pollution, of the carbon we're throwing into the air, comes from three industries." Harris: "I'm going to be honest. It is difficult to drink out of a paper straw." Buttigieg: "This isn't just saving the planet. This is saving the future for specific people who are alive right now." • To be fair to Harris, she's right; paper straws get soggy. Drink up!

"6 winners and 3 losers from CNN's climate town hall" [Vox]. • Winners: Inslee, the Sunrise Movement, Sanders, the audience questioners, CNN, the Democratic Party. Losers: Biden, oil and gas companies, meat.

UPDATE "2020 Democrats Offer Up Ambitious Climate Plans in CNN Town Hall" [Bloomberg]. "Nuclear power and natural gas fracking provided two fault lines. Biden and Yang promoted new nuclear technologies that they said would be safer and generate less waste than older reactors. Others, like Sanders and Warren, oppose nuclear power. Amy Klobuchar pointed out that nuclear power produces 20% of the nation's energy and emits no carbon. "But I wouldn't expand nuclear unless we can find safe storage and figure this out, and Yucca Mountain is not the answer," she said, referring to the proposed waste disposal site in Nevada. Biden, Klobuchar and Julian Castro also defended natural gas as a transitional energy source. And while they oppose drilling on federal lands, they said they would not immediately ban hydraulic fracturing, or fracking, to unlock the nation's natural gas deposits."
Realignment and Legitimacy
UPDATE "Resist? Resist! Why and How?" [Immanuel Wallerstein]. "The Resist movement has grown with remarkable rapidity into sometimes impressive enough that the mainstream press has begun to report its existence…. The problem with Resist is that it is still at the stage where its many activities are dispersed and without a clear strategy or at least not a strategy they have yet adopted…. Resist has engaged in manifold different actions. They have held marches, challenged local congressional representatives in their public meetings, created sanctuaries for persons menaced with state-ordered expulsions, interfered with transport facilities, published denunciations, signed petitions, and created local collectivities that meet together both studying and deciding upon further local actions. Resist has been able to turn many ordinary persons into militants for the first time in their lives. Being a militant is strenuous and after a while many people tire of it. And they need successes, little or big, to maintain their spirits. No one can guarantee that Resist will not fade away." • I saved out this piece from my obituary for Wallerstein — see Jacobin and Democracy Now; l guess the mainstream press in the Five Eyes is a lost cause — because I felt it was more appropriate to Water Cooler, which, as readers know, takes a very granular approach to the practice of politics of all kinds. Wallerstein writes: "More and more [Resist] participants will be arrested and jailed." Lol, no. The so-called Resistance was driven by a gaggle of Clintonite irredentists from Day One; Neera Tanden had the hash-tag in her bio, ffs. There were no Resistance "militants," and nobody was ever going to jail. There's no brunch in jail. My point is that Wallerstein was engaging in top-down analysis without understanding the ground truth of his object of inquiry. ("You gotta know the territory," as the song goes.) Now, when you've got an analytical tool as sharp as "world systems" theory, you can often often get away with that. In this case, Wallerstein went ludicrously astray (though, I am sure, led by the best of motives: hope). The methodological parallel to the Hong Kong protests is obvious.

UPDATE "Elite Failure Has Brought Americans to the Edge of an Existential Crisis" [The Atlantic]. "In 1998, the Wall Street Journal and NBC News asked several hundred young Americans to name their most important values. Work ethic led the way—naturally. After that, large majorities picked patriotism, religion, and having children. Twenty-one years later, the same pollsters asked the same questions of today's 18-38-year-olds—members of the Millennial and Z Generations. The results, published last week in the Wall Street Journal, showed a major value shift among young adults. Today's respondents were 10 percentage points less likely to value having children and 20 points less likely to highly prize patriotism or religion…. This blanket distrust of institutions of authority—especially those dominated by the upper class—is reasonable, even rational, considering the economic fortunes of these groups were pinched in the Great Recession and further squeezed in the Not-So-Great Recovery. Pundits may dismiss their anxiety and rage as the byproducts of college-campus coddling, but it flows from a realistic appraisal of their economic impotency. Young people today commit crimes at historically low rates and have attended college at historically high rates. , sprinting at full speed while staying between the white lines, and their reward for historic conscientiousness is this: less ownership, more debt, and an age of existential catastrophe." • Hard to argue with the general point, although, as usual, "generations" lack agency.
2019
"House Democratic Caucus chairman announces support for 'Medicare for All'" [The Hill]. "Rep. Hakeem Jeffries (D-N.Y.) announced Wednesday that he is cosponsoring 'Medicare for All' legislation in the House, giving a boost to the legislation from a high-ranking House Democrat. Jeffries is the second-highest-ranking House Democrat to back Medicare for All, after Rep. Ben Ray Luján (D-N.M.), who announced his support in June. But while Luján is looking to leave the House by running for Senate, Jeffries's backing is important because he is seen as a potential future Speaker of the House once current Speaker Nancy Pelosi (D-Calif.) retires. Jeffries stressed that the Affordable Care Act must be strengthened and that Democrats must fight GOP efforts to attack it. 'However, given the enduring nature of our healthcare access and affordability crisis, more must be done,' Jeffries said. In addition to backing the full-scale Medicare for All bill from Rep. Pramila Jayapal (D-Wash.), Jeffries also announced that he is co-sponsoring more moderate approaches, such as a public option bill known as 'Medicare X.'" • support "support." Fixed it for ya. Hedging your bets isn't support, for pity's sake. "Medicare X" is cute, though. It's fun to watch liberals working at brand confusion, as long as you don't take it seriously.
Stats Watch
Jobless Claims, August 31, 2019: "Jobless claims continue their remarkably stable run" [Econoday]. "Claims data have been consistently signaling solid gains for underlying payroll growth and underscoring the fundamental strength of the US labor market."
ADP Employment Report, August 2019: "ADP estimates that private payrolls in Friday's employment report for August will rise" more strongly than expected [Econoday].
Challenger Job-Cut Report, August 2019: "Challenger's layoff count this year has sometimes spiked higher but has yet to be reflected in much increase at all in jobless claims or much decline in payroll growth" [Econoday]. "Layoff announcements in August were led by technology where layoffs this year are up more than threefold. Warehousing companies, losing contracts with retailers and e-tailers, have also been cutting jobs this year according to the report as have mining companies. This report rarely affects expectations for the monthly employment report."
Factory Orders, July 2019: "Factory orders have been flat this year but proved strong in July" [Econoday]. "Commercial aircraft are always a wild card and, given large monthly swings in orders, are often excluded when evaluating this report. Yet given the continued and extended grounding of the Boeing 737 Max, recent gains are very welcome…. In a special downbeat note, an initial 0.4 percent rise in new orders for core capital goods (part of the advance durables data) is revised downward to a 0.2 percent increase…. But there is still more good than bad news in this report, highlighted by by growth in aircraft orders that should ease 737 concerns at the Fed. Exports have been slowing this year but have yet, despite warning signals from anecdotal reports like ISM manufacturing, to topple the US factory sector."
Productivity and Costs, Q2 2019: "Productivity was unrevised in today's second estimate for the second quarter at a respectable 2.3 percent annual growth" [Econoday]. "The key in this report is hours worked, which fell 0.4 percent in the quarter for only a 0.9 percent year-on-year growth rate. This is the lowest growth rate in nine years and hints, as does moderation underway in job openings as tracked in the JOLTS report, that demand for labor may be peaking…. When adjusted for inflation, real hourly compensation rose at a 1.9 percent pace to match the pace of output." • Can't have that.
Purchasing Managers Services Index, August 2019: "Markit's US samples are reporting only marginal growth" [Econoday]. "Growth in new orders for services was no better than marginal in August and at a three-year low with the sample reporting a decrease in foreign demand and moderation in corporate spending. Backlogs are being worked down with job creation, which is often tied to high or low levels of backlogs, the softest in nearly 10 years. Understandably, year-ahead expectations are also at a series low…. On the plus side, the services sample reports sustained growth in consumer demand, a factor that increasingly is becoming the central strength of the US economy." • "Understandably."
Institute For Supply Management Non-Manufacturing Index, August 2019: "In the best showing since May and a reminder that the domestic US economy remains solid, ISM's non-manufacturing index easily beat expectations" [Econoday]. "Today's headline contrasts very sharply with ISM's manufacturing index… The separation between the two indexes underscores 2019's economic theme — strength in domestic demand versus trouble for global demand and resulting trouble for domestic manufacturing. And the separation also underscores the developing risk at play, that slowing in manufacturing will eventually spillover into services. But for August, negative spillover isn't yet apparent."
Energy: "Changes in U.S. energy production are triggering strains in the Farm Belt. The ethanol industry is suffering from weaker prices and oversupply… as that pillar of the farm economy wrestles with regulatory changes and the trade dispute with China. Producers of the corn-based fuel additive have closed plants in several Midwestern states and companies including grain giant Archer Daniels Midland Co. are scaling back ethanol business" [Wall Street Journal]. ", which is hailed in rural America for helping wean the country from foreign oil. But exemptions for oil refiners from ethanol-blending requirements and a halt in exports to China have led to increased inventories, diminished shipping volumes, lower prices and rising losses for producers. One result: U.S. ethanol consumption declined last year for the first time in over two decades." • 38?! What an effing boondoggle…
Shipping: ":Ocean Rate Report: 'Sizzling' bulkers hit near nine-year high" [Freight Waves]. "On Sept. 4, the Baltic Dry Index (BDI), which tracks rates of bulkers in multiple segments, hit 2,518 points, its highest level since November 2010, almost nine years ago….. Gains are largely being driven by bulkers in the larger Capesize category (with capacities of 100,000 deadweight tons, DWT, or more) but also by Panamaxes (65,000-90,000 DWT). The Baltic Capesize Index rose to its highest level since June 2010 – in other words, its highest level since the global financial crisis. 'Dry bulk shipping markets continue to sizzle, with spot rates at near decade highs, while the time-charter market continues to push higher,' said Deutsche Bank transportation analyst Amit Mehrotra…. During the quarterly conference call with analysts held by Safe Bulkers on Sept. 4, executives pointed to much higher levels of Brazilian iron-ore exports to China driving Capesizes and strong grain exports to Asia out of the east coast of South America driving Panamaxes."
Tech: "How Apple uses its App Store to copy the best ideas" [WaPo]. "Apple plays a dual role in the app economy: provider of access to independent apps and giant competitor to them…. When Apple made a flashlight part of its operating system in 2013, it rendered instantly redundant a myriad apps that offered that functionality. Everything from the iPhone's included "Measure" app to its built-in animated emoji were originally apps in the App Store…. But what makes Apple's practice different is its access to a trove of data that nobody else has. The App Store, where the original apps were offered and competed for downloads, collects a vast amount of information on which kinds of apps are successful—even monitoring how much time users spend in them. That data is shared widely among leaders at the tech giant and could be used to make strategic decisions on product development." • Sounds like Apple and Amazon are more alike than different.
Recession Watch: "Are Republicans Ready to Respond to a Recession?" [Bloomberg]. "Some conservatives oppose any fiscal stimulus at all, either because they think monetary policy alone is sufficient to stabilize the economy or because they believe the government should simply let the recession "play out." Both of these views are fundamentally misguided. President Donald Trump has done a lot to repress if not extinguish the latter line of thinking; he is clearly not indifferent about the prospect of a recession. Yet there are some conservative economists who say that downturns have "cleansing effects" that help make the economy more efficient. . Far from cleansing the economy, recessions leave permanent scars not only on the economy but also on the generation that experiences them." • With this important chart: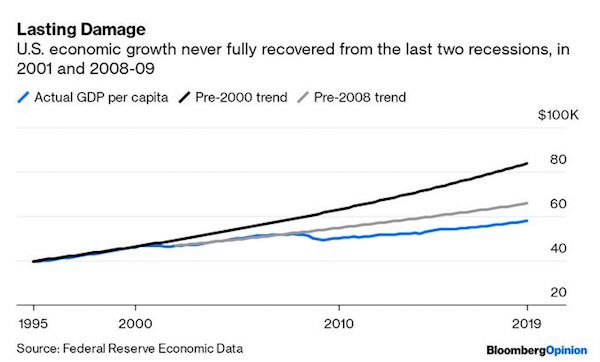 Gotchyer hysteresis, right here. And as usual, averages conceal. The charts might be take to imply that all classes were equally likely to bear "permanent scars." In fact, after the Great Recession, the 0.1% are fatter and happier than ever, and the 10% sailed right through. Only the 90% bear scar tissue (those who haven't succumbed to deaths of despair, that is). I don't know what's rare about economists getting things wrong, though.
* * *
Today's Fear & Greed Index: 42 Fear (previous close: 28, Fear) [CNN]. One week ago: 26 (Fear). (0 is Extreme Fear; 100 is Extreme Greed). Last updated Sep 5 at 11:52am. Note that the index is not always updated daily, sadly.
The Biosphere
"Tiny NASA satellite gets fascinating 3D peek inside Hurricane Dorian" [CNet]. "Tempest-D is a CubeSat roughly the size of a box of cereal. This inexpensive satellite is on a demonstration mission to show if it can track storms. If successful, it could set the stage for launching a series of low-cost CubeSats that can follow storms across the globe…. 'The CubeSat used its miniaturized radio-wave-based instrument to see through the clouds, revealing different depths of the hurricane with areas with heavy rainfall and moisture being pulled into the storm,' NASA said in a statement on Wednesday."
"Unregulated, enormous poultry farms and their millions of birds again lie in hurricane's path" [NC Policy Watch]. "When a hurricane knocks on North Carolina's front door, as Dorian is today, the seas start to churn, the winds begin to whip and the air Down East stinks worse than usual. We often associate the pre-storm stench with swine farmers spraying their fields with hog waste in order to lower levels in the open-pit lagoons. But the poultry industry also presents an environmental threat, both because of the number of birds, an estimated 515 million in North Carolina — compared with 9 million hogs — and because it is largely unregulated…. These 'deemed permitted' farms use a 'dry litter' method of managing their waste, which supposedly reduces the ammonia odor and risk for pathogens and flies. But poultry farms, especially gigantic operations housing millions of birds, do stink, even if the manure is dry. And when the waste is spread on fields it can wash into nearby streams, just like manure from swine farms can. Farms that use 'wet litter' disposal methods are required to have a Division of Water Resources permit. Only 20 poultry farms in the state report disposing of wet litter." • I love the "deemed permitted" construct. It's every bit as bad as you think: "'Deemed permitted' means that a facility is considered to have a permit — and paradoxically, to be in compliance — even though it has not received an individual permit for its construction or operation."
"David Koch Is Dead, But His Legacy of Climate Denial Lives On" (interview) [Michael Mann, The Real News]. Mann: "There was an unholy alliance that was reached during the campaign early on where the Koch brothers essentially said to the Trump campaign, "We will not oppose your campaign as long as you appoint our preferred people to all the key cabinet positions. In particular, climate change deniers. Appoint climate change deniers and fossil fuel lobbyists to the Secretary of State position, to the EPA administrator position." And that's exactly what they did. The various cabinet members of the Trump administration is a veritable who's who of Koch Industries and Koch brothers-affiliated lobbyists….. So, we have to understand that as we're distracted by the clown show that is Donald Trump, the circus act that is Donald Trump and his antics, meanwhile, a little bit more quietly, all of these Koch brothers-connected administration cabinet occupants are dismantling our environmental policies." • In other words, "owning the libs" is a very good strategy, not least because libs are so very, very willing to be owned.
"Anthropocene? Humans Have Been Changing the Planet for Millennia." [Live Science]. "Not everyone is sure that today's industrialized, globalized societies will be around long enough to define a new geological epoch. Perhaps we are just a flash in the pan — an event — rather than a long, enduring epoch…. Global archaeological data show that human transformation of environments began at different times in different regions and accelerated with the emergence of agriculture. Nevertheless, by 3,000 years ago, most of the planet was already transformed by hunter-gatherers, farmers and pastoralists. To guide this planet toward a better future, we need to understand how we got here. The message from archaeology is clear. It took thousands of years for the pristine planet of long ago to become the human planet of today."
Groves of Academe
"Eastern Michigan opens new athletic facility, still looking for $6 million to pay for it" [Michigan Radio]. "'This is being built completely with donor dollars. We're not taking anything from the general fund,' [Board of Regents Chairman James Webb] said. Problem is, that's just not true. Eastern's Board of Regents borrowed the money to pay for this and a few other renovation projects on campus. The board plans to use $8 million from the general fund for this athletic building. The remaining $12 million dollars is supposed to come from donors. So far, EMU's athletic department has raised only half of that money that it's on the hook for." • Everything is like CalPERS, including college athletics.
Class Warfare
"Inside the Harlan County Coal Miner Protest" [Rolling Stone]. "It's day 38 of a nonviolent blockade of a Harlan County, Kentucky railroad track. During the occupation, union miners have stood with non-union miners, transgender anarchists have built solidarity with Trump-voting Republicans, and a 100-year-old labor movement has found a new generation of working-class leaders fighting to keep the region's wealth where it came from: in workers' hands and in the foggy hollers of central Appalachia." And this:
Lill, who uses gender-neutral they/them pronouns, quit their job as a server and, along with a small crew of transgender anarchists, set about marshaling the blockade into an organized labor camp. They helped set up a camp phone line, a solar shower, and a kitchen capable of feeding dozens. The anarchists, who spent 27 days on the tracks with the miners, brought up questions the miners hadn't yet considered: Who are you going to call if this gets you arrested? Who's going to bail you out?

"I didn't know who they were at first, but I kind of got used to them," says Sarah Kelly, 43, the wife of a Blackjewel miner. "We haven't had the support [from our church] we thought we'd have out of all of this. You don't never know where your help is going to come from. You don't know who's going to be preparing your meals."

The Blackjewel miners were strangers to the vocabulary of lefty direct action, but the area has a strong history of labor activism.
If you think that the way forward on, well, seizing the means of production lies through the America's tightly coupled and fragile supply chain (see, e.g., Kim Moody), then this is the most important and interesting protest in the world today, including Hong Kong. And local trans anarchists are doing great, give credit.
UPDATE "Hollowed Out" [The Baffler]. "This particular grant had come from the Appalachian Regional Commission's POWER Initiative, or the Partnerships for Opportunity and Workforce and Economic Revitalization. POWER was the Obama administration's attempt to offset the loss of coal jobs caused by mechanization, natural gas prices, and environmental regulations. It was also subtly intended to undercut the coal lobby campaign alleging that Obama was waging a 'war on coal.'…. POWER, then, was never intended to be a War on Poverty–type program, nor was it another New Deal. Instead, it was a strategic compromise that prioritized entrepreneurship, small business development, and job training; most of the money has gone to nonprofits, 'business incubators,' or community colleges." • It was, in other words a jobs guarantee for the credentialed professionals who form the base of the Democrat Party. Chris Arnade spotted the same sort of thing in his tour of America for Dignity: old-fashioned lamp posts and bike paths meant to attract the "creative class." More NGOs. More grants.
News of the Wired
"List: Attending Burning Man or Parenting a Toddler?" [McSweeney's Internet Tendency]. "14. A lot of the art isn't actually that great." • I think I need to put McSweeney's up there with The Onion and Duffel Blog. They've been on a roll lately.
"Human speech may have a universal transmission rate: 39 bits per second" [Nature]. "Italians are some of the fastest speakers on the planet, chattering at up to nine syllables per second. Many Germans, on the other hand, are slow enunciators, delivering five to six syllables in the same amount of time. Yet in any given minute, Italians and Germans convey roughly the same amount of information, according to a new study. Indeed, no matter how fast or slowly languages are spoken, they tend to transmit information at about the same rate: 39 bits per second, about twice the speed of Morse code…. No matter how fast or slow, how simple or complex, each language gravitated toward an average rate of 39.15 bits per second…. In comparison, the world's first computer modem (which came out in 1959) had a transfer rate of 110 bits per second, and the average home internet connection today has a transfer rate of 100 megabits per second (or 100 million bits)." • "Transfer rate" seems a little reductive for human communication….
"Audiobooks or Reading? To Our Brains, It Doesn't Matter" [Discover]. "In a study published in the Journal of Neuroscience, researchers from the Gallant Lab at UC Berkeley scanned the brains of nine participants while they read and listened to a series of tales from "The Moth Radio Hour." After analyzing how each word was processed in the the brain's cortex, they created maps of the participants' brains, noting the different areas helped interpret the meaning of each word. … Looking at the brain scans and data analysis, the researchers saw that the stories stimulated the same cognitive and emotional areas, regardless of their medium. It's adding to our understanding of how our brains give semantic meaning to the squiggly letters and bursts of sound that make up our communication." • No wonder I like podcasts so much! Particularly the ones with enormously long "story arcs," as the Civil War podcast* puts it, and lots and lots of characters! NOTE * Grant, in a sparkling campaign, has almost taken Vicksburg, winning the Battle of Champion Hill, in Episode 300 (a marathon performance almost as impressive as regular blogging :-).
"How to become a successful influencer, according to YouTube and Instagram stars" [Business Insider]. • No.
* * *
Readers, feel free to contact me at lambert [UNDERSCORE] strether [DOT] corrente [AT] yahoo [DOT] com, with (a) links, and even better (b) sources I should curate regularly, (c) how to send me a check if you are allergic to PayPal, and (d) to find out how to send me images of plants. Vegetables are fine! Fungi are deemed to be honorary plants! If you want your handle to appear as a credit, please place it at the start of your mail in parentheses: (thus). Otherwise, I will anonymize by using your initials. See the previous Water Cooler (with plant) here. Today's plant (JU):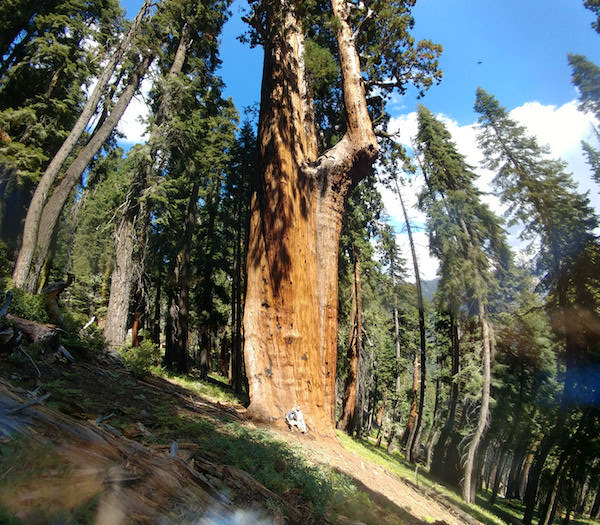 JU writes: "The Arm Tree in the Atwell Grove in Mineral king is at least 3,000 years old and perhaps 3,500 years old and maybe the oldest Giant Sequoia of all, an Alt-A Sherman Tree that requires a 5 hour walk off-trail and all uphill to get to, so it languishes in anonymity. Its been a busy year for visitation as around 20 people have made the trek to see it this summer, as opposed to the 2 million that visit the Sherman.
Taking a panoramic photo with a smartphone held sideways starting from the base and going up makes for an interesting shot, in an Alice in Wonderland fashion." Yes, I was wondering how that was done. I wish I had a light-weight view camera but with an affordable digital back so I could tinker with those verticals…
JU also send the following from ZM, who has more on the Atwell Grove:
Atwell is such a pretty grove! Perhaps the prettiest for the entire species. We spatially covered the entire grove over 1.5 days, visiting Diamond and Above Diamond and the lowest tree (700' down from Touchdown Jesus). The second day, we hiked the trail to the top, sampling Tunnel and a 302.5' tall tree (one of the tallest known sequoias) on our way to the highest tree (8800' up—incredible tree). Then we bushwhacked down into the forest just northeast of Dean. It's a gorgeous bowl in there, covered in lupine with 270-290-footers! …

From Dean, we went to Arm and then down. Arm is 9.96' diameter from the side, but only 4.69' diameter from below, making it on average 7.32' diameter. It's slightly smaller than the largest coast redwood limb at 8.96' diameter. Looking at rings in the burn scar, I suspect this may be one of the oldest giant sequoias—at least 3000 years if not up to 3500! It is one of my top two favorite sequoia trees ever.

Third day we did Oriole Grove. It was nice, but no huge trees. Based on the oldest tree in the grove, the place must have had a nasty crown fire decimating most of the population 1500-2000 years ago, meaning the true titans were all burned up. Atwell did not seem to have the same fate.

… I do want to go through Atwell again, just because of its sheer beauty. I will aim to find the tallest in the grove, which right now is the 302-footer, but there almost certainly is something taller.

… We have samples from Diamond, Above Diamond, Tunnel, Arm, and the tall one as well as a bunch of others in the grove for a future range-wide population genetics study.
I know we have California redwood fans in the readership, so I hope they find this of interest.
* * *
Readers: Water Cooler is a standalone entity not covered by the annual NC fundraiser.Remember, a tip jar is for tipping! So if you see a link you especially like, or an item you wouldn't see anywhere else, please do not hesitate to express your appreciation in tangible form. Regular positive feedback both makes me feel good and lets me know I'm on the right track with coverage. When I get no donations for five or ten days I get worried. More tangibly, a constant trickle of donations helps me with expenses, and I factor in that trickle when setting fundraising goals:
Here is the screen that will appear, which I have helpfully annotated.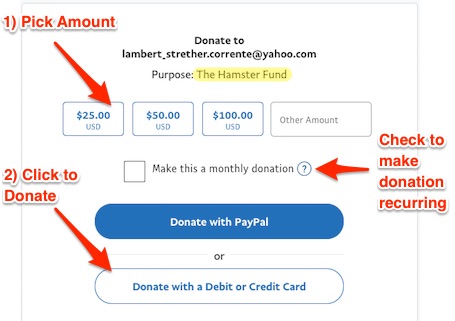 If you hate PayPal, you can email me at lambert [UNDERSCORE] strether [DOT] corrente [AT] yahoo [DOT] com, and I will give you directions on how to send a check. Thank you!