By Lambert Strether of Corrente
I want to start by recommending the Trillbilly Worker's Party podcast, from Whitesburg, KY, not least because Whitesburg is in Letcher County, which is adjacent to Harlan County, where the unpaid miners blocked the train. and the podcast was on the story from the beginning. Both Rolling Stone and the New Yorker have done some good reporting on the ground. Summarizing the basics:
In July 29, coal miners in Cumberland, Kentucky began blocking a train carrying more than $1 million worth of coal to protest their former employer, Blackjewel LLC, which declared bankruptcy on July 1. According to CNN, the company wrote bad checks to 350 miners in Harlan County alone, prompting the workers to stage the protest to demand their paychecks.
(Cumberland is in storied Harlan County, site of the "Harlan County War" of 1931-1939, in which the workers finally won the right to organize). More about this century's protest shortly. Back to the podcast: "Bonus Episode: Voices of the Harlan County Coal Blockade" was made a few days after the miners blocked the train; "Episode 111: Someone's Goin to Hell, and Someone's Goin to Jail" covers electoral politics, fatally skewering Amy McGrath, who Chuck Schumer recruited to run against McConnell; and "Episode 112: No One Agency Should Have All That POWER," with scathing views of consultants and the NGO ecology — close reading of grant proposals[1]! — and out-of-state liberals (example: One of the podcasters is driving around a bunch of artists who are going to make art about Appalachia, and the artists ask her to stop by a giant pile of coal so they can collect some lumps to "make art" out of them. Mine operators take a dim view of stealing coal, so they were taking a risk of arrest that a local could not take, but they persisted). In tone the Trillbillies are something like Chapo, but in substance, modulo the banter and the giggling, a lot more rigorous. Very very dark and very very dry, and the darkness and dryness is earned. All this being a round-about way of saying that I would have to listen to this podcast for many more hours — heaven forfend there should be automagically generated transcripts by podcast providers — to really feel I have any understanding of Harlan County at all. For example, the third a in "Appalchia" is not long. Who knew?
All this said, I want to do four things to put the Harlan County Train Blockage in context. First, I'll look at climate and the coal industry. Then I will look at the actual train blockage itself, the industrial action. Next, I'll look at why the anarchist trans activists (really) left the protest. Finally, I'll look at the ridiculous and exploitative Democrat Amy McGrath, who is those things even if she is raking in the bucks. Hopefully, as this story develops, these perspectives will be useful.
Climate and the Coal Industry
From 30,000 feet, far above the train tracks, coal is really bad, and we should leave it in the ground. James E. Hansen, Director of the NASA Goddard Institute for Space testified, before The Iowa Utilities Board (PDF):
Q. What is the purpose of your testimony?

A. … Burning of fossil fuels, primarily coal, oil and gas, increases the amount of carbon dioxide (CO2) and other gases and particles in the air. These gases and particles affect the Earth's energy balance, changing both the amount of sunlight absorbed by the planet and the emission of heat (long wave or thermal radiation) to space. The net effect is a global warming that has become substantial during the past three decades.

Global warming from continued burning of more and more fossil fuels poses clear dangers for the planet and for the planet's present and future inhabitants. (stored in one of several possible ways).

Q. Coal is only one of the fossil fuels. Can such a strong statement specifically against coal be justified, given still-developing understanding of climate change?

A. Yes. Coal reserves contain much more carbon than do oil and natural gas reserves, and it is impractical to capture CO2 emissions from the tailpipes of vehicles. Nor is there any prospect that Saudi Arabia, Russia, the United States and other major oil-producers will decide to leave their oil in the ground. Thus unavoidable CO2 emissions from oil and gas in the next few decades will take atmospheric CO2 amounts close to, if not beyond, the level needed to cause dangerous climate change. The only practical way to prevent CO2 levels from going far into the dangerous range, with disastrous effects for humanity and other inhabitants of the planet, is to phase out use of coal except at power plants where the CO2 is captured and sequestered.
(Carbon capture is a topic for another day, but suffice to say it won't be saving the climate or helping the miners of Harlan County any time soon.)
From Hansen's perspective, then, the decline of the coal industry (helped on its way by private equity) is a good thing. Here is a chart from the United States Energy Information Administration shows how the coal we are taking out of the ground is decreasing: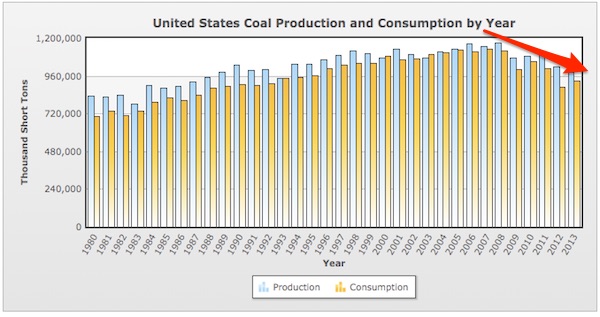 The main use case for coal, electrical power generation, is shifting to other energy sources. From the US Energy Information Administration: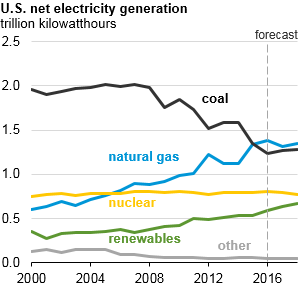 Unsurprisingly, employment is way down. From the US Mine Safety and Health Administration: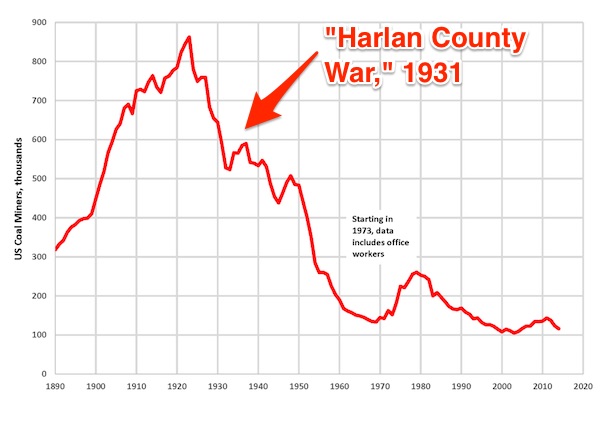 Summarizing, we're leaving coal in the ground. That should make Their Grace, The Biosphere happy (along with the private equity dudes and the CEOs scuttling away from collapsing firms with their bonuses intact). It's not making the miners or their families or communities happy. Rightly! So now let's turn to the protest.
How the Train Was Blocked
Stopping the train, which was loaded with about a million dollar's worth of coal, is a splendid example of direct action. From the New Yorker:
When a woman who lives near the Cloverlick mine noticed a train being loaded with coal, she sent a message to a few miners, one of whom called [miner Jeff] Willig. "He said, 'Hey, you wanna come up here and stand in front of this train?' And I was, like, 'Uh, yeah,' " Willig told me. "It was pretty straightforward."

Willig and four other miners stood twenty feet in front of Blackjewel's train. "The train was going slowly," Willig said. The conductor inched forward a few times, then, finally, seeing that the men were not moving, stopped for good. After about two hours, the state troopers arrived, shook the miners' hands, and asked them to step off the tracks; they were trespassing on Blackjewel property. "They were very nice," Willig said. The miners complied, and started plotting their next move—perhaps, they thought, they could stop the train at the next crossing, farther down the tracks. The train got going, passed them by about ten feet, then stopped again and backed up. Someone had called the federal Department of Labor, which quickly intervened on the miners' behalf, declaring that the coal sitting on the tracks was "hot goods" and would go nowhere until the company paid the miners for their labor.
Some remarks. First, it's remarkable to see the Labor Department actually doing the right thing. How did that happen? (True, the Republicans haven't done anything more, but declaring the train "hot goods" was the prerequisite for the protest to begin in the first place.)
Second, the workers are exercising their control over our fragile supply chain (cf. Kim Moody). If a train, why not trucks? Or aircraft? Or ships? Or warehouses?
Third, the situation is indeed "straightforward." One the one hand, there is the train, valued at one million dollars. On the other, there are the miners, who created the value and weren't paid for it. The physical proximity of the train and the protesters — in the midst of crisis, no less — makes that social relation crystal clear. The same relation is true on the docks, in warehouses, in airports, but less visible. Perhaps this protest will make it more visible. "Show me the money!"
Why the Trans Anarchist Activists Left
The anarchists, who were locals, showed up on day two. Rolling Stone:
Lill, 29, a transgender activist from the county adjacent to Harlan.. showed up on day two of the protest preaching a doctrine of mutual aid among working-class people…. Lill, who uses gender-neutral they/them pronouns, quit their job as a server and, along with a small crew of transgender anarchists, set about marshaling the blockade into an organized labor camp. They helped set up a camp phone line, a solar shower, and a kitchen capable of feeding dozens. The anarchists, who spent 27 days on the tracks with the miners, brought up questions the miners hadn't yet considered: Who are you going to call if this gets you arrested? Who's going to bail you out?

"I didn't know who they were at first, but I kind of got used to them," says Sarah Kelly, 43, the wife of a Blackjewel miner. "We haven't had the support [from our church] we thought we'd have out of all of this. You don't never know where your help is going to come from. You don't know who's going to be preparing your meals."
Organizing a camp out of nothing is not easy to do, so what these anarchists did is very, very impressive. But here's why they left. From the New Yorker:
Before I arrived, earlier in August, a group of truckers affiliated with Black Smoke Matters had visited the camp to show their support. One of the truck drivers had made some comments—about his gun collection, his wealth, and his support for neo-Nazis—that upset members of Lill's collective….

On Sunday, when I stopped by the camp to say goodbye, I found that Lill, Nico, and all the members of the anarchist collective had unexpectedly packed up and left. "I don't think they're coming back," [miner Chris] Rowe said. The trucker had stopped by the blockade earlier that morning to check on the miners, and to speak with Rowe about the job, while Lill and Nico were out running errands. When they returned and saw this man back at camp—this time wearing a "Trump 2020" T-shirt—they asked Rowe to tell him to leave.

"He came by to say he was still supporting us," Rowe told me. "And he helps us in the coal industry. I wasn't going to ask him to leave." Rowe also said that he did not remember the trucker making any offensive comments. Lill and Nico later wrote to me that there had been an agreement with the miners that the trucker would not be welcomed back. "We left camp because of overt racism," they said. In an Instagram post, they added, "We had to leave camp because we will not enable racism or complacency to racism. But we will be dispersing the money and we are sorry to everyone who is as heartbroken about this as we are."
(The Trillbillies describe this episode as well.) Because I don't even know how to pronounce "Appalachia," I'm going to refrain from interpretation. But we clearly have a problem.
The Horrid Amy McGrath
From the Courier Journal, "Kentucky miners issue a cease and desist letter to Amy McGrath for using them in a TV ad":
Two members of the Letcher County chapter of the Black Lung Association issued a cease and desist letter to McGrath on Wednesday, saying they did not consent to having their likenesses used in the ad.

Randy Robbins and Albrow Hall thought they were participating in a documentary for the Black Lung Association, according to the letter from their lawyer, Christoper L. Thacker, whom Gov. Matt Bevin appointed to the Kentucky's Executive Branch Ethics Commission in 2016.

The two felt the trip to see McConnell was a success, the letter said, and "deeply appreciated the warm receptions they received" from officials.

"Randy and Albrow are not partisan political activists for either party," the letter states. "However, they are personally offended at seeing their images being used in a political attack ad that does not reflect their personal feelings or beliefs. It is simply wrong for the McGrath Campaign to use individual miners suffering from black lung disease as political pawns without their permission or consent."
This story too is covered by the Trillbillies, with much hilarity about the moviemakers who asked a miner to remove his "Black Lung" T-shirt, and put on a flannel shirt. Because that's what workers wear, you know. Suffice to say that I won't be looking to McGrath for victory, let alone help, even if hash tag "Moscow Mitch" is raking in the bucks from Coastal liberals.
Conclusion
Since we must leave the coal in the ground, we need a "just transition" for the miners (even if the union leaders don't like it). (And by "we need," I guess I mean "workers must demand and take.") Other civilized countries do this, as a Sunrise Movement activist points out:
Think a just transition through a #GreenNewDeal is impossible?

Yesterday I met with a mining union leader from Germany.

He told me how they shut down coal mines with 600,000 workers and not a single person ended up in the unemployment line.

— Evan Weber ?? (@evanlweber) September 7, 2019
After listening to the Trillbillies, though, I'm 100% certain of one thing: Handing the task of devising a "just transition" over to the non-profit industrial complex is a recipe for utter disaster. So avoiding that, for me, is a new litmus test for Green New Deal plans.
NOTES
[1] "Energy-displaced individuals" is gold. Another aspect of the Democrat Party as an insitution is that its embedded in a dense network of NGO's, the "non-profit industrial complex," which spend millions on, say, doing feasibility studies for broadband, but no money on actual broadband.