This is Naked Capitalism fundraising week. 756 donors have already invested in our efforts to combat corruption and predatory conduct, particularly in the financial realm. Please join us and participate via our donation page, which shows how to give via check, credit card, debit card, or PayPal. Read about why we're doing this fundraiser and what we've accomplished in the last year, and our current goal, funding comments section support.
Today, CalPERS will announce the results of the election for the retiree board seat, which pitted challenger and former board member JJ Jelincic against incumbent Henry Jones. As a result of an unheard-of level of spending on a CalPERS board campaign, including dark money that violated financial reporting rules, illegal see-through ballot envelopes, and board members and CalPERS employees engaging in illegal electioneering, Jelincic lost.
On Tuesday, observers of the opening and scanning of the mailed-in ballots, which constitute the majority of the votes, were able to conduct a large sample by virtue of close observation. Their running tallies showed Jelincic losing markedly to Jones. There is every reason to think that the other two voting methods, voting by phone and by Internet, which will be officially tabulated today along with the mailed ballots, will skew even more for incumbent Jones. That is due to those channels being more likely to reflect an intense phone campaign on behalf of Jones out of an SEIU call center in New York, as well as being tamper friendly.
But as we showed in a September post, even the mailed ballots were designed for abuse by virtue of using see-through envelopes that violated the California constitutional requirement, "Voting shall be secret." Below is a ballot envelope held up to light. You can read all the words inside, particularly the candidates' names and the voter choice: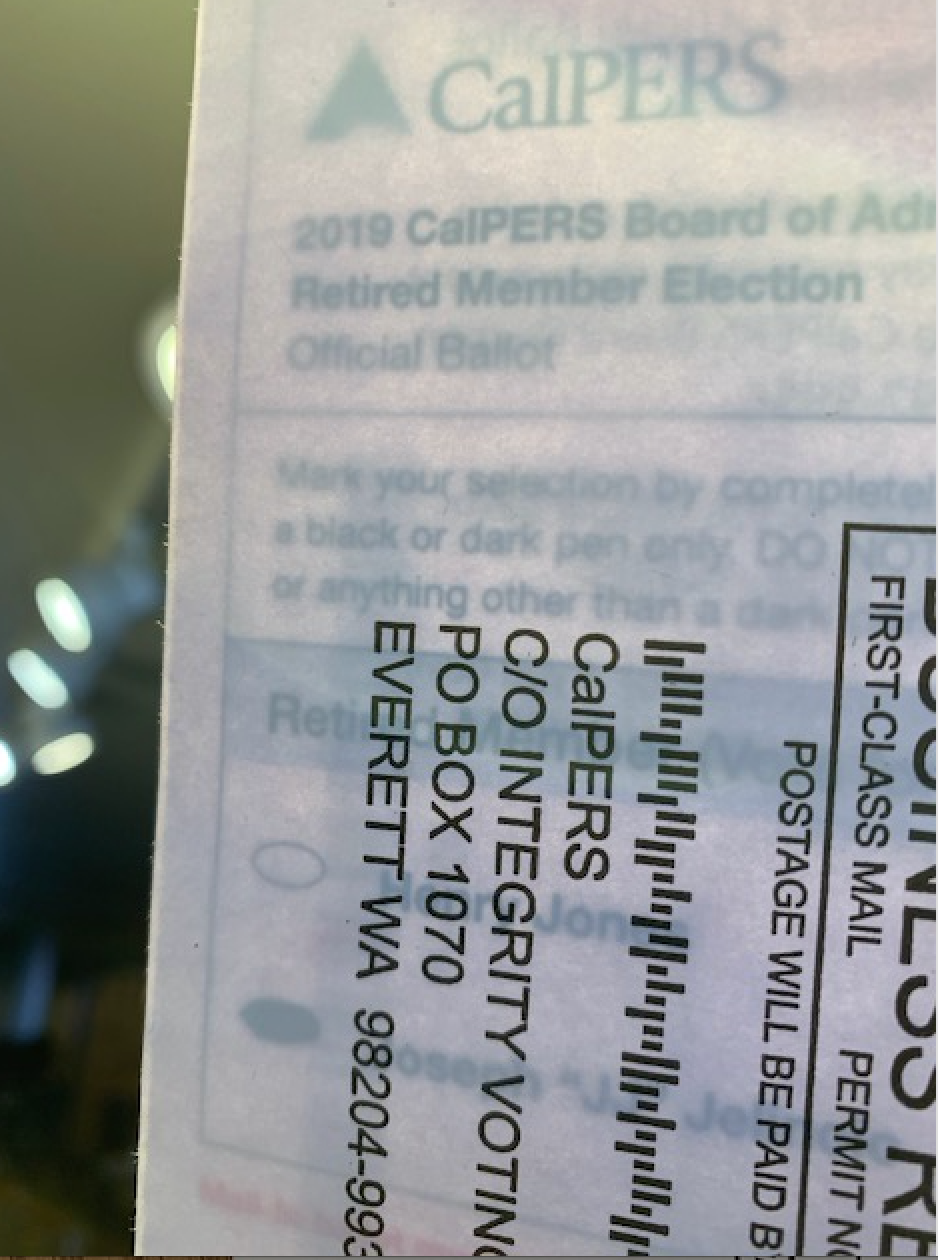 We showed in another photo that you don't need to hold the envelope to the light to see how someone voted; you could see through the envelope in normal light when it was flat on a table.
Jelincic reports that his mother is glad he lost. She said abuse he took on the campaign trail would be a pale shadow of what he would have endured for four years in office.
Jelincic was favored to win before CalPERS and its allies put their thumb heavily on the dial via the illegal ballots, illegal electioneering, and massive spending. Jelincic was contesting the retiree seat. The major retiree organizations had not only endorsed Jelinicic, but on one call, even pressed Jones not to run.
The fact that some CalPERS board members, the staff, and their union allies were so determined to defeat a pro-transparency board member who also happens to know something about investments is a very bad sign about their honesty and priorities. As we noted earlier:
Jelincic's sin was exposing that the supposedly most sophisticated public pension fund was incompetent and asleep at the switch. The vehemence of the campaign against Jelincic suggests that exposing the low standards of public pension fund management and board oversight threatens a lot of rice bowls.
This loss is also a dramatic proof of political scientist Tom Ferguson's "Golden Rule" theory of money in politics, that the campaign that spends more money typically wins.
Historically that has not been the case for CalPERS board seats. $20,000 was an adequate campaign budget for a CalPERS board candidate, enough to fund a lot of Facebook ads and travel around the state to woo voters. Two years ago, challenger Margaret Brown spent only $17,800 to beat incumbent Michael Bilbrey, who spent $118,400 (no typo). Last year, Jason Perez, who spent $49,100, defeated Board President Priya Mathur despite her $65,400 in expenditures.
But the allies of CalPERS' executives launched a massive campaign against Jelincic, including multiple costly mailings and the heavy phone banking effort in the closing days. On top of that, as we'll show shortly, one mail drop was designed to look like official state mail and contained a law-breaking letter on State Treasurer Fiona Ma's official letterhead, making it much more likely to have been read than typical election junk mail.
As we discussed long form on September 10, SEIU was one of moving forces behind the anti-Jelincic campaign; another was the firefighters' union. Note that effectively none of the voters in this election were union members.
Not only was this the first time that dark money participated in a CalPERS election, and on top of that, on a carpet-bombing scale, but we also described how the mailings were illegally funded. The groups taking credit for them filed implausibly close to the actual mail drops. They thus hid the existence of their firepower until it was too late for Jelincic to have responded.
Fundraising and spending so close to an election in California has to be reported on a close to real-time basis. It is impossible to have ginned up these mailings without large deposits if nothing else to hold a slot with the fulfillment house. Similarly, we showed one filing that listed expenditures exceeding receipts, and both of the dark money groups showed large debts as of their latest filings. Pray tell, how will they be paid off?
As we pointed out in early September:
The Sacramento Bee earlier today exposed the role of the union SEIU as the not-so-hidden hand behind the Fiona Ma mailer described above…

However, the article missed or chose to sidestep several key issue, such as the unprecedented magnitude of the spending, and the dubiousness of a union throwing its financial weight around to influence the election for the retiree seat, when the union represents effectively no retirees and hence has no proper role. Recall that six of the 13 board seats are elected by various classes of beneficiaries. It's appalling to see the SEIU try to buy the retiree seat, one where unions don't represent the voters, as opposed to the five others, where it has a more legitimate nexus.
This is where the dark money spending stood on September 9, roughly one third of the way through the balloting period:

As grotesque as this is, the spending total for these dark money groups now stands at just under $440,000.
But it wasn't just the unprecedented level of spending that sank Jelincic. A particularly nasty bit of business was the dressing up by one of the dark money groups of an illegal letter by Treasurer Fiona Ma. That letter violated the law by using her official stationery with her seal of office to campaign against Jelincic. As we explained earlier, citing the applicable statutes, this is a criminal violation of California campaign laws: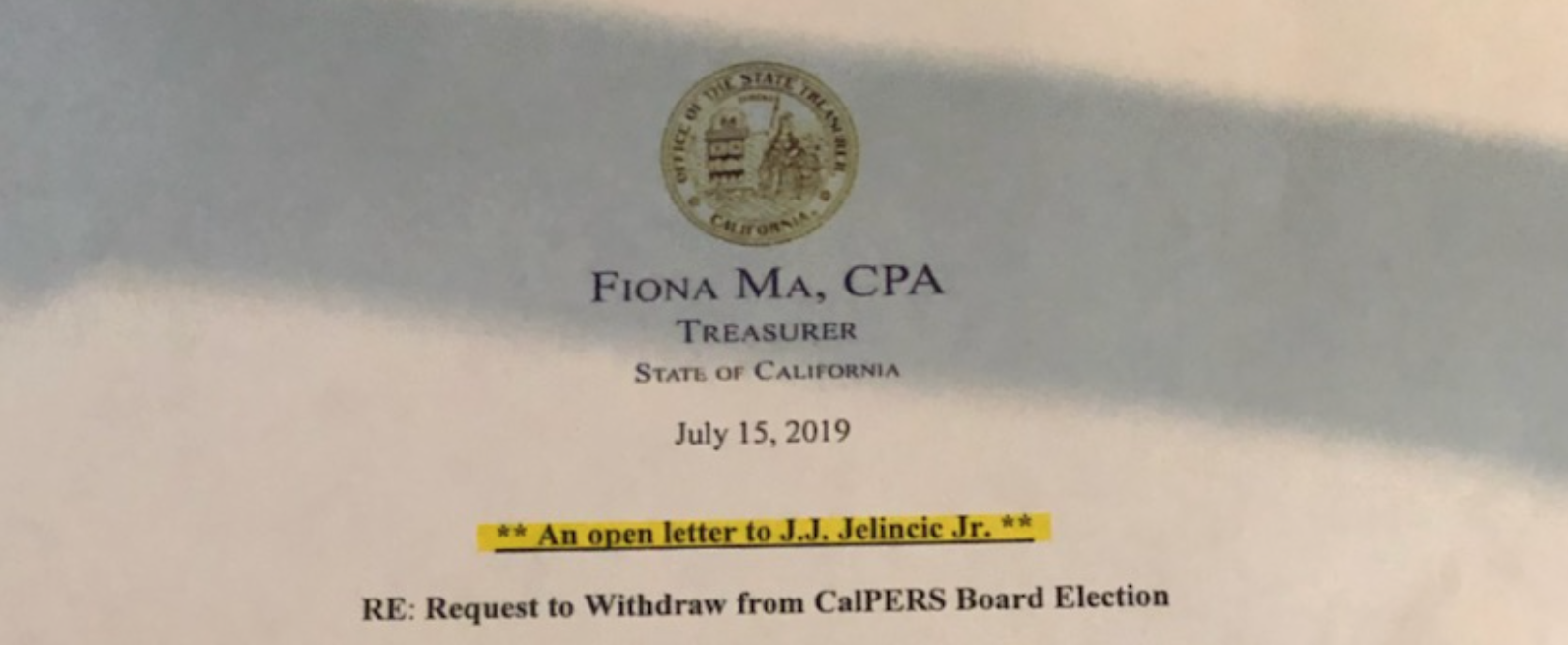 This letter served as the centerpiece of an early September mailing by one of the astroturf groups, designed to look like an official state communication in Ma's name: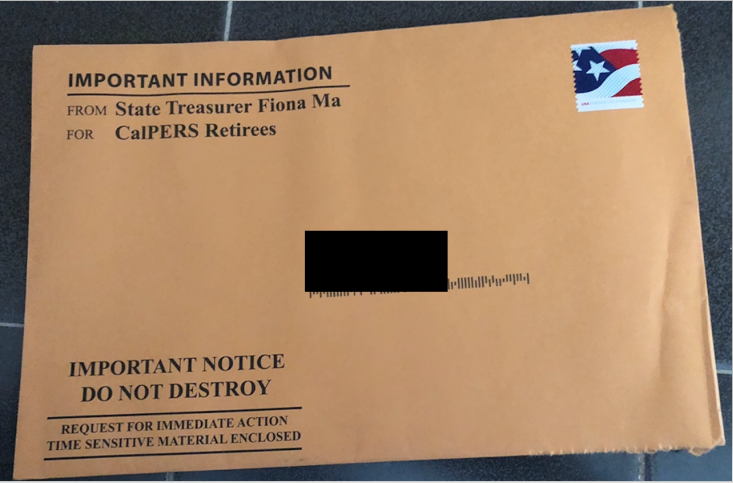 Ma's office has piously claimed they had nothing to do with this package. As we said earlier:
If you think anyone who wanted to have a political future in California would cross the state's second highest officer by sending out a mass mailing without her knowledge, I have a bridge I'd like to sell you.
This was the most egregious illegal use of state resources against Jelincic, but it was far from isolated.
For instance, at an August board meeting, two CalPERS employees, wrapping themselves in the #MeToo banner, smeared Jelincic by presenting the falsehood that he'd been sanctioned for sexual harassment. Jelincic has indeed been sanctioned, in 2011, for discourtesy towards three female co-workers over whom he had no influence. He was given the minimum punishment, a reprimand. That was it. Yet this office foot-fault (which JJ admittedly compounded by not refraining from telling one of the three women that she had nice shoes after having been told to cut it out) was turned into a funhouse mirror distortion.1 As bad as this display was, board members (who normally remain silent and poker faced during public comments) piled on, with David Miller making clearly illegal remarks against Jelincic.
Similarly, those same two women continued their illegal campaign, sending out mass mailings as "CalPERS Team Member".
Another nasty element was CalPERS providing impermissible assistance to the dark money mailing and phone campaigns. We received notice from multiple independent recipients of having gotten mail pieces using name variants that only CalPERS had, meaning an official CalPERS address list went illegally to the astroturf group. Similarly, CalPERS beneficiaries got calls at phone numbers that only CalPERS has. Mind you, this may not have been formal cooperation; CalPERS employees may have tossed files over the fence. But it's still illegal.
So why so much flagrantly impermissible behavior by Fiona Ma, David Miller, and CalPERS employees? Effectively, only the State Attorney General could take these abuses on, and he's part of the CalPERS protection racket. From a February letter by the California Fair Political Practices Commission:
Multiple statutes prohibit public officials from using public resources for campaign activity.1 Also, misappropriation of public funds can result in criminal prosecution.2 Further, the California Supreme Court has ruled it is a violation of the State Constitution for public agencies and officials to spend public resources on campaign activities absent express statutory authority.

Current law does not permit the Commission's Enforcement Division to investigate or pursue legal action against public agencies and officials for spending public funds on campaign activity. The law authorizes the Attorney General, district attorneys, and city attorneys in cities with populations of 750,000 or more people to bring civil actions enforcing the prohibition.
Finally, the Sacramento Bee behaved disgracefully, keeping up a barrage of negative articles against Jelincic reminiscent of the Washington Post's efforts to sandbag Sanders. Notably, the Bee also refused to run any of three op eds in support of Jelincic, one of which was by a heavyweight.
So as much as Jelincic started his campaign as the favorite, the combined forces opposing him were overwhelming. I hope reader will still congratulate Jelincic for putting up a valiant battle. It took concerted dirty campaigning to beat him.
CalPERS and its union allies appear to have lost perspective. They may have won this battle, but in the long term, the display of openly crooked and even criminal behavior means that fewer and fewer people who are paying attention have any illusions about the giant pension fund. Some prominent financial reporters say privately that CalPERS is the most difficult and deceptive organization they cover. When CalPERS funded level falls, as it is certain to do as nosebleed financial market values revert to something less stratospheric, they'll find they have far fewer allies than they thought. Mercenaries are fair weather friends.
____
1 With the benefit of hindsight, Jelincic erred in not demanding that a 2011 Los Angeles Times article, apparently taking its cue from the CalPERS PR department, that also exaggerated the charges and sanction, be corrected. So successfully getting a distorted account in the media allowed for it to be repeated.