Rats trained to drive tiny cars find it relaxing, scientists report Agence France-Presse
America's Pile of Uneaten Bacon Is the Biggest in 48 Years Bloomberg
Forecast Suggests Rainforest Could Stop Producing Enough Rain To Sustain Itself By 2021 Guardian :-(
Deadly typhoon forces Japan to face its vulnerability to increasingly powerful storms Science (guurst)
Google and IBM Clash Over Milestone Quantum Computing Experiment Quanta Magazine (David L)
These U.N. Climate Scientists Think They Can Halt Global Warming for $300 Billion. Here's How Time
The battle to break plastic's bonds BBC (David L)
DRIVERS ARE KILLING PEDESTRIANS AT THE HIGHEST RATE IN ALMOST 30 YEARS The Verge (Dan K)
China?
Hong Kong protesters warn replacing Carrie Lam may not be enough Financial Times
India's economy is in crisis – and adulation for Abhijit Banerjee's methods won't solve it Scroll (J-LS)
Brexit
EU Keeps Boris Johnson Waiting Over Length of Brexit Extension Bloomberg

Boris Johnson's Top Team Is At War Over Whether To Call An Election Buzzfeed. He hasn't had the votes…Why should he have them now? I know this is constitutionally bizarre. but look at how long May soldiered on when she should have been turfed out. Labour is not well served by an election soon and they might be better served a bit after Boris has visibly not lived up to his Oct 31 do or die promise.

The above confirmed by Jeremy Corbyn urged by MPs to resist calls for election Guardian

Brexit 2019 polls latest: Nigel Farage's Brexit Party has lost edge to Boris's Tories Express

Moody's warns a further Brexit delay would be 'negative' for the UK Telegraph

The White Cliffs of Brexit New Republic
New Cold War
Russian Pride and US Exceptionalism Consortiumnews (UserFriendly)
Syraqistan
Iraqi PM says US troops do not have permission to stay in country Al Jazeera (furzy)

The Democrats Helped Cultivate the Barbarism of ISIS Counterpunch (resilc)

How (Not) To End Endless Wars LobeLog (resilc)
Big Brother is Watching You Watch
Google Accused of Creating Spy Tool to Squelch Worker Dissent Bloomberg (UserFriendly)
Imperial Collapse Watch
Incredible ?An Italian Journalist presented Mike Pompeo packet of dog food , requesting him to consume it thrice a day , so that US could become sincere & faithful to others ? pic.twitter.com/W20tIN5hgL

— I am what I am! ?? ? (@nevermore_007) October 23, 2019

The Pro-War Assumptions In Your Newspaper Current Affairs (UserFriendly)
Trump Transition
Trump Attacks California's Cross-Border Cap-and-Trade Market New York Magazine (UserFriendly). Cap and trade is a scam. I'm surprised Trump isn't down with it because it is full of abuses and the traders game the market like crazy.
Impeachment
Trump impeachment: Republicans storm secure hearing BBC

Democrats Are Already Arguing Over Trump's Impeachment Articles Atlantic
2020
Tulsi Versus Clinton World: The Fight Democrats Need to Have American Conservative (resilc)

Warren and Obama: It Got Messy Slate. Adrien F:

NC readers are already familiar with how Warren got to where she is now..but this adds a bit of light on her initial TARP role and how she weaponized it to make her mark and get the Obama boys' attention..and ultimately got herself a US Senate seat..

Barney Frank told Obama that she wanted Obama's job back in 2010..and now I am starting to think it might have been already the case in 2008 when she got that famous phone call from Harry Reid to head an "obscure" TARP Committee in DC even before Obama's inauguration..I love Obama's quote "Elizabeth, don't overplay your hand.." when he is trying to pacify her with some role back in 2009..some hand she overplayed :)
Our Famously Free Press
Facebook isn't free speech, it's algorithmic amplification optimized for outrage TechCrunch (resilc)

AOC Has Some Great Questions for Mark Zuckerberg New York Magazine. Putting this here because the Borg tried to wrap itself in the "free press" mantle except when it's not convenient.

6% of US Adults On Twitter Account For 73% of Political Tweets, Study Finds TechCrunch

From Dan K. Not to defend the Times, but they may have decided the big threat is the NSA and there's no protecting against that:

If I were a journalist at NYT, I would consider walking out on the job. This is a clear statement from the Times that they do not value the safety of their staff or their sources in a time where both are under massive threat. https://t.co/eBFs5vLZLm

— the apocalypse, but fashion ? (@ElleArmageddon) October 23, 2019

Smug, Elitist Senator Attacks Middle-Class Journalist As a Smug Elitist New York Magazine

Dan K: "Product placement/protection is not a major component of my concept of 'moderation' but whatever. Forget it Jake, it's 'content'".

6 Thought Experiments to Demonstrate the Difficulty of Content Moderation Regulation in 1 Screen Grab:

(1) Please imagine if the top trend and the bottom trend were next to each other

(2) Please imagine if the bottom trending word was proximate and ABOVE the first trend
1/ pic.twitter.com/36SUD2riQe

— Kate Klonick (@Klonick) October 22, 2019
Black Injustice Tipping Point
Fired NYPD officer in Eric Garner's chokehold death, Daniel Pantaleo, sues to get job back NBC
California Burning
California Blackout May Affect 1.5 Million Bloomberg
Tesla shares soar after crushing third-quarter earnings CNBC
A Taste of the Climate Apocalypse to Come ProPublica (resilc). On PG&E blackouts.
Ex-Boeing Pilot Complained of Management Pressure on MAX, Former Colleagues Say Wall Street Journal
Paul Krugman — finally — admits he was wrong! Lars P. Syll (UserFriendly)
The World's Top Economists Just Made the Case For Why We Still Need English Majors Washington Post
Fed to increase repo market interventions again ahead of month-end Financial Times. The Fed has lost its mind. It could handle this on its trading desk with daily operations. They might be huge once in a while. WTF is going on with announcing programs with limits? This reduces, not enhances, its cred. And if it now has a distaste for using its money market desk, it should stop penalizing the discount window for banks that have a bill of good health.
Zuckerberg warns blocking Libra will be boon to China tech Financial Times. Horseshit. China will not let any non-Chinese crypto be important in China. So aside from the many other problems with Libra, the notion that it could be a "global currency" is laughable. The very fact that Bitcoin boosters have gotten the press and public to repeat the falsehood that it is a currency is the foundation for a lot of fuzzy thinking.
Prediction: In the next few years Facebook will rapidly decline in popularity and influence. This will translate into declining revenues.

In 10 years we will look back at the Facebook era and marvel at how much of their business was a fraud (i.e. buying fake exposure, etc).

— Cameron Murray (@DrCameronMurray) October 23, 2019
Class Warfare
The Enduring Power of Anticapitalism in American Politics New York Times (resilc)

Zombie debts are hounding struggling Americans. Will you be next? Guardian (KLG). From earlier this month, still germane.
Antidote du jour. Raven: "My beautiful rooster, Spike. Check out his spurs. He's a very nasty creature."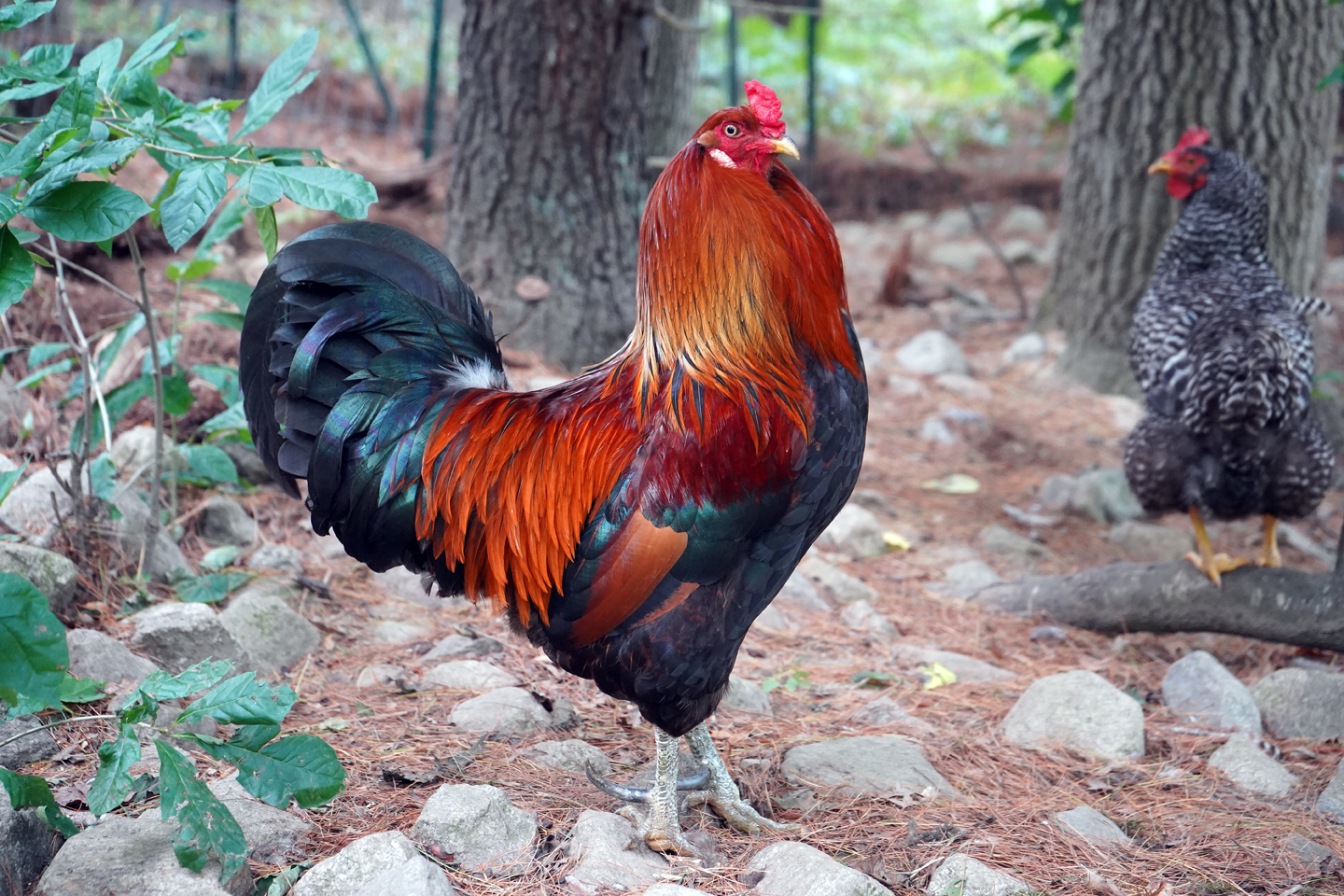 See yesterday's Links and Antidote du Jour here.