By Lambert Strether of Corrente.
Trade
"Trade talks between the U.S. and China are hitting a snag over farm purchases. The dispute over agricultural products hits at a sector that has been central to the trans-Pacific trade war. …[I]t's now created another obstacle as Beijing and Washington try to lock down the limited trade deal President Trump has outlined" [Wall Street Journal]. "Mr. Trump has said China has agreed to buy up to $50 billion in U.S. soybeans, pork and other agricultural products annually. But China is leery of a precise numerical commitment in a potential agreement, and Beijing also wants to have a way out should trade tensions escalate again."
Politics
"But what is government itself, but the greatest of all reflections on human nature?" –James Madison, Federalist 51
"They had one weapon left and both knew it: treachery." –Frank Herbert, Dune
Here is a second counter for the Iowa Caucus, which is obviously just around the corner:
* * *
2020
Alert reader dk (not to be confused with DK) is in the process of developing the following interactive chart. Here is (are) the latest Dem Primary Polling as of 11/13/2019, 12:00 PM EST:

For YouGov, Warren pulls ahead of Sanders. Here, the latest national results, as of 11/13/2019, 12:00 PM EST:

Capitol Weekly has released a new CA poll. I added the lines because there was such a great distance between the tiny dotes. As of 11/13/2019, 12:00 PM EST:

Warren Sanders, Biden, Buttigieg, as of11/14/2019, 11:00 AM EST:

I think dk has started a really neat project, and in the near future we'll seek your feedback (within reason) for the tool "live."

* * *

UPDATE Bloomberg (D)(1): "Bloomberg registers for 2020 ballot in Arkansas" [Local 12]. "'I'm going to finance the campaign, , with my own money so I don't owe anybody anything,' he said in Arkansas. 'Other people ask for donations in return for which they've got to give favors. But it costs a lot of money, whether you're doing it with your own money or somebody else's money, to get a message out.'" • Stop being so coy!

Buttigieg (D)(1): "Inside The Buttigieg Moment" [FiveThirtyEight]. "As voters have developed Goldilocks syndrome about the leading Democratic candidates — too old, too liberal, too … female? — Buttigieg has benefitted from the strong vanilla flavor of his political porridge. His stump speech is about 'American values, correctly understood,' addresses 'the crisis of belonging,' scolds the 'cheap nationalism of hugging the flag' and encourages 'Republicans of conscience' to come on into the Democratic Party…. When I asked what retail politics steps he was taking to appeal to black voters, Buttigieg brought up church visits — he thinks his faith is one central point of connection with black audiences — and an appeal to black sororities, which he called 'a huge area of social capital.'" • Correct on sororities.

Patrick (D)(1): Announcement video:

Deval Patrick's announcement video is up —->https://t.co/fbENu6VCCr

— Stephanie Murray (@stephanie_murr) November 14, 2019

Patrick (D)(2): "Big-dollar donors helped Deval Patrick lay groundwork for presidential campaign" [Open Secrets]. "Patrick's Reason to Believe PAC, launched in 2018, brought in hundreds of thousands of dollars from just a handful of wealthy donors. It then spent a large chunk of that cash on campaign consulting and polling to prepare Patrick for a presidential run. As a hybrid PAC, Patrick's group was able to accept unlimited contributions. And it did. Just six donors accounted for $620,000, making up nearly 85 percent of its total." • Reason to believe.

Patrick (D)(3): "Ex-Massachusetts Gov. Patrick announces Dem presidential bid" [Associated Press]. "Patrick was asked on CBS if he supports the 'Medicare for All' health care plan, which is pushed by Sanders and would replace job-based and individual private health insurance with a government-run plan that guarantees coverage for all with no premiums or deductibles and only minimal copays for certain services. 'No, not in the terms we've been talking about,' Patrick said. 'I do support a public option, and if Medicare is that public option, I think it's a great idea.'" • [Cheers erupt in the donor class]. I do support bicycles, and if fish are those bicycles, I think it's a great idea."

Patrick (D)(4): "Why Deval Patrick Is Making A Late Bid For The Democratic Nomination" [FiveThirtyEight]. "I think the real opening for Patrick is essentially to replace Pete Buttigieg as the candidate for voters who want a charismatic, optimistic, left-but-not-that-left candidate. Patrick, I think, is betting that there's a "Goldilocks" opportunity for him — "Buttigieg but older," or "Biden but younger" — a candidate who is viewed as both safe on policy and safe on electability grounds by Democratic establishment types and voters who just want a somewhat generic Democratic candidate that they are confident will win the general election. After all, in his rise in Massachusetts politics, Patrick was not that reliant on black support — the Bay State has a fairly small black population (9 percent). Instead, he won a competitive 2006 Democratic primary for governor by emerging as preferred candidate among the state's white, educated, activist class. • Weird that the Massachusetts political establishment didn't coalesce around a single candidate. Also, Patrick won't get any Sanders voters, so if he gets any traction, Sanders will rise relative to the other candidates from whom Patrick does take votes.

Patrick (D)(5): "Deval Patrick, Foreclosure Mogul" [HuffPo]. Quite a lead: "When Deval Patrick's daughter was growing up in the 1980s, her kindergarten teacher gave her an assignment: Go home and describe the four seasons to your mom and dad. So she did: 'First you drive up and the doorman takes your car.' For the daughter of a Boston power lawyer, the Four Seasons Hotel seemed as sensible a homework topic as the basics on winter, spring, summer and fall." • Worth reading in full.

Sanders (D)(1): "New Jersey Democrats Back Off Vote to Gut Minimum Wage Law" [The Intercept]. "Under pressure from activists, New Jersey Democrats on Wednesday postponed a vote on a bill that would almost certainly suspend the $15 minimum wage increase they signed into law in February…. On Wednesday morning, Democratic presidential candidate Sen. Bernie Sanders joined the the bill's critics on Twitter, urging state senators to "stand on the side of workers and their families," saying that the proposed measure was a "threat to their livelihood." By Wednesday morning, the proposal had been removed from the committee's Thursday schedule. It is unclear when the committee will take the bill up again." • Hard to see why the other candidates don't copy Sanders on this; he does this sort of thing constantly.

Sanders (D)(2): "MSNBC Is the Most Influential Network Among Liberals—And It's Ignoring Bernie Sanders" [In These Times]. "In These Times tallied how often the three candidates were discussed and logged whether the coverage was positive, negative or neutral. For example, while poll results by themselves (whether favorable or unfavorable to a candidate) were simply logged as neutral, commentary about a candidate 'surging' was logged as positive and 'stagnant' as negative. Clips and previews for upcoming segments were not included. The coverage quickly revealed a pattern. Over the two months, these six programs focused on Biden, often to the exclusion of Warren and Sanders. Sanders received not only the least total coverage (less than one-third of Biden's), but the most negative. As to the substance, MSNBC's reporting revolved around poll results and so-called electability."

UPDATE Warren (D)(1):

Video of me questioning Warren on fp: https://t.co/mJdbgqMNQj

— Sam Husseini (@samhusseini) November 13, 2019

Boilerplate you could use for any answer to any question. Of course our problems are systemic!

* * *

"Stop Entering the Democratic Party Primary" [New York Magazine]. "Current Bain Capital employee and former Massachusetts governor Deval Patrick is probably going to enter the Democratic Party's primary race. There is no good reason for him to do so. He is not going to win. The masses do not pine for him. But hubris is a ruthless master, and it is driving Patrick the way it is driving former New York City mayor and current billionaire Michael Bloomberg. …The clown car is full. It cannot accept any more passengers. Really, it was pushed beyond its capacity some time ago, but John Delaney simply will not get out of the vehicle." • Alternatively–

"The Note: Expanding 2020 field speaks to Democrats' angst vs. Trump" [ABC]. "Interest in Patrick and Bloomberg — plus among the "many, many, many people" who Hillary Clinton says are urging her to run — reflect anxiety about the ability of an overstuffed field to sort itself out. For all the Democratic unity on display in impeachment hearings, concerns about defeating President Donald Trump remain urgent and divisive…. Democrats were largely fans of the unprecedented diversity in their huge presidential field. But at some point the quantity of candidates will say more about the party than many are comfortable revealing."

UPDATE "Medicare for All a Vote Loser in 2018 U.S. House Elections" [Larry Sabato's Crystal Ball]. "The evidence in Table 2 suggests that Democrats in marginal House districts were right to be concerned about the potential impact of Medicare for All on their electoral prospects. This table displays the relationship between the Democratic candidate's position on Medicare for All and the election results in 60 competitive House districts — districts that featured no incumbent running or a Republican incumbent seeking another term where Donald Trump won or lost by a margin of less than 10 points. These 60 districts accounted for at least 31 of the 40 net seats gained by Democrats in 2018.[1] The results in Table 2 show that Democratic candidates supporting Medicare for All did substantially worse than those who did not — winning only 45% of their races compared with 72% for the non-supporters." • Hmm.
Impeachment
"Therapy Dogs Visit Capitol Hill to Help Congress De-Stress as Impeachment Hearings Begin" [People]. "Pet Partners, the nation's leading organization in registering therapy animals for animal-assisted interventions, and the Pet Industry Joint Advisory Council (PIJAC)… brought a group of trained therapy canines to Capitol Hill on Wednesday — the same day public impeachment hearings began…. 'This is a happy accident,' Mike Bober, president of PIJAC, told PEOPLE about the alignment between the visit and the hearings. 'We had this planned for several months, so when they announced the date of the hearings, we thought 'if there was ever a time for a bipartisan source of comfort and relief, it's today.'" • Times have changed since Watergate….

"Barr says watchdog report on Russia probe's origins is 'imminent'" [Politico]. "Attorney General William Barr confirmed on Wednesday that an internal watchdog's report on the origins of the FBI's investigation of the Trump campaign's dealings with Russia during the 2016 election is 'imminent.' The highly anticipated report, led by Justice Department Inspector General Michael Horowitz, seeks to establish whether the bureau violated laws and policies that govern the surveillance of American citizens. Horowitz's report is wrapping up while a broader investigation into the Russia probe, led by U.S. Attorney John Durham, remains ongoing. Former top CIA officials, including John Brennan, have said they expected to be interviewed and pledged to cooperate." • Presumably the Durham report will drop before Christmas, right in the middle of whatever shambolic process the Democrats are going through to send Trump's indictment to the Senate.

"Trump is about to face the first social media impeachment" [Mic], "'Impeachment is a political process that rests on persuading the public, not a legal process that rests of evidence beyond a reasonable doubt,' [Regina Lawrence, director of the Agora Journalism Center at the University of Oregon] explains. At the end of the day, while removing Trump from office would require a trial, it's a trial among lawmakers — and as jurors they're highly attuned to what their constituents want to see happen. That means the winning side will have convinced the public that their message is the right one. 'Narrative is everything, and no one on that side has a social media presence to rival Trump's,' Lawrence says."

"What We've Already Learned From The Democrats' Impeachment Witnesses" [FiveThirtyEight]. "Understanding each witness' role in the story can be tricky, though, so one way to think about it is in three rough layers, with each set of witnesses addressing a different part of the narrative. In the first — let's call it outer — layer, there is a chorus of diplomats and other officials who don't necessarily have direct insight into the ins and outs of the Trump administration's communications with Ukraine…. In the second layer, a smaller group of officials tried to raise the alarm about Giuliani's pressure campaign by reporting misconduct and pushing back against Trump's allies, only to be met with silence or resistance… And finally, a handful of witnesses — including the top diplomat in Ukraine, William Taylor, who is publicly testifying on Wednesday — have said they actually saw evidence of a quid pro quo."

UPDATE "Josh Hawley: Hero Or Hawk?" [The American Conservative]. "Senator Josh Hawley, at 39 the youngest member of Congress' upper chamber, will one day run for president." • He will. I'm filing this here because I'm wondering what Hawley will do when Trump's indictment hits the Senate.
Realignment and Legitimacy
"Justin Amash: The Last Republican in America" [Rolling Stone]. "On the day she was sworn in this past January, Ilhan Omar, the progressive congresswoman from Minnesota, tweeted about all the firsts in the new 116th Congress. The first Somali American and first refugee. The first Muslim women. The first Palestinian American. A few hours later, Amash replied with a correction: "My father is Palestinian, and I've been in Congress since 2011." • Oops. Good background on Armash.

KY: "Nothing to Learn" [The Baffler]. "Beshear ultimately squeaked by, in part because the Libertarian Party candidate John Hicks potentially split the Republican vote just enough to spoil the election for Bevin. The party gloated about the results on Facebook: 'We are always happy to split the vote in a way that causes delicious tears.'" • Entertaining!

KY: "Kentucky's GOP Governor Embraces Outlandish Conspiracies As He Refuses To Concede" [HuffPo]. "On Wednesday, eight days after Bevin refused to concede defeat to Democratic Attorney General Andy Beshear — and the day before the state will begin the official recanvass of election results to recheck vote totals, something Bevin formally requested — the governor tweeted his support for an event held by Citizens for Election Integrity, a supposedly "grassroots" group started just this week… Erika Calihan, the Lexington-area woman behind the event, has spent the last three days making unverifiable and unsubstantiated claims of fraud and calling on the attorney general's office to open some sort of investigation into her allegations ― most of which seem derived primarily from posts she has read on Facebook, screenshots of unofficial election results and rumors she's heard." • Granted, with our voting systems the way they are, it's easy to go down the rabbit hole. Look at liberal Democrats! But still.

VA: "Progressive wins in Virginia are limited as long as 'Dillon's Rule' is on the books" [Scalawag]. "'Dillon's Rule' is named after a corporate railroad attorney and eventual judge named John F. Dillon. To this day, he is credited with pioneering a judicial attack on municipalities at the peak of post-Civil War Reconstruction—a time of heightened African American electoral participation following the emancipation of slaves and expansion of suffrage to African American men. His treatise argued—in reactionary fashion—that local governments only possess those powers which states explicitly grant them. This idea has morphed into a legal doctrine that blankets the nation. … Just as it was used in the late 1800s, Dillon's Rule was a tool the State of Michigan used to successfully defend dissolving the power of half a dozen majority African American city governments after the financial crisis of 2008 (including Detroit and Flint). It has been used to defend the Alabama State Legislature's restrictions on the governing powers of Birmingham, a majority-African American city, and other cities. Everywhere, it defines fundamental power dynamics. The rule is rigorously defended by the American Legislative Exchange Council, a conservative corporate-led, state-level policy network." • Something to remember!
Stats Watch
Commodities: "The International Energy Agency says in a new report that the U.S. will account for 85% of the increase in global oil production to 2030. …[T]he U.S. surge will reshape global energy markets and bolster the country's influence over OPEC nations" [Wall Street Journal]. "Production growth is slowing, but the IEA says U.S. output will reach 19 million barrels a day over the coming decade. The agency says the U.S. also will account for 30% of the increase in natural-gas production to 2025"
Jobless Claims, week of November 11, 2019: "In a rise that may well be revised away, initial jobless claims rose" unexpectedly sharply [Econoday]. "Yet the data include a number of state estimates including for two large states, California and Pennsylvania, which limits the impact of the results."
Producer Prices (Final Demand), October 2019: "A little warmer than expected, producer prices rose" [Econoday]. "These are still very tame reading…. This report is mixed and outside of trade services isn't pointing to a heating up of general inflation which at the consumer level has been flat, but at least steady, in the neighborhood of the Federal Reserve's 2 percent target."
Retail: "Walmart earnings beat expectations, stock spikes to new highs" [Yahoo Finance]. "During the third quarter, online sales in the U.S. skyrocketed 41%, driven by the big-box retailer's online grocery business. In the U.S., Walmart now has more than 3,000 locations for grocery pick-up and more than 1,400 locations for delivery. The retailer expects to offer free same-day grocery pickup from more than 3,100 stores by the end of the year and feature same-day grocery delivery at more than 1,600 stores."
The Bezzle: About "innovation":
It's amazing how many celebrated startups have been revealed as essentially labor arbitrage schemes disguised as cool new apps. https://t.co/QcAV6f4flj

— Kevin Roose (@kevinroose) November 12, 2019
The Bezzle: "EXCLUSIVE: Ambrosia, the Young Blood Transfusion Startup, Is Quietly Back in Business" [OneZero]. "Earlier this year, Ambrosia, the much-maligned California startup selling blood transfusions from young donors, stopped offering the procedure after the U.S. Food and Drug Administration issued a buyer beware, cautioning consumers against using the service. But now, according to Ambrosia's CEO, the company is back up and running." • Yikes.
Tech: "Google taps former ONC chief as first chief health officer" [Modern Healthcare]. "A former HHS official under the Obama administration has joined Google Health as its first chief health officer, the technology giant confirmed Thursday to Modern Healthcare. Dr. Karen DeSalvo, who led the Office of the National Coordinator for Health Information Technology between 2014 and 2016, marks the second former HHS official Google has scooped up in recent weeks. Late last month Alphabet, Google's parent company, confirmed it had hired former Food and Drug Administration Commissioner Dr. Robert Califf to serve as head of strategy and policy for Google Health and Verily Life Sciences."
Tech: "The 'Uncanny Valley' Mac Pro – Failure on Arrival" [The Mac Observer]. "Apple announced the new cheese grater Mac Pro over 160 days ago. Still no price list. Still no ship date….. Likely, there is a fair amount of pent up demand for those sticking with the Mac waiting for an expandable pro level machine. But beyond sating the backlog demand, this may be a product that is too expensive, too little, and too late. As such, Apple should consider dramatically cutting the price of the new Mac Pro… If they do not cut the prices, and then release a drastically updated Mac Pro in a short time, the still loyal customers that buy this Mac Pro will likely feel very burned. Otherwise, I'm not sure this is a group of customers that will stand much more antagonization and lack of care by Apple."
Manufacturing: "Rehabbed Parts Linked to 737 Crash Draw FAA Warning to Airlines" [Bloomberg]. "The Federal Aviation Administration issued an alert saying that Xtra Aerospace LLC had failed to keep proper documentation and didn't follow its own procedures for evaluating aircraft parts it rehabbed. Xtra worked on a sensor that failed on a Lion Air flight Oct. 29, 2018, and that helped trigger a crash that killed 189 people, Indonesian investigators…. Photos produced during the investigation purporting to depict the repair showed the wrong time and at least some of them were taken on a different plane, investigators found." • Well, well. I wrote in comments after linking to an earlier story on Xtra, 2019-04-03:
I did a little research on XTRA Aerospace Inc., and couldn't come up with anything. My suspicion, not founded, was that they were in fact brokers, and that (given their Latin America–adjacent Miramar location) they didn't do anything in-house (whether repair or resale). Their owners, Wencor, are in turn owned by private equity, so I assume XTRA is crapified and looted in some way, but there's no evidence how.
Crapified they were! Perhaps more will be revealed.
* * *
Today's Fear & Greed Index: 82 Extreme Greed (previous close: 87, Extreme Greed) [CNN]. One week ago: 91 (Extreme Greed). (0 is Extreme Fear; 100 is Extreme Greed). Last updated Nov 13 at 12:19pm.
The Biosphere
"Electric car future may depend on deep sea mining" [BBC]. "The future of electric cars may depend on mining critically important metals on the ocean floor. That's the view of the engineer leading a major European investigation into new sources of key elements. Demand is soaring for the metal cobalt – an essential ingredient in batteries and abundant in rocks on the seabed."
Our Famously Free Press
"McClatchy's financial distress has the company exploring options — including a sale" [Poynter]. "McClatchy reported a series of financial reverses Wednesday so severe that it may not be able to meet its obligations in 2020. Specifically it has a $120 million pension funding payment due in the spring. That 'greatly exceeds the company's anticipated cash balances and cash flow' it said in a press release. An appeal to federal pension guaranty authorities for relief may not be successful." • Terrible news. McClatchy was once Knight-Ridder, and they were the only mainstream venue that got Iraq WMDs right. So they are punished, while the Washington Post and the New York Times — whose Judy Miller actually faked WMD stories — are financially sound and going from strength to strength. "The good ended happily and the bad unhappily. That is what fiction means." –Oscar Wilde, The Importance of Being Earnest.
Health Care
"Texas HHS Commission Penalized $1.6M for HIPAA Violations" [Security Boulevard]. "The Texas Health and Human Services Commission (TX HHS) must pay a civil penalty of $1.6 million for having violated HIPAA. Prior to reorganizing under its current name in September 2017, TX HHS was known as the Department of Aging and Disability Services (DADS). This state agency filed a breach report with OCR in June 2015 in which it stated that a security incident had exposed the electronically protected health information (ePHI) of 6,617 individuals. That data included victims' names, Social Security Numbers and treatment records. The breach report traced the incident to a period when DADS migrated an internal application from a private, secure server to a public server. A software code flaw had then allowed anyone to access the ePHI." • 6,617 individuals… is a lot less than Google got from Ascension.
Feral Hog Twitter Returns
"Feral Hogs Find and Destroy Cocaine Worth $22,000 Hidden in Woods" [Newsweek]. "An unknown number of boars allegedly dug up and destroyed the gang's packages, dispersing their contents in the woods. It was not immediately known what happened to the curious animals." • I'll bet!
Groves of Academe
"Things In Your University Office You Can Burn for Warmth" [McSweeney's Internet Tendency]. "Your university has just informed you that even though it is 36 degrees outside, the air system will not be switched over from air conditioning to heat for two more weeks. Since the administration has banned space heaters in offices but has no regulations against starting bonfires in offices, here are suggestions for what to burn for warmth."
"College Freshman Annoyed About Having To Room With 47-Year-Old Adjunct Professor" [The Onion].
Guillotine Watch
"N.J. country club sues waiter over red wine spilled on member's $30K purse" [NJ.com]. "A Bergen County country club has sued its own employee after a patron filed a lawsuit last month against the club and employee seeking $30,000 for the value of her handbag, which she claims was damaged in a red wine spill, court records show. Maryana Beyder filed the lawsuit against the Alpine Country Club in Demarest alleging an unnamed waiter spilled the drink on her expensive Hermes handbag in September 2018 and that the club is at fault for its hiring practices."
Class Warfare
"Amnesty International Violated U.S. Labor Law, NLRB Judge Rules" [Bloomberg]. "According to the ruling, last year a group of unpaid interns, with support from some of Amnesty's unionized permanent employees, drafted a petition to their supervisor asking to be paid. "Amnesty International's commitment to human rights should be proven from within first," they wrote, according to the ruling. In response, Amnesty's executive director held meetings in which she made implied threats; told employees to make workplace complaints verbally before putting them in writing; equated their organizing with disloyalty; and asked staff to report co-workers' activism to management. All of those actions violated the National Labor Relations Act, the judge concluded."
"Southern Poverty Law Center won't voluntarily recognize employee union" [Montgomery Advertiser]. "Southern Poverty Law Center management said Tuesday they would not voluntarily recognize a union organized by employees at the civil rights nonprofit and have hired a Virginia law firm whose website boasts about victories over labor organization attempts. In a memo to employees sent on Tuesday, Lecia Brooks, the chief workplace transformation officer for the SPLC, said that directors of the nonprofit had voted to allow an election to go forward, saying they wanted "to ensure that everyone has an opportunity to be heard." "There are employees at SPLC, mostly women of color and lower-wage workers who are often left out or often 'spoken for' instead of engaged and given a space for their own agency," the memo said. "We want current and future employees to know and feel that their voices matter and their needs are met." • Gad.
NGOs. C'mon, man.
* * *
"College students, seniors and immigrants miss out on food stamps. Here's why." [CalMatters]. "At the bookends of adulthood, college students and seniors increasingly struggle to pay their bills yet they are among the groups most likely to miss out on the food stamps they qualify for, according to interviews with more than a dozen outreach workers and state and county officials. Obstacles also face immigrants, working families and homeless people, experts said. When these categories overlap, the hurdles to obtaining food stamps are often higher…. A few days after her third denial, Sultan said she was too discouraged to apply again. 'It's too much time. It's like a job itself to apply.'" • Complex eligibility requirements rule!
"Brains of girls and boys are similar, producing equal math ability" [Science Daily]. "Jessica Cantlon at Carnegie Mellon University led a research team that comprehensively examined the brain development of young boys and girls. Their research shows no gender difference in brain function or math ability… 'Science doesn't align with folk beliefs,' said Cantlon, the Ronald J. and Mary Ann Zdrojkowski Professor of Developmental Neuroscience at CMU's Dietrich College of Humanities and Social Sciences and senior author on the paper. 'We see that children's brains function similarly regardless of their gender so hopefully we can recalibrate expectations of what children can achieve in mathematics.'"
News of the Wired
"I am railing: Sir Rod Stewart reveals his epic model railway city" [BBC]. • Quite the layout!!!
"The Behind-the-Scenes Quest to Find Mister Rogers's Signature Cardigans" [Smithsonian]. "'He was oblivious to clothes,' Newell says. 'Sometimes we would say, 'Fred, you have to buy a new sports jacket.' But he would say, 'It's too expensive." And keeping his weight at a trim 143 pounds—after the number of letters in each word of the phrase 'I love you'—he didn't have to buy a bigger size."
I loved this book:
Inga Moore's Illustrations for The Secret Garden by Frances Hodgson Burnett (1849-1924). "If you look the right way, you can see that the whole world is a garden." #illustrationoftheday pic.twitter.com/sqm5kzEwtu

— LongVictorianPrints (@longvictorian4) November 13, 2019
* * *
Readers, feel free to contact me at lambert [UNDERSCORE] strether [DOT] corrente [AT] yahoo [DOT] com, with (a) links, and even better (b) sources I should curate regularly, (c) how to send me a check if you are allergic to PayPal, and (d) to find out how to send me images of plants. Vegetables are fine! Fungi and coral are deemed to be honorary plants! If you want your handle to appear as a credit, please place it at the start of your mail in parentheses: (thus). Otherwise, I will anonymize by using your initials. See the previous Water Cooler (with plant) here. Today's plant (SV):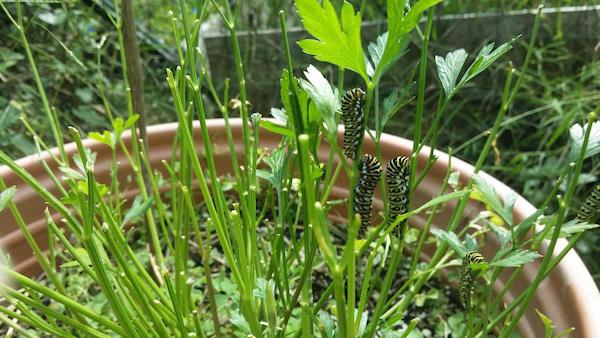 SV writes: "Parsley and late! Monarch caterpillars. Wish we had more for them. …"
* * *
Readers: Water Cooler is a standalone entity not covered by the annual NC fundraiser. So if you see a link you especially like, or an item you wouldn't see anywhere else, please do not hesitate to express your appreciation in tangible form. Remember, a tip jar is for tipping! Regular positive feedback both makes me feel good and lets me know I'm on the right track with coverage. When I get no donations for five or ten days I get worried. More tangibly, a constant trickle of donations helps me with expenses, and I factor in that trickle when setting fundraising goals:
Here is the screen that will appear, which I have helpfully annotated.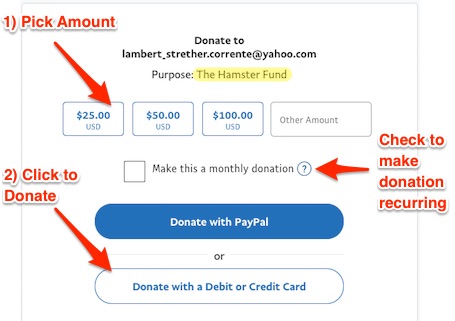 If you hate PayPal, you can email me at lambert [UNDERSCORE] strether [DOT] corrente [AT] yahoo [DOT] com, and I will give you directions on how to send a check. Thank you!