By Lambert Strether of Corrente.
Patient reader, impeachment has eaten the world, so I'll be adding a bit more on the candidates in a bit. Thanks to readers who are describing what's happening on the ground in their own states.–lambert UPDATE All done!
Trade
"Retailers say they are moving furniture sourcing from China to non-tariffed countries and using new financing plans with customers… even as many companies say they are struggling to cope with the higher costs" [Wall Street Journal]. "…China was the top furniture exporter to the U.S. last year but shipments from there declined 30% from September 2018 to September 2019… while furniture imports from Vietnam increased 51%. A separate solution hasn't taken hold, however: Industrial-production data shows no spike in U.S. furniture manufacturing since the tariffs took effect."
Politics
"But what is government itself, but the greatest of all reflections on human nature?" –James Madison, Federalist 51
"They had one weapon left and both knew it: treachery." –Frank Herbert, Dune
Here is a second counter for the Iowa Caucus, which is obviously just around the corner:
* * *
2020
Alert reader dk (not to be confused with DK) is in the process of developing the following interactive chart. Here is (are) the latest Dem Primary Polling as of 11/13/2019, 12:00 PM EST:

For YouGov, Warren pulls ahead of Sanders. Here, the latest national results, as of 11/13/2019, 12:00 PM EST:


Monmouth has released a new IA poll. As of 11/13/2019, 12:00 PM EST:

Buttigieg, Warren, Sanders, as of 11/13/2019, 12:00 PM EST:

Buttigieg's gains since the summer have been across the board, with increasing support coming from nearly every demographic group. Regardless, less than one-third of likely caucusgoers say that they are firmly set on their choice of candidate and most would not be too disappointed if they had to switch their support. The poll also finds that Mike Bloomberg receives a chilly reception among Hawkeye State Democrats as he considers whether to make a late entry into the nomination contest.

Here is a cautionary note on polling in Iowa:

Seems worth mentioning, U Iowa did a poll in late October 2015, that had Clinton +12
The RCP average was Clinton +21.8
Monmouth U had Clinton +41

Final result was Clinton and Sanders splitting the state https://t.co/izM1Sj5O03

— BigConsequences! (@TSBigMoney) November 13, 2019

I think dk has started a really neat project, and in the near future we'll seek your feedback (within reason) for the tool "live."

* * *

Biden (D)(1): "Biden Helped Reform Ukraine. Trump Pushed to Make Ukraine Corrupt Again." [Jonathan Chait, New York Magazine]. • Again? Chaits gotta Chait, but this headline crosses over into some other dimension of derangement. From the Corruption Perceptions Index:

C'mon, man.

UPDATE Biden (D)(2): "Four Takeaways From Joe Biden's Town Hall in Grinnell' [WHOTV]. "Biden didn't explain why, if Republicans had been unbending before Trump due to concerns that they'd anger their conservative base, they'd be more willing to work with Democrats after his departure."

UPDATE Patrick (D)(1): "Deval Patrick bid would 'complicate Elizabeth Warren's life'" [Politico]. "Several Massachusetts Democrats — who declined to go on the record because of the sensitive nature of the issue — viewed reports that Patrick was preparing to join the field as an affront to Warren, who has been running hard for nearly a year. 'I think not only would he draw from a lot of undecided voters but also from anyone in the race,' said Deb Kozikowski, the vice chair of the state Democratic Party. 'Iowa may be half-baked already, but New Hampshire's not, South Carolina's not.'" • A pleasant prospect for the Warren campaign, no doubt, having two Massachusetts candidates running in neighboring New Hampshire.

UDPATE Sanders (D)(1): "Bernie Sanders returned $470 from the only billionaire who donated to his campaign" [The Week]. "Marta Thoma Hall, the wife of a billionaire inventor, gave $470 to Sanders' campaign this summer — and when Sanders' team realized, they promptly returned it, Forbes reports. Hall's husband David Hall, who 'doesn't have as much of an interest in politics,' holds a patent on a self-driving car sensor, and his stake in the Velodyne company has recently been valued at over $1 billion, Forbes writes." • The cream of the best being that the valuation of Hall's patent is, to say the least, Bezzle-adjacent.

UPDATE Sanders (D)(2): "Sanders meets with Hispanic lawmakers" [Politco]. "A Latino caucus member in the room said several undecided lawmakers were present, and that Sanders did not exclusively talk about economic issues. 'It was not what I expected. It was pretty impressive,' said the member. 'He was very comfortable with us. He impressed the caucus, to be honest.' The person added: 'He really has learned from his past experiences with Latinos and Latino issues and the Latino caucus. It literally looked like a new Bernie.'" • If the people lead, the leaders will follow. Sanders is already polling very well with Hispanic voters.

UPDATE Sanders (D)(3): "Bernie Blackout" [Bernie Blackout]. • An aggregation of horror stories. I think Sanders supporters will find this very, very useful. A volunteer effort!

UPDATE Sanders (D)(4): "Don't Underestimate AOC's Possible Iowa Impact For Sanders" [Iowa Starting Line]. "As Ocasio-Cortez noted at the Council Bluffs rally, this was her first-ever visit to Iowa. She should come back. Often. The freshman congresswoman fired up the crowd in a way few politicians have in Iowa this year. 'When it comes to the Green New Deal, people say … how are we going to pay for it?' she said near the end of her introduction of Sanders in Des Moines on Saturday. 'As though we're not paying for it now. As though the Midwest wasn't underwater this year! As though 3,000 Americans didn't die in Hurricane Maria in Puerto Rico! As though Hurricane Katrina didn't happen! As though sea levels aren't rising! As though California isn't on fire! How do we pay for that? 'Most of the 2,000-person crowd leapt to their feet to cheer." • Impressive.

Trump (R)(1): "White Trump voters are richer than they appear" [WaPo]. "[P]revious accounts [of Trump's 2016 victory] have focused on studying how individual incomes affected voting decisions in 2016 by looking at citizens' total incomes. But what if the relationship between income and who you vote for is related not to how much total money you earn, but how much you earn relative to your neighbors?… As the data in the table show, support for Trump was strongest among the locally rich — that is, white voters with incomes that are high for their area, though not necessarily for the country as a whole."

UPDATE Warren (D)(1): "Elizabeth Warren's systematic, methodical approach to Iowa — and why she's rising in the polls" [USA Today]. "Warren has built a highly visible ground team that has made itself known to Iowa politicos as it canvasses cities and organizes caucus leaders. It's that robust organizational presence that could explain, in part, her rise in the Des Moines Register/CNN/Mediacom Iowa Poll, Iowa Democrats have said…. Warren said her Iowa strategy was born out of the decision to run a grassroots campaign. Instead of holding private fundraisers, she decided to spend time on the ground and in town halls, she said." • This is very good on the Warren ground game. Sounds different from the Sanders door-knocking approach.

UPDATE Warren (D)(2): Consider listening to this:

Elizabeth Warren becomes angry when asked a softball question by Amy Goodman, re: DNC's approach to primaries. #JustAPlayer #PlayerInTheGame pic.twitter.com/jRy9gLEO5v

— Bernie is the only real Democrat (@010_10_101) November 12, 2019

Who wants a President who's "just a player in the game"? (It's a lot like this: "August 31, 1967, Romney stated, "When I came back from Viet Nam [in November 1965], I'd just had the greatest brainwashing that anybody can get.'" To which the universal reaction was, "Who wants a President who can be brain-washed?") Worse, this is from the same interview where Warren said billionaires are billionaires because they work hard. Who wants a President who can be p0wned, twice, in an interview with Amy Goodman? Warren has a glass jaw.
Impeachment
"Democratic Insiders Preview Their Impeachment Offense Against Trump" [Vanity Fair]. The deck: "After the disaster of the Mueller testimony, Democrats know that impeachment means telling a simple, clear, compelling story." • So it's all about the narrative, then. Which the anonymous (Eric Ciaramella?) ("whistleblower's" memo provided. Conveniently. (I used the headline in view source, because that's the easiest way for me to get readable upper and lower-case as opposed to unreadable upper case, as the (editor-written) headline on the page: ""GENERATED, FACILITATED BY, INSISTED ON BY THE PRESIDENT": DEMOCRATIC INSIDERS PREVIEW THEIR IMPEACHMENT OFFENSE."

UPDATE "Trump Impeachment Hearings Open With Schiff on Hook to Make Case" [Bloomberg]. "There's still no set timeline for how swiftly House Speaker Nancy Pelosi and Schiff intend for his phase of the investigation to wrap up. Officials familiar with Democratic plans say they hope to move rapidly from hearings to a report to be presented by December to the Judiciary Committee with recommended action. That panel would then decide on whether to draft articles of impeachment and advance them to a House vote, perhaps by the end of the year." • And speaking of the Calendar–

UPDATE "Impeachment threatens to freeze Democratic presidential race" [Roll Call]. • Oh.

UPDATE "Why Republicans should admit there was a quid pro quo" [The Week]. "This is not cynicism. A president cannot do what he thinks is right for the country abroad if he is hampered by difficulties at home, including the difficulty of not being elected (or re-elected) president. Since the conduct of foreign policy is the prerogative of the chief executive, without whom we could not have relationships with other leaders, it is difficult to draw hard-and-fast distinctions between what is good for the president and what is good for the country — at least ones that do not depend upon our prior judgments about the president in question." • Extortion, or, as we called it in school, "international relations." Worth a read for the realpolitik….

"The Impeachment Pantomime" [Patrick Lawrence, Consortium News]. This: "[T]he witnesses are to one or another degree of questionable motives: To a one, they appear to be Russophobes who favor military aid to Ukraine; to a one they are turf-conscious careerists who think they set U.S. foreign policy and resent the president for intruding upon them. It is increasingly evident that Trump's true offense is proposing to renovate a foreign policy framework that has been more or less untouched for 75 years (and is in dire need of renovation)." And this (sorry for the length, but I haven't seen this put together quite so well:

Ten days ago Real Clear Investigations suggested that the "whistleblower" whose "complaint" last August set the impeachment probe in motion was in all likelihood a CIA agent named Eric Ciaramella. And who is Eric Ciaramella? It turns out he is a young but seasoned Democratic Party apparatchik conducting his spookery on American soil.

Ciaramella has previously worked with Joe Biden during the latter's days as veep; with Susan Rice, Obama's recklessly hawkish national security adviser; with John Brennan, a key architect of the Russiagate edifice; as well as with Alexandra Chalupa, a Ukrainian-born Democratic National Committee official charged during the 2016 campaign season with digging up dirt on none other than candidate Donald Trump.

For good measure, Paul Sperry's perspicacious reporting in Real Clear Investigations reveals that Ciaramella conferred with the staff of Rep. Adam Schiff, the House Democrat leading the impeachment process, a month prior to filing his "complaint" to the CIA's inspector general.

This information comes after Schiff stated on the record that the staff of the House Intelligence Committee, which he heads, had no contact with the whistleblower. Schiff has since acknowledged the Ciaramella connection.

No wonder no one in Washington will name this phantom in plain sight. The impeachment probe starts to take on a certain reek. It starts to look as if contempt for Trump takes precedence over democratic process — a dangerous priority. Sperry quotes Fred Fleitz, a former National Security Council official, thus: "Everyone knows who he is. CNN knows. The Washington Post knows. The New York Times knows. Congress knows. The White house knows…. They're hiding him because of his political bias."

— farce by any other name, although "hoax" might do, even if Trump has made the term his own.

Tin foil hat time: It has occurred to me (and I have done sanity checks with friends of the blog) that the SCIF, under Schiff's stewardship, functioned as a "clean room" where witness testimony was reverse engineered to match Ciaramella's memo. If so, the testimony would all tally, Murder on the Orient Express-style, because it was made to tally. Of course, the way to disprove what is admittedly conjectural, would be to permit Ciaramela to testify (which would also eliminate the appearance that a President was indicted based on secret testimony, or that intelligence community sources and methods took precedence over the American people's right to know).

UPDATE Always look for the qualification, in this case "reportedly." Nevertheless:

The road to impeachment began with Mueller's lack of due diligence in compelling an interview with the President. The day after Mueller closed the books on his investigation, an emboldened Trump picked up the phone & reportedly asked Ukraine to interfere in an American election. pic.twitter.com/CaIQeli2LR

— Josh Campbell (@joshscampbell) November 13, 2019

That timing has always struck me as curious as well, though "emboldened" seems to picture Trump as without guile, which, based on past performance, doesn't quite seem right.

* * *

The ambassadors' testimony:

"Meet the witnesses: Diplomats start off impeachment hearings" [Associated Press]. "Diplomats and career government officials, they're little known outside professional circles, but they're about to become household names testifying in the House impeachment inquiry. The witnesses will tell House investigators — and Americans tuning into the live public hearings — what they know about President Donald Trump's actions toward Ukraine… First up will be William Taylor, the charge d'affaires in Ukraine, and George Kent, the deputy Assistant Secretary in the European and Eurasian Bureau, both testifying on Wednesday." • You can read the full article for the bios. First, William Taylor:

"Op-Ed in Novoye Vremya by CDA Taylor: Ukraine's Committed Partner" [U.S. Embassy in Ukraine]. From November 10, 2019, the penultimate paragraph. I've helpfully underlined the dogwhistles:

But as everyone who promotes democracy knows, strengthening and protecting democratic values is a constant process, requiring persistence and steady work by both officials and ordinary citizens. in Ukraine, and to hold accountable .

It's kind of Taylor to let the Ukrainians know who's really in charge of foreign policy, isn't it? Now, Kent–

"George Kent Opening Statement At Impeachment Hearing: Concerned About "Politically-Motivated Investigations" [RealClearPolitics]. From the full text as prepare for delivery:

Ukraine's popular Revolution of Dignity in 2014 forced a corrupt pro-Russian leadership to flee to Moscow.

By analogy, may not have prevailed against British imperial might without help from transatlantic friends after 1776. , Congress has generously appropriated over $1.5 billion over the past five years in desperately needed train and equip security assistance to Ukraine.

Similar to von Steuben training colonials at Valley Forge, U.S. and NATO allied trainers develop the skills of Ukrainian units at Yavoriv near the Polish border, and elsewhere.

Are these people out of their minds? See, e.g., "America's Collusion With Neo-Nazis" [The Nation]:

Not even many Americans who follow international news know the following, for example:

That the snipers who killed scores of protestors and policemen on Kiev's Maidan Square in February 2014, thereby triggering a "democratic revolution" that overthrew the elected president, Viktor Yanukovych, and brought to power a virulent anti-Russian, pro-American regime—it was neither democratic nor a revolution, but a violent coup unfolding in the streets with high-level support—were sent not by Yanukovych, as is still widely reported, but instead almost certainly by the neofascist organization Right Sector and its co-conspirators.

§ That the pogrom-like burning to death of ethnic Russians and others in Odessa shortly later in 2014 reawakened memories of Nazi extermination squads in Ukraine during World War II has been all but deleted from the American mainstream narrative even though it remains a painful and revelatory experience for many Ukrainians.

(To be fair, the Ukrainian neo-Nazis we supported weren't slaveholders, unlike to many of our own Founders. So there's that.)
Health Care
UPDATE Confirming thread after thread after thread of horror stories:

Awful new @Gallup stat: More than 13% of American adults — or about 34 million people — report knowing of at least one friend or family member in the past five years who died because they couldn't afford healthcare https://t.co/7lJIrNouNR

— Sarah Boxer (@Sarah_Boxer) November 12, 2019
Stats Watch
Consumer Price Index, October 2019: "In a mixed report and underneath a higher-than-expected … rise in overall consumer inflation, a more modest … October gain in core inflation hints at slack in the economy" [Econoday]. "For monetary policy, this puts the emphasis more on the direction than the level of consumer prices and especially core prices where today's results, with medical costs an exception, are mixed to soft."
Atlanta Fed Business Inflation Expectations, November 2019: "Inflation expectations at the business level jumped back to the 2 percent line" [Econoday].
MBA Mortgage Applications, week of November 8, 2019: "Mortgage bankers were very busy in the November 8 week judging by applications which jumped" [Econoday]. "Today's report, specifically the rise in purchase applications, will give a lift to expectations for home sales going into year end."
Shipping: "Chinese shipping giant Cosco Group announced plans to invest around $1 billion in Greece's Port of Piraeus…. as Chinese President Xi Jinping visited the site that marks a key node in the country's Belt and Road initiative" [Wall Street Journal]. "Container volumes at Piraeus have been rising as China has stepped up its investment and Cosco wants to scale up the capacity with a plan that has met some resistance from Greek authorities. That pushback may be fading under a new government in Athens, however, and Cosco's only barriers may be commercial. Northern Europe gateways far outplace Mediterranean ports in Asia cargo, and they have well developed road and rail infrastructure to move goods inland. Still, more shipments from Cosco Shipping may trigger more investment to move those goods."
The Bezzle: "Digital freight broker Convoy has a shiny new value attached to its business and the fast-growing sector has cleared another financing gatepost" [Wall Street Journal]. "[T]echnology-focused upstarts…. are pushing their way into traditional freight load-matching business, since it appears to push the sector past $1 billion in investor funding since 2011. [jaw drops]. But the big new backing for Convoy suggests investors believe they are on a path to profitability." • Or there's so much stupid money floating around that investors can throw it at brain-dead projects.
The Bezzle: "Blockchain is Dead? Crypto Geeks Debate Merits of Once Dear Tech" [Bloomberg]. "'Blockchain is dead,' Meltem Demirors, chief investment officer of CoinShares Group, said on the sidelines of the conference in Times Square. 'After two, three years of spending a lot of money on this and a lot of investment dollars going into this, I think the bigger question as an investor is: What's the scalable revenue model and is there equity value that's created in these businesses? And arguably the answer is: not yet.'" • I'm so old I remember when blockchain was gonna kill off Uber. Battle of the titans.
Tech: "16-Inch MacBook Pro First Impressions: Great Keyboard, Outstanding Speakers" [Daring Fireball]. "Apple today is releasing its much-rumored new 16-inch MacBook Pro…. No one would ever suggest that the steering wheel for a car be designed by people who don't drive. But yet somehow the entire Macintosh world has spent the last three years dealing with or avoiding keyboards that were seemingly designed by people who don't type.3 The whole saga of the butterfly keyboards — their unreliable switches, poor typing feel, and anti-functional layout — betrays a certain arrogance. The more powerful an organization — a corporation, a nation, a sports team, whatever — the more at risk that organization is to hubris. It's power that allows one to act on hubris. We shouldn't be celebrating the return of longstanding features we never should have lost in the first place." • Also, "de-Jony-Ive-ification." We'll have to wait for the tear-downs, however, to know if Apple has changed its ways. Beneath the shiny, is it still a glued-together and unrepairable mess?
Tech: "Google to offer checking accounts next year: source" [Reuters]. "Alphabet Inc's (GOOGL.O) Google will offer personal checking accounts from sometime next year in partnership with Citigroup Inc (C.N) and a small credit union at Stanford University." • Lol, some college friend from Stanford is cashing in at that credit union!
Tech: "Researchers discover vulnerabilities affecting billions of computer chips" [TechXplore]. "Worcester Polytechnic Institute (WPI) security researchers Berk Sunar and Daniel Moghimi led an international team of researchers that discovered serious security vulnerabilities in computer chips made by Intel Corp. and STMicroelectronics. The flaws affect billions of laptop, server, tablet, and desktop users around the world. The proof-of-concept attack is dubbed TPM-Fail… The flaws announced today are located in TPMs, or trusted platform modules." • You know the old joke, right? "Trust is [insert disfavored identity here]-ish for 'F*ck you'!"? (Also, see Ken Thompson's "Reflections on Trusting Trust", from 1984 (ulp), still germane, about possibly the greatest hack ever.)
Mr. Market: I have a soft sport for Joe Weisenthal (who gets MMT):
In today's @Markets newsletter, I wrote about how you should always fact-check your jokes before tweeting https://t.co/e5TYtjIuOw pic.twitter.com/VLtppU4eW1

— Joe Weisenthal (@TheStalwart) November 13, 2019
* * *
Today's Fear & Greed Index: 87 Extreme Greed (previous close: 88, Extreme Greed) [CNN]. One week ago: 88 (Extreme Greed). (0 is Extreme Fear; 100 is Extreme Greed). Last updated Nov 13 at 12:19pm.
The Biosphere
Ecological Reconstruction [BIOS (dk)]. From Finland. "Identity politics divides the citizenry into groups that are supposedly represented by different political parties, and politics is seen as antagonism between these groups and parties. The contents of issues and policies, then, become secondary to the coherence of constructed group identities and political positions. In particular, the populism of the far right has utilised this kind of identity politics by constructing an antagonism between the 'forgotten people' and the 'elites' and 'immigrants' who threaten its interests. Identity politics also affects the use and acceptability of scientific knowledge. For instance, when effective climate action is opposed on the basis that it sits ill with certain lifestyles and identities (such as private car ownership and meat heavy diet), often, the result is neglect or even hostility towards the results of scientific research on the environment. The insistence on unchanging and monolithic identities implies cherry-picking of scientific knowledge, even in the case of the most thoroughly vetted science."

News of the Wired
"Existentialist Firefighter Delays 3 Deaths" [The Onion (RH)]. "'I'm no hero,' Farber said after rescuing the family from a house fire on the 2500 block of West Thacker Street, and prolonging for the time being their slow march toward oblivion. 'Like any other man, I am thrown into this world, alone and terrified, to play a meaningless role in an empty life. In my case, that role happens to involve charging through towering blazes to pull helpless individuals from a sea of flames before they suffocate or are burnt alive.'" • RH asks: "Can you be a meliorist if you don't believe in meliorism?" I would argue yes. It's a matter of outcome, not belief.
"My name causes an issue with any booking! (names end with MR and MRS)" [Stack Exchange]. "My name is Amr Eladawy. Whenever I get a ticket through an agent and they put my first name as Amr, it lands as A only in the Airlines system….. It seems that there is a smart rule that considers the suffix MR as Mister and drops it. Is this the correct behavior? What should I do to have my name printed correctly on my bookings." • Lol, algos.
"'Noise' in the Brain Encodes Surprisingly Important Signals" [Quanta]. "by analyzing both the neural activity and the behavior of mice in unprecedented detail, researchers have revealed a surprising explanation for much of that variability: Throughout the brain, even in low-level sensory areas like the visual cortex, neurons encode information about far more than their immediately relevant task. They also babble about whatever other behaviors the animal happens to be engaging in, even trivial ones — the twitch of a whisker, the flick of a hind leg. Those simple gestures aren't just present in the neural activity. They dominate it." • Everything, including the squeal. That's nature!
"Blood, terror and bass: the heavy return of dub poetry" [Guardian]. "With his 1978 album Dread Beat an' Blood, which fiercely criticised police brutality in London and forecast the 1981 Brixton riots, [Linton Kwesi Johnson] helped to establish dub poetry: a blend of chest-rattling bass and thunderous verses speaking truth to power." • Too many academics and NGO types quoted in the article for me. So I wonder what's really happening out in the clubs and where the sound systems are. Here's a rootsy old tune. Anybody remember it?
His heavy beats will let you know where you are coming from and where you are going to….
* * *
Readers, feel free to contact me at lambert [UNDERSCORE] strether [DOT] corrente [AT] yahoo [DOT] com, with (a) links, and even better (b) sources I should curate regularly, (c) how to send me a check if you are allergic to PayPal, and (d) to find out how to send me images of plants. Vegetables are fine! Fungi and coral are deemed to be honorary plants! If you want your handle to appear as a credit, please place it at the start of your mail in parentheses: (thus). Otherwise, I will anonymize by using your initials. See the previous Water Cooler (with plant) here. Today's plant (Bleeding Heartland):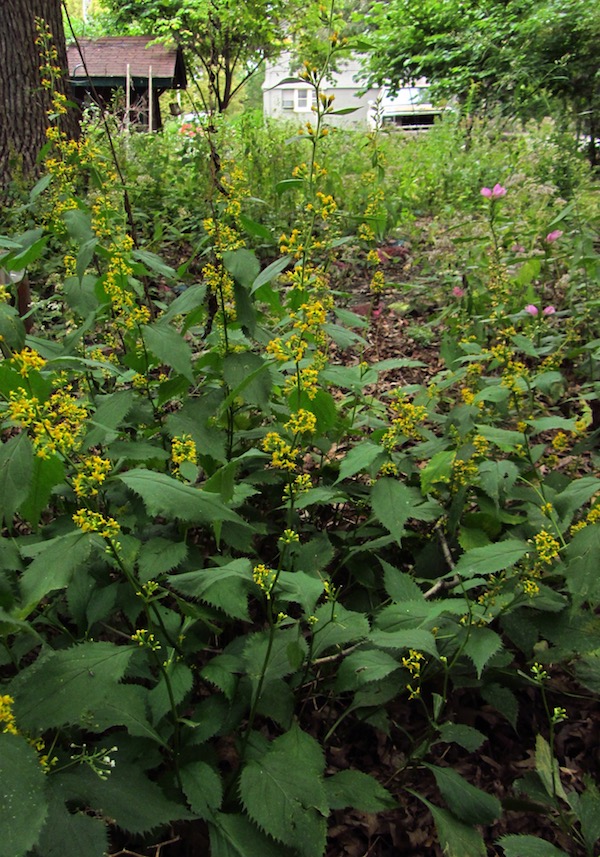 Bleeding Heartland writes: "Zigzag goldenrod (Solidago flexicaulis) is native to much of the U.S. and Canada east of the Rocky Mountains and thrives in shady wooded habitats. I haven't encountered this plant often in the wild. Fortunately, Kim El-Baroudi allowed me to explore her lovely Des Moines backyard, where I took all of the enclosed pictures in early October."
I'm throwing Bleeding Heartland a link because they're an old-school blog on Iowa politics and Iowa. I don't always agree with them, but they're always worth a read.
* * *
Readers: Water Cooler is a standalone entity not covered by the annual NC fundraiser. So if you see a link you especially like, or an item you wouldn't see anywhere else, please do not hesitate to express your appreciation in tangible form. Remember, a tip jar is for tipping! Regular positive feedback both makes me feel good and lets me know I'm on the right track with coverage. When I get no donations for five or ten days I get worried. More tangibly, a constant trickle of donations helps me with expenses, and I factor in that trickle when setting fundraising goals:
Here is the screen that will appear, which I have helpfully annotated.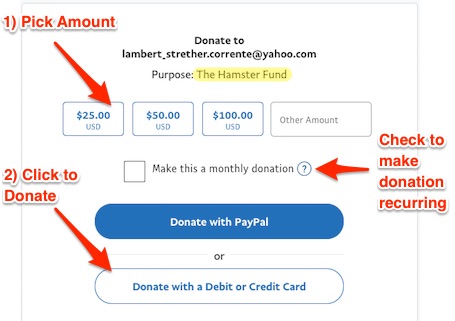 If you hate PayPal, you can email me at lambert [UNDERSCORE] strether [DOT] corrente [AT] yahoo [DOT] com, and I will give you directions on how to send a check. Thank you!