By Lambert Strether of Corrente.
Trade
"The U.S. portion of the Huawei Technologies Co. supply chain may be reopening. The Trump administration will allow some U.S. suppliers to resume shipping to the Chinese telecom giant easing export restrictions while U.S. negotiators struggle to wrap up the first stage of a trade deal" [Wall Street Journal]. "Last year U.S. semiconductor makers sent $44 billion in goods to overseas buyers, making it the fourth largest U.S. export. The next few months will determine how much damage Huawei's blacklisting did to the industry's supply chain. Huawei has said it found other suppliers to make up for the loss of U.S. chips and other components."
"Trump considering whether Apple should be exempt from China tariffs" [Reuters]. "Apple announced in September it would make its new Mac Pro computers in Austin. The announcement came days after U.S. trade regulators approved 10 out of 15 requests for tariff exemptions filed by Apple amid a broader reprieve on levies on computer parts. Earlier this month, Apple also asked the Trump administration to waive tariffs on Chinese-made Apple Watches, iPhone components and other consumer products. Trump has made boosting the U.S. manufacturing sector one of the goals of his presidency, taking to Twitter to pressure U.S. companies into keeping jobs at home."
Politics
"But what is government itself, but the greatest of all reflections on human nature?" –James Madison, Federalist 51
"They had one weapon left and both knew it: treachery." –Frank Herbert, Dune
Here is a second counter for the Iowa Caucus, which is obviously just around the corner:
* * *
2020
Alert reader dk (not to be confused with DK) is in the process of developing the following interactive chart.

Here is (are) the latest Dem Primary Polling as of 11/21/2019, 10:00 AM EST. Biden leads, Sanders strong second, Warren third, Buttigieg third tier.

Here, the latest national results:

In Georgia, Survey USA has Biden leading, Sanders a strong second, Warren third 11/21/2019, 10:00 AM EST:

Here are the Georgia results:

I think dk has started a really neat project, and in the near future we'll seek your feedback (within reason) for the tool "live."

* * *

Buttigieg (D)(1): "Why Buttigieg's Shadowy Consultant Past at McKinsey Matters" [Vice]. "[W]hen pressed about the McKinsey 'experience' that has evidently helped formed Mayor Pete's thinking, his campaign defers to the non-disclosure agreements by which it says he is still covered." • So Buttigieg should ask to be released from the NDA. Good PR for McKinsey, right? What Buttigieg said in 2010: "I did math for a living around economics—the economics of energy and the economics of stabilizing very tough places around the world in order to make sure there's less violence there." If you leave out the self-serving stuff, it sounds a lot like Confessions of an Economic Hit Man.

UPDATE Buttigieg (D)(2): "Is Pete Buttigieg's climate adviser a fossil fuel shill?" [Heated World]. "The drama between Victor and climate activists is symbolic of a larger conflict emerging in the climate world, between those pushing for radical societal change via a Green New Deal and those who worry that such a push will ultimately be unsuccessful because of the powerful forces that would rather see the planet burn than accept such a shift." • Well, both sides have a point. (Make up your own minds on the headline.)

UPDATE Buttigieg (D)(3): "As President, Pete Buttigieg Wants To Give 25 Percent Of Federal Contracts To Minorities. As Mayor, He Gave 3 Percent." [The Intercept]. "ONE OF THE main tenets of Pete Buttigieg's plan to address racial inequality if he becomes president is a proposal to increase the number of federal contracting dollars going to women- and minority-owned businesses to 25 percent. But in South Bend, Indiana, where he has been mayor since 2012, less than 3 percent of city business has gone to minority- and women-owned businesses in recent years, according to annual audits conducted by the city." • I'm sure everything will be easier at the Federal level.

Trump (R)(1): "Tim Cook Appears Alongside Trump in Re-Election Campaign Ad Shot in Mac Pro Plant in Austin" [Daring Fireball]. "This is how Apple chose to unveil the packaging for the Mac Pro — in a poorly-shot overexposed propaganda video by the White House, scored with bombastic music that sounds like it came from an SNL parody of a Michael Bay film…. A low moment in Apple's proud history, and a sadly iconic moment for Tim Cook. I hope avoiding those tariffs is worth it." • Lower than getting rid of the MagSafe connector? I don't think so.

* * *
The Debates
"Watch the full fifth Democratic presidential debate" (video) [WaPo]. • If you must….

"Read: Democratic debate transcript, November 20, 2019" [NBC] • Ditto.

* * *

It's hard to have a hot take on something so lukewarm. Nevertheless:

"The unbearable persistence of Joe Biden" [The Week]. "The most noteworthy event at Wednesday night's Democratic debate in Atlanta was something that didn't happen: Nobody did anything to change the fact that former Vice President Joe Biden is the seemingly unshakable front-runner for the nomination of his party. It's easy to lose sight of how consistent the race has been since Biden announced his candidacy last spring…. The former vice president was at 32 percent on June 26, and today he sits at … 30.7 percent. … The need to become The One Who Can Step Into Biden's Shoes, combined with Buttigieg catapulting himself into the lead in the first two states to vote, set up what many commentators expected to be a tense evening, with several candidates gunning for Mayor Pete. It never happened. Aside from one testy exchange with Rep. Tulsi Gabbard toward the end of the debate, Buttigieg kept his powder dry, and none of the others did much to touch him. It was a civil and somewhat bland night overall, with each candidate working to stand out individually while avoiding nasty confrontations."

"Last Night's Democratic Debate Was Really Bad" [Jacobin]. "While a few candidates undoubtedly faced critical moments, MSNBC's moderators (true to form) seemed to reserve the most negatively framed questions for Sanders — the Vermont senator having to field a range of queries that included: "Is President Obama wrong?", "They've chanted 'Lock Him [Trump] Up' at a recent World Series game in Washington [and] at least two of your campaign events recently. Senator, should Democrats discourage this? Or are you okay with it?", and "Would you cut a deal with the Taliban to end the war even if it means the collapse of the Afghan government that America has long supported?" For good measure, the network's coverage was bracketed at each end by substance-free anti-Sanders barrages from some of its talking heads." • I'm shocked.

UPDATE "The fifth Democratic primary debate showed that a cull is overdue" [The Economist]. "In reality, just four candidates dominate the Democratic race. Judged by polling data, fundraising, betting odds, attention in the press and so on, that pack has looked unchanging for months. Joe Biden, despite not raising much money of late, and Elizabeth Warren remain the front-runners…. Bernie Sanders, despite his heart attack, preserves a solid core of support. He said nothing new that would expand his appeal beyond the party's far left. Pete Buttigieg, by far the youngest of the Gang of Four, is also holding his own." • No need for a cull if you want a brokered convention, though.

UPDATE "They Don't Believe Buttigieg Will Be the Nominee" [Politico]. "[T]he expected did not happen: Mayor Pete wasn't the center of attention despite his upward trend in some polls… Maybe his opponents were afraid their attacks would raise his profile further. Just as likely, they are taking the long view, and they don't believe Buttigieg will be the nominee. It's hard to see how he can solve his biggest problem—a near-total lack of appeal among African Americans and Hispanics. Minorities are a big chunk of the electorate in South Carolina, Nevada, many of the Super Tuesday states and so on."

Speaking time:

The fifth Democratic debate has wrapped up!

Warren spoke the most, followed by Buttigieg. Yang got the least speaking time. https://t.co/hThjmRLpvy pic.twitter.com/fbld4slcjZ

— The Washington Post (@washingtonpost) November 21, 2019

Shouldn't the speaking times be equal?

And "Top 2020 Democrats played it safe at the Atlanta debate" [NBC] and "Beating Trump, rather than beating up on each other, was focus of fifth Democratic debate" [WaPo] and "Here's the real Democratic debate: Which one can defeat Donald Trump?" [USA Today]. • It's like they all decided to write the same story…
Our Famously Free Press
What again?

Hey @TulsiGabbard look at @MSNBC lie about this. They took your literal words and said @PeteButtigieg said them. Sure they can correct it but the damage is done. Don't tell me it's not on purpose. #manufacturingconsent pic.twitter.com/7krLIlbevk

— Fiorella Isabel? (@Fiorella_im) November 21, 2019

Last debate, WaPo gave some of Sanders' best lines to Warren. Why are the "mistakes" always one way?
Impeachment
"Do Americans Support Impeaching Trump?" (charts) [FiveThirtyEight]. 80.3% Democrats, 41.0% Independents, 12.2% Republicans.

"You Can't Ignore Politics in Impeachment" [National Review]. "The simple reality of American politics and the Framers' constitutional design is that presidents do not get removed from office unless and until there is a strong bipartisan majority of voters that wants them to be. The politics always matters."

UPDATE "Impeachment inquiry: Trump seemed vulnerable. It didn't last" [CBC]. "For the rest of the day, Republican members of the House intelligence committee pounded back at the witness and exposed vulnerabilities in his testimony. Sondland granted them an opening. He insisted he'd only drawn his conclusions about a quid pro quo based on his own logical reading of the situation, and not on anything he was actually told by Trump." • This is a cool-minded, non-hysterical summary — thank you, Canada! — and well worth a read. The weird thing was that the yammering died down on the Twitter by late afternoon, and didn't pick up again. I'm all for reasoning, but I don't see a prima facie case that The Blob is any better at it than the Republicans, who set a very low bar.

Beat sweetener:

How tough is Fiona Hill? When she was 11, a boy in her class set her pigtail on fire while she was taking a test. She put out the fire with her hands and finished the test. My profile of today's star impeachment witness: https://t.co/hFDSQmBm6R

— Sheryl Gay Stolberg (@SherylNYT) November 21, 2019

No mention, oddly, or not, of LaRouche.
Health Care
"Fact checking claims from the Democratic debate" [Boston Globe]. "Former vice president Joe Biden: "The fact is the vast majority of Democrats do not support Medicare for All." THE FACTS: That statement is at odds with a Kaiser Family Foundation poll out this week. It found that 77 percent of Democrats support Medicare for All. Even more — 88 percent — support a 'public option' proposal such as the one Biden advocates."

"Democratic naysayers are wrong on Medicare for All" [CNN]. "(CNN)The American political debate over health care is absurd. Americans pay twice as much as any other nation for health care, and then are told daily that they "can't afford" to switch to a lower-cost system very similar to those of Canada and Europe. If President Donald Trump and the plutocratic Republican party were the only ones carrying this ridiculous message, it would be understandable. Yet this message is also coming from media pundits aligned with the Democratic Party and the most conservative wing of the party. Let's be clear on the central point. Medicare for All, as first proposed by Bernie Sanders and endorsed by Elizabeth Warren, is affordable precisely because it is cheaper, much cheaper, than the current system…. In other countries, the government sets delivery prices and typically pays the health bills through the budget. In the US, the monopolists set the prices." • For some definition of "endorse," but yes.

"Reeling progressives meet behind closed doors after 'Medicare for All' barrage" [Politico]. "Now, leaders of the left — suddenly reeling after seeing the Democratic health care debate shift dramatically in their direction the past few years — are strategizing on how to retake the offensive. At a closed-door meeting Tuesday, Congressional Progressive Caucus leader Rep. Pramila Jayapal (D-Wash.) had a message for her fellow supporters of Medicare for All: Unite against the moderates and don't fight about whether Warren's plan is too mild compared to Sanders'." • The issue, ffs, is not whether Warren's "plan" is "mild." Note this falsehood: the "plan" is a "two-stage transition plan in a nod to those concerned about upheaval in the health care system." Warren's "plan" is not two "stages." It's two bills. We've seen this movie before. The subtext here is that the activists are pissed, and the Beltway NGOs are telling them "we got this."
Stats Watch
Jobless Claims, week of November 11, 2019: "The risks of marginally slower payroll growth in November as well as an incremental rise in the unemployment rate are the indications from initial unemployment claims which, in data that track the sample week of the monthly employment report, came in… higher-than-expected" [Econoday]. • Hmm.
Leading Indicators, October 2019: "The index of leading economic indicators continues to signal slowing growth going to into year end and next year" [Econoday]. "Weakness in manufacturing components has been the persistent theme in the slump with easing in labor strength also a negative factor for the index."
Philadelphia Fed Business Outlook Survey, November 2019: "The Philadelphia Fed's index has bolted back to the top of the regional manufacturing reports in recent months" [Econoday]. "New orders have been on a tear in this sample… Amid the recent surge in this report, some volatility in the readings may be appearing and fairly raise the question whether monthly sample sizes have been low and uneven. But at face value, this report is pointing to significant year-end acceleration for a manufacturing sector that hasn't had a good year at all."
Existing Home Sales, October 2019: "Favorable mortgage rates together with high levels of employment are giving housing, a sector that had been flat, a strong lift going into year end" [Econoday].
Banking: "Ghost funding and sandbagging: Wells Fargo's sales tactics on trial" [American Banker]. "The broad outlines of the nationwide sales scandal at Wells Fargo are well known. Low-level employees, under heavy pressure to meet sales quotas, misbehaved on a massive scale. But less well understood is exactly how this pressure was transmitted through many layers of management at the bank, and how it felt to employees on the front lines. [Kathleen Fitzgerald's] lawsuit offers a rare look into the granular details of what happened at the branch level…. 'I did not agree with any of it, I really didn't, but she was my boss,' Fitzgerald testified. 'She taught me, I learned it from her, and she learned it from her bosses, and it all trickles down.'" • And lots more.
Shipping: "Ohio logistics firm on the hook for $300,000 in lobster heist" [Freight Waves]. "Failing to thoroughly vet a subcontractor — a driver who allegedly disappeared with a pricey load of lobster — will cost an Ohio logistics company nearly $300,000. U.S. District Judge Indira Talwani ruled on Nov. 19 that Seneca Logistics Group LLC, based in Tiffin, Ohio, is on the hook for the never-recovered load after agreeing to haul it but then outsourced the job to Rapid Logistics Services Inc. A truck driver for Rapid, Ernesto Perez, allegedly stole the load of crustacean." • Outsourcing for the win!
The Bezzle: "Hedge Funds and Private Equity Need Full Disclosure" [Barry Ritholtz, Bloomberg]. "The U.S. Securities and Exchange Commission is considering letting nonaccredited investors put money into closely held investment pools such as hedge funds, private equity and venture capital. This alone is reason to reconsider the issues of transparency and disclosure by these investment alternatives… [T]he SEC should mandate full disclosure for investment funds that accept money from public pensions, college endowments or not-for profit foundations. It also should require disclosure for funds in which the partners get a tax benefit from the carried-interest loophole, which lets them pay taxes on their earning at rates about half those on regular income." • Ritholtz is always interesting and early; this connects to the resurgence of financial reform proposals we are seeing Democrats, well, butcher. As usual.
The Bezzle: "Local officials around the U.S. are paying more attention to how the companies in the fast-growing [food-delivery] sector charge for their services…potentially opening a rift between jurisdictions and the companies and even between the operators themselves" [Wall Street Journal]. "The dispute opens a new area of debate over how e-commerce fits into the larger tax system. Tax charges on orders can vary by company even within the same jurisdiction, and uniformity could raise costs for customers and make the companies liable for incorrect collections in the past. With fees projected to reach $10.4 billion by 2023, there are big stakes for all sides."
Tech: "Video-editing upstart bares users' raunchy flicks to world+dog via leaky AWS bucket" [The Register]. "Research by Noam Rotem and Ran Locar, for security biz vpnMentor, revealed that VEED.io left an AWS bucket completely unsecured and hosting what they summarised as '10,000s of videos' that were accessible to anyone visiting the bucket's URL. VEED bills itself as an online video-editing service that lets users add subtitles, text, effects and more to uploaded videos. A free tier allows this to be done for videos in 240px quality; anything better than that needs a subscription. Rotem and Locar found that one could visit the landing page hosting the videos with a web browser and theoretically look through them at one's leisure without needing to provide login details." • "And then dance and drink and screw because there's nothing else to do…"
Mr. Market: "Inside the Strange, Unlikely Battle for Clever Ticker Symbols" [Marker]. "Playful tickers date back decades, most notably when Southwest Airlines first christened the space with its symbol, LUV. (The reference was to the company's genesis at Love Field ahead of its IPO in 1977, but over time became synonymous with the brand's folksy ethos.) But now it seems a new class of inventive ticker symbols is emerging. They run the gamut from WORK (Slack) and BYND (Beyond Meat) to GRR (investment firm Asia Tigers Fund), BDAY (children's party supplier Celebrate Express), and WOOF (veterinarian services company VCA Antech). 'Some people don't care about tickers,' says Patrick Healy, a corporate adviser who frequently deals with ticker symbols. 'But other people lock in on it, and it's almost like a vanity quest.'" • Indeed.
* * *
Today's Fear & Greed Index: 70 Extreme Greed (previous close: 74, Extreme Greed) [CNN]. One week ago: 83 (Extreme Greed). (0 is Extreme Fear; 100 is Extreme Greed). Last updated Nov 19 at 12:52pm. Still drifting toward neutral. Now the needle is swinging toward neutral. I wonder if it's impeachment?
The Biosphere
"LBA-ECO LC-14 Modeled Deforestation Scenarios, Amazon Basin: 2002-2050" [ORNL DAC (IE)]. Handy map (interactive at the original, so you can play with the sliders and see the projections). As of today: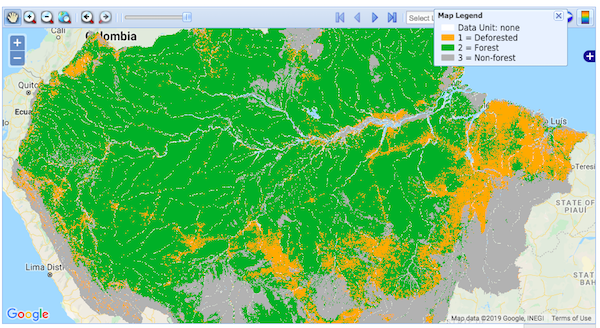 "The Companies Behind the Burning of the Amazon" [Mighty Earth]. "But the incentive for the destruction comes from large-scale international meat and soy animal feed companies like JBS and Cargill, and the global brands like Stop & Shop, Costco, McDonald's, Walmart/Asda, and Sysco that buy from them and sell to the public. It is these companies that are creating the international demand that finances the fires and deforestation." • Bolsonaro is a particularly ugly front man.
* * *
"We Need to Talk About Peat" [Nautilus]. "Peatlands have been a repository for eons and a source of hearth fuel for thousands of years. They've been known as a carbon sink for about a century, certainly since the 1890s when carbon dioxide was understood to be a greenhouse gas. Peatlands cover just 3 percent of the earth's land surface yet hold five times more carbon dioxide than forests, which cover 31 percent of the land surface. In Europe, peatlands contain five times more CO2 than forests…. Peatlands are waterlogged landscapes—from bogs to wetlands to swamps—composed of various plants. Peat is the coarse soil, which we know from our potting mixes, that makes up the surface. Because the underlying plants haven't decayed in the watery areas, they contain huge amounts of carbon, fixed in them by photosynthesis. As a result, peatlands play an important role as carbon sinks, keeping excessive greenhouse gases out of the atmosphere." • Well worth a read.
"Population densities predict forebrain size variation in the cleaner fish Labroides dimidiatus" [Proceedings of the Royal Society B: Biological Sciences]. "The 'social brain hypothesis' proposes a causal link between social complexity and either brain size or the size of key brain parts known to be involved in cognitive processing and decision-making. While previous work has focused on comparisons between species, how social complexity affects plasticity in brain morphology at the intraspecific level remains mostly unexplored. A suitable study model is the mutualist 'cleaner' fish Labroides dimidiatus, a species that removes ectoparasites from a variety of 'client' fishes in iterative social interactions. Here, we report a positive relationship between the local density of cleaners, as a proxy of both intra- and interspecific sociality, and the size of the cleaner's brain parts suggested to be associated with cognitive functions." • Co-operation = bigger brains?
Health Care
"The Effect of Large-scale Health Coverage Expansions in Wealthy Nations on Society-Wide Healthcare Utilization" [Adam Gaffney, Steffie Woolhandler, David Himmelstein, Journal of General Internal Medicine]. From the abstract: "We reviewed the effects of 13 universal coverage expansions in capitalist nations on physician and hospital utilization, beginning with New Zealand's 1938 Social Security Act up through the 2010 Affordable Care Act in the USA. Almost all coverage expansions had either a small (i.e., < 10%) or no effect on society-wide utilization. However, coverage expansions often redistributed care—increasing use among newly covered groups while producing small, offsetting reductions among those already covered. We conclude that in wealthy nations, large-scale coverage expansions need not cause overall utilization to surge if provider supply is controlled. However, such reforms could redirect care towards patients who most need it." Groves of Academe
"New Data Shows Slowdown in Growth of International Students in the U.S." [Foreign Policy]. "The lowest growth rate in a decade could impact the bottom line for some universities." • I'm so old I remember when universities didn't have bottom lines. I guess it's time to fire a few more adjuncts. Pour encourager les autres…
Guillotine Watch
"World's Rich Are Rattled and Seeking Old-Fashioned Security" [Bloomberg]. "'We've seen extraordinary demand for safe-deposit boxes ever since we started offering them in 2015, and that demand has really gone up since the late summer,' said Ludwig Karl, a spokesman for Swiss Gold Safe Ltd., which operates high-security alpine vaults. 'Most people say they are planning for difficult economic circumstances.'" • The rich are different…
Class Warfare
"The Characterless Opportunism of the Managerial Class" [Amber A'Lee Frost, American Affairs]. The bottom line: "The PMC can—and should—be brought to commit to its own abolition, but attempting to evangelize a class that has so much dif­ficulty even acknowledging its own existence is a futile endeavor. At this rare and fragile moment of opportunity for socialism in America, the best bet for Berniecrats is to build a strong base of workers com­mitted to social democratic reforms. The PMC will follow, as they always do; they're the cart, not the horse." • Perhaps longer than it needs to be.
"The Trump NLRB's Stealth Blow Against Campus Solidarity" [OnLabor]. "The Trump NLRB is receiving comments on its proposed rule to exclude university teaching and research assistants who are also graduate students from the coverage of the National Labor Relations Act. That proposal has generated a fair amount of media coverage and teaching and research assistants across the country have been organizing to submit comments explaining to the Board how absurd it would be to declare them non-employees. But last week, without any fanfare, the Board issued a decision in Amnesty Intl. of the USA, Inc. that would mean that other campus employees (at least those without their own union contract) could be fired for coming to the aid of teaching and research assistants if the Board follows through on its threat to deny them employee status."
There's already so much stupid money floating about that investors don't know where to put it. So what would an investor strike look like?
"what I see as a risk is a broad based investor strike in response to uncertainty, which is politically made" In this interview Axel Weber of UBS repeatedly used the phrase investor strike. Fascinating.https://t.co/d1pJEPihAx pic.twitter.com/Lxhds2iWdI

— Adam Tooze (@adam_tooze) November 6, 2019
News of the Wired
But why?
I added Mark Zuckerberg's Profile Picture album to my Facebook Portal's Superframe when users are supposed to only able to add the albums that they own

I reported this to Facebook and they don't think this is a security vulnerability pic.twitter.com/6IsUpj8Nra

— Jane Manchun Wong (@wongmjane) October 30, 2019
* * *
Readers, feel free to contact me at lambert [UNDERSCORE] strether [DOT] corrente [AT] yahoo [DOT] com, with (a) links, and even better (b) sources I should curate regularly, (c) how to send me a check if you are allergic to PayPal, and (d) to find out how to send me images of plants. Vegetables are fine! Fungi and coral are deemed to be honorary plants! If you want your handle to appear as a credit, please place it at the start of your mail in parentheses: (thus). Otherwise, I will anonymize by using your initials. See the previous Water Cooler (with plant) here. Today's plant (TH):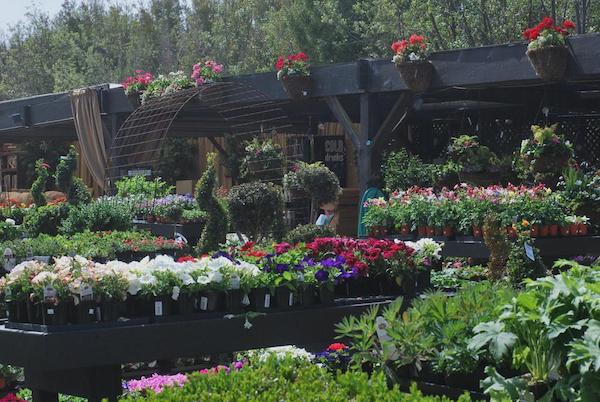 TH writes: "My favorite nursery: Roger's Gardens in Newport Beach, CA." By a happy coincidence, alert reader CM of Tuesday's plant worked in a garden center!
* * *
Readers: Water Cooler is a standalone entity not covered by the annual NC fundraiser. So if you see a link you especially like, or an item you wouldn't see anywhere else, please do not hesitate to express your appreciation in tangible form. Remember, a tip jar is for tipping! Regular positive feedback both makes me feel good and lets me know I'm on the right track with coverage. When I get no donations for five or ten days I get worried. More tangibly, a constant trickle of donations helps me with expenses, and I factor in that trickle when setting fundraising goals:
Here is the screen that will appear, which I have helpfully annotated.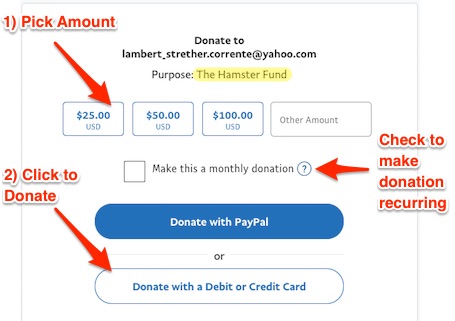 If you hate PayPal, you can email me at lambert [UNDERSCORE] strether [DOT] corrente [AT] yahoo [DOT] com, and I will give you directions on how to send a check. Thank you!