By Lambert Strether of Corrente.
Politics
"But what is government itself, but the greatest of all reflections on human nature?" –James Madison, Federalist 51
"They had one weapon left and both knew it: treachery." –Frank Herbert, Dune
Here is a second counter for the Iowa Caucus, which is obviously just around the corner:
* * *
2020
Alert reader dk (not to be confused with DK) is in the process of developing the following interactive chart.

Finally, a new Morning Consult. Here is (are) the latest Dem Primary Polling as of 11/26/2019,12:00 PM EST. Biden leads, Sanders strong second, Warren third, Buttigieg third tier.

(I changed up the format a bit: I added a thin trend line, and averaged by the last three polls, making the narrative more clear: First, Biden's very unexpected — dare I say, Trumpian? — dominance ("This time we've got him!"), Sanders' rise, and Warren's fall. The chart also now includes events on its timeline; I added the debates and Bloomberg's announcement. I also added in a new third tier candidate: Mike "Mayo for Life" Bloomberg. Here, the latest national results:

We also have a new poll out of New Hamphire from Suffolk. Warren solid first, the rest bunched, as of 11/26/2019,12:00 PM EST:

And the results:

I think dk has started a really neat project, and in the near future we'll seek your feedback (within reason) for the tool "live."

* * *

Biden (D)(1): "Biden's senior Latina adviser quits in frustration" [Politico]. "A senior Joe Biden campaign staffer in charge of outreach to Latino, African-American and women's groups has quit her post, telling two allies she was frustrated over her lack of input and with the presidential candidate's immigration rhetoric…. 'The campaign is just hyper-focused on whites in Iowa and African-Americans and it placed less value on Latino outreach,' an immigration activist and friend who spoke with her told POLITICO." • Voters with whom Sanders, whose message is not driven by idpol, is doing very well. Who knew?

Bloomberg (D)(1): Earned media for Bloomberg at MSNBC:

28) Seriously I don't know what is going on exactly with her closing statements, but this isn't journalism, it's closer to idol worship. pic.twitter.com/ZN4i5PMXLi

— Greg C (Bernie 2020) (@greg06897) November 26, 2019

Bloomberg (D)(2): "Michael Bloomberg's Right-Wing Views on Foreign Policy Make Him a Perfect Candidate for the Republican Nomination" [The Intercept]. "Take the war in Iraq. The then-Republican mayor of New York not only backed the illegal invasion and occupation in March 2003, but he also supported perhaps the most egregiously dishonest and bizarre justification for the war: that Saddam Hussein was involved in the 9/11 attacks. This, of course, was a brazen lie told by the likes of Dick Cheney and Fox News. But it was also publicly endorsed by Bloomberg…. Three years later, in March 2007, the then-mayor of New York backed the Bush administration against congressional Democrats who were trying to set a timetable for the withdrawal of U.S. troops from Iraq…. Then there is the Israel-Palestine conflict. Bloomberg is a longstanding supporter of Israel and especially Benjamin Netanyahu… Bloomberg… helped launder the reputation of the crown prince in March 2018, when he hosted the reckless autocrat in New York and smiled for photos with him in a Starbucks." • I dunno. Sounds pretty mainstream to me…

Bloomberg (D)(3): "Suppressing Protest: Human Rights Violations in the U.S. Response to Occupy Wall Street" (PDF) [The Global Justice Clinic (NYU School of Law) and the Walter Leitner International Human Rights Clinic at the Leitner Center for International Law and Justice (Fordham Law School)]. Bloomberg was, of course, Mayor at the time of Occupy. "The protests in New York City, as widely reported, have been almost categorically peaceful, and only isolated instances of violence by individuals at protests have been observed or alleged. But in many instances, the police have responded aggressively to nonviolent protest, and have escalated situations—through arbitrary or misapplications of the law, an excessive police presence, or the use of unwarranted force. The police response has thus, in some individual cases and considered cumulatively, undermined basic assembly and expression freedoms. At times, it has itself also presented a threat to the safety of New Yorkers." • Best quote I could find in the time available, but I'm sure there's more.

Booker (D)(1): "Booker's campaign shifts into all-out sprint to persuade voters to get him in December debate" [CNN]. "With the qualification deadline fast approaching for the December Democratic presidential debate, Sen. Cory Booker will seek to boost his flagging poll numbers by 'reorienting our entire campaign apparatus into a persuasion effort,' according to a memo Tuesday from Booker's campaign manager to supporters, obtained exclusively by CNN." • Oh.

Buttigieg (D)(1): "Pete Buttigieg's appeal is very much tied to race" [Samuel James, Black Girl in Maine]. • A brutal close reading of Buttigieg's statement: "I welcome the challenge of connecting with black voters…"

Sanders (D)(1): "Bernie lets it rip against Bloomberg 'arrogance'" [Politico]. "Bernie Sanders insists he has nothing personal against Michael Bloomberg. 'I really don't.' He just thinks he's trying to 'buy an election,' is demonstrating 'the arrogance of billionaires' and, as Bloomberg opens his near-bottomless wallet to pay for TV ads, is complicit in 'undermining' American democracy." • And indeed, those charges aren't personal. I mean, Sanders isn't asking Mike what brand of lifts he uses in his shoes, after all.

Warren (D)(1): As we have been discussing:

Warren's September Surge Has Evaporated https://t.co/Vb9FssaFK4 via @eyokley pic.twitter.com/UllNckk4Eg

— Morning Consult (@MorningConsult) November 25, 2019

Warren (D)(2): "Indigenous Scholars Respond to Elizabeth Warren's Claims to Native Ancestry" [Perspectives on History]. This is from the American Historical Society in March, still germane: "It was like clockwork. Every semester, a few white students in Julie Reed's classes on US history at the University of Tennessee, Knoxville, would boast that they had Native American heritage. 'They all descend from full-blooded Cherokee great-grandmothers,' Reed quipped during the late-breaking session 'Rapid Response History: Native American Identities, Racial Slurs, and Elizabeth Warren' at the AHA annual meeting in Chicago. 'Or maybe it's their great-great grandmothers? Or maybe it's a great-great-great . . .'" • I don't want to sound like a broken record, but this ticks me off so much because the Penobscots were absolutely essential in our fight against the landfill, and to river clean-up, too. And the way Cherokee ancestry works, you don't just get to claim tribal membership, you have to check with the tribe. And it's great that Warren has apologized, but what kind of thought process did she have? How hard would it have been to talk to the Cherokees instead of doing a lab test? Sheesh.

* * *

"Waiting for Obama" [Politico]. "Publicly, he has been clear that he won't intervene in the primary for or against a candidate, unless he believed there was some egregious attack. 'I can't even imagine with this field how bad it would have to be for him to say something,' said a close adviser. Instead, he sees his role as providing guardrails to keep the process from getting too ugly and to unite the party when the nominee is clear. There is one potential exception: Back when Sanders seemed like more of a threat than he does now, Obama said privately that if Bernie were running away with the nomination, Obama would speak up to stop him. (Asked about that, a spokesperson for Obama pointed out that Obama recently said he would support and campaign for whoever the Democratic nominee is.)" • Of course, of course. Maybe the DNC made him sign a loyalty oath.
Impeachment
"Democrats eye multiple articles of impeachment as some push to go beyond Ukraine scandal" [CNN]. "The party is zeroing in on multiple articles of impeachment, including charges of abuse of power, bribery and obstruction of Congress for defying subpoenas. It is also weighing whether to add multiple instances of obstruction of justice that Mueller found as a separate article, including allegations Trump lied in his written responses to the special counsel. But House Speaker Nancy Pelosi has yet to embrace including the Mueller findings in the impeachment inquiry." • They haven't made up their minds?
Realignment and Legitimacy
"It Only Takes 5 Questions To Accurately Guess Your Generation" (quiz) [Buzzfeed]. • BWA-HA-HA-HA! I didn't even game my answers, I swear, and here's my result:

Take that, punks [waves cane].
Stats Watch
Consumer Confidence, November 2019: "On the Conference Board's measure, consumer confidence surprisingly deteriorated in November" [Econoday]. "Consumers assessment of business conditions saw a net worsening as did their view of the labour market… Despite the latest setback, outside of the July/August bounce, the Conference Board's sentiment gauge remains broadly in line with levels seen over much of the rest of the year. Back-to-back falls are hardly good news but on balance today's report should not be inconsistent with continued limited gains in consumer spending over the next month or so."
Richmond Fed Manufacturing Index, November 2019: "Fifth District manufacturing activity surprisingly fell into contraction in November," "much weaker than the consensus forecast" [Econoday]. "Companies were apparently not discouraged by the fall into contraction, however, as expectations for the next six months were mostly more optimistic than previously."
International Trade in Goods, October 2019: "The goods balance returned a $66.53 billion deficit in October, down quite sharply" [Econoday]. "However, the monthly headline improvement reflected a contraction in both sides of the balance sheet… [E]xports provisionally had a small positive impact on economic growth in the third quarter; today's update holds out hope of another favourable contribution in the fourth quarter."
S&P Corelogic Case-Shiller Home Price Index, September 2019: "According to the new Case-Shiller survey, house prices were slightly stronger than expected in September" [Econoday]. "Although the monthly statistics can be very volatile, there is gradually building evidence that housing market activity is beginning to acquire some fresh momentum."
Retail: "The Barneys New York Inc. bankruptcy is rippling across a network of apparel suppliers that depend on the increasingly stressed eco-system of fashion retailers…. Mammoth fashion brands whose retail networks include both their own stores and hundreds of others worldwide may absorb the losses, but smaller designers that relied on Barneys for sizable orders and ongoing support are scrambling to adjust as contracts 'disappear into the ether'" [Wall Street Journal]. "One footwear supplier says his company is looking more closely at its own e-commerce strategy. If you're not moving to direct-to-consumer sales, says Article Number co-founder Joshua Willis, 'you're kind of a dinosaur.'"
* * *
Today's Fear & Greed Index: 70 Greed (previous close: 70, Greed) [CNN]. One week ago: 80 (Extreme Greed). (0 is Extreme Fear; 100 is Extreme Greed). Last updated Nov 26 at 1:00pm. I guess it's too much to ask for excitement during Thanksgiving week.
The Biosphere
"One Whale Is Worth Thousands of Trees in Climate Fight" [Bloomberg]. "Climate activists would be better off trying to save whales rather than planting trees if they had to choose between those options, according to a study published by the International Monetary Fund. Great whales are the carbon-capture titans of the animal world, absorbing an average of 33 tons of CO2 each throughout their lives before their carcasses sink to the bottom of the ocean and remain there for centuries, according an article in the December issue of the IMF's Finance & Development magazine. A tree, by contrast, absorbs no more than 48 pounds of the gas a year. That difference prompted Ralph Chami and Sena Oztosun from the IMF's Institute for Capacity Development, and two professors, Thomas Cosimano and Connel Fullenkamp, to argue that supporting international efforts to restore whale populations — decimated to 1.3 million by years of industrialized hunting — 'could lead to a breakthrough in the fight against climate change.'" • Let's do both! Effing scarcity mentality. The real scarcity is of economists who aren't neoliberal!
"This Is How Elon Musk Can Fix The Damage His Starlink Satellites Are Causing To Astronomy" [Forbes]. "In astronomy, the greatest resource of all is a dark, clear night sky: humanity's window to the Universe. Traditionally, its enemies have been turbulent air, cloud cover, and artificial light pollution. But very recently, a new type of pollutant has begun to pose an existential threat to astronomy itself: mega-constellations of satellites. If Elon Musk's Starlink project continues as it has begun, it will likely end ground-based astronomy as we know it." • A perfect case for the precautionary principle.
Water
"The most prized commodity in parts of the oil-rich Middle East isn't crude but a very different liquid asset. Water from the Nile River is growing more valuable as countries China battle over the scarce resource" [Wall Street Journal]. "Dams funded by foreign countries including China and oil-rich neighbors like Saudi Arabia are tapping the river to irrigate industrial farms, many of them producing crops increasingly shipped out of Africa, often to feed livestock. That has meant less water for the 250 million-plus small farmers, herders and city dwellers in the Nile basin, all because the region is essentially 'exporting water' to support crops for other countries." • Just as Michael Burry predicted.
Games
"Friend accidentally sells man's £1m game character for £400" [Sky News]. "The man, Lu Mou, spent £1.1m developing his character in Justice Online, a massive multiplayer online role playing game in China. Mr Lu had let his friend Li Mouscheng borrow his customised character in the martial arts game. When Mr Li attempted to sell the character back to Mr Lu using Justice Online's internal marketplace, instead of simply giving it back, the original owner refused to pay up. The character was then sold to a third person over the marketplace for £400, an accidentally low price according to the friend, who said he was exhausted after a marathon session of gaming." • Interesting asset class…
Black Injustice Tipping Point
"Race GPS: Levels of Looks" [Six Perfections (DJG)]. "Okay, here's the thing: most poc encounter microaggressions, negative body language, and 'looks' every day. Racism usually doesn't come in the form of someone screaming 'N-word, AHAHAHA' in an elevator or burning a Colin Kaepernick jersey in front of us. The form is non-verbal and subtle…like a slow-release capsule dripping out poison into the bloodstream throughout the day. If you're a POC you become an expert at differentiating between plain negative body language (which does happen a lot) and that subtle shift in non-verbal communication that is…something else: the kind of warning sign sets off your alarm. Just like how gay people have gaydar, people of color have 'race GPS' and it pings…usually quite accurately. If I start flagging and posting about each one of my 'pings,' then it's like handing out speeding tickets at the Indy 500. Exhausting. Pointless. Furthermore, a white ally usually doesn't possess the same race GPS so they don't believe you or they just don't see it in the same way straight friends say 'I never knew about (file in the blank celebrity). But he was married…to a woman! I just thought he was sensitive.' With race GPS, you just file away the ping with notes: never get drunk with this person, never talk about politics, make sure to never reveal any personal info. The non-verbal takes its form on several levels from subtle to outright hostile." • This is very good, I advise a read. For sure I've handed out this sh*t myself, too. (I don't like the term, "white ally," because I don't think that identities are like sovereigns. But that's not the point of this post.)
Guillotine Watch
"In the 2010s, Fame Went Multi-Platform Kim Kardashian West on life as a brand and her political awakening." (interview) [KIm Karashian, New York Magazine]. Kardashian: "I think I'm evolving to where I don't feel the need to want to keep up." • I don't even know if I've filed this correctly. Apparently Kardashian has an enormous fan base online. The whole interview is very odd; even odder than Versailles must have been.
Class Warfare
"Ruthless Quotas at Amazon Are Maiming Employees" [The Atlantic]. "[Candice Dixon] started the job in April 2018, and within two months, or nearly 100,000 items, the lifting had destroyed her back. An Amazon-approved doctor said she had bulging discs and diagnosed her with a back sprain, joint inflammation, and chronic pain, determining that her injuries were 100 percent due to her job. She could no longer work at Amazon. Today, she can barely climb stairs. Walking her dog, doing the dishes, getting out of her chair—everything is painful. According to her medical records, her condition is unlikely to improve. So this holiday-shopping season, as Amazon's ferocious speed is on full display, Dixon is at a standstill. She told Reveal in mid-October that her workers'-compensation settlement was about to run out. She was struggling to land a new job and worried she'd lose her home." • However, Dixon can take comfort in the knowledge that she's done her little bit to send Jeff Bezos to the moon. So there's that.
News of the Wired
"Real-Life Schrödinger's Cats Probe the Boundary of the Quantum World" [Quanta]. ""Schrödinger's kittens," loosely speaking, are objects pitched midway in size between the atomic scale, which quantum mechanics was originally developed to describe, and the cat that Erwin Schrödinger famously invoked to highlight the apparent absurdity of what that theory appeared to imply. These systems are 'mesoscopic' — perhaps around the size of viruses or bacteria, composed of many thousands or even billions of atoms, and thus much larger than the typical scales at which counterintuitive quantum-mechanical properties usually appear. They are designed to probe the question: How big can you get while still preserving those quantum properties? To judge by the latest results, the answer is: pretty darn big." • As big as, say, neurons? (Yet another illustration of the wonders and beauties of the natural world, and how little we know.)
"My name is Haines." Has anyone ever heard this one? Thread:
Some etymological stories are too long to fit into a single tweet, so here's a quick story about how one man's awkward encounter with Thomas Jefferson sparked a massively popular 19th century catchphrase. 1/9 pic.twitter.com/gt0Z5v84uf

— Haggard Hawks ?? (@HaggardHawks) November 20, 2019
* * *
Readers, feel free to contact me at lambert [UNDERSCORE] strether [DOT] corrente [AT] yahoo [DOT] com, with (a) links, and even better (b) sources I should curate regularly, (c) how to send me a check if you are allergic to PayPal, and (d) to find out how to send me images of plants. Vegetables are fine! Fungi and coral are deemed to be honorary plants! If you want your handle to appear as a credit, please place it at the start of your mail in parentheses: (thus). Otherwise, I will anonymize by using your initials. See the previous Water Cooler (with plant) here. Today's plant (ChiGal):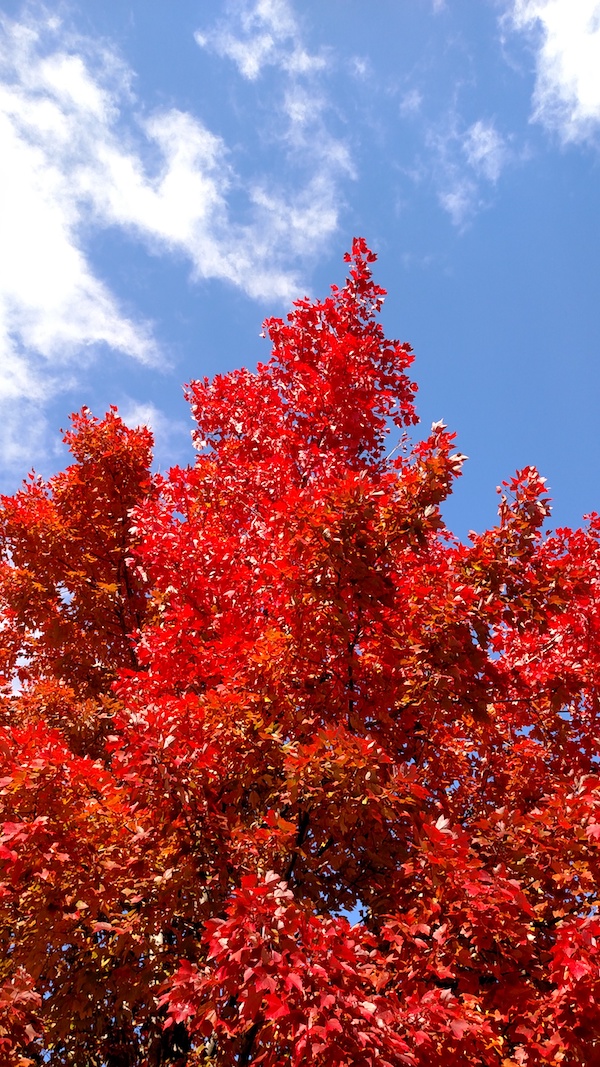 Oh my!
* * *
Readers: Water Cooler is a standalone entity not covered by the annual NC fundraiser. So if you see a link you especially like, or an item you wouldn't see anywhere else, please do not hesitate to express your appreciation in tangible form. Remember, a tip jar is for tipping! Regular positive feedback both makes me feel good and lets me know I'm on the right track with coverage. When I get no donations for five or ten days I get worried. More tangibly, a constant trickle of donations helps me with expenses, and I factor in that trickle when setting fundraising goals:
Here is the screen that will appear, which I have helpfully annotated.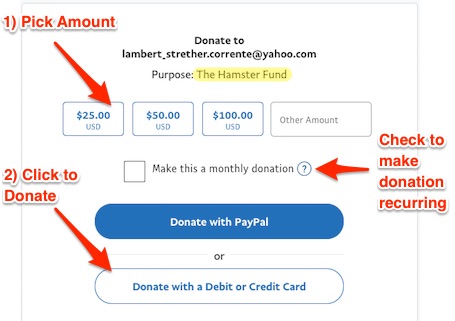 If you hate PayPal, you can email me at lambert [UNDERSCORE] strether [DOT] corrente [AT] yahoo [DOT] com, and I will give you directions on how to send a check. Thank you!