By Lambert Strether of Corrente.
Trade
"Killing NAFTA Softly" [Portside]. "But a revised NAFTA had to be approved by the House, which unfortunately for Trump now has a Democratic majority. And the deal that Trump devised was a stinker. It added a couple modestly decent provisions, like wiping out the pro-corporate investor-state dispute settlement (ISDS) process, which allows companies to sue nations that change laws in ways presumed to violate trade deals for expected future profits. But its protections for labor were far too weak. And it continued some odious provisions such as sweetheart provisions for the drug industry…. So there commenced prolonged negotiations between a House working group headed by Ways and Means Chairman Richard Neal, the most influential corporate Democrat in the House, and Trump's top trade negotiator, Robert Lighthizer, on how to improve the draft agreement. Both dearly want a deal. … Two members of the working group have confirmed to me that nothing will be approved unless Trumka signs off on it. And despite a lot of posturing by Neal that a deal is just around the corner, Trumka isn't budging…. The reality is that Bustos, Neal, and other corporate Democrats are using the supposed need for freshmen to be able to vote for a NAFTA deal as camouflage for the real game—namely, corporate Democrats voting with House Republicans to hand corporate America (and Trump) a victory." • It's very good that ISDS is dead, though I suppose if NAFTA dies, ISDS dies with it!
Politics
"But what is government itself, but the greatest of all reflections on human nature?" –James Madison, Federalist 51
"They had one weapon left and both knew it: treachery." –Frank Herbert, Dune
Here is a second counter for the Iowa Caucus, which is obviously just around the corner:
* * *
2020
Alert reader dk (not to be confused with DK) is in the process of developing the following interactive chart.

Here is (are) the latest Dem Primary Polling as of 11/25/2019, 12:00 PM EST. Biden leads, Sanders strong second, Warren third, Buttigieg third tier.

Here, the latest national results unchanged since 11/22:

The debate was 11/20. In five days, not one single national poll? WTF?

As readers know, RCP seems to add a good lashing of secret sauce to its results in terms of the polls it aggregate and chooses not to aggregate, so it may, perhaps, be most useful for constructing a narrative:

Note Warren's trajectory (in brown). dk does not use secret sauce, and so I thought I'd compare the two over the same time period for grins:

(I very unscientifically fiddled with the settings to make the curves look the same.) Warren's trajectory is the same, although she never actually challenges Biden, unlike RCP.

I think dk has started a really neat project, and in the near future we'll seek your feedback (within reason) for the tool "live."

* * *

UPDATE Bloomberg (D)(1):

This is just the beginning. Well placed person told me the expectation in donor crowd was Bloomberg was prepared to spend $500m to $1B https://t.co/zr2L3dOvRK

— Steadman™ (@AsteadWesley) November 22, 2019

A lotta Democrat strategists are gonna send their kids to very good schools….

UPDATE Bloomberg (D)(2): Wait 'tll you get to the Neera Tanden part:

Do you all want to see a personal story about how Michael Bloomberg's political/philanthropic giving exerts influence over liberal Democratic institutions?

— Zaid Jilani (@ZaidJilani) November 24, 2019

UPDATE Bloomberg (D)(3): Case in point on Bloomberg's "giving":

The Bloomberg Family Foundation only paid $1.2 million to the Atlantic Monthly Group in 2017, so get on it guys! https://t.co/dqmpQ8WKHn

— Andrew Perez (@andrewperezdc) November 24, 2019

And:

Dear @IsaacDovere,

Seems like you should've disclosed that @MikeBloomberg was cutting your employer million dollar checks when you wrote this glowing op-ed of him.

I clearly remember you raising this issue with progressives like @davidsirota over this past year. pic.twitter.com/KeJ37riMYG

— Shaun King (@shaunking) November 24, 2019

UPDATE Bloomberg (D)(4): "Bloomberg's Media Company Will Not Investigate Boss, Democrats in 2020 Run-Up" [Variety]. "Bloomberg L.P., the financial-data and news company founded by the longtime entrepreneur and former New York City mayor, said Sunday it will not do in-depth reporting on him or other Democratic candidates for the White House in the run-up to the 2020 election, a move that puts the journalism organization in a curious position – sitting out on one of the major strands of a political story that has and will continue to grip the nation…. Bloomberg will also suspend its editorial board, where its top executive had the most influence, and for the time being cease publishing unsigned editorials." • Contrast, in 2018: "Michael Bloomberg: I may sell my company if I run for president" [New York Post] . See also Bloomberg's contemporaneous interview with Radio Iowa.

Buttigieg (D)(1): "Is Pete Buttigieg Just a Shill for Corporations and the Donor Class?" [Common Dreams]. "Buttigieg has become one of the biggest recipients of contributions from the health care, financial services, and big tech industries. Under the proposals advanced by Senators Elizabeth Warren and Bernie Sanders, Buttigieg's big money donors are the ones who would have to pay higher taxes to support things like free college tuition and universal health care. In Buttigieg, they've found a candidate to speak up for their interests. Buttigieg is the second-largest recipient of contributions from the health care industry, after only Donald Trump. Buttigieg donors include the chief corporate affairs officer at Pfizer, the president of Astex Pharmaceuticals, a state lobbyist for Biogen, a vice president of public policy at Novartis, and the deputy vice president at the nation's largest pharmaceutical trade association, PhRMA, plus lawyer for AbbVie, Johnson & Johnson, and Merck." • And much, much more.

Buttigieg (D)(2): Oops:

Oliver Davis told POLITICO:
while it's nice to see someone representing South Bend, Biden is more experienced. The longest-serving African American man on the South Bend Council is endorsing Biden, a rejection of Buttigieg that highlights the mayor's struggles with black voters. https://t.co/cYuhsZJdkV

— KTforBiden (@KTforBiden) November 24, 2019

Nobody seems to be watching Buttgieg's back in South Bend, oddly; Booker has had much better luck.

UPDATE Sanders (D)(1):

Joe Biden may not want the votes of those concerned about immigrant rights, but I do. Join our movement for justice. https://t.co/dCtw3Z2HnG

— Bernie Sanders (@BernieSanders) November 23, 2019

The staffer who is (I assume) handling Sanders' tweets is doing a great job.

Warren (D)(1): "'I'm going to make sure I got it right': What Elizabeth Warren told charter activists after protest at Atlanta event" [Chalkbeat]. "In the conversation with Warren, ["parent activist" Sarah Carpenter] emphasized her personal experience. 'Charter schools saved my grandbaby because every school in my community was failing,' she said. At one point, Carpenter said that she had heard that Warren sent her own children to private school, perhaps alluding to a recent article in the New York Post. Warren responded, '. Asked to clarify [for this story], a campaign aide said, 'Elizabeth's daughter went to public school. Her son went to public school until 5th grade.' This appears to align with the Post article, which found evidence that Warren's son attended a Texas private school in 5th grade." • Oops. How could Warren not have been prepared for this question by staff?

The thing about the private school question to Elizabeth Warren is that Democratic candidates have been asked that cycle after cycle. Warren was unprepared for a perpetual question, and solved this by fibbing.

This is from 2007:https://t.co/2lsRca7C2F pic.twitter.com/5pKOp7IHqa

— Zaid Jilani (@ZaidJilani) November 23, 2019

"I'm just a player in the game," freezing at the podium, now this. It looks like the Warren campaign needs to wrap their canidate in tissue paper, like Joe Biden.

* * *

Oh good (excuse the heated language, check the image):

Heads up: Corporate Dem astroturfer group & Neocon Fascist troll brigade ShareBlue has changed its name to The American Independent.
David Brock still in charge of the parent company, new Corporate shill named as CEO.
Disinfo propaganda not expected to change. pic.twitter.com/Y6eYKtAp47

— Ian56 (@Ian56789) November 23, 2019

I can't think why Brock would choose to rebrand…

Just in time for Xmas:

Perfect gifts for all the strong women in your life.#PelosiOwnsTrump coffee mug commemorating her mastery of the #OrangeTraitor.

Sterling silver Whistle Blower necklace.

SHOP all gifts https://t.co/JkfNKzYBhl pic.twitter.com/FuveEFsMik

— No Prior Restraint (@NPRResist) November 24, 2019

Why do I think that whistle for whistleblowing has nothing to do with, say, Assange?
Impeachment
UPDATE "What's next in impeachment: Judiciary Committee up next" [Associated Press]. "Time is running short if the House is to vote on impeachment by Christmas, which Democrats privately say is the goal. The intelligence panel is expected to spend the Thanksgiving week writing, and maybe even completing, a report of evidence gathered through more than six weeks of closed-door depositions and public hearings. Once the report is done, the panel could vote to pass it on to the House Judiciary Committee. That could happen as soon as the first week of December, when lawmakers return from the Thanksgiving break." • First the narrative, then the legalities.

"'It Is Hard To Read This as Anything But a Warning': New Polling Suggests Democrats' Impeachment Push Could Alienate Key Voters" [Vanity Fair]. "Three important factors are driving the views of Independents. The first is that, in their view, impeachment distracts from issues they care about. … [A]mong the 11 issues that Politico and Morning Consult tested, impeachment ranked last, well below the deficit at 74%, health care at 72%, and infrastructure at 70%. The second factor is the view among Independents that impeachment reflects the agenda of the political establishment and the media…. By massive margins, Independents say that the impeachment issue is "more important to politicians than it is to me" (62% to 22%) and "more important to the media than it is to me" (61% to 23%). It is hard to read this as anything but a warning to the Democratic leadership and candidates: Stop talking about issues that matter to you, not to me. Impeachment proceedings are viewed as bread and circuses for the anti-Trump crowd in Washington and the media—or, as Stanford political science professor Morris Fiorina described it to me, 'entertainment and confirmation.' That's a dangerous perception as Democrats approach one of the most consequential and fraught elections of our times. Third, as other reporting has suggested, Independents suffer from scandal fatigue and overall confusion. They agreed with the statement "[It is] difficult to tell all the investigations in Washington apart" by a roughly two-to-one margin. (Even Democrats concur by a substantial, if somewhat smaller, margin)."

UPDATE There were giants in those days:

So this is happening: a mystery reader in south Minneapolis is dropping coins into @StarTribune newspaper boxes, opening them, and putting vintage newspapers behind the glass. Here's one our driver picked up yesterday. pic.twitter.com/bdW35dFXXi

— Star Tribune PR (@StarTribunePR) November 22, 2019
Realignment and Legitimacy
"Hand-marked Paper Ballots: How this Tried-and-True Method Makes Us More Secure" [Commercial Appeal]. • As they just did in Hong Kong!
Health Care
"The Army Built to Fight 'Medicare for All'" [Politico]. "With the images of that Sanders [#MedicareForAll] event replaying in his head, [Chip Kahn, the CEO of the Federation of American Hospitals] made a phone call — and then, over the next few weeks, another and another. Those calls would lead to a series of secretive meetings in downtown D.C. where officials from every part of the health care industry — from insurance companies to hospital giants, drugmakers and even, for a time, doctors — would forge an alliance united to ensure that Sanders' promises never became reality. Out of their pact grew an influence operation known today as the Partnership for America's Health Care Future, a multimillion-dollar cooperative designed to overwhelm not just the swelling Medicare for All movement, but every single Democratic proposal that would significantly expand the government's role in health care." • And despite Jayapal's accepting Warren's recent equivocations on #MedicareForAll, her proposal for hospital capital budgeting is more radical than Sanders. So never pre-compromise. More: "He also has experience taking down ambitious plans for health care reform. As executive vice president of the Health Insurance Association of America — then the insurance industry's main trade group — he was a driving force behind the "Harry and Louise" TV ads that played a key role in tanking Bill Clinton's health care package in 1993 and setting the standard for a generation of hard-hitting special interest campaigns that have shaped policy debates ever since." • Kahn's killed an awful lot of people for money, hasn't he?
Stats Watch
Chicago Fed National Activity Index. October 2019: "Declines in production components led the national activity index sharply lower in October" [Econoday]. "Of the 85 individual indicators making up the index, only 27 made positive contributions in October. Improvement versus the previous month was registered in 34 indicators, while 49 indicators deteriorated and two were unchanged. Of the indicators that improved, 20 made negative contributions."
Dallas Fed Manufacturing Survey, November 2019: "Texas manufacturing activity continued to contract but at a slower pace in November" [Econoday]. "Nearly all measures of manufacturing activity showed negative readings suggesting contraction versus October. Shipments led weakness…. Expectations regarding future business conditions remained positive and were slightly more optimistic than in October."
Banking: "A Dead Doctor, the Trauma of Sexual Abuse, and a Bank in Denial" [Bloomberg]. "The suit has drawn one of the world's top banks into a reckoning over sexual abuse and who should pay for it. Barclays has defended itself in court by saying it isn't responsible for whatever the doctor might have done because he wasn't an employee…. The fight isn't only about what happened decades ago in that house in Newcastle, or even who knew about it. It's also about this: When do corporations have to take responsibility for the people who work for them? The answer could reverberate through today's gig economy.
Capital: "Capital investment by U.S. companies is slowing and that could slim down supply chain pipelines in the coming years. Many of the biggest U.S. companies are moderating their spending on equipment and other capital investment" [Wall Street Journal]. "The pullback began as trade tensions escalated last fall, leaving companies unsure about the impact of trade restrictions on their supply chains. It has continued amid signs of slowing global growth… Capital spending by S&P 500 companies rose just 0.8% in the third quarter, and investment would have contracted but for a handful of big players. Some projects may only be delayed but others will never be completed, putting a long-term hole in economic growth." • Not what you want to see in a capitalist economy (though possibly reducing carbon). One more reason for a Green New Deal and a national industrial policy.
Shipping: "The shipping industry's search for a common thread in a recent spate of ship fires suggests there are big gaps in the handling of dangerous goods in ocean transport. A new study shows a large share of potentially hazardous shipments on container ships were mislabeled, improperly handled and carried other safety risks" [Wall Street Journal]. "The survey by the independent National Cargo Bureau was undertaken at the urging of Maersk Line, which was hit by a catastrophic fire on its Maersk Honam vessel in 2018, one of the biggest in an unusual series of fires that have crippled large cargo vessels in the past two years."
Tech: "We lose money on repairs, sobs penniless Apple, even though we charge y'all a fortune" [The Register]. "That's right, it may charge you $329 for a screen replacement that costs $100 everywhere else. Or $80 for a battery than costs $30 across the street. Or even $475 to replace a single key at an Apple store. But poor old Apple is making a loss every time. Which is, of course, nonsense, though it's interesting to explore how Apple can make the claim with a straight face. And the answer is creative accounting…. Even accounting for Apple's BS however, how does it justify the claim that it is actually losing money on its repair business, despite charging multiples of what every other repair business does? Easy: it counts its own ridiculous repair costs as what customers would have paid had they not taken out its over-price warranty. So if a customer pay $199 for AppleCare+ for their iPhone XS Max and brings it in to replace the screen, paying just $29 instead of the $329 out-of-warranty costs, Apple reckons it has just lost $101 – because that's what the customer would have paid if they didn't have a warranty. Of course that completely ignores the fact that it costs Apple nowhere near $329 to replace the screen of a iPhone XS Max."
* * *
Today's Fear & Greed Index: 68 Greed (previous close: 69, Greed) [CNN]. One week ago: 83 (Extreme Greed). (0 is Extreme Fear; 100 is Extreme Greed). Last updated Nov 25 at 12:41pm.
Rapture Index: Closes unchanged [Rapture Ready]. Record High, October 10, 2016: 189. Current: 181. Remember that bringing on the rapture is a good thing. I wonder when, in 2020, the index will start flirting with 190 again. So far, the latest impeachment push hasn't affected the Index.
The Biosphere
"Heat-Loving Microbes, Once Dormant, Thrive Over Decades-Old Fire" [Quanta]. "The coal-seam fire at Centralia provides researchers with the perfect opportunity to test a new idea known as a microbial seed bank: that commonly overlooked dormant individuals make up a vast reservoir of biodiversity, ready to spring to life when environmental conditions change…. Regardless of how the microbial populations changed, Shade and Tobin hypothesized that Centralia's microbial seed bank was what allowed the system to respond to the temperature surge from the fire and return to its initial state. A further study in PLOS ONE showed that the seed bank may also have allowed the soil to respond to increased levels of arsenic and other heavy metals that the fire released. To Esteban, that's the entire point of the seed bank…. A seed bank means that ecosystem function will never stop. Even if conditions change, the ecosystem can keep going," she said." • Again, we know virtually nothing about soil!
"'Running out of room': How old turf fields raise potential environmental, health concerns" [York Daily Record (CR)]. "Used artificial turf is expected to produce 1 million to 4 million tons of waste in the next 10 years, and it has nowhere to go, according to solid waste industry analysts. [Larry] Minnich, the Cleona mayor, soon learned that the problem in his borough of about 2,100 people was similar to what communities were grappling with across the country — tons of worn-out, artificial school fields that municipal dumps won't accept and a growing, unregulated, cottage industry of vacant land owners taking the waste. Turf fields installed in waves a decade ago are reaching the end of their lifespan and need to be replaced, according to an industry trade association. Despite being touted as a completely recyclable alternative to grass, there are no companies in the U.S. that can completely recycle them, according to a trade association president…. The fields frequently end up in empty lots, backyards, in public spaces and on private land. Sometimes, they are given permission to be there. In some cases, they have been dumped illegally by contractors paid to remove them." • Classic.
"Why Detroit Residents Pushed Back Against Tree-Planting" [CityLab]. "Detroiters were refusing city-sponsored 'free trees.' A researcher found out the problem: She was the first person to ask them if they wanted them." • Excellent article.
Water
"High Plains Farmers Race to Save the Ogallala Aquifer" [Civil Eats]. "It's well-documented that the Ogallala Aquifer… is rapidly depleting…. The massive, 174,000-square-mile underground reservoir spans eight landlocked states in the Great Plains, from South Dakota to Texas. Along with being a critical source of drinking water, the aquifer supports one-fifth of all wheat, corn, cotton, and cattle in the United States. Irrigation technology, such as center pivot irrigation, patented in 1952, once helped transform the Great Plains into an agricultural oasis; flat land stretched over a seemingly endless reserve of groundwater at farmers' disposal… Without the Ogallala, agriculture in the breadbasket of the U.S., at least as it is currently practiced, cannot continue. Yet there's also reason to hope. … [Chris Grotegut] . This method helps him keep more roots in the ground, building the health of the soil. And as the soil grows richer in organic matter, it can also hold more water…. After an initial loss of profits while transitioning from conventional row crops, Grotegut has seen his profits rise, due to saving on the cost of pumping groundwater and land maintenance." • For you gardeners, horticulturalists, and permaculturists, this is a very exciting must read.
Our Famously Free Press
"Damaged newspapers, damaged civic life: How the gutting of local newsrooms has led to a less-informed public" [Nieman Labs]. "One thing a more robust newsroom allowed was coverage of a particular issue over a broader sweep of its lifespan. Someone dedicated solely to covering city hall, for instance, might hear about a budding legislative idea from a city staffer early on, then see it through as it makes its way (or doesn't) toward a real bill and, eventually, its impacts on the community. With fewer resources, though, reporters are more likely to report on an issue only when it reaches a public state of prominence — by which time the city's plans may have already been shaped without much public input. That also limits the newspaper's ability to influence the civic agenda, for better or worse." • A very good review.
Take that, Alden Capital:
Many newspapers made the grave mistake of abandoning their editorial cartoonists. Kirk Anderson, formerly of the St. Paul Pioneer Press, was one of the best – but now he does great work for our #AldenExposed campaign. Here are a few of the cartoons he's done for @dfmworkers. pic.twitter.com/mLDcReveEe

— Darren Carroll (@darrendcarroll) November 24, 2019
Groves of Academe
From the University and College Union, London, thread:
You'll get nothing from me for the next 8 days except #UCUstrike. I'll explain why I and thousands of other university staff are striking here. Long thread, because there are a lot of grievances. /1

— Lee Jones is on #UCUstrike (@DrLeeJones) November 25, 2019
Class Warfare
"It's not thanks to capitalism that we're living longer, but progressive politics" [Guardian]. "Serfdom was a brutal system that generated extraordinary human misery, yes. But it wasn't capitalism that put an end to it. As the historian Silvia Federici demonstrates, a series of successful peasant rebellions across Europe in the 14th and 15th centuries overthrew feudal lords and gave peasants more control over their own land and resources. The fruits of this revolution were astonishing in terms of wellbeing. Wages doubled and nutrition improved. It was a period of dramatic social progress by the standards of the time. Then the backlash happened. Upset at the growing power of peasants and workers, and angry about rising wages, a nascent capitalist class organised a counter-revolution. They began enclosing the commons and forcing peasants off the land, with the explicit intention of driving down the cost of wages. With subsistence economies destroyed, people had no choice but to work for pennies simply in order to survive." • Hmm.
Squillionaire philanthropy thread (dk):
US billionaires philanthropic giving:

– Gates, Buffett: annual giving ~3%–4% of their wealth

– Other top 20 billionaires: ~0.3% of their wealth. Like a tiny, tiny wealth tax

I made a table for you
??? pic.twitter.com/Uvtpn685lS

— Gabriel Zucman (@gabriel_zucman) November 24, 2019
News of the Wired
"K-Pop artist Goo Hara found dead at home aged 28" [BBC]. • Two in a month; very sad. Motown had similar problems, back in the day.
"The taxonomy of whining" [The Week]. "[T]hese guttural kid noises, which at times fuse with actual language, can reveal more about their mood and needs than words alone. For instance, if my four or six year old tell me they're hungry, and that statement is accompanied by a kind of drilling groan that makes my brain feel like it's slowly being fed into a cheese grater, then I know it's probably just boredom. They do not, in fact, need a fourth serving of Cheddar Bunnies."
This is, I believe, a parody:
Barbie: Appreciating Asset Boxed Set$TSLA $TSLAQ pic.twitter.com/HS1icMKqV5

— Kenneth Dredd (@KennethDredd) May 3, 2019
Gearing up for Thanksgiving:
Boyfriend made this for my family's Thanksgiving last year. It's a bologna cake with ranch cream cheese icing. It was pretty good. pic.twitter.com/uNLblLvI9n

— HOMODEMON?️‍?? (@jaymesPRS) November 23, 2019
* * *
Readers, feel free to contact me at lambert [UNDERSCORE] strether [DOT] corrente [AT] yahoo [DOT] com, with (a) links, and even better (b) sources I should curate regularly, (c) how to send me a check if you are allergic to PayPal, and (d) to find out how to send me images of plants. Vegetables are fine! Fungi and coral are deemed to be honorary plants! If you want your handle to appear as a credit, please place it at the start of your mail in parentheses: (thus). Otherwise, I will anonymize by using your initials. See the previous Water Cooler (with plant) here. Today's plant (PF):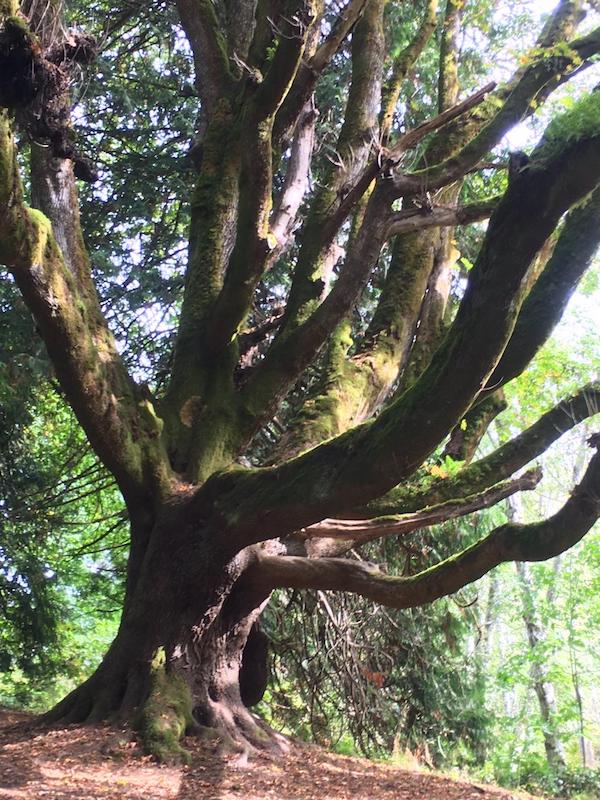 * * *
Readers: Water Cooler is a standalone entity not covered by the annual NC fundraiser. So if you see a link you especially like, or an item you wouldn't see anywhere else, please do not hesitate to express your appreciation in tangible form. Remember, a tip jar is for tipping! Regular positive feedback both makes me feel good and lets me know I'm on the right track with coverage. When I get no donations for five or ten days I get worried. More tangibly, a constant trickle of donations helps me with expenses, and I factor in that trickle when setting fundraising goals:
Here is the screen that will appear, which I have helpfully annotated.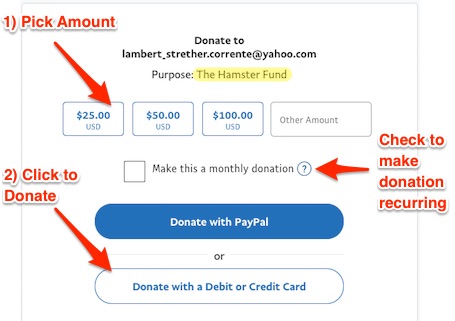 If you hate PayPal, you can email me at lambert [UNDERSCORE] strether [DOT] corrente [AT] yahoo [DOT] com, and I will give you directions on how to send a check. Thank you!