Yves here. Yet more privatization of the commons….this one via private equity playing rentier with domain names.
By Thomas Neuburger. Originally published at DownWithTyranny!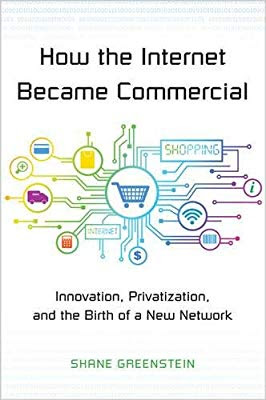 Cover of a 2015 book glorifying the privatization of the Internet via "a unique and vibrant interplay between government and private industry." Nothing dollarable is safe.
The love of money is a sickness with these people.
—Attributed to an Indian chief as he watched the Europeans move west.
Nothing dollarable is safe.
—John Muir, 1908
Buried in the recent impeachment and campaign news was this announcement from the Internet Society and Public Interest Registry (emphasis mine):
Ethos Capital to Acquire Public Interest Registry from the Internet Society

Public Interest Registry Will Continue Management and Mission of .ORG Under New Ownership

Reston, VA (November 13, 2019) – The Internet Society and Public Interest Registry (PIR) today announced that they have reached an agreement with Ethos Capital, under which Ethos Capital will acquire PIR and all of its assets from the Internet Society.  The transaction is expected to close during the first quarter of next year.

"This is an important and exciting development for both the Internet Society and Public Interest Registry," said Andrew Sullivan, President and Chief Executive Officer of the Internet Society, the organization that established Public Interest Registry.  "This transaction will provide the Internet Society with an endowment of sustainable funding and the resources to advance our mission on a broader scale as we continue our work to make the Internet more open, accessible and secure – for everyone.  It also aligns Public Interest Registry with Ethos Capital, a strong strategic partner that understands the intricacies of the domain industry and has the expertise, experience and shared values to further advance the goals of .ORG into the future."

"Since the inception of Public Interest Registry, our mission has been to enable the .ORG Community to use the Internet more effectively and change the world for the better," stated Jon Nevett, CEO of Public Interest Registry.  "That will not change. We have enjoyed a long and successful relationship with the Internet Society, and are thrilled that we will be able to continue – and expand – our important work with Ethos Capital while sustaining our commitment to the .ORG Community going forward."
Internet names and numbers are controlled by ICANN, the Internet Corporation for Assigned Names and Numbers, a private non-profit corporation. ICANN has been subject to being "gamed" by corporate interests almost since its founding, especially but not exclusively with respect to trademarks versus the rights of non-corporate entities to purchase and register unused domain names.
Some top-level domain names (TLDs) — .COM is a TLD, as are .ORG and .EDU — are not administered directly by ICANN, but have been assigned to other administrators. For example, in May 2019 ICANN granted exclusive "administration rights" to amazon.com for the .AMAZON generic TLD "after a 7 year long dispute with the Amazon Cooperation Treaty Organization (ACTO)."
This is true of the .ORG generic TLD, a TLD much used by non-profit public interest groups. .ORG has been operated by the Public Interest Registry (PIR) since 2003. PIR is a Virginia-based not-for-profit created by the Internet Society (ISOC) specifically to manage the .ORG top-level domain.
But, as you can see by the announcement above, the Internet Society — because it apparently needed the money — has sold all control of the .ORG top-level domain to Ethos Capital.
Has anyone ever heard of Ethos Capital?
Who Is Ethos Capital?
It's a little difficult to get information about Ethos Capital, since they have such a small Web presence. They appear to be these guys, an African capital investment firm:
Ethos Capital offers investors long-term capital appreciation by investing in a diversified portfolio of unlisted investments managed by Ethos Private Equity, the largest private equity firm in sub-Saharan Africa.
So what is a sub-Sarahan Africa equity investment firm doing purchasing control of the whole of the .ORG registry? How does an African firm get into position to do this at all? And why are they doing it now?
To answer these question, we turn to The Register, a UK publication, which has looked into this story:
Who's behind Ethos?

Despite stating that Ethos Capital "understands the intricacies of the domain industry" its founder and CEO Erik Brooks has no experience within that industry. The firm's website lists only Brooks and one Nora Abusitta-Ouri – who joined the outfit last month as its "chief purpose officer" – as employees.

But there is a common thread between those two and it is Fadi Chehade, a former CEO of ICANN, the organization that oversees the domain-name system and awards the contracts to run internet registries.

It was under Chehade that ICANN radically changed its approach to internet registries, including a massive expansion of the internet namespace and a move toward a free market approach to internet addresses. Chehade's actions as CEO led directly to the Ethos Capital buyout of .org but he is not listed as a part of Ethos Capital and the company has so far failed to respond to our questions about his connection to the firm.

More recent decisions by ICANN also had a significant bearing on the decision to sell the .org registry. At the end of June this year, in a controversial decision made despite significant and vocal opposition, ICANN decided to lift price caps on .org domains for the next 10 years, paving the way for unlimited price increases on the 10 million .org domain names. That decision massively increased the value of the .org registry from millions to potentially billions of dollars.

At the time, ICANN justified the decision by saying it was bringing the contract in line with the many new extensions that have been added to the internet in recent years. And this week, ICANN's chairman Maarten Botterman told The Register in a statement that:

"The renewal agreement for .org removed the price cap and includes pricing provisions that are consistent with the base form registry agreement that is published and has been in public view for some time, essentially removing the role of ICANN in pricing restraints, where possible."
So the order of events is:
ICANN, under Fadi Chehade, in a highly controversial move, massively expands top-level domain names, greatly multiplying profit opportunities for registrar and middlemen.
PIR, a non-profit entity tasked with managing the .ORG top-level domain, removes the price cap on .ORG registrations, meaning any price can be charged by any registrar.
A few months later, Ethos, an investment firm, buys the .ORG operation by purchasing PIR, the non-profit entity that controls it.
Sounds like a neoliberal wet dream come true to me.
The article emphasizes that so far no connection between Chehade and Ethos has been established or acknowledged, but note well that Ethos has not responded to requests for information on the connection — when a simple denial would have sufficed. I think The Register is right to smell a rat.
In the meantime, any poor, cash-strapped non-profit with a .ORG domain name — for example, sierraclub.org, to pick just one of literally millions — is best advised to renew its registration for the maximum time allowed, and do it now.
After all, there's no telling when our noble billionaire job-creators will seize this new opportunity to milk yet another cow completely and utterly dry.