By Lambert Strether of Corrente.
Trade
"China's design for the electric-vehicle battery supply chain is anything but complicated. Beijing has been pressuring foreign auto makers to use locally-made batteries in the country, and that business is increasingly funneled through a single manufacturer, Contemporary Amperex Technology Ltd., or CATL. …[T]he aggressive effort is aimed at dominating global supply chains for the burgeoning market to supply the power to the world's growing fleet of electric cars, buses and commercial vehicles" [Wall Street Journal]. "That's a concern for U.S. and European policy makers, who are increasingly wary of the Communist Party's influence over new technologies and products. China has also been seeking to lock up much of the world's supply chain for cobalt, a vital battery component. The drive has given CATL a commanding role as new technology triggers an upheaval in automotive supply chains, and suppliers elsewhere now are struggling to keep up." • The argument can be made that, at least in the US, EVs are just a pathetic effort to hold on to our demented suburnan sprawl, but that's a little hard to undo.
Politics
"But what is government itself, but the greatest of all reflections on human nature?" –James Madison, Federalist 51
"They had one weapon left and both knew it: treachery." –Frank Herbert, Dune
* * *
2020
Alert reader dk (not to be confused with DK) is in the process of developing the following interactive chart. Here is (are) the latest Dem Primary Polling as of 111/5/2019, 11:00 AM EST:

The Biden juggernaut rolls on, with Warren and Sanders tied. And here are today's results, as of 11/5/2019, 11:00 AM EST:

I think dk has started a really neat project, and in the near future we'll seek your feedback (within reason) for the tool "live."

* * *

Sanders (D)(1): On Warren's head tax:

Tonight on @ABCWorldNews – @BernieSanders tells me Warren's MFA plan could have a "very negative impact" on creating jobs.

"I think that that would probably have a very negative impact on creating those jobs, or providing wages, increased wages and benefits for those workers" pic.twitter.com/cw879nrFlI

— Rachel Scott (@rachelvscott) November 3, 2019

Steyer (D)(1): "Tom Steyer aide resigns after stealing Kamala Harris' SC 2020 volunteer data" [Post and Courier]. "A South Carolina aide for Tom Steyer's 2020 presidential campaign stole valuable volunteer data collected by Kamala Harris' campaign using an account from when he worked with the S.C. Democratic Party, according to multiple state and national party officials. The Steyer campaign said that it does not have possession of the data and that Democratic officials were only aware of the download, which they said was inadvertent, because they proactively notified them. Both the Democratic National Committee and S.C. Democratic Party denied that."

Trump (D)(1): "'The kind of voter Trump can't lose:' Working-class white women drift toward Democrats" [McClatchy]. "one pivotal group showing the most evident signs of splitting from the president are white working-class women, according to a review of polling data, focus groups and interviews with more than a dozen party strategists and voters like Heather. It's these voters — packed in eastern Iowa, central Minnesota, southwestern Wisconsin, northern Ohio and throughout Michigan — who will wield outsized influence over Trump's 2020 fate. Republican pollster Patrick Ruffini calls these women the essential voter as it relates to the Electoral College. 'If I could talk to one voter in the country, it would be a non-college-educated white woman,' he said. 'It's definitely the kind of voter Trump can't lose.'… Trump carried non-college-educated white women by 27 points in 2016. They've been slipping away ever since" • Something to watch!

Warren (D)(1): "Was Chicken Little Right About Elizabeth Warren?" [Ed Kilgore, New York Magazine]. A critique of this article from the Times, the key chart of which I publish below. "What we do know is that Warren's "electability" credentials have steadily improved along with her name ID and her rise in the percentage of Democrats favoring her for president. The last national poll showing her trailing Trump was a Fox News survey in July. In August, Fox had Warren up by seven, in September by six, in early October by ten, and in late October by five. You can find a similar upward drift in her performance against the incumbent in virtually every outlet conducting regular polling." • This is fair; dk's chart shows the "upward drift."

Warren (D)(2):

It's simple: #MedicareForAll is the best way to ensure that everyone gets the care they need and that no one ever goes broke because of health care costs. https://t.co/d6bVQPkL0G

— Elizabeth Warren (@ewarren) November 5, 2019

The word "access" does not appear, thankfully.

* * *
Impeachment
"Nancy Pelosi Should Not Be President" [Jesse Wegman, New York Times]. "Consider the following scenario, which would have seemed wildly implausible only a few months ago: Donald Trump is forced from office over the Ukraine-Biden shakedown. Vice President Mike Pence takes over, and before he can name his own vice president, he is impeached and removed for his own role in the scandal. The nation is now led by … President Nancy Pelosi. It's true: Under a 1947 federal law, the speaker of the House is second in line to the presidency, after the vice president, even if she or he is of a different party than the president." • This seems wildly implasible to me, but Wegman is a member of the Times editorial board…

"A FOIA victory for BuzzFeed and CNN puts Mueller back in the story" [Buzzfeed]. • Swell.

From the right, a thread:

So. Is there a constitutional right, perhaps from the Confrontation Clause, entitling President Trump to cross-examine the whistleblower(s), as some are proclaiming?

Let's lawsplain, shall we? Spoiler alert: no, with an unless.

— PerhapsSoHat (@Popehat) November 5, 2019

"Establishment's Coup Attempt Is Approaching End Game" [Patrick Buchanan, The American Conservative]. "And in the end it will be about what it has been about since the beginning: An attempt by the deep state and its media, bureaucratic and political allies to overturn the democratic verdict of 2016 and to overthrow the elected president of the United States." • The lizard-brained old reprobate and all-round horrible human being is, IMNSHO, correct.

"Roger Stone's trial could hang on a comedian's drunken texts" [Michael Isikoff, Yahoo News]. • tl;dr: They were all lying to each other, and to Trump.
Health Care
"Elizabeth Warren Is Jeopardizing Our Fight for Medicare for All" [Jacobin]. "Warren's remaining financing methods bring us to the biggest problem with her plan: its clear lack of urgency. Warren argues that her plan for comprehensive immigration reform could free up $400 billion toward Medicare for All over ten years, while cutting the dangerous military slush fund will free up another $798 billion. On their own these are important goals, but using major political fights like these to cobble together funding for Medicare for All is a fairly good tell that Warren's plan is not designed to be implemented anytime soon. This is further evidenced by the language in Warren's Medium post about her plan: she describes Medicare for All as a 'long-term' goal seven times, while couching the rest of the post in similar language (such as saying she wants to move to a Medicare for All system 'eventually'). There's a lot to be said for Bernie Sanders's consistent Medicare for All advocacy, but one of the most important things to note is that he never describes Medicare for All as a "long-term" goal."
2019
"National cash flows in for AOC" [Crain's New York Business]. From July, still germane : "A Crain's analysis of the self-identified democratic socialist congresswoman's fundraising since the end of March shows almost all of her money originating from outside her district—and much of it from outside New York. Of the more than 4,200 contributions she received during the latest filing period, only a few dozen came from individuals who live in the East Bronx and western Queens neighborhoods she represents, and fewer than 400 originated inside New York." • Total: $1,216,011. $1,216,011 / 4,200 = $289. If the math works (maybe not) she'd be a lot less vulnerable with smaller donations from the district. We'll see.
Realignment and Legitimacy
"If Trump wins re-election while losing by 5 million votes" [Damon Linker, The Week]. " Trump remains quite competitive in the states that put him over the top in the Electoral College last time — Pennsylvania, Michigan, and Wisconsin. Those are states he would likely carry, as he did last time, by a relatively narrow margin. Meanwhile, Trump's extreme and intense unpopularity among Democrats points to a 2020 vote in which the margin of his loss in "blue" states could be enormous…. In that case, the will of the majority would not so much be checked, as the Constitution intends, as completely blocked on nearly all fronts — very much including those fronts that enable unpopular institutions (like the Electoral College) to be reformed. Democrats and Democratic-leaning independents would find themselves trapped in a system in which they possess almost no institutionally legitimate means to reach and exercise meaningful political power." • So the choice for Democrats is clear: Option A: Win back Pennsylvania, Michigan, and Wisconsin. Option B: Civil War ("a far darker political possibility"). Obviously, Option A is impossible, because there's no Democrat candidate who can do that. Oh, wait. From yesterday:

* * *

"Shit Neolibs Say: The Democrat to Progressive Translator" [Medium (Nippersmom)]. Uneven, but this is spot on: "We don't need your votes: But we'll blame your lack of support for our inevitable loss."

"The Dictionary of Capitalism" [Current Affairs]. "money /ˈmʌni/ n. a freedom-unit; the imaginary scorekeeping measure by which your freedom to do things is tracked." • Heh. I like "freedom units." This really ought to go under Class Warfare, but I'm putting the two lexicon snippets together.
Stats Watch
JOLTS, September 2019: "Hiring has been keeping pace but job openings, in a possible warning sign of slowing for the labor market, have been on the decline" [Econoday]. "In a further sign of slowing in the labor market, quits fell" sharply…. Growth in nonfarm payrolls, though still favorable, has been slowing this year and the slowing in openings in this report points to continued slowing for payrolls ahead. For the Federal Reserve, these results highlight the risk that employment may be moving from strength to moderation and that the outlook for wage growth may have already peaked, results that favor the doves in their arguments for continued rate cuts."
Purchasing Managers' Services Index, October 2019: "[E]dged lower… and is now at a three-year low and barely showing any growth" [Econoday]. "Price pressures remained flat and, in an isolated positive and despite all the weakness, year-ahead expectations improved."
Institute For Supply Management Non-Manufacturing Index, October 2019: "[B]etter-than-expected acceleration in composite activity" [Econoday]. "The headline gain probably overstates the strength of October's report as business activity may have been propped up in the month by the draw down in backlogs, the latter not a favorable indication for future employment readings. Yet of the 18 industries tracked in the report, 13 did report composite growth led by agriculture in what is welcome news for a sector that has had an uneven year. "
International Trade, September 2019: "The trade gap came in as expected, hitting Econoday's consensus' [Econoday]. "Total exports… and total imports…. are both down year-to-date and are in line with trade reports from other countries, many showing outright contraction underway in a year that has been headlined by trade tensions and rising tariffs."
Real Estate: "Pied-a-Terre Tax Revival Is Latest Threat to NYC's Luxury Market" [Bloomberg]. "There's a growing desire among Democrats to address wealth inequality, and for them, the idea of slapping an annual tax on the uber rich who scoop up Manhattan apartments is long overdue. But for William Zeckendorf, whose firm built some of the city's most expensive condo towers, the proposal is the wrong idea at the wrong time. He and other developers — and the lawyers, appraisers and brokers who cater to millionaire clients — argue that going after pied-a-terre buyers would further dent demand in the already struggling luxury real estate market. Thousands of new high-end condos are on their way, adding to a glut, and takers for them have all but disappeared. New rules that promote a political environment where buyers feel targeted would push even more of them away, Zeckendorf said. 'It's a sin tax,' said Zeckendorf, whose projects include 520 Park Ave. and 15 Central Park West. 'It's a tax meant to discourage economic behavior. And does the city really want to discourage pied-a-terre owners from coming to New York?'" • Yes.
The Bezzle: "The Big Bitcoin Heist" [Vanity Fair]. "It was cryptocurrency, ironically, that helped save Iceland after the bankers bankrupted it. For years, the country's economy was centered around fishing and aluminum smelting. …. One wintry day, a German cryptocurrency entrepreneur named Marco Streng stepped off a plane at Keflavik International Airport. Like most German kids, he recalls, he had only seen Iceland on TV, which glorified the frozen nation as 'something from another planet.' Now, driving from the airport to the old naval base at Asbru, he encountered a 'ghost town' pockmarked by 'car rental places and trash yards.' To Streng, it looked like the new cryptocurrency frontier. Iceland was rich in everything that Streng needed to mine Bitcoins. There were plenty of empty warehouses to house his computers at absurdly low rents. There was cheap geothermal energy, literally rising from the earth, to power them. There was what he calls 'the most important part of the Bitcoin world'—a consistently cold climate to keep the machines from overheating as they mine cryptocurrency 24/7. And in a country with almost no crime, there was little need to spend money on extensive security measures."
Tech: "ISPs lied to Congress to spread confusion about encrypted DNS, Mozilla says" [Ars Technica]. "Mozilla is urging Congress to reject the broadband industry's lobbying campaign against encrypted DNS in Firefox and Chrome… Mozilla's letter to Congress said the ISP lobbying against encrypted DNS amounts to telecom associations 'explicitly arguing that ISPs need to be in a position to collect and monetize users' data. This is inconsistent with arguments made just two years earlier regarding whether privacy rules were needed to govern ISP data use.'" • Hmm…
Supply Chain: "The first map of America's food supply chain is mind-boggling" [Fast Company]. "Our map is a comprehensive snapshot of all food flows between counties in the U.S.—grains, fruits and vegetables, animal feed, and processed food items." • There's also a database. Here is one map: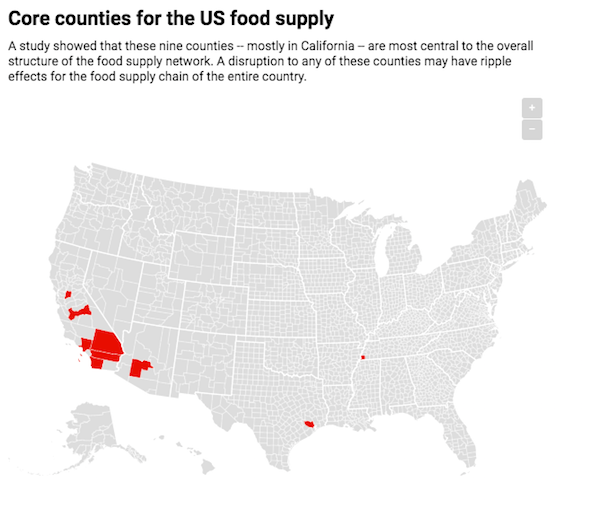 Those nine would be the counties to organize… .
* * *
Today's Fear & Greed Index: 89 Extreme Greed (previous close: 86, Extreme Greed) [CNN]. One week ago: 71 (Greed). (0 is Extreme Fear; 100 is Extreme Greed). Last updated Nov 5 at 11:48am.
The Biosphere
"TC Energy Says Keystone Pipeline Failed Due To Protestors Making It Lose Confidence In Itself" [The Onion (RH)]. • G/O Media, which just gutted Deadspin, also owns The Onion. The Onion has a union, but that may be all the more reason for these private equity weasels to destroy it.
"Hundreds of thousands of people in California are downriver of a dam that 'could fail'" [CNN]. "Hundreds of thousands of people live downriver from a dam in California that recently had its risk characterization changed 'from low to high urgency of action' by the US Army Corps of Engineers. Those communities, which include Hesperia, Barstow, Apple Valley and Victorville, could flood if the Mojave River Dam fails, a statement from the agency said. More than 315,000 residents in those four communities in San Bernardino County, about 70 miles northeast of Los Angeles, are in the path should floodwaters overtake the dam, according to US Census data."
"'Mailbox 200': Soviet waste dump a landslide away from poisoning millions" [Reuters]. "Neglected for decades by the Soviet Union and then Kyrgyzstan, uranium ore dumps near the town of Mailuu-Suu must be urgently reinforced to prevent disaster, according to the European Commission and European Bank for Reconstruction and Development (EBRD) which are raising funds for the project. "There are 14 million people in the Ferghana valley and in the event of a natural disaster water may wash away the tailings into the Naryn (Syr Darya) river which will be a tragedy for the whole valley," says Bolotbek Karimov, an environment researcher based in the southern Kyrgyz city of Osh…. The river flows down into the Ferghana valley, one of the most densely populated areas in Central Asia, now divided among Kyrgyzstan, Uzbekistan and Tajikistan." • An ugly story, probably even more ugly than our own nuclear weapons story.
"Here's a reverse supply chain that's going very, very deep. Some companies seeking to cut plastic use are tapping into the vast piles of garbage that are fouling the oceans… in part by seeking to turn the junk into a new source of raw materials for products or packaging" [Wall Street Journal]. "Companies including Coca-Cola Co., HP Inc. and Dell Technologies Inc. are among those leading the effort, in part by scooping up litter in oceans, rivers and on beaches and in some cases recycling the material. Adidas AG even has a long list of sportswear products made from collected beach waste. Several of the companies are working through a consortium to commercialize supply chains that prevent plastic getting to oceans. One study shows roughly eight million tons of plastic reaches the ocean annually, amounting to about $10 billion worth of packaging materials." • Of course, if we hadn't thrown it in the ocean in the first place. Nor will this do anything about microplastics.
"Going Peat Free" [Seedball]. "There would be an outcry if a company started excavating top-soil from your local park and selling it to gardeners. And yet most of us are silent about the excavation of peat from habitats that are just as valuable to us. Like most of us, I'm a weekend gardener (when I have time), and for the majority of gardeners like me, there really is no excuse not to use peat-free compost."
Spotting Big Oil propaganda. Thread:
The five types of fossil fuel tweets:

1. Are you wasting too much water when you wash your hands? Use our calculator to find out! pic.twitter.com/jcVOe6cISi

— Jim Stansel (@stansel_jim) October 31, 2019
Health Care
Thread after thread of horror stories like this one:
What's the most shocking health care statistic you've ever seen

— Jeff Stein (@JStein_WaPo) November 2, 2019
"You Did Not Teach Me What You Thought You Did" [JAMA]. "Perhaps my job is not teaching pathophysiology but instead how to think about the person inside of patients, to recognize their fears and questions, to link their humanity with ours." • This is a lovely article, well worth a read. Carpe diem!
Guillotine Watch
Who the heck needs 25 bathrooms?
Jeff Bezos's new Washington, DC home, two adjacent mansions purchased for $23 million, will have 25 bathrooms, 287 fire alarm sprinklers and 1,006 light fixtures. @washingtonian: pic.twitter.com/lNrdfvQIw0

— Alec MacGillis (@AlecMacGillis) November 2, 2019
Or, for that matter, football coaches: "Florida State will end up paying 3 buyouts, totaling over $20 million, to fire Willie Taggart" [USA Today]. "ESPN's Mark Schlereth reported that the Seminoles had raised $20 million from its boosters in order to pay off the buyout." • Awesome. More stupid money.
Class Warfare
"Making Waves" [The Baffler]. "These and so very many other players are the driving force behind our current moment of widespread labor unrest, one that has seen almost half a million workers hit the bricks in pursuit of a better deal since 2018. The year's not over yet, and it's likely that those numbers will shoot even higher before 2020. While a bona fide general strike may still be a revolutionary's daydream (for now . . . ), one thing is certain: direct action gets the goods. More and more regular working people, union and otherwise, have realized that the only way to win anything resembling equity—let alone liberation—is through militant collective action, and they've shown that they are prepared to take that battle to the bargaining table, to the picket lines, and to the streets. The spirit of 1919 lives on a century later, even if it looks a little different. The trouble now is that there are so many campaigns, actions, and contract fights happening at any given moment that it can be difficult to keep up—even when it's your job to do so." • This is a really good summary of union organizing drives and strikes, and the difficulties of covering the story. Well worth a read. Good job, Baffler!
"What a Tour of an Amazon Fulfillment Center Reveals" [The New Yorker]. "The unnerving truth is that facelessness and placenessness are part of the value Amazon offers. Amazon culture is anonymity culture: anonymous objects ordered through an anonymous interface from anonymous sellers, funnelled, sorted, shipped, and delivered by workers who are often unseen. … Amazon is actually a company full of people, with all their inefficiencies—their bodily needs, their grief, their camaraderie, boredom, humor, and despair. The anonymity to which Amazon shoppers are accustomed is palliative, illusory."
"Back to Work: Review of David Graeber's Bullshit Jobs" [NonSite]. Very dense, as is typical of this genre, but a massive takedown, in its slow, bulldozer-like way: "What we get in Graeber, however, is a premature post-capitalism, in which the aggressive automation of the post-war period is seen as a cue for humanity's jump from the sphere of necessity to that of freedom. Cybernetics, computers and dreams of full automation all figure prominently in this story, as they do in most of post-war visions. Little politics is involved. Some campaigns for a raised consciousness, with a healthy degree of PR. Maybe we can do a YouTube video… Bullshit Jobs is one long exercise in evasion—an attempt to go "beyond" capitalism without actually going through it.
News of the Wired
I'm so old I remember when you could actually buy light bulbs (dk):
Hello yes, Best Buy is bricking lights because it doesn't feel like maintaining them anymore ? https://t.co/SdDqHSH1a2

— Internet of Shit (@internetofshit) November 4, 2019
Readers, feel free to contact me at lambert [UNDERSCORE] strether [DOT] corrente [AT] yahoo [DOT] com, with (a) links, and even better (b) sources I should curate regularly, (c) how to send me a check if you are allergic to PayPal, and (d) to find out how to send me images of plants. Vegetables are fine! Fungi and coral are deemed to be honorary plants! If you want your handle to appear as a credit, please place it at the start of your mail in parentheses: (thus). Otherwise, I will anonymize by using your initials. See the previous Water Cooler (with plant) here. Today's plant (Carla):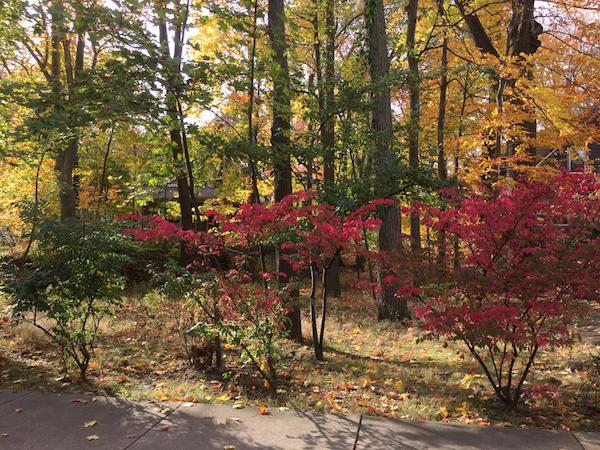 Carla writes: "One of the prettiest autumns ever in NE Ohio this year." Indeed! Lovely how the colors are different at each level of the canopy.
* * *
Readers: Water Cooler is a standalone entity not covered by the annual NC fundraiser. So if you see a link you especially like, or an item you wouldn't see anywhere else, please do not hesitate to express your appreciation in tangible form. Remember, a tip jar is for tipping! Regular positive feedback both makes me feel good and lets me know I'm on the right track with coverage. When I get no donations for five or ten days I get worried. More tangibly, a constant trickle of donations helps me with expenses, and I factor in that trickle when setting fundraising goals:
Here is the screen that will appear, which I have helpfully annotated.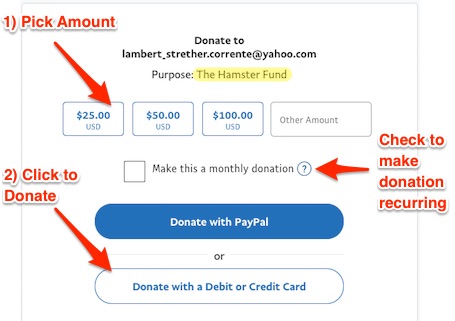 If you hate PayPal, you can email me at lambert [UNDERSCORE] strether [DOT] corrente [AT] yahoo [DOT] com, and I will give you directions on how to send a check. Thank you!