CalPERS will never have the decency to admit this site has been right even when they followed our investment advice. The short version is that CalPERS, with a great deal of fanfare and board huzzahs, announced last year that it planned to increase its funding of its worst-performning private equity strategy, its emerging manager program. We said this was a very bad idea, since emerging managers (which are meant to be first time managers but these programs are really intended to favor minority and woman-owned firms) typically underperform, so there was no reason to expect CalPERS to improve upon its sorry record.
CalPERS has now gone dramatically in reverse. Staff, apparently without consulting the board, has decided to cut its emerging manager program for global equity, meaning public stocks, due to underperformance, and is dumping most managers. Staff even has the gall to treat board members as its hired hands, sending them talking points to back a policy change they had not reviewed, much the less authorized. While the information we've gotten doesn't specify whether CalPERS is also cutting its private equity emerging manager program, the radical cut of emerging managers is consistent with the advice we offered in the private equity context.
Even if the private equity emerging manager was spared (and in fact may be difficult to cut back any time soon, since as we will discuss, CalPERS just more than doubled its commitment to an external private equity fund of funds manager for emerging managers), CalPERS would be well served to cut its commitment there as well, consistent with its newly-found investment discipline.
CalPERS' Commitment to Emerging Managers
CalPERS in its 2018 emerging manager report on its five year plan through 2020 stated it had increased its commitments in public equity, private equity, and real estate.
In another 2018 update on its board-approved five year emerging manager plan through 2020, CalPERS had described its progress toward its goal of managing emerging managers across all of its investment types, as well as investing up to $7 billion in the category of "transition managers," which are apparently fund managers a little too big and/or mature to fit tidily in the emerging manager category.
CalPERS once deemed private emerging managers to be so important that it made them "Pillar 1" of its PR-packing-over-substance "private equity new business model" and stated it intended to increase the amount deployed to emerging managers: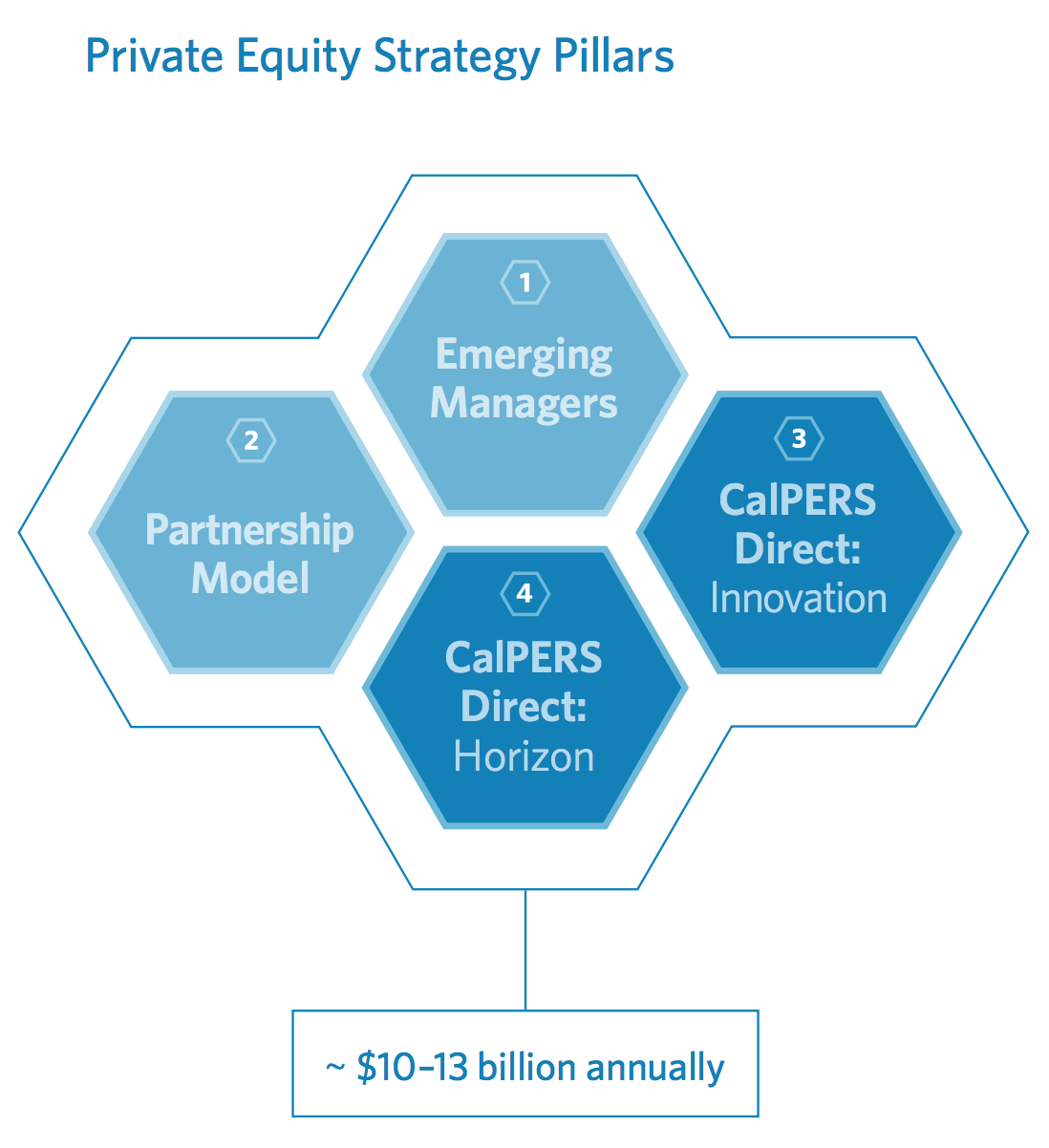 In January 2019, CalPERS announced it was increasing its commitment to its private equity emerging manager fund of fund program run by Grosvenor Capital by $500 million. From Chief Investment Officer:
The California Public Employees' Retirement System (CalPERS) has committed $500 million to an emerging manager fund of funds run by GCM Grosvenor as part of efforts to increase its private markets emerging manager program…

GCM Grosvenor already runs two other private equity emerging manager fund of funds for CalPERS, overseeing the investments of more than $300 million by several dozen private equity firms…

The new commitments to GCM Grosvenor will bring the amount of capital it oversees in emerging manager private equity fund of funds to approximately $850 million.
One has to wonder how this story squared with what CalPERS told the board and general public in December 2018, that it had only $200 million committed to private equity emerging managers and was increasing that by only $300 million, to $500 million. Is CalPERS incapable of keeping tabs on where its money goes?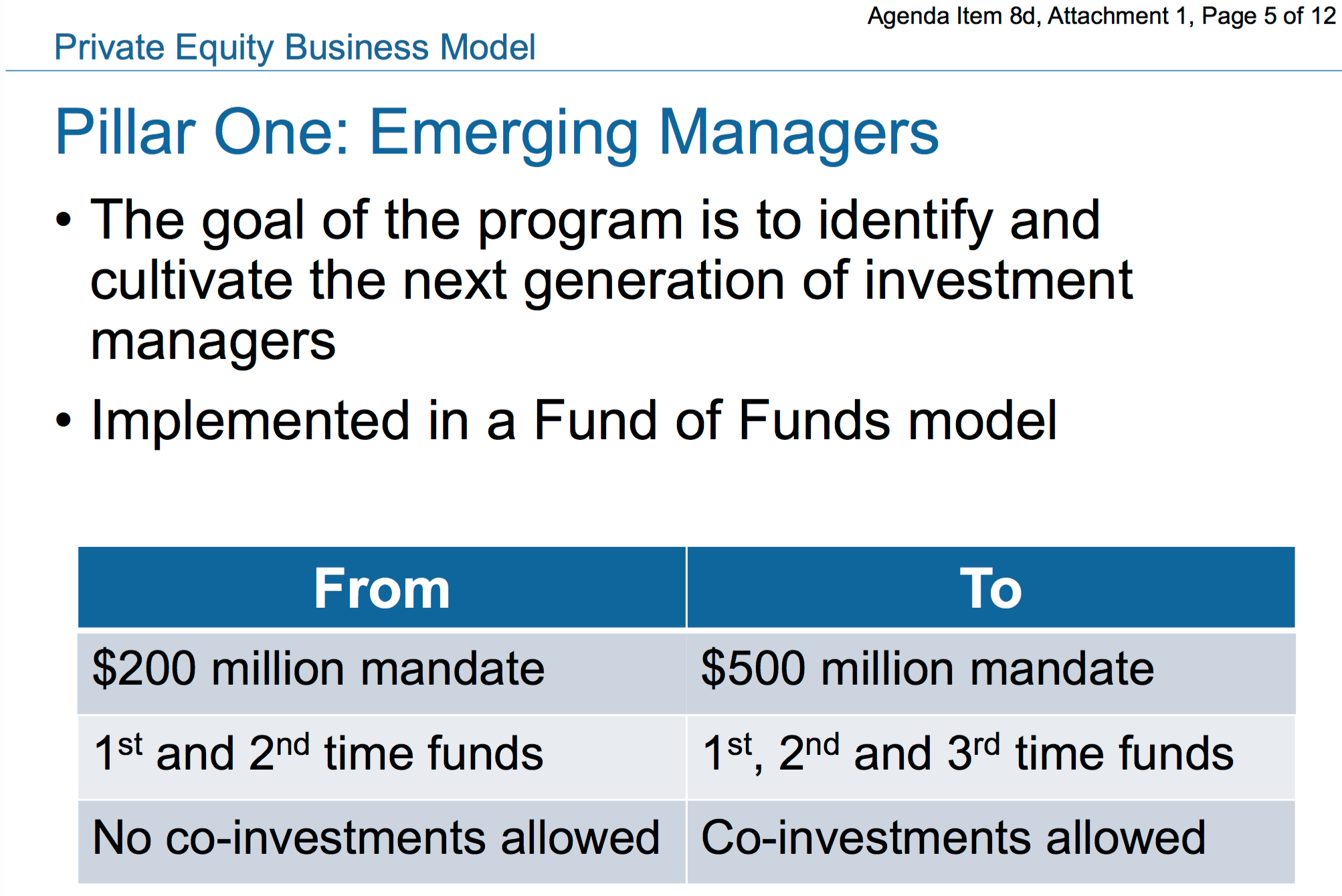 Yet this love affair was at the expense of investment performance. As we pointed out in 2018:
Academic studies have consistently found that first-time funds perform worse than later funds by the same fund manager. By putting most of its new money to first time funds (the emerging manager program and the two new funds it is creating), CalPERS is almost assuring itself of poor performance. Note that CalPERS existing program for "emerging managers" now delivers the worst results of all of its private equity sub-strategies.
CalPERS' Emerging Manager Volte Face
It appears that CalPERS realized it might need to worry a bit more about investment returns given its deep underfunding and hence rein in its poorly-performing emerging manager schemes.
Last month, CEO Marcie Frost sent out this e-mail1:
Over the last few months in closed session, Ben Meng has discussed his work to increase accountability of our internal and external investment programs that includes a renewed focus on performance and our ability to achieve our 7 percent assumed rate. This includes continuing our work to evaluate and reduce our active managers in global equity, including traditional and emerging managers. Returns in this area have underperformed. Over the last 5 years, traditional managers have underperformed their benchmarks by 48 bps and emerging mangers by 126 basis points.

Later this afternoon, our investment team will begin notifying our emerging manager advisors who will no longer retain a mandate with CalPERS. We expect that this news could receive media or legislative attention. Below are some talking points that we have prepared for your information. We encourage you to send any inquiries to our Office of Public Affairs.

Please let me know if you have any questions. We'll discuss in more detail during November Investment Committee meeting.

Thanks

Marcie

• We have been thoroughly evaluating external active managers in Global Equity over past 18 months
• Includes both Traditional External Active Manager and Emerging Manager programs
• Began before CIO Ben Meng started in January, but he fully supports the effort to sharpen our investment focus
• This is a key part of Ben's focus on risk and on making investments that can hit 7% assumed rate of return
• Returns overall in these areas haven't contributed enough to achieving 7% target (over the past 5 years, Traditional External and Emerging Managers have underperformed their benchmarks by 48bps and 126bps respectively)
• In past three months we reduced Traditional External Managers from $30+ billion to $5 billion – from 17 managers to 3.
• Now also restructuring Emerging Manager program and reducing number of managers – from 5 to one and $3.6 billion to $500M
• Very significant savings goes straight to the CalPERS fund: $100 million annually in fee savings – $80 million Traditional External, $20 million Emerging Managers
• 95% of Global Equity will now be internally managed at extremely low costs– up from 80%
• 78% of total fund now internally managed
• Not stopping Emerging Manager program – will continue to engage with EMs across all asset classes where active risk is deployed and continue evaluating program
• Will continue to aggressively evaluate the entire portfolio to ensure all investments can help us achieve needed returns
First, you will notice that Marcie Frost has decided all on her own to release closed session information to the public. This is the board's prerogative, not hers. Will she be sanctioned for leaking?
Second, CalPERS has tacitly admitted its emerging manager program has cost the giant pension fund in terms of returns and CalPERS is cutting it back as a result. I wonder how long it will take for some of these dumped managers to enlist various women and minority interest groups to make a stink to CalPERS and to member of the legislature who were big fans of the emerging manager program. Anticipation of this sort of pushback was likely the reason for sending out this message.
Third as we noted at the top of the post, it appears that CalPERS has cut or perhaps even completely ended the use of emerging managers in public stocks. It isn't at all clear where the cuts are taking place. Note that the old "2020" plan referred to emerging managers in public equities (Global Equity in CalPERS-speak), private equity and real estate.
It may be that the Grosvenor private equity fund of fund is the one remaining manager referred to here:
Now also restructuring Emerging Manager program and reducing number of managers – from 5 to one and $3.6 billion to $500M
But as we pointed out, CalPERS mere months ago touted that it was increasing commitment to Grosvenor by $500 million to a total of $850 million. So Frost is playing hide the ball in her figures above by not 'fessing up to the commitment to Grosvenor or choosing to omit private equity emerging managers entirely from her little missive?
Recall also that CalPERS has planned at the end of fiscal 2017-2018 to invest as much as $7 billion in transition managers. It would be nice to know what became of them.
Finally, it is typical of Frost and CalPERS staff generally to treat the board like their hired hands to whom they give orders, in this case "Don't take questions from the press, or if you really must, here are the talking points." The board members are all elected or appointed state officers. They don't report to staff, but staff has done a great job of indoctrinating them to act like hired hands.
The one bit of good news appears to be that CalPERS is starting to come to grips with the severity of its underfunding and is making decisions it should have made years ago, such as winnowing down its emerging manager program. If CalPERS listened to us more often, just think how much better off they'd be.
________
1 No, sports fans, this did not come from anyone on the board.