By Lambert Strether of Corrente.
Trade
"'There's a deal:' Mexico says USMCA trade pact to be signed Tuesday" [Reuters]. "Canada, Mexico and the United States have reached an agreement on a new North American free trade deal and they will sign it on Tuesday, but the pact still needs the approval of U.S. and Canadian lawmakers, Mexico's president said. President Andres Manuel Lopez Obrador said the three countries had agreed on tweaks to labor, steel and aluminum provisions in the United States-Mexico-Canada Agreement (USMCA), after U.S. Democrats pressed for changes, particularly to strengthen enforcement of new Mexican labor laws."
Politics
"But what is government itself, but the greatest of all reflections on human nature?" –James Madison, Federalist 51
"They had one weapon left and both knew it: treachery." –Frank Herbert, Dune
Here is a second counter for the Iowa Caucus, which is obviously just around the corner:
* * *
2020
Alert reader dk (not to be confused with DK) is in the process of developing the following interactive chart.

We have new Morning Consult and Monmouth polls, as of 12/10/2019, 12:00 PM EST. Biden leads, Sanders strong second, Warren six points back, Buttigeig trailing. This seems to be an established pattern (or, if you prefer, narrative). On to the next debate (December 19), and Iowa:

Here is the latest result, as of 12/10/2019, 12:00 PM EST:

For grins, I output the polls in a Tufte-like "power of small multiples" format:

Evident is Biden's remarkably consistent lead (If you toss a few outliers), Sanders' steady rise, Warren's rise and fall, Buttigieg's rise, and Bloomberg's entry.

CAVEAT I think we have to track the polls because so much of the horse-race coverage is generated by them; and at least with these charts we're insulating ourselves against getting excited about any one poll. That said, we should remember that the polling in 2016, as it turned out, was more about narrative than about sampling, and that this year is, if anything, even more so. In fact, one is entitled to ask, with the latest Buttigieg boomlet (bubble? (bezzle?)) which came first: The narrative, or the poll? One hears of push polling, to be sure, but not of collective push polling by herding pollsters. We should also worry about state polls with very small sample sizes and big gaps in coverage. And that's before we get to the issues with cellphones (as well as whether voters in very small, very early states game their answers). So we are indeed following a horse-race, but the horses don't stay in their lanes, some of the horses are not in it to win but to interfere with the others, the track is very muddy, and the mud has splattered our binoculars, such that it's very hard to see what's going on from the stands. Also, the track owners are crooked and the stewards are on the take. Everything's fine.

I think dk has started a really neat project, and in the near future we'll seek your feedback (within reason) for the tool "live."

* * *

Buttigieg (D)(1):

NEWS via @merica: McKinsey will allow Buttigieg to release his client names

"We have informed Mr. Buttigieg that he may disclose the identity of the clients he served while at McKinsey from 2007 to 2010." pic.twitter.com/GAE031f02A

— Abby D. Phillip (@abbydphillip) December 9, 2019

Sanders (D)(1): "Veteran returns to thank Bernie Sanders after cry for help at Carson City rally prompts outpouring" [Nevada Independent]. • If I quote from this, I'm going to turn into a squeeing fan boi, so I won't do that; but do click through and read it yourself. There are at least two morals here: First, Sanders needs Nevada, so this is good for him. Second, Sanders is running a really good campaign. Contrast how this incident was managed to Warren tearing up.

Sanders (D)(2): "Cardi B: Unfiltered, Unapologetic, Unbowed" [Vogue]. "'One thing that I like about Bernie,' she adds, 'is that, you know, there's proof that he's been doing this for years. That he been caring about people for years. That it's inside of him, being a humanitarian. When I see the candidates be like, oh well, some of his bills, they not perfect. If he's such a perfect person, why is Vermont not perfect? People are not perfect, but he has the perfect intentions. He naturally cares about minorities. He actually cares about people getting Medicare because he knows they can't afford it. I don't feel like he's just saying these things 'cause he want the vote.'"

Trump (R)(1): "Don't Look Now, But Things Are Getting Brighter for Trump" [Bloomberg]. "The economy appears to be in a much better place than experts feared: good news for an incumbent president heading into an election year…. A recession no longer seems likely. Gallup's latest poll found that 55 percent of respondents rate economic conditions as 'excellent' or 'good'… Trump's superpower is to polarize absolutely everything—it's the key to his political survival. That's how he got through the Mueller Report without incurring any meaningful Republican defections. Currently, there's no reason to think he won't be able to pull the same trick when the House and Senate vote on impeachment. So far, his poll numbers have barely budged. As with everything Trump-related, caveats are in order: Trump is volatile and can blow up anything, anytime with a tweet." • Volatility benefits speculators…

Warren (D)(1):

Few people have had more impact on our modern financial system than the great Paul Volcker. For more than 5 decades, he fought for more robust, efficient, & effective rules to keep the US economy safe. I'm very sorry for his loss. pic.twitter.com/lIPbFD4ZdF

— Elizabeth Warren (@SenWarren) December 9, 2019

Warren (D)(2): "Elizabeth Warren Built the Consumer Financial Protection Bureau. It Became a Revolving Door." [Daily Beast]. "When Sen. Elizabeth Warren (D-MA) began staffing up the Consumer Financial Protection Bureau in 2010 and 2011, she did something that appeared, at first blush, to be highly counterintuitive. Instead of limiting staff to those with extensive background in consumer activism and regulatory policy, she chose people with places like Deutsche Bank, Morgan Stanley, and Capital One on their CVs. Those financial institutions were the very entities that the CFPB was supposed to haunt. The agency had been included in financial regulatory reform as a wishlist item for Wall Street-skeptical progressives. And yet, here was Warren—the intellectual godmother of the CFPB—handing out key roster assignments to officials from those very institutions." • That's her theory of change…

* * *
Impeachment
"'High crimes and misdemeanors': Dems unveil impeachment charges against Trump" [Politico]. Here is the text. "House Democrats unveiled two articles of impeachment on Tuesday charging President Donald Trump with abuse of power [UkraineGate] and obstruction of Congress, a historic step that will define Trump's presidency and plunge Washington even deeper into a state of partisan polarization… "Despite everything we have uncovered the president's misconduct continues to this day, unapologetically and right now," Schiff said. 'The argument 'why don't you just wait' amounts to this: Why don't you just let him cheat in one more election?'" • Clever wording from Schiff, since it implies RussiaGate without stating it ("one more"), when in fact RussiaGate is not one of the articles. From the conservative side of the house:

Legal merits aside, spending years accusing Trump of treason, bribery, & collusion and then impeaching him for none of those things *but including an article on obstruction of Congress* as one of the 2 charges seems like disastrously inside-Beltway politics.

— Dan McLaughlin (@baseballcrank) December 10, 2019

Hard to disagree. My ideal outcome is that liberal Democrats and conservative Republicans destroy each other, leaving the left standing. A million-to-one chance, but what can we do?

"Ladies And Gentleman Of The Jury, Would You Impeach?" [The American Conservative]. "It is always easy to forget the basics. Quid pro quo is not Latin for bribery. The president conducts foreign policy with extraordinary latitude to say what the national interest is, not the State Department and its ambassadors, no matter how smart they think they are. Foreign aid is a policy tool and is offered in return for something. As an exasperated Mick Mulvaney told us, of course there is always a quid pro quo—vote our way at the UN, let us have a military base, help us negotiate with your neighbor. Presidents often delay aid to get what they want. An investigation is not meddling. Foreign governments work with us on criminal, financial, and other investigations all the time. The Democrats asked Ukraine to investigate Trump in 2018. Providing information is not interfering in our democracy." • Case for the defense.

"Horowitz report is damning for the FBI and unsettling for the rest of us" [Jonathan Turley, The Hill]. "Horowitz did say that the original decision to investigate was within the discretionary standard of the Justice Department. That standard for the predication of an investigation is low, simply requiring "articulable facts." He said that, since this is a low discretionary standard, he cannot say it was inappropriate to start…. That threshold finding is then followed by the remainder of the report, which is highly damaging and unsettling. Horowitz finds a litany of false and even falsified representations used to continue the secret investigation targeting the Trump campaign and its associates…. From the outset, the Justice Department failed to interview several key individuals or vet critical information and sources in the Steele dossier. Justice Department officials insisted to Horowitz that they choose not to interview campaign officials because they were unsure if the campaign was compromised and did not want to tip off the Russians. However, the inspector general report says the Russians were directly told about the allegations repeatedly by then CIA Director John Brennan and, ultimately, President Obama. So the Russians were informed, but no one contacted the Trump campaign so as not to inform the Russians? Meanwhile, the allegations quickly fell apart. Horowitz details how all of the evidence proved exculpatory of any collusion or conspiracy with the Russians." • I guess the RussiaGate stuff is so good the Democrats aren't using it for the impeachment. They want to keep their powder dry and use it in the general.
Realignment and Legitimacy
"Only About 3% Of Americans Actually Fought About Politics On Thanksgiving" [HuffPo]. "[W]hile advice for these holiday fights is ubiquitous, the actual conflicts they're meant to address are vanishingly rare, a new HuffPost/YouGov survey finds."

"Feminism for the 99%" [Verso]. "Clinton's defeat is our wake-up call. Exposing the bankruptcy of liberal feminism, it has created an opening for a challenge to it from the left. In the vacuum produced by liberalism's decline, we have a chance to build another feminism: a feminism with a different definition of what counts as a feminist issue, a different class orientation, and a different ethos—one that is radical and transformative. This manifesto is our effort to promote that 'other' feminism."
Stats Watchd
Commodities: "After Aramco's Record IPO, Barely Any of Its Stock Will Trade" [Bloomberg]. "Saudi Aramco will surpass Apple Inc. as the world's biggest listed company when it debuts this week after a record-breaking initial public offering. Unlike the tech titan it displaces, barely any of its shares will trade. The Gulf oil giant sold a 1.5% stake in the IPO, while the remainder stays in the hands of the Saudi state. That free float, or the proportion of stock owned by public investors that can change hands, is among the lowest globally." • So more "initial" than "public"?
Credit: "Super-Rich Families Pour Into $787 Billion Private Debt Market" [Bloomberg]. "Direct loans to far-flung oil exploration projects, luxury real estate projects, private equity-backed businesses, and cash-intensive tech startups can pay yields more than twice as big as the junk-bond market. That's lured the likes of the Denisenko family and other members of the global elite such as former Los Angeles Dodgers owner Frank McCourt Jr. Stockholm-based Proventus Capital, which spun off from the family office of Swedish financier Robert Weil, is investing on behalf of wealthy clients, as well as institutional investors, in the market. More commonly, family offices are investing in the private credit market through funds. The Pritzker family, which owns the Hyatt hotel chain, and the Bill & Melinda Gates Foundation Trust have also put money into funds that invest in private distressed debt, tax filings show. Spokesmen for McCourt and the Gates Foundation Trust declined to comment. Requests for comment from the Pritzker family weren't immediately returned. Private credit has boomed globally as banks, under pressure from regulators since the global financial crisis to reduce risk, have pulled back from lending to smaller, potentially more vulnerable companies."
The Bezzle: "Away replaces CEO Steph Korey after Verge investigation" [The Verge]. "The news comes after days of public backlash due to leaked documents showing Korey routinely intimidated employees on public Slack channels. After The Verge's initial story broke, new leaks showed Away was directing employees not to engage with the article even from their personal social media accounts."
The Bezzle: "SoftBank ditches stake in dog walking start-up Wag" [Financial Times]. "In an internal memo seen by the Financial Times, Wag chief executive Garrett Smallwood wrote that 'as a more focused company with a solid capital base that is right-sized to the needs of our business and strategy, we have plenty of runway to execute our plans to accelerate our progress toward profitable growth.'"
Honey for the Bears: "Have We Really Escaped a Recession? Google It." [John Authers, Bloomberg]. • Technical analysis of Google Trends?
* * *
Today's Fear & Greed Index: 64 Greed (previous close: 68 Greed) [CNN]. One week ago: 63 (Extreme Greed). (0 is Extreme Fear; 100 is Extreme Greed). Last updated Dec 10 at 11:59am.
The Biosphere
"Plants May Let Out Ultrasonic Squeals When Stressed" [Smithsonian]. "Measuring in the range of 20 to 150 kilohertz, the researchers found that even happy, healthy plants made the occasional noise. But when cut, tobacco plants emitted an average of 15 sounds within an hour of being cut, while tomato plants produced 25 sounds. Stress from drought—brought on by up to ten days without water—elicited about 11 squeals per hour from the tobacco plants, and about 35 from the tomato plants. The shrieks were also surprisingly informative. When the team fed the recordings into a machine learning model, it was able to use the sounds' intensity and frequency distinguish whether they were related to dryness or physical harm, or were just regular, day-to-day chatter." • Not peer-reviewed, however. And we don't know how the plants vocalize make sounds.
"Why you should plant trees in square holes" [Guardian (Nippersmom)]. "[S]ystematic planting trials have shown that roots are not that good at growing round corners. When they hit the tight, 90-degree angle of your square hole, instead of sneaking around to create a spiral, they flare out of the planting hole to colonise the native soil. This has been shown consistently to speed up tree establishment and make the specimens more resistant to environmental challenges, such as drought. Considering that spade blades are flat, digging a square hole, to me at least, seems far easier than cutting a perfectly circular one. It's an easy win-win." • Cool!
"Alberta ignores the ticking time-bomb of orphaned oil and gas wells at its own peril" [Globe and Mail]. Yikes:
The Calgary Herald estimates that Alberta is home to 93,000 inactive and orphaned oil and gas wells. While many of those wells are owned by financially viable companies, an increasing number are not. This represents a "looming financial and environmental crisis" reminiscent of the 2008 subprime mortgage crisis, according to an investigation last year from The Globe and Mail. "A growing proportion [of inactive wells] are owned by companies that can least afford to clean them up … when their commercial life ends."

When that happens in Alberta, those inactive wells become the responsibility of the Orphan Well Association (OWA), which is primarily funded by an industry levy that is increasingly understood as insufficient. The OWA's chief executive credits a provincial $235-million loan for enabling it to reclaim about 1,200 wells since 2017, bringing the current inventory down to 3,406 wells – but more wells in need of reclamation are on the way.

One of the primary barriers to a clear understanding of the problem appears to be the absence of a credible and transparent assessment of cleanup costs. Based on its recent experience, the OWA suggests that average costs range between $27,000 and $34,000 a well. Critics, such as the Alberta Liabilities Disclosure Project, dismiss those numbers as primarily based on easy-to-cleanup wells, and point to internal Alberta Energy Regulator (AER) estimates that suggests the costs could potentially rise to $210,000 a well, which would add up to a staggering $100-billion in total liabilities. Those same estimates also looked at oil-sands mines and provincial pipelines, which could bring the number up as high as $260-billion.
Hoo boy. Texas, Louisiana, California, Pennsylvania… Listen up!
"Drax owner plans to be world's first carbon-negative business" [Guardian]. "For decades the UK's largest single power plant pumped millions of tonnes of carbon dioxide into the atmosphere by burning coal to make electricity. In recent years Drax has converted its huge coal generation units to run on renewable biomass, or wood pellets. The transformation has required subsidies of about £2m a day. The next phase of its climate action plan will require further government support to develop technology that can capture millions of tonnes of carbon emissions from the plant before permanently storing the gas in underground caverns. Will Gardiner, the chief executive of Drax, said bioenergy with carbon capture (BECCs) was critical to beating the climate crisis and creating a sustainable economy." • See NC on BECCs here.
Water
"1.9 billion people at risk from mountain water shortages, study shows" [Guardian] (original). "A quarter of the world's population are at risk of water supply problems as mountain glaciers, snow-packs and alpine lakes are run down by global heating and rising demand, according to an international study. The first inventory of high-altitude sources finds the Indus is the most important and vulnerable "water tower" due to run-off from the Karakoram, Hindu Kush, Ladakh, and Himalayan mountain ranges, which flow downstream to a densely populated and intensively irrigated basin in Pakistan, India, China and Afghanistan…. The study says 1.9 billion people and half of the world's biodiversity hotspots could be negatively affected by the decline of natural water towers, which store water in winter and release it slowly over the summer." • Paging Michael Burry…
Health Care
"Surprise billing ban draft: Middle ground leaves few pleased" [Healthcare Dive]. "The latest details emerging on legislation to ban surprise medical billing includes nuggets meant to pacify payers and providers, but is not pleasing either… The independent dispute resolution process would be the so-called baseball style arbitration, where each party can submit one payment option to be decided on by an independent arbiter. That third-party would be required to consider factors like market-share, patient acuity, treatment complexity and a provider's training, education and experience. The party that initiated arbitration can't bring the same other party to a resolution process over the same item or service for 90 days after the decision." • Yeah, let's add another epicycle to save the phenomena.
Yet another health insurance horror story:
And a decade later, astronomical out-of-pocket expenses with rising co-pays and deductibles upwards of $2000 have ushered in an era of rationing by patients WITH insurance.  Like the 50 year-old I saw a few weeks ago having a heart attack for 5 days. FIVE.  (3/5)

— Dr. Rob Davidson (@DrRobDavidson) December 9, 2019
Our Famously Free Press
"7,700 people have lost their jobs so far this year in a media landslide" [Business Insider]. "In the past month, layoffs and cuts have hit Gannett, the CBC, and Highsnobiety, bringing the total number of media layoffs in 2019 above 7,700, according to Business Insider's tally. The latest cuts followed layoff and buyout announcements at BuzzFeed, Verizon, Vice Media, and Disney. For comparison, it's estimated that some 5,000 media jobs were cut from the market from 2014 to 2017."
"McClatchy Goes Digital to Ward Off 'Ghost Papers'" [Bloomberg]. "Although they've had their share of layoffs, McClatchy's 30 media properties, which include the Miami Herald, the Kansas City Star and the Fort Worth Star-Telegram, are not ghost papers…. McClatchy has reduced its debt from $5 billion to $700 million and has pushed off further payments to 2026. McClatchy family members haven't received a dividend in a decade. And it is negotiating with the Pension Benefit Guaranty Corp. to take over its pension, which holds $1.3 billion in assets. These three moves — assuming the latter happens — will free up the cash McClatchy needs. To do what, exactly? [CEO Craig Forman's] goal is to complete a digital transformation that will allow McClatchy to thrive again by going from a business that relies primarily on advertising to one that relies mainly on digital subscribers, just as the New York Times and the Washington Post have done so successfully. That may sound obvious, but no other regional chain has been able to accomplish it." • Every McClatchy paper I track is a good one. McClatchy's predecessor was Knight-Ridder, and they were the only venue to get Iraq WMDs right. So they have been punished, and the hysterical warmongering disinformation purveyors at the Washington Post and the New York Times have been richly rewarded, like the lying weasels they are. If there is a McClatchy paper in your area, consider subscribing.
Groves of Academe
"Mom to plead guilty to paying for son to cheat through Georgetown classes in college admissions scam" [CNN]. "A California woman paid over $9,000 to have a person affiliated with Rick Singer's college counseling business take online classes for her son so he could graduate Georgetown University…. Littlefair is the 53rd person to be charged in the sprawling college admissions scam first announced in March. Singer was the mastermind of a brazen scheme to cheat on standardized tests and bribe college coaches in order to help wealthy parents game the admissions system. He has pleaded guilty to several charges and has been cooperating with prosecutors."
Class Warfare
"Why MBAs Are Thriving Everywhere but America" [Bloomberg]. "At a glance the MBA might appear to be in trouble. Applications worldwide to advanced business programs dropped 6.9% this year, according to the Graduate Management Admission Council (GMAC), which administers the GMAT test, a key benchmark for prospective students. But the world outside America tells a very different story. Two-thirds of European full-time MBA programs reported an increase in applications in 2019, with a similar number in Asia reporting growth, the GMAC data show…. Non-U.S. students who might ordinarily flock to the prestigious American programs are turned off by the Trump administration's hostile environment for immigrants, supporting universities in their home countries. And a broader shift in the base of power toward emerging economies, coupled with countries like China engaging more on the global stage, makes outward-facing MBA programs more popular than ever." • Great. Let the MBAs run somebody else's economy, for a change.
"What if the foundational theories about how to run a company have been corrupted?" [Quartz]. For example: "After digging through the archives at HBS, [professors Todd Bridgman and Stephen Cummings] discovered that Wallace Donham, the former dean who popularized the case study beginning in the 1920s, later decided it was too limited in scope. In reading Donham's writing and his correspondence with the philosopher Alfred North Whitehead, in particular, it became clear to the researchers that Donham sincerely believed the case study's decision-forcing exercise—designed to channel students' mental energy toward hypothetically improving profits at a single business—was too indifferent to societal consequences and equality among workers."
* * *
"UCSC grad students strike, saying they will withhold grades until given a raise to afford housing" [Santa Cruz Sentinel]. "Saying they cannot afford the cost of living in Santa Cruz, a number of UC Santa Cruz graduate students are engaging in an unauthorized strike — and plan to withhold students' grades until given a raise. A group of graduate students announced Sunday they are demanding a $1,412 monthly raise. The raise would serve as a cost-of-living adjustment that accounts for the higher cost of housing in the Santa Cruz rental market compared to their peers at UC Riverside, according to the students. The strike coincides with the end of UCSC's fall quarter, with students' grades due Dec. 18. Until they receive the raise, the graduate students say they won't submit those grades as part of their teaching assistant duties. Research assistants participating in the strike were planning to refuse additional work."
"File an Information Request with Every Grievance" [Labor Notes]. "It is a good practice to attach an information request to each grievance. Additional requests may be made based on the material initially provided or on employer contentions during the grievance. Continuous requests add leverage for the union. Over time, managers come to understand that if they violate the contract, they will be hit not only by a grievance but also by enforceable demands for sizable amounts of data, often including sensitive records. Whenever possible, demand correspondence between the employer and involved parties. In a grievance over subcontracting, for example, ask for letters, emails, and text messages between the employer and the subcontractor. Following grievance meetings, review the employer's arguments and demand that the employer back up its contentions." • News you can use!
"There's A New Kind Of Inequality. And It's Not About Income" [NPR]. No, of course not. "Global inequality is now more about disparities in opportunity than disparities in income." Something Clinton might have said. This isn't new at all.
Adding my little bit on Volcker:
"Look," #Volcker said, "your constituents are unhappy, mine aren't."

Most teachable political economy of monetary policy quote, from Greider's 'Secrets of the Temple'. pic.twitter.com/PqWXi6YMUc

— Benjamin Braun (@BJMbraun) December 9, 2019
News of the Wired
"The artificial skin that allows robots to feel" [CNN]. "Scientists last month unveiled an artificial skin that enables robots to feel and respond to physical contact, a skill that will be needed as they come in increasingly close contact with people… But if robots end up working more closely with their fleshy colleagues, one concern is how they will interact safely." • "Fleshy colleagues." Maybe I should have filed this under "Class Warfare." Useful for the Jackpot, though, assuming robots can get their other issues sorted.
"L.A. Affairs: I started online dating at 85 (but said I was 75!)" [Los Angeles Times]. "After months of widowhood — after consoling family and friends had scattered back to their own lives, and the casserole dishes were empty, and I couldn't take another minute of TV programs written for the intelligence of a 2-year-old — I decided to give 'it' a try." • Months!
"The most effective form of exercise isn't 'exercise' at all" [Quartz]. "Our paper, published today in the British Journal of Sports Medicine, shows this type of regular, incidental activity that gets you huffing and puffing is likely to produce health benefits, even if you do it in 30-second bursts, spread over the day. In fact, incorporating more high-intensity activity into our daily routines—whether that's by vacuuming the carpet with vigor or walking uphill to buy your lunch—could be the key to helping all of us get some high quality exercise each day. And that includes people who are overweight and unfit." • Big if true. I'm no gym rat.
* * *
Readers, feel free to contact me at lambert [UNDERSCORE] strether [DOT] corrente [AT] yahoo [DOT] com, with (a) links, and even better (b) sources I should curate regularly, (c) how to send me a check if you are allergic to PayPal, and (d) to find out how to send me images of plants. Vegetables are fine! Fungi and coral are deemed to be honorary plants! If you want your handle to appear as a credit, please place it at the start of your mail in parentheses: (thus). Otherwise, I will anonymize by using your initials. See the previous Water Cooler (with plant) here. Today's plant (taunger):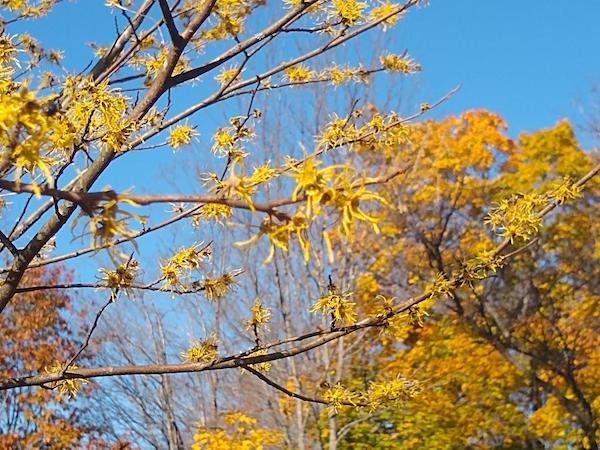 taunger writes: "Witch hazel blossom with changing leaves background."
credit

* * *
Readers: Water Cooler is a standalone entity not covered by the annual NC fundraiser. So if you see a link you especially like, or an item you wouldn't see anywhere else, please do not hesitate to express your appreciation in tangible form. Remember, a tip jar is for tipping! Regular positive feedback both makes me feel good and lets me know I'm on the right track with coverage. When I get no donations for five or ten days I get worried. More tangibly, a constant trickle of donations helps me with expenses, and I factor in that trickle when setting fundraising goals:
Here is the screen that will appear, which I have helpfully annotated.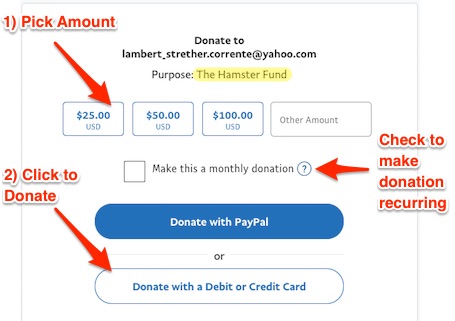 If you hate PayPal, you can email me at lambert [UNDERSCORE] strether [DOT] corrente [AT] yahoo [DOT] com, and I will give you directions on how to send a check. Thank you!