By Lambert Strether of Corrente.
I'm going to take the object of inquiry for this (and other) posts as the biosphere (as opposed to "the environment," ecology, "the planet," Earth, or a personified Earth, Gaia; possibly even "Nature" (though aren't the stars part of Nature?). There are probably better definitions, but Wikipedia's will do for now:
The biosphere (from Greek βίος bíos "life" and σφαῖρα sphaira "sphere") also known as the ecosphere (from Greek οἶκος oîkos "environment" and σφαῖρα), is the worldwide sum of all ecosystems. It can also be termed the zone of life on Earth, a closed system (apart from solar and cosmic radiation and heat from the interior of the Earth), and largely self-regulating. By the most general biophysiological definition, the biosphere is the global ecological system integrating all living beings and their relationships, including their interaction with the elements of the lithosphere, geosphere, hydrosphere, and atmosphere. … In a general sense, biospheres are any closed, self-regulating systems containing ecosystems.
(The importance of the lithosphere — litho, stone — will become apparent shortly.) When we say "climate change," or "global warming," or even the Jackpot, we are talking about processes that occur wihin the "closed, self-regulating system" of the biosphere, as opposed to forces outside it (modulo sunspots, comets, etc.).
I'll take as a given the conclusion of the recent Intergovernmental Panel on Climate Change (IPCC) report, "Global Warming of 1.5°C," as expressed in the Summary for Policymakers (PDF):
(CDR) on the order of 100–1000 GtCO2 over the 21st century. CDR would be used to compensate for residual emissions and, in most cases, achieve net negative emissions to return global warming to 1.5°C following a peak (high confidence). CDR deployment of several hundreds of GtCO2 is subject to multiple feasibility and sustainability constraints (high confidence). Significant near-term emissions reductions and measures to lower energy and land demand can limit CDR deployment to a few hundred GtCO2 without reliance on bioenergy with carbon capture and storage () (high confidence).
Inside Climate News translates:
"Given our current knowledge, ," said Kelly Levin, a senior associate at the World Resources Institute.
I'll also take as a given that policies and systemic changes that limit globalwarming to the IPCC target — "1.5°C with limited or no overshoot" — are very good for our children and grandchilden (and conversely that policies and systemic changes that do not are very bad, so climate change denialists don't @ me.)
You will have noticed that I helpfully underlined the acronym "BECCS" in the quoted material from the IPCC. BECCS figures largely in the pathways to 1.5° C illustrated by the IPCC, as shown in the following figure:
Figure 1: BECCS Pathways to 1.5° C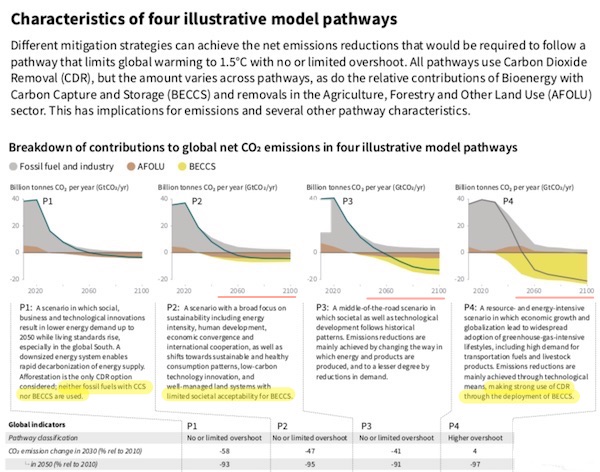 So, if you take these pathways as representative of IPPC recommendations, you can see that the IPCC, in every pathway but the first, is betting the farm — or rather, the biosphere — on BECCS. So, what is BECCS?
What is BECCS?
The Monthly Review (of all places) has what I think is the most lucid definition:
Bioenergy with carbon capture and storage (BECCS), a form of geoengineering, is the favored removal technology included in the [IPCC] model inputs. Bioenergy refers to the use of crops to produce energy when burned, such as wood chips from the forests in Louisiana being shipped to the UK to create electricity in the Drax power station. Carbon capture and storage is the process of stripping CO2 from the waste gases at the time of combustion and then compressing it into a liquid for long-term underground storage. Theoretically, the BECCS process removes some amount of CO2 from the atmosphere that has been converted to plant material through the process of photosynthesis.
Or translated into a simple visual form by the European Academies' Science Advisory Council (EASAC):
Figure 2: BECCS Conceptualized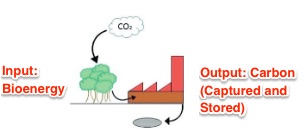 At this point something akin to "spidey sense" or code smell kicks in for me. Look at Figure 1 again. Common sense and observation tell us that the biosphere is not composed of linear input-output devices; it is not a set of clean functions with no side effects, but a complex web of feedback loops and consequences, some intended, many if not most not. See Figure 3:
Figure 3: BECCS Reonceptualized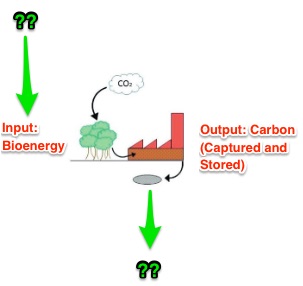 So we are entitled, at the very least, so look for inputs to the inputs, as it were, and outputs from the outputs. And if we do that, we immediately discover problems.
BECCS Input Problems: Huge Plantations of Monocultural Biomass
BECCS is going to require a lot of land for a lot of crops. First, let's look at the requirements for land. Again from the EASAC:
Given the need to remove several gigatonnes of CO22 from the atmosphere using BECCS, very large amounts of biomass would be required. In their 2015 review of [Negative Emission Technology (NET) like carbon removal], the National Academy of Sciences (National Research Council, 2015) assessed the land, water and nutrient requirements of dedicated energy crops. They estimated that producing 100 EJ/year (EJ, exajoule: 1018 joules) (approximately 20% of global energy production) could require up to 5% of the current land surface (excluding Greenland and Antarctica) – 22 – on the assumption that approximately 10 tons of dry biomass are produced per hectare annually.

22 500 million hectares: 1.5 times the size of India.
That's a lot of land. Where does it come from? That's a problem. From Nasim Pour's 2018 thesis, "BECCS: Bioenergy with Carbon Capture and StorageSustainability, Challenges,and Potential" (PDF):
Most assessments for sustainable bioenergy crop production use abandoned agriculturalland, degraded land, marginal land and waste land unused agricultural lands, which is estimated to be between 320 and 580 Mha of low productivity land. Chum et al. argued that although using marginal lands for bioenergy production is often seen as an option to avoid land use change, its low productivity, long distance to bioenergy plants, loss of biodiversity and the competitive use of land by the local communities, could be a challenge. In addition, remoteness of marginal lands and their long distance from the centralised bioenergy facilities may result in logistic and economic challenges.
So it's not like we can simply turn the subcontinent of India into a sacrifice zone for biomass. And what if we did? To begin with — at least under current politico-economic constraints — we'd grow our biomass on plantations as monoculture. (Leaving aside the notion that biomass plantations will be in direct competion with food crops for arable land, moncultures are not resilient. Take for example the eucalyptus trees of Portugal, imported to be used for as a cash crop for paper and pulp. (Hello, Unorganized Territories!) From Geoengineering Monitor, "Fire and Plantations in Portugal":
2017 in Portugal will be remembered for extreme heat waves, severe drought, and catastrophic forest fires. Half a million hectares of land burned, equivalent to 5 percent of the national territory the greatest yearly total in the country's history. [Portugal] has more land planted with eucalyptus than any other EU country. Concentrated in the northern and central regions, roughly 10 percent of Portugal's land area is planted with Eucalyptus globulus, an exotic, highly invasive, fast-growing subtropical tree…. The harm caused by fires in Portugal in 2017 was unprecedented. On June 17, 64 people lost their lives near Pedrogão Grande, in the district of Coimbra, central Portugal, in what has been described as Europe's first "firestorm." Climatic conditions conspired to create an inferno that eventually covered almost 50,000 hectares in one fire alone. In the days before the fire, temperatures had reached over 40 degrees during a heat wave, with much of the country already experiencing severe to extreme drought conditions. A dry lightning storm ignited multiple fires, and strong winds quickly spread the fires across a huge area. The extreme heat wave in Southern Europe in June 2017 has been clearly linked to climate change, with researchers finding that the conditions in Portugal were ten times more likely to have occurred due to global warming. Fires raged throughout the summer, culminating in a second firestorm on October 15, in which another 45 people lost their lives. This time, Portugal's burned area doubled in size overnight, with fires sweeping across huge areas of central and northern Portugal [Sound familiar?] .
OK, you say, we'll plant trees that don't catch on fire, even with high(er) winds and hot(ter) temperatures. Fine, but monocultures are also not resilient against birds, bugs, fungus, bacteria, viruses, you name it, because when one individual goes, they all go (absent toxic chemicals from Monsanto, and so forth.). Not enough land, bio-energy crops that could end up like your tomatoes when blight hits. So the input site of BECCS looks like an enormous and extremely vulnerable single point of failure. Now let's turn to the output side, and see if BECCS fares any better.
BECCS Output Problems: Will Captured Carbon Won't Stay Captured
You will recall that BECC compresses CO2 "into a liquid for long-term underground storage." Do we have a precedent for long-term underground storage of liquids, succesful or no? Yes: Injection wells for fracking wastewater. Unfortunately for our comfort with BECCS, there are two major problems. The first is in the lithosphere. From Science:
Injection wells are designed to hold the wastewater created by drilling many wells—for that reason, far more water goes into a deep injection well than into a fracked gas or oil well. The researchers found that the pressure created by pumping millions upon millions of gallons underground seemed to put extra pressure on nearby fault lines—so much so that when major quakes struck thousands of miles away, like the March 2011 quake in northern Japan that caused an epic tsunami, the resulting seismic waves could trigger swarms of small quakes near the injection sites. It's the injection wells—not the fracking per se—that are specifically linked to those temblors in this study.
Are you comfortable that CO2 won't get back into the biosphere through newly introduced fault lines or fractures? I'm not.
The second problem is in, well, the politico-econosphere. From Pro Publica:
A ProPublica review of well records, case histories and government summaries of more than 220,000 well inspections found that structural failures inside injection wells are routine. From late 2007 to late 2010, one well integrity violation was issued for every six deep injection wells examined — more than 17,000 violations nationally. More than 7,000 wells showed signs that their walls were leaking. Records also show wells are frequently operated in violation of safety regulations and under conditions that greatly increase the risk of fluid leakage and the threat of water contamination.
The biomass plantation, under current politico-economic constraints, will be run by profit-making entities. Are you comfortable there won't be "fluid leakage" of liquid CO2? I'm not.
In sum, BECCS may be able to capture carbon. But will it stay captured?
Why BECCS?
Why BECCS? I don't know why BECCS. (It seems to have originated with the Swedish Pulp and Paper Industry. In Maine, we called that "saving the mill." It rarely worked.) Take a look at this figure, again from the IPCC "Summary for Policymakers":
Figure 4: BECCS in Context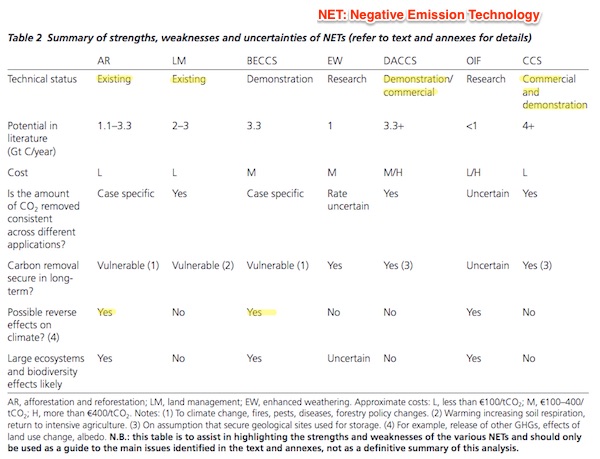 As you can see, afforestation and reforestation (AR) and LM (Land Management) are "existing" approaches, and Direct air capture and carbon storage (DACCS) and Carbon capture and storage (CCS) are demonstrations or commercial. Only BECCS is purely at the demonstration stage. So, why BECCS? I confess myself baffled.
Conclusion
Of course, it could be that we have to bet on BECCS because it's the only pathway to the 1.5° requirement (leaving consideration of instutional issues at IPCC and the modeling paradigm in general for another day). Scientists, however, have not formed a consensus on that point. From "Natural climate solutions," Proceedings of the National Academy of Sciences of the United States of America (PNAS), October 2017:
Better stewardship of land is needed to achieve the Paris Climate Agreement goal of holding warming to below 2 °C; however, confusion persists about the specific set of land stewardship options available and their mitigation potential. To address this, we identify and quantify "natural climate solutions" (NCS): 20 conservation, restoration, and improved land management actions that increase carbon storage and/or avoid greenhouse gas emissions across global forests, wetlands, grasslands, and agricultural lands. We find that the maximum potential of NCS—when constrained by food security, fiber security, and biodiversity conservation—is 23.8 petagrams of CO2 equivalent (PgCO2e) y−1 (95% CI 20.3–37.4). This is ≥30% higher than prior estimates, which did not include the full range of options and safeguards considered here. About half of this maximum (11.3 PgCO2e y−1) represents cost-effective climate mitigation, assuming the social cost of CO2 pollution is ≥100 USD MgCO2e−1 by 2030. Natural climate solutions can provide 37% of cost-effective CO2 mitigation needed through 2030 for a >66% chance of holding warming to below 2 °C. One-third of this cost-effective NCS mitigation can be delivered at or below 10 USD MgCO2−1. Most NCS actions—if effectively implemented—also offer water filtration, flood buffering, soil health, biodiversity habitat, and enhanced climate resilience. Work remains to better constrain uncertainty of NCS mitigation estimates. Nevertheless, existing knowledge reported here provides a robust basis for immediate global action to improve ecosystem stewardship as a major solution to climate change.
I suppose the "natural climate solutions" could be subsumed under the first pathway in FIgure 1; but my larger point is that we already have enormously successful and proven systems of carbon capture and sequestration already; they are called forests, and soil. Maybe go to work there?[1] BECCS strikes me as a deus ex machina, and I'm not the only one to feel that way. Once more from the European Academies' Science Advisory Council:
One factor possibly contributing to a lack of urgency may be the belief that somehow 'technology' will come to the rescue. The present report shows that such expectations may be seriously over-optimistic… Whether consciously or subconsciously, thinking that technology will come to the rescue if we fail to sufficiently mitigate may be an attractive vision. If such technologies are seen as a potential fail-safe or backup measure, they could influence priorities on shorter-term mitigation strategies, since the promise of future cost-effective removal technologies is politically more appealing than engaging in rapid and deep mitigation policies now. Placing an unrealistic expectation on such technologies could thus have irreversibly damaging consequences on future generations in the event of them failing to deliver. This would be a moral hazard which would be the antithesis of sustainable development.
It feels to me like betting the biosphere on BECCS is unlikely to pay off. And waiting for it to do so is akin to planning to win the lottery as the way to pay your bills.
* * *
As a concluding sidebar, despite my breezy and polemic tone, I know that global warming — or global weirding, if you want to factor in stuff like insects disappearing — is important; it's an evolutionary chokepoint, and I feel we should get as many people as possible through it (and not just elites, as the wealthy would have it, or the deserving, as professionals would have it.) So I welcome commentary from the many readers who are more expert on convulsions in the biosphere than I am. If BECCS is a good bet, I'll be happy. But I don't think it is. Thank you.
NOTES
[1] One obvious task for a Green New Deal.