By Lambert Strether of Corrente.
Patient readers, this Water Cooler will be a little short, partly because I have to finish a post on impeachment, and partly because I had a household emergency to deal with. –lambert
Politics
"But what is government itself, but the greatest of all reflections on human nature?" –James Madison, Federalist 51
"They had one weapon left and both knew it: treachery." –Frank Herbert, Dune
Here is a second counter for the Iowa Caucus, which is obviously just around the corner:
* * *
2020
Alert reader dk (not to be confused with DK) is in the process of developing the following interactive chart.

We have polls released over the weekend, so Ipsos is (are) the latest Dem Primary Polling as of 12/9/2019, 12:00 PM EST. Biden leads, Sanders strong second, Warren five points back (!), Buttigeig trailing. This seems to be an established pattern (or, if you prefer, narrative). On to the next debate (December 19), and Iowa:

This is still the latest result, as of 12/9/2019, 12:00 PM EST:

CAVEAT I think we have to track the polls because so much of the horse-race coverage is generated by them; and at least with these charts we're insulating ourselves against getting excited about any one poll. That said, we should remember that the polling in 2016, as it turned out, was more about narrative than about sampling, and that this year is, if anything, even more so. In fact, one is entitled to ask, with the latest Buttigieg boomlet (bubble? (bezzle?)) which came first: The narrative, or the poll? One hears of push polling, to be sure, but not of collective push polling by herding pollsters. We should also worry about state polls with very small sample sizes and big gaps in coverage. And that's before we get to the issues with cellphones (as well as whether voters in very small, very early states game their answers). So we are indeed following a horse-race, but the horses don't stay in their lanes, some of the horses are not in it to win but to interfere with the others, the track is very muddy, and the mud has splattered our binoculars, such that it's very hard to see what's going on from the stands. Also, the track owners are crooked and the stewards are on the take. Everything's fine.

I think dk has started a really neat project, and in the near future we'll seek your feedback (within reason) for the tool "live."

* * *

Biden (D)(1): "Joe Biden's Family Has Been Cashing in on His Career for Decades. Democrats Need to Acknowledge That." [The Intercept]. "While the Democrats purse the impeachment of President Donald Trump for pressuring foreign countries to investigate Joe and Hunter Biden, they are left making an argument that is at once true and electorally and ethically compromising: What Trump did — and continues to do — was an impeachable abuse of power, and it should be considered separately from the question of what Hunter Biden did. The problem for Democrats is that a review of Hunter Biden's career shows clearly that he, along with Joe Biden's brother James, has been trading on their family name for decades, cashing in on the implication — and sometimes the explicit argument — that giving money to a member of Joe Biden's family wins the favor of Joe Biden."

Biden (D)(2): "Transcript: NPR's Full Interview With Joe Biden" [NPR]. Fun interview:

To call someone a "damn liar"? A voter? This isn't Trump, President Trump.

But he's lying! He's lying. You acknowledge what he said wasn't even true. None of the mainstream media believes any of that was true.

I think it was the tone. I think it was the tone that was off-putting to people.

My mother would say, "God love you, dear."

Truly giving zero f*cks. I think his voters like that about him.

Bloomberg (D)(1): Handy chart on buying the election:

Money spent on ads so far:

Steyer: $47M
Bloomberg: $39M (in two weeks!!!))
All other Democrats combined: $15Mhttps://t.co/YZkZ6fbAux pic.twitter.com/U2DXojGiBB
— Nate Silver (@NateSilver538) December 7, 2019

Steyer must have sent a lot of Democrat strategist kids to college, with no other real result; perhaps the same will happen to Bloomberg.

Bloomberg (D)(2): "Bloomberg: Warren and Sanders Could've Been Billionaires, Too, If They'd Worked Hard Enough" [Vanity Fair]. "'They're criticizing me for it,' Bloomberg said, explaining that he'd earned his wealth through years of hard work. 'Ask them what they're doing. Why didn't they do that? They had a chance to go out and make a lot of money.' Bloomberg argued that his deep pockets actually mean he can't be bought, as he implied some of his rivals could. 'I'm doing exactly the same thing they're doing, except that I am using my own money,' he said. 'They're using somebody else's money, and those other people expect something from them." • Like, for example, Sanders $27-a-pop donors?

Buttigieg (D)(1): "BREAKING: As a former corporate exec who worked with McKinsey, I may be able to shed light on one of @PeteButtigieg's unnamed McKinsey clients, and why it's very significant in this campaign" [Wendell Potter, Thread Reader]. "Now what does this have to do with @PeteButtigieg? In his description of his McKinsey work, he says he worked in Michigan at a "health insurance provider… performing analytical work… identifying savings in administration and overhead costs." 4/13. To an old health insurance exec, those are code words that translate roughly to cutting costs through layoffs, restructuring, and potentially denying health coverage to those in need. 5/13″ • Read the whole thing.

Buttigieg (D)(2): "In Iowa, Pete Buttigieg faces new scrutiny over consulting work, policy ideas" [Des Moines Register]. "It's unclear whether the scrutiny over the [McKinsey] NDA or the fundraisers is widespread in Iowa. Several likely caucusgoers at a town hall at Cornell College in Mount Vernon on Saturday said they hadn't heard about either issue."

Sanders (D)(1): "Watch: Bernie Sanders meets with the Register's editorial board" (video) [Des Moines Register]. •

Sanders (D)(2): Yet another health care horror story:

A nurse introducing @BernieSanders here in Iowa Falls says that the local hospital, Hanson Family Hospital, has stopped delivering babies. Families must go out of town to deliver. Audience members gasp when she adds that the head of the hospital network made $13m last year.
— Cara Korte (@CaraKorte) December 7, 2019

Sanders (D)(3): "The "Bernie Blackout" Is in Effect — And It Could Help Sanders Win" (video) [Ryan Grim, The Intercept]. •

Warren (D)(1): "Warren made $1.9 million from corporate and financial legal work" [Politico]. "Elizabeth Warren — under pressure from rival Pete Buttigieg to reveal her past compensation from corporate clients — announced Sunday that she's received $1.9 million from private legal work since 1986. The Massachusetts senator and former Harvard professor made the disclosure amid a tit-for-tat with Buttigieg over previous career assignments: Her legal representation of corporations, and his work at the corporate consulting firm McKinsey. Vying for pole position in Iowa, Warren and Buttitieg have sought to put one another on defense by suggesting the other had something to hide." • A little less than $60K a year, which isn't all that exciting. Presumably, somebody is digging into her filing.

* * *

"Warren and Biden lose ground, Sanders moves ahead in California's shifting 2020 Democratic race" [Los Angeles Times]. "Sanders is in the nominal lead, as the first-choice pick of 24%; Warren is the first pick of 22%. That is a big change from September, when she led the field with 29%. Biden is the first choice of 14%, down six points from September. Buttigieg is preferred by 12%, up six points from September. The poll was taken before California Sen. Kamala Harris dropped out of the race."
Impeachment
UPDATE "Inspector general's report on Russia probe: key takeaways" [Politico]. "The Crossfire Hurricane team initially was waived [sic] off of applying for a Foreign Intelligence Surveillance Act warrant for Carter Page by high-level Justice Department officials. The officials said the team needed more evidence first that Page was an agent of a foreign power. But after receiving Steele's report, which detailed alleged coordination between Page and the Kremlin in the summer of 2016, the team asked again and were allowed to move forward. While the agents did not have corroborating information to support Steele's reporting, Horowitz found, he also 'did not find documentary or testimonial evidence that political bias or improper motivation influenced the FBI's decision to seek FISA authority on Carter Page.'" • So Democrat oppo was laundered through the FISA court, but only with the best of intentions?

UPDATE Hoo boy:

NEW: John Durham says they "do not agree with some of the report's conclusions as to predication and how the FBI case was opened." pic.twitter.com/GfKezyK9kV

— Ryan J. Reilly (@ryanjreilly) December 9, 2019

This, I think, was to be expected, because Durham's investigation has broader scope.
Stats Watch
There are no statistics of note today.
Employment Situation: "The Jobs Numbers: Who's Hiring in America—and Who's Not" [Bloomberg]. "U.S. employers added 266,000 jobs in November, and the nation's unemployment rate fell to 3.5 percent, according to data released Friday by the Labor Department. Meanwhile, average hourly pay for workers rose 3.1 percent from a year earlier, to $28.29 from $27.43…
Banking: "'I lost my £193,000 inheritance – with one wrong digit on my sort code'" [Guardian]. "It is the stuff of financial nightmares. You get one digit wrong on the sort code, and send a huge amount of cash to the wrong person. They refuse to return it, and the bank washes its hands of the matter, blaming you for the mistake. That's what happened to Peter Teich in a case that reveals shocking lapses in Britain's banking system. Just hours after a solicitor sent the Cambridge resident his £193,000 inheritance after the death of his 100-year-old father, it became apparent that a terrible mistake had been made." • Once again, paging Clive. The story does have a happy ending, although initially Barclay's made "a small token gesture of £25."
Commodities: "As Shale Boom Stalls, Houston Looks to Health Care for Job Growth" [Bloomberg]. "The civic group forecasts 4,000 oilfield jobs will disappear by the end of next year. Although the Permian Basin and Eagle Ford Shale regions are hundreds of miles away, Houston is the locus of corporate and finance operations that direct and support the drilling. Cutbacks are expanding to investment banks and trucking firms as investors increase pressure on explorers to tighten budgets…. Almost 60 million square feet of office space is empty, a vacancy rate of more than 26%, according to the report."
The Bezzle: "State Police: cruiser struck by Tesla 3 in "autopilot" mode" [Fox61]. "As [the troopers] waited for a tow truck, a 2018 Tesla Model 3, bearing CT Reg. "MODEL3", struck the rear of one cruiser and then continued north striking the disabled motor vehicle. The Tesla continued to slowly travel northbound before being stopped several hundred feet ahead by the second Trooper on scene… The driver of the Tesla stated that he had his vehicle on "auto-pilot", and explained that he was checking on his dog in the back seat prior to hitting the collision." •
* * *
Today's Fear & Greed Index: 69 Greed (previous close: 70 Greed) [CNN]. One week ago: 74 (Extreme Greed). (0 is Extreme Fear; 100 is Extreme Greed). Last updated Dec 9 at 1:02pm. Stuck.
Rapture Index: Closes unchanged [Rapture Ready]. Record High, October 10, 2016: 189. Current: 182. Remember that bringing on the rapture is a good thing. I wonder when, in 2020, the index will start flirting with 190 again. So far, the latest impeachment push hasn't affected the Index.
The Biosphere
"The World Solved the Ozone Problem. It Can Solve Climate Change." [Editorial Board, New York Times]. "The bottom line is that the world, confronted with two dire threats to the earth's fragile atmosphere, found two planetary responses with positive outcomes. The ozone layer is healing. That's worth remembering as we struggle, often despairingly, to find common ground in the battle against climate change. Compared with the manifold complexities of global warming, dealing with ozone depletion was, in fact, relatively simple. But the key point is that it happened, and it's worth asking why the world has not responded with similar resolve in dealing with the main global warming gases like carbon dioxide, about which we have known a lot for a long time." • As a meliorist, I agree (for some definition of "solve"). But maybe 50 years ago we weren't run by elites whose first thought would have been to put a meter on the ozone layer, instead of just saving it.
"Permafrost Hits a Grim Threshold" [Counterpunch]. "For tens of thousands of years the Arctic's carbon sink has been a powerful dynamic in functionality of the Earth System. However, that all-important functionality has been crippled and could be permanently severed. According to new research based upon field observations conducted from 2003 to 2017, a large-scale carbon emission shift in the Earth System has occurred. The 'entire Arctic' now emits more carbon than it absorbs, a fact that can only be described as worse than bad news. 'Given that the Arctic has been taking up carbon for tens of thousands of years, this shift to a carbon source is important because it highlights a new dynamic in the functioning of the Earth System,' says Susan Natali at Woods Hole Research Center in Massachusetts (Source: Thawing Permafrost Has Turned the Arctic Into a Carbon Emitter, NewScientist, Oct. 21, 2019)."
"Oceans losing oxygen at unprecedented rate, experts warn" [Guardian]. "Dead zones – where oxygen is effectively absent – have quadrupled in extent in the last half-century, and there are also at least 700 areas where oxygen is at dangerously low levels, up from 45 when research was undertaken in the 1960s…. The International Union for the Conservation of Nature presented the findings on Saturday at the UN climate conference in Madrid, where governments are halfway through tense negotiations aimed at tackling the climate crisis."
"How to live with mega-fires? Portugal's feral forests may hold the secret" [National Geographic]. "Portugal, like the wider Mediterranean, was suffering from the confluence of two long-term trends: a sweeping abandonment of a rural landscape that had become economically irrelevant, coupled with a widespread governmental unwillingness to live with fire. 'And if your aim is to exclude fire from this ecosystem," he says, "you are doomed to fail.' … At the turn of the century Portugal had 2 percent tree cover; by the late 20th century it had shot up to nearly a third. The reason, Oliveira says, was this: In the 1950s, synthetic materials made from petroleum replaced plant and animal fiber, and chemical solvents and fertilizers made from petroleum and inorganic chemicals replaced forest products like pitch, peat, or pine needles, Factory farming replaced meat from hunting or domestic animals— cows, sheep, pigs goats—pastured in the forest. As rural people withdrew from the land that once filled their basic needs, the trees returned, and with them came fire." • So Portugal's problems are not California's.
"Florida Keys Deliver a Hard Message: As Seas Rise, Some Places Can't Be Saved" [New York Times]. "The law generally requires local governments to maintain roads and other infrastructure, because failure to do so will reduce the property value of surrounding homes, according to Erin Deady, a lawyer who specializes in climate and land-use law and is a consultant to the county on adapting to rising seas. But local officials retain the right to decide whether or not to upgrade or enhance that infrastructure. What's unclear, Ms. Deady said, is whether raising a road to prevent it from going underwater is more akin to maintaining or upgrading. That's because no court has yet ruled on the issue." • On the one hand, obviously. On the other, I am extremely leery of 10%-ers and 1%-ers making these decisions, because I think lifeboat thinking will be just another version of austerity.
Water
"Recent UA study confirms groundwater pumping is drying up Arizona rivers" [AZ Central]. "Groundwater pumping has caused stream flow in U.S. rivers to decline by as much as half over the last century, according to new research by a University of Arizona hydrologist that strengthens the connection between groundwater and surface water. The research confirms that groundwater losses, primarily due to pumping water from below the surface for agricultural and municipal uses, decrease the overall surface water supply and have caused some smaller streams to dry up. This has a downstream effect that influences water levels far beyond the groundwater pumping location." • With case studies of the Santa Cruz and San Pedro rivers.
Groves of Academe
"Indicted USC Administrator Involved Colleagues In Her Private Dealings" [LAist]. "When the "Varsity Blues" admissions bribery scandal broke in March, the University of Southern California declared itself as a victim of fraud, asserting it had no reason to believe that senior administrators were aware of the wide-ranging scam, which helped unqualified students gain entry to USC by way of bogus application materials. Now, new details about Donna Heinel, the senior associate athletic director who prosecutors say was a key conduit in the scheme, shed light on just how expansive her role within the athletics department was — and on whether USC monitored her activities closely enough…. Heinel ran a thriving side business that was tightly entwined with her duties at USC and involved more athletics department personnel than has been publicly known… The private business, called Clear the Clearinghouse, profited from events it hosted on university property and featured USC coaches as speakers, according to documents and interviews. At least one coach who spoke at forums organized by Heinel said he thought he was speaking at university events, not giving talks on behalf of a private business. These revelations raise questions not only about how Heinel's and Garfio's consulting work may have blurred the lines between their private business and their university affiliation — but also about how rigorously USC monitored financial activity inside its athletics office." • I'm sure Heinel's salary was not low. She is, after all, an administrator.
Guillotine Watch
For Saturnalia:
see your local antifa dealer for attractive offers pic.twitter.com/MbRVMkhQNb
— ?IPM ???⛄️??❄ (@IPM_HQ) December 4, 2019
Class Warfare
Once more, Uber leads the way:
Gender neutral but class segregated washrooms is woke neoliberalism epitomized https://t.co/SWwjlziaSH
— Christo Aivalis (@christoaivalis) December 5, 2019
"Climate Disaster Is a Labor Issue. Here's Why." [Kim Kelly, Teen Vogue (!)]. "Make no mistake: The coal miner and pipeline worker know about the environmental costs of their labor, but when faced with the choice of feeding their kids or putting down their tools in the name of saving the planet, the pressures of capitalism tend to win; their choice is made for them. That is why it's so important to dismantle the structures that force these impossible decisions and offer instead real, equitable alternatives to those whose livelihoods depend on industries that harm the earth."
News of the Wired
"A Woman Wore A "Hail Satan" T-Shirt On A Plane. American Airlines Forced Her To Change Or Get Off The Plane." [Buzzfeed]. "After she'd gotten settled in her seat and was happily reading a copy of New York magazine, a crew member approached her and told her she had to change or get off the plane. 'He said, 'Our crew has found your shirt to be offensive," said Goyal. 'We initially just thought it was a joke. But he repeated the directive, and there was another female crew member who was behind him with her arms crossed looking very angry.' Goyal and her husband refused to get off the plane. 'The man said, 'Your shirt is offensive. Do you know what that means?" Goyal said. 'I said, 'I'm a foreign-born minority woman, I understand 'offensive,' and this shirt is not offensive…. Later, Goyal told BuzzFeed News the airline had called and offered to refund both tickets, and assured her that the investigation remained ongoing." • Good.
* * *
Readers, feel free to contact me at lambert [UNDERSCORE] strether [DOT] corrente [AT] yahoo [DOT] com, with (a) links, and even better (b) sources I should curate regularly, (c) how to send me a check if you are allergic to PayPal, and (d) to find out how to send me images of plants. Vegetables are fine! Fungi and coral are deemed to be honorary plants! If you want your handle to appear as a credit, please place it at the start of your mail in parentheses: (thus). Otherwise, I will anonymize by using your initials. See the previous Water Cooler (with plant) here. Today's plant (ChiGal):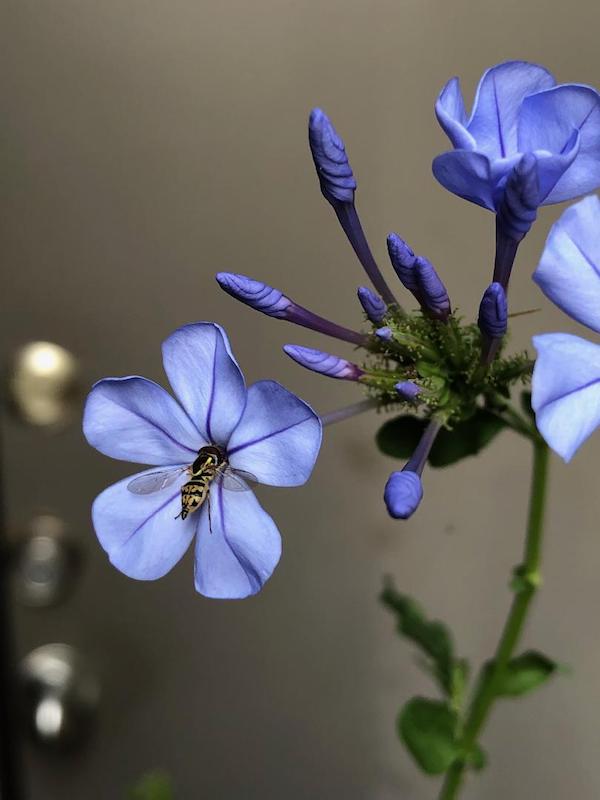 ChiGal: "One thing, the iPhone camera beats Motorola hands down. A benefit of de-googling." Gorgeous! Maybe I should run a "bee and flower" contest next summer. I find that shot very difficult to take!
* * *
Readers: Water Cooler is a standalone entity not covered by the annual NC fundraiser. So if you see a link you especially like, or an item you wouldn't see anywhere else, please do not hesitate to express your appreciation in tangible form. Remember, a tip jar is for tipping! Regular positive feedback both makes me feel good and lets me know I'm on the right track with coverage. When I get no donations for five or ten days I get worried. More tangibly, a constant trickle of donations helps me with expenses, and I factor in that trickle when setting fundraising goals:
Here is the screen that will appear, which I have helpfully annotated.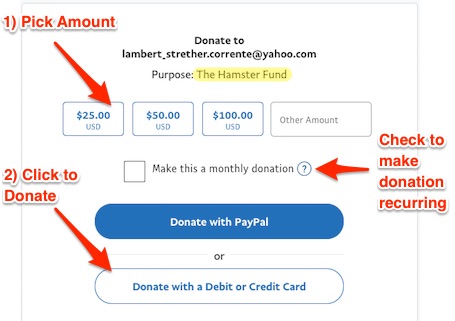 If you hate PayPal, you can email me at lambert [UNDERSCORE] strether [DOT] corrente [AT] yahoo [DOT] com, and I will give you directions on how to send a check. Thank you!