Politics
"But what is government itself, but the greatest of all reflections on human nature?" –James Madison, Federalist 51
"They had one weapon left and both knew it: treachery." –Frank Herbert, Dune
Here is a second counter for the Iowa Caucus, which is obviously just around the corner:
* * *
2020
Alert reader dk (not to be confused with DK) is in the process of developing the following interactive chart.

Nationally, we have new polls from Morning Consult and Quinnipiac of 12/17/2019, 12:00 PM EST. Biden increases his lead (!), Sanders strong second, Warren drops, Buttigeig drops, Bloomberg up, though still flirting with the bottom feeders. The top four seem to be an established pattern (or, if you prefer, narrative). On to the next debate (December 19), and Iowa:

And the numbers

I confess to a certain amount of schadenfreude at Biden's continued lead; nobody thinks it can last, yet it lasts; nobody understands why, but nobody even tries beat sweetening to explain it ([hums] " … You in mid-air… ").

CAVEAT I think we have to track the polls because so much of the horse-race coverage is generated by them; and at least with these charts we're insulating ourselves against getting excited about any one poll. That said, we should remember that the polling in 2016, as it turned out, was more about narrative than about sampling, and that this year is, if anything, even more so. In fact, one is entitled to ask, with the latest Buttigieg boomlet (bubble? (bezzle?)) which came first: The narrative, or the poll? One hears of push polling, to be sure, but not of collective push polling by herding pollsters. We should also worry about state polls with very small sample sizes and big gaps in coverage. And that's before we get to the issues with cellphones (as well as whether voters in very small, very early states game their answers). So we are indeed following a horse-race, but the horses don't stay in their lanes, some of the horses are not in it to win but to interfere with the others, the track is very muddy, and the mud has splattered our binoculars, such that it's very hard to see what's going on from the stands. Also, the track owners are crooked and the stewards are on the take. Everything's fine.

I think dk has started a really neat project, and in the near future we'll seek your feedback (within reason) for the tool "live."

* * *

UPDATE Bloomberg (D)(1): "'Mayors for Mike': How Bloomberg's Money Built a 2020 Political Network" [New York Times]. "As Mr. Bloomberg traverses the country as a presidential candidate, he is drawing on a vast network of city leaders whom he has funded as a philanthropist or advised as an elder statesman of municipal politics. Bloomberg Philanthropies, which has assets totaling $9 billion, has supported 196 different cities with grants, technical assistance and education programs worth a combined $350 million. Now, leaders in some of those cities are forming the spine of Mr. Bloomberg's campaign: He has been endorsed so far by eight mayors — from larger cities like San Jose, Calif., and Louisville, Ky., and smaller ones like Gary, Ind., representing a total of more than 2.6 million Americans. For all of those endorsers, Mr. Bloomberg has been an important benefactor. All have attended his prestigious boot camp at Harvard that gives the mayors access to ongoing strategic advice from Bloomberg-funded experts. More than half have received funding in the form of grants and other support packages from Mr. Bloomberg worth a total of nearly $10 million, according to a review of tax documents and interviews with all eight mayors." • That's not "Mayors for Mike," it's "Money from Mike."

UPDATE Booker (D)(1): "Cory Booker on socialism, "identity politics," and animal rights" [Vox]. Booker: "My talking about justice is not in any way a politics of identity. It's a politics of trying to create again this understanding that we're all in this together — that you cannot have a nation that's [divided] along racial lines and think that you are going to have a nation of strength economically, morally, and competitively on a global context. We're a nation that does best when we tear down walls of division or inequity and build larger coalitions. The Democratic Party is a party that does best when it revives what Jesse Jackson called the Rainbow Coalition, what many people now call the Obama Coalition." • Booker was doing pretty well, up to that point. It's absurd to compare Jackson and Obama's respective coalitions. Interesting interview, but wowsers.

Buttigieg (D)(1):

My favorite byline of all-time: "By Pete Buttigieg Special to the Review-Journal"https://t.co/Qe5C8O5NLy

— Jon Ralston (@RalstonReports) December 17, 2019

For those with long memories, John Ralston was the "journalist" who propagated the fake "chair throwing" incident attributed to Sanders supporters from Nevada 2016, and never retracted it. His online newspaper is also one of the sponsors for the February debate.

Sanders (D)(1): Cheeky:

Yes, we got the web address https://t.co/HoNu43n0g7 https://t.co/1niT9yZQ7g

— David Sirota (@davidsirota) December 17, 2019

There are times, however, when I worry that the Sanders campaign is too extremely online. We shall see!

Sanders (D)(2): Then again, perhaps Sanders has always been extremely online;

Recently found that Bernie's 2006 senate campaign website had a Flash game where he flies a biplane set to banjo music while he collects Hydrogen fuel and avoids literal fat cats.

I didn't do to well as this video attests, but the link still works!https://t.co/HP9CK4mIiv pic.twitter.com/HySkUhKmcs

— Nathan McDermott (@natemcdermott) December 16, 2019

Sanders (D)(2): "Sanders surges ahead of Iowa caucuses" [The Hill]. "Sen. Bernie Sanders (I-Vt.) is rising in the polls ahead of Thursday's pivotal debate in Los Angeles, reestablishing his standing in the top tier of Democratic contenders with the Iowa caucuses less than 50 days away…. Sanders appears to be hitting his stride at just the right moment, surging past Warren and cutting into Biden's lead in new national surveys. Sanders leads in the RealClearPolitics average of polls in New Hampshire, and is in second place in Iowa, only 3 points behind Buttigieg." • People know what I think about RCP; it's not about polling, but narrative. RCP could be seen as raising an, er, red flag.

UPDATE Trump (R)(1): "'The grand finale': Inside Trump's push to rack up political victories as impeachment looms" [Daily Progress]. "On Tuesday, President Donald Trump and House Democrats announced a new trade deal with Mexico and Canada. On Wednesday, the House passed a military authorization package that included paid parental leave for more than two million federal workers and the creation of the president's proposed Space Force. And on Thursday, top congressional negotiators unveiled a deal in principle to approve a $1.3 trillion federal spending bill for 2020 that will likely avert a government shutdown next week. By Friday, even as the House Judiciary Committee passed two articles of impeachment against Trump, the president had begun telling allies that maybe impeachment wasn't so bad after all." • Idea: Let's give history's worst monster a Space Force!

Warren (D)(1): "In a rhetorical shift, Elizabeth Warren emphasizes 'choice' on health care" [CNN]. • What a weathervane.

Warren (D)(2): "Warren reacts to Obama's remarks about female leadership" [Radio Iowa]. "A man in the Fort Madison crowd read recent comments former President Barack Obama, suggesting women are better leaders. '(Obama) said: 'Now, women, I just want you to know you're not perfect, but what I can say pretty indisputably is that you're better than us men,' a man named Joe said. Warren laughed and replied: 'Just quit there.'" • So Obama's endorsing Klobuchar?

* * *

The California ballot (1):

CALIFORNIA – How to vote for Bernie Sanders!
Your voter registration determines your action.
Follow this recipe…. pic.twitter.com/iRvCw0uNzh

— Our Revolution CCC (@ORContraCosta) December 16, 2019

The California ballot (2):

CA #Bernie2020 voters!

Watch Bill & Ida of #Ballots4Bernie break down two hot voter registration issues:

? #DMV "glitch" defaulting party affiliations to no party; &

? Notices to Vote-by-mail #NPPvoters allowing them to preorder crossover ballotshttps://t.co/53Hpotdo7e

— CA Voter Education Eowyn? (@WestCoastGadfly) December 15, 2019

Note that "American Independent Party" scam; we drew attention to it the other day.
The Debates
"Here are the 7 Democrats who qualified for this week's debate … and 8 who missed the cut" [The Courier]. • Biden, Buttigieg, Klobuchar, Sanders, Steyer, Warren, Yang.

"Democratic debate, once in turmoil, to move forward as planned after labor union reaches agreement" [ABC]. "The Democratic primary debate slated for Thursday will move forward as planned, after negotiators announced Tuesday they had reached a tentative contract agreement in a labor dispute entangling Loyola Marymount University, the site of the final matchup of the year…. The union, UNITE HERE Local 11, which announced the breakthrough, had enlisted the top-polling seven candidates qualified to participate in Thursday's face-off in their fight for better wages and benefits — with the slate of contenders announcing late last week they 'won't cross the union's picket line' to participate amid the impasse."
Impeachment
UPDATE An English major weighs in:

shall I keep the party line? Do I dare to vote "impeach"?

I shall check Cook PVI, and see if it's a reach

I have heard the donors singing, each to each

I do not think that they will vote for me

— Ariel Edwards-Levy (@aedwardslevy) December 17, 2019

UPDATE "The key number you need to remember about Trump's impeachment polls" [Chris Cilizza, CNN]. "What [the data from Bush, Clinton, and Obama] makes clear is that there are always around 3 in 10 Americans who are ready to impeach a president at any time…. There's a gap between that 30-ish percent willing to always impeach a president and the 45% who currently say that of Trump. A BIG gap.

And that's the number that matters here — whether or not Trump is impeached by the House (he will be) or removed by the Senate (he almost certainly won't be.) It's not whether the number of people supporting the impeachment and removal of Trump has dropped marginally — from 50% to 45%. It's that the number of people supportive of impeaching and removing Trump is far larger than it has been for any of the past three presidents — including one who was actually impeached!"

"Opinion: How Democrats can call the Republicans' bluff on impeachment" [Los Angeles Times]. "The time has come for congressional Democrats to call the Republicans' bluff: They should go to court to compel testimony from key members of Trump's inner circle who have firsthand knowledge of the president's dealings with Ukraine, including former national security advisor John Bolton and White House acting Chief of Staff Mick Mulvaney. These witnesses should tell the House what they know, under oath, even if that means delaying a vote on the articles of impeachment." • But the impeachment train has already left the station. The House should have done this, surely? And didn't?

UPDATE "Googled 'Impeachment' Lately? First Result Is a Bloomberg Ad" [New York Times]. "Mr. Bloomberg got this prime internet real estate by purchasing a Google search ad off the word 'impeachment.'… The Bloomberg campaign is spending an immense amount of money on Google ads — $7.5 million over roughly three weeks, according to Google's ad transparency report. The Trump campaign, for comparison, has spent $9.1 million over the course of the entire year."
Realignment and Legitimacy
UPDATE "How New Voting Machines Could Hack Our Democracy" [Jennifer Cohn, New York Review of Books]. "As we barrel toward what is set to be the most important election in a generation, Congress appears poised to fund another generation of risky touchscreen voting machines called universal use Ballot Marking Devices (or BMDs), which function as electronic pens, marking your selections on paper on your behalf. Although vendors, election officials, and others often refer to this paper as a "paper ballot," it differs from a traditional hand-marked paper ballot in that it is marked by a machine, which can be hacked without detection in a manual recount or audit. These pricey and unnecessary systems are sold by opaquely financed vendors who use donations and other gifts to entice election officials to buy them." • This is a must read. And allow me to repost this diagram (from this post). Red = hackable:

UPDATE "We have Mortally Wounded Jim Crow Program" [Greg Palast]. "It took us six years of investigating and reporting on the nationwide Jim Crow Interstate Crosscheck purge operation that cost more than 1.1 million voters of color their registrations and elected Donald Trump. But, finally, Kansas, which generates the Crosscheck secret scrub lists for other states, has agreed to kill the program. This effectively ends the entire national purge operation." • Which is very good!

* * *

"Democracy Grief Is Real" [Michelle Goldberg, New York Times]. "Lately, I think I'm experiencing democracy grief. For anyone who was, like me, born after the civil rights movement finally made democracy in America real, liberal democracy has always been part of the climate, as easy to take for granted as clean air or the changing of the seasons. When I contemplate the sort of illiberal oligarchy that would await my children should Donald Trump win another term, the scale of the loss feels so vast that I can barely process it." • Oddly, or not, "deaths of despair" by Acela riders are not statistically significant.

"What Jeremy Corbyn's Defeat Means For the Democrats, By an American Journalist Who Has Never Been to the UK" [McSweeney's Internet Tendency]. "It is dangerous to draw conclusions from the elections of a country you don't understand. But also, it's hard to ignore the fact that the defeat of Jeremy Corbyn is bad news for the campaign of Bernie Sanders, another left-wing candidate currently campaigning in a country with a different political system a mere 4,000 miles away." • That stings, because I've certainly done this!
Stats Watch
Shipping: "Amazon bans third-party merchants from shipping with FedEx" [Ars Technica]. "The Wall Street Journal obtained a copy of a message Amazon sent to its third-party vendors Sunday night explaining the prohibition. Starting this week, marketplace vendors offering Prime shipments will not be allowed to use FedEx Ground or Home services. This ban will persist "until the delivery performance of these ship methods improves." Third-party retailers accounted for about 58% of Amazon's retail activity in 2018, company CEO Jeff Bezos said earlier this year, and sold a cumulative $160 billion worth of goods. The vendor marketplace is on track to be at least as large a share of Amazon's retail business in 2019."
The Bezzle: "We Kept Almost Making Money" [Bloomberg]. "There is a standard story of WeWork, one that I frequently tell around here, that goes like this: Certain investors, particularly nontraditional venture investors like SoftBank Group Corp.'s Vision Fund, love to invest in fast-growing money-losing companies. Rapid customer growth is the main thing they want, and if that growth comes by losing money on every sale, well, that's something to figure out later. The growth is the important thing; once you've achieved world domination by selling the product at a loss, you can find ways to make money from your large and locked-in customer base. Some big investors in private companies believe something like this, and they set the price in private markets, but the big investors in public companies don't especially believe it, and they set the price in public markets. And when the fast-growing money bonfires try to go public, either it's a disappointment (Uber), or it's a disaster (WeWork). WeWork reached a $47 billion valuation on private-investor optimism, and then crashed into public-investor skepticism." • This is well worth on read, on the WeWork debacle (I mean, except for Adam charismatic Founder creepster Adam Neumann, of course, who got rich. No debacle for him!)
Tech: "The Terror Queue" [The Verge]. "Google and YouTube approach content moderation the same way all of the other tech giants do: paying a handful of other companies to do most of the work. One of those companies, Accenture, operates Google's largest content moderation site in the United States: an office in Austin, Texas, where content moderators work around the clock cleaning up YouTube. …. Peter is one of hundreds of moderators at the Austin site. YouTube sorts the work for him and his colleagues into various queues, which the company says allows moderators to build expertise around its policies. There's a copyright queue, a hate and harassment queue, and an "adult" queue for porn. …. Workers on the site describe feeling anxiety, depression, night terrors, and other severe mental health consequences after doing the job for as little as six months. … Managers for Accenture routinely force employees to work into their break time and deny them vacation time to accommodate overflowing queues." • The dark side of "scale."
* * *
Today's Fear & Greed Index: 84 Extreme Greed (previous close: 82 Extreme Greed) [CNN]. One week ago: 65 (Greed). (0 is Extreme Fear; 100 is Extreme Greed). Last updated Dec 16 at 12:39pm. Mr. Market delivers his verdict on impeachment?
The Biosphere
"COP25: Key outcomes agreed at the UN climate talks in Madrid" [CarbonBrief]. "Although the world's major emitters were never expected to announce fresh climate pledges at COP25, there was still hope that they might collectively send a strong message of intent for next year. However, talks quickly became bogged down in technical issues, such as the rules for carbon market mechanisms, which have eluded completion for years. There was a growing sense among many attendees of a disconnect between these slow, impenetrable UN processes and the action being demanded by protesters around the world. This was summarised by the executive director of Greenpeace Jennifer Morgan, who told assembled journalists that despite the 'fresh momentum' provided by the growing global climate movement, it was yet to penetrate the 'halls of power.'" • It's almost like there's some sort of structural issue with NGOs. Anyhow, the headline is very neutral, but the content is discouraging. The COP model seems to be "increased ambition" on goals, but that doesn't take into account the idea that elites may well have their own ambitions, like bringing on the Jackpot from Festung Aspen, or wherever. Well worth reading in detail.
"U.N. Climate Talks Collapsed in Madrid. What's the Way Forward?" [New York Magazine]. "It was, of course, the 25th COP, and judging by the only metric that matters — carbon emissions, which continue to rise — the conference followed 24 consecutive failures. Emissions set a new record in 2018, and are poised to set another again in 2019. Just three years since the signing of the Paris accords, no major industrial nation on Earth is on track to honor the commitments it made in Paris. The apparent failure of those accords follows the undeniable failure of previous agreements reached in Copenhagen in 2009, Kyoto in 1997, and Montreal in 1987. The original host of COP25, Brazil, backed out when it elected a climate sociopath, Jair Bolsonaro, as president; the replacement site, Chile, canceled their event just a month before, amid civil unrest sparked in part by rising transportation prices. And when Secretary-General António Guterres, fearing that few nations were ready to make more ambitions decarbonization pledges at COP25, staged a special climate action summit during the U.N. General Assembly in September — a summit designed to whip up new commitments ahead of COP25 — no one aside from the smallest countries came armed with anything more than lip service. And yet COP25 stings."
"Exxon Well Blast Caused Huge Methane Leak in Ohio, Study Shows" [Bloomberg]. "Using data from satellites, the researchers found that a well explosion in Belmont county on Feb. 15 of that year discharged the potent greenhouse gas at a rate of about 80 tons an hour and lasted for nearly 20 days. The end result was more methane in the air than the oil and gas industries of France, Norway and the Netherlands emit over a 12-month period, according to a study published Monday in the Proceedings of the National Academy of Sciences."
"Global coal demand to remain stable up to 2024: IEA" [Reuters]. "Global coal demand is expected to remain stable until 2024 as growth in Asia offsets weaker demand from Europe and the United States, the International Energy Agency (IEA) said on Tuesday."
"Indoor carbon dioxide can make us dumber, and that will get worse with climate change" [Popular Science]. "In recent years, several studies have found a link between high carbon dioxide levels indoors and cognitive decline. When we're indoors, the carbon dioxide we breathe out becomes concentrated, particularly if there's a lot of people breathing and ventilation is slow. Studies have found that poorly-vented classrooms are linked to poorer memory, concentration, even a dip in standardized test scores. In 2016, a Harvard study garnered a lot of media attention after researchers found that elevated carbon dioxide levels not uncommon indoors—950 parts per million—led to declines in a number of cognitive measures, from basic decision making to higher-level strategizing. With concentrations at 1,400 (which can occur in poorly-ventilated rooms), those abilities dipped even more—particularly for more complex tasks."
"Date palm, Arab region symbol of prosperity, listed by UNESCO" [Agence France Presse]. "[D]ate palm-related knowledge, traditions and practices have been inscribed on UNESCO's list of Intangible Cultural Heritage of Humanity. The tree, whose roots penetrate deep into the soil, allowing it to grow in arid climates, has not only been a source of food but also of economic gain. 'Date palms gather in oases of different densities within desert areas indicating the presence of water levels suitable for irrigation,' according to a nomination put forward by 14 countries — Bahrain, Egypt, Iraq, Jordan, Kuwait, Mauritania, Morocco, Oman, Palestinian Territories, Saudi Arabia, Sudan, Tunisia, United Arab Emirates and Yemen. 'As a result, this aided mankind in settling down despite harsh conditions,' said the document."
"DNA recovered from Arctic lakes holds clues for our future world" [Science]. "High in the Canadian Arctic on Baffin Island, beneath 10 meters of water and many more of mud, sits a refrigerated archive of Earth's past life. The deep sediments in a small lake called CF8 hold ancient pollen and plant fossils. But it now appears that the mud harbors something else: ancient DNA from as far back as the Eemian, a period 125,000 years ago when the Arctic was warmer than today, left by vegetation that otherwise would have vanished without a trace."
Feral Hogs Return
"Feral Pigs Roam the South. Now Even Northern States Aren't Safe." [New York Times]. "But in recent decades, the pigs have been expanding their range — or more accurately, people have been expanding it for them. 'It's not natural dispersion," [said Dale Nolte, manager of the feral swine program at the Department of Agriculture]. 'We have every reason to believe they are being moved in the backs of pickup trucks and released to create hunting opportunities.'" • What? Does this strike readers as being remotely plausible?
Groves of Academe
C'mon, man, who doesn't need to stable their horse? Thread:
Want to know how rich people educate their kids? I'll tell you. My daughter went on full scholarship to The Madeira School – a private boarding school for girls near DC. The daughters of Eric Holder went there – I'd see him at school events, accompanied by secret service…. 1/

— ? Goody Weaver Cavorting With The Devil ? (@goodyweaver) November 30, 2019
Guillotine Watch
Servant problems:
I feel bad for my young immigrant lyft driver. She is very polite and has tried to have small talk with me the best way she can. She has a small infant. But she has missed my exit twice now and she can die.

— Richard Bain (@DickBain) November 29, 2019
Optimistic, diverse, dynamic, moving forward:
The U.S.'s billionaire playgrounds are getting richer, according to new government data.

Residents of pricey ski resorts like Jackson Hole and Aspen and city centers like Manhattan and San Francisco command the highest personal incomes in the U.S pic.twitter.com/5vKW4CZMIv

— QuickTake by Bloomberg (@QuickTake) November 29, 2019
Class Warfare
"Another Google Worker Says She Was Fired for Labor Advocacy" [Bloomberg]. "Kathryn Spiers, 21, said she was fired Dec. 13 after she developed a notification that told colleagues they had the right to participate in labor organizing when they visited the website of IRI Consultants, a firm that advises employers on how to combat unions…. Google responded by suspending Spiers without warning, 'interrogating' and then terminating her for violating the company's security policies, she said… The world's largest internet search provider has traditionally been open, with employees encouraged to debate company policies and speak up if they see something they're concerned about. However, a series of internal protests in recent years has sparked a crackdown under Chief Executive Officer Sundar Pichai."
"Planes, Trains, and Automobiles" [Kim Kelly, The Baffler]. "[O]ur transportation infrastructure is vulnerable, and unionized workers can wreak real havoc on it.
This is something that unions like the Teamsters and International Longshore and Warehouse Union (ILWU) have always understood. Delivery drivers and transit workers are perfectly positioned to pull down—hard—on the levers of power." • Something that seems to have been almost systematically not understood in coverage of the Black Jewel train blockade.
News of the Wired
"The Navy is building a ship named after Harvey Milk, six decades after he was pushed out of the military because of his sexual orientation" [CNN]. • An oiler…
"Coffee In Our Time: History (podcast) [BBC Radio 4]. • I forget which NC reader suggested this podcast, but I really enjoy listening to "Melvin and his guests."
* * *
Readers, feel free to contact me at lambert [UNDERSCORE] strether [DOT] corrente [AT] yahoo [DOT] com, with (a) links, and even better (b) sources I should curate regularly, (c) how to send me a check if you are allergic to PayPal, and (d) to find out how to send me images of plants. Vegetables are fine! Fungi and coral are deemed to be honorary plants! If you want your handle to appear as a credit, please place it at the start of your mail in parentheses: (thus). Otherwise, I will anonymize by using your initials. See the previous Water Cooler (with plant) here. Today's plant (Phil H):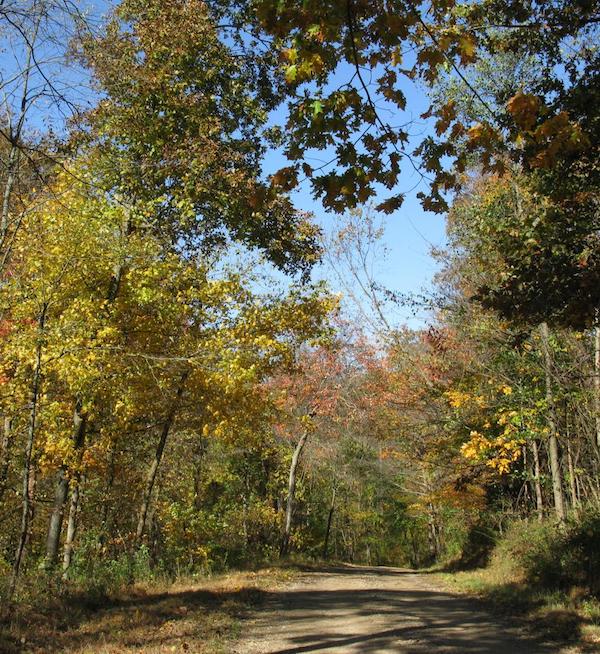 Phil H writes: "Township Road 9, Holmes County, Ohio, in late October. Trees are starting to turn as weather cools." I grew up in the Midwest, and something about this scene says the Midwest to me, and not the East. But what?
* * *
Readers: Water Cooler is a standalone entity not covered by the annual NC fundraiser. So if you see a link you especially like, or an item you wouldn't see anywhere else, please do not hesitate to express your appreciation in tangible form. Remember, a tip jar is for tipping! Regular positive feedback both makes me feel good and lets me know I'm on the right track with coverage. When I get no donations for five or ten days I get worried. More tangibly, a constant trickle of donations helps me with expenses, and I factor in that trickle when setting fundraising goals:
Here is the screen that will appear, which I have helpfully annotated.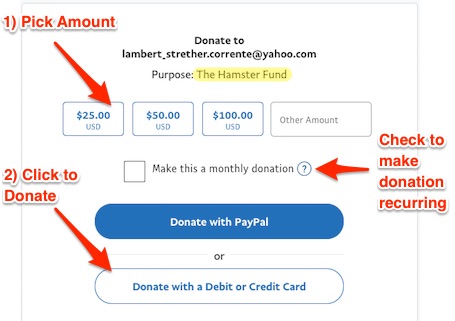 If you hate PayPal, you can email me at lambert [UNDERSCORE] strether [DOT] corrente [AT] yahoo [DOT] com, and I will give you directions on how to send a check. Thank you!