By Lambert Strether of Corrente.
Trade
"Falling impeachment support raises pressure for Democrats on trade" [The Hill]. "The drop in support for impeachment in the polls is increasing pressure on Democrats to strike a deal on the U.S.-Mexico-Canada Agreement (USMCA)…. Polling on impeachment has found that a majority of respondents support the process, but support has dropped from key groups of independents as public hearings got underway. An Emerson poll in November found 43 percent of voters overall supporting impeachment compared with 45 percent opposed. That represented a 6-point swing from the pollster's survey in October. If that trend continues as the inquiry heads to the House Judiciary Committee this week, Democrats could become more mindful of notching a major bipartisan accomplishment."
"U.S., China Move Closer to Trade Deal Despite Harsh Rhetoric" [Bloomberg]. "The U.S. and China are moving closer to agreeing on the amount of tariffs that would be rolled back in a phase-one trade deal despite tensions over Hong Kong and Xinjiang, people familiar with the talks said. The people, who asked not to be identified, said that U.S. President Donald Trump's comments Tuesday downplaying the urgency of a deal shouldn't be understood to mean the talks were stalling, as he was speaking off the cuff. Recent U.S. legislation seeking to sanction Chinese officials over human-rights issues in Hong Kong and Xinjiang are unlikely to impact the talks, one person familiar with Beijing's thinking said. U.S. negotiators expect a phase-one deal with China to be completed before American tariffs are set to rise on Dec. 15, the people said. Outstanding issues in the talks include how to guarantee China's purchases of U.S. agricultural goods and exactly which duties to roll back, they added."
"French exporters from the vineyards of Champagne to Chanel workshops are looking at their supply chains as a tariff dispute between the U.S. and France flares up. The magnitude of the proposed 100% tariffs on $2.4 billion in exports threatens to bite a luxury-goods industry that seemed relatively insulated from trade tensions" [Wall Street Journal]. "The dispute is rooted in questions over taxation of digital services from big tech companies… Shifting their specialized production would be hard for many of the brands. Still, conglomerate LVMH Moët Hennessy Louis Vuitton SE has three U.S. workshops and others outside France that could take on production to avoid the levies." • See "President Trump and Bernard Arnault of LVMH to Open New Louis Vuitton Factory in Texas."
"Forget the paper trail — blockchain set to shake up trade finance" [Financial Times]. "On average, a cross-border transaction requires the exchange of 36 documents and 240 copies, says Kerstin Braun, president of Stenn Group, which provides trade finance. By 2050, experts suggest blockchain could provide a digital record of transactions. This would streamline the paper trail and improve transparency between parties, allowing the introduction of practices such as 'dynamic factoring', where interest rates change as goods approach their final destination." • And then we could speculate on dynamic factoring! Anyhow, 2050?
Politics
"But what is government itself, but the greatest of all reflections on human nature?" –James Madison, Federalist 51
"They had one weapon left and both knew it: treachery." –Frank Herbert, Dune
Here is a second counter for the Iowa Caucus, which is obviously just around the corner:
* * *
2020
Alert reader dk (not to be confused with DK) is in the process of developing the following interactive chart.

Here is (are) the latest Dem Primary Polling as of 12/4/2019, 12:00 PM EST. Biden leads, Sanders strong second, Warren five points back (!), Buttigeig trailing. The tiny YouGov poll follows big fat Morning Consult. This pattern seems temporarily stable. On to the next debate, and Iowa:

Here is the latest, as of 12/4/2019, 12:00 PM EST:

Changes: Harris out, Bloomberg in. Also, we can now show events (e.g., debate #3).

UPDATE I think we have to track the polls because so much of the horse-race coverage is generated by them; and at least with these charts we're insulating ourselves against getting excited about any one poll. That said, we should remember that the polling in 2016, as it turned out, was more about narrative than about sampling, and that this year is, if anything, even more so. In fact, one is entitled to ask, with the latest Buttigieg boomlet (bubble? (bezzle?)) which came first: The narrative, or the poll? One hears of push polling, to be sure, but not of collective push polling by herding pollsters. We should also worry about state polls with very small sample sizes and big gaps in coverage. And that's before we get to the issues with cellphones (as well as whether voters in very small, very early states game their answers). So we are indeed following a horse-race, but the horses don't stay in their lanes, some of the horses are not in it to win but to interfere with the others, the track is very muddy, and the mud has splattered our binoculars, such that it's very hard to see what's going on from the stands. Also, the track owners are crooked and the stewards are on the take. Everything's fine.

I think dk has started a really neat project, and in the near future we'll seek your feedback (within reason) for the tool "live."

* * *

Biden (D)(1): "Biden says Buttigieg 'stole' his healthcare plan" [Reuters] • Two rats fighting over the same stale slice of pizza….

Biden (D)(2): Classy:

Per Biden pool, one of the event co-hosts for the Manhattan fundraiser Biden attended at the home of a prominent art dealer joked "Don't touch the Rothko!"

Except I imagine it was probably not a joke because it was a real Rothko.

— Lissandra Villa (@LissandraVilla) December 4, 2019

I'm not much of a Rothko fan, but even I wouldn't want Biden's latest gaffe to be putting an elbow through a large and expensive painting.

UPDATE Bloomberg (D)(1): " In Appeal to Hard Left, Bloomberg Praises Chinese Communism" [Eric Levitz, New York Magazine]. The editor who wrote that headline needs to be spoken to. The "hard left"? Who, exactly? Bob Avakian? Wu mao tankies? Levitz himself: "it is remarkable how much the patron saint of neoliberal paternalism's views on China overlap with those of "tankie" Twitter. It's hard to imagine that a figure like Sanders or Elizabeth Warren could have argued that Xi is not a dictator — and that the Chinese Communist Party is accountable to majoritarian opinion — without suffering broad bipartisan condemnation. Yet Bloomberg's remarks in September prompted few calumnious columns on the authoritarianism of the anti-populist center. Which is unfortunate, since the U.S. business community's interests in Beijing make this political tendency a genuine threat… Donald Trump has tried to paint his Democratic opponents as cosseted coastal elites who are in bed with China, exert undue influence over the mainstream media, and want to tell working-class Americans how to live [and die. –lambert]. If Democrats somehow nominate Bloomberg, Trump's ideal foil will be made of money instead of straw."

Buttigieg (D)(1): "What's Really Behind Pete Buttigieg's Lack Of Support Among Black Voters?" [FiveThirtyEight]. • This looks to me like a long list of rationalizations for Buttigieg's black support, which in my view boil down to (a) charitably, a tin ear for black concerns and worldview, and (b) bad and/or painful policy in the South Bend with the police, housing, and now desegration. "These people all talk to each other," you know. As for example:

So I quote tweeted a video of Mayor Pete making a Birther joke in 2018. One of the defenses was that the video was taken out of context but here is a video of him making a different Birther joke for giggles in 2017.

Here's the full video (joke @ 31:05)https://t.co/y4ySrTqPB4

— Zerlina Maxwell (@ZerlinaMaxwell) December 3, 2019

Buttigieg (D)(2): "Pete Buttigieg's Willful Illusion" [New York Magazine]. "During a campaign stop in Goldsboro, North Carolina, Buttigieg admitted to Reverend William Barber that he'd underestimated how badly segregated schools still were in South Bend. 'I have to confess that I was slow to realize — I worked for years under the illusion that our schools in my city were integrated,' Buttigieg said. "Because they had to be, because of a court order.'…. For Buttigieg, knowing that segregation was still a problem wasn't just a matter of easily-ascertainable testimony provided in local newspapers and by any black parent whose child attended a local school. It was the subject of one of the city's longest-running civil-rights mandates, and thus an odd thing for its mayor to be unaware of, even if the schools weren't under his immediate purview…. [A]s he spins his proclaimed ignorance into a self-deprecating campaign-trail story about personal growth, he's mystified the issue further by locating the problem far afield — in segregation patterns in the surrounding county; in desegregation processes he didn't realize were ongoing, despite their decades of continuous implementation." • For years! (Does anybody know if the road to the South Bend airport passes through an obviously segregated neighborhood?)

Sanders (D)(1): "The case for Bernie Sanders" [Ryan Cooper, The Week]. "This brings me finally to theories of change. Either Sanders' or Warren's full agenda would be non-starters in the current Congress, and probably not much more likely after 2020 if current trends hold. Sanders argues that he can upturn the political landscape by activating the enormous population of disaffected non-voters, who are disproportionately non-white, young, and less educated, both to elect new representatives and senators and pressure existing ones. (And sure enough, his base of support is more rooted in these groups than any other candidate.) This is the formula he followed as mayor of Burlington, which was a smashing success, though at an obviously far smaller scale. To be sure, this is a pretty optimistic idea. But it's also the only strategy even proposed that would change the political system fast enough to deal with the multiple crises bedeviling the United States — above all climate change."

Sanders (D)(2): Good crowd at Morehouse:

It's an hour long. No doubt other campaigns are mining it for oppo as we speak.

Warren (D)(1): "Some Elizabeth Warren backers urge the 'plans' candidate to get more personal" [Boston Globe]. "As her standing in the polls slipped, Warren took the unusual step of shaking things up this week. At two campaign events in Iowa, she chopped her policy-dense stump speech by more than half and answered four times as many questions from voters than usual, allowing for more unplanned moments of levity and emotion." And:

Warren supporters in Iowa were delighted by a more personal exchange that unfolded Sunday in a windowless gymnasium in Marion, when a young voter with tears in her eyes asked Warren if there was a time when she was not accepted by someone she looked up to. Warren, who generally launches into her answers with an expression of joy ("Oh, that's fabulous!") and a policy prescription, gripped the microphone and paused to steady herself.

"My mother and I had very different views of how to build a future. She wanted me to marry well and I really tried and it just didn't work out," Warren said, her voice seeming to [(!!)] break as she described calling her mother to tell her about her divorce in 1978.

"I heard the disappointment in her voice, I knew how she felt about it, but I also know it was the right thing to do," Warren said.

Then Warren and the voter embraced. , Warren's supporters hoped it signaled a new willingness by the candidate to move away from dense policy in favor of more humanizing exchanges that could help her with her next challenge: Getting more voters to like her enough to vote for her, even if they do not always agree with her.

Lots to ponder here. First, note the lack of agency in "the video went viral." Warren personally tweeted it out! Second, Sanders embraces people on the trail too, generally after they've told some horror story about our horrific health care system. Emotion and policy are not in contradiction, as this article implies. Third, "likeability." Come on, man. Fourth, this is Warren's home town paper. Are we looking at staff panic, or jitters? (Again, how on earth could a competent staff have allowed Warren to tweet out her deeply sincere video personally, instead of having it spontaneously appear from a supporter? Is their online presence that weak?)

UPDATE Yang (D)(1): "Andrew Yang's Staff Pulls Him Back From Spraying Whipped Cream Into Mouths of Kneeling Supporters" [Rolling Stone]. • Oh.

* * *

"Democrats value diversity, but the presidential field is increasingly white" [Los Angeles Times]. "'No matter your candidate, you have to recognize that going from the most diverse field ever in January to a potentially all-white debate stage in December is catastrophic,' said Leah Greenberg, co-founder of Indivisible, a Democratic activist group. 'The implicit racism and sexism of 'electability' is deeply damaging to democracy.'" • Well… This seems to be the line taken by the Harris campaign. To me, it looks like the Clintonites in Harris's campaign refusing to take responsibility for a loss. As usual.
Realignment and Legitimacy
"The Old Jewish World: From Leftists to Neocons to…Bernie Sanders" [Yasha Levine, Immigrants as a Weapon]. "Thinking back to my time [in liberal Bay Area circles] through the 1990s, I now realize that the general vibe of the Jewish-American community was very aggressively PMC — full of mildly apologetic Zionism, liberal interventionism, progressive neoliberalism. Everyone was either a corporate lawyer, a doctor, or worked in finance. As a fresh-off-the-Boeing immigrant with no historical roots here, I had no clue that another type of Jewish culture had existed in America not that long ago — a culture that actually fought power rather than accept establishment and big business dogma. I can't recall this history being taught in my Sherith Israel Jewish Sunday school classes. Or maybe it was taught but quickly and superficially, because it never lodged in my memory. And, anyway, why would my school focus on this history? For a totally integrated neoliberal Jewish community, that old Jewish leftwing world must have seemed quaint and kinda embarrassing — an anachronism that had no relevance to an America that had just triumphed over communism and socialism… Actually…while writing this I just now realized there is another big echo of this failed leftwing Jewish world: Bernie Sanders. Guess that's why PMC Jewish-Americans hate him so much." • Hah.

"Stacey Abrams Hires Palast Investigations Team for Massive Federal Suit to Restore Voting Rights" [Greg Palast]. "Stacey Abrams' non-profit Fair Fight has retained the Palast Investigations team experts to provide court testimony, based on our six years of investigation, in Fair Fight's federal law suit to overturn Georgia's massive, racially biased purge of voters." • Good move by Abrams.
Stats Watch
ADP Employment Report, November 2019: Way below consensus [Econoday]. • Prose snippets still the consensus outlook, even after the data is printed. May have to seek out a new source.
Purchasing Managers Manufacturing Index, November 2019: Above consensus [Econoday].
Purchasing Managers' Services Index, November 2019: Upper end of consensus [Econoday].
Institute For Supply Management Non-Manufacturing Index, November 2019: Within consensus [Econoday].
Shipping: "The maritime world's big new clean-air deadline is arriving with clouds on the horizon. Authorities in Greece want the rule requiring a steep cutback in sulfur emissions to be pushed back… [T]he opposition is significant because Greece is the world's biggest ship-owning nation, and because it raises doubts about the industry's ability to meet other ambitious targets in coming years" [Wall Street Journal]. "Shipping companies have taken different paths to cut sulfur emissions, with some opting for exhaust-cleaning scrubbers and others banking on new, more expensive fuel. Pushing back enforcement will leave carriers that acted to meet the deadline shouldering the cost burden and suggest that future goals could be more malleable." • Ugh.
Shipping: "Swift confirms driver leader instructed truckers to drive in inclement weather" [Freight Waves]. "Some truck drivers for Swift Transportation, a unit of Knight-Swift Transportation Holdings Inc. (NYSE: KNX), said they received messages via their onboard computer messaging systems around 7 a.m. Dec. 2 instructing them to chain up and drive in inclement weather to get their loads delivered on time….
Big Ag: "Poor Potato Crops Could Lead to a North American French Fry Shortage" [Smithsonian]. "The trouble started in October, when cold and wet conditions left potato growing regions covered in frost. Farmers in Alberta and Ohio were able to salvage and store some of their crops, but farmers in other areas, like Manitoba, North Dakota and Minnesota, had no choice but to give up on their beleaguered potatoes. Back in November, the United States Department of Agriculture predicted that production outputs from the country's top nine potato producing states will fall 6.1 percent in 2019. Crops were down three percent in the autumn season alone, which, according to the United Potato Growers of Canada, 'is one of the lowest crops on record.'"
The Bezzle: "Den Automation raised millions to 'reinvent' the light switch. Now it's lights out for startup" [The Register]. "Den Automation, the once-promising UK smart home startup that raised nearly £4.5m via equity crowdfunding and boasted former Amstrad chief Bob Watkins as CEO, has agreed to go into liquidation… Den Automation was founded in 2014 by Yasser Khattak, a 17-year-old wunderkind from Maidstone, Kent, who came up with the idea for the business while studying for his A Levels. Khattak subsequently dropped out to focus on the business full time. The concept behind Den Automation was simple. It built 'smart' light switches and wall sockets that were visually indistinguishable from their 'dumb' equivalents and could be installed by a layman, rather than a trained electrician…. Part of the problem is that hardware is… well… hard. Bringing any kind of physical product to market is difficult, as manufacturers have to wrestle with supply chain and certification issue. Den Automation was no exception. As the product neared its promised release date, it was beset with repeated delays. One delay, which added more than eight weeks to the company's delivery schedule, was to address a flaw that could potentially result in a fire hazard." • Oops. But wait, there's more: "After six uneventful months, things started to go sour. On 5 October, the company's servers were switched off without warning. This rendered all previously sold switches and sockets useless." • The machine stops.
* * *
Today's Fear & Greed Index: 67 Greed (previous close: 63 Extreme Greed) [CNN]. One week ago: 78 (Greed). (0 is Extreme Fear; 100 is Extreme Greed). Last updated Dec 4 at 11:59am. Bit of a rebound (toward Greed).
The Biosphere
"The Hidden History of American Anti-Car Protests" [City Lab]. "But all over America in the 1950s and 1960s, residents, particularly women, organized demonstrations against car traffic—and their street protests often closely resembled the Dutch Stop de kindermoord protests that would come in the 1970s. They demanded slower driving, usually seeking stop signs, streetlights, or crossing guards. Some demanded pedestrian over- or underpasses. Most such demonstrations were in dense residential districts of large cities, but many occurred in small cities, suburbs, and towns. Though white women predominated in many or most such demonstrations, black and Hispanic people organized some and participated in many. Men participated too, though generally as a small minority of the total. The decline of the protests signaled the now-preferred path to traffic safety: parental chauffeuring and the abandonment of children's independent mobility. Many demonstrations—particularly the biggest ones—were triggered by the injury or death of a child." • So, all those bikes in the Netherlands…. Came from U.S. protests!
"The impact of high ambient temperatures on delivery timing and gestational lengths" [Nature]. "Evidence suggests that heat exposure increases delivery risk for pregnant women. Acceleration of childbirth leads to shorter gestation, which has been linked to later health and cognitive outcomes…. Evidence suggests that heat exposure increases delivery risk for pregnant women. Acceleration of childbirth leads to shorter gestation, which has been linked to later health and cognitive outcomes."
Health Care
"State lawmakers acknowledge lobbyists helped craft their op-eds attacking Medicare-for-all" [WaPo]. "Lobbyists either helped draft or made extensive revisions to opinion columns published by three state lawmakers in a way that suggested Medicare-for-all and other government involvement in health care posed dangers, according to emails obtained by The Washington Post. Montana state Rep. Kathy Kelker (D) and Sen. Jen Gross (D) acknowledged in interviews that editorials they published separately about the single-payer health proposal included language provided by John MacDonald, a lobbyist and consultant in the state who disclosed in private emails that he worked for an unnamed client. Gross said MacDonald contacted her on behalf of the Partnership for America's Health Care Future, a multimillion-dollar industry group founded in 2018 and funded by hospitals, private insurers, drug companies and other private health-care firms." • The vile, loathesome, and lethal Partnership for America's Health Care Future is run, let us remember, by Lauren Crawford Shaver, says Politico:
… a former Obama health official who is now the Partnership's executive director and runs its day-to-day operations…
Oddly, or not, Politico omits Shaver's work both the 2008 and 2016 Clinton campaigns. Never, ever. One might almost think liberal Democrats are why we can't have nice things.
The Carceral State
"With Prison Staff Shortage, Oklahoma Looks to Hire Teenagers as Guards" [Oklahoma Watch]. "Teenagers, fresh out of high school, could be hired to guard and oversee hardened criminals in Oklahoma's chronically overcrowded and understaffed prisons. In a little-noticed action, the Oklahoma Board of Corrections passed a set of legislative requests earlier this month that include allowing prisons to hire corrections officials as young as 18. Currently the minimum age is 20. The Department of Correction has struggled for years to attract and retain workers for the job, which now starts with a salary of just under $33,000 a year." • Let it never be said there are no jobs!
The 420
"Feds clarify it's OK for banks to serve hemp companies; guidance could ease transactions for hundreds of Nevada hemp growers" [Nevada Independent]. "Federal regulators say banks should treat authorized hemp businesses the same as other legal companies, drawing cheers from Nevada cultivators who have faced strict scrutiny in their financial transactions because hemp's close cousin, marijuana, remains illegal at the federal level. Hemp is a variety of the cannabis plant used to create everything from textiles and paper to dietary supplements and CBD oil, but that unlike marijuana used as a drug, doesn't contain enough of the psychoactive substance THC to get a person high. It was legalized through the federal government's 2018 Farm Bill, but banks encountering hemp customers have continued to follow the protocols they use for marijuana companies, including reporting their activity to the federal government through suspicious activity reports (SARs) even if state law makes marijuana legal." • Hemp not being the same as marijuana. So modified rapture.
Thanksgiving Post Mortem
They get letters:
So last week for Thanksgiving I ran a headline saying "Turducken Is Performative," paraphrasing @kimseverson. Over the weekend I got an email from JUDITH BUTLER pic.twitter.com/hgt9AYvM3y

— Spencer BokatLindell (@bokatlindell) December 2, 2019
"Performative" has indeed come to mean ersatz, contra Butler, because politically empowered professional symbol manipulators have indeed confused words and deeds ("shifting the Overton Window"?).
Groves of Academe
"The Growing Partisan Divide in Views of Higher Education" [Pew Research Center]. "A new Pew Research Center survey finds that only half of American adults think colleges and universities are having a positive effect on the way things are going in the country these days. About four-in-ten (38%) say they are having a negative impact – up from 26% in 2012. The share of Americans saying colleges and universities have a negative effect has increased by 12 percentage points since 2012. The increase in negative views has come almost entirely from Republicans and independents who lean Republican."
Class Warfare
"Modern Slavery" [Council on Foreign Relations]. "Slavery, long banned and universally condemned, persists in many corners of the world, victimizing tens of millions of people." • Lots of good data here, including definitions of various kinds of slavery (e.g., bonded labor), but presented in a horrid mobile- and swipe-friendly format that is very hard to read on a productivity tool, like a laptop or desktop.
News of the Wired
"Towards a comparative science of emotion: Affect and consciousness in humans and animals" [Science Direct]. "In posing questions about conscious affect in animals, much (though not all) work starts with the human case, where understanding is facilitated by subjects' emotional reports (as well as the informal introspection the researcher employs in interpreting such reports). The human models are then used to identify candidate criteria for conscious emotion, which can be applied to observations of brain, behaviour, and physiology in different animal species." • That's the best nugget I can find in this review of the literature.
"A Genetic Model of the Connectome" [Neuron]. From the abstract: "The connectomes of organisms of the same species show remarkable architectural and often local wiring similarity, raising the question: where and how is neuronal connectivity encoded?" • Beyond the first sentence, I get a little lost, but word of the day: Connectome.
"Trailblazing Star Trek Writer D.C. Fontana Dies at 80: 'She Was a Pioneer'" [MSN]. "Not only was Fontana responsible for creating much of Star Trek canon, she also 'helped blaze a trail for female writers in sci-fi television,' the official website said in its obituary. 'Fontana's credits to Star Trek cannot be understated, both as a writer of great stories and as a trailblazer for other women.'" • Lots of good detail here.
"The Dead & Company Edition" [Why is this interesting?]. "John Mayer, he of the voluminous Instagram comments, has been sharing the stage with a unit comprised of three of the original members of the Grateful Dead (Bob Weir, Bill Kreutzmann and Mickey Hart), as well as a handful of other sidemen … What's fascinating about this particular incarnation of the Dead is that after any number of attempts to fill Jerry Garcia's shoes, this one is sticking. From Furthur to the Other Ones, and Phil Lesh and Friends to the Fare Thee Well Shows in Chicago with Trey Anastasio, the other post-Garcia line-ups paid service to the music but did not inhabit it as this current grouping does. The root of the Grateful Dead has always been an all-hands on deck allegiance to the great God of improvisation, and Mayer's managed to become the straw that stirs the drink in this latter-day configuration…. Mayer's blues idiom is one of the reasons the band sounds fresh, as the other stand-ins for Garcia came from a rock and roll background where Mayer, for all of his flaws, is steeped in the blues, like original vocalist McKernan. Something about it works particularly well with the band's signature blend of psychedelia, country, and improvisation breathes new life into each song in ways both surprising and uniquely satisfying… By recreating the psychic improvisational synergy of the earliest Dead shows with this line-up, the love affair between audience and band has been rekindled and while there are criticisms that the band is slow, their ability to dive into the layered architectural nature of the music is at this point revered." • As a former Deadhead, I am here for the focus on improvisation, while questioning whether any unit without Phil Lesh can be called an "incarnation of the Dead."
* * *
Readers, feel free to contact me at lambert [UNDERSCORE] strether [DOT] corrente [AT] yahoo [DOT] com, with (a) links, and even better (b) sources I should curate regularly, (c) how to send me a check if you are allergic to PayPal, and (d) to find out how to send me images of plants. Vegetables are fine! Fungi and coral are deemed to be honorary plants! If you want your handle to appear as a credit, please place it at the start of your mail in parentheses: (thus). Otherwise, I will anonymize by using your initials. See the previous Water Cooler (with plant) here. Today's plant (PLW):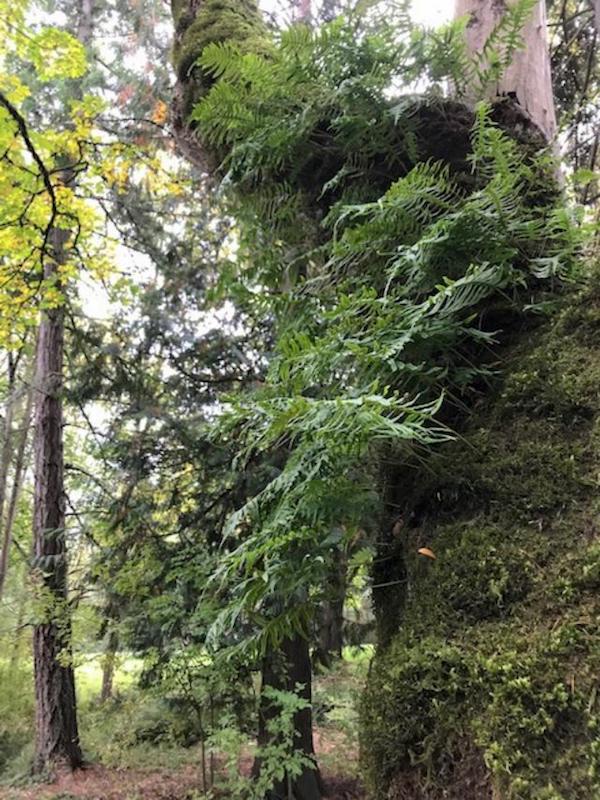 PM writes: "Idylwood park, Redmond WA."
* * *
Readers: Water Cooler is a standalone entity not covered by the annual NC fundraiser. So if you see a link you especially like, or an item you wouldn't see anywhere else, please do not hesitate to express your appreciation in tangible form. Remember, a tip jar is for tipping! Regular positive feedback both makes me feel good and lets me know I'm on the right track with coverage. When I get no donations for five or ten days I get worried. More tangibly, a constant trickle of donations helps me with expenses, and I factor in that trickle when setting fundraising goals:
Here is the screen that will appear, which I have helpfully annotated.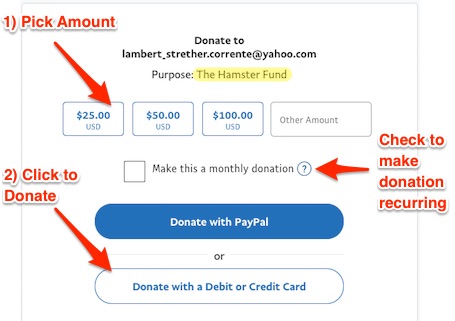 If you hate PayPal, you can email me at lambert [UNDERSCORE] strether [DOT] corrente [AT] yahoo [DOT] com, and I will give you directions on how to send a check. Thank you!