By Lambert Strether of Corrente.
Trade
"The WTO's trade dispute appeal system could end on Dec. 10. Here's what you need to know." [WaPo]. "On Dec. 10, the World Trade Organization appeals tribunal, the Appellate Body, won't have enough members left to rule on trade disputes between countries. That's a problem, given ongoing trade wars between the United States, China, and Europe, and some 60 cases pending before the WTO. Without a functioning Appellate Body, countries can block progress on disputes between the organization's 164 members simply by filing an appeal. How did we get to this point? The U.S. government has blocked all new appointments to the Appellate Body, to protest what it claims to be "persistent overreaching" by Appellate Body members in their rulings. The United States also threatened to cut its contribution to the WTO budget, to stymie the Appellate Body and a European Union proposal that other countries could use former adjudicators to decide disputes…. Our analysis suggests U.S. ire at individual adjudicators may be misdirected. This could be a good time to take a second look at the Secretariat's mandate, and the behavior of diplomats and private lawyers litigating WTO disputes. Trade negotiators also have work to do — updating and clarifying the legal texts that WTO adjudicators have to work with can provide critical guidance for the WTO Appellate Body."
"USTR proposes up to 100 pct tariffs on French products over digital services tax" [Xinhua]. "U.S. Trade Representative (USTR) Robert Lighthizer said Monday that he proposed additional tariffs of up to 100 percent on some 2.4 billion U.S. dollars worth of French products. In a statement released Monday afternoon, the USTR said he has completed the first segment of the investigation under section 301 of the Trade Act of 1974 and concluded that France's digital services tax discriminates against U.S. companies, such as Google, Apple, Facebook, and Amazon…. Lighthizer added that he is exploring whether to open Section 301 investigations into the digital services taxes of Austria, Italy, and Turkey." • Making the world safe for ginormous monopolies…
"Exclusive: White House considered kicking Huawei out of U.S. banking system – sources" [Reuters]. "The plan, which was ultimately shelved, called for placing Huawei Technologies Co Ltd [HWT.UL], the world's second largest smartphone producer, on the Treasury Department's Specially Designated Nationals (SDN) list…. Administration officials drafted a memo and held interagency meetings on the issue, according to one of the people, showing the extent to which administration officials mulled deploying the United States' most aggressive sanctioning tool against the Chinese company…. Its use was tabled in favor of other measures, such as placing Huawei on a trade blacklist, which forces some suppliers to obtain a special license to sell to it."
Handy chart from the IMF:
Understanding the US & China Trade War…. Before & after China's entry into the WTO. This "war" will not be over anytime soon. pic.twitter.com/kN7uxYP1QC
— Tony Fadell (@tfadell) November 29, 2019
Goods, not services. Nevertheless.
Politics
"But what is government itself, but the greatest of all reflections on human nature?" –James Madison, Federalist 51
"They had one weapon left and both knew it: treachery." –Frank Herbert, Dune
Here is a second counter for the Iowa Caucus, which is obviously just around the corner:
* * *
2020
Alert reader dk (not to be confused with DK) is in the process of developing the following interactive chart.

Since we have no new polls, I redid yesterday's poll to include the bottom tier. This is (are) the latest Dem Primary Polling as of 12/5/2019, 12:00 PM EST. Biden leads, Sanders strong second, Warren five points back (!), Buttigeig trailing. The tiny YouGov poll follows big fat Morning Consult. This pattern seems temporarily stable. On to the next debate (December 19), and Iowa:

Here is the latest, including the bottom tier, as of 12/5/2019, 12:00 PM EST:

Interestingly, Bloomberg enters at a relatively high level; I don't know what motivates this, but my guess is name recognition.

UPDATE I think we have to track the polls because so much of the horse-race coverage is generated by them; and at least with these charts we're insulating ourselves against getting excited about any one poll. That said, we should remember that the polling in 2016, as it turned out, was more about narrative than about sampling, and that this year is, if anything, even more so. In fact, one is entitled to ask, with the latest Buttigieg boomlet (bubble? (bezzle?)) which came first: The narrative, or the poll? One hears of push polling, to be sure, but not of collective push polling by herding pollsters. We should also worry about state polls with very small sample sizes and big gaps in coverage. And that's before we get to the issues with cellphones (as well as whether voters in very small, very early states game their answers). So we are indeed following a horse-race, but the horses don't stay in their lanes, some of the horses are not in it to win but to interfere with the others, the track is very muddy, and the mud has splattered our binoculars, such that it's very hard to see what's going on from the stands. Also, the track owners are crooked and the stewards are on the take. Everything's fine.

I think dk has started a really neat project, and in the near future we'll seek your feedback (within reason) for the tool "live."

* * *

Biden (D)(1): "Joe Biden's "No Malarkey" bus is smarter than you think" [Mic]. "Biden employs a corps of public relations experts who read the same websites, listen to the same podcasts, and follow the same people on Twitter as you do. They aren't blind to the fact that 'No Malarkey' sounds like something that a guy from a 1950's MST3K educational short about why men should feed their families roast beef every night would say. In fact, they're counting on it. They're well aware that Biden, and the slogan, are brutally corny. Guess what: People like corny shit. Especially old people, who are the bulk of Democratic primary voters…. His eleven point lead in the RealClearPolitics average reflects the decisions made by the people running his campaign. This includes naming a tour bus 'No Malarkey' specifically because it will light up zones in the brains of millions of elderly Iowans who haven't received a thank you note from their TikTok-addled zoomer grandkids since the Obama administration. In 2016, 71 percent of Americans over 65 voted in the presidential election, as opposed to 46 percent of 18- to 29-year-olds. Playing to the elderly is a winning strategy, and the Biden PR machine knows its audience." • Attractive thesis for counter-suggestible me. (It does, however, assume that Biden is well-funded.) But remember Hillary speaking to virtually empty auditoriums? Not dispositive, but certainly a sign of problems. I'm waiting for the equivalent kind of images from Biden to show up in my feed. Hasn't happened yet! (I've seen exactly one: Some dude in a diner watching TV instead of Biden. Show me six like that….)

Biden (D)(2): "Biden says he would consider Harris for vice presidential slot" [Reuters]. "'Senator Harris has the capacity to be anything she wants to be,' Biden told reporters, according to a video posted by CBS News. 'I talked to her yesterday. She's solid. She can be the president one day herself. She can be the vice president. She can go on to be a Supreme Court justice.'" • Oh good.

Buttigieg (D)(1): "McKinsey Employees Open Their Wallets for Alumnus Pete Buttigieg" [Sludge]. The employees who maxed out are interesting:

The Pete for America committee received a maximum contribution from Gary Pinkus, chairman of McKinsey North America, who is touted as "a global leader in private equity and investment, with deep roots in healthcare."

Another McKinsey executive who maxed out to Buttigieg, giving $2,800, is Kausik Rajgopal, managing partner of the firm's Western regional operations and a senior partner in the Silicon Valley office. On Oct. 21, Rajgopal was interviewed about a McKinsey report on the financial positions of global banks, and he advised banks to outsource more functions, such as trading and compliance; cut costs, including through zero-based budgeting; and expand through acquisitions.

Gretchen Berlin, a D.C.-based partner in the health care sector, also contributed the maximum amount to Buttigieg. Last month, Sludge reported on Buttigieg's transformation into a leading critic of a single-payer Medicare for All system as he scored donations to his campaign from individuals in the health insurance and pharmaceutical industries.

Other McKinsey employees maxing out to Buttigieg include Nikhil Patel, a partner based in Houston with the Global Energy practice and focusing on oil and gas. Alexandra Nee is an associate partner in D.C. with expertise in Private Equity and Aerospace & Defense, according to Nee's LinkedIn profile, among other industries. Samir Khushalani is a partner in Houston consulting for energy companies, as is Adam Barth, who serves electric and gas utilities. Zac Townsend, an associate partner who works on fintech with banking clients in San Francisco, nearly maxed out with contributions totaling $2,550.

Buttigieg (D)(2): "The trips to war zones that Pete Buttigieg rarely talks about" [ABC]. Missed this at the time: "But what the 37-year-old South Bend mayor didn't mention, and virtually never discusses in his run for the nation's highest office, were other trips to Afghanistan and Iraq years prior to his military deployment, when he was a 20-something civilian contractor for the global consulting firm McKinsey & Company…. Buttigieg worked for McKinsey from 2007 to 2010, after completing post-graduate studies at Oxford. In his memoir, 'Shortest Way Home,' he mentions his involvement in domestic projects for the firm like doing energy efficiency research in the U.S., and goes into particular detail about one that involved analyzing North American grocery prices. But when it comes to his work abroad with McKinsey, he only drops hints about working on 'war zone economic development to help grow private sector employment' in Iraq and Afghanistan. He also refers to a 'safe house' in Baghdad. The book doesn't say exactly when or how long Buttigieg was in either country." • So Mayo Pete was (?) a spook? No reporting on this; the story just disappeared.

Buttigieg (D)(3): "Pete Buttigieg scores endorsements from former Obama officials" [CNN]. "Obama's former special assistant and personal aide Reggie Love is endorsing Buttigieg, the campaign said. Love, who began his time with Obama as deputy political director in his Senate office, was a ubiquitous presence at Obama's side during the 2008 presidential campaign and at the White House through most of his first term…. Buttigieg is also being formally endorsed by Austan Goolsbee, who served as the chairman of the Council of Economic Advisers under Obama, and Linda Douglass, the former director of communications for the White House Office of Health Reform." • Looks like Obama has sent out a signal. And nothing against Reggie Love, but Obama's body man? Really?

Buttigieg (D)(4): "A Protester Disrupted Pete Buttigieg's Black Allies' Attempt To Show Their Support, And It Was Really Tense" [Buzzfeed]. And: "Despite the suggestive billing from Buttigieg's campaign, South Bend council member Karen White made clear at the outset of Wednesday's forum that remarks from the participants were not necessarily endorsements but, rather, testimonials of how black leaders have worked well with the mayor. Buttigieg's team saw the event as an opportunity to answer critics and skeptics." • "Testimonials."

* * *

"One-night only, Iowa caucus night red-eye to New Hampshire offered for campaign staff and reporters" [USA Today]. "This year, staffers and journalists who don't make it onto a candidate's private plane have the option of taking the Granite Express, a one-night-only charter flight from Des Moines to New Hampshire which leaves the Hawkeye State at 1 a.m." • Um, shouldn't there be two planes?
Impeachment
"'Our Democracy Is at Stake.' Pelosi Orders Democrats to Draft Articles of Impeachment Against Trump" [Time]. With autoplay video. ""The President abused his power for his own personal political benefit by withholding military aid and a crucial Oval Office meeting in exchange for an announcement of an investigation into his political rival." • So now when a President doesn't allow The Blob to dictate Ukraine policy it's an impeachable offense? Really? Yasha Levine quotes Democrat impeachment witness Karlan (see below) but the point is the same:

Thanks again for making explicit what I have long known: To America, Ukraine is nothing but a weapon against Russia. The whole point of support for Ukraine is to make Russia bleed—doesn't matter how many people die or suffer in the process or how much of Ukraine is destroyed. https://t.co/rrZI9CvxEx
— Yasha Levine (@yashalevine) December 4, 2019

So fomenting on a war on Russia's border is, it appears, self-evidently aids our national security. What's next? A war scare? Ramping up MH17?

"Read opening statements from witnesses at the House Judiciary hearing" [Politico]. "Democrats' impeachment witnesses at Wednesday's judiciary committee hearing plan to say in their prepared remarks that President Donald Trump's actions toward Ukraine were the worst examples of misconduct in presidential history." • So again, it's all about Ukraine. I feel like I've entered an alternate dimension. Aaron Maté comments:

My very subjective impression: I've skimmed three, and read Turley. Karlan, in particular, is simply not a serious effort. Turley may be wrong — a ton of tribal dunking on Twitter — but at least he's making a serious effort. I'm gonna have to wait to see if somebody, say at Lawfare, does a serious effort on Turley. Everything I've read hitherto is and posturing and preaching to the choir. (Sad that Larry Tribe has so completely discredited himself, but that's where we are.)

While on Turley, see this from his testimony:

Hat tip to alert reader David in Santa Cruz for his early call on "inchoate":

Lambert, while Trump was unable to complete his attempt to extort the President of Ukraine, as someone who practiced the criminal law for 34 years, let me be the first to clue you in to the concept in the criminal law of the . This is criminal law, not contract law.

An inchoate offense includes an attempt, a conspiracy, and the solicitation of a crime. All focus on the state of mind of the perpetrator, and none require that the offense be completed — only that a person or persons having the required criminal intent took material steps toward completing the crime. Such a person becomes a principal in the contemplated crime, and in the eyes of the law is just as guilty as if he or she had completed the attempted offense.

(The details of Trump's offense differ from what David in Santa Cruz said they would be.) "Inchoate" appears only in Turley's piece, indicating, to me, that his was the only serious effort.
Realignment and Legitimacy
I made this diagram comparing hand-marked paper ballots, hand-counted in public to the VSAP system in Los Angeles, which uses extremely insecure "ballot-marking devices." I wrote up the debacle in this post. Perhaps the diagram will be more clear than my prose:
Stats Watch
Economic Calendar isn't updating its prose snippets anymore, so I need to look for another source.
* * *
Banking: "Banking regulator rebuked Wells Fargo's HR department: WSJ" [Reuters]. "The [Office of the Comptroller of the Currency] asked the bank, among other things to address issues regarding thousands of employee complaints, an inadequate policy for clawing back compensation from executives and poor controls around pay."
Tech: "Google Founders Give Up on Being the Warren Buffett of Tech" [Bloomberg]. "The Google founders' decision to step down ends a multiyear effort to turn their company into the Berkshire Hathaway of technology by embracing Warren Buffett's hands-off management style…. For many at the company, Alphabet's purpose and structure was never really clear. Placing the head of Google, which contributes more than 99% of Alphabet's sales, at the helm of it could call into question the entire purpose of Alphabet, one former Google senior employee said. Another former Google executive said the change will mean Pichai is stretched even more thinly. They asked not to be identified discussing private matters…. Financially, Alphabet was a win because it showed investors that the company wasn't spending too much on ambitious "moonshot" projects, while highlighting the huge profitability of the main Google business…. But operationally, the structure has been in near-constant tumult and has struggled to produce a new business remotely close to Google in size and scope….. "Going forward, the story is much simpler: Sundar is the only sheriff in town," analysts at Evercore ISI wrote in a note on Tuesday. Drummond will now report to Pichai as the head of Alphabet." • This is the best coverage I've seen because explains the institutional factors.
Honey for the Bears: "Goldman Sachs says that every one of its private equity clients is preparing for recession" [Business Insider]. "According to the bank's chairman of investment banking, 'Every one of our clients is focused on being prepared for a recession.'… Goldman's own economists are more bullish on the economy in 2020, seeing a 20% chance of recession." • Sounds like a lot of those private equity dudes are swimming naked, and know it.
* * *
Today's Fear & Greed Index: 66 Greed (previous close: 67 Greed) [CNN]. One week ago: 78 (Extreme Greed). (0 is Extreme Fear; 100 is Extreme Greed). Last updated Dec 5 at 11:56am. Needle hovering where it is, not moving decisively to neutral (then fear).
The Biosphere
"Swedish toxic waste poisons Chilean community for 30 years" [Deutsche Welle]. "In 1994, the Chilean government erected a social housing development next to an industrial site on the outskirts of the city. Families moved in, and children began to play on mounds of dust beside their new homes — sledging down them, modeling the dust like clay, and walking it back into their homes. What residents didn't realize was that the children's playground was in fact a toxic waste dump. A decade before the housing development went up, Swedish mining giant Boliden paid a Chilean contractor called Promel €1 million ($1.1 million) to process some 20,000 tons of smelter sludge from copper, lead, silver and gold mines in the Scandinavian country. But Promel didn't process the waste. Instead, it was left unprotected on the industrial lot next to the company's processing plant — at that time about three kilometers from Arica homes."
"These corals could survive climate change — and help save the world's reefs" [Nature]. "[Anne Cohen's] team has found three ways in which reefs beat the heat. Some corals live in naturally warm environments and are genetically adapted to deal with scorching temperatures. For example, reefs off Palau's Rock Islands withstood major heatwaves in 1998 and 2010. In the nearby barrier reef, where the water is typically cooler, coverage dropped to 5–6%. Other reefs are simply lucky in location. Some benefit from cold currents that protect them from hot spells4. Others are served by currents that provide a constant plankton buffet. Even if they bleach, these corals remain well-fed and survive."
"The Kaiser Family Foundation/Washington Post Climate Change Survey" [KFF]. "The poll finds that eight in ten U.S. adults believe that human activity is causing changes to the world's climate, and two-thirds think the U.S. government is doing too little to reduce greenhouse gas emissions. Yet while many see climate change as an urgent issue, most are not discussing it often with their family and friends, and most are not willing to make personal sacrifices such as paying higher taxes at the gas pump or on their electric bills." • Full of interesting charts, including these two: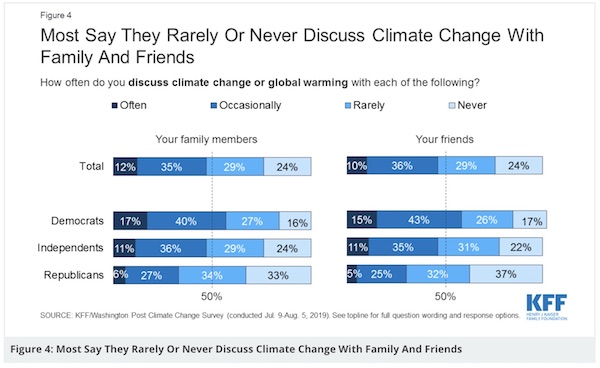 The crazy uncle problem? Or lack of occasion? Hard to imagine a family that gardens wouldn't talk about climate, but how many familes do that? And: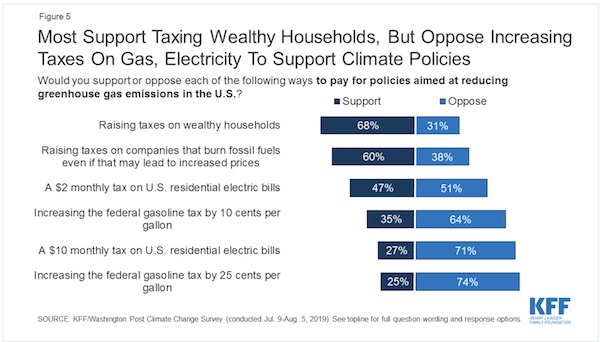 As shown by the gilets jaunes.
"The Politics of Climate Change" [Verso]. • A reading list.
Health Care
Hoisted from yesterday's comments. From alert reader Carey:
From NNU:

"We just received major news: after months of pressure from activists around the country, the House Energy & Commerce Health Subcommittee has announced it will be holding a hearing next Tuesday.

Here's the catch: not only is the hearing going to focus on several inferior health care bills in Congress, but we also have reason to believe that the committee is refusing to call an expert witness to testify on behalf of Medicare for All.

This is unacceptable, and we can't let this Subcommittee stack the deck against us. No one would make a better witness in this hearing than a bedside nurse from National Nurses United, because nurses — more than anyone — know what it takes to truly advocate for the needs of patients. And, everyday, nurses are on the frontlines of our country's egregious health care crisis.

We're demanding that an NNU nurse be added as a witness. Can you make a call today to the Chair of the Health Subcommittee, Rep. Anna Eshoo, and demand that an NNU nurse be included as a witness?

Or just directly dial (408) 245-2339, and use this script below:

Hi, my name is [ ] and I'm calling to demand that Health Subcommittee Chair Rep. Eshoo invite a nurse from National Nurses United to be a witness in Tuesday's Energy & Commerce hearing. Nurses have firsthand experience in our country's broken health care system, and they are a crucial voice that must be included.Thank you."

I made the call, and later got an email from NNU saying that Rep. Eshoo is now "strongly considering allowing" somone from NNU to speak (generous!);

hope others can make the call, too.
"Healthcare Consumers Lack Knowledge Of Basic Health Insurance Terms" [Forbes]. "Findings from a recently released survey by Policygenius show how challenging health insurance is for many American consumers to understand…. The Policygenius survey results are consistent with a 2017 survey conducted by UnitedHealthcare, which showed that only 9% of Americans demonstrated an understanding of all four of these basic health insurance terms: Health plan premium, health plan deductible, out-of-pocket cap or maximum, and co-insurance… Perhaps it's a good time to revisit the importance of educating future consumers." • "This is a rack. And this is a thumbscrew!"
"Genetic variation in health insurance coverage" [International Journal of Health Economics and Management]. From the abstract: "Using a twin-design that compares identical and non-identical twins from a national sample of US twins from the National Survey of Midlife Development in the United States, we find that . Nearly one third of the genetic variation in being uninsured versus having private coverage is explained by employment industry, self-employment status, and income, and together with education, they explain over 40% of the genetic influence. Marital status, number of children, and available measures of health status, risk preferences, and prevention effort do not appear to be important channels for genetic effects. That genes have meaningful effects on the insurance status suggests an important source of heterogeneity in insurance take up." • Nothing on methodology in the abstract, sadly. But WTF?!?!?!?
Groves of Academe
Yikes:
Hey @utrgv get us a new art building. We have rats all over the art studios… pic.twitter.com/tbFR02cKp5
— Josie Del Castillo (@josie_leila) December 4, 2019
Class Warfare
"'Culture of Fear' Grips UPS; Workers Say Injuries Underreported" [Bloomberg]. "An Occupational Safety and Health Administration report chastises management at a United Parcel Service Inc. facility in New Hampshire for placing a worker with "visibly broken bones" into a package cart, pushing it into the parking lot, and driving him to the hospital rather than calling an ambulance in response to an accident a year ago. The report states the delay 'increased the likely hood [sic] of further injury, permanent injury or death.'… The exponential growth of Amazon.com and other e-commerce companies over the past decade has put considerable strain on the big package delivery firms, which have seen revenue rise as more and more Americans buy practically everything they need online. And Amazon itself is becoming a direct competitor. 'Amazon does many things UPS does not, but one of Amazon's activities that competes with UPS is package delivery,' said David Michaels, former assistant secretary of labor for occupational safety and health, and a professor at George Washington University. 'Amazon uses contractors and gig economy workers, and of course these workers have much fewer protections. This puts pressure on UPS, which then pressures its workers, because the workers at Amazon are paid less and pushed by algorithm to work more quickly.'" • Thanks, Jeff!
About that "ok boomer" thing (1):
Percentage of American women aged 30 and older who receive financial help from their parents : 49

Of American men aged 30 and older : 62#HarpersIndexhttps://t.co/MvBQdyF701
— Harper's Magazine (@Harpers) November 29, 2019
About that "ok boomer" thing (2): "'I'm working until I'm 75′: Factory worker describes family's student debt nightmare" [Yahoo Finance]. "A recent survey by Freedom Debt Relief found that 37% of 1,506 American adults said their children's college education cost has made them feel financially overwhelmed. And 20% said that the stress has contributed to mental or emotional health issues. More than 40% said education costs impacted their retirement plan, with 31% indicating that they had 'given up retiring when they initially desired.'" • Yes, but er, "Freedom Debt Relief"?
News of the Wired
"The Long Road to Maxwell's Equations" [IEEE Spectrum]. "How four enthusiasts helped bring the theory of electromagnetism to light." • Victorian science, and if you tinker with electronics, you'll enjoy this.
Signs of the times:
Finally know what The Thinker has been thinking about all these years… San Francisco's car break-in crisis ? pic.twitter.com/GmfdhABYJa
— Alfred Twu (@alfred_twu) December 4, 2019
* * *
Readers, feel free to contact me at lambert [UNDERSCORE] strether [DOT] corrente [AT] yahoo [DOT] com, with (a) links, and even better (b) sources I should curate regularly, (c) how to send me a check if you are allergic to PayPal, and (d) to find out how to send me images of plants. Vegetables are fine! Fungi and coral are deemed to be honorary plants! If you want your handle to appear as a credit, please place it at the start of your mail in parentheses: (thus). Otherwise, I will anonymize by using your initials. See the previous Water Cooler (with plant) here. Today's plant (TD):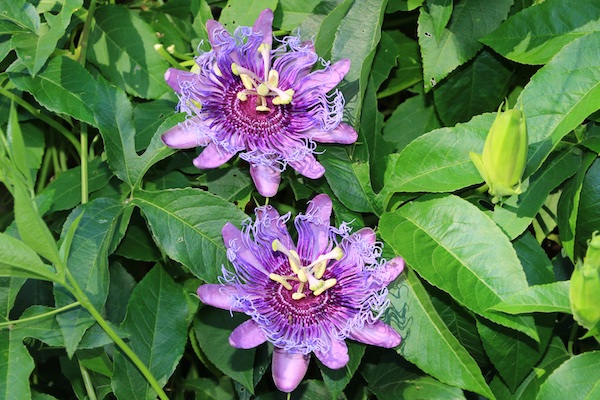 TD, back in October: "Still no frosts in Oklahoma, so we are still getting blooms." Lovely!
* * *
Readers: Water Cooler is a standalone entity not covered by the annual NC fundraiser. So if you see a link you especially like, or an item you wouldn't see anywhere else, please do not hesitate to express your appreciation in tangible form. Remember, a tip jar is for tipping! Regular positive feedback both makes me feel good and lets me know I'm on the right track with coverage. When I get no donations for five or ten days I get worried. More tangibly, a constant trickle of donations helps me with expenses, and I factor in that trickle when setting fundraising goals:
Here is the screen that will appear, which I have helpfully annotated.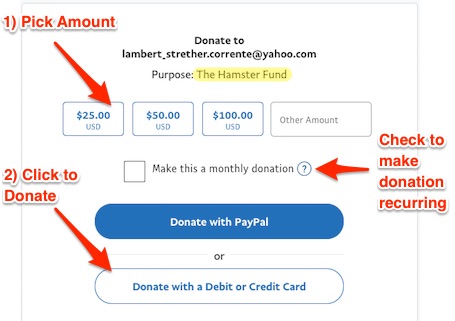 If you hate PayPal, you can email me at lambert [UNDERSCORE] strether [DOT] corrente [AT] yahoo [DOT] com, and I will give you directions on how to send a check. Thank you!