By Lambert Strether of Corrente.
Trade
"China says it has agreed with U.S. to cancel tariffs in phases" [CBC]. "China and the United States have agreed to cancel in phases the tariffs imposed during their months-long trade war, the Chinese Commerce Ministry said Thursday without specifying a timetable. An interim U.S.-China trade deal is widely expected to include a U.S. pledge to scrap tariffs scheduled for Dec. 15 on about $156 billion US worth of Chinese imports, including cell phones, laptop computers and toys. Tariff cancellation was an important condition for any agreement, ministry spokesperson Gao Feng said, adding that both must simultaneously cancel some tariffs on each other's goods to reach a 'phase one' trade deal. 'The trade war started with tariffs, and should end with the cancellation of tariffs," Gao told a regular news briefing. The proportion of tariffs cancelled for both sides to reach a 'phase one' deal must be the same, but the number to be cancelled can be negotiated, he added, without elaborating."
"Trump's Trade War Has Dire Consequences" [The American Conservative]. "Many in the anti-trade lobby are conservatives who yearn for a return to the 1950s, with local shops and local factories. Some argue that it's China's fault for supplying Amazon and Walmart with low-cost goods. But advanced computing and the internet have created an era of growth and change not seen since the 1890s. The creative destruction of capitalism has resulted in all sorts of economic dislocations, yes, but shuttered shops and lost jobs in Appalachia are not the fault of trade (especially with China). And the evidence is already in that raising tariffs won't bring back those jobs. Domestic factory activity hit a 10-year low in September, while new jobs expanded at the slowest rate in 18 months. Farmers now depend upon Washington subsidies for 40 percent of their income because of lost trade with China and Europe. American prosperity comes from our trade and from our dominance of many of the world's industries. Standard and Poor's 500 top companies post 44 percent of their sales from overseas. The idea that America could retreat from world trade and still remain prosperous is ridiculous." • Note the source.
Politics
"But what is government itself, but the greatest of all reflections on human nature?" –James Madison, Federalist 51
"They had one weapon left and both knew it: treachery." –Frank Herbert, Dune
* * *
2020
Alert reader dk (not to be confused with DK) is in the process of developing the following interactive chart. Here is (are) the latest Dem Primary Polling as of 11/7/2019, 12:00 PM EST:

Just as (says Quinnipiac) Warren pulls into a tie with Biden, the media turns on her. Odd. Here, today's results, as of 11/6/2019, 11:00 AM EST:

Here is a new IA poll, as of 11/7/2019, 12:00 PM EST:

And here is the latest result, as of 11/6/2019, 11:00 AM EST. Look at Buttigieg go:

I think dk has started a really neat project, and in the near future we'll seek your feedback (within reason) for the tool "live."

* * *

Theories of change:

Biden:

"With Donald Trump out of the way, you're going to see a number of my Republican colleagues have an epiphany. Mark my words. Mark my words," Biden said at a DC fundraiser today at the Sidley Austin law firm

— Sam Stein (@samstein) November 6, 2019

Sanders:

"What we are building is a multi-racial, multi-generational, working-class movement," Sanders told the crowd at Williams Arena. "We are tired of the exploitation of working people of this country." https://t.co/wFvHtsN4aG

— MPR News (@MPRnews) November 4, 2019

Warren:

Warren on how she'd get M4A through the Senate: "When I win, I will turn around to all of my Democratic colleagues and say this is what I ran on."https://t.co/7C4mTHTNoh pic.twitter.com/bA4qcSptgR

— Peter Sullivan (@PeterSullivan4) November 6, 2019




* * *

Biden (D)(1): "Joe Biden: An Anti-Endorsement" [The Nation]. "[W]hile the enduring loyalty of Biden's black supporters is to his credit, the very tenacity of that loyalty diminishes race as a factor at a time when white nationalism is a growing threat. His early withdrawal might well boost candidates of color into the currently all-white top tier." • Hmmm.

Buttigieg (D)(1): [Pete-'n'-Hood: On Mayor Pete (& Mr. Rogers) (RC)]. "Think of the best professor you (n)ever had. S/he's fully at ease and at home in the subject and in the classroom; enthusiastic (but not dogmatic or proselytizing) about the subject and teaching it; elicits and welcomes questions and comments from the students, who may find the going either fascinating or difficult (perhaps both). This last is crucial. S/he looks at the student while listening, then repeats the comment or question, apparently so everyone hears it, but often recasting it while checking to make sure s/he's got it right. That way any less than fully coherent or on target utterance is revealed to be in fact a real contribution, to which the professor provides an engaged and elaborating response that promotes further student talk. Mayor Pete comes across as this person." • This piece builds slowly, but it's the best picture of Buttigieg's campaign persona that I have seen.

Sanders (D)(1):

In 2016 I was shown the entire oppo book on #Bernie.

From what I've seen, there are no surprises that could derail him in a general election.

— Peter Daou (@peterdaou) October 22, 2019

I believe this because I know the role that Daou played in the Clinton campaigns in 2016 and 2008.

Sanders (D)(2): "Bernie Sanders 'Best' on Health Care, The Economy, Environment and Immigration in New 2020 Poll" [Newsweek]. "Conducted by Ipsos on behalf of Reuters between November 1-4, the poll asked respondents to 'select the candidate from the list below you think is best on that particular issue,' with Joe Biden, Bernie Sanders, Elizabeth Warren, Pete Buttigieg, Beto O'Rourke and Cory Booker available as selections. Among independents and self-identified Democrats (these questions were not asked of Republican respondents), Bernie Sanders was the preferred candidate in every policy category, which included 'immigration,' 'health care,' 'the environment' and 'the economy and jobs.'"

Warren (D)(1):

I'm always happy to meet with people, even if we have different views. @BillGates, if we get the chance, I'd love to explain exactly how much you'd pay under my wealth tax. (I promise it's not $100 billion.) https://t.co/m6G20hDNaV

— Elizabeth Warren (@ewarren) November 7, 2019

Why not?

Weld (R)(1): "Texting With Bill Weld: "100% Democratic Rule" If Senate Republicans Listen To Trump" [Buzzfeed]. • Interesting — and proof that Weld is still alive — but all SMS screen dumps so not quotable.
Impeachment
I think I'm gonna have to amp up my impeachment coverage, which makes me want to hurl for reasons I'll be happy to discuss in comments (but mostly because I like to haul out my yellow waders for issues and power relationships; I think changes in the Constitutional order that will come if we give the intelligence agencies veto power over Presidential appointment and powers are far worse than anything Trump has done). I also don't have a reservoir of riffs and tropes to draw on, so this stuff willl be hard to write. Oh, I don't love Trump.

That said, readers will recall that I wrote in comments to yesterday's Links this morning:

> Sondland reverses himself on Ukraine, confirming quid pro quo

I looked up Quid Pro Quo in my OED. Here is the definition:

2 The of substituting one thing for another.

What we have is a discussion of a quid pro quo. But the whole thing is meta, because there are no actions or facts. (Taking speech about the thing for the thing itself is the sort of deformation professionelle one would expect from a symbol-manipulating political class devoted to performative speech.) But if nothing is actually "substituted" (i.e., exchanged)?

Quoting (sorry) Wikipedia:

In common law, quid pro quo indicates that an item or a service has been traded in return for something of value, usually when the propriety or equity of the transaction is in question. A contract must involve : that is, the of something of value for something else of value. For example, when buying an item of clothing or a gallon of milk, a pre-determined amount of money is exchanged for the product the customer is purchasing; therefore, .

And:

In the U.S., lobbyists are legally entitled to support candidates that hold positions with which the donors agree, or which will benefit the donors. Such conduct becomes bribery only when there is an between the contribution and official acts, previous or subsequent, and the term quid pro quo denotes such an exchange.

No consideration, no quid pro quo. There is no no quid pro quo to "confirm," because IIRC Ukraine's aid was never held up. (Whether that happened because of a bureaucratic snafu is irrelevant, as is Trump's state of mind; a consideration must have materialized.)

In essence, we are about to impeach Trump not for purchasing (a highly criminal) bottle of milk, but for talking about purchasing (a highly criminal) bottle of milk (if indeed he failed to exercise his Constitutional right to construct carefully parsed sentences). We are confusing the subjunctive with the indicative. Nice work if you can get it.

Well, for weeks everybody's been yammering "quid pro quo" (possibly because, like kompromat, it's the sort of word an expert insider would use). Well, just today — not to imply that The Blog Nobody Reads™ had any influence here — the buzzword changed:

Reminder that the only thing that stopped Trump's highly organized extortion scheme from coming to fruition was that he got caught in the act. https://t.co/FrsAsMH9lM

— Chris Murphy (@ChrisMurphyCT) November 7, 2019

(Some might translate "stopped… from coming to fruition" means "we have no evidence.") Or:

Best quote of the week. "Let's stop using the Latin, "quid pro quo" and start calling it what it really is: BRIBERY AND EXTORTION."

— Bette Midler (@BetteMidler) November 7, 2019

Why deploy a new talking point? I would speculate that it's because, as I show above, a quid pro quo requires a consideration. Extortion and bribery, by contrast, do not. From US Legal on Bribery:

Bribery is the practice of offering, giving, receiving, or something of value for the purpose of influencing the action of an official in discharge of his/ her public or legal duties. Bribery is a gain to an illicit advantage. Federal statutes refer to two classes of offenses: graft and bribery.

No consideration. And extortion:

Extortion is the obtaining of property from another, with his/her consent, induced by the wrongful use of actual or , violence, fear, or . The Use of a threat in order to obtain money or anything of value constitutes the crime of extortion. . Extortion is a specific intent crime. Generally, a demand or a request for a specific sum of money is not considered a prerequisite to a conviction of extortion[ii].

Again, no consideration. Of course, being a realpolitik stan as I am, I'm hard-pressed to think of a model of international relations that is not based on bribery and extortion. I'd welcome commentary and better sourcing from any legal professionals in the NC commentariat.

* * *

UPDATE "Trump impeachment inquiry: Star witnesses lined up for first televised hearings" [Sky News]. "Three diplomats who expressed concern about Donald Trump's dealings with Ukraine will serve as star witnesses when the first public hearings of the president's impeachment inquiry are aired on TV next week." • I smell book deals!

Ukraine crisis put on ice by Trump staff busy working out how to buy Greenland" [Guardian]. • Trump has always run an overly lean operation, but it has occured to me that a little appreciated source of his difficulties is what is in essence a services strike by the PMC.
2016 Post Mortem
"Did Art Walks Cause Trumpism?" [Belt Magazine]. "What if the culprits were nonprofits? Bear with me. Or, rather, bear with Josh Pacewicz, a Sociology professor whose research focuses on the dwindling power of unions, churches, and local businesses in the region during the latter half of the twentieth century, and the rising power of public-private partnerships and philanthropy in their stead. Pacewicz argues the sense of belonging afforded by unions and churches was replaced, in the 1980s, by colder, alienating public-private partnerships and philanthropy; it's harder to identify with the Rockefeller Foundation than with the pipefitters local. As city governments turned to 'building coalitions to secure grants, woo corporate subsidiaries (frequently with public subsidies) and create cultural amenities—art walks, music festivals, and farmers market,' they left many residents out. 'Many voters resented what they saw as a lack of recognition by local elites,' Pacewics writes, 'and…seethed with undirected populist resentment at a technocratic, corporate-friendly elite.'" • Not implausible. There's at least one photograph in Chris Arnade's Dignity of one of those stupid old-fashioned lamp-posts (which admittedly were good for Philly, but they're not a panacea).
Stats Watch
Jobless Claims, week of November 2, 2019: "Initial jobless claims fell" [Econoday]. "Today's results underscore the strength of the labor market, strength that has supported this year's solid growth in consumer spending."
* * *
Today's Fear & Greed Index: 91 Extreme Greed (previous close: 88, Extreme Greed) [CNN]. One week ago: 72 (Greed). (0 is Extreme Fear; 100 is Extreme Greed). Last updated Nov 7 at 11:45am. Holy cow! I can't remember the last time Greed hit the 90s!
The Biosphere
"California's methane super-emitters" [Nature]. "Here we survey more than 272,000 infrastructure elements in California using an airborne imaging spectrometer that can rapidly map methane plumes…. Methane 'super-emitter' activity occurs in every sector surveyed, with 10 per cent of point sources contributing roughly 60 per cent of point-source emissions… Methane point-source emissions in California are dominated by landfills (41 per cent), followed by dairies (26 per cent) and the oil and gas sector (26 per cent). Our data have enabled the identification of the 0.2 per cent of California's infrastructure that is responsible for these emissions." • More projects to oppose where encountered. I wonder if these super-emitters are big donors to the California Democrat Party.
"PG&E Says Its Local Plant Can't Power Humboldt Alone; We Found Documents That Suggest Otherwise" [Lost Coast Outpost (Joe6pac)]. "[T]he underlying question is why Humboldt County would need to rely on outside electricity at all when we have three local power plants capable of producing more than enough electricity to meet our power needs. The most powerful is PG&E's own plant in King Salmon, the Humboldt Bay Generating Station, which can produce enough electricity to supply about 125,000 homes. Humboldt County also has two biomass plants that burn wood waste, both of which sell power to the Redwood Coast Energy Authority (RCEA)."
"Why We Wish for Wilderness" [Alex Hutchinson, New York Review of Books]. "Do our romanticized vision of exploration and perhaps the very concept of wilderness itself require a mental erasure of the native experience—one that echoes their physical removal from the places we now treasure as national parks? Contrary to what William Denevan, another University of Wisconsin scholar, called "the Pristine Myth," it's now widely accepted that the pre-contact population of the Americas was vastly greater than once thought, with some estimates exceeding 50 million. The only reason early European settlers found the land seemingly empty was that as much as 95 percent of the indigenous population had already been wiped out by European diseases transmitted at the initial time of contact. Moreover, the "primeval" landscapes and fauna, from the Great Plains to the Amazon rainforest, didn't exist in some untouched, Edenic original form; they had already been widely and deliberately modified by fire, agriculture, hunting, and other human activity." • As the wonderful 1491 shows.
Water
"Tibet's Rivers Will Determine Asia's Future" [The Diplomat]. "The Tibetan plateau is a rich repository of indispensable freshwater resources that are shared across Asia. After damming most of its rivers, China is now casting its eyes on the major international rivers flowing out from the Tibetan plateau, heralding a new era of damming Tibet's rivers. Tibet, known as the "Water Tower of Asia," serves as the source of 10 major Asian river systems flowing into 10 countries, including many of the most densely populated nations in the world: China, India, Vietnam, Cambodia, Laos, Thailand, Burma, Bangladesh, Nepal, Bhutan, and Pakistan. China, through its political control over Tibet, has complete upper riparian control over all major rivers flowing out of the Tibetan plateau."
"The Aral Sea Is Dying, Putting 60 Million People at Risk" [Bloomberg]. "More than 60 million people in six nations—Afghanistan, Kazakhstan, Kyrgyzstan, Uzbekistan, Tajikistan and Turkmenistan—rely on the rivers leading to the Aral. In the decades since the fracturing of the Soviet Union, cross-border competition for water, coupled with rapidly accelerating climate change, has made a bad situation worse. The two rivers that feed the basin, the Amu Darya and the Syr Darya, carry to the Aral about 10% of the water they did before Soviet industrial projects took hold in the 1960s…. More than 60 million people in six nations—Afghanistan, Kazakhstan, Kyrgyzstan, Uzbekistan, Tajikistan and Turkmenistan—rely on the rivers leading to the Aral. In the decades since the fracturing of the Soviet Union, cross-border competition for water, coupled with rapidly accelerating climate change, has made a bad situation worse. … The challenges involved in restoring and protecting the Aral's resources are substantial. While the nations involved vary in their level of development, an overall loss of expertise and technology over the last two or three decades will require the the building of institutions before the problems can even begin to be addressed." • Hysteresis….
"The lost river" [Guardian]. "The Colorado originates in the Rocky mountains and traverses seven US states, watering cities and farmland, before reaching Mexico, where it is supposed to flow onwards to the Sea of Cortez. Instead, the river is dammed at the US-Mexico border, and on the other side the river channel is empty. Locals are now battling to bring it back to life."
Health Care
"Why Primary Care Will Soon Only Treat Chronic Conditions" [MedPage Today]. • Because for-profit clinics are creaming off the acute cases. Of course.
Feral Hog Twitter Returns
A feral hog plus a creepy Chinese glass walkway:
This wild boar ventures onto a glass walkway in China's Hangzhou. Watch what happens next.. pic.twitter.com/WV0VH5fhF6

— China Xinhua News (@XHNews) November 7, 2019
Now, if Xinhua had made a joke about 30–50 feral hogs, we'd know they were plugged into U.S. media in a frighteningly granular way. But no.
Groves of Academe
"For Sale: SAT-Takers' Names. Colleges Buy Student Data and Boost Exclusivity" [Wall Street Journal]. Speaking as a child of academics, this is the worst thing I've read in a long time. This is a little verbose, but read on:
Colleges rise in national rankings and reputation when they show data suggesting they are more selective. They can do that by rejecting more applicants, whether or not those candidates ever stood a chance. Some applicants, in effect, become unknowing pawns.

Feeding this dynamic is the College Board, the New York nonprofit that owns the SAT, a test designed [lol –lambert] to level the college-admissions playing field.

The board is using the SAT as the foundation for another business: selling test-takers' names and personal information to universities.

That has helped schools inflate their applicant pools and rejection rates. Those rejection rates have amplified the perception of exclusivity that colleges are eager to reinforce, pushing students to invest more time and money in preparing for and retaking exams College Board sells. Colleges say the data helps them reach a diverse pool of students they might have otherwise missed.

"The top 10% of universities don't need to do this. They are buying some students' names who don't have a great chance of getting in," said Terry Cowdrey, an enrollment consultant for universities and Vanderbilt University's acting dean of undergraduate admission in 1996 and 1997. "Then the kids say, 'well why did you recruit me if you weren't going to let me in?' They do it to increase the number of applications; you've got to keep getting your denominator up for your admit rate."
Or, summarizing: "Elite colleges are buying SAT scores, then recruiting students they know have no chance of getting in, all so they can decrease their admittance rate and look more exclusive." Elites offering hope to non-elite kids that they have no intention of delivering on. For money. It's paradigmatic, isn't it? How is it possible for these (NPR totebag-wielding, farmers market-patronizing) university administrators to do this and sleep nights? It's grotesque and vile. One of those stories that makes me think that the whole meritocratic system is rotten all the way through and should be purged with cleansing fire. As soon as I finish today's Water Cooler I'm gonna take a shower. That's how these academics make me feel.
Neoliberal Epidemics
"CDC: Childhood Trauma Is A Public Health Issue And We Can Do More To Prevent It" [NPR]. "Experiencing traumatic things as a child [see under poverty, unemployment, precarity, etc. –lambert] puts you at risk for lifelong health effects, according to a body of research. The CDC's new report confirms this, finding that Americans who had experienced adverse childhood experiences, or ACEs, were at higher risk of dying from five of the top 10 leading causes of death." • Everything's going according to plan!
Guillotine Watch
This time for real:
Guillotine watch: Louis XVI's final chateau, never occupied by royalty, is for sale, just in time for the next revolutionhttps://t.co/1hS9rlEMDC pic.twitter.com/tdO6EHfoff

— Masque of the Red Death (@doctorow) November 7, 2019
Looks like somebody's reading NC?
Class Warfare
"New Report Confirms Just How Shitty US Workers Have It" [Vice]. "According to the report, the average American workers spent 1,739 hours on the job in 2017, more than workers in many European countries as well as Canada, Japan, New Zealand, and Australia…. One explanation for this state of affairs is that the U.S. government guarantees very few benefits for workers, chaining them to their jobs. There is no federal law providing sick or vacation days or paid parental leave, and certainly no subsidy for daycare, unlike some other countries. And even blue states and cities lag well behind most European countries…. But wait, it gets worse: The U.S. also provides less assistance to laid-off workers than any other comparable country. Anyone who loses a job must immediately start searching for a new one. And retirement is often just another mode of semi-employment for the sizable chunk of Americans who don't have enough savings to live on Social Security alone." • It's bipartisan!
"On the Origins of the Professional-Managerial Class: An Interview with Barbara Ehrenreich" [Dissent]. ""Professional-managerial class" (PMC), a term coined by Barbara and John Ehrenreich in a 1977 essay for Radical America, has recently emerged from academic obscurity as a shorthand, of sorts, for technocratic liberalism, or wealthier Democratic primary voters, or the median Democratic Socialists of America (DSA) member, depending on who you ask." • This is a really good interview worth reading in full if you're interested in the DSA, or in a non-dogmatic history of the ins-and-outs of left organizing from the late 70s on. Ehrenreich is an interesting figure. And some of the incidents ring really, really true to me.
"National Labor Relations Board Investigating Marciano Art Foundation After Staff Layoffs" [Hollywood Reporter]. "Visitors service employees of the arts nonprofit organization — founded by Guess Jeans co-owners and prolific art collectors Maurice and Paul Marciano — were given notice on Tuesday evening in an email that said their jobs would end Thursday. According to the MAF Union, the group of employees that voted to organize at the foundation, 70 workers in total were given notice on Tuesday night. …The Marcianos have been dogged by labor complaints in their fashion work, prior to dipping their toes in the art scene. In 1997, Guess Jeans reinstated 20 workers who said they were fired for organizing after the NLRB got involved. The company says it never intended to intervene in labor activities." • Don't interfere with my toy museum!
"Instacart Workers Are Striking Because of the App's User Interface" [Slate]. "Several thousand workers who ferry groceries for Instacart are on the final day of a 72-hour strike over how the on-demand delivery app pays them. Instacart's "shoppers" grab items off stores shelves, purchase them, and deliver the order to customers' doors—but they have a problem with how the platform manages tipping: The default in the app is for users to leave either a $2 or a 5 percent tip for the shopper on top of the 5 percent service fee that Instacart charges every order. The workers allege that this service fee is misleading and that the 5 percent default tip option has cut into their take-home wages—which they say have shrunk because the app previously suggested a tip of 10 percent, and the company didn't charge a service fee." • If you have to use an app (whether worker or consumer) the first thing you should think is surveillance, the second is rents, and the third is fraud. Because that's how Silicon Valley rolls.
News of the Wired
"New Library Is a $41.5 Million Masterpiece. But About Those Stairs" [New York Times]. "It has been heralded as an architectural triumph: A new $41.5 million public library in Long Island City that ascends over multiple landings and terraces, providing stunning Manhattan views to patrons as they browse books and explore. But several of the terraces at the Hunters Point Library are inaccessible to people who cannot climb to them. A staircase and bleacher seating in the children's section, judged too risky for small children, has been closed off. And the five-story, vertically designed building only has one elevator, creating bottlenecks at times." • Reminds me of Cooper Union's New Academic Building, also the result of an assault by architects.
* * *
Readers, feel free to contact me at lambert [UNDERSCORE] strether [DOT] corrente [AT] yahoo [DOT] com, with (a) links, and even better (b) sources I should curate regularly, (c) how to send me a check if you are allergic to PayPal, and (d) to find out how to send me images of plants. Vegetables are fine! Fungi and coral are deemed to be honorary plants! If you want your handle to appear as a credit, please place it at the start of your mail in parentheses: (thus). Otherwise, I will anonymize by using your initials. See the previous Water Cooler (with plant) here. Today's plant (timotheus):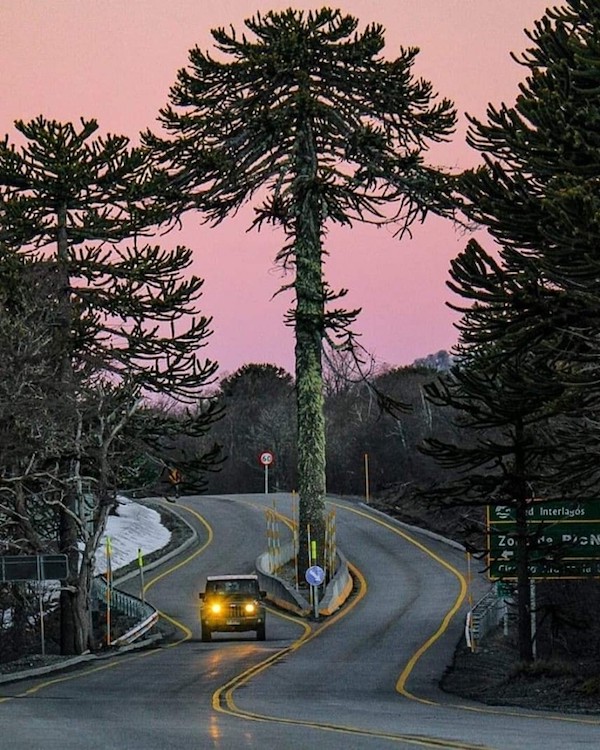 timotheus: "The Chilean araucaria or monkey-puzzle tree. It is found all over the south of Chile especially in the higher altitudes."
* * *
Readers: Water Cooler is a standalone entity not covered by the annual NC fundraiser. So if you see a link you especially like, or an item you wouldn't see anywhere else, please do not hesitate to express your appreciation in tangible form. Remember, a tip jar is for tipping! Regular positive feedback both makes me feel good and lets me know I'm on the right track with coverage. When I get no donations for five or ten days I get worried. More tangibly, a constant trickle of donations helps me with expenses, and I factor in that trickle when setting fundraising goals:
Here is the screen that will appear, which I have helpfully annotated.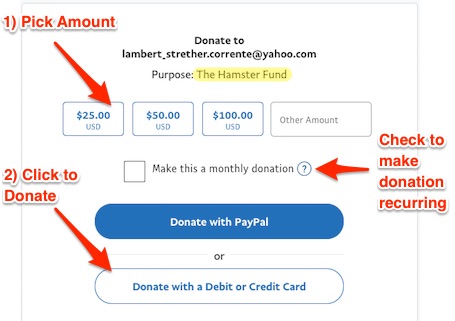 If you hate PayPal, you can email me at lambert [UNDERSCORE] strether [DOT] corrente [AT] yahoo [DOT] com, and I will give you directions on how to send a check. Thank you!