Readers, if you are so inclined, have a lovely Christmas Eve. –lambert
Researchers Have Identified 100 Mysteriously Disappeared Stars in The Night Sky Science Alert
Long-term predator–prey cycles finally achieved in the lab Nature
'Amazon's Choice' Isn't the Endorsement It Appears WSJ
Amazon's Race To Build A Fast Delivery Network: "The Human Cost Of This Is Too Much." Buzzfeed
Amazon warehouse workers doing "back-breaking" work walked off the job in protest Recode
'The monster': a short history of Australia's biggest forest fire Sydney Morning Herald
Richard Flanagan: Aloha, little Scotty from Marketing, is it resurrection you're looking for? The New Daily
The decade that blew up energy predictions Axios
When will the Netherlands disappear? Politico
Brexit
Boris Johnson faces a battle to save the union FT

Momentum Lost: Surveying the Fractured British Left American Affairs

Politics: reasons for failure EU Referendum
Why London's Commercial Property Market Is Set for 2020 Revival Bloomberg
French union workers vote to halt production at key oil facility Reuters
Syraqistan
Saudi Arabia sentences five to death for murder of Jamal Khashoggi Guardian
Chronicle of a Coup Foretold Counterpunch. Mexico.
India
Modi's party loses Indian state election amid protests over citizenship law Reuters

India's citizenship law: what is it and why has it stirred such anger? FT

The three-step communal game plan The Hindu
The Koreas
Leaders of China, Japan and South Korea gather amid North Korea's provocations Japan Times. But see this thread:

This is a total failure of reading comprehension. Moon Jae-in was criticizing Xi Jinping with very strong terms. The reference to Mencius toward the end of the address, 天時不如地利 地利不如人和, should have been an obvious clue. (This is why people should study the classics!) https://t.co/10OYJiCaTk

— T.K. of AAK! (@AskAKorean) December 23, 2019
China?
China digs Laos in deeper with flurry of SEZs Nikkei Asian Review
How the scramble for sand is destroying the Mekong BBC
Impeachment
What the Senate Does Now Will Cast a Long Shadow Patrick Leahy, NYT (KW). Indeed:

We're told that Trump "disregarded US foreign policy towards Ukraine" and "chose not to follow talking points" despite being "briefed on official policy." This impeachment is the ratification of the idea that security state bureaucrats are the keepers of "official policy." Insane

— Michael Tracey (@mtracey) December 24, 2019

We've got the intelligence community, the Blob, the press, and the political parties all acting like they're branches of government. So, yes, there's a lot at stake.

House counsel suggests Trump could be impeached again Politico If Democrats were as tenacious on #MedicareForAll, it would be passed by now.
Trump Transition
'Cutting Social Security Is Murder': Flood of Public Outrage Greets Trump Proposal to Slash Benefits for Hundreds of Thousands Common Dreams
How Airlines Exploit Laws To Literally Squeeze Customers The American Conservative. Embracing regulation (!).
2020
Medicare for All Isn't Tanking Warren Jacobin. Warren is tanking Medicare for All.

How Buttigieg's childhood pal ended up managing 2020's breakout campaign Politico. "Occasionally, Buttigieg and Schmuhl will literally communicate in another language, dipping seamlessly into French when they want to speak privately in a car packed with other people." Peak PMC.

The Defenders of the Wine Cave Are Missing the Point The Intercept
Georgia rolls out new voting machines, but fears about election security persist WaPo. Not "but." And.
Health Care
Unions shouldn't use their health insurance as a weapon against universal coverage WaPo

Focus turns to Supreme Court (again) following ACA ruling Health Care Dive

Anonymous Philanthropist Donates 200 Human Kidneys To Hospital The Onion
Big Brother Is Watching You Watch
Twitter rejects my censorship appeal Yasha Levine. And all because Levine paraphrased pro-impeachment Democrat law prof Pamela Karlan accurately.

Every move you make, I'll be watching you: Privacy implications of the Apple U1 chip and ultra-wideband Freedom to Tinker
Realignment and Legitimacy
2019: the year of street protest FT

FEATURE-Survival camps cater to new fear: America's political unrest Reuters (Re Silc). Grifters gotta grift.
Imperial Collapse Watch
Groupthink Resurgent The National Interest
Guillotine Watch
Want a Bugatti and a Yacht for Xmas? He Can Loan You the Money Bloomberg

Important Donor To Anti-Vax Movement Has Been Cashing In On 'Alternatives To Vaccines' As Measles Outbreaks Surge KHN
Class Warfare
Walmart Gets Green Light to Restrict Union Buttons at Work (2) Bloomberg
In Defense Of The Secular Embrace Of Christmas The American Conservative (dk).
Mapping words reveals emotional diversity Science
Why Your Brain Needs Exercise Scientific American
Antidote du jour (via). This cat is lit: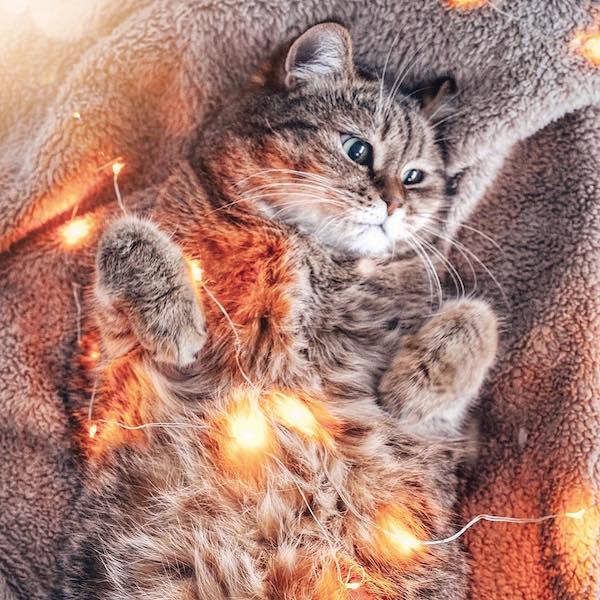 Bonus antidote (YY):
See yesterday's Links and Antidote du Jour here.