By Lambert Strether of Corrente.
Trade
UPDATE "Jury Still Out As U.S. China Trade War Throws Up Winners, Losers" [Bloomberg]. "Donald Trump famously declared that trade wars are easy to win. With the phase one trade agreement between the U.S. and China now inked, observers are hesitant to declare a winner. While most welcomed the truce they also cautioned that the toughest negotiations are yet to come. For now, obvious beneficiaries include America's farmers, refiners, crude and gas exporters who could see Chinese demand soar. U.S. finance firms including investment banks, credit card companies and ratings firms won allowances that will hasten their ambitions to grab a bigger slice of China's $45 trillion financial industry. On the Chinese side, the truce offers relief for a slowing economy and gives breathing space for the government to meet its growth targets. Potential losers include Brazilian soy bean farmers and Australian suppliers of liquefied natural gas amid stiffer competition for their Chinese order book. The World Trade Organization has been left on the sidelines as globalization gives way to managed trade. Even with the deal, Chinese goods remain levied with stinging U.S tariffs while American firms still face heavily subsidized Chinese competitors.
"The U.S.-China trade war is in a cease-fire as businesses look for a possible return to strong shipping expansion. The eight-part agreement the countries signed calls for sharply increased sales of U.S. goods and services to China. …[I]t also calls for reduced U.S. tariffs on $120 billion in Chinese goods and includes Washington's agreement to forgo other planned tariffs" [Wall Street Journal]. "The biggest section of the deal covers Chinese purchases. Beijing pledged to buy an additional $200 billion in goods and services over the next two years in manufactured goods, agriculture, energy and services, but it doesn't provide any detailed purchasing plans. Business leaders are generally applauding the pact, saying it brings greater certainty across supply chains. Some importers say they're concerned that many tariffs remain in place and that a more comprehensive accord is needed to lift the levies."
Politics
"But what is government itself, but the greatest of all reflections on human nature?" –James Madison, Federalist 51
"They had one weapon left and both knew it: treachery." –Frank Herbert, Dune
Here is a second counter for the Iowa Caucus, which is obviously just around the corner:
* * *
2020
Alert reader dk (not to be confused with DK) is in the process of developing the following interactive chart.

There are no new polls, as of 1/16/2020, 12:00 PM EST, so I am leaving yesterday's up. On the average, the pattern of Biden first, Sanders strong second, Warren fading, and then Buttigeig is more pronounced, with Bloomberg still closing on Buttigieg, which is interesting or concerning. NOTE: If we take out the averaging, Sanders is back in second, and Warren is in third. Of course, these are national polls, about to be massively thrown into confusion by IA, NH, SC, and NV — and then CA.

And the numbers:

Summary: Biden juggernaut rolls on, Sanders challenging strongly, Warren in difficulties, Buttigieg patchy.

CAVEAT I think we have to track the polls because so much of the horse-race coverage is generated by them; and at least with these charts we're insulating ourselves against getting excited about any one poll. That said, we should remember that the polling in 2016, as it turned out, was more about narrative than about sampling, and that this year is, if anything, even more so. In fact, one is entitled to ask, with the latest Buttigieg boomlet (bubble? (bezzle?)) which came first: The narrative, or the poll? One hears of push polling, to be sure, but not of collective push polling by herding pollsters. We should also worry about state polls with very small sample sizes and big gaps in coverage. And that's before we get to the issues with cellphones (as well as whether voters in very small, very early states game their answers). So we are indeed following a horse-race, but the horses don't stay in their lanes, some of the horses are not in it to win but to interfere with the others, the track is very muddy, and the mud has splattered our binoculars, such that it's very hard to see what's going on from the stands. Also, the track owners are crooked and the stewards are on the take. Everything's fine.

I think dk has started a really neat project, and in the near future we'll seek your feedback (within reason) for the tool "live."

* * *

Biden (D)(1): "Ray LaHood won't vote for Trump, backs Biden" [State Journal-Register]. "Former U.S. Transportation Secretary Ray LaHood, who is also a former Republican member of Congress, said Wednesday he did not vote for President Donald Trump in 2016 and will 'absolutely not' vote for him in 2020….. 'I have met every president since (Richard) Nixon,' LaHood told The State Journal-Register. 'Although I haven't agreed with every one of them on every issue, each one of those people, except for Nixon, distinguished themselves in a way that made our country proud. … And this president has not done that.' 'The way he treats people,' LaHood continued. 'The way that he disparages people. The way that he represents our country. He's not my kind of politician.'" • Yes, Nixon was a giant… .

UPDATE Biden (D)(2): "Joe Biden Has Advocated Cutting Social Security for 40 Years" [Ryan Grim, The Intercept]. "AS EARLY AS 1984 and as recently as 2018, former Vice President Joe Biden called for cuts to Social Security in the name of saving the program and balancing the federal budget. Last week, Sen. Bernie Sanders highlighted Biden's record on Social Security in prosecuting the case that Biden isn't the most electable candidate. The issue could be raised again in Tuesday night's debate." • Lol.

Buttigieg (D)(1): "Mayor Pete Needs to Explain His Very Dumb Health Plan" [Vice]. "[O]nly Buttigieg claims his plan will guarantee that every person in America has insurance while still preserving people's 'choice' of a private plan or the public option. How does PeteCare pull this off? By automatically enrolling anyone without insurance in the government plan and then back-billing them, potentially via tax filings, for a year's worth of coverage, which could be thousands of dollars." • Who would not find such a choice attractive?

Buttigieg (D)(2): "Pete Buttigieg" (interview) [Editorial Board, New York Times]. "It can be hard to remember that Pete Buttigieg is just 37 — his deep baritone and evenness of tone can often seem like a mismatch with his relative youth among the Democratic field. Mr. Buttigieg projected steadiness and thoroughness as he faced questions about his consulting work at McKinsey & Company, his service in Afghanistan, his faith and his challenges in attracting support from minorities and younger voters, despite being the youngest candidate in the contest. He bristled at suggestions that his McKinsey work involved bread price fixing in Canada and claimed ignorance of the 'Mayo Pete' memes popular on the internet among millennials. ('I get the white part,' he said.)" • Annotated interview follows. Have at it!

Buttigieg (D)(3): "Pete Buttigieg Trapped In Freezer After Searching Iowa Diner For Back Room With High-Rolling Donors" [The Onion]. "I already called for help in eight languages, and I'm starting to get really cold."

UPDATE Klobuchar(D)(1): "Probably no one, not even Trump, is dreading the impeachment trial more than Amy Klobuchar" [Boston Globe]. "'The timing of this impeachment trial is really unfortunate for Klobuchar,' said Jeff Link, the onetime chief of staff to former Senator Tom Harkin of Iowa and a former top staffer on the Al Gore and Barack Obama campaigns. Link hasn't endorsed a candidate in 2020. 'What really fueled her rise was the amount of time she spent in the state. This impeachment trial might freeze that and not help her build more momentum.' No one on the debate stage Tuesday night has even come close to doing 165 events over 61 days in Iowa, as Klobuchar has." • Klobuchar is the lead Democrat on the Senate Rules Committee.

Sanders (D)(1): "Sanders campaign escalates attacks on Biden's race record in SC to sway black voters" [Post and Courier]. "While the national narrative in recent days has centered around Sanders' escalating feuds with U.S. Sen. Elizabeth Warren, in South Carolina, Sanders has continued to train his focus on Biden, who has led in every poll of Democrats in the state in large part to strong support from black voters." • Social Security is the issue to split Biden's voters, I think. Too bad that got drowned out over last week.

UPDATE Sanders (D)(2): "Pocan endorses Sanders, giving him a boost in Wisconsin" [Associated Press]. "Rep. Mark Pocan, who didn't back anyone in Wisconsin's Democratic presidential primary in 2016, announced Thursday that this year he is endorsing Bernie Sanders, giving the Vermont senator a boost in the battleground state three months before its primary… 'I have enormous respect for Elizabeth Warren,' Pocan told The Associated Press in an interview. 'I just think not only do families connect very strongly with Bernie Sanders, the electability is very important.'" • Comment from NYT reporter/CNN commentator:


This is the kind of thing that infuriates warren backers. https://t.co/JQNzMMvIuo

— Lisa Lerer (@llerer) January 16, 2020

What an odd comment. Sanders shouldn't seek endorsements, and people who endorse him shouldn't give reasons?

Sanders (D)(3): "Bernie Sanders's agenda makes him the definition of unelectable" [WaPo]. "The centerpiece of that agenda is Medicare-for-all, a politically toxic proposal that represents the only way Democrats could fumble away their health-care advantage over Trump." • Third Way, funded by CVS Heatlh, which owns Aetna.

Sanders (D)(4): "Sanders' wife on feud with Warren: 'This discussion is over'" [Associated Press]. ""I think that this discussion is over," O'Meara Sanders told The Associated Press… At the same time, she described her husband as 'a person that everybody can trust' and pushed back against Warren's accusation. 'Maybe people sometimes misremember things that happened,' she said. 'But I know without a doubt that it is not anything Bernie would ever say. It is inconceivable because it's not what he believes. And there's proof of that going back many, many years.' 'I'm not attacking Elizabeth Warren in any way, shape or form on this,' O'Meara Sanders continued. 'My message is Bernie is trying to bring people together.'" • Interestingly, AP characterizes Warren's "explosive allegation" as "inexplicably made."

Warren (D)(1): "Elizabeth Warren Failed to Mention "Medicare-For-All" Once During Tuesday's Debate" [Paste Magazine]. "Elizabeth Warren appears to have given up on Medicare for All—at least as a talking point. At Tuesday's Democratic presidential debate in Iowa, the last before the caucuses, the 2020 hopeful did not utter the phrase a single time while discussing her health care proposal. Instead she talked about defending the Affordable Care Act and downplayed the differences between the candidates' plans." • Wait. What about "I'm with Bernie"? Could be, of course, that Warren is making a play for insurance back office workers in Des Moines.

Warren (D)(2): "Can Elizabeth Warren Unify Democrats?" [Benjamin Wallace-Wells, The New Yorker]. "The specificity of Warren's campaign has won her a cadre of devoted, talented staffers and volunteers, many of them women in their twenties, that seems unmatched in the Democratic primary. At the Dubuque town hall, a young woman approached the microphone and said to Warren, winningly, that, though the two had never met, 'you are my best friend in my dreams.' 'The stories about Warren staffers in Iowa and how far they go to sell her candidacy regularly circulate among rival campaigns, eliciting both eye rolls but also grudging admiration,' the Washington Post reported earlier this month. In the piece, a longtime Iowa Democratic activist marvels, 'It's like, where did they find these kids?' They find them in exactly the same places Democrats have always found talented kids, but, in this case, they have a somewhat different attitude toward power. Regina Logan, a Warren volunteer who is the student-body president at Grinnell College, told me, "Women often have to work twice as hard for less glory and less credit and more criticism. Her career, in a lot of ways, is that story.'" • "They find them in exactly the same places Democrats have always found talented kids"… Hmm. Clearly, none of them see #MedicareForAll as a defining issue, so one can only wonder where those "places" are. Probably not restaurants, the schools, or Walmart, the places the majority of Sanders supporters come from. I also see the possibility of friction at the caucuses. Perhaps that was what Warren was tee-ing up by casting Sanders as an enemy of women? If I were the Sanders campaign, I'd record all caucus sites, both to make sure there weren't any shenanigains with ballots, and for any other incidents.

UPDATE Warren (D)(3): "#NeverWarren Was Trending on Twitter. Thank Her Supporters" [Bloomberg]. "On Wednesday morning, the hashtag #NeverWarren appeared at the top of Twitter's trending topics. As of late Wednesday afternoon it had been mentioned more than 80,000 times, according to Ben Nimmo, director of investigations for social media monitoring company Graphika. "It looks like it started off among some long-standing Sanders supporters," he wrote in an email, "but the most striking thing is that all the most-retweeted posts are of people criticizing the hashtag and the mentality behind it, and/or calling for unity." • The famously disciplined and competent Warren campaign should have spotted this and damped it down, just as Jane Sanders damped down that snake meme.

UPDATE Warren (D)(4): "Election Update: Why Warren Needs To Play To Win — And That Includes Beating Sanders" [FiveThirtyEight]. "I'd argue nonaggression toward Warren is pretty clearly in the best interest of Sanders, who was in the stronger position than Warren heading into the debate and who would probably prefer to focus on Biden. But it's probably not beneficial to Warren. Any scenario that doesn't involve Warren winning Iowa will leave her in a fairly rough position — and winning Iowa means beating Sanders there." • If you want a "friend" in Iowa, get a dog.

* * *

"Left launches bid to unify Sanders, Warren camps" [Politico]. "Launching what they called a "Progressives Unite 2020" campaign, the political action committee Democracy for America and 17 other groups pledged to "focus our fight for the nomination against candidates supported by the corporate wing, instead of fighting each other.' The effort reflects the desperation of many progressive Democrats to move past the sparring that has erupted in recent days between supporters of Sanders and Warren — and that flared again on Wednesday…. The pledge Thursday includes groups that are supporting Sanders or Warren, or both, or who have not yet endorsed any candidate. Among its ranks are DFA, Our Revolution, Justice Democrats, Sunrise Movement and the Working Families Party…. The groups said in a prepared statement that they will ask members to sign onto a pledge to vote strategically for Sanders and Warren in their caucuses or primaries." • I don't think this is hard. Warren and Sanders hold a press conference where Warren says explicitly that she believes Sanders is not a sexist, and also says that Sanders has often said, and told her, that a woman can win the Presidency. She then shakes hands with Sanders. How hard can that be? Meanwhile, the NGOs may want voters to vote strategically, but I would bet the pull of the campaigns is stronger. Sanders voters might feel that there's nothing wrong with knocking out Warren to get a clean shot at Biden. And Warren voters might feel the same.

UPDATE "Let Them Fight!" [The Nation]. "[A]ny pretense of sincerity from Warren's campaign on the unity front has been completely eroded by the events of the last few days…. Warren's tendency to get incredibly cautious and retreat into defensive crouch is reminiscent of how Clintonworld interacted with the media and her critics. There's a clear through line: Her campaign is conflict-averse and does not handle criticism well…. There is a pervasive sense that the candidates who need to be admonished for their lack of unity are those on the left. Sanders is characterized as cranky and argumentative… we should let these candidates compete, debate, and criticize one another—recognizing that the ones who most often issue pompous paeans to "unity" are only doing so to duck the most necessary fights. And we should give voters of all stripes this time to argue for their principles, to like the candidate they're passionate about and criticize the inadequacies of the ones they don't. You should be allowed to support your candidate and loudly proclaim your belief that they're better than any of the others. This happens to be what the candidates believe as well." • it is?

UPDATE "AP Explains: New rules could muddle results of Iowa caucuses" [Associated Press]. "For the first time, the Iowa Democratic Party will report three sets of results from the party's presidential caucuses. And there is no guarantee that all three will show the same winner…. In the past, Iowa Democrats reported only one set of results: the number of state convention delegates won by each candidate through the caucus process…. There will be three sets of results: tallies of the "first alignment" of caucus-goers, their 'final alignment' and the total number of State Delegate Equivalents each candidate receives…. it's not just Iowa that is affected by the changes. The Nevada Democratic caucuses on Feb. 22 will also report three sets of results."
Realignment and Legitimacy
Perhaps readers can contribute their own verses:

I go to Women's March rallies#ImStillWithHer is stuck on my car.
I love Ashley and Alyssa and Tina
I hope every feminist becomes a star.
But don't talk about getting healthcare
That's going a little bit too far
So love me, love me, love me, I'm a liberal.

— Susan of Texas (@SusanofTexas) January 15, 2020

For those who came in late, the original:

"A Guide to the 2020 Democratic Candidates You Should Not Vote For" [Medium]. • A useful compilation; lots of linky goodness. Mix 'em, match 'em, share 'em with your friends!

UPDATE News you can use:

I flipped my Aunt from voting for Biden to Bernie by asking her to read this article by @ninaturner. #Bernie2020https://t.co/uxdwAeHhPu

— Gregory Hardin II ??? (@GregoryHardinII) January 16, 2020

I'm putting this here because that's one purpose of Water Cooler: To put out links you can share. Old-school blogging!
The Debates
Impeachment
Stats Watch
Commodities: "What is artisanal gold and why is it booming?" [Reuters]. "[I]nformal digging – known as artisanal or small-scale mining (ASM) – has been around for centuries …. I can leak toxins and pollute water systems. Informal mines often collapse. Children often work on sites, sometimes forced by unscrupulous bosses to squeeze into narrow pits. Such mining feeds a shadow economy that deprives states of taxes: Gold worth billions of dollars is smuggled from Africa every year. Narcotics dealers and warlords use the gold to launder profits or buy arms." • "Artisanal mining." What public relations genius coined that?
Tech: "Twitter's Top Lawyer Is Final Word on Blocking Tweets—Even Donald Trump's" [Bloomberg]. "While Dorsey is the company's public face, and the final word on all things product and strategy, the taxing job of creating and enforcing Twitter's rules don't actually land on the CEO's shoulders. Instead, that falls to Twitter's top lawyer, Vijaya Gadde. As Twitter's head of legal and policy issues, Gadde has one of the most difficult jobs in technology: Her teams write and enforce the rules for hundreds of millions of internet users. If people break the rules, the offending tweets can be removed, users can be suspended, or in extreme cases booted off Twitter altogether. Dorsey may have to answer for Twitter's decisions, but he's taken a hands-off approach to creating and enforcing its content policies."
Tech: "AppSheet. Gesundheit! Oh, we see – it's Google pulling no-code development into a cloudy embrace" [The Register]. "Google has cleared the way for non-developers to build applications that make use of Google cloud services with the acquisition of Seattle-based no-code development platform AppSheet confirmed. … 'Citizen development' does have downsides. It is a form of shadow IT – IT systems created outside the normal company processes – and significant corporate data can end up in applications that may be poorly designed, poorly secured, and difficult to support. Another risk is that applications built with no-code or low-code tools may run into roadblocks where performance or feature requirements cannot be achieved, which may require starting from scratch with a different approach. Users can expect Google to make AppSheet more sharply focused on Google services."
Tech: "Wait — What Instagram Ads Do Men See?" [New York Magazine]. "There you have it. Banks. Video-game systems. Sweaters. An insane number of massage guns for that last guy (he sent screenshots of six separate ads). Periodicals. That other guy bragging about the countries he's planning to visit. Grills. Trucks. Tools. And a bunch of companies where it's like, what … even … is this? Chain restaurants. Whatever "dumb seal pillows" are. Bernie Sanders. Pretty much what you'd imagine, I guess, if you ever thought to imagine it." • Nice little casual swipe at an implied "Bernie Bro" there….
* * *
Today's Fear & Greed Index: 88 Extreme Greed (previous close: 86 Extreme Greed) [CNN]. One week ago: 93 (Extreme Greed). (0 is Extreme Fear; 100 is Extreme Greed). Last updated Jan 16 at 12:30pm.
The Biosphere
"When It Comes to the Australian Bushfires, Rupert Murdoch is an Arsonist" [Michael Mann, Newsweek]. "There was a full court press by the Murdoch media machine, including The Australian, described by Sourcewatch as a paper that "promotes climate change denial in a way that is sometimes…so astonishing as to be entertaining", The Herald Sun, and Sky News television network in Australia, and Fox News in the U.S., to promote the false claim that the massive bushfires engulfing Australia were primarily a result of "arson". The distortions were so egregious that a whistleblower from within Newscorp, named Emily Townsend, came forward, condemning the organization for waging a 'misinformation campaign' consisting of 'irresponsible' and 'dangerous' coverage of the current unprecedented bushfire crisis. And in a late-breaking development, Rupert Murdoch's son James Murdoch is now blasting his father's media empire, indicating that he is 'particularly disappointed with the ongoing denial among the news outlets in Australia given obvious evidence to the contrary.'" • When you've lost James Murdoch…
Paging Bill Mitchell:
I don't know about you, but when I look at the visualizations of an entire continent on fire and see footage of children fleeing into the ocean to escape encroaching flames, I think to myself, how could both parties have let the national debt get so out of hand in my lifetime?

— Claire Sandberg (@clairesandberg) January 15, 2020
"Top European Forecaster Quintuples Computer Power to Predict Extreme Events" [Bloomberg]. "The European Centre for Medium-Range Weather Forecasts, one of the most accurate predictors of global weather, is upgrading its supercomputer to improve its models and fine-tune predictions of extreme weather. 'Upgrading our computers is something that we always do at regular intervals, but the intensification of severe weather and its impact is making this need more tangible,' ECMWF spokeswoman Hilda Carr said. 'Our users need us to be more and more accurate and reliable as weather continues to kill and destroy.' In practice, the upgrade will lead to 'significant improvements' in forecasts of temperatures and wind, as well of extreme events such as maximum rainfall intensity in extra-tropical storms and the strength of tropical cyclones, she said."
"The unmapped chemical complexity of our diet" [Nature]. From the abstract: "Our understanding of how diet affects health is that are tracked and catalogued by the United States Department of Agriculture and other national databases. Although this knowledge has been transformative for health sciences, helping unveil the role of calories, sugar, fat, vitamins and other nutritional factors in the emergence of common diseases, —many of which have documented effects on health but remain unquantified in any systematic fashion across different individual foods. Using new advances such as machine learning, a high-resolution library of these biochemicals could enable the systematic study of the full biochemical spectrum of our diets, opening new avenues for understanding the composition of what we eat, and how it affects health and disease." • As I keep saying, we don't know anything. And I cannot forbear from quoting the lead: "The maxim of Jean Anthelme Brillat-Savarin, "Dites-moi ce que vous mangez et je vais vous dire ce que vous êtes"—'you are what you eat'—remains as pertinent today, in the era of modern medicine, as it did in 1826." • Yes!
Water
"The Panama Canal surcharges triggered by low water levels aren't going away anytime soon. The canal's top administrator says the restrictions during the dry season and new year-round fees will likely continue for several years… until authorities engineer a long-term solution to address droughts at the critical hub for ocean trade" [Wall Street Journal]. "The canal is adding its extra charges, including what it calls a 'freshwater surcharge,' starting on Feb. 15, and will start limiting daily reservation slots. It's the result of changing weather patterns, including shifting rainfall, higher temperatures and greater evaporation that has lowered the water table near the transit point between the Atlantic and Pacific oceans."
"Scientists Fight Back Against Toxic 'Forever' Chemicals" [Wired]. "Once a symbol of American ingenuity, PFAS were originally conceived as wonder chemicals that could resist stains, repel water, extinguish horrific oil-based fires, and keep eggs from sticking to the pan. Today, we know them as a Frankenstein-like invention, zombie chemicals that will not die. Chemists created thousands of such compounds by bonding carbon to fluorine in chemical chains, forging one of the strongest bonds ever discovered. Now they have been found across the planet—even in the blood of arctic foxes and polar bears… here's a shred of optimism: Some new technologies show promise in breaking those ultra-strong carbon-fluorine bonds, which means the compounds known as 'forever' chemicals could be removed from at least some groundwater. 'I have actually started to feel a little bit of hope,' says Chris Higgins, an environmental engineer at the Colorado School of Mines and a PFAS expert. 'We're getting some technologies that seem to be working.'"
"About half of Detroit water shutoffs are still off" [Free Press]. "As of Oct. 31, according to its own internal report, the water department had turned off water to more than 25,000 accounts in 2019, and subsequently restored service to 13,721 of those customers. That means 11,297 accounts still lack water service. And 10,145 of those accounts serve properties the department believes are occupied. Department spokesman Bryan Peckinpaugh is surely right when he says that not every one of those shutoffs means a family is living without water, but it seems clear that these numbers indicate that thousands of Detroiters are in this predicament. I'm getting tired of writing it, but: This is nuts. This is year seven of Detroit's water crisis, and I think it's actually getting worse…. The remains of the Roman Empire, sprawled across Europe, are aqueducts and roads, the hallmarks of civilization. Access to water and sewerage service isn't just a personal amenity; it's a public good, a necessity critical to limiting the genesis and spread of disease. Shutting down water service en masse makes no sense, and it's unbelievable that after seven years of shutoffs, no one has figured out a solution to what the United Nations has called a humanitarian crisis in Michigan's largest city."
Class Warfare
"The Teamster Revolt Against the Hoffa Era" [Jacobin]. "Willie Ford listened to the conference call in disbelief from the cab of his tractor trailer on I-95 as the Teamster election monitor announced the results of the contract vote covering 250,000 workers at UPS. Ford, a leader of Teamsters for a Democratic Union (TDU), and rank-and-file activists like him, had spent months organizing the UPS Teamster United campaign to win contract improvements. But UPS management and top Teamster officials agreed to givebacks, including a two-tier wage scale for drivers, and spent millions on a coordinated campaign to promote and push through their concessionary deal. Now was the moment of truth. In a monotone voice, the election official announced the results. By a 54 percent majority, UPS workers rejected the givebacks. Dissident Teamster activists had done the impossible. Their Vote No campaign had won. But it wasn't over yet. The very next speaker on the conference call reversed the rank-and-file victory. Citing an obscure loophole in the Teamster Constitution, Denis Taylor, the union's chief negotiator at UPS, declared the contract ratified. Just like that, two-tier concessions at the largest union contract in the United States were imposed over the no vote by the members." • Lovely.
"Stress, anxiety, harassment: huge survey reveals pressures of scientists' working lives" [Nature]. "A survey of more than 4,000 scientists has painted a damning picture of the culture in which they work, suggesting that highly competitive and often hostile environments are damaging the quality of research. Around 80% of the survey's participants — mostly academic researchers in the United Kingdom — believed that competition had fostered mean or aggressive working conditions, and half described struggles with depression or anxiety. Nearly two-thirds of respondents reported witnessing bullying or harassment and 43% said they had experienced it."
News of the Wired
"Bryan Hall on Ethical Dilemmas of the Zombie Apocalypse" [Westword]. "Zombies provide a post-apocalyptic vehicle for us to talk about ourselves and how we would behave in the absence of any external authority: police, military, etcetera. The irony of most zombie fiction is that we have much more to fear from the living than we do from the undead. Philosophers have used a similar approach for thousands of years. Everything from Plato's Ring of Gyges in The Republic to Thomas Hobbes's State of Nature in Leviathan introduce ethical concepts by considering human beings without social constraint."
* * *
Readers, feel free to contact me at lambert [UNDERSCORE] strether [DOT] corrente [AT] yahoo [DOT] com, with (a) links, and even better (b) sources I should curate regularly, (c) how to send me a check if you are allergic to PayPal, and (d) to find out how to send me images of plants. Vegetables are fine! Fungi and coral are deemed to be honorary plants! If you want your handle to appear as a credit, please place it at the start of your mail in parentheses: (thus). Otherwise, I will anonymize by using your initials. See the previous Water Cooler (with plant) here. Today's plant (SV):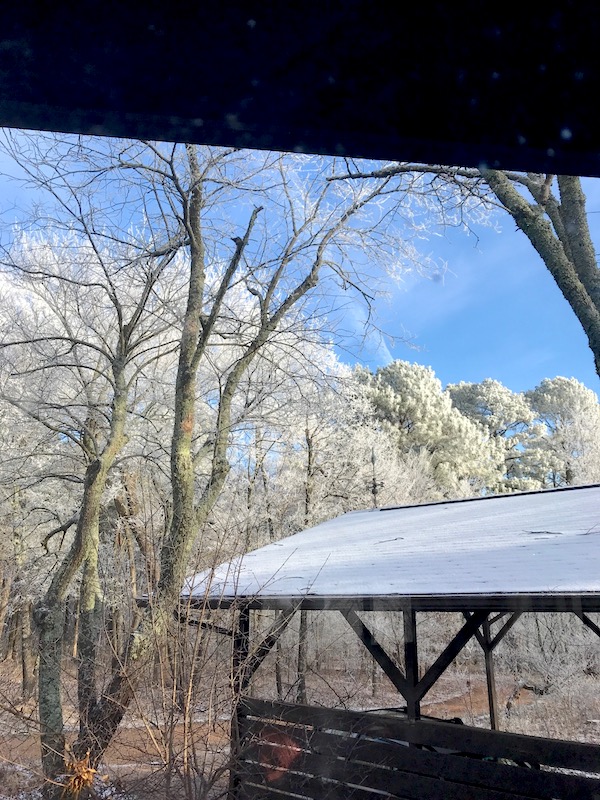 SV writes: "A new to me phenomenon of the rural Arky Ozarks. Our friend Barbara took these last Sunday a.m. and says Pines to the left and Elm and Persimmons to the right." It looks like an ie storm to me, but it is in fact freezing fog.
* * *
Readers: Water Cooler is a standalone entity not covered by the annual NC fundraiser. So if you see a link you especially like, or an item you wouldn't see anywhere else, please do not hesitate to express your appreciation in tangible form. Remember, a tip jar is for tipping! Regular positive feedback both makes me feel good and lets me know I'm on the right track with coverage. When I get no donations for five or ten days I get worried. More tangibly, a constant trickle of donations helps me with expenses, and I factor in that trickle when setting fundraising goals:
Here is the screen that will appear, which I have helpfully annotated.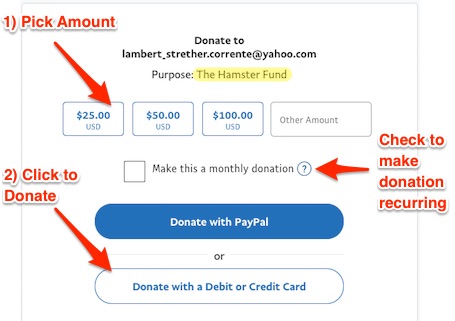 If you hate PayPal, you can email me at lambert [UNDERSCORE] strether [DOT] corrente [AT] yahoo [DOT] com, and I will give you directions on how to send a check. Thank you!