By Lambert Strether of Corrente.
Politics
"But what is government itself, but the greatest of all reflections on human nature?" –James Madison, Federalist 51
"They had one weapon left and both knew it: treachery." –Frank Herbert, Dune
Here is a second counter for the Iowa Caucus, which is obviously just around the corner:
* * *
2020
Alert reader dk (not to be confused with DK) is in the process of developing the following interactive chart.

We have a lot of polls today, as of 1/22/2020, 12:00 PM EST. Morning Consult and CNN made the headlines, so they will get their own charts. Others will get numbers only (including Monmouth and YouGov). , it looks like it's now a two-person race between Biden and Sanders, with Warren trailing badly, followed by Buttigeig. with Bloomberg still closing on Buttigieg, which is interesting or concerning. Of course, these are national polls, about to be massively thrown into confusion by IA, NH, SC, and NV — and then CA. stopped using three-day averages because, this close to the first balloting, day to day fluctuations are important:

And the numbers:

NOTE: The CNN/Morning Consults polls are the ones with the black circles around the results.

Here is Morning Consult (note big sample size):

And Morning Consult numbers:

Here is CNN (smaller sample size):

And CNN numbers:

Here's Monmouth nationally (matches CNN and Morning Consult), plus state polls for OH, WI, MI, and OA:

Finally, here's YouGov nationally, with Warren and Sanders tied for second:

Summary: The Biden juggernaut rolls on, but Sanders is closing. Warren is in trouble (meaning her smear of Sanders did not work). Needless to say — though of course IA, NH, SC, and MV are each different — this is a good place for Sanders to be. It's hard to believe this was the DNC's desired result.

CAVEAT I think we have to track the polls because so much of the horse-race coverage is generated by them; and at least with these charts we're insulating ourselves against getting excited about any one poll. That said, we should remember that the polling in 2016, as it turned out, was more about narrative than about sampling, and that this year is, if anything, even more so. In fact, one is entitled to ask, with the latest Buttigieg boomlet (bubble? (bezzle?)) which came first: The narrative, or the poll? One hears of push polling, to be sure, but not of collective push polling by herding pollsters. We should also worry about state polls with very small sample sizes and big gaps in coverage. And that's before we get to the issues with cellphones (as well as whether voters in very small, very early states game their answers). So we are indeed following a horse-race, but the horses don't stay in their lanes, some of the horses are not in it to win but to interfere with the others, the track is very muddy, and the mud has splattered our binoculars, such that it's very hard to see what's going on from the stands. Also, the track owners are crooked and the stewards are on the take. Everything's fine.

I think dk has started a really neat project, and in the near future we'll seek your feedback (within reason) for the tool "live."

* * *

Buttigieg (D)(1): Hmm:

Pete is done. He just had his "Please clap" moment! https://t.co/Fq39wCYuDG

— Matthew Battle (@librab103) January 21, 2020

UPDATE Gabbard (D)(1): "Tulsi Gabbard sues Hillary Clinton for $50M, claims defamation over 'Russian asset' remark" [NBC]. "Democratic presidential candidate Rep. Tulsi Gabbard filed a defamation lawsuit Wednesday against Hillary Clinton seeking $50 million in damages, claiming the former Democratic presidential nominee 'carelessly and recklessly impugned' her reputation when she suggested in October that one of the 2020 Democratic candidates is 'the favorite of the Russians.' The lawsuit, filed in the U.S. District Court for the Southern District of New York, says it aims to hold Clinton and other 'political elites' accountable for 'distorting the truth in the middle of a critical Presidential election.' It also says Gabbard suffered an economic loss to be proven at trial. Clinton spokesman Nick Merrill responded: 'That's ridiculous.'"

Sanders (D)(1):

THEY HAVE NOTHING ON #BERNIE

I seem to have to repeat this daily: I was privy to the oppo book on Bernie. The only thing I flagged years ago was the 'socialism' b.s. from the right. But after AOC's victory and the damage from Trump's authoritarianism, it's a non-issue.

— Peter Daou (@peterdaou) January 22, 2020

Nobody said that oppo can't be faked; perhaps the Clintons weren't quite ruthless enough…

UPDATE Sanders (D)(2): Bringing receipts = attack:

Let's be honest, Joe. One of us fought for decades to cut Social Security, and one of us didn't. But don't take it from me. Take it from you. pic.twitter.com/qh7qb1Hmcl

— Bernie Sanders (@BernieSanders) January 22, 2020

"But don't take it from me." Ouch.

UPDATE Steyer (D)(1): "Does Tom Steyer have real momentum or just a ton of money?" [Los Angeles Times]. "'I get the feeling he cares about us,' [Rachel Minus] said, as she waited for Steyer to take the stage here at the Jerusalem Baptist Church, a black congregation dating to the late 1800s. 'The other candidates say things that are lip service. We have seen it year after year with the Democratic Party. So when they keep repeating the same talking points, you listen to it and it falls on deaf ears. He's genuine.' That sentiment is especially significant in a state where about 3 in 5 Democratic voters in the presidential primary four years ago were African Americans. Steyer's aggressive spending here and in Nevada bought enough support in state polls to allow the former hedge-fund manager to qualify for last week's nationally televised Democratic debate, much to the annoyance of some rivals and a chorus on social media.'" • Hmm. If Minus is representative, criticizing Obama is not a third rail.

* * *

"Iowa is Not the Twitterverse" [Counterpunch]. "The real game changer around here, though, might be Iowa State University's decision, after years of pressure, to issue new student IDs, enabling 35,000 students to vote, even under Iowa's restrictive new voter-ID law. That's a progressive victory, and in a different media universe, it would be a story even juicier than a handshake." • We'll see.

"Hillary Clinton and Barack Obama want to stop Bernie Sanders. Can they actually do it?" [WaPo]. "The optimal move for Obama, Clinton and other Democrats might be to wait for results in Iowa and New Hampshire, assess whether Sanders has momentum and only endorse a rival if he looks like he's taking off. If they endorse someone else earlier, it could backfire: Imagine the momentum Sanders would get if he beat Joe Biden or another establishment candidate after Democratic luminaries intervened in the race…. Sanders's opponents have few other options available to them. Sanders doesn't depend on top donors for money: He spent years building a network of small-dollar donors who have sustained him during long fights with mainstream Democrats like Clinton. Polls show that rank-and-file Democrats generally like Sanders and wouldn't be disappointed if he were the nominee. And superdelegates, who don't vote until the second ballot at the convention, might have trouble throwing the nomination to someone else if Sanders clearly had the most votes and delegates…. Obviously this is only one of many scenarios: Biden, Elizabeth Warren or Pete Buttigieg could win Iowa and keep Sanders from the nomination without Obama's help. But . Twenty years ago, the idea of a socialist taking over the party and running a general election campaign would be pure nonsense. But . Trump broke through them. For better or worse, Sanders has a chance to do the same." • Suddenly, I'm seeing this "guardrails" metaphor everywhere. Anyhow, if Sanders manages to win by expanding the Democrat base, how exactly does that "underline the weakness of the Democratic [sic] Party"? FWIW, I think Obama needs to intervene before South Carolina — given his history in that state.
Impeachment
Senate decorum rules:

"Senators should plan to be in attendance at all times during the proceedings." https://t.co/HVo6PaeH7n pic.twitter.com/fcp35FfZYU

— Manu Raju (@mkraju) January 22, 2020

UPDATE "Why Is John Roberts Even in the Impeachment Trial?" [Politioo]. "While the Constitution doesn't offer much detail other than that 'the Chief Justice shall preside,' a review of the Federalist Papers shows that the founders in fact wanted the chief justice to be much more than a ceremonial officer or a potted plant. They wanted him or her to play an important, substantive role, as one who presides in the sense of a judge overseeing a trial, or even the vice president presiding over the Senate." • It would be helpful if a passage from the Federalist Papers were quoted. It sounds to me like the idea here is that Roberts should be a civil law judge, investigating, rather than a common law judge, presiding. From Federalist 65:

Would it have been an improvement of the plan, to have united the Supreme Court with the Senate, in the formation of the court of impeachments? This union would certainly have been attended with several advantages; but would they not have been overbalanced by the signal disadvantage, already stated, arising from the agency of the same judges in the double prosecution to which the offender would be liable? To a certain extent, the benefits of that union will be obtained from making the chief justice of the Supreme Court the president of the court of impeachments, as is proposed to be done in the plan of the convention; while the inconveniences of an entire incorporation of the former into the latter will be substantially avoided. This was perhaps the prudent mean. I forbear to remark upon the additional pretext for clamor against the judiciary, which so considerable an augmentation of its authority would have afforded.

I think "ceremonial role" is a bit of a strawman.

UPDATE "Roberts admonishes House managers, Trump lawyers, telling them to 'remember where they are'" [WaPo]. "Roberts, before calling for that vote, delivered his admonition to the lawyers. He recounted a 1905 impeachment trial of a federal judge, when a House manager was admonished for using the phrase 'pettifogging.' 'I don't think we need to aspire to that high of standard, but I do think those addressing the Senate should remember where they are,' Roberts said."

"Senate blocks push to subpoena Bolton in impeachment trial' [The Hill]. "Senate Republicans blocked an attempt by Democrats to include a deal on former national security adviser John Bolton's testimony in the impeachment trial rules. Democrats forced a vote in the early morning hours Wednesday on calling Bolton to testify." • The House should have done this. And decided not to.

"The only thing we don't know about the outcome of Trump's impeachment trial" [The Week]. "Some of them may well be willing to state what many of them feel, which is that what Trump did and was trying to do with Ukraine was wrong, even if it doesn't warrant booting him out of the White House, especially when there's an election less than 10 months away. That falls about 1,000 miles short of what Democrats want, but it's not nothing. On the contrary, it's quite a lot compared to the alternative, which Trump himself clearly prefers. From the start of this whole sordid episode, the president has insisted that his July phone call with Zelensky was 'perfect.'" • So victory in the impeachment saga consists in getting Republicans facing challenges to pre-emptively diss Trump? And that makles three years of yammering worth it?

"Whistleblower Was Overheard in '17 Discussing With Ally How to Remove Trump" [RealClearInvestigations]. "Barely two weeks after Donald Trump took office, Eric Ciaramella – the CIA analyst whose name was recently linked in a tweet by the president and mentioned by lawmakers as the anonymous "whistleblower" who touched off Trump's impeachment – was overheard in the White House discussing with another staffer how to remove the newly elected president from office, according to former colleagues. Sources told RealClearInvestigations the staffer with whom Ciaramella was speaking was Sean Misko…. Misko left the White House last summer to join House impeachment manager Adam Schiff's committee, where sources say he offered "guidance" to the whistleblower." • Big if true.

"Schiff may have mischaracterized Parnas evidence, documents show" [Politico]. "House Intelligence Chairman Adam Schiff appears to have mischaracterized a text message exchange between two players in the Ukraine saga, according to documents obtained by POLITICO — a possible error the GOP will likely criticize as another example of the Democrats' rushed effort to impeach President Donald Trump…. The apparent mischaracterization, however, does not undercut Democrats' argument that Trump withheld critical military aid to Ukraine as a way to pressure Zelenksy into opening up investigations into the Bidens."
2016 Post Mortem
"Bernie Sanders on Hillary Clinton comments: 'Ask her' why she's still talking about 2016" [New York Post]. "'Secretary Clinton is entitled to her point of view,' Sanders said when asked Tuesday by reporters to respond to Clinton's remarks on his supporters. 'My job today is to focus on the impeachment trial. My job today is to put together a team that can defeat the most dangerous president in the history of the United States of America,' he added. When asked why he thought his 2016 primary competitor was 'still talking about 2016,' Sanders responded, 'That is a good question, you should ask her.'" • Never interrupt your enemy when they're in the process of making a mistake…

"Hillary Clinton tears open wound with her attack on Sanders" [The Hill]. "'It's bullshit,' said Jonathan Tasini, a progressive strategist who backs Sanders. 'I'm confident, if Bernie is the nominee, that any sane Democrat will understand the singular objective of beating Trump. The same holds true if he's not the nominee. Anyone whose candidate does not win will go through a mourning process, but the value of Donald Trump is that he's the most powerful organizing force in politics and we are focused on defeating him in November.'" • I'm really depressed to see the phrase "progressive strategist." Sounds like a Democratic strategist who rebranded himself.

"I worked for Hillary Clinton. Her attacks on Bernie Sanders are a big mistake" [Peter Daou with Leela Daou, Guardian]. "n a new Hulu documentary and Hollywood Reporter interview, Hillary Clinton perpetuates the false narrative that Bernie Sanders supporters are largely a gang of raging 'bros' who spend all day trolling his opponents online. 'It's his online Bernie bros and their relentless attacks on lots of his competitors, particularly the women,' Clinton said. The myth that Sanders supporters are predominantly raging young white 'bros' whose driving purpose is to viciously troll and harass his adversaries took hold during the 2016 election and has been pushed relentlessly by his 2020 detractors. We know, because although we avoided using the derisive term Bernie bro, we still bought into that narrative in 2016. We did so as outspoken advocates for Clinton, who Peter had advised during her first presidential run." • Repentance is good for the soul.
Stats Watch
Tech: Sounds like a great business model to me:
As software becomes part of more and more devices that you DO NOT ACTUALLY OWN — this is the result. https://t.co/i5bx9djrj3

— Dan Gillmor (@dangillmor) January 21, 2020
The Bezzle: "Google CEO Thinks AI Will Be More Profound Change Than Fire" [Bloomberg]. • If there's an AI that doesn't need to be plugged in, we're in worse trouble than I thought.
The Bezzle: "G.M.'s Cruise Unveils a Self-Driving Car. Don't Look for It on Roads." [New York Times]. "That year, G.M. plunked down nearly $1 billion to acquire a 40-person start-up in San Francisco called Cruise. The start-up went on to raise billions more in outside funding. Head count swelled to 1,700 workers. But hype hit reality when testing data made it clear that it would take many more years for self-driving technology to be ready for widespread adoption. Google and Tesla had predicted fully autonomous self-driving cars would be available by 2018, a deadline that passed with little fanfare." • Oops.
* * *
Today's Fear & Greed Index: 79 Extreme Greed (previous close: 81 Extreme Greed) [CNN]. One week ago: 86 (Extreme Greed). (0 is Extreme Fear; 100 is Extreme Greed). Last updated Jan 22 at 12:09pm. Definitively drifting down.
The Biosphere
"The chemists policing Earth's atmosphere for rogue pollution" [Nature]. '[Atmospheric chemist Martin Vollmer], who works at the Swiss Federal Laboratories for Materials Science and Technology (EMPA) in Dübendorf, specializes in sniffing out newly emerging trace gases, which make up less than 1% by volume of the planet's atmosphere…. Behind the scenes, scientists such as Vollmer are keeping watch over the health of the atmosphere — in part to make sure nations are honouring their promises…. For many years, the news coming from these air-monitoring campaigns was good. Concentrations of CFCs and several other dangerous compounds were declining steadily. It was the biggest win in environmental policy the world has ever seen, say researchers… Then, in May 2018, Montzka reported a disturbing blip: levels of one of the most harmful chemicals, trichlorofluoromethane, known as CFC-11, weren't dropping as fast as expected1, suggesting that companies were producing this compound somewhere, in violation of the protocol. 'It was the most surprising and shocking thing I've seen in my entire career,' Montzka says. Montzka's research pointed to eastern Asia, and a follow-up study last May pinpointed the source of a significant fraction of the emissions to two provinces in China." • Sigh.
Florida readers?
Jan 21 – This isn't something we usually forecast, but don't be surprised if you see Iguanas falling from the trees tonight as lows drop into the 30s and 40s. Brrrr! #flwx #miami pic.twitter.com/rsbzNMgO01

— NWS Miami (@NWSMiami) January 21, 2020
Groves of Academe
"Self-efficacy, procrastination, and burnout in post-secondary faculty: An international longitudinal analysis" [PLOS ONE]. "Over the past 20 years, faculty at post-secondary institutions internationally have experienced rising levels of stress and burnout due to increasing demands for quality instruction, research excellence, and service contributions without commensurate increases in institutional support…. Whereas existing professional development efforts to date aimed at improving faculty self-efficacy beliefs or reducing procrastination show promise with respect to performance and productivity gains, increased institutional efforts to reduce known antecedents of emotional exhaustion due to overwork (e.g., teaching demands; research pressures; for a review, see [8]) may be more effective for improving psychological health in faculty internationally." • Wages and working conditions… .
"Competition drives researchers to counselling – and exit door" [Times Higher Education]. "Half of researchers have sought or wanted professional help to deal with anxiety or depression, according to a landmark survey that blames competition and targets for creating an 'aggressive' culture of bullying and overwork. Thirty-four per cent of the 4,000 researchers who completed the Wellcome Trust poll, most of whom were based in the UK, said that they had sought professional help for depression or anxiety during their research career, and a further 19 per cent had wanted to do so."
Class Warfare
"Barstool Sports Settles With Labor Board Over Anti-Union Tweets" [Bloomberg]. It's actually worse than tweets. "The settlement posting also provided confirmation that Barstool Sports was behind a Twitter account calling itself the Barstool Sports Union that purported to be 'the labor movement inside Barstool Sports.' 'Would prefer to stay anonymous right now in beginning stages of unionization. DM. Serious inquiries only,' the account tweeted out Aug. 13. The Twitter account was really a ploy to uncover whether any employees supported efforts to unionize." • Ugly.
News of the Wired
"More Evidence That Many 'Unusual' Sexual Interests Aren't So Unusual After All" [Sex and Psychology]. "Psychologists and psychiatrists typically use the term paraphilia to refer to unusual or uncommon sexual interests or activities. Hundreds of desires have been described as paraphilias over the years, although there are currently only eight specific paraphilias listed in the DSM-5 (the psychiatry bible): fetishism, transvestism, voyeurism, exhibitionism, frotteurism, pedophilia, masochism, and sadism. … [A] few large studies have emerged in the last few years suggesting that most of these sexual interests are more common than previously thought. First, a 2017 study of over 1,000 Canadian adults aged 18-64 examined how many people said they had a desire for the eight specific paraphilias listed in the DSM [1]. Many of them turned out to be quite common. For example, among men, 60% reported a desire for voyeurism, 40% for fetishism, 34% for frotteurism, and 19% for masochism. Among women, the numbers were 48% for fetishism, 35% for voyeurism, 28% for masochism, and 21% for frotteurism. A 2020 study of over 10,000 adults in the Czech Republic aged 18-88 yielded similar results." • Dear me.
"A Better Body Is Possible. These Anarchist Biohackers Want to Build It" [Vice]. "The focus of the session "I took my surgically removed organs home in a snow globe and maybe you can too" was, as the title suggests, on sharing knowledge about how to get doctors to let you keep your removed body parts. Several audience members had kept theirs, and joined in for some questions and answers, and the speaker provided a 'teaching aid' which was passed around the room: their testicles in a snowglobe. 'Here are my balls in a jar' might sound like a flippant frame for a talk, and very different from autonomous trans healthcare, but to me they're part and parcel of the same thing. It matters that we can keep our organs, because behind that practice is the finding and sharing of paths through medical bureaucracy, and new techniques to evade control."
* * *
Readers, feel free to contact me at lambert [UNDERSCORE] strether [DOT] corrente [AT] yahoo [DOT] com, with (a) links, and even better (b) sources I should curate regularly, (c) how to send me a check if you are allergic to PayPal, and (d) to find out how to send me images of plants. Vegetables are fine! Fungi and coral are deemed to be honorary plants! If you want your handle to appear as a credit, please place it at the start of your mail in parentheses: (thus). Otherwise, I will anonymize by using your initials. See the previous Water Cooler (with plant) here. Today's plant (Carla):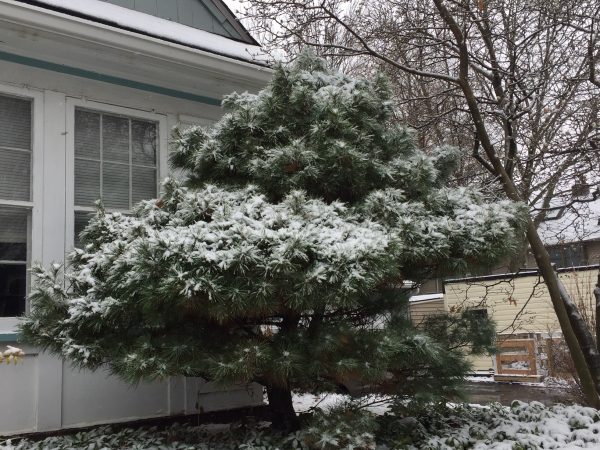 Carla: "Mugo pine looks especially fine with a frosting of December snow."
* * *
Readers: Water Cooler is a standalone entity not covered by the annual NC fundraiser. So if you see a link you especially like, or an item you wouldn't see anywhere else, please do not hesitate to express your appreciation in tangible form. Remember, a tip jar is for tipping! Regular positive feedback both makes me feel good and lets me know I'm on the right track with coverage. When I get no donations for five or ten days I get worried. More tangibly, a constant trickle of donations helps me with expenses, and I factor in that trickle when setting fundraising goals:
Here is the screen that will appear, which I have helpfully annotated.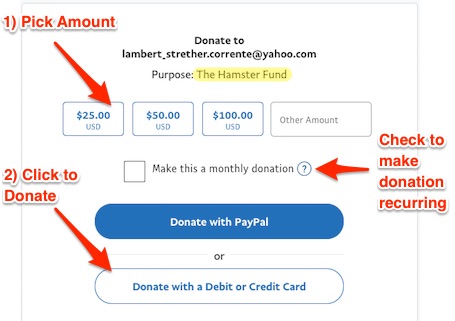 If you hate PayPal, you can email me at lambert [UNDERSCORE] strether [DOT] corrente [AT] yahoo [DOT] com, and I will give you directions on how to send a check. Thank you!