By Lambert Strether of Corrente.
Politics
"But what is government itself, but the greatest of all reflections on human nature?" –James Madison, Federalist 51
"They had one weapon left and both knew it: treachery." –Frank Herbert, Dune
Here is a second counter for the Iowa Caucus, which is obviously just around the corner:
* * *
2020
Alert reader dk (not to be confused with DK) is in the process of developing the following interactive chart.

We have a new IPSOS national poll, as of 1/17/2020, 12:00 PM EST. On the average, the pattern of Biden first, Sanders slowly closing on Biden, Warren fading, and then Buttigeig is more pronounced, with Bloomberg still closing on Buttigieg, which is interesting or concerning. NOTE: If we take out the averaging, Biden had a massive drop, Sanders slightly leads, followed by Undecided (!), and Warren has slipped back into a tie for fourth with Buttigieg. Of course, these are national polls, about to be massively thrown into confusion by IA, NH, SC, and NV — and then CA.

And the numbers:

In NH, a new Emerson poll:

The NH numbers:

Summary: Biden juggernaut rolls on, Sanders challenging strongly, Warren in difficulties, Buttigieg patchy.

CAVEAT I think we have to track the polls because so much of the horse-race coverage is generated by them; and at least with these charts we're insulating ourselves against getting excited about any one poll. That said, we should remember that the polling in 2016, as it turned out, was more about narrative than about sampling, and that this year is, if anything, even more so. In fact, one is entitled to ask, with the latest Buttigieg boomlet (bubble? (bezzle?)) which came first: The narrative, or the poll? One hears of push polling, to be sure, but not of collective push polling by herding pollsters. We should also worry about state polls with very small sample sizes and big gaps in coverage. And that's before we get to the issues with cellphones (as well as whether voters in very small, very early states game their answers). So we are indeed following a horse-race, but the horses don't stay in their lanes, some of the horses are not in it to win but to interfere with the others, the track is very muddy, and the mud has splattered our binoculars, such that it's very hard to see what's going on from the stands. Also, the track owners are crooked and the stewards are on the take. Everything's fine.

I think dk has started a really neat project, and in the near future we'll seek your feedback (within reason) for the tool "live."

* * *

Biden (D)(1): "Joe Biden Said Hillary Clinton Faced Sexism, But 'That's Not Going To Happen With Me' [HuffPo]. "The former vice president went through a list of reasons why he believed Clinton lost, including that people underestimated Trump; Clinton mishandled the response to the infamous Access Hollywood tape; and Trump effectively inflamed the controversy around her emails. He also said Clinton was the victim of 'unfair' sexist attacks. But, he added, 'That's not going to happen with me.'" • One can only wonder by Warren didn't go for the jugular with Biden.

Biden (D)(2): "'We have a lot of work to do.' Biden vows to defeat hate, intolerance in Arlington visit" [McClatchy]. Arlington, Texas. "'Some mornings that I wake up, I wonder whether or not we are living in 2020 or 1920,' he told a crowd of African-American delegates gathered at the National Baptist Convention Mid-Winter Board Meeting in Arlington. 'I hear the voices of intolerance singing the chorus of hate, intolerance.'… Biden is the only presidential candidate who spoke to the Baptist convention's mid-winter meeting this week." • Good scheduling by the Biden campaign.

Biden (D)(3): "CNN Audio Analysis Reveals Biden Caught On Wet Mic While Chewing On Own Microphone" [The Onion]. • Oh, no, no, no, no, no.

BIden (D)(4): "How Frank Biden leveraged his famous name for business gain" [ABC]. "Frank Biden, a longtime real estate developer in the state, accepted the offer, and over the years, he touted his famous last name and prominent connections in Washington to help land the company a series of charter contracts from local officials in Florida to open charter schools, earning hundreds of thousands of dollars over a five-year period from the company in the process. In media interviews at the time, Frank Biden was unabashed – calling his last name 'a tremendous asset' because of the family's record of 'taking care of people who need help,' and telling people it brought him 'automatic acceptance' as he sought government approvals for the for-profit Mavericks in Education." • "Mavericks in Education," I love it.

UPDATE Bloomberg (D)(1): "Bloomberg makes his case to Dems on Capitol Hill" [Politico]. "The New York billionaire met with dozens of Democrats as he sought to convince them of his highly unconventional — yet extraordinarily well-funded — road to the White House. Bloomberg's message to members: His campaign isn't wasting time on Iowa but is focused on defeating President Donald Trump with an unprecedented ground game in battleground states… But Bloomberg used a slate of closed-door meetings to frame himself as a centrist who can go the distance against Trump and invest heavily in swing states. He's now working to woo lawmakers across the spectrum whose endorsements could be crucial to boosting his credibility as a national candidate outside of the early-voting states. That includes a group of Democrats who might otherwise be among his fiercest critics: the Hispanic Caucus, whose members have condemned the kinds of "stop and frisk" policies Bloomberg helped promote in New York."

Buttigieg (D)(1): Digging deeper into the South Bend police department:

He just volunteered this information like it was a smart or understandable thing to say. You need at least a basic understanding of issues that are critical to your own constituents' lives in order to be mayor – let alone president – and he really did not have that understanding.

— Samuel Sinyangwe (@samswey) January 16, 2020

Buttigieg (D)(2): "Pete Buttigieg's Campaign Used Notoriously Low-Paying Gig-Work Platform for Polling" [The Intercept]. "The presidential campaign of former South Bend, Indiana, Mayor Pete Buttigieg spent $20,000 over the summer hiring gig workers through the platform Amazon Mechanical Turk, or MTurk, one of the most controversial actors in the gig-working space. Studies have found gig workers at the company are paid far below minimum wage, even though many on the platform work full-time. … The campaign's use of an exploitative platform like MTurk is in sharp contrast with the way Buttigieg has cast himself as a pro-worker candidate."

Sanders (D)(1): "Amid Raft of State-Level Endorsements, Sanders Leads Democrats in New National Poll" [Common Dreams]. "Amid a series of endorsements from key groups and allies in crucial primary states this week—and despite the "brouhaha" with Sen. Elizabeth Warren—a new national poll shows Sen. Bernie Sanders now in the lead over former Vice President Joe Biden and the rest of the Democratic primary field. According to the Reuters/Ipsos poll released late Thursday, Sanders received support from 20% of registered Democratic primary voters surveyed. That figure was enough to edge out Biden who received 19% and the 12% of voters who say they back Warren. Rounding out the top five finishers in the nationwide poll—conducted this week between Jan. 15-16—were former New York City Mayor Mike Bloomberg (9%) and former South Bend, Indiana Mayor Pete Buttigieg (6%). While the poll has a 5-point margin of error that puts Biden and Sanders in a statistical tie, the results show Sanders gaining steam and Biden remaining flat compared to a similar poll taken last week. In addition, Reuters noted in its reporting, "The poll shows that standing does not appear to have been hurt by his recent confrontation with Warren" that captured political headlines throughout the week." • Just one poll! Nevertheless….

UPDATE Sanders (D)(2): A clip from Sanders' interview with the New York Times editors:

Wow. Just wow.

This is a brilliant, nuanced answer from @BernieSanders on how tens of millions of people who sincerely feel abandoned by the political establishment were then easy prey for Donald Trump.

— Shaun King (@shaunking) January 16, 2020

Just look at those faces round the table.

UPDATE Sanders (D)(1): "Bernie Sanders Secures Crucial Endorsement From Leftist Facebook Meme Page" [Vice]. "Bernie Sanders has just scored a crucial endorsement from the New Urbanist Memes for Transit-Oriented Teens, a popular leftist Facebook meme group. The Facebook meme group connects teens and millennials across the world who are entertained (or obsessed) with memes about urban transportation and planning. In an admin post published Wednesday, the group announced its endorsement of Senator Bernie Sanders was motivated by 'Sanders' vision of peace, equity and justice.'" • Bernie keeps getting endorsements from groups who can help with canvassing.

Trump (R)(1): "Trump Aid Means Farms Are Doing Better Than Before Trade War" [Bloomberg]. "Donald Trump is boasting that he's made farmers "really happy." He's not wrong, but it's not just the trade deal that's left farmers optimistic for 2020. Analysts are saying the accord signed this week mostly just takes trade back to normal for American agriculture. China has committed to $32 billion in additional purchases over two years, but that buying will be market dependent and retaliatory tariffs are still in place. Even the status quo is still a welcome relief after more than a year of escalating tensions. The thing that's really moved the needle for farmers is Trump's $28 billion farm bailout. The trade aid meant incomes rose in a year when they were widely expected to fall." • "Obama bailed out the bankers. Trump bailed out the farmers." The script writes itself.

UPDATE Trump (R)(2): "'You're a bunch of dopes and babies': Inside Trump's stunning tirade against generals" [WaPo]. • Where's the lie? When was the last time we had a victory parade for these guys? (Now, to be fair, the civilian leadership has been miserably inadequate, but generals can resign.)

UPDATE Trump (R)(3): "Trumpism After Trump" [Harpers]. "They were here because of one undeniable fact: Donald Trump was going to die. Trump might be ejected from office or lose the election or win the election—but he was, also, definitely going to die. And Trumpism needed to survive. It was just getting started. If Trumpism were snuffed out with Trump, Republicans would fall back into march with the party lemmings in hock to their donors (hardly any Republican voters agreed with the donors about anything, as Trump had intuited), who would connive with liberals to contaminate the country with more immigration, more Big Tech treason, more "free" trade, more endless wars, more slouching toward nihilism. The ancien régime was threatening to reconstitute itself. Someone had to stand up for Trumpism in the noble abstract." • Where is Edmund Burke when we need him?

UPDATE Trump (R)(4): "Trump jabs at 'Mini Mike Bloomberg' for debate stage absence" [Politico]. "'Mini Mike Bloomberg doesn't get on the Democrat Debate Stage because he doesn't want to – he is a terrible debater and speaker,' Trump wrote online. 'If he did, he would go down in the polls even more (if that is possible!).' Bloomberg, who is self-financing his White House bid, is unable to appear in the party-sanctioned primary debates due to the Democratic National Committee's qualifying rules, which stipulate that participants must achieve certain numbers of individual campaign donors." • A horrid spectacle: Trump trying to get into Bloomberg's head. Readers, could it happen?

UPDATE Yang (D)(1): "How Andrew Yang's Iowa Operation Is Assessing, Mobilizing Iowans" [Iowa Starting Line]. "Yang could still qualify for the Feb. 7 debate, held in New Hampshire four days before voters cast the first ballots of the primary. But for now, the campaign is fleshing out strategies for caucus night on Feb. 3." But: "Most campaigns identify potential voters with a simple binary: they're a supporter or not. The Yang team, however, asks potential caucus-goers to rank Yang on a scale of one to five." • I just don't think that's true. How can you move voters if you don't know who is best able to be moved? Can any campaign workers comment?

* * *

"Thinking About The Democratic Primary" [Nathan J. Robinson, Current Affairs]. "If it's the case that Warren could ultimately side with the right of the Democratic Party instead of the left, it means that progressive leftists who have been working for Warren, or donating to her, or promoting her, might well have ultimately been working for their own enemy." • The good folks at Jacobin who were of the mind that there are "two good candidates," as the cliché goes, aren't coming out of this looking real good.

UPDATE "Sanders-Warren: An Alliance, if Not a Close Friendship, Suddenly Fractures" [New York Times]. "Many Warren advisers and allies think the Sanders camp has long tolerated public attacks on her from his surrogates." • It's a primary, not a coronation, and the last campaign to confuse the two did not do well.
2019
"Ocasio-Cortez creates PAC to push back on the Democratic Party's 'blacklisting' rule" [WaPo]. "Rep. Alexandria Ocasio-Cortez (D-N.Y.) announced she had formed a political action committee on Saturday to help raise funds for progressive primary candidates. The congresswoman has been a vocal opponent of the Democratic Congressional Campaign Committee's policy to "blacklist" vendors and firms that work with candidates mounting primary challenges against Democratic incumbents. Ocasio-Cortez has also not paid her dues to the DCCC during this campaign cycle and said she did not plan to pay. The funds are traditionally provided to the DCCC by House members to redistribute among other important races." • Sh*t gets real. Money's involved!

"Alexandria Ocasio-Cortez's New PAC Is Already Raising Big Money" [HuffPo]. "Ocasio-Cortez launched Courage to Change to support both progressive incumbent Democrats and primary challengers whose positions are close to her own. (She has thus far endorsed progressives taking on conservative Democratic Reps. Henry Cuellar of Texas and Dan Lipinski of Illinois.)…. In two fundraising emails and a tweet, Ocasio-Cortez and her campaign framed the PAC explicitly as an alternative to the Democratic Congressional Campaign Committee, which is House Democrats' official campaign fundraising arm."
Our Famously Free Press
UPDATE "Column: CNN's shameful treatment of Bernie Sanders" [John Kass, Chicago Tribune]. "What CNN did to Bernie Sanders in the Iowa Democratic presidential debate — stabbing him with the gender card on behalf of a weakened Elizabeth Warren — was cheap and unfair. And it was shameful. I'm probably the last guy to defend Sanders. He is a man of the far left and I most certainly am not. Just before the debate, CNN ran a story portraying Sanders as misogynist who thinks a woman couldn't be elected president. That's ridiculous. He doesn't believe that…. I disagree with Sanders' policies, but at least he's honest about what he wants to do. Establishment Democrats see Sanders' base as full of energy and know they must stop him in Iowa and New Hampshire. They feed Warren so Sanders doesn't defeat Biden. And they'll use friendly media to shape a stiletto and slip it between Bernie's ribs. Sanders' voters have seen this one before."
Impeachment
"The Trump and Clinton impeachments are as alike as apples and oranges" [Quartz]. "The case against Trump pertains to affairs of state, though. Unlike Trump's alleged scheme, Clinton's marital infidelities didn't arguably jeopardize presidential election integrity by inviting foreign influence or threaten the national security of the United States and an ally."

"Prominent lawyers Starr, Dershowitz join Trump impeachment team" [Reuters]. • Classy move!
Realignment and Legitimacy
UPDATE "Bernie Sanders Believes in Mass Politics — Something the New York Times Can't Wrap Their Minds Around" [Jacobin]. More on that New York Times interview. Nick Fox: "And I'm wondering how you flying around the country in 2021 rallying the people would be different than what Donald Trump has been doing?" • Wowsers.

https://www.marketwatch.com/story/american-voters-income-inequality-a-bigger-political-problem-than-illegal-immigration-2020-01-09
Stats Watch
"Upbeat U.S. Consumers in Driver's Seat as Retail Sales Climb" [Bloomberg]. "Several economic reports Thursday showed Americans are increasingly upbeat, more are catching the home-buying bug and perhaps most importantly, they're still spending. Retail sales excluding autos climbed in December by the most in five months, Bloomberg's weekly index of consumer comfort advanced to the highest in 19 years and a gauge of homebuilder sentiment posted its best back-to-back reading since 1999. Other reports showed applications for unemployment benefits dropped to a six-week low, while a regional manufacturing index was the strongest since May."
Retail:
Blockchain, all over your face https://t.co/X5tYXTrsdd

— Financial Times (@FT) January 16, 2020
Froth?
Real Estate: "Tons of New Apartments Are Being Built That Almost No One Can Afford" [Vice]. "There's a rampant homelessness crisis in large cities across the country, stoked by a lack of affordable housing units. But fear not — developers are constructing new apartments at a rapid clip this year. The catch: Up to 80% of those rental units to be completed this year will be in luxury buildings the average person likely can't afford, according to data obtained by the Wall Street Journal from the real estate analytics firm RealPage. 'A lot of these properties are competing for a small group of renters,' RealPage chief economist Greg Willett told the Wall Street Journal. 'A typical renter can't afford this brand-new product.' A sizable portion of this year's expected 371,000 new rental units will also come online in cities with deep poverty and inequality crises, like Los Angeles, Dallas, and Washington, D.C."
Real Estate:
For weeks now, a civil war has been quietly brewing in my building: pic.twitter.com/aLEhHtiNSS

— carrie christmas (@CarriePotter_) January 17, 2020
Partly a spat between tenants; but partly a consequence of everything being delivered (and don't even think about suggesting the delivery person putting the packages under the stairs; they are severely underpaid).
Tech: "DoorDash Contractors Earn Less Than Dogsh*t, Study Finds" [Gizmodo]. "Delivery platform DoorDash has been at the top of the public's most hated gig economy value extraction firms for some time, owing largely to its prior policy of subsidizing its wages with customers' tips. According to a study released today, even with that policy repealed, the efficiency of DoorDash's race-to-the-bottom pay structure nets workers an estimated $1.45 per hour. The findings are part of a report released today by worker rights non-profit Working Washington, which crunched the pay data from 229 deliveries submitted by Dashers from around the country." • Methodological issues; see the text.
Tech: "Google Maps keeps a detailed record of everywhere you go — here's how to stop it" [CNBC]. "Google Maps tracks everywhere you go on your iPhone or Android phone, and then keeps a log of this information in a "Timeline" that shows you everywhere you've been. This includes a creepy level of detail…. Here's how to delete all of that data and turn off tracking entirely if you want."
Tech: Warn those around you who aren't sufficiently paranoid about clicking on links:
At first glance, which one is legit and which one isn't? pic.twitter.com/UqDjnSxDd2

— The Cyber (@r0wdy_) January 17, 2020
Travel: "D.C. claims no.1 spot with Baltimore ranking 2nd on Orkin's bed bug cities list for 2020" [WJLA]. " It's a distinction DC probably wasn't expecting as the city earned the number one spot on Orkin's bed bug cities list for 2020…. According to Orkin, the list is based on cities where crews conduct the most bed bug treatments from Dec. 1, 2018 to Nov. 30, 2019. These rankings look at bed bug treatments performed at homes and businesses." • Makes me wonder what's happening in all those AirBnB rentals; how long before these hotel-like entities, which are not built to hotel specs, start having hotel problems.
* * *
Today's Fear & Greed Index: 89 Extreme Greed (previous close: 89 Extreme Greed) [CNN]. One week ago: 91 (Extreme Greed). (0 is Extreme Fear; 100 is Extreme Greed). Last updated Jan 17 at 1:57pm.
The Biosphere
"Suez Canal's invasive species driving Mediterranean marine life toward extinction" [Japan Times]. "As Egypt marks the 150th anniversary of the opening of the Suez Canal, marine biologists are bemoaning one of the famed waterway's lesser-known legacies: the invasion of hundreds of nonnative species, including toxic jellyfish and aggressive lionfish. The canal, which connects the Red Sea to the Mediterranean, revolutionized maritime travel by creating a direct shipping route between the East and the West. But over the years, the invasive species have driven native marine life toward extinction and altered the delicate Mediterranean ecosystem with potentially devastating consequences, scientists say. The influx has increased significantly since Egypt doubled its capacity in 2015 with the opening of the 'New Suez Canal,' raising alarm in Europe and sparking criticism from various countries along the Mediterranean basin."
"Pre-Inca Canal System Uses Hillsides as Sponges to Store Water" [Eos]. "A team of hydrologists, engineers, and social scientists is hoping to strengthen the water security of Lima and other Peruvian cities through analysis of a 1,400-year-old nature-based system developed by pre-Inca mountain communities. The technique uses a canal system that diverts water from streams to small ponds or spreads it over rocky hillslopes that act as natural sponges. This slows the flow of water down the mountains, preserving it into the dry season. The team's analysis determined that if the system were scaled up to its maximum capacity, it could divert, infiltrate, and recover up to 100 million cubic meters of water and increase the region's dry-season water volume by up to 33%." • Euthanize impermeable surfaces!
We must cultivate our gardens. Thread:
93 million Americans are Alarmed about climate change or 3 out of ten. We only need one of ten people to shift to gardening and urban tree staple foods to completely shift agriculture, end lawns, and halt the key drivers of soil loss and climate change. 93 million chestnuts. https://t.co/QsQgJXmHcH

— Build Soil & Make Refugia (@BuildSoil) January 17, 2020
Not sure about this theory of change. Readers?
Health Care
"Powerful House committee is latest to take stab at 'surprise' billing fix" [Politico]. "The leaders of a powerful House committee are aiming to break through a legislative quagmire as Congress tries to deliver on the stubbornly elusive goal of protecting patients from 'surprise' medical bills. A one-page plan from Ways and Means Chairman Richard Neal (D-Mass.) and ranking member Kevin Brady (R-Texas) is at odds with a detailed bipartisan deal struck between key House and Senate committees late last year to settle billing disputes that can leave patients on the hook for thousands of dollars in unexpected expenses. The framework Neal and Brady outlined on committee letterhead is short on specifics but envisions letting providers and insurers work out billing disputes, with the option of turning to "an independent mediated negotiation process." Doctors and hospitals have pushed for months for an approach that relies on such outside help." • Let's add another layer of complexity!
Class Warfare
"Another legacy of redlining: Unequal exposure to heat waves" [Grist]. "Severe heat kills more people in the United States than any other hazardous weather-related event. As climate change accelerates, the sweltering heat will become much more extreme, and the associated mortality rate will rise. Like so many aspects of the climate crisis, heat doesn't affect all people equally. Marginalized low-income communities of color, especially those in larger cities such as New York and Los Angeles, bear the brunt of heat waves. These concrete jungles with barely any green space to cool them down are drastically hotter than their surrounding suburbs and rural areas — a phenomenon known as the 'urban heat island effect.' And that's not an accident. It's the result of decades-old policy choices that are still reverberating today. A new study published in the journal Climate found that the historical practice of 'redlining is a strong predictor of which neighborhoods are disproportionately exposed to extreme heat."
"Jobs for All: A job guarantee puts workers in the driver's seat" [Nonsite.org]. "What the business press gets exactly right about a job guarantee is what most skeptics get wrong. Tightening the labor market would ratchet up pressure on private employers to raise wages and massively increase the size of the federally employed workforce. Employment assurance programs have historically evoked elite pearl-clutching precisely because they are among the few political demands that put workers in a position real power. Criticism of a job guarantee, then, reflects a misunderstanding of the political logic of working-class demands, the power that a job guarantee affords workers and finally the central and enduring role of wage labor in socialist strategy."
News of the Wired
"How Buddhism spread written language around the world" [BBC]. "Buddhism is focussed on preserving and transmitting the teachings of the Buddha, and commentary thereon; and throughout history, it's been quick to innovate and exploit transcription and printing technologies. It is one of the great drivers of human civilisations. Woodblock printing, for example, was crucial to the spread of Buddhism across East Asia, and in turn, Buddhism helped to spread printing techniques. As Igunma points out, "The Buddhist textual tradition has been an important part of world [civilisation]. … Depending on the region of the world and the historical period, Buddhist manuscripts and books have been created on a wide range of materials, including stone, palm leaves, precious metals, ivory, cloth, paper and silk. The Buddha's teachings are written in Sanskrit, Pali, Chinese, Tibetan, Japanese, south-east Asian languages, and subsequently Western languages. … All are distinguished by the thoughtfulness, delicacy, and beauty with which they celebrate the life and ideas of the Buddha; as well as by the ingenuity of the media of transmission. An early example of Buddhist text engraved in Pyu script on gold sheets demonstrates how exquisite and solid the Buddhist textual legacy can be. Palm-leaf manuscripts were a prevalent form of textual transmission from the time of the Buddha until the development of the printing press."
* * *
Readers, feel free to contact me at lambert [UNDERSCORE] strether [DOT] corrente [AT] yahoo [DOT] com, with (a) links, and even better (b) sources I should curate regularly, (c) how to send me a check if you are allergic to PayPal, and (d) to find out how to send me images of plants. Vegetables are fine! Fungi and coral are deemed to be honorary plants! If you want your handle to appear as a credit, please place it at the start of your mail in parentheses: (thus). Otherwise, I will anonymize by using your initials. See the previous Water Cooler (with plant) here. Today's plant (SV):
SV writes, of yesterday's ice fog: "For good measure: A spider web!" I guess that's not a plant, but it is pretty!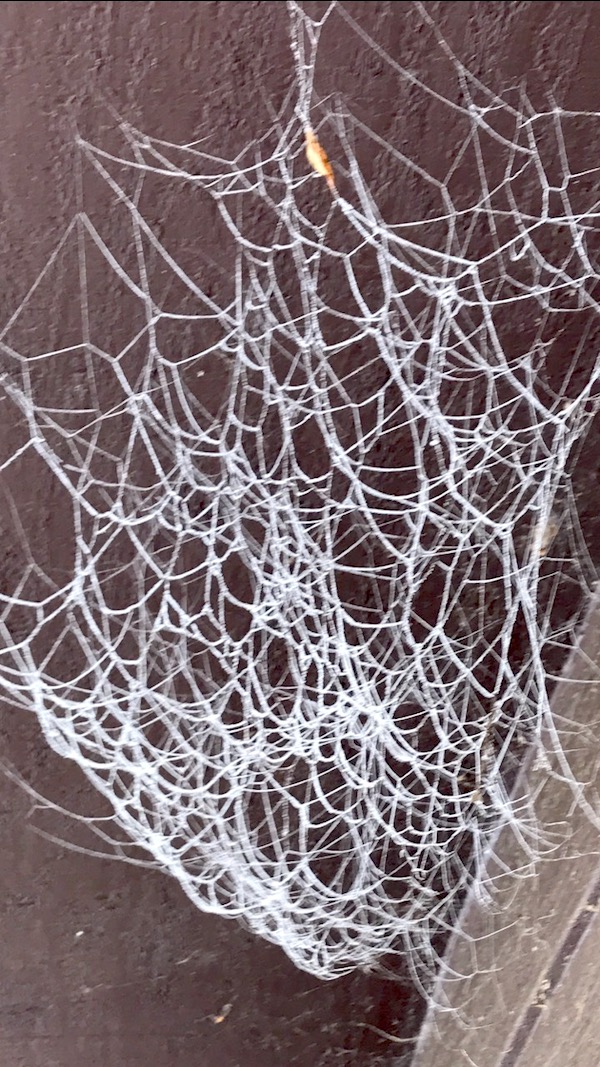 By Lambert Strether of Corrente.
Bonus plant, a planing (AG):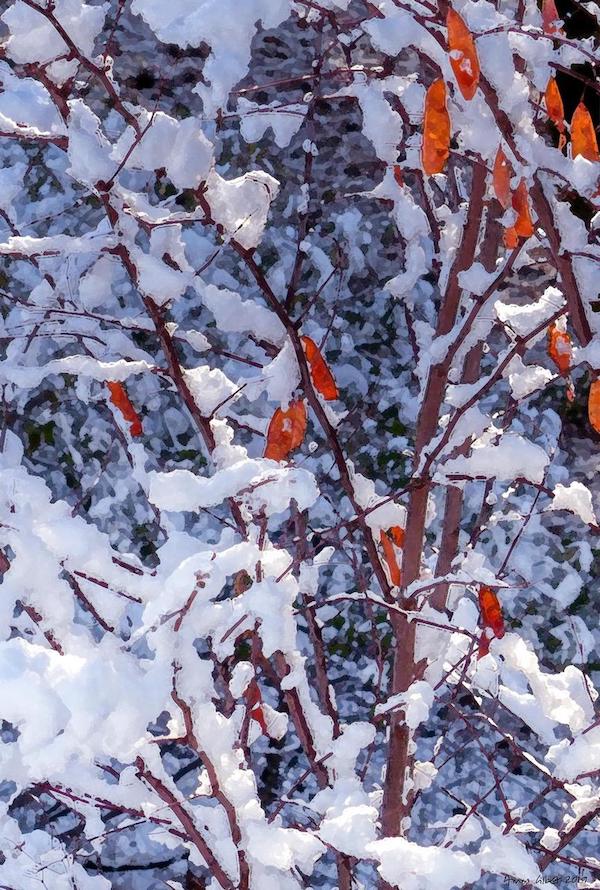 AG writes: "This is a study of the winter bare branches of our Redbud bush, with some pods still clinging to it."
* * *
Readers: Water Cooler is a standalone entity not covered by the annual NC fundraiser. So if you see a link you especially like, or an item you wouldn't see anywhere else, please do not hesitate to express your appreciation in tangible form. Remember, a tip jar is for tipping! Regular positive feedback both makes me feel good and lets me know I'm on the right track with coverage. When I get no donations for five or ten days I get worried. More tangibly, a constant trickle of donations helps me with expenses, and I factor in that trickle when setting fundraising goals:
Here is the screen that will appear, which I have helpfully annotated.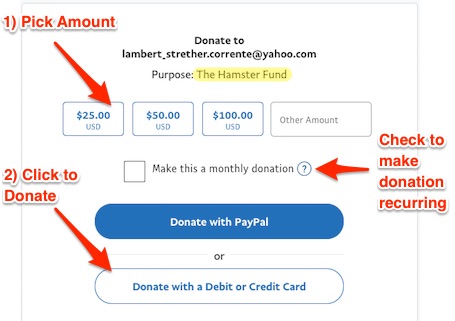 If you hate PayPal, you can email me at lambert [UNDERSCORE] strether [DOT] corrente [AT] yahoo [DOT] com, and I will give you directions on how to send a check. Thank you!