By Lambert Strether of Corrente.
Politics
"But what is government itself, but the greatest of all reflections on human nature?" –James Madison, Federalist 51
"They had one weapon left and both knew it: treachery." –Frank Herbert, Dune
Here is a second counter for the Iowa Caucus, which is obviously just around the corner:
* * *
2020
Alert reader dk (not to be confused with DK) is in the process of developing the following interactive chart.

Today we have two YouGov polls from IA and NH, as of 1/6/2020, 12:00 PM EST. On the average, the pattern of Biden first, Sanders strong second, then Warren and Buttigeig is stable.

And the numbers:

For IA, let's shift over to the daily polls, not averaged out, as of 1/6/2020, 12:00 PM EST:

And the numbers:

A three-way tie for first between Biden, Buttigieg, and Sanders, with Warren trailing.

And NH:

And the numbers:

Sanders pulls into a slight lead over Biden, a gap, then Warren and Buttigieg.

One might construct a narrative that Sanders is peaking at the right time. But Iowa is famously volatile. And New Hampshire is Sanders' back yard, so it's hard to see why he hasn't been leading for awhile.

CAVEAT I think we have to track the polls because so much of the horse-race coverage is generated by them; and at least with these charts we're insulating ourselves against getting excited about any one poll. That said, we should remember that the polling in 2016, as it turned out, was more about narrative than about sampling, and that this year is, if anything, even more so. In fact, one is entitled to ask, with the latest Buttigieg boomlet (bubble? (bezzle?)) which came first: The narrative, or the poll? One hears of push polling, to be sure, but not of collective push polling by herding pollsters. We should also worry about state polls with very small sample sizes and big gaps in coverage. And that's before we get to the issues with cellphones (as well as whether voters in very small, very early states game their answers). So we are indeed following a horse-race, but the horses don't stay in their lanes, some of the horses are not in it to win but to interfere with the others, the track is very muddy, and the mud has splattered our binoculars, such that it's very hard to see what's going on from the stands. Also, the track owners are crooked and the stewards are on the take. Everything's fine.

I think dk has started a really neat project, and in the near future we'll seek your feedback (within reason) for the tool "live."

* * *

Biden (D)(1): "Joe Biden dismisses Sanders' claims he can't energize voters: 'I don't respond to Bernie's ridiculous comments'" [FOX]. • It's not like Biden can't fill a stadium whenever he wants.

UPDATE Biden (D)(2): Well, pandering to the antiwar vote is better than not, I suppose:

An Iowa voter told Biden Friday that he's with him "90%" but is concerned about Biden having supported the Iraq War.

In response, Biden suggested, yet again, that he opposed the war from the very "moment" it started.

This continues to be not true: https://t.co/o0yaXoxOPy

— Daniel Dale (@ddale8) January 6, 2020

UPDATE Biden (D)(3): "Stop saying Biden is the 'most electable'. Trump will run rings round him" [Nathan Robinson, Guardian]. "Look at the enthusiasm Trump gets at his rallies. It is real. Trump has fans, and they're highly motivated. How motivated are Biden's "fans"? Is Biden going to fill stadiums? Are people going to crisscross the country knocking on doors for him? Say what you want about Clinton, but there were some truly committed Clinton fans, and she had a powerful base of support. By comparison, Biden looks weak, and Trump is savagely effective at preying on and destroying establishment politicians."

Buttigieg (D)(1): Lee Carter on Buttigeig:

This is the archetypal dumbass butter bar. Every enlisted Marine knows him and every enlisted Marine can smell him from a mile away.

— Lee ? Carter (@carterforva) January 4, 2020

"Pete Butterbar", "Pete Butterbar"… That might have legs….

UPDATE Buttigieg (D)(2): "Buttigieg's Bet: After Iran Strike, Military Experience Matters Even More" [New York Times]. Buttigieg: "As a military intelligence officer on the ground in Afghanistan, I was trained to ask these questions before a decision is made." • Pete Butterbar…

UPDATE Buttigieg (D)(3): Bipartisan agreement on a coup in Venezuela:

The illegitimate takeover of the Venezuelan National Assembly is further evidence that dictator Maduro will stop at nothing to consolidate his grip on power. I stand behind Juan Guaidó and the Venezuelan people as they strive to reclaim their democracy and defend their rights.

— Pete Buttigieg (@PeteButtigieg) January 6, 2020

Buttigieg (D)(4): Alert reader petal threw a campaign letter from Buttigieg over the transom. Here's one page:

Calling Sanders a "Washington politician." We'll see if that sticks, I guess.

Buttigieg (D)(5): "Pete Buttigieg and the One Percent" [New York Times]. "Prominent donors in Los Angeles argue that Mr. Buttigieg is also approaching celebrity fund-raising differently than Hillary Clinton did four years ago. While her campaign publicized the appearances of Katy Perry and Lena Dunham at events, he's kept a lid on similar associations. sThe fund-raiser that Gwyneth Paltrow held on his behalf last May? The campaign declined to publicize it." • Keeping it all on the down-low:

Pete Buttigieg refuses to rule out appointing high-dollar donors into his administration pic.twitter.com/55qEoEcF6A

— Ibrahim (@ibrahimpols) January 5, 2020

Buttigieg (D)(6): "Buttigieg fails to muster delegates in all Illinois districts — unlike Biden, Sanders and Warren" [Chicago Sun-Times]. "I was surprised about Buttigieg because he has led the pack in raising money in Illinois — from small and large donors and fundraisers — and has a branch of his national headquarters in the South Loop. The campaign tried and could not get valid petitions for all its would-be delegates in all 18 districts. 'Our campaign prioritized collecting signatures from voters in every congressional district to ensure Pete is on the ballot in the Illinois primary,' Buttigieg spokesman Sean Savett said." • Is that an answer?

UPDATE Chaffee (L)(1): "Lincoln Chafee files to run for president as a libertarian" [CNN]. "Former Rhode Island Gov. Lincoln Chafee has filed to run for President as a libertarian in what appears to be a new long-shot White House bid following his failed campaign for the Democratic nomination in 2016. Chafee filed paperwork with the Federal Election Commission on Sunday to form the Lincoln Chafee for President campaign committee based in Wyoming. A website linked to Chafee's FEC filing states 'Lincoln Leads with TRUTH" along with the phrase 'Thirty Years, Zero Scandals.'" • Reminds me to wonder what Bill Weld is doing these days.

Klobuchar (D)(1): "A Democrat Who Can Beat Trump" [David Leonhardt, New York Times]. "where are you supposed to find a comfortably electable, qualified candidate who won't turn 80 while in office? Senator Amy Klobuchar has become an answer to that question in the final month before voting begins. She has outlasted more than a dozen other candidates and has two big strengths: A savvy understanding of how to campaign against President Trump and a track record of winning the sorts of swing voters Democrats will likely need this year." • Leonhardt is reaching.

Sanders (D)(1): Gunnels takedown of Buttigieg NH health care mailer. Thread:

The American people are sick and tired of politicians who support a Medicare for All, single-payer system one day and use GOP talking points against it the day after receiving huge campaign contributions from insurance and drug company executives. Here are the facts. Thread https://t.co/gdeHEGcGp9

— Warren Gunnels (@GunnelsWarren) January 4, 2020

Sanders (D)(2): "Sanders starts 2020 in strong position in Iowa and New Hampshire — CBS News Battleground Tracker" [CBS]. "Apart from recent gains in New Hampshire, Sanders' support is still best characterized by its steadiness and strength compared to other candidates who have seen more volatility. Nearly half (47%) of his New Hampshire voters say they've definitely made up their minds. By comparison, just 15% of Biden's backers in the state describe their choice that way."

UPDATE Sanders (D)(3): "Bernie Sanders picks former Obama official as liaison to Jewish community in a nod to the establishment" [Jewish Telegraphic Agency]. "The Bernie Sanders campaign has named an insider in both the Jewish and Democratic establishments — entities that the presidential candidate has previously kept at a distance — as its liaison to the Jewish community…. [Joel Rubin, 48, a former Obama administration official with longstanding ties to an array of Jewish groups] was a co-founder of J Street, the liberal Jewish Middle East policy group, and recently served on the board of the Jewish Democratic Council of America, a group that slots into the mainstream both of the pro-Israel community and the Democratic Party."

UPDATE Yang (D)(1): "Yang to launch write-in campaign for Ohio primary" [The Hill]. "Entrepreneur Andrew Yang will launch a write-in campaign to appear on the Ohio presidential primary ballot after an issue with his application prevented it from being approved." • Hmm.

* * *

Iowa data point:

Found out on the doors in Iowa — my 2020 energy. pic.twitter.com/yKdXsCjlIr

— Roger Ouellette (@Rouell3) January 5, 2020

UPDATE "The very real scenario of a protracted, 'bizarro world' Democratic primary" [Politico]. "One strategist working with a presidential candidate said, 'We've never had a situation where we get past Super Tuesday and there's still five people in the field,' predicting that possibility this year. 'We're in bizarro world here,' the strategist said." • This is the way the Democrat establishment structured the race, for pity's sake. No doubt they thought they were geniuses when Sanders had his heart attack, and thought they'd tired him out, as per plan. No such luck.
Realignment and Legitimacy
"One Year in Washington Alexandria Ocasio-Cortez reshaped her party's agenda, resuscitated Bernie Sanders's campaign, and hardly has a friend in town." [New York Magazine]. "The Democratic congressional majority, she told me, is too acquiescent to the demands of its members in so-called red-to-blue districts — those moderates who flipped Republican seats and gave Pelosi the gavel. 'For so long, when I first got in, people were like, 'Oh, are you going to basically be a tea party of the left?' And what people don't realize is that there is a tea party of the left, but it's on the right edges, the most conservative parts of the Democratic Party. So the Democratic Party has a role to play in this problem, and it's like we're not allowed to talk about it. We're not allowed to talk about anything wrong the Democratic Party does,' she said. "I think I have created more room for dissent, and we're learning to stretch our wings a little bit on the left.'"

Hmm:

I'm just a small donor, but this rhetoric makes me uncomfortable about my choice for Senate.

Embracing this weird Purépecha indigenous superiority is problematic and downright weird. I'm sorry that my brown immigrant mom (García) is less Mexican.

Gonna look at other candidates. pic.twitter.com/FnrJQB3puc

— Huey (@HueyFischer) January 4, 2020

Who would have imagined that "lineage" was a reactionary frame?
Stats Watch
Stats: "McDonald's new CEO says he will end the culture of late-night partying that took place under ousted boss Steve Easterbrook, who was fired for dating an employee" [Daily Mail]. "The new chief said in addition to changing company culture, he's also keen to improve restaurant performance and has met with employees and restaurants in the US, UK, Germany, France and Switzerland in his first two months as CEO. He's expected to share what he's learned from that trip this month. … 'I have to be able to look at every single one of my senior leadership team members and say, "Do I believe that they personify the values of our company?"' Kempczinkski said during a town hall meeting held shortly after he assumed office. 'And if they don't, they're not on the senior leadership team.'" • When I read Chris Arnade's Dignity, and the central role that McDonald's played in so many communities, I worried that some executive would come in and blow all that away. So we'll see what Easterbrook does.
Manufacturing: "An anchor of the U.S. industrial economy is starting 2020 on a sober note. Auto industry executives are predicting a continued slowdown this year after major car companies reported softer sales in 2019… signaling slimming supply chains from parts to final assembly plants" [Wall Street Journal]. "Analysts expect the car industry to post a decrease of 1% to 2% in U.S. sales for the year once final numbers are compiled. Sales of around 17 million vehicles defied earlier predictions of a sharper decline but suggests the multiyear boom in U.S. auto sales is running out of gas even amid growth in broader consumer spending. The slowdown is hitting supply chains as factory output slows."
The Bezzle: "Opening the Door to Unicorns Invites Risk for Average Investors" [New York Times]. • I don't think letting the rubes in is a sign of froth.
Mr. Market: "Optimism as a Default Setting" [The Reformed Broker]. "Pessimism is intellectually seductive and the arguments always sound smarter, especially when they dovetail with our own worries. You think this period is more frightening than the sixteen month recession between July 1981 and November 1982 only because you weren't there and you haven't studied history. Your frame of reference is here and now, not then – with a 14% unemployment rate and 15% inflation." • Hmm.
* * *
Today's Fear & Greed Index: 91 Extreme Greed (previous close: 93 Extreme Greed) [CNN]. One week ago: 90 (Extreme Greed). (0 is Extreme Fear; 100 is Extreme Greed). Last updated Jan 6 at 12:30pm.
Rapture Index: Closes up one on Israel. "Trouble in the Middle East has Israel on watch" [Rapture Ready]. Record High, October 10, 2016: 189. Current: 183. Remember that bringing on the rapture is a good thing. I would expect the Rapture Index to jump if evangelicals thought impeachment was likely to hurt Trump. So it looks to me like this index is delivering a verdict on impeachment as well.
Awhile back, a reader asked about the Rapture. Here's a thread on that topic:
It should be much more at the forefront of our minds, the extent to which the most politically activated and politically empowered segment of the authoritarian American cult calling itself "Christian" see the apocalypse as something to hasten, not prevent.

— A.R. Moxon (@JuliusGoat) November 17, 2018
Comments welcome from Evangelical-adjacent readers.
The Biosphere
Iconic:
Possibly one of the most striking pictures of the flooding I've been sent — the Tesla electric vehicle stations in Wokingham are now underwater.

I feel like there is a point about climate change hidden here… ? pic.twitter.com/2Eaf3JARqR

— Megan Baynes (@megbaynes) December 21, 2019
"Tough Plants to Fix Your Landscaping Problem Areas" [The Spruce]. "[T]ough plants, examples of which you'll find in the list below, headed by Culver's root. Let's look at several different types of challenging conditions you may encounter in your landscaping efforts. In each case, we suggest a plant choice that will be up to the challenge. The suggested plants range from ground covers and perennials to shrubs and trees." • Fodder for your garden planning!
"These animals make homes for other species" [National Geographic]. "Nothing in the wild goes to waste—not even a footprint…. Asian elephant tracks serve as important as nurseries for frog eggs and tadpoles during the dry season in Myanmar, according to a study in the journal Mammalia published in print last month… In addition to being breeding grounds, elephant-footprint pools are also refuges for adult frogs, Bickford says, and they help link fragmented frog habitats together, which is important for maintaining genetic diversity in the population. Co-author Thomas Rainwater of Clemson University also notes that the tracks are good habitat because there are few, if any, predators present." • If "nothing in the wild goes to waste," I would think that has implications for modeling…
"How ants walking backward find their way home" [Science]. "When walking forward, Spanish desert ants (Cataglyphis velox) use a strategy called "path integration": They remember the feeling of the twists and turns they took and how many steps they are from the nest, which they use to compute the fastest route back home. They also rely on the angle of the Sun to get their bearings, and they look around at the passing scenery and remember certain landmarks that can help them on their return journey. But how they know where they're going while walking backward is less clear…. The ants' eyes have a wide angle of view—they have nearly 360° vision, whereas humans can only see about one-third of their surroundings without turning their heads. Schwarz says the insects are likely taking in information from beside and behind them as they walk away from the nest, then using it to guide them back as they are dragging food." • 360° vision!
"Storing carbon and saving the economy? Mangroves can do both." [Grist]. "'When you take a look at these mangroves, they're these really dense ecosystems that could essentially act as a wall or barrier for wind and storm surge,' explained Alejandro Del Valle, at Georgia State University and one of the lead authors of the study. 'The key part is that these ecosystems are literally in the coastlines. It's already there, so you don't need to spend too much money in constructing it, just conserving and protecting it.'" • See NC on mangroves here and here.
"Federal agencies are required to consult with tribes about pipelines. They often don't." [Grist]. "Federal agencies are required by law to work with Native American tribes that might be affected by oil and gas projects. But there hasn't been a single public hearing on the Fort Peck Reservation yet, even though the pipeline has been a source of controversy for about a decade. There are similar stories in Virginia, New Mexico, and elsewhere across the country, according to Indian law experts tracking oil and gas projects. Tribal officials say they try to contact federal agencies and don't hear back, or that agencies make key decisions before contacting them. Sometimes an agency sends letters asking for tribes' input to the wrong address or never contacts them at all." • To be fair to Warren, she has addressed this.
"Measles may have emerged when large cities rose, 1500 years earlier than thought" [Nature]. "Because measles spreads so fast and infection confers lifelong immunity, scientists estimate it needs populations of 250,000 to a half-million people to avoid burning itself out. Historians believe that the largest cities reached that size around the fourth century B.C.E…. Calvignac-Spencer's team drew up a new phylogenetic tree using the 1912 genome as well as a new one from 1960, pieced together from a sample in another collection, and other available genomes. The resulting tree suggests the disease could have jumped to humans as early as 345 B.C.—right around the time human populations reached the critical size."
"Recluse or Not?" [spiderbytes]. "On this page you'll find critical information about recluse spider identification, their range in North America, bites, what to do if you you find them in your home, and links to other useful resources." • News you can use!
Our Famously Free Press
"'The Newsroom' Explains Everything Terrible About This Decade's Politics" [Vice]. "The Newsroom was the second time a network allowed Aaron Sorkin, creator of The West Wing, to do where the f*ck he wanted, and what he wanted to do at that time to confront what he saw as a rising tide of right wing extremist in the United States was to create a show about an institutional TV figure who could tell the American people the news…. The truth, yeah, be a bearer of truth and understanding. He made it about real events, but the show was always projecting three or four years back in the past…. one of the seasons here where The Newsroom gang had to address like, 'How do we handle the story of the Occupy Wall Street protests?' And for multiple episodes in this work of fiction about people getting the story right and thinking deeper, it was just relentless dunking on the Occupy movement and how stupid they were and how ill informed they were about the financial system about the economy. They were just dumbasses with a bunch of complaints and no understanding of the real issues and no solutions. You're not allowed to be angry, unless you bring a concrete, preferably means tested, solution. Otherwise, shut the f*ck up." •
Games
"Game thought lost for 25 years randomly streamed on Twitch" [Quarter to Three]. "Here was Brewster's long-lost game, a game he only ever sent to one person, being played live on Twitch! All its primitive preteen glorious CGA graphics and simple audio back from the past like a "lost, drunken cat" finding its way home." • Lovely provenance episode.
Guillotine Watch
No:
Playing in Disneyland, wearing pieces from the #DisneyXGucci collection by #AlessandroMichele featuring Mickey Mouse. ©Disney pic.twitter.com/CpoDpPXq4d

— gucci (@gucci) January 4, 2020
Class Warfare
"Uber Files Official Complaint Against Workers Who Led Protests in France" [Vice]. "Ben Ali's protests, which hundreds of drivers participated in, targeted Uber Greenlight Hubs which are intended to be driver signup and service centers. The protests disrupted the company's operations in a bid to force Uber to consider the driver's demands. The drivers' demands include increasing base fares and rates to livable levels, allowing drivers to review trip prices and destinations before accepting a ride, stopping the deactivation of drivers for frequently declining unprofitable trips, implementing driver verification to improve safety, capping Uber's steadily growing fees, greater autonomy over their jobs, and stronger union representation to dispute unfair or false complaints… After revealing that it filed a formal complaint with the public prosecutor against [organizer Brahim Ben Ali], Uber ended the email saying 'we reserve the right to exercise all legal remedies in order to put an end to the unlawful disturbance resulting from your actions and obtain full compensation for our damage.'"
"Implicit Bias Training Doesn't Work" [Bloomberg]. "[D]espite the growing adoption of unconscious bias training, there is no convincing scientific evidence that it works. In fact, much of the academic evidence on implicit bias interventions highlights their weakness as a method for boosting diversity and inclusion. Instructions to suppress stereotypes often have the opposite effect, and prejudice reduction programs are much more effective when people are already open-minded, altruistic, and concerned about their prejudices to begin with. This is because the main problem with stereotypes is not that people are unaware of them, but that they agree with them (even when they don't admit it to others). In other words, most people have conscious biases." • If it doesn't work, you can bill for it over and over again!
TF sends this photo, and writes: "This lady, Monica Echeverría, was a well-known activist and defender of human rights in Chile during the Pinochet years, just passed away at age 99. She asked to be buried with an eyepatch in homage to the 200+ Chileans who have lost an eye in the recent wave of demonstrations as cops aim for the head with buckshot and rubber bullets."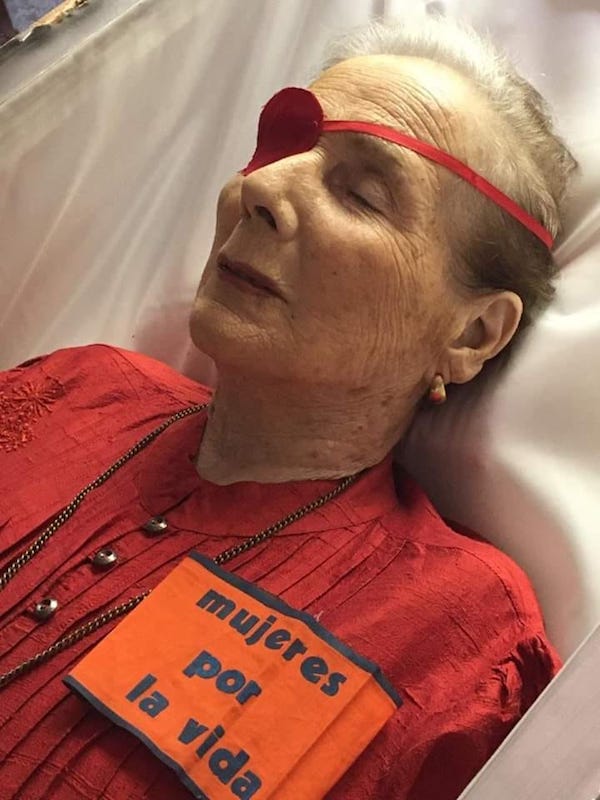 News of the Wired
"The empty promises of Marie Kondo and the craze for minimalism" [Guardian]. "The KonMari Method and minimalist self-help as a whole works because it is a simple, almost one-step procedure, as memorable as a marketing slogan. It is a shock treatment demonstrating that you do not need to depend on possessions for an identity; you still exist even when they are gone. But as Kondo conceives it, it is also a one-size-fits-all process that has a way of homogenising homes and erasing traces of personality or quirkiness, like the sprawling collection of Christmas decorations that one woman on the Netflix show was forced to decimate over the course of an episode. The overflow of nutcrackers and tinsel was a clear problem (as was her husband's piles of baseball cards), but with their absence the home was sanitised and homogenised. Minimalist cleanliness is the state of acceptable normalcy that everyone must adhere to, no matter how boring it looks."
Here's hoping for 2020:
Here's a hamster in its natural environment learning to solve a maze pic.twitter.com/gna2RCmJ7v

— Adam J Calhoun, Bay Area 12/29 – 1/5 (@neuroecology) January 1, 2020
* * *
Readers, feel free to contact me at lambert [UNDERSCORE] strether [DOT] corrente [AT] yahoo [DOT] com, with (a) links, and even better (b) sources I should curate regularly, (c) how to send me a check if you are allergic to PayPal, and (d) to find out how to send me images of plants. Vegetables are fine! Fungi and coral are deemed to be honorary plants! If you want your handle to appear as a credit, please place it at the start of your mail in parentheses: (thus). Otherwise, I will anonymize by using your initials. See the previous Water Cooler (with plant) here. Today's plant (BD):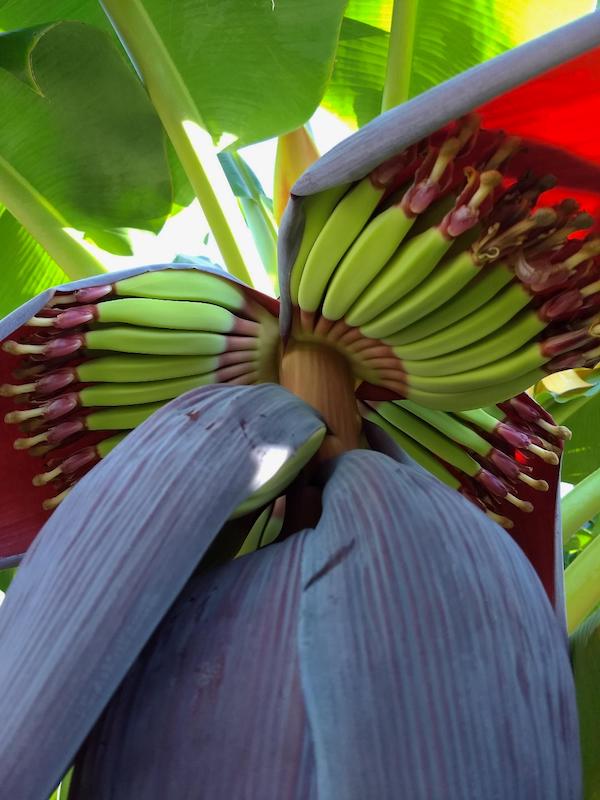 BD writes: "My banana plants." The green and red combination is very Christmas-y!
* * *
Readers: Water Cooler is a standalone entity not covered by the annual NC fundraiser. So if you see a link you especially like, or an item you wouldn't see anywhere else, please do not hesitate to express your appreciation in tangible form. Remember, a tip jar is for tipping! Regular positive feedback both makes me feel good and lets me know I'm on the right track with coverage. When I get no donations for five or ten days I get worried. More tangibly, a constant trickle of donations helps me with expenses, and I factor in that trickle when setting fundraising goals:
Here is the screen that will appear, which I have helpfully annotated.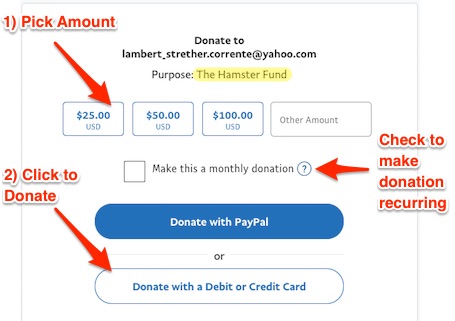 If you hate PayPal, you can email me at lambert [UNDERSCORE] strether [DOT] corrente [AT] yahoo [DOT] com, and I will give you directions on how to send a check. Thank you!