By Jerri-Lynn Scofield, who has worked as a securities lawyer and a derivatives trader. She is currently writing a book about textile artisans.
As Australia burns and Indonesia drowns, the National Oceanic And Atmospheric Administration yesterday released 2019 climate data for the United States, Assessing the U.S. Climate in 2019. Yesterday's release is only a summary of key findings; the full report will be published later this week.
Neither the government of Australia nor that of Indonesia is doing much about the changing climate and instead each still pursues policies that exacerbate the crisis. The headline of yesterday's piece in The Independent tells you what you need to know, Australia wildfires: Scott Morrison continues to deny climate threat despite 'apocalyptic' blazes. The problem:
The international community has taken note. A report published last month by a group of think tanks that ranked 57 countries on their national climate action policies placed Australia sixth from bottom.

A separate study in November ranked Australia as third-worst among the Group of 20 nations. Though Australia just produces a bit more than 1 per cent of the world's greenhouse gas emissions, it's the world's biggest exporter of coal, whose use is a major factor in the warming of the planet.

The bush fires alone have emitted some 350 million tons of carbon dioxide into the atmosphere since last September.
Morrison's response:
In the midst of the crisis, Mr Morrison has offered mostly a tepid brand of climate denial, pointing to a long history of seasonal fires.

"They are natural disasters," he told reporters last week. "They wreak this sort of havoc when they affect our country, and they have for a very long time."
As for Indonesia, Jakarta has been slammed by intense monsoon rains, which have caused mass flooding, and deaths. The situation is by far the worst on the island of Java – where Jakarta is located – but other islands in the Indonesian archipelago, such as the tourist mecca, Bali, have also recently endured worse than normal rains.
Grist reports in It's not just Australia — Indonesia is facing its own climate disaster on how Indonesia, on Indonesia's disasters:
Indonesia's national meteorological agency said the rainfall on New Year's Day was the heaviest downpour in a 24-hour period since Dutch colonists began record-keeping in the 1860s. Although floodwaters are starting to subside, the Indonesian Red Cross Society warned people to expect more severe rainfall in the coming days.

Jakarta, which is home to about 10 million people, is extremely vulnerable to the effects of climate change, including rising sea levels and extreme weather. It also has dangerous levels of air pollution and the largest uncovered landfill in Southeast Asia. On top of that, the city's rapidly growing population has faced major water shortages in recent years due to a dearth of groundwater. Meanwhile, rivers are polluted with garbage, and researchers say that at least 20 tons of trash are dumped in the Jakarta Bay each day
Nonetheless, Indonesia, too, continues to pursues policies that exacerbate climate change. The deteriorating situation in Jakarta has prompted Indonesia's  proposal to shift its national capital from Jakarta on Java to Kalimantan (the Indonesian part of the island of Borneo), but that would further spur deforestation – Indonesia's major policy contribution to fuelling climate change. Borneo had until recently vast tracts of rainforest, but too much of this has been replaced by monoculture palm oil plantations. And shifting the capital will only worsen the problem
As Grist reports:
The city is sinking as quickly as 9 inches a year in some neighborhoods, and about half of it is already below sea level. The country is also the world's fifth-largest emitter of greenhouse gasses, mostly due to the country's deforestation habit. And if Indonesia and the rest of the world don't take measures to slash emissions drastically, researchers say that 95 percent of northern Jakarta will be submerged by 2050.

The country has pledged to cut its carbon emissions by 29 percent by 2030 as part of the Paris Agreement, but the government is still set to rely on coal to generate electricity for the next decade. And a recent survey from YouGov and the University of Cambridge revealed that a whopping 18 percent of Indonesians believe there's zero link between human activity and the climate crisis.
United States
Likewise in the United States. It's well known that the Trump administration is promoting policies that promote fossil fuels. Many Democrats have colluded in these policies – and have certainly not supported the drastic changes that are now necessary to stem the climate change crisis. I'm not going to discuss these failures in this post, in which I instead wish to concentrate on the NOAA's findings.
Key takeaways:
Temperature.
From the NOAA release:
For 2019, the average contiguous U.S. temperature was 52.7°F, 0.7°F above the 20th century average.

This ranked in the warmest third of the 125-year period of record and was the coolest year since 2014. Below-average temperatures, particularly daytime temperatures, were observed across the northern Plains, while above-average to record-warm overnight temperatures dominated across the Southeast and Mid-Atlantic.
Precipitation.
From the NOAA release:
The annual precipitation total for the contiguous U.S. was 34.78 inches, 4.84 inches above average, the second wettest year on record and 0.18 inch less than the total for the wettest year set in 1973*. Record precipitation fell across the northern Plains, Great Lakes and portions of the central Plains. Ten of the last twelve 12-month periods were record wet with the top seven all-time wettest 12-month periods occurring during 2019.
Billion-Dollar Weather and Climate Disasters.
The report included the following chart of billion-dollar weather and climate disasters.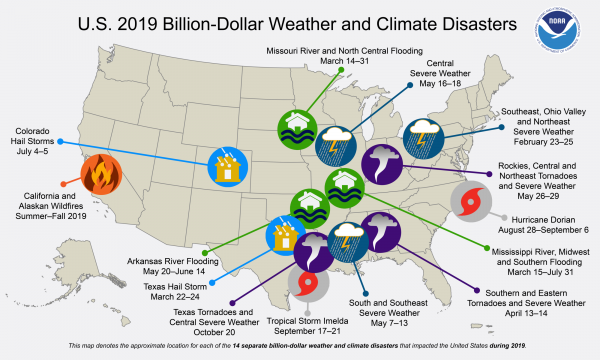 US Selected Significant Climate Anomalies and Events for 2019
And the NOAA highlighted several significant climate anomalies and events. Such as Alaska reported its warmest year on record.
NOTE: additional graphic – Alaska had its warmest year on record (2019) per @NOAANCEIclimate https://t.co/xepop9Rmnk #StateOfClimate pic.twitter.com/H1LhYbULYb

— NOAA (@NOAA) January 8, 2020
Lots of other sobering information – too much to summarize here, so I encourage you to read the short NOAA summary in full, or if time-pressed, just examine this chart. (Common Dreams also published a good summary; see With 14 'Billion-Dollar Disasters' and Record-Breaking Heat in Alaska and Across South, 2019 Was a Year of Climate Extremes for US.)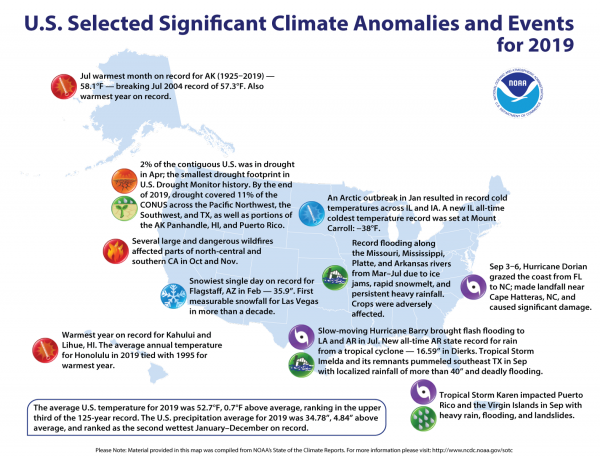 What Is to Be Done?
So, so much. And soon. But we continue to dither, and look away, and ignore what's happening around us.