Yves here. Richard Murphy makes some critically important points about the current low interest rate conundrum, which is how central banks have effectively painted themselves in a corner. They can't do much to increase interest rates without hurting housing prices, which has a strong effect on consumer spending, both via dampening housing-related activity and chilling sentiment, aka the wealth effect, which operates most strongly through housing.
MMT advocates argue that the way out of this mess is to run the economy by setting a price for labor via a Jobs Guarantee, rather than manipulating interest rates. For those who have not yet read it, we strongly encourage you to spend some time on a seminal 1944 essay by Michal Kalecki on the obstacles to achieving full employment. It is the best single explanation of how we got where we are.
By Richard Murphy, a chartered accountant and a political economist. He has been described by the Guardian newspaper as an "anti-poverty campaigner and tax expert". He is Professor of Practice in International Political Economy at City University, London and Director of Tax Research UK. He is a non-executive director of Cambridge Econometrics. He is a member of the Progressive Economy Forum. Originally published at Tax Research UK
As Larry Elliott notes in the Guardian this morning, the World Bank is worried that debt is rising worldwide. This is their data: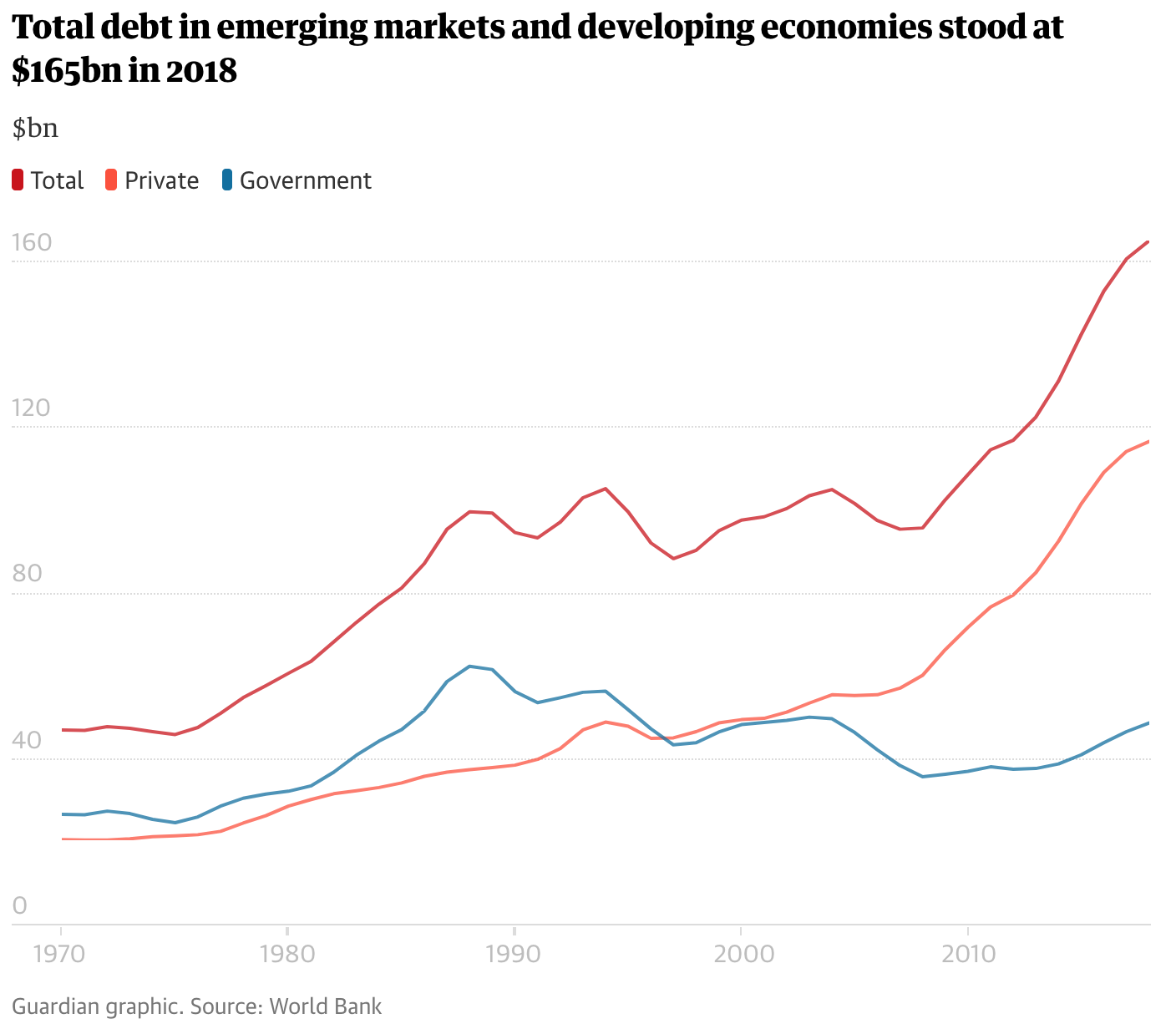 Larry raises two concerns. One is the rise of personal debt. The other is that the data on national debt hides the fact that much of the growth is amongst developing countries.
Dealing with the latter first, the concern is very real. Debt is not a concern for a country like the UK, where we have our own central bank and currency and have issued almost all our national debt in sterling. We cannot go bust because by definition we can always pay our sterling debts. This, though, is not true of many developing countries where loans are often in a foreign currency, and usually the US dollar. There the whim of Donald Trump holds sway and could cause real problems, as would any downturn in world trade, which climate change might involve.  There are real issues here.
But so too are there in the growth in personal debt. This is a symptom of over-consumption and incomes that are too low. I am not suggesting that the same people are doing both: they are separate but related issues created by an economy that promotes excessive consumption of goods produced at minimum cost to deliberately fuel debt, which then keeps people enslaved to the economic process that has ensnared them. This is the real crisis of modern capitalism, and the real reason why it is so frightened of climate change movements.
The solutions are threefold, and all are noted in my book The Courageous State.
One is to break the consumption cycle. The first way to do this is to tackle the pernicious role of advertising, which is always intended to make people unhappy.
Second, there is an obvious need to lift real incomes, the flattening in which has fuelled this crisis.
And third, there has to be a commitment to continuing low interest rates as anything else would fuel disaster and the most massive collapse.
But I stress, to argue that low rates caused this problem is wrong. It was the drive for growth, in GDP and debt, that fuelled this and brought the world to its knees in so many ways. And it is low wages for most that exacerbated that. Low interest rates are a symptom and not a cause.  So let's tackle the real issues, and not the symptom.