Yves here. It's not a secret that graduate students are now members of the precariat. But knowing that intellectually and having a sense of what that means in practice are two different things. This report, from the union organizing effort at Harvard, includes shameful conditions, like graduate students worrying if they can afford to eat, are simply inexcusable at an institution as rich as Harvard. However, Harvard has always been stingy with its help; back when I was a student, the food service workers had to strike for better pay, and the details their union presented on compensation and work conditions then as now did not reflect well on the university.
By Eric Coles, a Doctor of Public Health (DrPH) student at the Harvard TH Chan School of Public Health who researches social determinants of health. Originally published at openDemocracy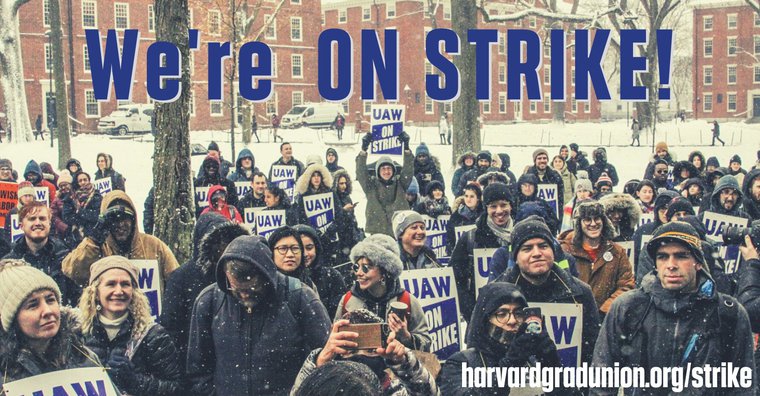 Harvard Graduate Students Union – UAW / Facebook
My father was a card-carrying union member for nearly 20 years when he worked as a computer programmer for the state of New Jersey. When I had questions about unions, he would list their achievements in making the lives of workers better, such as improving safety conditions, raising wages, ensuring adequate health benefits, eliminating child labor, and overall protection from the whims of management.
Following my father, I have been a proud member of the Harvard Graduate Students Union since I started to work for Harvard University two years ago. Now, we are on strike, fighting for the same things that my father would have fought for from his union days – fair wages, better healthcare, and protection from discrimination and harassment by supervisors.
It may be difficult to empathize with Harvard student workers. Popular culture often depicts us as privileged elites, like in the movie 'Good Will Hunting.' However, like many of my classmates and coworkers, I am not at all wealthy. During my 3-year program, I will acquire about $70,000 in debt. I am in my early 30s and my new debt burden affects when I start a family, buy a home, and what future jobs I can consider. The wage increase we are fighting for would directly improve my situation.
My story is unfortunately far better than that of some of my classmates. Through a student survey, my school, the Harvard Chan School of Public Health, found out there were students who weren't sure they could afford food for themselves. Other students have needed food stamps to get by. Questioning how you can afford food while studying at one of the richest educational institutions in the world is absurd. To my school's credit, they offered assistance to those concerned about money for food over Christmas break. But that is a temporary relief to a full-time problem.
Moreover, I have heard stories of students on the verge of homelessness, sleeping out of cars or bouncing between friends. While the cost of living increases in the Boston area by as much as 3-4% each year, wages in many departments are stagnant. Students who have been at Harvard for five or six years cannot recall any general raises. Others received their first raise only after Massachusetts increased the minimum wage. Year after year, we fall further behind and are slowly being priced out of our communities.
Make no mistake: Harvard has the money to pay us livable wages. Their endowment is valued at $40.9 billion. Last year, this money returned $2.6 billion in investment gains – more than twice as much as the university took in for all tuition costs. In other words, Harvard makes more off the stock market than it does off its students. If the endowment worked full-time, its hourly wage would be over $1.2 million. Our union is asking for pennies in comparison.
The disparity between Harvard's wealth and student workers' struggles to make ends meet is especially frustrating because I study health inequity – the incredible, and unjust, differences in health across groups of people. My Harvard professors have taught me that income inequality is often the root cause of disparities in health outcomes and life expectancy. Poor health is seen more often in communities which face bigotry, racism, and discrimination, in part due to the chronic stress that marginalized people unjustly face. Many health experts believe that discrimination literally gets under your skin. It has measurable physical and medical consequences.
That's just as true at Harvard as anywhere else. To improve the situation for student workers, we are fighting for independent and common-sense harassment and discrimination protections that are critical for real accountability. We want all student workers who face discrimination or harassment to have access to neutral, third-party recourse. As Harvard's own professors have taught me, this is not just a moral issue, but a health issue. We want to protect current and future student workers from the chronic stress that many face on a daily basis as a result of discriminatory treatment. But so far, Harvard has refused.
I never imagined I would be pleading with the same organization that taught me about health inequities to take action to avoid perpetuating them. Our demand is to take a minute portion of the billions Harvard makes each year, and use that money to ensure all student workers have enough food to eat, an adequate home to sleep in, and affordable healthcare. I am incredibly disappointed that Harvard is fueling the same problems they have trained me to resolve.
Don't let the Harvard name confuse you. We are workers, and we are fighting for the same rights as many unionized staff: fair pay, good health insurance, and protection from abusive supervisors. Though my father was never a Harvard student worker, he would recognize our fight for the same rights, benefits, and protections his union won for him and many others across the country. Our cause is their cause, and like their cause, it must be won.