Man working from home forced to hot desk with cat Daily Mash
Of ants and men: Ant behavior might mirror political polarization PhysOrg (Ian P)
Aeolus: Weather forecasts start using space laser data BBC (David L)
Australia Burning
Australia's fires have pumped out more emissions than 100 nations combined MIT Technology Review

An 'absolutely seminal moment': climate change opinion shifting in face of fires Sydney Morning Herald. Kevin W: "You only needed half the country to burn down to get people to think about changing their minds."
'At Davos we will tell world leaders to abandon the fossil fuel economy' World Economic Forum (David L)
Fitbit and Garmin Are Under Federal Investigation For Alleged Patent Violations Reuters
What Went Wrong With Virtual Reality? BBC
The FDA Announces Two More Antacid Recalls Due to Cancer Risk Wired
Some Aspects of Memory Get Better As We Age New York Times. Also a lot of what looks like memory loss in old people is poor hearing. Hearing aids, even really good ones, have limitations, and many old people are reluctant to keep asking for things they didn't hear well to be repeated. They nod as if they got it when they didn't.
Depressive realism Aeon. Of course, this fits my priors…..
India
In What May be the Largest Strike in World History, Millions in India Protest PM Modi's Policies Mint Press
Harry Dunn: UK makes extradition request to US BBC (Kevin W)
Fury over Meghan and Harry's 'shoddy' treatment of the Queen: Poll shows Britons want royal pair stripped of titles and public money as their popularity plunges Daily Mail. I barely have any idea of who is who in the Royal Family, but the cheek of Harry and Meghan planning to monetize their status via not just registering the Sussex Royal URL but a ton of tradermarks too and then thumbing their noses at doing royal duties like opening hospitals in the boonies should not be on.
New Cold War
Russian Ship 'Aggressively' Approached Navy Destroyer in Arabian Sea, Officials Say Military.com
Syraqistan
Iran 'deeply regrets' accidental shooting down of Ukrainian airliner: Iran president Reuters

This is a watershed moment for #Iran's gov. mainly because we as Iranians are not used to them admitting guilt. Especially on a major issue like this. The only case that comes close is the admission that the Intel. Agents had murdered number of intellectuals. That was late 1998. https://t.co/slaz1ywDVX

— Bahman Kalbasi (@BahmanKalbasi) January 11, 2020

Trump administration offers shifting messages to justify strikes on Iran's Soleimani CNN (furzy)

"I feel like I would have remembered if they would have presented that kind of intel at the briefing," Sen. Chris Murphy said of Trump's embassy claim. "It sounds to me like the admin is panicking a little bit about the soundness of their rationale."https://t.co/64PeANlbF0

— Kyle Griffin (@kylegriffin1) January 11, 2020

Iraqi prime minister tells Pompeo to 'prepare a mechanism' for troop withdrawal The Hill. Hoo boy.

On the day U.S. forces killed Soleimani, they launched another secret operation targeting a senior Iranian official in Yemen Washington Post (Kevin W)

Report: Trump Cited Impeachment Pressure to Kill Soleimani New York Magazine. UserFriendly: "Way to go Democrats, of course Chait is too stupid to see they bear the blame too."

Fascist vs Fascist in Israel Yasha Levine

The Secret Israel-Soviet Union War Nobody Knew About Haaretz (JTM)
Big Brother is Watching You Watch
Hundreds of Millions of Cable Modems Are Vulnerable To New Cable Haunt Vulnerability ZDNet
Imperial Collapse Watch
Noam Chomsky: America Has Built a Global Dystopia TruthDig (David L)
Trump Transition
The Most Popular Crook in America New Republic
Deadbeat' AOC rakes in a bundle but doesn't share with House Democrats New York Post (UserFriendly). OMG these people are shameless. When Alan Grayson ran for re-election in Florida the first time, the DCCC refused to give him a dime. The Dems want AOC dead and then have the nerve to act as if she owes them? Oh, and more important it is false to say AOC has not given funding to other reps. She's just not doing it through that coin operated stalemate machine.
I give quite a bit to fellow Dems – we've fundraised over $300,000 for others (more than my "dues"), w/ over 50% going to swing seats.

DCCC made clear that they will blacklist any org that helps progressive candidates like me. I can choose not to fund that kind of exclusion. https://t.co/qqwdwPAqek

— Alexandria Ocasio-Cortez (@AOC) January 10, 2020
Impeachment
READ: Pelosi's letter saying she is preparing for a vote next week to send articles of impeachment to Senate CNN

How's This Working, Nancy? James Howard Kunstler (Kevin W). Important. Had no idea re the Supreme Court angle.
2020
Sanders takes lead in Iowa poll less than a month before vote The Hill

Donald Trump Is Starting To Fixate On Bernie Sanders BuzzFeed (UserFriendly)

The Americans Joe Biden Left Behind on the Bankruptcy Bill Adam Levitin, American Prospect

Bloomberg, Steyer ad spending dwarfs rest of 2020 field -by a lot MSNBC (furzy)

Bloomberg and Steyer's spending binges start to pay off Politico. Bloomberg is running ads all the time in Alabama. I can't fathom why. Did he not get the memo that 1. Doug Jones was a fluke and 2. New York City has a particularly bad name in this state?

Buckle Up for Another Facebook Election New York Times (Kevin W)
New warnings of hacking risks for voting systems connected to the internet NBC
Boeing's fired CEO Muilenburg walks away with more than $60 million CNBC
Boeing faces another million-dollar FAA fine over faulty 737 Max parts MarketWatch
GM to Revive Hummer Name on New All-Electric Pickup Model Wall Street Journal. An interesting response to the Tesla muscle car.
Class Warfare
Antidote du jour. PlutoniumKun:
My friend's 4 month old Corgi puppy, Oskar. Corgis are cow herding dogs, so we took him on his first visit to the countryside (Glendalough, Wicklow) on Sunday. We didn't find any cows to herd, but he did successfully round up lots of girls.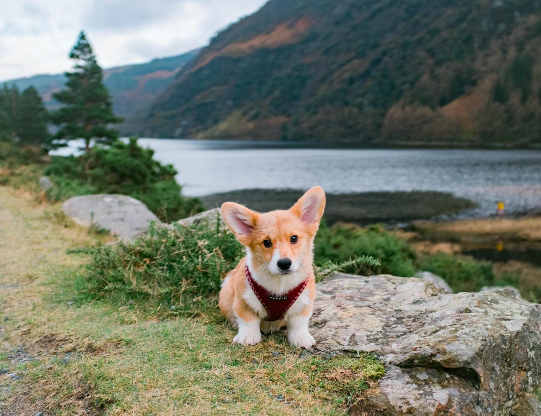 See yesterday's Links and Antidote du Jour here.