Drumming duck will have you 'quacking' up New York Post (David L)
Scientists Re-Create Voice of 3,000-Year-Old Mummy Associated Press
Royal Row
Harry and Meghan's attempt to trademark Sussex Royal brand is blocked Daily Mail (Li). I am told that this is not likely to be someone saying they have an existing mark but rather someone opposing the grant of a patent during the application period, which apparently anyone has standing to do.

'Kids that don't fail are normally frugal.' Wealth advisers say Meghan and Harry's lifestyle already raises red flags MarketWatch. I had trouble processing the headline by virtue of calling two people well over 30 "kids".
Team develops an electrochemical method for extracting uranium, and potentially other metal ions, from solution PhysOrg (Chuck L)
US and Europe clash over climate crisis threat on last Davos day Guardian (Kevin W)
Why Tourism Should Die—and Why It Won't New Republic
Co-Parenting as Friends – The Trend of Platonic Partners Raising Kids Together Marie Claire (Chuck L)
Drugs May Be Killing Twice as Many Americans Than Previously Thought Healthline. Quelle surprise! Just listen to the long list of possible side effects on the next health ad you hear.
China?
HOLY MOTHER OF GOD – the new coronavirus is a 3.8!!! How bad is that reproductive R0 value? It is thermonuclear pandemic level bad – never seen an actual virality coefficient outside of Twitter in my entire career. I'm not exaggerating… #WuhanCoronovirus #CoronavirusOutbreak pic.twitter.com/6mmxIHL9Ue

— Dr. Eric Feigl-Ding (@DrEricDing) January 25, 2020

China coronavirus: Death toll rises as disease spreads BBC

China's Battle With the Wuhan Coronavirus is Shackled by a Toxic Relationship With Information Quartz
India
US pushes India to buy $5-6 billion more farm goods to seal trade deal: Report Economic Times (J-LS)
Brexit
The EU's Brexit 'sanctions' threat shows the UK should not expect them or the US to be friendly over trade Independent
Note some of this may be due to Brexit, not just austerity: 10% of NHS nurses were EU migrants and some started leaving due to Brexit uncertainty + overt hostility to foreigners:
had to close the doors on AMU last night,13 patients of my own, in charge also. 2 nurses down. Management asked me to take on another 7 but wouldn't be staffing it, obvs I couldn't staff it & have 20 pts to myself. The response I got was if u don't you'll be reported to the CEO.

— NHS SISTER ?? (@Sister_Medicine) January 23, 2020
How a Democratic Counteroffensive Can Win George Soros, Project Syndicate (David L). From Davos. As if his Open Society didn't wind up funding neo-Nazis. I saw Soros say with great pride that everyone in the post-coup Ukraine government had gotten a grant from Open Society, either personally or an immediate family member, like a spouse. This was when the Ukraine government had ~15% neo-Nazis in official positions, when their representation among voters was more like 1%.
It May Be the Biggest Tax Heist Ever. And Europe Wants Justice New York Times (John C)
New Cold War
Syraqistan
Big Brother Is Watching You Watch
Chicago just shut down a "predictive" policing experiment that started in 2012. This report about has a bunch of alarming details about it, including info other cities have kept secret about their similar programs: https://t.co/PmXCcgbcbh

— Shakeer Rahman (@srahrman) January 23, 2020

London police to deploy facial recognition cameras across the city The Verge (resilc)

US citizen detained and interrogated by DHS agents about anti-war movement solidarity with Venezuela Grayzone

New York State Wants To Ban Government Agencies From Paying Ransomware Demands ZDNet
Imperial Collapse Watch
Feedback Driven Decisions and the Evolution of Intelligence Analysis in the United States RealClearDefense. UserFriendly: "Cringe so hard at the PR speak here but the description of useless bloat is noteworthy."

The US's Inalienable Right to Violence FAIR (UserFriendly)

Trump's official unveiling of new Space Force logo is being mocked for looking like a 'Star Trek' rip-off Business Insider (Kevin W)
Trump Transition
The Trump administration's new housing rules will worsen segregation Economic Policy Institute

Lawsuit Filed Against Trump Admin. Over Firearm Regulations Time (furzy)
Impeachment
2020
Election Update: What Are The Chances Of A Brokered Convention? FiveThirtyEight (UserFriendly)

Hillary Clinton is still trying to sell herself as a feminist icon. Don't buy it. Guardian. Filed here because Her Highness is still trying to play kingmaker. PlutoniumKun:

Interesting article inasmuch (with some other similar articles recently) as it seems to suggest that the Guardian is changing its mind somewhat on HRC – and that's usually a good weathervane for 'liberal' and 'feminist' opinion.

23 Headlines Obscure Biden's Lies About Cutting Social Security FAIR

Liberals Say Sanders's Acceptance Of Rogan Endorsement Sends Dangerous Message He Trying To Win Election The Onion

Says @briebriejoy, as she compromises her values.

Would be so much more honest to say 'we are willing to overlook stuff to get his support', and skip the 'values' BS. https://t.co/bef4l8XOjL

— Soledad O'Brien (@soledadobrien) January 24, 2020

UserFriendly notes:

I love how voters are reckless and insane for having purity tests, yet candidates are somehow supposed to have purity tests for their supporters.

It's almost like the ruling class will cynically say or do anything to justify keeping their boot on our neck.

AK-46: The Case Against Amy Klobuchar CounterPunchn(Chuck L)
FICO Changes Could Lower Your Credit Score Wall Street Journal
Who's Afraid of the IRS? Not Facebook ProPublica
Boeing
Does Microsoft Have a Boeing 737 Max Style Crash Every Week? Matt Stoller (JTM)
Bonds look like they are flashing a warning for global markets CNBC
Class Warfare
Skills as Collateral: Why Not Ask Employers to Co-Sign Educational Loans? RealClearEducation. UserFriendly: "Just what we need. Indentured servitude."
Antidote du jour. Jennifer F: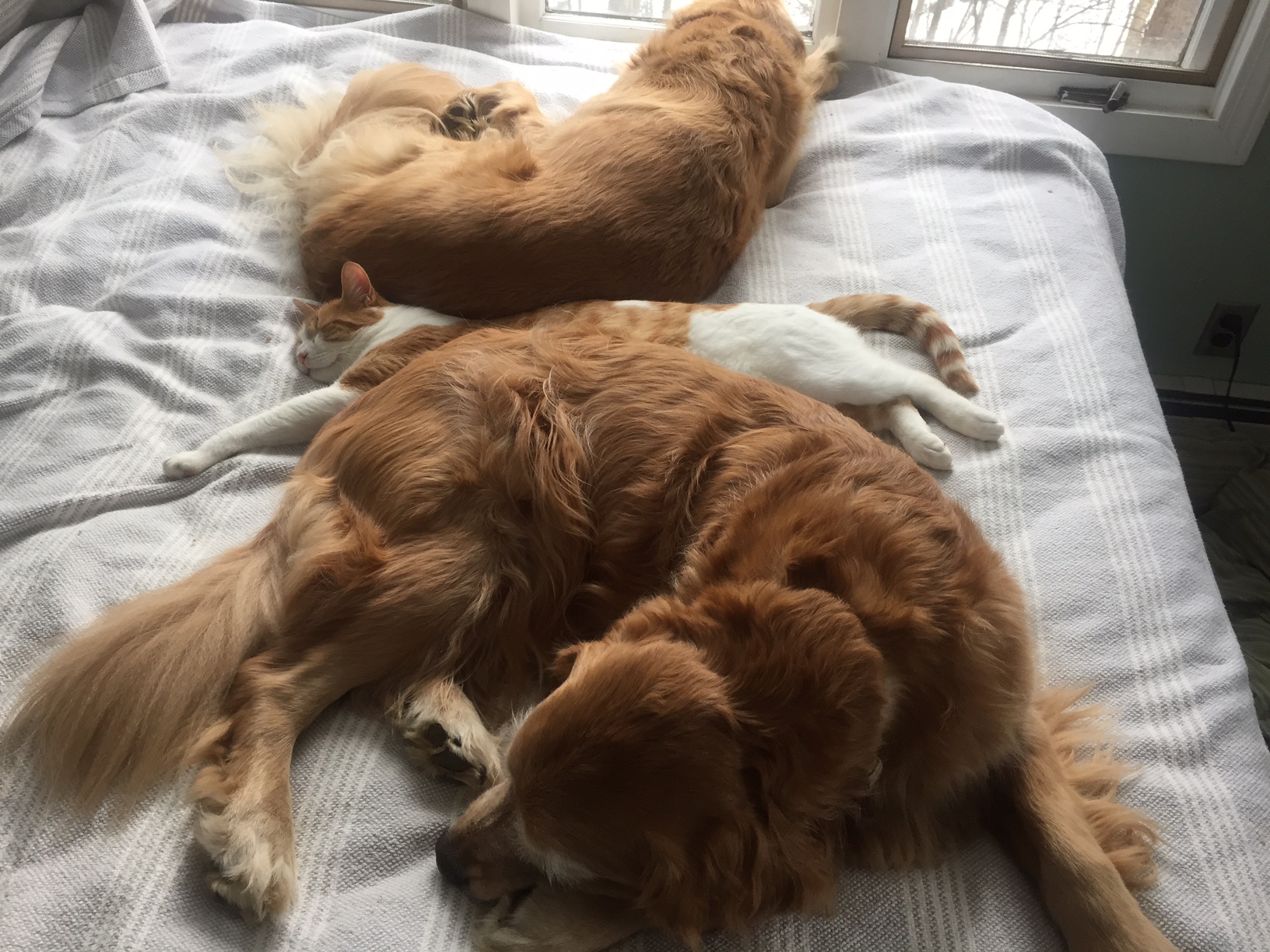 I have an antidote for your consideration – Max in the middle. I adopted Max from the humane society several months after my 17 year old cat died. He was a stray, living in a feral cat colony. This boy clearly had a home (and dogs) of his own before his circumstances took a turn. I joke that his problem is that he needs to relax more.
And a bonus:
I happen to live near wild chickens… pic.twitter.com/pny3aMdRHu

— Nature's Lovers (@natureslover_s) January 25, 2020
See yesterday's Links and Antidote du Jour here.