Yves here. Bad enough that there's an infestation of for-profit medical schools. Their secretiveness raises even more red flags.
By Roy Poses, MD, Clinical Associate Professor of Medicine at Brown University, and the President of FIRM – the Foundation for Integrity and Responsibility in Medicine. Originally published at Health Care Renewal
Mysteries still abound in the not so wonderful world of health care dysfunction, so once again, quick, the game's afoot…
The current mysteries involve beneficial ownership.  Beneficial ownership questions are important to anti-corruption campaigners.  Beneficial ownership simply refers to "anyone who enjoys the benefits of ownership of a security or property, without being on the record as being the owner." (per Wikipedia). Concealing who really owns a company enables concealing sources of funds (as in money laundering), market power (when the owner also owns competitors), and sources of political influence, and enables those benefiting from the actions of the company to escape responsibility for their consequences.
We recently discussed the mystery of the beneficial ownership of a local pharmaceutical company, an issue that became more interesting when it was revealed it was owned by the Sackler family, the owners of the now somewhat infamous Purdue Pharma.  A while back we discussed the mysteries surrounding the ownership of several offshore medical schools (look here and here).
I was recently involved in a conversation about the rise of onshore, that is US based for-profit medical schools, four of which are now known to exist.  It turns out that their ownership is also rather unclear.
That for-profit medical schools now exist in the US is not widely known.  The best, and nearly only public discussion of the topic appeared in a 2017 article in JAMA [Adashi EY, Krishna GR, Grappuso PA. For-profit medical schools – a Flexnerian legacy upended.  JAMA 2017; 317: 1209-10.  Link here.]  It listed four such schools that were operating or in development.
Rocky Vista University College of Osteopathic Medicine
Rocky Vista was the first for-profit to open.  Its President is Clinton E Adams DO.  The university website is silent on its ownership.  Some searching reveals, however, that it, along with St Georges University in Grenada, is owned by Medforth Global Healthcare Education, whose CEO is Dr Andrew Sussman, who was "most recently Executive Vice President of Clinical Services at CVS Health."
However, who owns Medforth, and hence to whom Dr Sussman reports, is unclear.  We do know that in 2014, "Canadian private equity firm Altas Partners LP and pan Asia firm Baring Private Equity Asia have acquired a substantial stake in St George's University," per Reuters.  A reference on the financial website Mergr suggested that Atlas and Baring targeted Medforth per se.  Who, in turn, actually owns Atlas and Baring, and to whom at those firms the leadership of Medforth, and thus ultimately the leadership of Rocky Vista report, is unclear.
Ponce Health Sciences University
The President of Ponce Health Sciences University is Dr David Lenihan.  According to his welcome statement,
Ponce was acquired by University Ventures Corporation in September 2014, to operate Ponce Health Sciences University and appoints Dr. David Lenihan. Dr. David Lenihan is used to taking risks. It is evidenced by his academic training in neuroscience, chiropractic and law. Also, his foray into the administrative side of science education. Recently, the greatest risk it has taken is the acquisition and transformation, through Arist Medical Sciences University, of the Ponce Health Sciences University. As the main academic officer of Arist, Lenihan guided the process of purchase and evolution of the School, a widely recognized institution with around 40 years of training professionals of excellence in the field of health in the south of Puerto Rico.
According to Bloomberg,
Arist Medical Sciences University, Public Benefit Corporation was founded in 2014. The company's line of business includes the operation of colleges and universities.
Arist Medical Sciences University is apparently part of Arist Education System.  Its website states
Arist Education System is an investment of Bertelsmann — a global media, services and education company.
Furthermore, it claims
Bertelsmann stands for entrepreneurship and creativity. This combination promotes first-class media content and innovative service solutions that inspire customers around the world. Bertelsmann's supply of capital will support innovative graduate and professional health and human sciences programs that are making a positive impact.
So it appears that Ponce is now owned by Bertelsmann.  What a diversified global media company is doing running a medical school is not clear.
Nor is the identity to the person at Bertelsmann to whom the leadership of Arist, including Dr Lenihan, reports.  Although the Bertelsmann website lists the company's top executives, and the top managers of the Bertlesmann Education Group, the chain of command for the US for-profit medical school is not apparent.
California Northstate University College of Medicine
According to the university website, the president is Alvin Cheung, Pharm D.  The university has a board of trustees, but does not provide their biographies or explain their role.
The website provides no information about the ownership of the university, although a 2016 Sacramento Bee article stated "Backers raised more than $50 million to fund the school." I can find business listings for a California Northstate University LLC, eg here, stating it is a privately held business, but containing no information about ownership or if the business leadership is the same as the listed medical school leadership. Thus the ownership of California Northstate University LLC, and thus presumably of the medical school, is entirely opaque.
Burrell College of Osteopathic Medicine
The President is John Hummer MHA.  There is a board of trustees, chaired by Robert V Wingo, with biographies provided but whose role is not explained.
An article in the Las Cruces Sun-News from 2016 called it "a first-of-its-kind, privately funded U.S. medical school."  An Albuquerque Journal article from 2015 stated.
Burrell is entirely financed by private investors, led by Santa Fe businessman Dan Burrell in partnership with the Rice Management Co., which oversees Rice University's $5.6 billion endowment fund.Although most public attention has centered on Burrell, a well-known real estate mogul, Rice Management is actually the majority investor in the project, estimated to cost a total of $105 million,
Other investors were not named.  Thus only some of the investors in, presumably therefore the owners of Burrell are known.  The rest are anonymous.
Discussion
The ownership of three of the four new US for-profit medical schools is unclear.  One is a private LLC whose ownership is entirely opaque.  One is partially owned by two private equity firms, whose investors are anonymous.  It may also have other, again anonymous owners.  One is owned by a group of investors, some local, some named, and some anonymous.
Anti-corruption campaigners have pushed to reveal the beneficial ownership of all corporate entities.  Transparency International's report on the problem of anonymous beneficial ownership (look here) states:
In the vast majority of countries, it remains legal for companies to hide the identity of their beneficial owners. Embezzlers use anonymously owned companies to move, launder and spend tainted money in the global financial system without being detected. Documents in the Panama Papers, for example, show how kleptocrats and their families used anonymous companies to secretly control state assets and purchase global real estate. Criminals including terrorists, human traffickers, sanctions-busters, drug dealers and tax evaders also use anonymous companies for the same reasons.
Thus anonymous ownership of any US medical school is highly troubling.  Physicians swear oaths to practice with honesty and integrity.  The institutions they train in should be above suspicion of wrong doing and corruption.  Hence medical schools should avoid practices associated with money laundering, fraud, and corruption.
Medical students, faculty, patients and accrediting boards should not trust medical schools who keep their ownership secret.
The people accountable for all four new for-profit medical schools' conduct and operations are likewise unclear. While the schools' hired managers cannot escape responsibility, it is the owners who are ultimately accountable.  But since some of the owners of three of the four new for-profit US medical schools are anonymous, some of the people actually accountable for those schools are also anonymous.
Maybe Sherlock Holmes could help…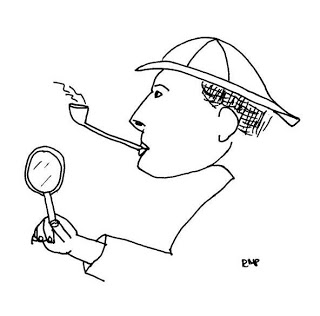 but in his absence, medical students, faculty, patients and accrediting boards should not trust medical schools who keep the identity of those accountable for them secret.
Finally, a note about the one school which is apparently now a subsidiary of a publicly held German-based corporation.  Ultimately, the board of directors and top management of that corporation should be held accountable for that school.  However, even in this case, it would inspire more confidence of the exact lines of reporting from medical school to corporate leadership were more clear.
As Adashi et al noted, "the very notion of a for-profit medical school, anathema to generations of medical educators, is still the subject of mixed reviews."  The authors were optimistic that the higher standards for medical schools put in since the Flexner report led to the abolition of proprietary medical schools, and perhaps the supposed greater transparency of the modern era would make it possible for the new proprietary medical schools to educate students well.
However, the current for-profit schools' opacity should lead to great skepticism.  Flexner wrote:
[I]t is universally conceded that medical education cannot be conducted on proper lines at a profit, – or even at cost
His words may very well still be right.
Finally, what we now know about the new for-profit US medical schools suggests we must reexamine our fascination for "market based" approaches to health care, when almost nothing about any part of health care resembles, or could resemble a free market (see this post).  We need to make health care more transparent, and shine more sunshine on the nooks and crannies, like for-profit, anonymously owned US medical schools.