Overmuch has been made of US claims to energy independence and how that reduced US exposure to Iran using oil infrastructure as an avenue of retaliation. The fact that US gas prices have increased after perceived or actual threat to Middle Eastern supplies shows that the US is far from decoupled from the Gulf States.
Two new articles, one at Bloomberg, the other at OilPrice, explain how the US still depends on Middle Eastern oil. The OilPrice story also describes how Iran and its allies have many other Middle East targets for missile and cyber attack, such as water infrastructure and desalination and power plants.
The fallacy of much of the commentary on US energy is to equate being a net energy exporter with energy independence. If you instead look at gross flows, the US still depends on Middle Eastern oil, albeit not as much as in the past, and that situation will not change soon.
The Bloomberg story by Julian Lee makes no bones about its position: Trump Is Wrong. The U.S. Does Need Middle East Oil. A key observation is that oil is not all that fungible. The US is a big consumer of the light, sweet crude that is well suited for refining into gasoline. That comes out of Saudi Arabia and Iraq (if their oil infrastructure were in better shape).
Even though US imports of Middle Eastern crude have fallen thanks to the shale oil boom and now account for only 5% of the oil shipped through the Strait of Hormuz, also making the US the #5 importer of that oil, it's a misperception to think the US isn't in need of Middle Eastern oil: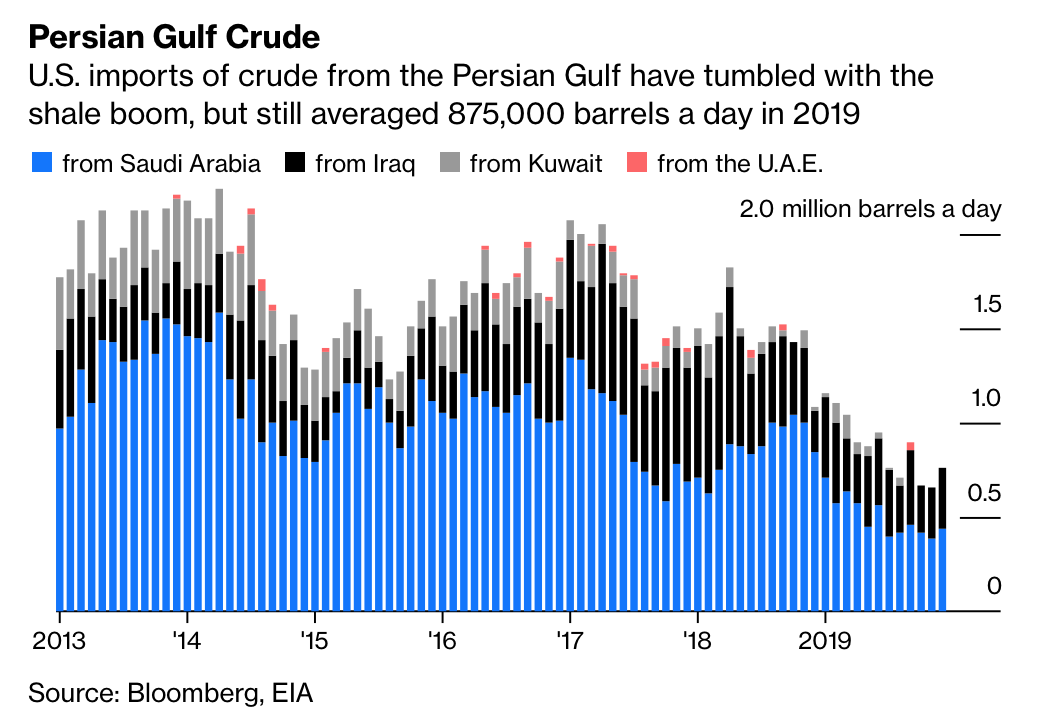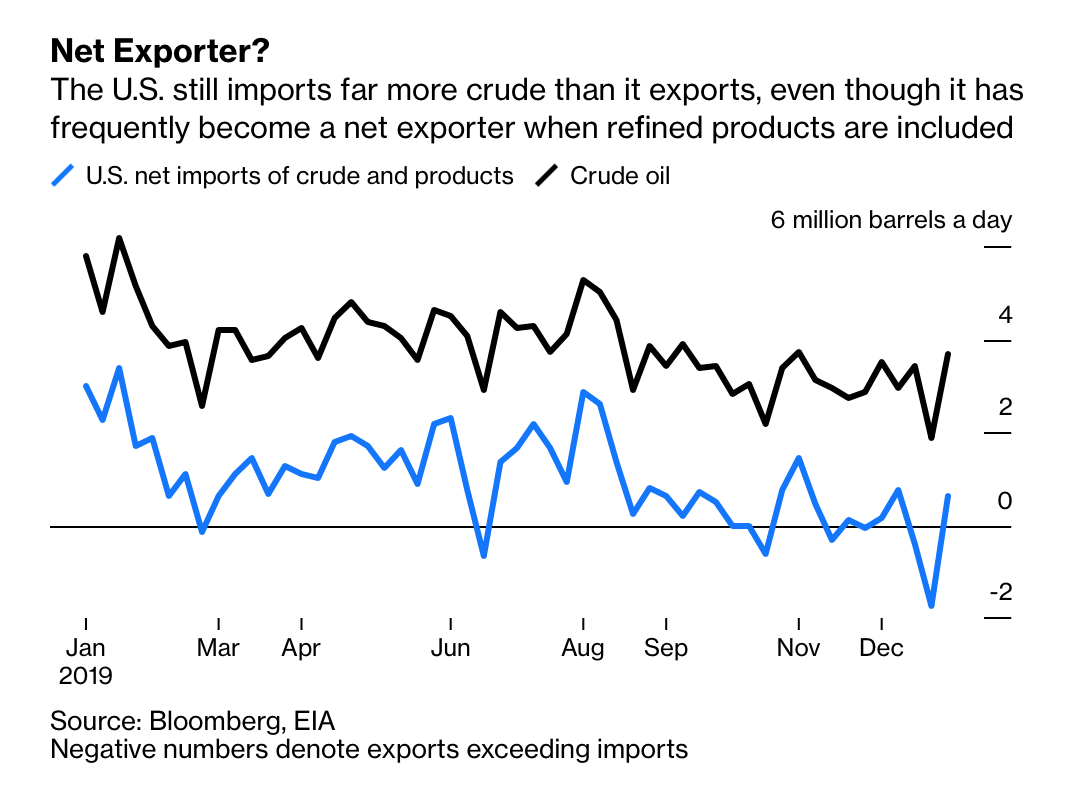 Lee at Bloomberg also points out that Gulf Coast refiners, who had tuned their operations to process heavy, sour crude (think Venezuela but also Iran and other Middle East exporters ex the Saudis). Since 2012 have been switching to lighter, sweet shale gas, but many still process heavier crudes. And those refiners even more than ever look to the Middle East:
And with tension now flaring with Iran, the fact that there are fewer sources from which to import the heavy, sour crude (containing high concentrations of sulfur) on which Gulf coast refineries depend is coming into relief. The U.S. imposed sanctions on Venezuelan oil exports in January 2019 and Mexico and Colombia are facing declining output as a result of a lack of new investment. For now, while Canada remains the biggest supplier to the U.S., the Middle East delivers most of the rest.
On top of that, US gas is sensitive to oil price changes:
No matter where oil from the Middle East is sold, the volume coming out of the region still has a profound impact on crude prices as well as those of gasoline and diesel fuel. Nowhere is that more true than in the U.S., where low taxes on fuels mean their prices are much more responsive to movements in global crude.

The national average price of regular unleaded gasoline jumped by 10 U.S. cents a gallon — the biggest two-day increase in more than two years — after attacks in September on Saudi oil installations, even though the world's biggest oil exporter was quick to reassure customers that there would be no disruption to supplies. The kingdom lived up to its promise, but it still took three months for gas prices to return to their pre-attack level. That shows just how important the flow of crude from the Persian Gulf still is to Americans — and their president.

For now, the killing of Iran's General Qassem Soleimani and Iran's responses so far have had a smaller, but still noticeable impact on U.S. gas prices — even without any explicit Iranian threat to regional oil flows.
Dr. Cyril Widdershoven at OilPrice adds that cheery OPEC reassurances that it could handle any supply hiccups don't align well with facts:
OPEC Secretary-General Mohammed Barkindo and UAE's Energy Minister Suhail Al Mazrouei added to this bearish sentiment by saying that there is no risk of an oil shortage if hostilities do flare up. Al Mazrouei also reiterated that he doesn't see any risk that Iran will close the Strait of Hormuz. This was confirmed by his Iranian colleague Zanganeh, who claimed that the crisis is profitable for Iran as oil and gas prices increased. These official statements need, however, to be taken with a truckload of salt. OPEC's confidence that there is enough spare capacity in the market, and that there is ample supply, is a political statement to quell existing fears. The spare capacity of OPEC is at present almost totally in the hands of two main players, Saudi Arabia and the UAE, while the rest of the members are struggling to reach even their own set targets. In case of a military confrontation between Iran (or proxies) and the US, a real possibility exists that total OPEC spare capacity is taken out. No other producer could substitute a possible loss of Saudi oil production.
Dr. Widdershoven dismissed the notion that Iran might choke the Strait of Hormuz as riskier for Iran than its opponents.
Some of the possibilities instead:
Attacking the oil and gas installations of major Western and Arab national companies via proxies

Increasing attacks on Israel via Hamas or Hezbollah

Targeting energy and water infrastructure in Arab countries
Dr. Widdershoven elaborates:
Even if no direct war is expected, as indicated by UAE Energy Minister Suhail today at the UAE Energy Forum in Abu Dhabi, experts expect that energy and water sectors in the Arab countries could be targeted. As shown by the Abqaiq attack, all these operations are very vulnerable to drones or possibly cyberattacks. By striking critical infrastructure, Iran and proxies will be able to destabilize not only the economies of the GCC region, but deal a blow to global economies too.

A real asymmetric war threat is the use of cyberattacks to bring down specific or nationwide assets, such as oil-gas assets, desalination and power plants (IWPP). Tehran already has threatened to start a cyberwar against the U.S. and its allies, but at present no actions have been reported. Saudi Aramco, ADNOC or BAPCO could be targeted. Qatar's energy installations are less vulnerable, looking at the reasonably strong relations between Doha and Tehran. Qatar, however, could get caught in the crossfire because of its large U.S. and Western military presence.
Dr. Widdershoven argues that Iran needs to retaliate soon despite that not being their historical pattern. Indeed, the regime may come to believe that its accidental shooting of PS 752 resulted from its rapid, targeted attack on a US airbase in Iraq. Had Iran not felt uncharacteristically pressured to strike back quickly, it would not have been on the high alert that led to the mistaken downing. The belief that the regime needs to make another show of force appears to be based on the idea that it has been severely damaged by having to make an embarrassing reversal of its claim that the plane had experienced some sort of malfunction. While Iran has certainly lost most of its moral high ground, the idea that the regime is in domestic hot water at this point looks to be exaggerated. CNN put the number of participants in fresh anti-government protests as in the thousands; BBC pegged it at mere hundreds.
Needless to say, even though experts debate when and what Iran will do next, they are virtually unanimous in believing that the targeted strike was a politically necessary jab back, and not the intended retaliation. And don't forget that not only is Iran's pattern to be patient, but also to retaliate disproportionately. Even though Dr. Widdershoven didn't include assassinations, that would be the most fitting response.