By Lambert Strether of Corrente.
Politics
"But what is government itself, but the greatest of all reflections on human nature?" –James Madison, Federalist 51
"They had one weapon left and both knew it: treachery." –Frank Herbert, Dune
* * *
2020
Alert reader dk (not to be confused with DK) is in the process of developing the following interactive chart.

Today we have a new national poll from Morning Consult (of the big sample size). As of 2/14/2020, 11:00 AM EST (three-day average):

The numbers:

Sanders in first (!), but Bloomberg coming up fast on the outside.

And a new poll from FL:

FL numbers:

Big sample size, but so far very infrequent. Bloomberg rising here, too.

CAVEAT I think we have to track the polls because so much of the horse-race coverage is generated by them; and at least with these charts we're insulating ourselves against getting excited about any one poll. That said, we should remember that the polling in 2016, as it turned out, was more about narrative than about sampling, and that this year is, if anything, even more so. In fact, one is entitled to ask, with the latest I boomlet (bubble? (bezzle?)) which came first: The narrative, or the poll? One hears of push polling, to be sure, but not of collective push polling by herding pollsters. We should also worry about state polls with very small sample sizes and big gaps in coverage. And that's before we get to the issues with cellphones (as well as whether voters in very small, very early states game their answers). So we are indeed following a horse-race, but the horses don't stay in their lanes, some of the horses are not in it to win but to interfere with the others, the track is very muddy, and the mud has splattered our binoculars, such that it's very hard to see what's going on from the stands. Also, the track owners are crooked and the stewards are on the take. Everything's fine.

* * *

Biden (D)(1): "The Benefits of Being Joe Biden's Brother" [ProPublica]. "It was not the first time — or the last — during his long career that Jim Biden turned to Joe's political network for the kind of assistance that would have been almost unimaginable for someone with a different last name. Campaign donors helped him face a series of financial problems, including a series of IRS liens totaling more than $1 million that made it harder to get bank financing…. These transactions illuminate the well-synchronized tango that the Biden brothers have danced for half a century. They have pursued overlapping careers — one a presidential aspirant with an expansive network of well-heeled Democratic donors; the other an entrepreneur who helped his brother raise political money and cultivated the same network to help finance his own business deals."

UPDATE Biden (D)(2): "Majority of voters say Hunter Biden's job at Burisma was 'inappropriate': poll" [The Hill]. "A Politico/Morning Consult poll found 52 percent of participants found the fact that Hunter Biden sat on the board of the Ukrainian gas company Burisma 'inappropriate,' compared to 18 percent of people who thought it was appropriate. A total of 57 percent of registered voters in the survey said his position amounted to a scandal, while 19 percent said it did not. Independents, an important group to watch during an election year, found Hunter Biden's position inappropriate at 54 percent. Fifty-seven percent of independents determined the event to be a scandal, with 28 percent designating it a 'major' scandal and 27 percent saying it was a 'minor scandal.' But a plurality of all voters, 40 percent, said Hunter Biden's position at the company won't make a difference in whether they will vote for the former vice president to be the Democratic nominee in upcoming contests."

Bloomberg (D)(1): Great compilation. Important thread, worth reading in full:

The degree to which Michael Bloomberg is using his fortune to fundamentally alter & manipulate U.S. politics to his personal advantage extends way beyond ads. I've worked against him, covered him as a journalist & worked with his top aides. Here's their playbook: (1/17)

— Blake Zeff (@blakezeff) February 13, 2020

Bloomberg (D)(2): "Mike Bloomberg's philanthropy pays dividends with emerging political network" [ABC]. "Mike Bloomberg may have been a late addition to the 2020 race for president, but the billionaire businessman and former New York City mayor has for years been quietly using his wealth to build what would become a national political network — with a massive scope that's just now becoming visible. Bloomberg has pumped hundreds of millions of dollars into political donations and philanthropic urban grants that benefited progressive candidates and mayors, records reviewed by ABC News show. Through his nonprofit, Bloomberg Philanthropies, he financed a program at Harvard University to groom rising political stars that align with his vision for the country. Dozens of politicians who benefited from his early support have surfaced to endorse his campaign, and his unprecedented spending habits are changing the way political analysts and operatives view the viability of self-funded candidates." • It is true that liberal Democrats love their self-funded candidates, of which Bloomberg is the ultimate example. Interesting to see Bloomberg call in his markers.

UPDATE Bloomberg (D)(3): "The Price of a Bloomberg Nomination Is Too Damn High" [Eric Levitz, New York Magazine]. "Mike Bloomberg has offered blue America a Faustian bargain: Forfeit all credibility on the issues of money in politics and democratic reform, and he will spend whatever it takes to make the bad man in the White House go away. The market for what Bloomberg is selling is large and growing, thanks in no small part to the $300 million he's already spent advertising it. Many rank-and-file Democrats — like so many disillusioned voters in democracies the world over — like the idea of hiring a no-nonsense, post-political businessman to fix their broken government (just, you know, a less ostentatiously racist one than America's current CEO). Meanwhile, many Democratic elites see Bloomberg as a (slightly unsavory) savior who can single-handedly stop the party from nominating a supposedly unelectable socialist, provide its vulnerable first-term suburban House members with an ideal standard-bearer, and liberate the party from all resource constraints and fundraising headaches as it rides a rising tide of billionaire bucks back into power." • Bloomberg, like Tump, is a wonderfully clarifying.

Bloomberg (D)(4): "Rising in Polls, Bloomberg Will Soon Find Out If Support Is Real" [Bloomberg]. "For Bloomberg to win, he would have to convince a party filled with young people, women and minorities that their best choice is a 78-year-old former Republican with ties to Wall Street right at the moment that he is facing increased scrutiny of his past record. This week opponents found old comments by Bloomberg defending his stop-and-frisk policy as New York mayor, seeming to blame the drop in redlining — the practice of denying loans to minorities — for the 2008 financial crisis, and likening Russian President Vladimir Putin's annexation of Crimea to the U.S. annexation of California in 1850. A debate that reveals a prickly Bloomberg under fire from other Democrats for past comments or for 'buying' the election could cause him to stumble and lose momentum, said Elaine Kamarck, a senior fellow at the Brookings Institution who wrote a book about the presidential nominating process. There's also no guarantee that support that falls away from other candidates naturally goes to Bloomberg, she said." • Hmm. I thought Bloomberg wasn't going to report on Bloomberg? Did I misunderstand the policy statement?

Bloomberg (D)(5): "Greenpeace gives Bloomberg a D-plus on climate" [The Hill]. "Environmental group Greenpeace has given former New York City Mayor Michael Bloomberg's climate plan a D-plus grade, saying it does not have detailed targets and doesn't set an agenda for phasing out the fossil fuel industry. Bloomberg, who became a late entrant into the Democratic presidential race in November, said at the time that combatting climate change would be one of his top priorities. Greenpeace, however, said that the candidate's newly released climate plan has 'too many holes.'"

Bloomberg (D)(6): "Bloomberg Once Said Taking From the Rich Was a Bigger Problem Than Income Inequality" [The Daily Beast]. "'I think income inequality is a very big problem. But the bigger problem is, you can take money from the rich and move it over to the poor. If you do it too much then the rich stop producing and everybody loses,' he told International Monetary Fund managing director Christine Lagarde during a Q&A at the IMF's Spring Meeting." • With Bloomberg, there's always a quote!

UPDATE Bloomberg (D)(7): Always a quote:

It's common refrain to say liberals will pick fascism over socialism anyday of the week, but in reality they'll even take it over new deal liberalism.https://t.co/ITxC4jBDN4

— Trillbilly Workers Party?? (@thetrillbillies) February 13, 2020

UPDATE Bloomberg (D)(8): Speaking of liberals:

There are a lot of reasons to oppose Bloomberg. But calling him an "authoritarian Republican" is really just self-undermining hyperbole/nonsense.

— Josh Marshall (@joshtpm) February 13, 2020

Oh, Josh. Even the American Conservative gets this. And see below–

Bloomberg (D)(9): #MyBloombergStory on stop and frisk:

It was 2002.

My dad was stop & frisked for having a Muslim name.

He was detained w/o a phone call to his family for hours. We couldn't report him missing.

That night I went from hospital to hospital to see if unidentified bodies were admitted.

I was 12! #MyBloombergStory

— Moumita?Bloomberg is a racist (@disruptionary) February 14, 2020

UPDATE Bloomberg (D)(10): "Why Is Bloomberg's Long History of Egregious Sexism Getting a Pass?" [GQ]. " it takes a telling amount of gall and cluelessness to gift a book with anecdotes about your own womanizing to employees at your gun safety non-profit in the year 2015, especially for a politician with presidential ambitions who has been vigorously denying allegations of misogyny throughout his entire career—including nearly 40 sex discrimination and sexual harassment lawsuits brought against him and his organizations by 64 women over the past several decades. Bloomberg's sexism, like that of fellow New York City billionaire Donald Trump, has been prolific and well-documented, but for some reason, the stories about him don't seem to have taken hold." • For some reason. I wonder what the reason could be?

UPDATE Bloomberg (D)(11):

Paid campaign staffers on the ground in California for…
Pete Buttigieg: 15
Joe Biden: 20
Elizabeth Warren: 50
Bernie Sanders: 90
Tom Steyer: 100
Mike Bloomberg: 300

Amy Klobuchar: Unknown. https://t.co/XCXjA9qGUJ

— San Francisco Chronicle (@sfchronicle) February 13, 2020

However, Bloomberg's money exerts a powerful gravitational pull on every Democrat grifter and con artist. For example–

UPDATE Bloomberg (D)(12): "Bloomberg hired Fyre Festival promoters to make his campaign memes" [The Verge]. • Again, why not just hire the Russians? They're cheap, and effective!

Buttigieg (D)(1): "What Being a Mayor Taught Pete Buttigieg" [New York Times]. "On Tuesday, Mr. Buttigieg finished a strong second in the New Hampshire primary and a week earlier ." • Oh, come on. Oddly, the article doesn't compare Buttigieg's mayoralty to that of the two other former Mayors in the face: Sanders and Bloomberg.

Sanders (D)(1): "262 – I Hated Bernie Bros until I Loved & Lost One with Kate Willet" (podcast) [The Katie Halper Show]. • A surprisingly touching podcast.

Warren (D)(1): "What Happened to Elizabeth Warren?" [Benjamin Wallace-Wells, The New Yorker]. "ertain Presidential campaigns have the texture of money—of organization, of talent, of intentionality. It's an obvious kind of quality: the difference between shopping at a Whole Foods and a Pathmark. For the past year, in the Democratic primary, Elizabeth Warren's campaign has had that texture. Some of this quality was expressed in obvious ways: Warren's landmark nighttime speech in New York's Washington Square Park in September, set against the lit white arch before a crowd estimated at twenty thousand. The selfie line, a wonder of choreography in person, had the bespoke intricacy of a Wes Anderson scene. The Warren campaign developed a signature color, "liberty green." The thorough policies that were unveiled each week were developed by a large, talented, connected policy staff. If rival candidates felt sidelined (and many of them did) by the relentlessly positive press Warren seemed to receive from roughly April until October of last year, then they ought to have considered how impressive the human machine behind Warren seemed. Voters fall for candidates. Reporters fall for campaigns. Warren spent on people rather than ads. Her campaign had a high burn rate, everyone warned. What made her rivals jealous were her organizers—the phalanx of young people, many of them women, who clustered along the sides of her events, looking intent, and who then spread out into the precincts to carry (and, in truth, embody) Warren's confidence that talent, expertise, and commitment could excise corruption and remove Donald Trump from power." • Oddly, the article doesn't answer the question posed in the headline.

* * *

* * *

NV:

UPATE "Influential Nevada Union Declines To Endorse In Democratic Caucus" [HuffPo]. "The powerful Culinary Workers Union Local 226 announced on Thursday that it would not be endorsing a Democratic presidential candidate ahead of the Nevada caucuses on Feb. 22…. The endorsement of Culinary Union, which counts among its members 60,000 casino and hotel workers across Nevada, is highly coveted by Democratic presidential candidates. The union boasts a legendary turnout operation that helped hand the state's caucuses to Hillary Clinton in 2016 and kept the state in the Democratic column in the general election, even as many traditional party strongholds fell to Donald Trump."

UPDATE The rank and file had Sanders' back:

Rank and file Culinary 226 and UNITE Here members are spreading an open statement of support for Bernie Sanders and Medicare for All, as a revolt against leadership https://t.co/I2nqbueC15

— Zaid Jilani (@ZaidJilani) February 13, 2020

* * *

IA:

"Documents reveal DNC was 'intimately involved' in development of troubled Iowa caucus app" [Yahoo News (NippersMom)]. "While the Democratic National Committee over the past 10 days has tried to distance itself from the troubled app that threw the results of the Iowa caucuses into disarray, a copy of the contract and internal correspondence provided to Yahoo News demonstrates that national party officials had extensive oversight over the development of the technology…. An unaffiliated Democratic operative in Iowa provided Yahoo News with a copy of the contract between Shadow and the Iowa Democratic Party. The contract, which was signed on Oct. 14, 2019, and refers to Shadow as the "Consultant," specified that the company had to work with the DNC and provide the national party with access to its software for testing…. An email provided to Yahoo News also appears to show that Seema Nanda, the CEO of the DNC, and Kat Atwater, the national party's deputy chief technology officer, were involved in drafting the contract and requested the addition of the provision that gave them access to Shadow and the app." • Russian hackers stole the correspondence in 3, 2, 1….

"The Iowa fiasco and the Democrats' shadowy plot to stop Bernie" [Chicago Reader (puttch)]. "The chaos of recent weeks might give Sanders supporters their most potent argument yet. The Democratic Party has become so corrupt and dysfunctional that it can't even perform the most basic function of a democracy: counting the votes. It is time to turn to new leadership. Or we can stick with the corporate Democrats and blame the Russians again when we lose to Trump."
Stats Watch
At reader reader request, I added some business stats back in. Please give Econintersect click-throughs; they're a good, old-school blog. If anybody knows of other aggregators, please leave links in comments.
Industrial Production: "January 2020 Headline Industrial Production Remains In Contraction Year-over-Year" [Econintersect]. "The 3-month rolling averages declined. Industrial production remains in a downtrend."
Inventories: "December 2019 Business Inventories Level Remain Elevated But Improved" [Econintersect]. "nventories remain elevated but they declined. Our primary monitoring tool – the 3-month rolling averages for sales – improved."
Consumer Sentiment: "Preliminary February 2020 Michigan Consumer Sentiment Improves" [Econintersect]. • Slightly up from January, slightly down from December.
Growth: "07 February 2020 ECRI's WLI Growth Rate Declines" [Econintersect]. "In essence, there is little growth forecast in the business cycle six months from today."
Retail: "Headline Retail Sales Improved in January 2020 But Inflation Wipes Out Any Improvement" [Econintersect]. "There was a downward adjustment to last month's data. The real test of strength is the rolling averages which improved. Overall, this report is considered worse than last month and inflation ate away much of the gain."
Retail: "E-commerce giant Alibaba Group Holding Ltd. could ultimately benefit from the coronavirus outbreak even as travel lockdowns and quarantines complicate its delivery operations. The epidemic has dampened consumer demand for some goods and stranded workers at home… leaving factories dark and straining Alibaba's logistics arm, which is now operating at 20% capacity" [Wall Street Journal]. "The company expects challenges in the short run, but said it is also seeing a significant increase in online purchases of groceries and basic staples as consumers avoid stores….The greater reliance on home delivery could also spur more small businesses to move more quickly to online sales, including those in smaller and poorer cities that Alibaba is already targeting for growth."
Commodities: "Portuguese communities lock horns with lithium miners to save their land" [Reuters]. "Pires and his idyllic surrounds are on one of the frontlines of a battle pitting companies eager to exploit Portugal's 60,000 tonnes of known lithium reserves against locals determined to preserve their rights over the land and stop the exploitation. It puts the minority government in a tight spot at home. Growing opposition to lithium exploration by local groups, which , could mean miners reach an impasse and seek government support to expropriate land." • Communal ownership, eh? Something to look into.
The Bezzle: "SoftBank's $375 Million Bet on Pizza Went Really Bad Really Fast" [Bloomberg]. "Accounts from 10 current and former Zume employees, plus four people who closely evaluated or worked with the company, suggest that Zume's predicament, like WeWork's, offers lessons for the U.S. startups that collected more than $136 billion in venture capital last year. Among those takeaways: A visionary founder with a fire hose of money can't solve every problem. Often, that combo creates new ones. "I've never seen data to suggest that being charismatic and confident and overly brash is linked to a successful business," says Kellie McElhaney, founding director of the Center for Equity, Gender, and Leadership at the University of California at Berkeley's business school. Instead, she says, the Vision Fund should seek leaders who combine confidence with humility."
The Bezzle:
Hey @DirtyTesla have you ever seen this? Phantom cones! It looks like the tail lights reflecting off the wet pavement are triggering it. @elonmusk @Tesla pic.twitter.com/uXH6hlZqcY

— swiftxknight (@sowerz08) February 11, 2020
Guess machines can't learn about phantom cones from Google captchas.
The Bezzle: "Tesla Must Hire About 360 People at N.Y. Plant to Avoid Fine" [Bloomberg]. "Tesla Inc. needs to hire about 360 more workers at its massive solar factory in Western New York if the company is going to meet a state employment quota and avoid paying a penalty. There are more than 1,100 workers at the plant in Buffalo, according to the city's mayor and a member of the state Assembly who recently toured the state-subsidized complex. The company's deal with New York includes an April deadline to hire 1,460 workers or pay a $41.2 million penalty. It's a goal that Buffalo Mayor Byron Brown still thinks is attainable. 'From the tour I took, it certainly looked like Tesla was in a position to honor its commitment,' he said in a phone interview Thursday."
Manufacturing: " Airbus aims to pump out as many as 67 a month by 2023 from the current target of 63 a month in 2021. But the company has yet to benefit from the MAX grounding because both jets have yearslong order books. Airbus has struggled with production issues on many of its planes, with engine glitches adding to problems."
Transportation: "The Amtrak Funding Déjà Vu—Again" [Railway Age]. "This is not Amtrak's first rodeo with Executive Branch passenger rail budget hawks. Republican Presidents Ronald Reagan, George H. W. Bush and George W. Bush went far south of President Trump, recommending a zeroing-out of Amtrak funding, while Democratic President Bill Clinton recommended a 23% cut. In a previous budget recommendation, President Trump sought a similar 23% cut that didn't pass congressional muster, either. Given Republican fealty to President Trump, as evidenced in this month's Senate trial on impeachment, there is still reason to ponder whether the Republican-controlled Senate will block a Democratic-controlled House from its anticipated approval of a status-quo Amtrak appropriation—or, as Amtrak supporters would prefer, a substantial increase, given that Amtrak's "wants" list is defensible as an inventory of "needs" rather than a catalogue of 'wants.' In fact, the more realistic outcome in this election year is for both Democrats and Republicans in Congress to transfer Trump's basement-bound Amtrak budget recommendations to an up escalator."
Mr. Market: "Biggest Family Offices Get Direct Access to Trading Desks" [Bloomberg]. "'Family offices with assets of at least $1 billion are increasingly bypassing private bankers to deal directly with investment bank trading desks, a Citigroup Inc. executive said. "Some of them are so sophisticated and have such buying power,' said Luigi Pigorini, Citi Private Bank's region head for Europe, Middle East and Africa. 'We have them trading directly with some of our desks in the markets division. There's not that many, but there's quite a few and that number keeps growing.' The number of private investment firms for the rich has surged over the past decade, with more than 10,000 single-family offices now operating globally, according to accounting firm EY." • There are not very many of the Shing.
* * *
Today's Fear & Greed Index: 55 Neutral (previous close: 58 Greed) [CNN]. One week ago: 57 (Greed). (0 is Extreme Fear; 100 is Extreme Greed). Last updated Feb 14 at 12:41pm.
The Biosphere
"Top-notch science reporting on Australia's wildfires" [Yale Climate Connections]. • An aggregation "focused on some basic physical facts."
"Carney says business must come clean quickly on climate" [Reuters]. "'It's not just green assets and divestment campaigns or certain things are so brown or black. Every company ultimately has to have a plan for a transition and what the opportunities are and where the risks are,' [Jay] Carney said in an interview. 'For [U.N.-led climate talks in] Glasgow that must be well on the path. That that is the norm. That the question doesn't even have to be asked because companies are answering that question as part of their strategy. And the answer is, ,' he said, referencing a phrase coined by former U.S. President Bill Clinton's election strategist in reference to the U.S. economy. Carney was speaking to Reuters a month before he leaves his nearly seven-year posting at the helm of Britain's central bank to take a new role as the United Nations' envoy for climate." • The world of finance seems to be finally paying attention to climate change. That will almost certainly turn out to be an extremely mixed blessing.
"A Slime Mold Called Le Blob" [Medium]. "'Le blob' is what French researcher Dr. Audrey Dussutour calls the creatures she grows in her lab. She drew inspiration from "The Blob," a 1958 American horror movie starring Steven McQueen about a giant alien from space that eats people and grows uncontrollably. It reminded her of her slime molds, minus the eating people part. Oh, and being an alien. Well, some folks have thought slime molds were aliens, but I'm getting ahead of myself. After Dr. Dussutour started using the name 'le blob' for her slime molds, it caught on so much that now (almost) everyone calls them 'le blob' or 'the blob.' Naturally, there are always naysayers — some folks thought these slime molds should be addressed by their scientific name, Physarum polycephalum. But Dr. Dussutour says, 'No one remembers that name. Everyone remembers the blob!'" • "Blob," as a term, really seems to be coming up on the charts.
Our Famously Free Press
"McClatchy files for bankruptcy, likely ending 163 years of family control and setting up more consolidation in local news" [Nieman Labs (TH)]. "Let's assume the bankruptcy, despite its non-complete pre-packedness, goes through according to plan and with relative speed. The New McClatchy would be controlled by Chatham Asset Management, a hedge fund that is currently the company's largest shareholder and lender. Chatham hasn't been as prominent a player in the American newspaper industry as Alden Global Capital, Fortress, or Apollo…. Chatham, though, has some other connections to the news business that sound a bit less high-minded. It is controlling owner of American Media, Inc., the company best known as the owner of the tabloid National Enquirer — not long ago seen engaging in a hush-money scheme with Donald Trump and some sort of…questionable relationship with the Saudis and the hacking of Jeff Bezos' phone. The National Enquirer is currently a Chatham-controlled company." • Savory!
The Carceral State
"Brief Exposure To Solitary Confinement May Increase Mortality After Prison" [ShadowProof]. n=13,776. "Those who experience even short stints in solitary confinement died at higher rates in the five years following their release from prison than those who did not, according to a new study. The study, which was published in The Lancet: Public Health and focused on former prisoners in Denmark, found the causes of death were consistent with high mortality among former prisoners in the United States and Europe. Professors Christopher Wildeman and Lars Andersen were careful to note more research is needed and that a possible causal effect could not be calculated. They also acknowledged it was 'unclear how these results translated to other countries.' However, the finding of a statistically significant increase in mortality suggests there might be a relationship between punitive isolation and death after release."
Class Warfare
"Use Amazon, Uber or Walmart.com? You've probably signed away your right to sue them" [CNN]. "Tucked into the sign-up process for many popular e-commerce sites and apps are dense terms-of-service agreements that legal experts say are changing the nature of consumer transactions, creating a veil of secrecy around how these companies function. The small print in these documents requires all signatories to agree to binding arbitration and to clauses that ban class actions. Just by signing up for these services, consumers give up their rights to sue companies like Amazon (AMZN), Uber (UBER) and Walmart (WMT) before a jury of their peers, agreeing instead to undertake a private process overseen by a paid arbitrator. Binding arbitration clauses have been common for decades, whether buying a car or joining a membership club like Costco (COST), but the proliferation of apps and e-commerce means that such clauses now cover millions of everyday commercial transactions, from buying groceries to getting to the airport. In 2019, the US Supreme Court issued the latest in a series of rulings upholding companies' rights to enforce binding arbitration agreements and banning class action cases." • Because of course they did.
News of the Wired
"Science can cure heartbreak in voles, but what about in humans?" [WHYY]. "Voles have something like love, and it's very cute. 'Within a day after they mate, they then prefer to spend their time just sitting next to each other, touching each other — what we call 'huddling," he said. 'So just sitting next to each other, facing in the same direction, and perfectly still.' Their version of heartbreak is also kind of cute, but also desperately sad. 'A vole that has been with a partner and then you take the partner away, if you put them in a beaker of water for a few minutes, they tend to just float,' he said. 'If you hold them up by their tail, they just hang there. They show the signs of despair.' They just give up on life — basically, it's not worth it without her. But for voles at least, there is a cure for a broken heart: oxytocin. It's a naturally occurring hormone. 'If at the moment that the partner goes away, we infuse a little bit of oxytocin into the brain, it's as if they've never lost their partner at all,' Young said." • I smell business model!
"Texting didn't kill romance. Having more ways to tell someone you love them is a good thing" [NBC News]. "Of course, in-person affection and face-to-face contact are important parts of romantic relationships. But technology can make it possible to use the interstices of our day — those small pieces of time we 'waste' while waiting for a train or standing in line for lunch — to experience more moments of interpersonal communication with our partners. And research shows that texting and messaging throughout the day can help romantic partners feel a greater sense of presence in each other's daily lives. Having a partner share moments of their day with you as they happen or send a cheerful GIF can help you feel connected throughout the day."
"Dating in a politically polarized world" [Axios]. "Romance seekers see a heightened value in knowing their potential suitors' political affiliations. Major dating platforms including OkCupid, Hinge and Bumble have introduced filters to sift out matches with 'incompatible' politics…. OkCupid saw a 187% increase in political mentions on profiles between 2017 and 2018. The company says the trend continued in 2019…. Anti-Trump mentions on OkCupid profiles have spiked by more than 52% since 2017, while mentions of 'conservative terms' fell by 78% in 2019." • Hmm.
"They met on a dating app. Then he robbed a bank on their first date and forced her to be the getaway driver" [CNN]. "The two had never met in person before that fateful day in 2016, she told police. So why would she think anything was wrong when he told her to pull over as they approached a bank? He got out of her car and left her there alone for a few minutes. Then, suddenly, he came running back, sweating with sunglasses, a hat, a gun and $1,000 cash in hand, the woman said. 'F**king go,' he told her. She 'panicked,' she told police, so she did as she was told." • Crime makes you stupid. Look at our elites!
* * *
Readers, feel free to contact me at lambert [UNDERSCORE] strether [DOT] corrente [AT] yahoo [DOT] com, with (a) links, and even better (b) sources I should curate regularly, (c) how to send me a check if you are allergic to PayPal, and (d) to find out how to send me images of plants. Vegetables are fine! Fungi and coral are deemed to be honorary plants! If you want your handle to appear as a credit, please place it at the start of your mail in parentheses: (thus). Otherwise, I will anonymize by using your initials. See the previous Water Cooler (with plant) here. Today's plant (IME):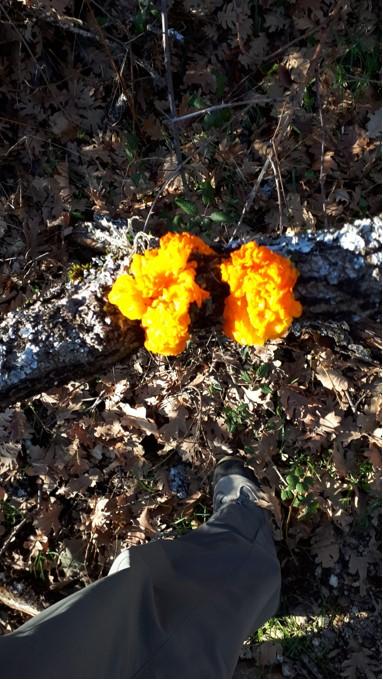 IME writes: "My smartphone makes bad quality pictures. Today I found a colourful fungus in an oak forest near Madrid. I think this could be Tremella (Basidiomycota) with gelatinous consistence in a fallen oak branch already covered with various types of lichens. The foot gives perspective of the size." The photo is a bit small, but that is certainly an amazing fungus! (Also, reader who are not in the United States should feel free to send plants.)
* * *
Readers: Water Cooler is a standalone entity not covered by the annual NC fundraiser. So if you see a link you especially like, or an item you wouldn't see anywhere else, please do not hesitate to express your appreciation in tangible form. Remember, a tip jar is for tipping! Regular positive feedback both makes me feel good and lets me know I'm on the right track with coverage. When I get no donations for five or ten days I get worried. More tangibly, a constant trickle of donations helps me with expenses, and I factor in that trickle when setting fundraising goals:
Here is the screen that will appear, which I have helpfully annotated.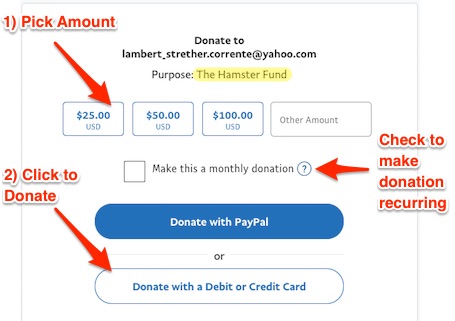 If you hate PayPal, you can email me at lambert [UNDERSCORE] strether [DOT] corrente [AT] yahoo [DOT] com, and I will give you directions on how to send a check. Thank you!