By Lambert Strether of Corrente.
Politics
"But what is government itself, but the greatest of all reflections on human nature?" –James Madison, Federalist 51
"They had one weapon left and both knew it: treachery." –Frank Herbert, Dune
* * *
2020
Alert reader dk (not to be confused with DK) is in the process of developing the following interactive chart.

We have no new national or state polls, so I prepared the following small multiples chart

The arrows show who's winning, and who's losing. The one-word captions make a claim as to why.

CAVEAT I think we have to track the polls because so much of the horse-race coverage is generated by them; and at least with these charts we're insulating ourselves against getting excited about any one poll. That said, we should remember that the polling in 2016, as it turned out, was more about narrative than about sampling, and that this year is, if anything, even more so. In fact, one is entitled to ask, with the latest I boomlet (bubble? (bezzle?)) which came first: The narrative, or the poll? One hears of push polling, to be sure, but not of collective push polling by herding pollsters. We should also worry about state polls with very small sample sizes and big gaps in coverage. And that's before we get to the issues with cellphones (as well as whether voters in very small, very early states game their answers). So we are indeed following a horse-race, but the horses don't stay in their lanes, some of the horses are not in it to win but to interfere with the others, the track is very muddy, and the mud has splattered our binoculars, such that it's very hard to see what's going on from the stands. Also, the track owners are crooked and the stewards are on the take. Everything's fine.

* * *

Bloomberg (D)(1): Not cut out for this (1):

.@realDonaldTrump – we know many of the same people in NY. Behind your back they laugh at you & call you a carnival barking clown. They know you inherited a fortune & squandered it with stupid deals and incompetence.

I have the record & the resources to defeat you. And I will. https://t.co/fO4azmZaUg

— Mike Bloomberg (@MikeBloomberg) February 13, 2020

I think "Mike" — or whichever overpaid but incompetent staffer manages his Twitter account — meant to write carnival barker. Arf! [UPDATE Marx, a master of invective himself, would, I think, like Trump's quote — if we identify "mass of dead energy" with "congealed labor time."]

Bloomberg (D)(2): Not cut out for this (2):

oh we'll be measuring their heights from the neck up soon enough pic.twitter.com/3tIORXa5oJ

— The Ape of God (@simiadei) February 13, 2020

Bloomberg (D)(3): "The Bloomberg Effect: Local Campaigns Are Starving for Help" [The Intercept]. "Bloomberg's spending is having a shockingly disruptive effect on Democratic politics throughout the country: He is hiring armies of staffers and canvassers in nearly every state in the country at eye-popping salaries, poaching talent from other campaigns and progressive organizations that are now struggling to fill jobs. In just three months, the Bloomberg campaign has hired thousands of people to staff more than 125 offices around the country…. Progressive groups, local campaigns, and presidential operations are either losing staff to the Bloomberg campaign, or are struggling to hire people because the former mayor has picked so many political operatives and canvassers up, according to interviews, emails, and messages from dozens of people involved in hiring…. The salaries being paid to Bloomberg staffers are well above market rates, and often come with housing included, as well as a laptop and an iPhone. One operative lured to Bloomberg's office in New York said she observed a seemingly endless wall of iPhones stacked like bricks as far as she could see. Another said that Bloomberg offered a job to one operative who didn't take it, but still received a laptop and iPhone from the campaign in the mail anyway, presumably by sheer dint of onboarding momentum." • Why is this even legal?

Bloomberg (D)(6): Redlining is good, actually:

This is appalling and disqualifying.

In resurfaced footage being reported tonight by the @AP, @MikeBloomberg describes redlining as a rational and prudent tactic — and blames the end of that discriminatory practice against African-Americans for the 2008 crisis. pic.twitter.com/dWCGOKdtpP

— Anand Giridharadas (@AnandWrites) February 13, 2020

Bloomberg (D)(5): "How NYCHA Lead, Repair Scams Started Under Bloomberg's Watch" [The City]. "In his final year as mayor of New York, Mike Bloomberg, who built his billions on a data-driven news business, ordered the city's Housing Authority to drastically reduce a huge backlog of tenant repair requests. But while some city and federal officials were skeptical as NYCHA claimed the number of pending requests plummeted 75%, from 420,000 to 106,000 in just one year, Bloomberg never publicly questioned the authority's figures, an examination by THE CITY found…. Prosecutors discovered that NYCHA illegally halted required apartment inspections to reduce the number of new requests — and marked nearly 200,000 pending requests as "closed" without any work being done. "A significant portion of NYCHA's backlog reduction involved simply moving needed work off the books — principally by unlawfully suspending all annual apartment inspections for two years and finding other ways to manipulate its work order numbers," prosecutors in Manhattan U.S. Attorney Geoffrey Berman's office wrote last year. Besides the bogus work ticket blitz, it was during Bloomberg's tenure that, prosecutors later determined, NYCHA executives began falsely certifying they were performing required lead paint inspections — a practice that continued through 2016 under his successor, Bill de Blasio." •

Bloomberg (D)(6): I don't think this anecdote means what Frum thinks it means:

This anecdote reveals a self-awareness that one could only wish was shared by more very rich people. It may not be relatable, but it is reassuring, certainly compared to the grotesqueries of the current plutocrat-in-chef – eh, Mr. @GOP Rapid Response Director? https://t.co/9ZvAOM7xGg

— David Frum (@davidfrum) February 13, 2020

A servant lets her mistress win? Totally relatable!

Buttigieg (D)(1): "Union President Accuses Pete Buttigieg of 'Perpetuating This Gross Myth' About Union Health Care: 'This Is Offensive'" [Newsweek]. "Sara Nelson, president of the Association of Flight Attendants, strongly criticized Democratic presidential candidate Pete Buttigieg on Wednesday, arguing that he was perpetuating a 'gross myth' about union workers' health care… 'This is offensive and dangerous. Stop perpetuating this gross myth. Not every union member has union healthcare plans that protect them. Those that do have it, have to fight like hell to keep it. ,' the union president wrote. 'For profit healthcare doesn't work, @PeteButtigieg. It's killing people & putting working people in financial ruin. The whole country knows it,' she added in a follow-up tweet. 'Collective bargaining is about problem solving. Don't use unions to promote division – that's only good for the profiteers.'"

UPDATE Buttigieg (D)(2): "Pete Buttigieg and the Democrats' Veteran Problem" [The New Republic]. "While the Democratic Party has run scores of veteran candidates since the Forever Wars began, most of them have lost. The last time the party effectively organized veterans as voters, activists, and campaign volunteers was during Vietnam veteran John Kerry's 2004 presidential run, as public opposition to the Iraq War spiked…. Even in the historic blue wave of 2006, amid public discontent with the war in Iraq, only five of the party's much-ballyhooed 49 veteran "Fighting Dems" won their congressional races. During the 2018 midterm elections, the Democrats and VoteVets redeployed a Fighting Dems strategy, yet in a strong election for the party, out of the 38 one-on-one matchups run by Democratic veterans, again, only five won. As it turns out, 'there is no systematic advantage for veterans on Election Day,' according to political scientist Jeremy Teigen: A candidate's military service turns out to matter a lot less than incumbency, ad buys, and gerrymandering."

Klobuchar (D)(1): "One of Klobuchar's Biggest Backers Is 'the Worst Company in the World'" [Daily Beast]. "But while the Minnesota senator has successfully parlayed her grandfather's work in an Iron Range mine into working-class bona fides, some of Klobuchar's most important longtime backers are billionaires and billion-dollar corporations. Chief among them: Cargill, the agriculture behemoth and the largest privately held company in the United States, which has donated a small fortune in campaign contributions over the course of Klobuchar's political career." • Cargill is a busy company. They're also helping to burn down the Amazon rain forest (no matter what their PR says).

Sanders (D)(2): "'This is what panic looks like': Sanders team hits back after Wall Street criticism" [Guardian]. "Bernie Sanders' campaign has accused the 'Wall Street elite' of panicking after one of its leading figures attacked the presidential candidate in the wake of two straight victories in the nomination process. In a Twitter post on Tuesday Lloyd Blankfein, former chief executive of Goldman Sachs, said Sanders' election would "screw up" the US economy and delight Russia." • And the [***chef's kiss***]: "Blankfein, a registered Democrat, supported Hillary Clinton in the last election."

Sanders (D)(3): "Sanders: There's a difference between 'my socialism and Trump's socialism'" [Axios]. Sanders: "In many respects, we are a socialist society today. … Donald Trump, before he was president, as a private businessperson, he received $800 million in tax breaks and subsidies to build luxury housing in New York. … The difference between my socialism and Trump's socialism is I believe the government should help working families, not billionaires."

Sanders (D)(4): "Bernie Sanders' path to the nomination was blazed by Trump 4 years ago" [CNN]. "Like Trump, Sanders won't need to get a majority of votes in the primaries and caucuses to win the nomination either. Even if he continues to win primaries by small margins, or even come in second or third in a few of them, Sanders can wrack up delegates the way Trump did. The longer Sanders' center-left opponents remain in the race, the better it is for him…. Meanwhile, those other candidates — Pete Buttigieg, Amy Klobuchar, Joe Biden and Elizabeth Warren — find themselves in a similar place to Trump's own challengers in 2016. The campaigns and supportive super PACs of Cruz, Rubio, Bush and Kasich focused on going after each other, all while the front-runner went through the early primaries relatively untouched."

UPDATE Sanders (D)(5): A nice shout-out:

So @davidsirota used to work at CAP and a big breakthrough moment for him was when he was mostly alone in DC think tank world in opposing Joe Biden's bankruptcy bill in 2005.

It took him 15 years but he got his revenge by knocking Biden out of the race.

— Matt Stoller (@matthewstoller) February 13, 2020

Showing its possible to escape CAP with one's integrity intact. (And it is notable that two policy-based stumbles — Warren on #MedicareForAll, and Biden on Social Security — were punished, although none of the pundits are mentioning this.)

Trump (R)(1): "Hope Hicks To Return To White House As Senior Adviser" [HuffPo]. • Ostensibly for Kushner. I've always had a soft spot for Hicks, ever since she told a reporter she wasn't available for a phone interview because she was taking a nap, back in the day when the Trump campaign offices in Trump Tower were, IIRC, basically wallboard. . I also think Hicks has a moderating influence on Trump's temperament, a good thing given the way we've arranged war powers.

UPDATE Trump (R)(2): "Larry Ellison is doing an unthinkable thing for a tech titan: Hosting a fundraiser for Donald Trump" [Recode]. "Ellison is hosting Trump at his estate in California's Coachella Valley next week for a "Golf Outing and Reception," according to a copy of the invitation obtained by the Desert Sun, a local newspaper. Tickets run as high as a quarter million dollars. The event will be held at Ellison's private estate in Rancho Mirage next Wednesday, according to a copy of the invitation, on a golf course where he once played with Barack Obama. Ellison — far more comfortable with displays of opulence than many other tech billionaires — is a prodigious acquirer of property in Southern California." • Sweet!

Warren (D)(1): On Bloomberg's ridiculous statement on housing and the crash (see above):

We need to take concrete steps to address the impact of redlining and the subprime mortgage crisis. I built an office at the @CFPB to fight lending discrimination and my housing plan helps families in formerly redlined areas to buy homes and build wealth. https://t.co/0uIziz68CR

— Elizabeth Warren (@ewarren) February 13, 2020

These two tweets show what has frustrated me about Warren since the beginning: Strong problem statement, weak tea technocratic solution. An "office"? As opposed to breaking up the big banks altogether?

Yang (D)(1): "A Visual History of the #YangMediaBlackout" [Vocal]. "Back in June of 2019, I tweeted about the latest egregious example of MSNBC excluding Democratic Presidential candidate Andrew Yang from their ongoing coverage of the 2020 Presidential candidates. There had been previous examples, but that was the worst up to that point because they had photos of all 20 candidates who were going to be in the first debates, and instead of including Yang as one of them, they included someone who wasn't even going to be there. I then started to add each new example as a new reply, and that ongoing thread has now been covered over and over again with each new example as a source of entertaining absurdity." • MSNBC a prime offender, naturally.

* * *

NH:

"Bernie Wins New Hampshire and the "Klobucharge" is Real" [Will Cormier, The Sports Geek (farmboy)] "[Klobuchar's] recent debate performance earned Klobuchar dramatic boosts in both the polls and donations, making the Minnesota Senator a legitimate challenger for the already-crowded moderate lane. Warren and Biden each finished with less than 10% of the vote, showing that the 'Klobucharge' came more at their expense than Mayor Pete's." • Well worth a read. A betting site!

UPDATE: Readers may remember Artist Taxi Driver from our Brexit coverage:

New Hampshire the American Dream Team @ninaturner @AOC @CornelWest @MMFlint @BernieSanders and everyone that I met that welcomed me.. I return to London filled with joy and the Spirit of Hope that Bernie can deliver Another World is Possible ?????

— ARTIST TAXI DRIVER (@chunkymark) February 13, 2020

* * *

NV:

An excellent round-up on murine carnality in the Silver State. Thread:

The kerfuffle over the Culinary Workers Union's flyer is but another in a long line of cynical media-manufactured efforts to make Bernie Sanders seem unpalatable to low-income and working class voters of color. In this instance, Latinx voters.

Thread.

— Kevin Gosztola (@kgosztola) February 13, 2020

Oppo on the Culinary Workers leadership (1):

FOR IMMEDIATE RELEASE

STATEMENT by: Me

The Secretary/Treasurer of Nevada's Culinary Union—who published this statement lying about Sanders and M4A—is also a board member at CAP (Neera Tanden's corporate think tank).

But wait, there's more! (1/3)

h/t @You2mars pic.twitter.com/qZVPXe0A7R

— Samuel D. Finkelstein II (@CANCEL_SAM) February 13, 2020

Oppo on the Harry Reid's good friend in the Culinary Worker's leadership:

Spoiler alert: Her father was in the Nicaraguan military and they had to flee the Sandinstas, so she was never gonna support Bernie anyway pic.twitter.com/8juD0zL0H3

— Phalanx (@AKAPhalanx) February 13, 2020

* * *

IA:

"Troy Price, Iowa Democratic Party Leader, Resigns Over Caucus Debacle" [New York Times]. Reading all the way to the end: "Sean Bagniewski, the chairman of the Democratic Party in Polk County, which includes Des Moines, said the coziness between state party leaders, vendors and candidates did not originate under Mr. Price. 'I think it's been this way for quite some time,' he said. 'It's kind of like the little families that control petroleum countries. You've got access to resources that everybody wants, and you kind of become your own little kingdom of consultants and advisers.'" • So what did you do about it?
2019
Realignment and Legitimacy
"More Than 75% of Democrats Would Support a Socialist for President: Gallup

" [Common Dreams]. "A new Gallup survey showing most Americans would not be willing to vote for a socialist also revealed that an overwhelming majority of Democratic voters said they would back a candidate like Sen. Bernie Sanders, who is leading in national polls. More than three-quarters of Democratic voters surveyed—76%—told Gallup they would support a presidential candidate who identified as a socialist. A large chunk of independent voters said they would back such a candidate, with 45% saying so, while only 17% of Republicans reported the same. Overall, 45% of 1,033 respondents said they would back a socialist in the poll, which had a margin of error of four percentage points." • Remarkable, even if over-estimated. "Change vs. more of the same!"

"The latest progressive economic policy is designed to stabilize the US labor market — and it looks a lot like the military" [Business Insider]. "A jobs guarantee also has some distinct advantages over ideas like UBI. Rather than simply transferring income, important capital projects like infrastructure can be built as jobs guarantee projects which in turn would raise the US economy's productive capacity…. In other words, the government is already openly bidding for a material chunk of the non-college youth labor force at $13 to $15 an hour. Our all-volunteer military doesn't have a cap in terms of recruitment and generally struggles to get the numbers it needs. Granted, the job description comes with substantial risk of physical harm and a benefits package that has let down soldiers in recent years. But is the basic labor-bid function really that different from a jobs guarantee? There's no reason we can't include a reduction in social isolation, provision of basic services, and maintenance of economic stability as goals equally important to those accomplished through the military."

"The U.S. Military Is Not Ready for a Constitutional Crisis" [The Atlantic]. "I spent nine years on active duty in the U.S. Navy. I served as an aircraft commander, led combat reconnaissance crews, and taught naval history. But the first thing I did upon joining the military, the act that solemnized my obligation, was swear an oath to support and defend the Constitution. How strange, then, that despite all of my training, the millions of taxpayer dollars devoted to teaching me how to fly, lead, and teach, not once did I receive meaningful instruction on the document to which I had pledged my life."

https://newrepublic.com/article/156531/pete-buttigieg-democrats-veteran-problem
Stats Watch
The Bezzle: "Tesla Fields a Fresh SEC Inquiry After Another Probe Ends" [Bloomberg]. "On Dec. 4, the same day the agency closed its second investigation into the electric-car maker in as many years, the SEC sent a subpoena seeking information on a fresh set of matters, Tesla disclosed in a regulatory filing Thursday. The regulator is looking into "certain financial data and contracts including Tesla's regular financing arrangements," according to the company…. While the SEC has closed its investigation into Musk's statements about taking Tesla private and Model 3 production rates, the Justice Department has also been looking into those matters."
The Bezzle: "Wayfair lays off 550 employees, including 350 in Boston" [Boston Globe]. "Wayfair, the city's fastest-growing tech company, announced on Thursday that it was laying off 550 employees worldwide, as its chief executive acknowledged the company had grown too quickly and become inefficient at a time when its prodigious sales growth showed signs of slowing. The company said it was laying off 350 people in its Boston headquarters, and a total of 3 percent of its global workforce… . Yet Wayfair has still failed to turn a profit. Its executives have long argued that despite a long track record of losses, the company has been in growth mode, investing heavily in its supply chain infrastructure and European expansion efforts. More often than not, its board members and leadership team will point to Amazon as their model, which for years funneled its revenues back into growth and failed to turn a profit. But Wayfair's critics are quick to point out that the company is not Amazon — selling furniture is far more challenging than shipping books and boots — and besides, Amazon is now positioning itself to become one of Wayfair's largest competitors online."
* * *
Today's Fear & Greed Index: 58 Greed (previous close: 60 Greed) [CNN]. One week ago: 63 (Greed). (0 is Extreme Fear; 100 is Extreme Greed). Last updated Feb 13 at 12:34pm.
The Biosphere
"Status of Spring" [National Phenology Network]. "How do you know when spring has begun? Is it the appearance of the first tiny leaves on the trees, or the first crocus plants peeping through the snow? The First Leaf and First Bloom Indices are synthetic measures of these early season events in plants, based on recent temperature conditions. These models allow us to track the progression of spring onset across the country." For example: "Spring leaf out has arrived in the Southeast, over three weeks earlier than a long-term average (1981-2010) in some locations. Charlottesville, VA is 24 days early, Knoxville, TN is 20 days early, and Nashville, TN is 18 days early." • Not phrenology, phenology.
"Antarctic temperature rises above 20C for first time on record" [Guardian]. "These records will need to be confirmed by the World Meteorological Organization, but they are consistent with a broader trend on the peninsula and nearby islands, which have warmed by almost 3C since the pre-industrial era – one of the fastest rates on the planet. Scientists, who collect the data from remote monitoring stations every three days, described the new record as 'incredible and abnormal'. 'We are seeing the warming trend in many of the sites we are monitoring, but we have never seen anything like this,' said Carlos Schaefer, who works on Terrantar, a Brazilian government project that monitors the impact of climate change on permafrost and biology at 23 sites in the Antarctic."
"Tiny Dancer: Scientists spy on booty-shaking bees to help conservation" [Phys.org]. "We've long known honey bees shake their behinds to communicate the location of high-value flower patches to one another, a form of signaling that scientists refer to as 'waggle dances.' A group of US biologists have now decoded the meaning of over 1,500 of these jigs, providing conservation groups trying to boost the imperiled species' population with new insights into their dietary preferences…. The US honey bee population declined by 40 percent between April 2018 and April 2019 according to a recent report, as the species faces threats from mysterious pathogens, parasites, pesticides." • Wonderful science, but our poor bees!
"Rail Trouble Strikes Canada's Oil Patch With Snarled Shipments" [Bloomberg]. "Canadian oil shipments are getting snarled once again as protesters block train lines in the latest setback to the nation's rail-dependent crude industry that was struck by a blazing derailment just last week." • The headline is more than a little deceptive!
Health Care
"As coronavirus spreads, the time to think about the next epidemic is now" [Nature]. "The march of the coronavirus reminds us yet again that world leaders and philanthropic donors pay attention to epidemics only when an infection is on their doorsteps. They must recognize that the time to think about the next epidemic is now." • Yep.
"Coronavirus: Beijing purges Communist Party heads in Hubei over outbreak response" [South China Morning Post]. "Beijing's purge of officials in Hubei province picked up pace with the removal of the top Communist Party leaders in the region as the central government responded to public anger over what is seen as the botched handling of the deadly coronavirus outbreak. China's official Xinhua news agency reported that Hubei party secretary Jiang Chaoliang had been replaced by Shanghai mayor Ying Yong, 61, a close ally of Chinese President Xi Jinping. The Communist Party leader of the city of Wuhan, Ma Guoqiang, 56, also lost his job, Xinhua said. He will be replaced by Wang Zhonglin, 57, the party secretary of the city of Jinan, in the eastern province of Shandong. Another Beijing heavyweight, Chen Yixin, was flown into Hubei last week. He is chief of the party's top law enforcement body – the Central Political and Legal Affairs Commission – and is now in charge of handling the outbreak."
"Coronavirus: China reports 254 deaths in a day as cases surge after including clinically diagnosed patients" [South China Morning Post]. "China's National Health Commission reported 59,804 confirmed cases of coronavirus as of Wednesday – after a surge of 15,152 new cases because of a change in diagnostic criteria." • See above; seems like they're cleaning up the balance sheet to give new management a clean slate.
* * *
"3 surprise billing proposals compared side by side" [Health Care Dive]. • Useful post of comparison chart. But why is there billing?
Black Injustice Tipping Point
"Forty Acres and a Mule" (PDF) [Walter Fleming, The North American Review]. " For several years after the close of the Civil War, the negroes of the South believed that the estates of the whites were to be confiscated by the Washington Government, and that each negro head of a family would obtain from the property thus confiscated 'forty acres and a mule.' Some old negroes still believe that the homestead and the mule will be given to them. This belief has often, especially in late years, been ridiculed as the childish dream of an ignorant people; for it is assumed that the negro had no reason for expecting land and stock from the Government. The purpose of this paper is to show that the expectations of the blacks were justified by the policies of the Government and the actions of its agents, and also to show that rascals took advan tage of these expectations to swindle the ignorant freedmen." • From 1906, still germane.
"The assassination of Malcolm X is being reinvestigated after questions raised in a Netflix series" [CNN]. "The Manhattan district attorney's office said Monday it would review the case after new information came to light. It's also working with the Innocence Project, a non-profit that works to exonerate the wrongly convicted…. 'Given the historical importance of this case and the fact that our client is 81 years old, we are especially encouraged that Mr. Vance has assigned two highly respected prosecutors, Peter Casolaro and Charles King, to work on this re-investigation,' Innocence Project co-founder and special counsel Barry Scheck said in a statement."
Our Famously Free Press
"McClatchy files bankruptcy to shed costs of print legacy and speed shift to digital" [McClatchy]. "McClatchy Co. filed for bankruptcy Thursday, a move that will end family control of America's second largest local news company and hand it to creditors who have expressed support for independent journalism. The Chapter 11 filing will allow McClatchy to restructure its debts and, it hopes, shed much of its pension obligations. Under a plan outlined in its filing to a federal bankruptcy court, about 60 percent of its debt would be eliminated as the news organization tries to reposition for a digital future. The likely new owners, if the court accepts the plan, would be led by hedge fund Chatham Asset Management LLC. They would operate McClatchy as a privately held company." • Oh, great. McClatchy, then Knight Ridder, was the only news organization to get the Iraq WMDs story. The Post and The Times not only got it wrong, but shamefully propagandized for it, and published false stories. And so the virtuous are punished, and the guilty are rewarded.
Games
"Steam: Virtual reality's biggest-ever jump in users happened last month" [Ars Technica]. "Valve's gaming marketplace Steam includes an opt-in hardware survey feature, and the results are published as percentages of surveyed users on a monthly basis. You'll find all kinds of data about Steam-connected computers every month, and this includes operating systems, video cards, VR systems, and more. In the latter case, that figure is counted out of all Steam users—as opposed to a less-helpful stat like "70 percent of VR fans prefer Product A, 30 percent Product B.' We were intrigued (but not surprised) to see a jump in connected VR devices for the reported month of December 2019. That's the holiday season, after all, and it's reasonable to expect Santa's deliveries of headsets to affect data. What surprised us was the continued growth of that metric through the following month—and a statistically significant one, at that." • As I keep saying, go long social distancing.
Class Warfare
"Inside Documents Show How Amazon Chose Speed Over Safety in Building Its Delivery Network" [Pro Publica]. "As they prepared for last year's holiday rush, managers at Amazon unveiled a plan to make the company's sprawling delivery network the safest in the world. Amazon, which ships millions of packages a day to homes and businesses across America, had seen a string of fatal crashes involving vans making those deliveries over the previous few years. Improving safety, the plan said, was 'Amazon's Greatest Opportunity.' A key part of the proposal was a five-day course that would put new drivers through on-road assessments overseen by an outside organization with four decades of experience in driver training. But the defensive-driving course didn't materialize. Amid the rush of what would become Amazon's busiest holiday season ever, the class was vetoed. With more than a billion packages shipping in a span of six weeks, the company needed to put drivers to work almost as soon as they were hired, internal documents show." • All so Bezos can buy another house…
"The Other Gender Gap" [Inside Higher Ed]. After a litany of other problems: "Today, women earn 57.4 percent of Bachelor degrees, 58.4 percent of Master's degrees, and of 52,8 percent of Doctoral degrees. Taking Associate's, Bachelor's, Master's, and Doctorate's together, women women have earned 13 million more degrees than men since 1982. Consequences of this gender attainment gap might well include a dwindling pool of marriageable men and mounting anger and alienation among the growing number of young men who feel cut off from the opportunities to achieve a middle-class standard of living. The gender gap in illegal, anti-social, and counter-productive behavior has been explained in many conflicting ways, including the notorious and grossly exaggerated claim that that anti-male prejudice has contributed to a "war against boys." Nor is there much evidence to support the claim that video games, hip hop, a "school-ain't-cool" ethic within boy culture, or female-dominated schools explain these gender differences. Recently, a great deal of emphasis has been placed on the role of "hegemonic" or "toxic" masculinity — the dictate that manliness requires a boy or man to suppress emotions, mask distress, refuse to admit vulnerability or neediness, and be physically strong, competitive, and aggressive. But such a constricted conception of masculinity does little, by itself, to help us understand academic underperformance and what to do to combat that.
News of the Wired
"People Born Blind Are Mysteriously Protected From Schizophrenia" [Vice]. "A person who was born blind doesn't have the visual inputs to help shape their model of the world. They have to build it with their other senses—a model of the world that [Tim Pollak and Phil Corlett] argue could be more stable."
"The Economics of Maps" [Journal of Economic Perspectives]. "We then explore the economic implications of a central insight from cartography that "a map is not the territory" (Korzybski 1933, 750). Maps are fundamentally a representation of physical space different from ground truth. We argue that representations appearing on a map are not an objectively "best" way to represent a geography, but instead reflect the goals, incentives, constraints, and choices of map producers, which themselves depend on particular economic and strategic environments. We endogenize the process of cartographic representation and clarify key economic dimensions which influence representational choices. In particular, we examine: (1) the costs of mapmaking, (2) the nature of demand for maps, (3) intellectual property and the competitive environment, (4) the role of innovation in mapmaking technology, and (5) incentives of mapmaking organizations or individuals." • Do we have an cartographers in the readership?
"Stolen bonsai trees worth thousands mysteriously return to Washington museum" [News-Tribune]. "Two historic bonsai trees were stolen Sunday from the Pacific Bonsai Museum in Federal Way, the museum said in a news release. They were likely to die if they weren't returned, museum officials said. Fortunately for the museum and the trees, they were returned Tuesday, a news release said…. 'These trees have been cared for every day for more than 70 years, and if that daily care doesn't continue the trees will die,' [Museum Curator Aarin Packard] said when the trees were taken. 'These historic, living works of art are the result of the care provided by multiple generations.'" • Good news!
* * *
Readers, feel free to contact me at lambert [UNDERSCORE] strether [DOT] corrente [AT] yahoo [DOT] com, with (a) links, and even better (b) sources I should curate regularly, (c) how to send me a check if you are allergic to PayPal, and (d) to find out how to send me images of plants. Vegetables are fine! Fungi and coral are deemed to be honorary plants! If you want your handle to appear as a credit, please place it at the start of your mail in parentheses: (thus). Otherwise, I will anonymize by using your initials. See the previous Water Cooler (with plant) here. Today's plant (FM):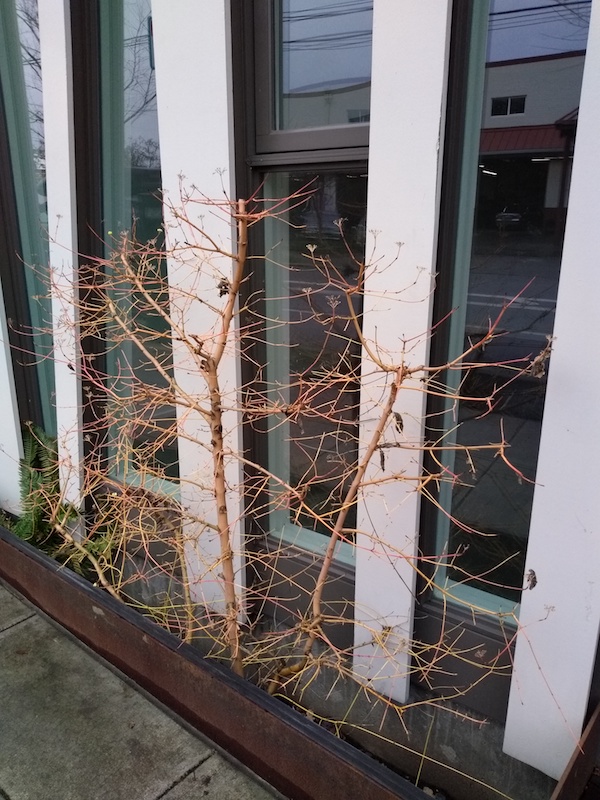 FM writes: "I don't know what this shrub is, but it has an interesting structure." I don't know either. Readers?
* * *
Readers: Water Cooler is a standalone entity not covered by the annual NC fundraiser. So if you see a link you especially like, or an item you wouldn't see anywhere else, please do not hesitate to express your appreciation in tangible form. Remember, a tip jar is for tipping! Regular positive feedback both makes me feel good and lets me know I'm on the right track with coverage. When I get no donations for five or ten days I get worried. More tangibly, a constant trickle of donations helps me with expenses, and I factor in that trickle when setting fundraising goals:
Here is the screen that will appear, which I have helpfully annotated.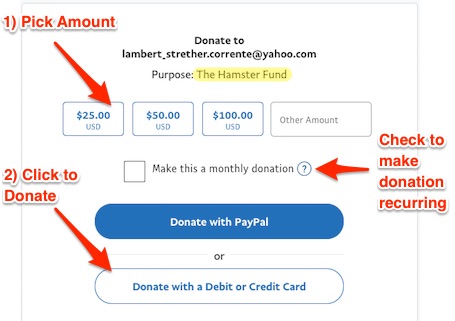 If you hate PayPal, you can email me at lambert [UNDERSCORE] strether [DOT] corrente [AT] yahoo [DOT] com, and I will give you directions on how to send a check. Thank you!