By Lambert Strether of Corrente.
Politics
"But what is government itself, but the greatest of all reflections on human nature?" –James Madison, Federalist 51
"They had one weapon left and both knew it: treachery." –Frank Herbert, Dune
Key dates coming fast now, so I added some counters:
Here is a second counter for the Nevada Caucus, which is obviously just around the corner:
And for South Carolina, coming soon:
And for Super Tuesday:
Super Tuesday states: AL, AK, CA, CO, ME, MA, MN, NC, OK, TN, TX, UT, VT, and VA.
* * *
2020
For readers who want to play around with the charts, here is a link to alert reader dk's project. You can also file bug reports or feature requests using the same contact process as for Plants, below. Thanks — but no promises!

Today we have two new state polls from SC and FL. As of 2/20/2020, 12:00 PM EST (three-day average):

From SC:

SC numbers:

Biden still hanging on!

FL:

FL numbers:

For those who've counted Bloomberg out after his poor debate performance, look at his Florida numbers. Sanders doing surprisingly well everywhere, though we don't know how soft his support is. (My uninformed guess is less soft than average, because the media vilifies him; it takes a bit of courage to go against that tide.)

CAVEAT I think we have to track the polls because so much of the horse-race coverage is generated by them; and at least with these charts we're insulating ourselves against getting excited about any one poll. That said, we should remember that the polling in 2016, as it turned out, was more about narrative than about sampling, and that this year is, if anything, even more so. In fact, one is entitled to ask, with the latest I boomlet (bubble? (bezzle?)) which came first: The narrative, or the poll? One hears of push polling, to be sure, but not of collective push polling by herding pollsters. We should also worry about state polls with very small sample sizes and big gaps in coverage. And that's before we get to the issues with cellphones (as well as whether voters in very small, very early states game their answers). So we are indeed following a horse-race, but the horses don't stay in their lanes, some of the horses are not in it to win but to interfere with the others, the track is very muddy, and the mud has splattered our binoculars, such that it's very hard to see what's going on from the stands. Also, the track owners are crooked and the stewards are on the take. Everything's fine.

* * *

Bloomberg (D)(1): "Bloomberg Wants to Swallow the Democrats and Spit Out the Sandernistas" [Black Agenda Report]. "Bloomberg has already laid the groundwork to directly seize the party machinery, the old fashioned way: by buying it and stacking it with his own, paid operatives, with a war-against-the-left budget far bigger than the existing Democratic operation. Bloomberg's participation in Wednesday's debate, against all the rules, is proof-of-purchase. In addition to the nearly million dollar down payment to the party in November that sealed the deal for the debate rules change, Bloomberg has already pledged to pay the full salaries of 500 political staffers for the Democratic National Committee all the way through the November election, no matter who wins the nomination. Essentially, Bloomberg will be running the election for the corporate wing of the party, even if Sanders is the nominee. In an interview with PBS's Christiane Amanpour on Tuesday night, senior Bloomberg advisor Timothy O'Brien made it clear that the DNC is in no condition to refuse being devoured by Bloomberg, even if they wanted to. O'brien predicted the Republicans will spend at least $900 million on the election, while the DNC has only about $8 million on hand. Even the oligarch's underlings are telegraphing the takeover game plan… Such a party cannot possibly accommodate both sides, and is ultimately destined to split." • Yikes.

Bloomberg (D)(2: Hmm:

"Michael Bloomberg's presidential campaign is hiring hundreds of workers in California to post regularly on their personal social-media accounts in support of the candidate and send text messages to their friends about him." https://t.co/1L5L9iKLwJ pic.twitter.com/YUWWMCbpyO

— Judd Legum (@JuddLegum) February 19, 2020

Can't Bloomberg afford to write his own app?

Bloomberg (D)(3):

If Bloomberg wins the presidency, I will eat a bowl of bugs

Because he won't win, and if he miraculously does, bug eating is inevitable anyways

— Chris Arnade (@Chris_arnade) February 20, 2020

Sanders (D)(1): "Major Latino group backs Sanders on eve of Nevada caucus" [Politico]. "Mijente, a grass-roots organization that mobilizes Latinx and Chicanx voters, decided to make its first-ever presidential endorsement in response to President Donald Trump's rhetoric and policies targeting Latinos. The endorsement adds to the growing collection of progressive groups coalescing around the Vermont senator. The organization will use its reach on social media, its roughly 1,000 dues-paying members and more than 300,000-person email list to mobilize Latinos to vote and hit the pavement for Sanders in Nevada and other states."

Warren (D)(1): "Elizabeth Warren just tore apart a billionaire. Why not Trump?" [Greg Sargent, WaPo]. "Is the problem festering at the core of our current crisis largely reducible to President Trump alone? Or is he mainly a symptom of much deeper pathologies afflicting our politics and economy?… Sen. Elizabeth Warren's breakout debate performance in Las Vegas on Wednesday night is drawing wide acclaim for her brutal dismantling of Mike Bloomberg, who appeared shaky and unprepared. By repeatedly savaging one 'arrogant billionaire,' as Warren put it, she induced many to envision her woman-handling the other 'arrogant billionaire,' the one tweeting maniacally from the White House. But there's a hidden reason Warren's performance deserves attention. In her treatment of both arrogant billionaires, you could discern how she'd strike her own version of the balancing act outlined above, by attacking Trump as both symptom and exacerbation, as both the result of deeply ingrained problems in our political economy and a figure of unique depravity and venality in his own right." • I'm not sure where Warren cashes in. SC? NV? CA? Where?

Warren (D)(2): "Black activist group gives its first presidential endorsement to Elizabeth Warren" [Axios]. "Black to the Future Action Fund, a think tank and political organizing group, was formed by Black Lives Matter co-founder Alicia Garza. This is their first endorsement of a presidential candidate, though they've endorsed down-ballot Democrats like Stacey Abrams and Lucy McBath. Garza told Axios that the group likes Warren's "analysis of how power operates in this country" and have decided that she is the best vehicle to help shift power in the direction of our communities."

* * *

NV:

"Democrats won't commit to same-day release of Nevada results" [Associated Press]. "Democrats won't commit to releasing the unofficial results of Saturday's Nevada caucuses on the day of the vote, as they emphasize accuracy over speed in the aftermath of the chaos surrounding the Iowa caucuses. Tom Perez, chairman of the Democratic National Committee, told The Associated Press that several factors, including early voting and potentially high turnout, could affect the tabulation and timing of results. In addition, Nevada, like Iowa, will be reporting three sets of data from the multistage caucus process. Perez said he doesn't know when results will be released. "We're going to do our best to release results as soon as possible, but our North Star, again, is accuracy," he said late Tuesday after touring an early voting site in Las Vegas." • Home cooking?
The Debates
Accurate:

— Because Trains ? (@because_trains) February 20, 2020

UPDATE "Winners and losers from the Democratic debate in Las Vegas" [The Hill]. "Love him or hate him, there is no reason to assume Sanders's trajectory toward the nomination is about to shift anytime soon."

UPDATE "Democrats forgot about unity for a night. Good." [The Week]. "Democrats, being the party of the left, tend to prefer consensus-building." • Oh.

UPDATE "Despite His Billions, Bloomberg Busts" [Frank Bruni, New York Times]. "Sanders was the big winner of the night, because he entered the debate as the front-runner but evaded the kind of harsh treatment that a front-runner usually gets. Bloomberg got it instead."

UPDATE "Who won the Democratic debate in Las Vegas?" [NBC]. "The Democratic candidates formed a circular firing squad Wednesday night, with arrows flying in all directions and fights breaking out among a seemingly infinite permutation of candidates on matters from health care policy to lewd comments about women." • Dude, it's a primary. Candidates are meant to compete! ""It's a little bit like a presidential version of 'Survivor,'" former Sen. Claire McCaskill, D-Mo., said on MSNBC after the debate." • Yes, that's exactly what it is — with the exception of the showrunners rigging the voting, of course. Oh, wait…

UPDATE "Michael Bloomberg was mercilessly attacked in his first debate – and he flopped" [Nathan J. Robinson, Guardian]. "In terms of who the debate served best, Sanders was the clear winner. He went into it the frontrunner, and mostly just needed to avoid embarrassing himself. The debate went far better than he could even have hoped. His chief rival, Bloomberg, flopped completely. The other centrists spent time bickering with each other that could have been spent trying to undermine Sanders. Warren did the "dirty work" of eviscerating Bloomberg, allowing Sanders to make a more elevated pitch and somewhat rise above the fray. He was given plenty of time to talk, and while he stuck close to his usual talking points he had above-average energy and was clearly enjoying himself. He was effective in pointing out how Buttigieg dishonestly presents the costs of Medicare For All without mentioning the benefits, and easily parried Bloomberg's absurd attempt to conflate Sanders' democratic socialism with "communism". Bloomberg was a perfect foil for Sanders; Sanders probably wishes Bloomberg had been there all along, a cartoon of an evil billionaire for Sanders to point to as an example of everything wrong with the country. Sanders went into the debate the frontrunner and he left the frontrunner. If Biden, Buttigieg, and Klobuchar were to stand any chance of overtaking Sanders, they needed to make him look foolish, and they didn't. Instead, they looked petty, and he survived. Warren was in good form, but she's simply not going to reclaim the lead over Sanders at this point. Bloomberg was the only serious threat, and he fizzled, showing that the "electability" case for his candidacy is laughable. It's increasingly clear that Sanders has no serious opposition and Democrats are going to need to start reconciling themselves to the inevitability of his nomination." • Oy, to me, this shades into triumphalism at the end. Bloomberg is leading in FL, and of the other Super Tuesday states, AL, AK, NC, OK, TN, TX, and VA are Southern or Border states. Granted, the South has a rich populist tradition, but we simply don't know how Sanders' message will play. It may be that the Sanders campaign is operating on the theory that a CA win would be a knockout punch. But will it?

UPDATE Oh, the humanity!

Your $300 million candidate. #Bloomberg pic.twitter.com/mkdrAGr8zo

— Matt Taibbi (@mtaibbi) February 20, 2020

Funny, but see the first link. Bloomberg appears to have a two-track strategy: Buying the nomination (not going so well) and buying the Democrat apparatus (going swimmingly).

UPDATE Sanders on socialism:

The media tries to dunk on Bernie with the word socialism – what happens next, single handedly ends the debate in Bernie's favor…

GAMEOVER
Cc @CillizzaCNN#DemDebatepic.twitter.com/lo3mOA4GS1

— J̶O̸N̶ (@Bern4Bern) February 20, 2020

Nice encapsulation, particularly the mention of Walmart (a significant portion of Sanders donors being Walmart workers, who know exactly what he's talking about, and probably threw something at the screen when Bloomberg, in his closing statement, said being President meant being a good manager).
Impeachment
Still waiting for Pelosi's strategic genius to manifest:

Counterfactual is impossible to know. And Democrats could have conducted the process differently. But actually-existing impeachment does appear to have left Trump more popular and less constrained by the rule of law than he was before it started. https://t.co/5vEL0zJQcL

— Eric Levitz (@EricLevitz) February 20, 2020
2019
"AOC Knows Exactly What the Problem Is With Billionaires Like Jeff Bezos" [Jacobin (NippersMom)]. "If Jeff Bezos 'wants to be a good person,' she said, he should 'turn Amazon into a worker cooperative.' She argued that our primary message to billionaires shouldn't be that we want to redistribute their money. Instead, it should be that 'we want their power.' In making this distinction, Congresswoman Ocasio-Cortez was giving voice to an idea with deep roots in socialist thought — that the unequal distribution of wealth is just a symptom of the deeper problem of the unequal distribution of economic power."
Stats Watch
At reader request, I added some business stats back in. Please give Econintersect click-throughs; they're a good, old-school blog. If anybody knows of other aggregators, please leave links in comments.
Employment Situation: "15 February 2020 Initial Unemployment Claims 4 Week Average Marginally Improves" [Econintersect]. "This marks 252 consecutive weeks of initial claims below 300,000, the longest streak since 1970. The general trend of the 4-week rolling average is a slowing rate of improvement year-over-year which history suggests a slowing economy." • IIRC, this comment has persisted for some time, so "slowing."
Leading Economic Index: "January 2020 Leading Economic Index Improved" [Econintersect]. "[T]he authors say it is "suggesting that the current economic expansion – at about 2 percent – will continue through early 2020." Analyst Opinion:
"Because of the significant backward revisions, the current values of this index cannot be trusted. This index remains on the low side of values seen since the Great Recession."
Manufacturing: "February 2020 Philly Fed Manufacturing Survey Again Significantly Improved" [Econintersect]. "Not only did the survey index significantly improve, but the key elements also significantly improved. Overall, this report was much better than last month's report."
Tech: "JPMorgan Hosts 200 Virtual Meetings in Two Days Amid Virus Scare" [Bloomberg]. "Global banks are coming up with alternatives to keep business moving in Greater China, with clients in the midst of the world's largest work-from-home experiment to contain the spread of the deadly new coronavirus. After having to call off a conference in China's technology hub of Shenzhen, U.S. bank JPMorgan Chase & Co. instead last week arranged more than 200 virtual meetings in two days. Senior executives at Chinese companies in industries including consumer, manufacturing and technology were connected with institutional investors through video and telephone conferencing." • Go long social distance….
Honey for the Bears: "Unsold Class 8 truck inventories second highest since Great Recession" [Freight Waves]. "The ratio of retail sales of Class 8 trucks to inventories in January ranked second-highest in industry history, trailing only the worst month of the Great Recession a decade ago… Overall sales of Class 8 trucks are expected to be down 33-34% this year compared with 2019, one of the best on record."
* * *
Today's Fear & Greed Index: 55 Neutral (previous close: 51 Neutral) [CNN]. One week ago: 60 (Greed). (0 is Extreme Fear; 100 is Extreme Greed). Last updated Feb 19 at 12:59pm.
The Biosphere
"Police investigate after truck drives through protester blockade in Canada" [Freight Waves]. "The Royal Canadian Mounted Police is investigating after a semi-truck drove through a temporary roadblock in Manitoba and possibly struck a demonstrator as tensions and supply chain disruptions intensified in Canada from protests over a proposed gas pipeline. Investigators are reviewing footage captured Monday by Global News, which appears to show a semi-truck attempting to drive around the blockade before protesters got in front of it. One protester reported that the truck struck him and caused minor injuries. Police officers monitoring the blockade quickly stopped the truck, RCMP Manitoba spokesperson Robert Cyrenne told FreightWaves. The unidentified driver cooperated with officers, who released him pending further investigation, Cyrenne said."
"Something Stinks in the Panhandle" [The Texas Observer]. "In the Texas Panhandle, which produces a fifth of the U.S. beef supply, communities are being choked by fecal dust from nearby feedlots. The state's regulatory agency isn't doing anything about it—and it's about to get a whole lot worse." Welcome to the third world! More: "A Hereford resident who asked to remain anonymous says that fecal dust would collect on the roof of his former home. After infrequent rains, the dust washed into his gutters and rehydrated into a gloop of manure, breeding maggots. Fed up with the situation, he mailed a letter in the mid-2000s to then-Agriculture Commissioner Susan Combs. He included in the envelope a sample from his gutters. Combs' office sent a response, but instead of pledging to use her regulatory agency to look into the problem, she said she'd ask the industry to look into the issue itself. Nothing ever happened, he says."
"A stench in the nostrils of God" [The Outline]. "The smell of hog farms and pork production plants and all of the problems that come with them — including potential health issues versus the economic boost the industry brings to the region — is a common dilemma in the small towns and rural areas in eastern North Carolina. And in the last few years, more and more of the farms' immediate neighbors have started fighting back against the literal shit spray they have to live with…. In North Carolina, Smithfield owns or operates more than 200 hog farms, in addition to contract farms and six feed mills. Roughly 5,000 people work at the Tar Heel plant alone, and the facility "processes" more than 10 million hogs a year. Smithfield Foods, which is based in Virginia, is the world's largest pork producer; in 2013, it was purchased by Chinese conglomerate WH Group for nearly $5 billion." • Seems like we're importing China's public health system.
"Meat company faces heat over 'cattle laundering' in Amazon supply chain" [Guardian]. "[Brazil's JBS, the world's largest meat company," remains unable to monitor a significant proportion of its suppliers despite operating deep in the Amazon. It is a problem for the entire meat industry in Brazil, but other companies, such as Marfrig, have come clean about the scale of the issue, and are taking action to resolve it. Meanwhile, JBS has refused to answer direct questions about exactly how much of its beef comes from so-called 'indirect suppliers'. Further criticism has been levelled at the audits done on the JBS supply chain, which state openly that there is 'no verification system' in place for indirect suppliers."
"'Radical Change' Needed After Latest Neutron Star Collision" [Quanta]. "Last summer, the gravitational wave observatory known as LIGO caught its second-ever glimpse of two neutron stars merging. The collision of these incredibly dense objects — the hulking cores of long-ago supernova explosions — sent shudders through space-time powerful enough to be detected here on Earth. But unlike the first merger, which conformed to expectations, this latest event has forced astrophysicists to rethink some basic assumptions about what's lurking out there in the universe…. Based on the recent observation, LIGO scientists estimate that these heavy pairings should be almost as common as the lighter binary star systems that astronomers have been studying for decades. Big neutron star pairs should be all over the universe, including our own Milky Way. Why, then, have they never been spotted before?"
Health Care
Nothing dystopian about this:
Tech giants such as Alibaba and Tencent will develop color-coded systems to classify people based on their health conditions and travel history https://t.co/rltOQ9LpMG

— The Wall Street Journal (@WSJ) February 20, 2020
"Missouri lawmakers confirm up to 60,000 children wrongfully removed from Medicaid" [News Tribune]. "Missouri's Republican leadership is coming around to verifying what Democrats have been saying for more than a year — the state wrongly kicked thousands of children who qualify for Medicaid out of the program…. [state Rep. Sarah Unsicker, D-Shrewsbury] added that a survey of health care providers found 87 percent of patients who lost coverage still qualified for coverage but lost it because of changes to the renewal process." • Complexity lowers enrollment. Who knew?
"Election 2020: State Health Care Snapshots" [KFF]. "To understand the health care landscape in which the 2020 election policy debates will unfold, these state health care snapshots provide data across a variety of health policy subjects, including health care costs, health coverage—Medicaid, Medicare, private insurance—and the uninsured, women's health, health status, and access to care. They also describe each state's political environment."
Five Years Later, HIV-Hit Town Rebounds. But The Nation Is Slow To Heed Lessons.
Class Warfare
I don't have time to unpacl this, but this is an extremely important thread worth reading in full:
Thread (1/16). How is that our economic statistics suggest workers have been making slow but steady progress in recent decades, while popular perception is that their family finances are coming under increasingly untenable pressure? I've been working on this, here's my answer:

— Oren Cass (@oren_cass) February 20, 2020
Note the critical role played by neoliberal professional economists in gaming the statistics.
"In New York City, Homeless Is Where The Heart Is" [The American Conservative]. "Some 3,000 human beings make their full-time home in the subway system. Their belongings crowd out morning commuters. In the winter many never emerge above ground. A visitor from outer space would be forgiven for thinking they weren't even human, recognizable as just a head emerging from a urine-soaked bundle of clothing, not living really, just waiting. The ones who ride the trains hours a day are like one-celled amoebas that react to light by moving out of the way, in the specific case of a transit employee whose inquiry causes some physical shift but no sign of sentient action. Don't be shocked—we here aren't anymore —what did you think runaway economic inequality was gonna end up doing to us? But for most New Yorkers the issue isn't confronting the reality of inequality, it is navigating the society it has created."
News of the Wired
Welcome to the future:
first day proper in San Francisco, been here about an hour. Wanted to take a piss. Refused to install app so server printed me out a single use QR code. How do you people accept living like this pic.twitter.com/i1TqFKzhWT

— Tim Maughan (@timmaughan) February 7, 2020
* * *
Readers, feel free to contact me at lambert [UNDERSCORE] strether [DOT] corrente [AT] yahoo [DOT] com, with (a) links, and even better (b) sources I should curate regularly, (c) how to send me a check if you are allergic to PayPal, and (d) to find out how to send me images of plants. Vegetables are fine! Fungi and coral are deemed to be honorary plants! If you want your handle to appear as a credit, please place it at the start of your mail in parentheses: (thus). Otherwise, I will anonymize by using your initials. See the previous Water Cooler (with plant) here. Today's plant (MD):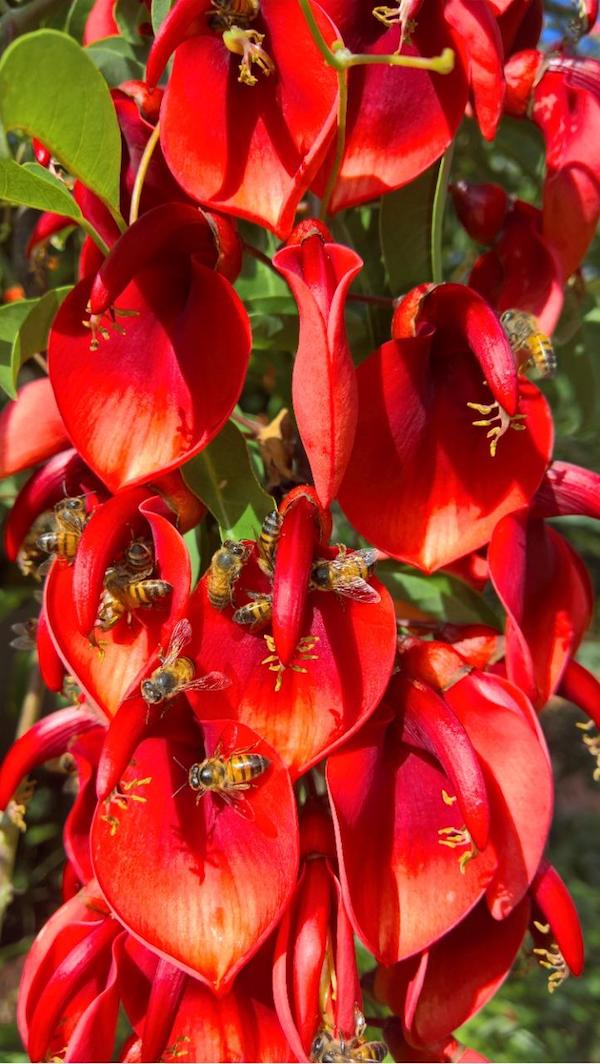 MD writes: "I'm no help on the name of your plant, but I have the same tree in my garden. A firm favourite of the local bees in Johannesburg, South Africa." On the mystery plant of January 13, alert reader Bill wrote:
The flowering tree looks like a ceibo or erythrina crista-galli.

It is the national tree of Argentina, and its flower the national flower of Argentina and Uruguay.

It must be closely related to the "flame tree of thika" of Africa.
So, "a flame tree of thika." Do readers agree?
* * *
Readers: Water Cooler is a standalone entity not covered by the annual NC fundraiser. So if you see a link you especially like, or an item you wouldn't see anywhere else, please do not hesitate to express your appreciation in tangible form. Remember, a tip jar is for tipping! Regular positive feedback both makes me feel good and lets me know I'm on the right track with coverage. When I get no donations for five or ten days I get worried. More tangibly, a constant trickle of donations helps me with expenses, and I factor in that trickle when setting fundraising goals:
Here is the screen that will appear, which I have helpfully annotated.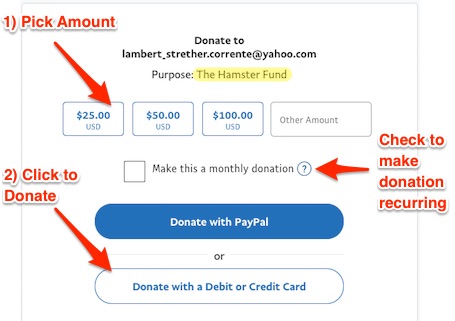 If you hate PayPal, you can email me at lambert [UNDERSCORE] strether [DOT] corrente [AT] yahoo [DOT] com, and I will give you directions on how to send a check. Thank you!