By Lambert Strether of Corrente.
Politics
"But what is government itself, but the greatest of all reflections on human nature?" –James Madison, Federalist 51
"They had one weapon left and both knew it: treachery." –Frank Herbert, Dune
Key dates coming fast now, so I added some counters:
Here is a second counter for South Carolina, coming soon:
And for Super Tuesday:
Super Tuesday states: AL, AK, CA, CO, ME, MA, MN, NC, OK, TN, TX, UT, VT, and VA.
* * *
* * *
2020
We encourage readers to want to play around with the charts; they are dynamic, and there are a lot of settings. Here is a link to alert reader dk's project. You can also file bug reports or feature requests using the same contact process as for Plants, below. Thanks — but no promises!

Today we have one new national polls from YouGov, and new state polls from SC, MI, and WI. As of 2/24/2020, 12:00 PM EST (three-day average):

And the numbers:

Hard to think this is what the DNC had in mind. Before we go to the states, some small multiples, helpfully annotated with arrows. Interesting!

And now to states, with the caveat that they are all small samples, irregular, and bad:

Next's week's SC:

SC numbers:

Sanders in striking distance. SC likes a winner, so NV may have an effect.

Now to the Northern Tier. MI:

MI numbers:

WI:

WI numbers:

Sanders running away with the race up there in the frozen north. Sanders should get delegates everywhere, though we don't know how soft his support is. (My uninformed guess is less soft than average, because the media vilifies him; it takes a bit of courage to go against that tide.)

CAVEAT I think we have to track the polls because so much of the horse-race coverage is generated by them; and at least with these charts we're insulating ourselves against getting excited about any one poll. That said, we should remember that the polling in 2016, as it turned out, was more about narrative than about sampling, and that this year is, if anything, even more so. In fact, one is entitled to ask, with the latest I boomlet (bubble? (bezzle?)) which came first: The narrative, or the poll? One hears of push polling, to be sure, but not of collective push polling by herding pollsters. We should also worry about state polls with very small sample sizes and big gaps in coverage. And that's before we get to the issues with cellphones (as well as whether voters in very small, very early states game their answers). So we are indeed following a horse-race, but the horses don't stay in their lanes, some of the horses are not in it to win but to interfere with the others, the track is very muddy, and the mud has splattered our binoculars, such that it's very hard to see what's going on from the stands. Also, the track owners are crooked and the stewards are on the take. Everything's fine.

* * *

UPDATE Bloomberg (D)(1): "Bloomberg Killed the Best Chance at Justice for the 9/11 Attacks" [Spencer Ackerman, Daily Beast]. "If it wasn't for Mike Bloomberg, the alleged perpetrators of the worst terrorist attack in American history would likely have been convicted of mass murder by now. According to all the evidence available both at the time and in the nine years since Bloomberg's intervention, a federal court almost certainly would have convicted the five co-defendants. A judge would have had to reckon with the torture the CIA inflicted on them, barring the prosecution from using tainted evidence—and showing, for the record, how torture jeopardized the case. Most importantly, there would have been closure, provided in open court and displaying the inheritance of centuries of jurisprudence, for the atrocity of 9/11 and the brutality America chose when confronting it…. Bloomberg at first backed trying the 9/11 conspirators in the city. But the NYPD and the big real estate developers central to Bloomberg's vision of New York as a "luxury brand" viewed the trial as a national-security version of a Not-In-My-Backyard concern—all as a broader backlash to Barack Obama's handling of the war on terror was brewing. By January 2010, Bloomberg reversed himself, and his opposition doomed the trial." • Oh well. So much for the rule of law.

UPDATE Bloomberg (D)(2): "'Please disregard, vote for Bernie': Inside Bloomberg's paid social media army'" [Los Angeles Times]. "The Bloomberg 2020 operation is hiring more than 500 people at a rate of $2,500 a month to text friends and post on social media in support of the former New York mayor and billionaire media mogul…. Rather than create their own content, organizers often use the exact text, images and links provided to them by the campaign." • And who could predicted this would happen?

.

One, a recent college graduate living in Sacramento, describes himself as an ardent supporter of Vermont Sen. Bernie Sanders, the current front-runner for the Democratic nomination. But he hasn't had a steady stream of income since October, and the Bloomberg gig seemed like easy money, he said.

The ambivalence shows up in his outreach efforts.

"Sam Donaldson just nailed it: Mike Bloomberg is the president we need to unite our country!" he texted one of his friends Monday through Outvote — the app organizers use to reach out to their personal networks. He drew on language provided to him by the campaign and logged the text as part of his Bloomberg organizer responsibilities.

But he quickly followed up with a personal addendum: "Please disregard, vote Bernie or Warren."

I did point out last week that this cobbled-together effort would lack the discipline of the Sander's campaign's app…

Bloomberg (D)(3): "NCAI Condemns Mayor Bloomberg's "Cowboy Hat and a Shotgun" Statement, Calls for Public Apology" [LRinspire]. "In 2010, New York City Mayor Bloomberg stated the following when speaking on a legal dispute between the state of New York and local Tribes, 'I said, you know, 'Get yourself a cowboy hat and a shotgun,'" Bloomberg told Gambling. 'If there's ever a great video, it's [Patterson] standing in the middle of the New York State Thruway saying, you know, 'Read my lips—the law of the land is this, and we're going to enforce the law.'" • Unsurprisingly, the National Congress of American Indians never got an apology.

Sanders (D)(1): "The Best Democratic Debate in Years" [Peggy Noonan]. Of Sanders: "In his affect: I'm the last lion." • Not bad. As readers know, I have a soft spot for Nooners, although I think the day of her brand of Republicanism has passed.

Sanders (D)(2): "Centrist Dem Mark Mellman's Pro-Israel Group Attacks Sanders" [The Intercept]. "Enter Democratic Majority for Israel. Mellman and several strategists close to the Democratic Party launched the group last year. DMFI aims to curtail criticisms of Israel from the party's left flank by targeting primary challenges against pro-Israel Democrats. The group's political action committee, which formed in July, has only spent money in Iowa so far. The PAC 'does plan to spend in other races in other places, on behalf of pro-Israel Democratic candidates for House and Senate," Mellman said. 'We are still determining exactly which races we will be involved in.' On Friday, DMFI PAC, which put out the anti-Sanders ad, released its donor list in a Federal Election Committee filing. The donor rolls include several overlaps with major AIPAC funders and activists. Though Mellman has denied that his new group is affiliated with the flagship Israel lobby, DMFI's ties to AIPAC run deep, including a lucrative relationship between the lobby group and Mellman's consulting firm." • Sounds like election meddling.

Trump (R)(1): "White House fears coronavirus could shape Trump's 2020 fortunes" [Politico]. "The fate of Trump's response rests on Azar, who has modeled plans based on his experience fighting SARS and other pandemics as a senior health official in the George W. Bush administration. The health secretary — who is steering the response in addition to his other duties — has been near-constantly flanked by top scientists like CDC's Redfield and veteran infectious disease specialist Anthony Fauci at White House meetings, congressional briefings and televised updates… [T]he administration has kept in constant contact with Congress about its response efforts — a sharp departure for an administration that's been in a near constant state of warfare with congressional Democrats, lawmakers and aides said. Officials including Azar, Redfield and Fauci have provided multiple briefings on their latest findings, in some cases spending more than an hour behind closed doors fielding questions and concerns. 'The administration is fully engaged,' Rep. Greg Walden of Oregon, the top Republican on the House Energy and Commerce Committee, said following a meeting earlier this month. 'We're holding our own right now, which is where you want to be. The administration also has quietly worked with blue states like California and officials in staunchly Democratic cities like New York City…. More substantially, both Republicans and Democrats have been struck by HHS' refusal to seek additional funding to fight the disease, rather than shifting funds from other parts of the department." • Worth reading in full. (Note that the easy answer is a "Coronvirus Czar." Does that ever work? I'm having a hard time recalling a successful Czar. Note that in the Foreign Policy article below, Obama did set up a Czar after Ebola.

Trump (R)(2): "Why the Trump Administration's Coronavirus Response Continues to Raise Concerns" [New York Magazine]. "While some of the White House's response has been praised, its approach has also included a mix of xenophobic policy, improvisation, and suddenly sharp turns in decision-making. And long before the first case of COVID-19 was discovered in mainland China, the administration had been putting off years of back-end work which may undermine the government's ability to prepare for and handle a breakout of the scale that coronavirus may reach…. Specific to the U.S., the potential political impact of an outbreak in an election year shouldn't be underestimated, and it's something that is already reportedly worrying President Trump. For an example of another question the U.S. may face: How will disinformation about the virus spread in a country where health officials have already been combating a proliferation of unsubstantiated fears about the safety of vaccines?" • A very good question.

Trump (R)(3): "Trump Has Sabotaged America's Coronavirus Response" [Foreign Policy]. "In 2018, the Trump administration fired the government's entire pandemic response chain of command, including the White House management infrastructure. In numerous phone calls and emails with key agencies across the U.S. government, the only consistent response I encountered was distressed confusion. If the United States still has a clear chain of command for pandemic response, the White House urgently needs to clarify what it isIf the United States still has a clear chain of command for pandemic response, the White House urgently needs to clarify what it is—not just for the public but for the government itself, which largely finds itself in the dark…. In the absence of a formal structure, the government has resorted to improvisation. In practical terms, the U.S. government's public health effort is led by Daniel Jernigan, the incident commander for the Wuhan coronavirus response at the CDC. Jernigan is responsible for convening meetings of the nation's state health commissioners and briefing CDC Director Robert Redfield and his boss, Azar. Meanwhile, state-level health leaders told me that they have been sharing information with one another and deciding how best to prepare their medical and public health workers without waiting for instructions from federal leadership. The most important federal program for local medical worker and hospital epidemic training, however, will run out of money in May, as Congress has failed to vote on its funding." • Pretty damning. It's reminiscent of George W. Bush putting a crony in charge of FEMA, which IIRC had not been bad under Clinton, who then butchered the job of responding to Katrina. However, I'm deeply unsure that getting the bureaucratic response — meant non-perjoratively — to #COVID-19 correct will be nearly enough. You fight an epidemic with the health care system you have. In any case, if #COVID-19 is Trump's Katrina, that will solve some electoral problems, but at a cost only the heartless would have the country pay.

* * *

"The Democratic Nomination: It's Getting Late Early" [Sabato's Crystal Ball]. "[Sanders] may be able to start building a lead that, because of proportional allocation rules, no other single candidate can reasonably surpass during the nominating season. So even if he doesn't get precisely to 50% +1, the magic number of 1,991 pledged delegates to win the nomination, he could be both close enough — and far enough ahead of whoever ends up in second — that he'd have the only real claim to the nomination…. A Sanders win in South Carolina — which now seems possible — would represent the culmination of an incredible February for Sanders in which the Democratic Party's insurgent, Sanders, would replicate the path of the GOP's insurgent, Donald Trump, four years ago: second-place in Iowa and then a sweep of Nevada, New Hampshire, and South Carolina…. Three days after South Carolina is Super Tuesday, which awards more than a third of all the pledged delegates. If Sanders is within striking distance of Biden in South Carolina, it probably suggests that Sanders is competitive enough with African Americans in the six other Southern states that vote on Super Tuesday… Nevada may provide a preview of sorts of California and Texas, in that the two megastates voting on Super Tuesday each have larger Hispanic electorates than Nevada does. At this point it'd be a shock if Sanders lost California, and at least a little surprising if he lost Texas." • Sabato is totally mainstream, so no doubt this is causing a little panic in the Establishment.

"No, You Drop Out: Why Bernie's Rivals Are All Stubbornly Staying in the Race" [Gabriel Debenedetti, New York Magazine]. "On Sunday, I checked in with a wide range of plugged-in Democrats of different ideological stripes to gauge whether any had heard stirrings of any organized, backroom efforts to try and shrink the field — or if that was just a tweet and chyron fantasy. The only people talking about it were "Twitter world & Dems who think they have power & don't," one texted back. Matt Bennett, the vice-president of the centrist Third Way think tank that's been trying to galvanize anti-Sanders efforts since at least 2018, replied, "I have heard none, and if there were any, I would know about them."

* * *

SC:

"After Nevada, uncertainty awaits as the 2020 Democratic race shifts to South Carolina" [Post and Courier]. "Uncharted territory awaits." • The debate should be interesting.

SC: Maybe:

South Carolina is about 6% Latino, about the same as Iowa. But they were only 2% of the Dem primary electorate in 2016. If Bernie turns them out in large numbers, it could make the difference.

— 29 U.S.C. § 157 (@OrganizingPower) February 23, 2020

All Latins are not alike (as the campaigns will no doubt discover in FL).

TX:

UPDATE "Interview: Heidi Sloan on Running a Left Campaign in Texas" [Current Affairs]. What a great answer: "That is a great question. I think maybe the first thing, and this is true for so many people, more than it is even for me, that farmers do a lot more than grow food. That most farmers can rebuild their tractor, that most farmers can write a spreadsheet for crop rotation that would blow your mind, that most farmers are in charge of the sales of their farm, that most farmers are also raising their families onsite, and keeping ties with the community. That farmers are an exceptionally gifted and hardworking group of people, and I think that we sometimes just focus on one aspect of that work. Whereas, they, everyday, are running a whole ecosystem to itself."

NV: Sanders ground game (1):

Now we can tell you that @BernieSanders campaign talked to Latino culinary union voters at least 22 times before caucus day, Starting 6months ago! We organized, listened and invested and it paid off! We love and respect all unions and their leadership! #NotMeUs https://t.co/dQmrLJ4aDK

— Chuck Rocha (@ChuckRocha) February 23, 2020

Readers will recall we supplied a podcast of Culinary Workers cheering Sanders' #MedicareForAll presenation.

NV: Sanders ground game (2):

Just for the record this is NOT even close to what we spent on PAID spanish communications. We started PAID communication to Latinos 8 months ago and had over 76 Latinos staffer and 11 offices. The key to our strategy was spending money that folks would not track. #sneakattack https://t.co/et4NROLHKg

— Chuck Rocha (@ChuckRocha) February 22, 2020

One wonders if the same has been done in CA, and how this strategy interacts with Bloomberg's air war.

UPDATE "The Nevada caucuses were even better news for Sanders — and the Democrats — than you might think" [WaPo]. "In 2016, you may remember, nonwhite voters were Sanders's Achilles' heel. Hillary Clinton, who went on to win the nomination, regularly routed Sanders with nonwhite voters, especially black Democratic voters. She built up a lead in the South that Sanders could never overtake. In Nevada this year, Sanders won about 42 percent of the nonwhite vote. This was actually the same percentage of the demographic that he won in the state four years ago, as the graph above shows. But again, it comes in the context of his support dropping among other demographic groups. Among white caucusgoers, for example, Sanders's support was 20 points lower this year than it was then. Among nonwhites, no change. Among very liberal attendees, he was down only 3 points, essentially unchanged."

UPDATE "How Bernie Sanders Dominated in Nevada" [New York Times]. "For at least one day, in one state, the long-promised political revolution of Mr. Sanders came to vivid life, a multiracial coalition of immigrants, college students, Latina mothers, younger black voters, white liberals and even some moderates who embraced his idea of radical change and lifted him to victory in the Nevada caucuses on Saturday. By harnessing such , Mr. Sanders offered a preview of the path that he hopes to take to the Democratic presidential nomination: in racially diverse statesin the West and the South and in economically strapped parts of the Midwest and the Southwest, all behind the message of social and economic justice that he has preached for years." • There's a concept here that the Times seems unable to grasp, falling back instead on mush-mouthed, liberal, Democrat consultant-speak verbiage like "a broad cross-section of voters," and "uniting an array of voting blocs." That concept: The working class. That's why the cross section is broad. That's why the array us united. And the appeal, the "unique selling proposition" of the Sanders campaign: Universal concrete material benefits, as [lambert preens], I have been advocating for many, many years.
RussiaGate
"Russiagate 2.0 Drowns Out Trump's Reckless Escalation Of US – Russia Nuclear Arms Race" (podcast) [Aaron Maté, Pushback]. "US media is once again consumed with evidence-free claims that Russia intends to interfere on Donald Trump's behalf. But as Democrats accuse Trump of being "Putin's Puppet," Trump is overseeing a hawkish agenda that has worsened US-Russia tensions. Nowhere is that more dangerous than Trump's escalation of the nuclear arms race with Russia: abandoning arms control treaties while deploying and developing new nuclear weapons. Former UN weapons inspector Scott Ritter joins Pushback to discuss the overlooked dangers."
Our Famously Free Press
Editors write the headlines:

Change in Headline pic.twitter.com/tg9T5MFWnP

— Editing TheGrayLady (@nyt_diff) February 24, 2020

UPDATE This is violence:

CNN analyst spins a fantasy of Bloomberg clubbing Bernie in gory detail…with a "spiked club" to "go medieval" on him.

Just in case you need a receipt of "uncivil" discourse for the tone police ? pic.twitter.com/v23h1ane9i

— Brook Hines ? power to the people (@nashville_brook) February 23, 2020

I wouldn't mind the hyperbole, if it weren't so obviously wish fulfillment.
Realignment and Legitimacy
About that Democrat Establishment:

The Democratic establishment exists. Just ask the Bloomberg campaign for a list of who is on their payroll. https://t.co/kVsIzbcaNN

— Matt Stoller (@matthewstoller) February 22, 2020

Josh Marshall denying there's any such thing as a Democrat Establishment… That's almost too rich.
Stats Watch
At reader request, I added some business stats back in. Please give Econintersect click-throughs; they're a good, old-school blog that covers more than stats. If anybody knows of other aggregators, please leave links in comments.
Manufacturing: "February 2020 Texas Manufacturing Improves Again" [Econintersect]. "Important subindices new orders significantly declined (and is in expansion) and unfilled orders improved and now is in contraction. This should be considered a better report relative to last month."
Housing: "Home Prices: While Up In Most Areas, Some Places See Decline" [Econintersect]. "And while prices have risen in most places, the U.S. index masks the fact that many cities have had a dip in values over the last year and some will experience declines in 2020 as well…. During 2019 our index found more than 70 places that had an annual price decline, including the San Jose, CA and Bridgeport, CT metropolitan areas."
* * *
Today's Fear & Greed Index: 29 Fear (previous close: 44 Fear) [CNN]. One week ago: 55 (Greed). (0 is Extreme Fear; 100 is Extreme Greed). Last updated Feb 24 at 1:21pm. Big move to Fear. Panic indeed!
Rapture Index: Unchanged [Rapture Ready]. Record High, October 10, 2016: 189. Current: 183. Remember that bringing on the rapture is a good thing. Finally, the Corona Virus shows up, but under Interest Rates, not Plagues. And then, under Plagues, no mention of an actual Plague of Locusts. What is this, end-time regulatory capture?
The Biosphere
"How to Plant a Fruit Tree" [Modern Farmer]. Five tips, this is the first: "Start early. It's best to plant fruit trees in late winter or early spring before they emerge from dormancy. During this time, they may be purchased "bare root"—sans soil, that is—from mail order nurseries. How early you can plant depends on where you live, but it's essentially a matter of the ground no longer being frozen. Give the nursery your ZIP code and they will tell you the earliest window that it's safe to ship the tree." • Others are: "Find the Right Spot," "Dig the Perfect Hole," and "Set It Up for Success." • If you are thinking of starting a garden, or have already done so, I highly recommend you thinking about planting some trees now. In five years, you'll be glad you did!
"Teck withdraws application for $20B Frontier oilsands mine" [CBC]. "Vancouver-based Teck Resources Ltd., has withdrawn its application to build a massive oilsands project in northern Alberta, citing the ongoing debate over climate policy in Canada…. The company said it will take a $1.13-billion writedown on the project, which it said would have created 7,000 construction jobs, 2,500 operating jobs, and brought in more than $70 billion in government revenue." • Yeah, yeah. Leave it in the ground.
"OPP move in on rail blockade by Mohawks of Tyendinaga" [CBC]. "This morning, Prime Minister Justin Trudeau met with RCMP Commissioner Brenda Lucki and key members of his cabinet — Deputy Prime Minister Chrystia Freeland, Minister of Crown-Indigenous Relations Carolyn Bennett, Minister of Transport Marc Garneau, House Leader Pablo Rodriguez, Minister of Public Safety and Emergency Preparedness Bill Blair and Minister of Indigenous Services Marc Miller — to discuss the blockades. On Friday, Trudeau said that the barricades on rail lines and other major transportation routes must come down after two weeks of the government calling for patience and stalled attempts at negotiation."
More knock-on effects from austerity:
"Labour acted on the report's recommendations. Spending on flood defences increased by 10% in 2008/9 & an additional 10% in 2009/10.
But then austerity happened."

Tories ignored expert flood advice and courted austerity. Behold the results@sjwrenlewis https://t.co/6NAS9sz6S6

— Phil ??? (@Phil_Free_) February 24, 2020
Health Care
"WHO says it's too early to declare a coronavirus pandemic: 'Now is the time to prepare'" [CNBC]. "'It is time to do everything you would do in preparing for a pandemic,' Dr. Mike Ryan, executive director of the WHO's health emergencies program, said." • Including canned goods, I assume. It strikes me that WHO is being reactive. In fact, the entire neolineral world-system is being reactive; one would think that there would be some institutional embodiment of the Precautionary Principle, with a decent budget and the best of science. Then again, perhaps that doesn't enable elites to extract enough from death and suffering. And fear, just by itself, is extremely profitable.
"Offline: Facts are not enough" (PDF) [The Lancet]. Interesting:
[W]e must ask questions usually considered outside the scope of international health. A Public Health Emergency of International Concern gives us a unique opportunity. First, what are the supreme guiding values of global health? Hitherto, the answer has been equity. But, as we have seen from China's efforts to contain COVID-19, perhaps we should consider liberty an equally fundamental value. Without liberty of expression—for health workers, policy makers, the public, and media—there is no means to forge a common view about the future (including the future health) of a society. Second, how important is the political system for health? Global health is typically agnostic about the kind of political system a country chooses to adopt. Global health and its institutions see health systems as separate—technically, socially, economically—from the political ideologies of nations. This view is not sustainable. We cannot say that the terms of political engagement within a country are irrelevant to our hopes for health. Third, what is prosperity? Conventionally, prosperity means monetary wealth. But could we redefine prosperity to mean something else, something more? Prosperity as the well-being of the community in synchrony with its environment. Fourth, how should we consider the place of the human body in society? How do we better connect the social to the biological? How do we incorporate the world in which we live into our biological selves? Our bodies and the illnesses they express tell stories about our lives. Our task is to uncover those stories and to link them back to our bodies and our health. Fifth, what do we mean by health anyway? Whatever we say about the absence of disease or a state of complete wellbeing, the idea of health is also related to our sense of what our lives have been and what they might be in the future. Isn't health contingent on the purpose we envision for our life, and the possibilities we have for enacting that purpose? In other words, isn't health also about our capacity to achieve meaning in our lives?
* * *
This Is The System We Are Going To Fight #COVID-19 with (1). Thread:
My wife and I shared a moment today over how touched we were reading about the Culinary Union workers stating frankly that the risks they'd face with #MedicareForAll were worth it because they knew so many people without healthcare who needed it. We face a similar risk. 1/

— Erik Westlund (@erikdbwestlund) February 24, 2020
This Is The System We Are Going To Fight #COVID-19 with (2). Thread:
In 2010, I had good union health insurance. Obamacare was the law of the land. In November that yr my 1yo son was struck by a careless driver in a crosswalk. After two surgeries and a night in intensive care, he died.

— Michelle DuBarry (@DuBarryPie) February 23, 2020
I see threads like this on the Twitter so often. They're a [family blogging] genre for pity's sake.
Suppose you had #COVID-19 symptoms but co-pays and an enormous deductible. Would you seek help immediately? Would you put the visit off as long as possible? Or would you to gut it out, at home? Would you self-quarantine? Suppose you had only $400 for emergencies, like most Americans. What if you were a retail worker? Or a server? Could you self-quarantine? (Waiting for the fingerwagging from PMCs on all this.)
Screening Room
Incredibly trivial, and really neat:
"NOW…." Most 90'es #movietrailer #voiceover were done by Don LaFontaine and Hal Douglas.
BUT DID YOU KNOW — the average place in a voice-over #action #trailer to put the "NOW" is at 38.1%?
Well of course you did! Let's look at some examples. (thread) #cinephile #movies pic.twitter.com/ZCIQyxaOKF

— Jonas Ussing (@Jussing) February 21, 2020
Black Injustice Tipping Point
From the archives:
Du Bois's birthday plans. pic.twitter.com/cgn6fZ3pe8

— Josh Myers (@ddhewty) February 23, 2020
Class Warfare
"Tracking Extraction" [Tracking Extraction]. "For Patel and Moore, as for LPE, "Capitalism is not just the sum of 'economic' transactions that turn money into commodities and back again; it's inseparable from the modern state and from governments' dominions and transformations of natures, human and otherwise." . Patel and Moore call this process making things 'cheap,' and they illustrate their argument with seven 'cheap things:' Nature, money, work, care, food, energy, and lives." • Lives, especially lives. Although data, too. Well worth a read.
"Beauty and the bloke: why more men are wearing makeup" [Guardian]. • See above.
News of the Wired
"More Libraries Are Doing Away With Overdue Fines" [New York Times]. "'I think it's an exciting thing,' [said Eric Klinenberg, a professor of social science at New York University and the author of the 2018 book 'Palaces for the People.'] of the new policies. 'There are a lot of people who need a safe, warm place where they are treated with dignity and respect. We are short on that these days.'" • Libraries seem to be one of the few institutions to have avoided crapification. I wonder why?
* * *
Readers, feel free to contact me at lambert [UNDERSCORE] strether [DOT] corrente [AT] yahoo [DOT] com, with (a) links, and even better (b) sources I should curate regularly, (c) how to send me a check if you are allergic to PayPal, and (d) to find out how to send me images of plants. Vegetables are fine! Fungi and coral are deemed to be honorary plants! If you want your handle to appear as a credit, please place it at the start of your mail in parentheses: (thus). Otherwise, I will anonymize by using your initials. See the previous Water Cooler (with plant) here. Today's plant (SV):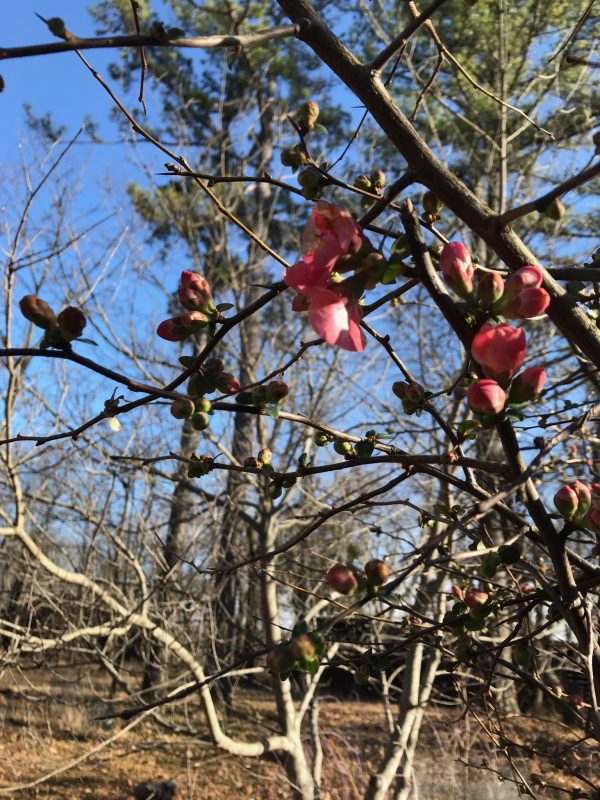 SV writes: "On the heals of freezing fog, we now have this. Our friend Barbara writes: 'Also called flowering quince. The apocolyptica isn't supported by botany. It's supposed to bloom much later.'"
* * *
Readers: Water Cooler is a standalone entity not covered by the annual NC fundraiser. So if you see a link you especially like, or an item you wouldn't see anywhere else, please do not hesitate to express your appreciation in tangible form. Remember, a tip jar is for tipping! Regular positive feedback both makes me feel good and lets me know I'm on the right track with coverage. When I get no donations for five or ten days I get worried. More tangibly, a constant trickle of donations helps me with expenses, and I factor in that trickle when setting fundraising goals:
Here is the screen that will appear, which I have helpfully annotated.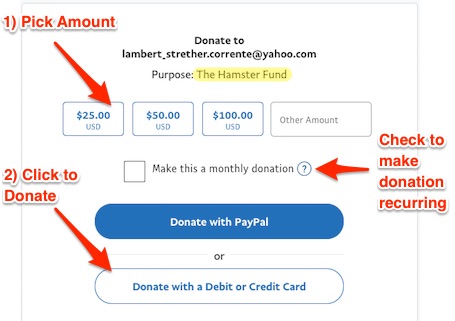 If you hate PayPal, you can email me at lambert [UNDERSCORE] strether [DOT] corrente [AT] yahoo [DOT] com, and I will give you directions on how to send a check. Thank you!