To be clear, I don't buy Indiana Representative Jim Banks' notion that CalPERS' Chief Investment Officer Ben Meng is a Chinese government operative selling out CalPERS. However, CalPERS' dishonest and incomplete responses to Banks' charges haven't done the fund or Meng any favors, particularly since its presentation of CalPERS' investment policy, as we will demonstrate, is fundamentally false.
The short version is CalPERS is attempting to defend its investments in China, including the sale of 54 Chinese stocks and the purchase of 61, as being the result of CalPERS being a mere innocent passive investor and having to make these changes to track the index it seeks to replicate.
But this is nonsense, because the China shuffle came about because CalPERS is running a custom international index it created in house. So CalPERS instead peddles the Big Lie that it is simply responding to the dictates of MSCI, which runs the MSCI indexes,1 and the FTSE Group when it is in charge of its own destiny and has some 'splaining to do.
It is thus fair game to question how CalPERS constructed this index and what investment criteria it is seeking to implement…particularly because it has abjectly failed to say so.
The guts of Banks' charges is that Meng was a member of China's Thousand Talents Program, which the FBI has said recruits Chinese overseas and foreign professionals to bring their know-how to China, and that CalPERS holds investments in blacklisted Chinese companies that make products for the Chinese military.
Meng was not a member of the Communist Party when he worked for a bit over three years at the government's State Administration of Foreign Exchange (SAFE), which manages over $3 trillion in foreign currency. When Meng decided to return to CalPERS, he was apparently not treated very nicely, with the government withholding a bonus he had earned and delaying his departure from China to assure he didn't have any current knowledge of SAFE's positions or short-term trading views. Needless to say, this is not the way to soften up a departing employee or resident to do favors for you.
It is also quite a stretch to think that Meng could do much to help China in his current role. CalPERS is much smaller than the institutional investor universe than it was in the 1980s and even the 1990s. The idea that its trades could move anything other than small markets is ludicrous,2 so despite CalPERS self-flattering views otherwise, the "market intelligence" value of knowing about their trading intentions in advance is close to nil.
And even though CalPERS does invest in Chinese companies, including ones fingered by Banks, Banks is apparently such an investment rube that he does not understand that purchasing shares in the secondary market does not provide financing to the issuer. At the margin, it does increase the stock price, but that has come to be of far more value to CEOs who have equity-linked pay than the companies themselves, who only intermittently at best sell additional new shares to raise funds for operations and/or to reduce debt.3
However, the US blacklist of these companies doesn't make differentiate between buying newly-issued versus secondary shares, so Banks can contend that subtleties of the economic impacts don't matter, blacklisted is blacklisted.
It should have been easy to swat Banks back, particularly since he further demonstrated ignorance about how CalPERS works by demanding that California governor Gavin Newsom fire Meng, when Newsom lacks the power to do so. But CalPERS overplayed its hand by not responding to a key allegation and giving dishonest answers to others.4 And it's not as if CalPERS CEO Marcie Frost is a credible defender of staff, between her bone-headed and ultimately failed defense of flagrant resume fabulist, former Chief Financial Officer Charles Asubonten, and her own history of falsifying her educational and career attainments.
Jim Banks' Salvo
On February 12, Banks, who sits on both the House Committee on Armed Services, including its Subcommittee on Intelligence, Emerging Threats and Capabilities and on the Committee on Education and Labor, including its Subcommittee on Health, Employment, Labor, and Pensions, sent his letter to Gavin Newsom demanding Meng's ouster over Meng's membership in China's Thousand Talents Program, which neither CalPERS nor Meng have denied.
Banks positioned himself as responding to concerns voiced by Secretary of State Mike Pompeo, who claimed that China was failing in obtaining concessions from the Federal government, and so was trying to take advantage of state and local bodies instead. Pompeo singled out CalPERS for its investments in Chinese military contractors. Banks pointed out that CalPERS' $3.1 billion of investments in companies hostile to the US was perverse. Banks noted that CalPERS likes to wrap itself in the mantle of shareholder activism, yet was an investor in companies like Hikvision, which provides the surveillance technology used in the detention camps holding an estimated 2 million Uighurs.
Banks and CalPERS know Banks won't get anywhere in a Democratic-party-owned state like California unless he can get someone with subpoena powers to rummage around in CalPERS' electronic file cabinets. With Banks a Republican in a Democratic-controlled House, this looks like a tall order unless he can make enough noise in the press to make this issue seem juicy enough to get other Republicans who could rough up CalPERS a bit to pile on.
Banks got off to a promising start. He got coverage in the non-partisan, widely-read The Hill, Reuters, a very supportive interview from Maria Bartiromo of Fox Business, a good write-up in the National Review, and several investment publications. Key sections from the National Review article:
"We found Chinese newspaper articles that take credit for him being in the position that he's in currently," Banks told Fox Business host Maria Bartiromo.

The CIO of the largest pension fund in the US enrolled in China's "1,000 Talents Program"-which is described by the FBI as an "unofficial espionage" arm of #CCP.

We finally have an admin that stands up to China-meanwhile local/state govs are getting more entangled. Unacceptable! pic.twitter.com/Ffop60Nt8T

— Jim Banks (@RepJimBanks) February 13, 2020

…A 2017 article in China's People's Daily asserts that Meng was then recruited to the position at SAFE by Beijing's Thousand Talents Program, which provides funding to U.S. citizens in exchange for information. "In human life, if there is an opportunity to serve the motherland, such responsibility and honor cannot be compared to anything," Meng told the paper….

Banks says that financial records show billions of California pension dollars invested in Chinese holdings, a fact pointed out by secretary of state Mike Pompeo during a speech on Sunday.

"California's pension fund . . .  is invested in companies that supply the People's Liberation Army (PLA) that puts our soldiers, sailors, airmen, and Marines at risk," Pompeo said.

In November, a senior FBI official admitted that the U.S. government had not been proactivein preventing "Thousand Talents" participants from impacting the American academy, after a bipartisan Senate report accused federal agencies of failing to stop the systematic exploitation of U.S. research by Beijing. The head of Harvard University's chemistry department was charged in January with hiding his participationin the plan from officials in the Defense Department and the National Institutes of Health.
CalPERS' Dishonest and Incomplete Response
Marcie Frost sent a letter to Banks on February 20 after having met with him the day before.
The letter and apparently the meeting, failed to deny a core allegation, that Meng had been a member of the Thousand Talents Program, and what that amounted to in practice. Banks was not happy but as we'll explain, he should be even more upset than he appears to be: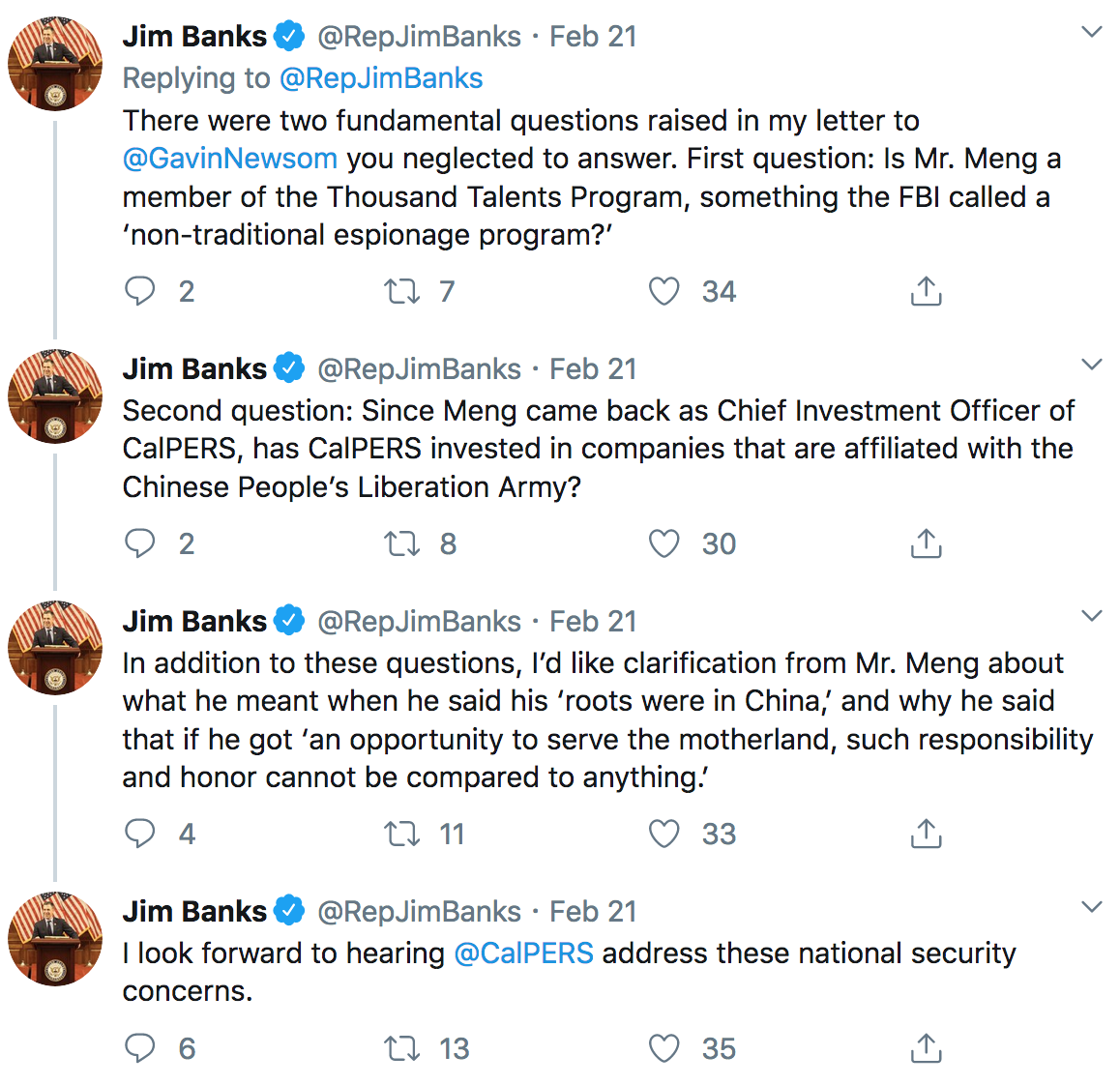 As an aside, I suspect a truthful answer about Meng and the Thousand Talents Program is embarrassing to CalPERS, but in a vastly less consequential way than Banks would have one believe.
It isn't hard to imagine that the Chinese government was interested in learning about how CalPERS managed its portfolio, meaning the benefit to the government was from Meng going from CalPERS to SAFE, and not on his return trip.
Moreover, having had then-leading Japanese and German banks as clients, and seeing how woefully behind US norms they were then, the know how that Meng would have brought that would have been useful would not be investment strategies (which CalPERS makes public). It would have been management and organizational discipline, as in what information to review and with what frequency, how to divide up roles, how to structure supervision like risk management.
And mind you, even though Meng learned this at CalPERS, none of this sort of insight would be proprietary. SAFE could easily have gotten largely similar input at much higher cost from McKinsey. And the big reason this sort of intel isn't as valuable as one might think is knowing what to do isn't all that hard. Doing it well is. But it still isn't a good look for a former government investment officer to look like he profited from conveying in-house expertise to a not-necessarily-friendly foreign government, and then come back to the same government body in its highest-paid position.
In addition to ignoring Banks' question about Meng and the Thousand Talents Program, Frost flat out misrepresented CalPERS' China investments. The lie is in plain sight but clearly designed to mislead:
CalPERS invests in international stocks using two well-established indices: the MSCI and the FTSE. Indices are created to track publicly traded stocks, bonds, and consumer prices for common goods and services. By design, indices track the performance of a selected basket of stocks that are selected by the index creator based on preset criteria. By using an index-based investment strategy, CalPERS makes passive investments. Passive investing is a "buy-and-hold" strategy, meaning CalPERS will purchase and maintain ownership of stocks over a multi-year time horizon to provide long-term value. CalPERS uses the MSCI and FTSE indices because they are commonly used for investments outside of the United States.

In 2019, the FTSE and MSCI modified their respective indices to include China A-Shares, thereby increasing their exposure to Chinese equities. CalPERS rebalanced its portfolio in light of these changes accordingly, resulting in the removal of 143 stocks and the addition of 198 stocks. Nearly half of the companies added were Chinese companies because the MSCI and FTSE indices changed to include China A-Shares. Rebalancing involves periodically buying or selling assets in a portfolio to mimic the indices. As discussed, the index providers, not CalPERS or its CIO, decide which equities are included in the indices.
The very fact that Frost refers to "MSCI" and not a specific MSCI index is a big tell.
To state the obvious, if you are going to engage in index replication, you designate one index for a portfolio. But here Frost mentions two indices. Most people, even very finance savvy readers, would assume CalPERS had two (or even more) relevant portfolios and she was keeping it simple for Banks.
But that is not the case. We have the spreadsheet from CalPERS Public Records Act Request #4773. It shows the companies removed from and added to CalPERS' public equity investment authorization from July 1 to September 23, 2019. It contains a total of 341 entries, which ties out with Frost's statement "removal of 143 stocks and the addition of 198 stocks."
Excel isn't printing-friendly, so we will send the full spreadsheet upon e-mail request. In the interest of readability, we've omitted the left-most column, "CURRENT_SEDOL" which is the London Stock Exchange's answer to a ticker symbol.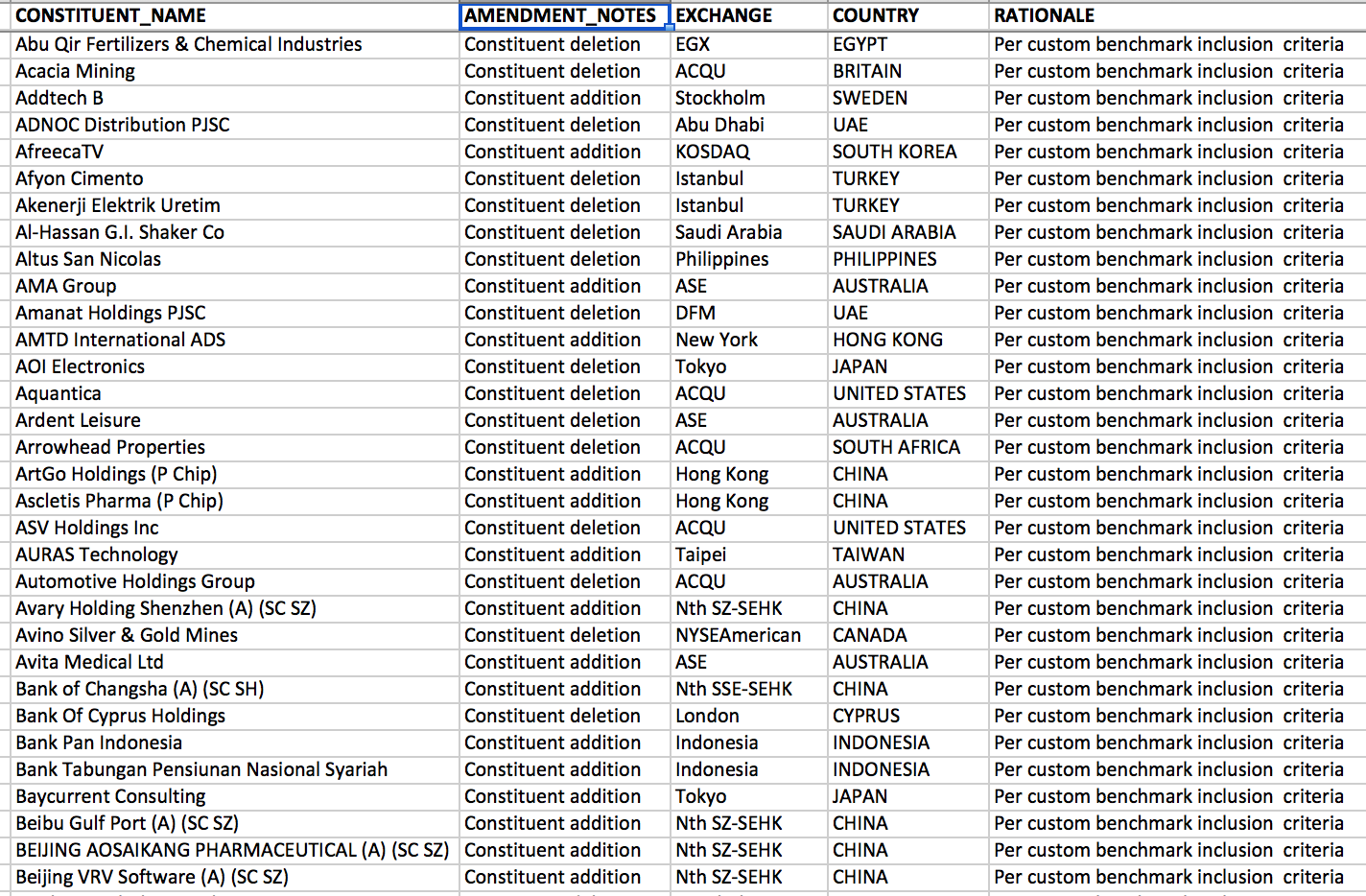 See the far right column? Every entry for all 341 stocks is the same as in this excerpt: "Per custom benchmark inclusion criteria".
In other words, CalPERS didn't add and delete these stocks because it had to to follow meanie FTSE Group and MSCI changes.5 It constructed its own portfolio which is kinda-sorta taking ideas and weights from two different indices but is most decidedly a CalPERS home brew.
But CalPERS brazenly makes the same misrepresentation on its fact sheet, CalPERS Investments in China:
Nearly half of the companies added were Chinese companies given the changes made by the index providers to include China A shares. This was not an active decision made by us.
Sorry, what about "You made up your own index" don't you understand?
And in case you might try to argue that someone at CalPERS made an erroneous entry into the "Rationale" column in the spreadsheet showing the portfolio changes, CalPERS Investment Committee meeting records from last November on its Global Equity Policy, which states it supersedes all previous policies. Attachment 4 confirms that CalPERS was not executing any passive indexing strategy, but something clearly looser that it calls an "index oriented" strategy (as well as active strategies). Huh? Clearly this is NOT index replication. From its page 3:

If you look further to try to find out what is going on, good luck. If you look at Item 7a, Attachment 2 from the same board meeting, you will see (if you drill far enough in, such as on p. 49) that CalPERS has two different public equity portfolios.
Segment 1 is "Cap[italization] Weighted" and uses "Custom FTSE All World, All Cap Equity" as a benchmark. So we again have confirmation that CalPERS isn't trying to replicate (or potentially, beat with selected staff discretion) the FTSE All World, All Cap index, but its own tweaked version. So this can't be called passive.
Segment 2 is even more obviously not passive. It uses factor weights, when the selection of factors amounts to a bet, specifically "MSCI ACWI Select Factor Weighted Index."
As we said in our October post, CalPERS Abandoning Passive Equity Investing:
However, the discussions about index investing have become muddied thanks to using the same term to mean different things, just the way "progressive" has been badly abused. The point of passive or index investing is to minimize fees and trading costs and avoid trying to outsmart other investors or market time, since even if you can win for a while, the odds are that you will lose over time due to overtrading and wrong-footing.

There are two ways CalPERS is moving away from passive investing, as in using broad-based indexing. One has been via moves like its dumping of private prisons, getting rid of an investment for political or social reasons…

Aside from eliminating more and more types of investment for ESG (environmental, social and governance) reasons, and apparently doing some stock picking too, CalPERS is moving away from passive investing to factor investing. From Pensions & Investments at the end of August:

CalPERS shifted $150 billion in fiscal year 2019….The pension fund's strategic asset allocation implementation includes 15% invested in a new factor-weighted equity portfolio, as well as 35% in capitalization-weighted equities and 8% in private equity, which together make up its 58% growth portfolio. CalPERS funded its factor-weighted equity portfolio from its capitalization-weighted equity portfolio.

Notice this was written to obscure the point. The "capitalization-weighted equity portfolio" is a traditional index fund. An overview of factor investing from Investopedia:

Factor investing is a strategy that chooses securities on attributes that are associated with higher returns. There are two main types of factors that have driven returns of stocks, bonds, and other factors: macroeconomic factors and style factors. The former captures broad risks across asset classes while the latter aims to explain returns and risks within asset classes.

Some common macroeconomic factors include credit, inflation, and liquidity, whereas style factors embrace style, value, and momentum—just to name a few.

….Mind you, we are not opposed to factor investing. It does have the potential to improve returns. But there is a lot of consultant and quant snake oil. There are hundreds of factors. Which to choose? How to implement them? The most widely used approaches are four or five factor models, typically including some of: beta, size, value, momentum, profitability and investment. Critics claim factor investing has flopped in the last decade due to value stocks being duds.

The problem is that while factor investing isn't the same as stock picking, there is a discretionary element in the choice of factors and how to implement them. Even though CalPERS has been clear that it has made a big move into this approach, it hasn't been terribly transparent about how it is going about it.
This is a long-winded way of illustrating that CalPERS flat out lied to Banks in its repeated efforts to depict its portfolio moves as the result of passive investing. They are anything but that.
Now CalPERS may have bet correctly that Banks lacks the horsepower to take his campaign against Meng and the giant fund's pension investments any further. But their coverup is so lame as to be worse than any possible misconduct. CalPERS has laid itself open to more bad press and has increased the odds that Banks will get someone who can issue subpoenas to saddle up.
_____
1 In a sign of CalPERS' arrogance or the ignorance of its PR team, CalPERS doesn't even say in its response to Banks what MSCI index it was using in devising its custom index. You have to go digging in board presentations on the policy change to find that.
2 Emerging market securities could be an exception, but CalPERS implements those strategies through external managers. Smaller bond issues in theory would qualify, since they are often illiquid, but investors buy bonds based on attributes (rating, coupon, maturity, sinking fund, security, any valuable indenture provisions), and therefore it is almost unheard of for a particular bond issue to be critical to the implementation of an investment strategy.
3 Far and away the most important source of funding for companies is retained earnings, followed by debt issuance. Equity sales are a very distant third.
4 CalPERS is very well bunkered from state administration and legislative muscling thank to constitutional amendments to fend off interference by then governor Pete Wilson. However, given that California is now regularly making stealth mini-bailouts of CalPERS via pre-funding, the governor isn't devoid of leverage. If Newsom were to call Marcie Frost in for a meeting, better yet with the two most powerful board members, State Treasurer Fiona Ma and State Controller Betty Yee, and tell Frost that Meng was no longer tenable as CalPERS CIO, it is hard to see Frost standing up to that level of pressure. But it's also highly unlikely that Newsom would spend chips like that unless Frost for some bizarre reason was still defending Meng when it was visible to the public at large that he was way past his sell-by date.
5 Further showing that CalPERS is not joined at the hip with either index, CalPERS used this "custom index" exercise to hide its dumping of private prison stocks, when I am highly confident that neither MSCI nor the FTSE Group has axed them.