By Lambert Strether of Corrente.
Politics
"But what is government itself, but the greatest of all reflections on human nature?" –James Madison, Federalist 51
"They had one weapon left and both knew it: treachery." –Frank Herbert, Dune
"They had learned nothing, and forgotten nothing." –Charles Maurice de Talleyrand-Périgord
Key dates coming fast now, so I added some counters:
Some of the next primaries. (I picked the major dates; here is a complete calendar.)
* * *
2020
We encourage readers to play around with the polling charts; they are dynamic, and there are a lot of settings, more than I can usefully show here. Here is a link to alert reader dk's project. You can also file bug reports or feature requests using the same contact process as for Plants, below. Thanks — but no promises!

Today we have one national poll from NBC, and no state polls, as of 3/16/2020, 12:00 PM EDT. The empire strikes back:

And the numbers:

Pretty much the same story everywhere. Earlier in the year, we often had occasion to comment on the mysterious strength of the Biden Juggernaut, on display here; but it's also true that Biden's ups and downs have been of much greater amplitude than other candidates.

* * *

No detail today. My filters are clogged. Back to normal tomorrow.
The Ballot
Biden and his Democrat Establishment team seem not to know that the SARS-CoV-2 virus can be spread asymptomatically:

The right to vote is the most sacred American right there is. State election officials are working closely with public health officials to hold safe elections. If you are feeling healthy, not showing symptoms, and not at risk of being exposed to COVID-19: please vote on Tuesday.

— Joe Biden (Text Join to 30330) (@JoeBiden) March 15, 2020

What the CDC says about large gatherings:

New: Starting immediately and for the next 8 weeks, CDC recommends cancelling all events of 50 or more people. Full recommendation here: https://t.co/LrjUt4rl7B #COVID19 pic.twitter.com/OroIqhTYJo

— CDC (@CDCgov) March 16, 2020

"Recommendations for Election Polling Locations" [CDC]. "Clean and disinfect voting-associated equipment (e.g., voting machines, laptops, tablets, keyboards) routinely." • What does "routinely" mean? After every vote? (Note that this shows what is needed to make polling places safe. It does not say they are safe, as I have seen some Biden supporters say.)

"Poll Workers Are Resigning Over Coronavirus and States Are Scrambling" [Vice]. "Poll workers, the volunteers that actually run elections across the country, have been resigning in droves as fears of exposure have grown dramatically in recent days. That's put a huge strain on local election officials, which heavily depend on volunteers, many of them aging retirees, to run smooth elections. More than half of poll workers in 2016 were over age 60, according to the U.S. Election Assistance Commission. It's always a struggle for local officials to find enough volunteers to run elections — but finding last-minute replacements has been especially tricky this year."

Lambert here: So, voters in the next round of primaries will likely face long lines ("large gatherings"), whether due to pol volunteers resigning, or through Democrat Establishment voter suppression tactics, as in CA, TX, and MI. Note also that touchscreen machines must be shut down to be cleaned (too lazy to find the link). Let me know how this works out…
Realignment and Legitimacy
"Michigan 2020 Democratic Party Primary" [TDMS Research]. "Election results from the computerized vote counts of the 2020 Michigan Democratic Party presidential primary differed significantly from the results projected by the exit poll conducted by Edison Research and published by CNN at poll's closing. The large discrepancies greatly exceeded the margin of error for the exit poll projected differences between candidates. In this election candidate Sanders underperformed his exit poll projected proportions by 15.4%. Sanders consequently received 105,000 less votes than projected while others (mainly Biden and Bloomberg) received 111,000 more than projected by the exit poll. Of concern is Michigan's destruction of the ballot images, that could have been used to greatly facilitate a recount, that were created by their scanners for their counts. This destruction appears to violate both federal and state laws. This large vote shift is made more remarkable by the fact that Edison Research had almost an hour's access to Michigan's rapidly accumulating vote totals from almost the entirety of the state that closed an hour earlier than the small sliver in the central time zone, to alter, as is their normal practice, the exit poll to conform to the vote totals. After this hour's adjustments the exit poll used herein was published. Undoubtedly candidate's Sanders exit poll proportion was much larger than the proportion first published and Biden's much less. Conceivably, given the large discrepancy remaining after alteration, the pre-adjusted original exit poll may have shown a Sanders' win. The same can be said for Sanders' and Biden's vote-count-adjusted exit polls for Texas, New Hampshire, and next Tuesday, Florida. " • Hand-marked paper ballots, in public.
Stats Watch
At reader request, I added some business stats back in. Please give Econintersect click-throughs; they're a good, old-school blog that covers more than stats. If anybody knows of other aggregators, please contact me at the email address below.
Manufacturing: "March 2020 Empire State Manufacturing Index Crashes" [EconIntersect]. "Key elements significantly declined – it seems we are in a recession. Econintersect reminds you that this is a survey (a quantification of opinion)." • Reacting to #COVID-19. "Noisy survey," though.
Housing: "Home Prices: While Up In Most Areas, Some Places See Decline" [Econintersect]. "The national CoreLogic Home Price Index increased by more than 3% in 2019 and is forecast to rise by about 5% in 2020… And while prices have risen in most places, the U.S. index masks the fact that many cities have had a dip in values over the last year and some will experience declines in 2020 as well."
* * *
Commodities: "China Is Now Shipping Coronavirus Test Kits and Masks to the U.S." [Vice]. "Jack Ma, the billionaire founder of the online giant Alibaba, posted two pictures of supplies being loaded onto a China Cargo Airlines flight on Monday morning…. The Jack Ma Foundation tweeted that the shipment contains 500,000 testing kits and 1 million masks. The supplies will be handed over to the Centers for Disease Control and Prevention this week." • That's nice. How about some ventilators?
Retail: "There Is Plenty of Food in the Country" [New York Times]. "The aisles and aisles of empty store shelves give the appearance that the United States, improbably and alarmingly, is running out of food. But the nation's biggest retailers, dairy farmers and meat producers say that isn't so. The food supply chain, they say, remains intact and has been ramping up to meet the unprecedented stockpiling brought on by the coronavirus pandemic. Even so, shoppers can most likely expect to see empty shelves intermittently…. Food suppliers and retailers are now not only struggling to satiate crushing demand for canned soup and oat milk, they are battling a perception that the scary scenes at the grocery store reflect a fundamental breakdown." • Oh.
Retail: "U.S. grocers are changing some of their fundamental operations as coronavirus stockpiling threatens to overwhelm their supply chains. Retailers including Kroger Co., Publix Super Markets Inc. and Walmart Inc. are shortening store hours to give workers more time to restock and disinfect their sites…. [B]usinesses are grappling with stronger-than-anticipated shopping surges and that contingency plans developed for natural disasters are running up against a nationwide emergency" [Wall Street Journal]. "Some supermarkets are running low on items like bottled water, and others are setting purchase limits on staples. Albertsons Cos. is narrowing its selection of goods to speed up the restocking process, and says some products simply aren't available. Stores expect demand to tail off as consumers fill their pantries, but companies will likely make more adjustments over the long term in case of deeper threats to supply chains."
Retail: "China's success at keeping stores stocked at the height of the coronavirus lockdown may provide only a limited lesson for U.S. supply chains. Central authorities pushed into commercial supply chains during the outbreak… working with private companies like Walmart Inc. to reroute trucks, locate supplies and keep goods moving" [Wall Street Journal]. "They also banned price gouging and released more than 300,000 tons of pork from strategic reserves. Technology was key, with an emergency commodity database gathering information about supplies and connecting buyers with sellers. Some farmers sold goods on shopping app Pinduoduo Inc.'s online marketplaces, while JD.com Inc. turned to local businesses to fill online orders when its own inventories got tight. But strict travel limits aimed at containing the outbreak also hampered distribution. And China's playbook could be tough to replicate in the U.S., where shoppers are emptying stores amid patchwork state and local responses."
* * *
Today's Fear & Greed Index: 3 Extreme Fear (previous close: 5 Extreme Fear) [CNN]. One week ago: 3 (Extreme Fear). (0 is Extreme Fear; 100 is Extreme Greed). Last updated Mar 16 at 12:42pm. Haven't ever seen the needle pinned at zero….
Rapture Index: Closes up one on Oil Supply/Price. "The sharply decline in oil prices is causing unrest in financial markets" [Rapture Ready]. Record High, October 10, 2016: 189. Current: 182. Remember that bringing on the rapture is a good thing. It certainly is odd to see the Fear and Greed index in Freefall, and an index that measures the likelihood of the Apocalypse is stable in the midst of what, in Biblical terms, should surely be a plague. The Rapture Index should pin the needle in the other direction from the Fear & Greed Index. If indeed Evangelicals think #COVID-19 is fake news (some don't), their megachurches are going to get hit, just as in Korea.
Games
"Esports Leagues Are Only Game in Town After NBA and NHL Go Dark" [Bloomberg]. "But one form of competition is still going strong despite the coronavirus pandemic — esports. Unlike basketball or hockey, the billion-dollar world of competitive video games doesn't require much, if any, social gathering. And as sports fans, betting houses and TV networks stare at a calendar devoid of traditional sports, there may be an opportunity for esports to attract a new audience." • Go long social distancing.
Health Care
"Copper kills coronavirus. Why aren't our surfaces covered in it?" [Fast Company]. "When influenzas, bacteria like E. coli, superbugs like MRSA, or even coronaviruses land on most hard surfaces, they can live for up to four to five days. But when they land on copper, and copper alloys like brass, they die within minutes. "We've seen viruses just blow apart," says Bill Keevil, professor of environmental healthcare at the University of Southampton. 'They land on copper and it just degrades them.' No wonder that in India, people have been drinking out of copper cups for millennia. Even here in the United States, a copper line brings in your drinking water. Copper is a natural, passive, antimicrobial material. It can self-sterilize its surface without the need for electricity or bleach… In the face of an unavoidable future full of global pandemics, we should be using copper in healthcare, public transit, and even our homes. And while it's too late to stop COVID-19, it's not too early to think about our next pandemic."
They get tested:
I really, really want to read a story explaining exactly how the Utah Jazz managed to get their hands on 58 COVID-19 tests in a matter of hours.

— Tom Ley (@ToLey88) March 12, 2020
Black Injustice Tipping Point
"New York Times Magazine editor Jake Silverstein attempts to slither away from central 1619 Project fabrication" [WSWS]. Scholarly controversy:
The Times editor is attempting to palm off a minor change in wording as a sufficient correction of a historically untenable rendering of the American Revolution. Hannah-Jones' passage now reads, with the changed phrase in italics:

"Conveniently left out of our founding mythology is the fact that one of the primary reasons some of the colonists decided to declare their independence from Britain was because they wanted to protect the institution of slavery. By 1776, Britain had grown deeply conflicted over its role in the barbaric institution that had reshaped the Western Hemisphere."

This passage is still false. Protecting slavery could not have been a significant cause of the American Revolution, because, far from posing a threat to slavery, the British Empire controlled the slave trade and profited immensely from its commerce in people, as well as from its Caribbean plantations which remained loyal during the war for independence.
Class Warfare
"Coronavirus Shows Capitalism Is a Razor's Edge" [In These Times]. "The systems that are breaking down in this crisis were already broken before it began, and a radical reimagining of what could replace them is the best and only option—for this public health crisis, and for the ordinary, everyday crises that go unremarked. Universal income, Medicare for All, an immediate end to the brutal sanctions regime worsening the outbreak in Iran and around the world, a moratorium on evictions, the freeing of prisoners: Anything less than full social mobilization in the name of solidarity will leave us falling without a net. Or biking without health insurance, to a job that could evaporate."
"The Economy of Evil" [Historic.ly]. "Before the rise of Fascism, both Italy and Germany had a robust social safety net and public services. In Italy, the trains were nationalized, and they ran on time while serving rural villages in 1861. The telecom industry was nationalized in 1901. Phone lines and public telephone services were universally available. In 1908, the life insurance industry was nationalized. For the first time, even poor Italians could ensure that their family could be taken care of if they died a premature death…. In 1934, Nazis outlined their plan to revitalize the German economy. It involved reprivatization of significant industries: railways, public works project, construction, steel, and banking. On top of that, Hitler guaranteed profits for the private sector, and so, many American industrialists and bankers gleefully flocked to Germany to invest. The Nazis had a thorough plan for deregulation…."
"Banking on Bullshit" [The Nation]. ""Too big to fail," the authors write, "is a classic sabotaging technique." And what do the authors mean by sabotage? They derive the concept from an early 20th century radical economist, Thorstein Veblen. He studied the behaviors of businesspeople of his time and noted that the economy was defined not by, say, the laborer or the inventor but by the businessperson, whom Veblen thought of as an actor who specialized solely in buying and selling. The businessperson was someone like the financier J.P. Morgan, who established expansive trusts that controlled numerous companies but who wasn't an expert in any of them. He was successful, Veblen said, solely because he found ways to totally dominate his markets, in ways that allowed him to set whatever prices he wanted for customers and demand whatever wages he wanted from workers. This ensured profits. For Morgan, his enemy was any kind of competition. When competitors could freely underprice him or workers could freely bargain for wages, profits would tend to be minimum. (The authors argue that this argument is essentially the same as Eugene Fama's famous efficient-market hypothesis from 1970, which suggests that in free and transparent markets, profits tend toward zero because participants in highly profitable activities are underbid by hungry upstarts.) Veblen maintained that in fair and transparent markets there was no way to accumulate profits, which explained why businesses engage in "something in the nature of sabotage," which he thought of as the process of hampering others so one could get ahead." • Funny to think of Veblen anticipating Fama!
News of the Wired
"The Killing of a Colorado Rancher" [The Atlantic]. • Grindingly sad, though (and?) well-reported.
"EU sewage tests show 'ecstasy is no longer a niche drug'" [BBC]. "The EU's drug monitoring body analysed sewage samples from 68 cities in 23 European countries in March 2019. Sewage was tested for traces of four illicit drugs: amphetamine, cocaine, MDMA (also known as ecstasy) and methamphetamine. The tests showed an overall rise in the four drugs compared to previous years. More than half of the 42 cities where wastewater was tested reported an increase in ecstasy residues compared to 2018, the study found. The agency said the increase suggested ecstasy was no longer 'a niche or sub-cultural drug limited to dance clubs and parties,' but was now 'being used by a broader range of young people in mainstream nightlife settings.'" • And speaking of ecstasy–
"The World of Wodehouse" [Current Affairs]. "Wodehouse had a spectacular, possibly unequaled, talent for writing interesting sentences. It is hard for a writer to be truly original, to avoid drawing from the common stock of prefabricated cliches. But a page of Wodehouse overflows with original and memorable phrases." • Correct. I won't quote any of the phrases; read the article or pull a Wodehouse book off your own shelves (or heaps, or whatever you have).
* * *
Readers, feel free to contact me at lambert [UNDERSCORE] strether [DOT] corrente [AT] yahoo [DOT] com, with (a) links, and even better (b) sources I should curate regularly, (c) how to send me a check if you are allergic to PayPal, and (d) to find out how to send me images of plants. Vegetables are fine! Fungi and coral are deemed to be honorary plants! If you want your handle to appear as a credit, please place it at the start of your mail in parentheses: (thus). Otherwise, I will anonymize by using your initials. See the previous Water Cooler (with plant) here. Today's plant (Grantham Ecologist):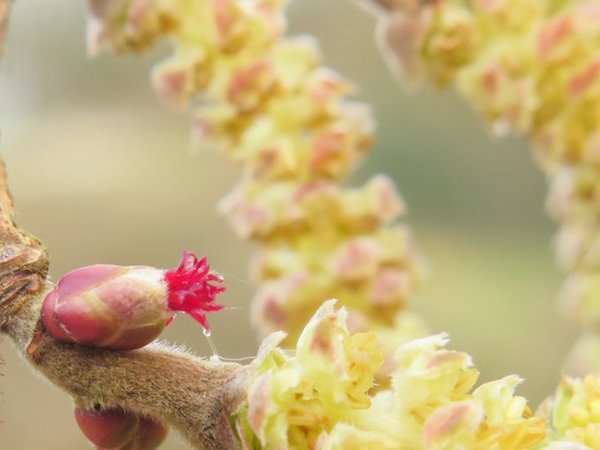 Grantham Ecologist: "[T]he tiny red female flowers of hazel with the much larger, more prominent male catkins visible in the background."
Bonus project trial balloon. Two readers mentioned that one thing they would be doing during their coming period of self-isolation would be working on their models trains. (I had model trains when I was young; see NC in 2013 and 2015.) So, in solidarity:
However, if you have projects you are undertaking during your period (if any) of self-isolation, do feel free to send in pictures, whether your project be painting, or knitting, or contruction outdoors, the Great American novel, learning to play the bongos, or whatever. You can use the same email address as for sending in plants, above.
* * *
Readers: Water Cooler is a standalone entity not covered by the annual NC fundraiser. So if you see a link you especially like, or an item you wouldn't see anywhere else, please do not hesitate to express your appreciation in tangible form. Remember, a tip jar is for tipping! Regular positive feedback both makes me feel good and lets me know I'm on the right track with coverage. When I get no donations for five or ten days I get worried. More tangibly, a constant trickle of donations helps me with expenses, and I factor in that trickle when setting fundraising goals:
Here is the screen that will appear, which I have helpfully annotated.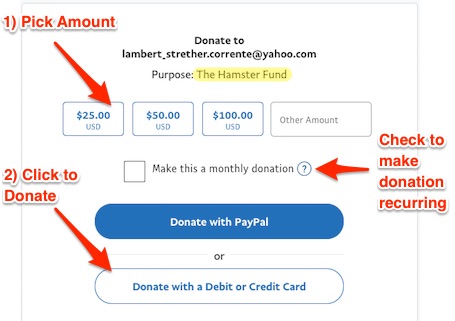 If you hate PayPal, you can email me at lambert [UNDERSCORE] strether [DOT] corrente [AT] yahoo [DOT] com, and I will give you directions on how to send a check. Thank you!