By Lambert Strether of Corrente.
Patient readers, f u cn rd ths, I have had either a power failure or a WiFi failure in a heavy downpour. Stop flickering, lights! UPDATE This Water Cooler is a bit sketchy, because I lost an hour fighting through this. I'm sure there will be plenty to talk about tomorrow! UPDATE Uh oh, more flickering! –lambert
Politics
"But what is government itself, but the greatest of all reflections on human nature?" –James Madison, Federalist 51
"They had one weapon left and both knew it: treachery." –Frank Herbert, Dune
Key dates coming fast now, so I added some counters:
Some of the next primaries. (I picked the major dates; here is a complete calendar.)
* * *
2020
I'm not doing any polls today, because everything is going to go pear-shaped, one way or another, after Super Tuesday anyhow.

* * *

Biden (D)(1): An assault on the Establishment's endorsement kayfabe. Thread:

It may seem like Joe Biden is set to have surprisingly strong showing on #supertuesday2020, what with these endorsements from Amy Klobuchar, Pete Buttigieg, & Beto O'Rourke. But this is charade to project strength before media establishment that wants Biden to save them.

Thread.

— Kevin Gosztola (@kgosztola) March 3, 2020

Biden (D)(2): "Wasserman Schultz endorses Joe Biden for president" [Sun Sentinel]. Wasserman Schultz: "It was a very easy decision. We need to make sure that we put the best candidate forward who can not only bring the nightmare of the last four years and the Trump presidency to an end, but make sure we elect a president who has a real track record of fighting for the values and the priorities of folks in Florida." • Wasserman Schultz actually had to resign as DNC after rigging 2016 for Sanders, as proved by her email correspondence. That this story is treated as an endorsement, as opposed to a hilarious millstone of a non-endorsement, tells you all you need to know about the Democrat Establishment.

Lambert here: Readers will know that, as a devotee of Occam's Razor, I am wary of theories of elite action that involve "picking up the phone." As with price-fixing, it's possible to send far more subtle, and plausibly deniable, methods. Old pros who've been in the game for a long time know each other's moves, so sometimes it's not even necessary to signal. However, the Democrat Establishment's manufactured bandwagon of Biden endorsements — after his staffers pumped enough blood into him so that he could stand upright and emit complete sentences in debate, and won a state he was expected to win — is so tightly timed that it's impossible for me to believe it wasn't a co-ordinated effort by a cabal. The phone was most definitely picked up. (It's also evident that Warren will continue in her spoiler role — every so often I toy with the idea that her dark money comes from Bloomberg, even if she doesn't know it — whether she was on the call or not. My guess is she was not, since nobody knows what she'll say about the call a year later.)

Biden (D)(3): A Hero Of The Resistance™

Joe Biden is one of the most honest, decent, practical, & experienced individuals with whom I have ever worked. If nominated & elected, he is capable of unifying our country & restoring America's standing around the world. https://t.co/JUtvAfPSLy

— John O. Brennan (@JohnBrennan) March 2, 2020

Brennan is the torturer. Clapper is the perjurer. And Brennan's just trolling us: "Raymond Shaw Joe Biden is the kindest, warmest, bravest, most wonderful human being I've ever known in my life." Come on, man.

Biden (D)(4): Not all Biden endorsements translate automatically into votes:

I'm also former Beto for Texas staff. Terrible endorsement, lacking in courage and imagination at a time when we desperately need both. Vote for Bernie https://t.co/YnnmCFkcVv

— Julie Doubleday (@juliedoubleday) March 3, 2020

Bloomberg (D)(1):

"Well I don't think I can win any other way," Bloomberg says when asked if he wants a contested convention. Wow.

— Brittany L. Shepherd (@blrshepherd) March 3, 2020

Listen to your staff, Mike. It's what you're paying them for.

Bloomberg (D)(2): "Super Tuesday: Michael Bloomberg says he will eat at Chinese restaurant to show solidarity over coronavirus" [Independent]. "Mr Bloomberg added: 'I thought to myself tonight, 'I'm going to go to a Chinese restaurant' — it actually turns out I can't — but I will do it tomorrow night just to show the flag and help them.'" • I guess we'll see?

Sanders (D)(1): Not taken by surprise by the welcome clarification of the forces at play:

The moderate wing of the Democratic Party is consolidating- but make no mistake the @BernieSanders campaign knew it was coming. This is how Sanders responsed to @elizacollins1 question on the topic:
"Why should I be surprised that establishment politicians are coming together?" pic.twitter.com/W0NbF03Mwn

— Ryan Nobles (@ryanobles) March 2, 2020

Presumably, therefore, the campaign has gamed this out.

Sanders (D)(2): "Bernie Sanders and Super Tuesday: American political history at a pivot point" [Salon]. "[T]he Sanders campaign of 2020 is an extraordinary thing — a predominantly young, predominantly working-class leftist coalition of people of many races, backgrounds and faith traditions. No matter what you may have been conditioned to believe, it is not a predominantly white campaign or a predominantly male campaign, and it is absolutely not a predominantly middle-class campaign. Many observers have struggled to articulate how and why Sanders' campaign — which was written off so early by so many people — has survived and prospered, while Elizabeth Warren's superficially similar campaign has fizzled. I do not dispute that sexism in the media and the voting public has played a role in the peculiar tale of Warren's rise and fall, but there is a simpler and more powerful explanation. Warren surrounded herself with "movement" progressives, and has learned to talk the talk convincingly. But she is not a movement person. She is a lawyer, an administrator and a policy wonk. Her tactics and goals are reformist and managerial, not transformational or revolutionary. Her fans will tell you that would make her a better president than Bernie Sanders, and they may be right. We are not likely to find out."

Warren (D)(1): "It's Time for Elizabeth Warren to Drop Out" [New York Magazine]. "Warren, whose very brand is earnestness, never fully recovered from the revelation that she had falsely claimed Native American heritage for years. The fault for this lies with Warren herself, not just for making the claim in the first place, but for how she responded to criticism. Her decision to undergo a DNA test further angered indigenous writers and activists, for whom the act was an insult to tribal sovereignty. Last week, 200 tribal citizens signed a letter to the Warren campaign outlining inadequacies in the candidate's previous apologies; the campaign responded with a 12-page footnoted letter, which invoked the most cartoonish stereotypes of Warren as the candidate of liberal wonks. Warren's decision to reverse herself, and accept super PAC funding after previously rejecting it, muddled her image further, as did recent criticisms of Sanders. The senator is — rightly — known as a brawler, someone who took on the Obama administration and other members of her own party on behalf of American consumers. That's Warren at her best, and it's the Warren that drew the support of organizations like the Working Families Party. But Warren undermined herself by fashioning herself into a unity candidate, someone who could unite her party's left-wing with its center. Warren had burned too many bridges with the establishment herself in order for the unity tactic to work; by feeding stereotypes about the viciousness of Sanders's supporters, she may have only succeeded in alienating herself from her natural allies. Warren has isolated herself. It's a dangerous position to be in." • Note that all these poor political judgements could have been made by a man, even if they were made by a woman.

* * *

CA: "Inside Bernie's 'secret strategy' to win huge in California" [Politico]. Good detail: "Chuck Rocha, a senior Sanders adviser and architect of his Latino outreach effort, refers to the play as his 'secret strategy to win California by a big number.' 'There are 6 million [no-party preference] voters. Three million are going to get a ballot in the mail that does not include the presidential ballot,' Rocha explained in an interview. 'And these people are overwhelmingly Latino and young. Guess who young Latinos love?' Rocha said he targeted so-called NPP voters by calling them and literally patching them though to their county election officials to request a ballot in real time. It's a process Rocha has used before to help put constituent pressure on members of Congress on policy issues — but never on the Sanders campaign. 'We used that technology, which is something nobody has done before.'" • Worried Rocha's getting quoted too often. We don't need a Sanders version of Carville. Good planning, though! We'll see if this works….

CA: The Los Angeles VSAP system (1) (see NC here):

I'm losing track of the various posts about problems with Los Angeles county's controversial new electronic voting system and thus am going to try to compile them in this thread. If u know of more, pls feel free to reply with them. Thanks #VSAP. 1/

— Jennifer Cohn ✍? (@jennycohn1) March 3, 2020

Remember: The VSAP system is not auditable.

CA: The Los Angeles VSAP system (2):

Apparently all over the country, Bernie is being listed on a second page of the ballot. Looks like you have to scroll past Roque "Rocky" De La Fuente III, Mark Stewart Greenstein, and Andrew Yang to find him https://t.co/MaFnu4I0Ji

— Shuja Haider (@shujaxhaider) March 3, 2020

This is horrid user interface design. The candidate ballot lines are said to be randomly distributed across the several online "pages" of the ballot. Which is fine if you trust the California Democrats to distribute anything randomly.

TX: Typical shenanigains:

Apparently all over the country, Bernie is being listed on a second page of the ballot. Looks like you have to scroll past Roque "Rocky" De La Fuente III, Mark Stewart Greenstein, and Andrew Yang to find him https://t.co/MaFnu4I0Ji

— Shuja Haider (@shujaxhaider) March 3, 2020

This is a single anecdote, so I don't know how widespread it is (although the same took place in SC; I don't recall anything similar in IA and NH).
2016 Post Mortem
"Court: Clinton Must Testify On Email Scandal" [Jonathan Turley]. D.C. District Court Judge Royce C. Lamberth: "'As extensive as the existing record is, it does not sufficiently explain Secretary Clinton's state of mind when she decided it would be an acceptable practice to set up and use a private server to conduct State Department business." • It has always been not "but her emails!" but "her email server" (since owning the server gave Clinton to technical ability to erase half her emails — the ones about Chelsea's wedding and yoga lessons, IIRC — before turning the server over to the FBI.
Realignment and Legitimacy
"So a Candidate Has Dropped Out. What Happens to Their Delegates?" [FrontLoading HQ (UserFriendly)]. "Both Buttigieg and Klobuchar have suspended their campaigns. That is a meaningful distinction. Their campaigns have been suspended but they are still technically candidates in the race. Even without any involvement from those two campaigns, delegate candidates of those two candidates in Iowa, New Hampshire and Nevada will continue in the delegate selection process…. Yes, the delegate slots would be proportionally reallocated to the candidates who 1) got over 15 percent statewide in the primary or caucus originally and 2) are still active in the race for the nomination. But this only applies in the case that a candidate is no longer a candidate. A suspended campaign is still a campaign and the candidate it backs is still a candidate." • This a very lucid explanation of an insanely complex process. And complexity is the enemy of quality.

"Herstam: The end of lengthy vote-counting in Arizona?" [Tuscon Sentinel]. • And why? Get this. More staff1 (And not some complicated piece-of-crap software system. Just when I give up all hope for humanity….)

Block that metaphor:

Licking the shrine… Gonna start using that one to describe people who puff up their chest and do something intentionally dangerous on #coronavirus https://t.co/oTgqWdvOmz

— Matt Stoller (@matthewstoller) March 3, 2020

I think "Licking the shrine" can be applied to other contemporary events… .

Elections were not meant to be Keynesian beauty contests:

Just talked to a woman who's undecided and started crying on the phone. She likes Bernie but Beto's endorsement is making her second guess it. She's terrified of nominating someone who can't win but she just had a family member pass away from the flu because he was uninsured.

— bernard sister (@no_talent_shan) March 3, 2020
Stats Watch
At reader request, I added some business stats back in. Please give Econintersect click-throughs; they're a good, old-school blog that covers more than stats. If anybody knows of other aggregators, please leave links in comments.
"January 2020 CoreLogic Home Price Growth Remains At 4.0% Year Over Year" [Econintersect]. "CoreLogic's Home Price Index (HPI) shows home prices improved by 4% year-over-year. As the year-over-year growth did not change, our view is that there is no change in the rate of growth month-over-month."
* * *
Commodities: "Commodity prices are plunging as the coronavirus epidemic throttles demand for everything from oil to cotton and poultry. Meat intended for export to China is stacking up at U.S. cold-storage warehouses…. as quarantines slow Chinese meat consumption and create logistical bottlenecks at Chinese ports. U.S. meatpackers have been ramping up production as trade tensions ease and China struggles to fill a pork shortfall. The spread of the novel coronavirus undercut those plans, and operators of temperature-controlled warehouses report facilities near West Coast shipping hubs are filled to the rafters with excess inventory" [Wall Street Journal]. "The global commodities selloff is also delivering a blow to U.S. natural gas producers already contending with a domestic supply glut, and prices for metals are taking a beating as China's manufacturing sector struggles to get back on track. Analysts warn slumping demand and bloated inventories suggest more volatility ahead for the world economy."
Shipping: "Coronavirus slashing US port volumes" [FreightWaves]. "The American Association of Port Authorities (AAPA) said cargo volumes at U.S. ports in the first quarter could be down by 20% or more from 2019 levels because of the supply chain disruption caused by the coronavirus. AAPA said U.S. ports 'are closely following instructions and protocols from appropriate federal agencies to quickly respond to the coronavirus threat.' 'For seaborne trade and travel, it's both a blessing and a curse that there's a two-week latency period for coronavirus symptoms. The lag time gives our ports, Coast Guard, Customs agents and health officials time to prepare for screening and, if needed, quarantine or rerouting of crew members or travelers thought to be infected,' AAPA said. Chris Connor, AAPA president and CEO, added, 'Things will rebound eventually and indeed we're hearing news about factories that are coming back online in China and ports there ramping back up to move the cargo. At the same time, supply chain managers around the world are working tirelessly to keep cargo moving to ensure that the goods we need are available when and where we need them.'"
* * *
Today's Fear & Greed Index: 11 Extreme Fear (previous close: 12 Extreme Fear) [CNN]. One week ago: 22 (Extreme Fear). (0 is Extreme Fear; 100 is Extreme Greed). Last updated Mar 3 at 1:06pm
Health Care
"How to make your own hand sanitizer" [The Verge]. "If you're traveling, or otherwise don't have access to soap and water, the next best thing is a hand sanitizer. Can't find one? You're not alone." Includes this tweet:
"Stop touching my face? Why the easiest way to prevent coronavirus is so hard" [WaPo]. "If you have covid-19, the disease caused by the novel coronavirus, it began in your eyes, nose or mouth — your facial mucous membranes…. A 2015 study found that we touch our face an average of two dozen times an hour, and 44 percent of that touching involves contact with eyes, nose or mouth… People are more likely to get the virus by picking it up from a surface and touching their face, than they are to breathe in droplets directly from someone who is infected, [said William Sawyer, a family doctor in Sharonville, Ohio, and founder of Henry the Hand, a nonprofit organization that promotes hand hygiene]…. It's not enough to simply instruct people to stop, [Elliot Berkman, a psychology professor at the University of Oregon who studies habits and behavior] said; people must be able to 'outsmart their habit' or form a different one. One way to do that quickly is to change something in your environment, he said. Wear something on your hands or face (just not a mask if you're not sick) that can serve as a cue, an interruption to an automatic action."
Combine in a bowl:
⅔-cup rubbing alcohol (99% isopropyl alcohol)
⅓-cup aloe vera gel.
Stir. Decant into a clean soap or pump bottle.

That's it, that's the recipe. Originates with a 2019 post by biomedical PhD @azareal: https://t.co/nmxCOfqojL

— Maryn McKenna (@marynmck) March 2, 2020
Read in full if you plan to try this! And this caveat: "The sanitizer is only effective if you cover your hands thoroughly and then let it dry. Squirting a few drops into your palms and then wiping your hands isn't going to help at all."
* * *
* * *
Readers, feel free to contact me at lambert [UNDERSCORE] strether [DOT] corrente [AT] yahoo [DOT] com, with (a) links, and even better (b) sources I should curate regularly, (c) how to send me a check if you are allergic to PayPal, and (d) to find out how to send me images of plants. Vegetables are fine! Fungi and coral are deemed to be honorary plants! If you want your handle to appear as a credit, please place it at the start of your mail in parentheses: (thus). Otherwise, I will anonymize by using your initials. See the previous Water Cooler (with plant) here. Today's plant (AA):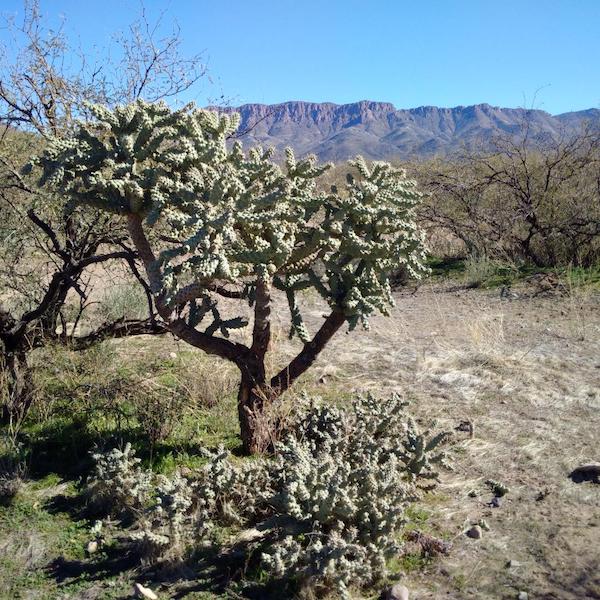 AA writes: "Cholla cactus and mesquite, Tonto National Forest near Superior, AZ."
* * *
Readers: Water Cooler is a standalone entity not covered by the annual NC fundraiser. So if you see a link you especially like, or an item you wouldn't see anywhere else, please do not hesitate to express your appreciation in tangible form. Remember, a tip jar is for tipping! Regular positive feedback both makes me feel good and lets me know I'm on the right track with coverage. When I get no donations for five or ten days I get worried. More tangibly, a constant trickle of donations helps me with expenses, and I factor in that trickle when setting fundraising goals:
Here is the screen that will appear, which I have helpfully annotated.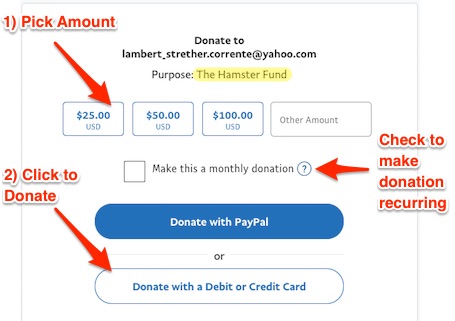 If you hate PayPal, you can email me at lambert [UNDERSCORE] strether [DOT] corrente [AT] yahoo [DOT] com, and I will give you directions on how to send a check. Thank you!