By Lambert Strether of Corrente.
Politics
"But what is government itself, but the greatest of all reflections on human nature?" –James Madison, Federalist 51
"They had one weapon left and both knew it: treachery." –Frank Herbert, Dune
"They had learned nothing, and forgotten nothing." –Charles Maurice de Talleyrand-Périgord
Key dates coming fast now, so I added some counters:
Some of the next primaries. (I picked the major dates; here is a complete calendar.)
* * *
2020
We encourage readers to play around with the polling charts; they are dynamic, and there are a lot of settings, more than I can usefully show here. Here is a link to alert reader dk's project. You can also file bug reports or feature requests using the same contact process as for Plants, below. Thanks — but no promises!

Today we have one national poll from CNN, and polls from Michigan, as of 3/9/2020, 11:00 AM EDT. The empire strikes back:

(Note the miserably small sample size.) And the numbers:

From Michigan, with the usual caveat that state polls are irregular, bad, and have small sample sizes:

MI numbers:

Sanders badly needs these polls to be wrong (as they were in 2016).

* * *

Biden (D)(1): "DNC changes debate rules to allow surrogates to stand in for Joe Biden" [Beet Press (RH)]. "'We understand that the rigors of the campaign trail and busy travel schedules of each candidate might preclude one or more of them from attending the debate,' explained DNC chairman Tom Perez, adding 'that's why we're now going to allow up to three surrogates to attend the debate on the candidate's behalf.'"

Biden (D)(2): "What the media missed about Joe Biden's electability" [Ezra Klein, Vox]. "Before Super Tuesday, the conventional wisdom was simple. Bernie Sanders was the turnout candidate, and Biden the uninspiring generic Democrat. You could see this in Sanders's packed rallies, his die-hard social media brigades, his army of individual donors — and in Biden's inability to match those markers of enthusiasm. If new voters flooded the primary, it would be proof that Sanders's political revolution was brewing. But if the political revolution failed and turnout stagnated, Biden might slip through. What virtually no one predicted was Biden winning a high-turnout contest. But he did…. So what did the narrative get wrong? As someone who believed that narrative, what did I get wrong? … A 2018 paper by Andrew Hall and Daniel Thompson looked at US House elections between 2006 and 2014 and concluded that moderates performed better. The mechanism here is interesting: The study finds that more extreme candidates do drive turnout, but 'extremists appear to activate the opposing party's base more than their own.' In other words, they drive more countermobilization than mobilization." •

Biden (D)(3): "Biden's New Status Doesn't Come With A New Biden" [Patrick Buchanan, The American Conservative]. ""The World Turned Upside Down" was a song the British army band is said to have played at the surrender of Lord Cornwallis at Yorktown. That title applies to what happened in the U.S. political world in the five days from Feb. 29 to March 4…. Then came South Carolina Rep. Jim Clyburn's endorsement of Biden, which solidified and energized the African American vote in the Palmetto State and led to a Biden blowout in Saturday's primary. The nonstop free and favorable publicity Biden gained from the victory that Mike Bloomberg's billions could not buy. Over that weekend came the withdrawal of Mayor Pete Buttigieg and Amy Klobuchar and endorsements by both of Biden as the party's best hope against Donald Trump." • "Created a momentum" lacks agency. In fact, the Establishment circled the wagons round Biden once South Carolina — and Sanders' impending victory in CA and threatening in TX — gave the excuse. This really isn't hard.

Biden (D)(4): The issue of Biden's cognitive decline is not going to go away:

NEW: Biden Super PAC acknowledged Joe's cognitive decline ahead of 2/25 SC debate, internal email shows.

The email—sent to Biden's high profile social media boosters and top fundraisers—states "Joe seems tired."

"We just need JOE not to shoot himself in the foot tonight." pic.twitter.com/mkaQeELTVe

— Samuel D. Finkelstein II (@CANCEL_SAM) March 9, 2020

Biden (D)(5): "Joe Biden's secret governing plan" [Axios]. "Biden advisers describe a Return to Normal plan — a reversal of President Trump's unorthodox, improvisational style. Biden wants known, trusted people around him — many from the Obama years."

Sen. Elizabeth Warren as Treasury secretary could help unite the party.
Jamie Dimon — chairman and CEO of JPMorgan Chase, and mentioned over the years as a potential presidential candidate — would also be considered for Treasury.
Anne Finucane, vice chairman of Bank of America, is another possibility for Treasury.

Jamie Dimon just had a heart attack, so apparently that's no barrier to high office.

Sanders (D)(1): "Jesse Jackson backing Sanders" [Politico]. "Jackson got Sanders' support in his 1988 bid, when he faced off against Biden, among others. (Gov. Michael Dukakis of Massachusetts was the eventual nominee.) At the time, Biden told a mostly black audience to reject Jackson's candidacy. Jackson has said that the former vice president has grown in his positions, but the primary competition would force Biden to deal with the past." • Here is a video of what is for me the highlight of Jackson's 1988 Speech to the Democrat National Convnention in 1988. It brought tears to me eyes then, and does now:

And a transcript:

Leadership must meet the moral challenge of its day. What's the moral challenge of our day? We have public accommodations. We have the right to vote. We have open housing. What's the fundamental challenge of our day? It is to end economic violence. Plant closings without notice — economic violence. Even the greedy do not profit long from greed — economic violence.

Most poor people are not lazy. They are not black. They are not brown. They are mostly White and female and young. But whether White, Black or Brown, a hungry baby's belly turned inside out is the same color — color it pain; color it hurt; color it agony.

Most poor people are not on welfare. Some of them are illiterate and can't read the want-ad sections. And when they can, they can't find a job that matches the address. They work hard everyday.

I know. I live amongst them. I'm one of them. I know they work. I'm a witness. They catch the early bus. They work every day.

They raise other people's children. They work everyday.

They clean the streets. They work everyday. They drive dangerous cabs. They work everyday. They change the beds you slept in in these hotels last night and can't get a union contract. They work everyday.

No, no, they are not lazy! Someone must defend them because it's right, and they cannot speak for themselves. They work in hospitals. I know they do. They wipe the bodies of those who are sick with fever and pain. They empty their bedpans. They clean out their commodes. No job is beneath them, and yet when they get sick they cannot lie in the bed they made up every day. America, that is not right. We are a better Nation than that. We are a better Nation than that.

Of course, the Democrat Establishment hates the working class. They did then, they do now.

Sanders (D)(2): Better never than late?

BREAKING: We're endorsing @BernieSanders for president!

WFP supporters nationwide are mobilizing to help Bernie win so we can defeat Trump and build an America that works for the many, not the few. Sign up and let us know you're in: https://t.co/MLDRrhIW7m 1/ pic.twitter.com/tqu3CBmfeG

— Working Families Party ? (@WorkingFamilies) March 9, 2020

Sanders (D)(3): "The Wolverines Gather For Bernie: How Sanders Has Energized A Movement" [Jonathan Turley]. "I left the rally with great affection for these Sanders supporters. We often talk about the need to get students involved. While I disagree with many of Sanders' proposals, I have always respected him as an individual and agree with him that the establishment has proven either unwilling or incapable of addressing serious problems in our society. Watching this highly diverse crowd join together at this rally was a powerful experience to witness. You do not have to agree with Sanders to find these supporters rejuvenating and inspiring. They are exactly what the Democrats need but exactly what the party is alienating by this unified front against Sanders. As I recently wrote, the Sanders supporters are being treated like barbarians at the gate for the Democratic party. The problem is that they are increasing adopting the same view in their relation to the party."

Trump (R)(1): "White House advisers to give President Trump policy options for coronavirus response, including paid sick leave" [WaPo]. "White House advisers on Monday plan to present President Trump with a list of policy changes they hope could stem the economic fallout of the coronavirus, including paid sick leave and emergency help for small businesses, according to a senior administration official. The talks have accelerated as congressional Democrats begin a new legislative response of their own, which also is expected to focus on expanded paid sick leave benefits." • (Free testing? Lol.) Filing this under Trump, as opposed to health care, since it seems that Trump's claim that "'I could shoot somebody and I wouldn't lose any voters" is about to be tested. Then again, Obama shot plenty of people, albeit at one remove and articulately, and paid no price at the polls. So here we are.

Warren (D)(1): "Why Should We Want a Woman President?" [Sarah Jones, New York Magazine]. "What does it mean, after all, to want a woman president? Do we want her because she'd make history? Or do we want something weightier than representation? We can't assume that a woman is more likely to bring the rest of us with her, that the fact of her gender will lift other boats. In the U.S. and outside it, in nations with longer records of putting women in power, history argues against such optimism. Margaret Thatcher made history. So did Sarah Palin, and not that long ago. A feminist politician is not necessarily a woman politician. To assume otherwise is to suggest that putting a woman in the White House is the summit of our ambition, and not merely a means to an end. Ideology matters. It makes the choices ahead of us clear."

* * *
2016 Post Mortem
"Hillary Clinton says Sanders would not be 'strongest nominee against Trump'" [Guardian]. "Clinton told CNN on Sunday she was not endorsing anyone yet – given her harsh comments about Sanders in the recent past, the point was almost moot – but added: '. It's a broad-based coalition. [In 2016] I finished, you know, most of the work I needed to do for the nomination on Super Tuesday, and then it kind of lingered on. And I think Joe is on track to doing exactly the same thing: putting together a coalition of voters who are energised.'" • Note the new quote I've added up top.
Realignment and Legitimacy
"Palliative Liberalism Can't Cure Our Ailing Working Class" [Michel Lind, The American Conservative]. "Worst of all, three of these schools of thought seek to respond to working-class populist rebellions by offering workers the chance to become something other than workers, as though there were something shameful and retrograde about being an ordinary wage earner. Many champions of education as a panacea want to turn wage earners into professionals. Advocates of universal capitalism want to turn wage earners into investors. Antimonopolists want to turn wage earners into small business owners." • Given the source, I don't I'll like the outcome much, but at least some conservative factions are thinking. Never thought I'd say such a thing.
Stats Watch
At reader request, I added some business stats back in. Please give Econintersect click-throughs; they're a good, old-school blog that covers more than stats. If anybody knows of other aggregators, please contact me at the email address below.
Housing: "After Loosening A Bit In 2018, US Home Supply Tightened Again In 2019" [Econintersect]. "With home prices reaching new highs in the longest economic expansion in U.S. history [ 1], affordability has become a concern and is pushing potential homebuyers away. Adding to the affordability challenge is the fact that housing supply keeps hitting historical lows. Nationally, the number of homes for sale equated to a 3-month supply [ 2] in December 2019, falling from a supply of 3.7 months in December 2018."
* * *
Shipping: "A sharp pullback in hiring at U.S. parcel carriers could add to e-commerce challenges as the coronavirus spreads. Messenger and courier companies that deliver packages to homes and business slashed 12,200 jobs in February" [Wall Street Journal]. "But warehousing and storage operators added 5,300 jobs in February as digital ordering of virus-related supplies like hand sanitizer exploded. Pressure on last-mile delivery could rise as nervous consumers opt to buy online instead of hitting the store." • Go long social distancing.
Manufacturing: "Global factories are feeling the pinch as the novel coronavirus exposes deep dependence on China's supply networks" [Wall Street Journal]. "Some production of clothing, vehicles and electronics outside of China is slowing… as plants from South Asia to Serbia report shortages of Chinese-made goods such as zippers or electrical wiring. Apparel makers have been shifting production from China as labor costs there rise, but many still source textiles from Chinese mills. Now factories in Bangladesh are in talks with buyers about who will pay to airfreight delayed raw material shipments. In Brazil, South Korea's LG Electronics Inc. halted work at a mobile-phone and electronics plant because it couldn't get parts. Shifts to just-in-time manufacturing mean many plants keep less inventory on hand, increasing vulnerability. Virus-related disruptions could accelerate as the epidemic spreads in South Korea and Japan, affecting the flow of textiles and other supplies from those countries.
* * *
Today's Fear & Greed Index: 4 Extreme Fear (previous close: 7 Extreme Fear) [CNN]. One week ago: 13 (Extreme Fear). (0 is Extreme Fear; 100 is Extreme Greed). Last updated Mar 9 at 12:37pm.
Rapture Index: Closes unchanged. "Slowing global growth has put downward pressure on oil prices" [Rapture Ready]. Record High, October 10, 2016: 189. Current: 181. Remember that bringing on the rapture is a good thing. It certainly is odd to see the Fear and Greed index in Freefall, and an index that measures the likelihood of the Apocalypse is stable.
The Biosphere
"Why does the weather stall? New theories explain enigmatic 'blocks' in the jet stream" [Science]. "Few weather phenomena are as widely experienced—but poorly understood—as an atmospheric block. When a block arises, typically at the western edge of a continent, the jet stream splits, trapping a blob of seemingly static air thousands of kilometers across. Such blocks can last for weeks, and drive heat waves, drought, and winter cold snaps. At the same time, the persistent flows around the edges of a block can route storm after storm to the same spot. A block "has very different impacts in different seasons," says Tim Woollings, an atmospheric dynamicist at the University of Oxford. "But it's always quite extreme." Yet atmospheric scientists have long struggled to understand why blocks occur and last so long, and how they might change in a warming world. Several new theories are offering answers. A leading idea links blocking to the behavior at high latitudes of the Coriolis force, an effect of Earth's rotation that can cause the jet stream to meander and contort. The theory, developed by Harvard University atmospheric scientist Lei Wang, is unlikely to be the full picture, but it has a sobering implication. As the world warms, the jet stream is likely to move to higher latitudes, which could lead to even more blocking events."
"Bushfires force Australian winemakers to leave grapes on the vine" [Financial Times]. "'The taste is so bad it is like licking an ashtray,' said Mr Shaw, offering grapes from his 85-acre vineyard about 40km from the capital, Canberra. 'They've been tainted by smoke, which blew in from fires more than 80km away. We just can't risk our brand by making wine or selling fruit this year.'" • Maybe a wine industry on the Australian continent wasn't the best idea?
"Economic Diversification Supported the Growth of Mongolia's Nomadic Empires" [Scientific Reports]. "The escalating scale of millet consumption on the eastern Eurasian steppe over time, and an expansion of isotopic niche widths, indicate that historic Mongolian empires were supported by a diversification of economic strategies rather than uniform, specialized pastoralism." • Thinking Like a State…
Health Care
A very important chart. Thread:
1. A very short thread on the power of data graphics and scientific communication.

Roughly a week ago, some very smart person* sat down, drew this graph, and saved lives.

(*It's 2 AM. Without an economist subscription, I can't quickly discover whom. Maybe someone can help.) pic.twitter.com/eU71Eu60eS

— Carl T. Bergstrom (@CT_Bergstrom) March 6, 2020
The outbreak in Bergamo (featured in this morning's Links) is clearly above the "Healthcare system capacity" dotted line.
A more elaborate version, as a chart turns into a meme:
If you only learn one thing about #COVID19 today make it this: everyone's job is to help FLATTEN THE CURVE. With thanks to @XTOTL & @TheSpinoffTV for the awesome GIF. Please share far & wide. pic.twitter.com/O7xlBGAiZY

— Dr Siouxsie Wiles (@SiouxsieW) March 8, 2020
"Flatten the curve!"
* * *
The Democrat plan:
.@SenSchumer & I are demanding that the Trump Administration prioritize the health and safety of American workers and their families over corporate interests. #coronavirus https://t.co/S8TuwaHQeM

— Nancy Pelosi (@SpeakerPelosi) March 8, 2020
From the full version:
Widespread and free coronavirus testing — to control the spread of coronavirus, the administration must ensure that all Americans who need an evaluation are able to access locations for cost-free testing and rapidly increase the unacceptably low daily test processing capacity inside the U.S.;
Affordable treatment for all — patients must be reimbursed for any non-covered coronavirus-related costs, or else the epidemic will be worsened because Americans will fear they cannot afford the costs associated with treatment;
Anti-price gouging protections — we must ensure that Americans are protected from price gouging of medical and non-medical essentials during this emergency;
Increase capacity of medical system — we must use our emergency response mechanisms to mobilize resources and facilities in order to respond to surges in demand.
Amusingly, if Pelosi and the Democrat Establishment had passed #MedicareForAll when they had the chance, all these measures would already be in place. A pandemic is best fought with a universal system that's free at the point of care. Who knew?
From Cuomo's presser on #COVID-19:
New York State is making it's own hand sanitizer now. Here's some visuals. pic.twitter.com/SmfdDDNfi6

— Dan Clark (@DanClarkReports) March 9, 2020
Yes, we're using prison labor to compensate from market failure. (Also, soap and water, and vigorously scrubbing your hands for at least twenty seconds, is far more effective than hand sanitizer. So this is really disinfectant theatre.)
Breaking habits is hard:
Coronavirus instructions.
Wait for it…pic.twitter.com/WvnKBwKUtb

— Rex Chapman?? (@RexChapman) March 4, 2020
"A coronavirus vaccine should be for everyone, not just those who can afford it" [STAT]. "We can curtail pandemics if we quickly develop vaccines and make them widely accessible. But without vigorous efforts to secure equitable access, vaccine distribution will follow the logic of the market. To let a coronavirus vaccine be monopolized by the rich will perpetuate the unjust economics of outbreaks, where the poor always pay the heaviest price. Allowing this to happen would be a moral disgrace."
"Why the US is so vulnerable to coronavirus outbreak" [Financial Times]. "Public health officials and academics are concerned that a mix of high numbers of uninsured people, a lack of paid sick leave and a political class that has downplayed the threat could mean it spreads more quickly than in other countries…. Even those patients with insurance might struggle to pay their contributions to their care — so-called deductibles or co-pays — as almost 29 per cent were classified as "underinsured" in 2018, according to a Commonwealth Fund survey. America's Health Insurance Plans, a trade association of insurers, has said it would remove barriers to virus tests for members, including perhaps waiving a patient's costs or allowing them to seek care anywhere, not just in an assigned network. More than 800 experts also signed a letter calling for US policymakers to help the uninsured, but so far, no federal assistance plans have been announced. Soumi Saha, senior director of advocacy at the Premier alliance of 4,000 hospitals, said doctors would prioritise treatments to billing patients. But she also noted that many hospitals also operated on 'razor thin' margins. 'The truth is no one truly knows how much this will cost,' she added." • To which the answer ought to be "So what?"
"Plagues, Pathogens, and Panic" (podcast) [Christopher Lydon, Open Source]. • Very encouraging podcast that features a little corner of the health care system that actually cares about saving lives.
"Coronavirus: Hong Kong warns people not to kiss their pets after dog tests positive for COVID-19" [ABC]. "Hong Kong authorities have warned residents against kissing their pets after a dog belonging to a coronavirus patient in the city tested 'weak positive' for COVID-19, the official name for novel coronavirus. After conducting multiple tests on the dog over a period of days, Hong Kong's Agriculture Fisheries and Conservation Department said in a statement that the animal was found to have 'a low-level of infection and it is likely to be a case of human-to-animal transmission.' The department said that it has reported the incident to the World Organization for Animal Health, who are now investigating the case. The dog, a 17-year-old Pomeranian, was given to authorities Feb. 26 after its owner tested positive for the virus."
* * *
"Economists conclude that Medicare for All (M4A) could be considerably less expensive than the current healthcare finance system" [James G. Kahn, Jeffrey Sachs, Anders Fremstad, Robert Reich, Robert Pollin, Leonard Rodberg, Emmanuel Saez, Gabriel Zucman, Alison Galvani, Gerald Friedman, Hopbrook Institute]. "We believe the available research supports the conclusion that a program of Medicare for All (M4A) could be considerably less expensive than the current system, reducing waste and profiteering inherent in the current system, and could be financed in a way to ensure significant financial savings for the vast majority of American households…. Compared with the current system, Medicare for All would achieve considerable savings on administration and by reducing payments to monopoly drug companies and hospital networks. Within a few years of operation, M4A could save hundreds of billions of dollars per year from these sources. Additional savings will come when a rational healthcare finance system allows needed investments in coordinated care and preventive care, as well as reductions in fraudulent billing. …. Most important, Medicare for All will reduce morbidity and save tens of thousands of lives each year."
* * *
Our Famously Free Press
UPDATE I'm filing this horrid story here, instead of under health care, because it's full of bad advice that readers should not take. I do not have time to do a post full of linky goodness, but readers will remember information to which we have linked, and which the commentariat has hashed out in comments.
"How to Prepare for the Coronavirus" [Wall Street Journal]. In general, "Contact your doctor" will be greeted with hilarity by millions, but there are issues of detail as well.
1. From the lead: "Stick with the basics: Wash your hands, cover your coughs and sneezes, ." • No. First, not when "you're sick," but when anyone in your social network is sick. Second, . Do it now! The virus can be asymptomatic, so waiting until you're sick can be too late!

2. "Experts say keeping your distance from people who are coughing and sneezing may help" (oddly, this is presented under the heading of public transportion, but it applies everywhere). • "Distance" is so vague as not to be actionable China recommends six feet.

3. "… washing your hands or using hand sanitizer as soon as you're off [public transport]" • This implies that hand sanitizer and soap are equivalent. They are not. Scrubbing one's hands with soap and water (fingers, wrists, under the nails, everything) is far superior to hand sanitizer.

4. "If it's a surface exposed to sunlight outside, [the coronavirus] likely only lives for a few minutes or up to an hour. But if it's indoors and a dry environment, germs can live up to a day or two." • This is flat wrong. Survival varies by the surface. I have seen figures for metal from five days to eight days (except on copper, interestingly, which kills it).

5. "Check your sick leave policy in case you get sick." • BWA-HA-HA-HA-HA-HA!!!!!!!

6. "Regular household disinfectant wipes and cleaners should suffice. Anything with alcohol or bleach works." • No, not all wipes work. Alcohol content should be 60% or higher; and isopropyl alcohol ("rubbing alchohol"). Not methanol. Also, do not bring bleach into contact with alcohol. That creates chloroform!
The general tone of the article seems designed to avoid panic. That's not necessarily a bad thing, but looking at the class privilege that drips from the article, combined with its general imprecision and many outright errors, perhaps panic is the appropriate response. The WSJ is by elites, for elites. These recommendations will not flatten the curve. And these clowns are running the show!
News of the Wired
"Disasters Don't Have to End in Dystopias" [Wired]. "Here's how you can recognize a dystopia: It's a science fiction story in which disaster is followed by brutal, mindless violence. Here's how you make a dystopia: Convince people that when disaster strikes, their neighbors are their enemies, not their mutual saviors and responsibilities. The belief that when the lights go out, your neighbors will come over with a shotgun—rather than the contents of their freezer so you can have a barbecue before it all spoils—isn't just a self-fulfilling prophecy, it's a weaponized narrative. The belief in the barely restrained predatory nature of the people around you is the cause of dystopia, the belief that turns mere crises into catastrophes." • Rebbecca Solinit's A Paradise Built in Hell: The Extraordinary Communities that Arise in Disaster shows that this weaponized narrative isn't necessarily true.
* * *
Readers, feel free to contact me at lambert [UNDERSCORE] strether [DOT] corrente [AT] yahoo [DOT] com, with (a) links, and even better (b) sources I should curate regularly, (c) how to send me a check if you are allergic to PayPal, and (d) to find out how to send me images of plants. Vegetables are fine! Fungi and coral are deemed to be honorary plants! If you want your handle to appear as a credit, please place it at the start of your mail in parentheses: (thus). Otherwise, I will anonymize by using your initials. See the previous Water Cooler (with plant) here. Today's plant (AG):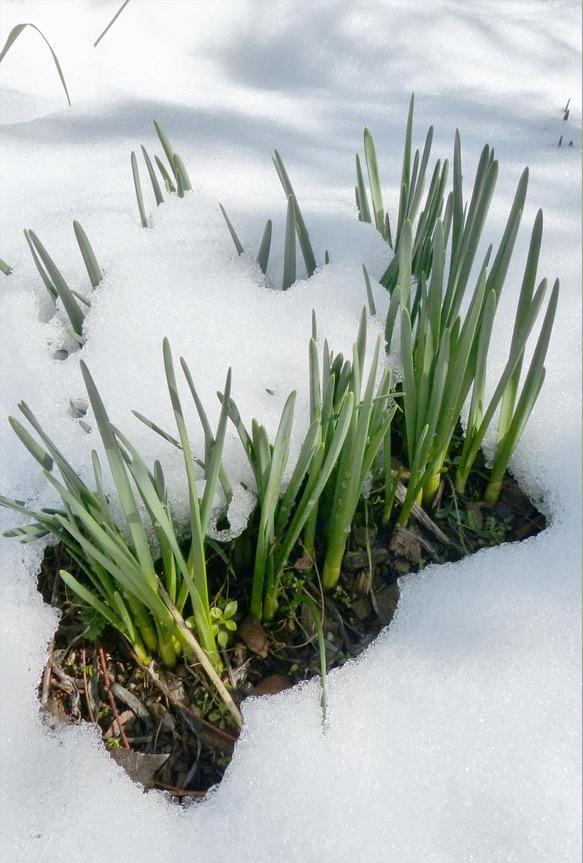 AG writes: "Hi Lambert, from Grass Valley, California, elevation 2700 feet, greetings! The progress of our daffodils at this date." This is always a great moment, when the plants break through the snow.
* * *
Readers: Water Cooler is a standalone entity not covered by the annual NC fundraiser. So if you see a link you especially like, or an item you wouldn't see anywhere else, please do not hesitate to express your appreciation in tangible form. Remember, a tip jar is for tipping! Regular positive feedback both makes me feel good and lets me know I'm on the right track with coverage. When I get no donations for five or ten days I get worried. More tangibly, a constant trickle of donations helps me with expenses, and I factor in that trickle when setting fundraising goals:
Here is the screen that will appear, which I have helpfully annotated.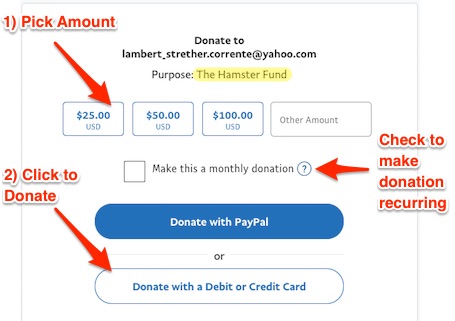 If you hate PayPal, you can email me at lambert [UNDERSCORE] strether [DOT] corrente [AT] yahoo [DOT] com, and I will give you directions on how to send a check. Thank you!