A survey of CalPERS' investment professionals reveals that CalPERS is one big unhappy family. Not only that, it shows that they've become less happy in the last year, since Ben Meng became Chief Investment Officer.
We've embedded the summary page of the survey, but this section shows that less than 1/4 of CalPERS' investment professional would recommend working there to a friend. Bear in mind that 91% of the 329 members of the Investment Office participated, so the results can't be blamed on sample bias.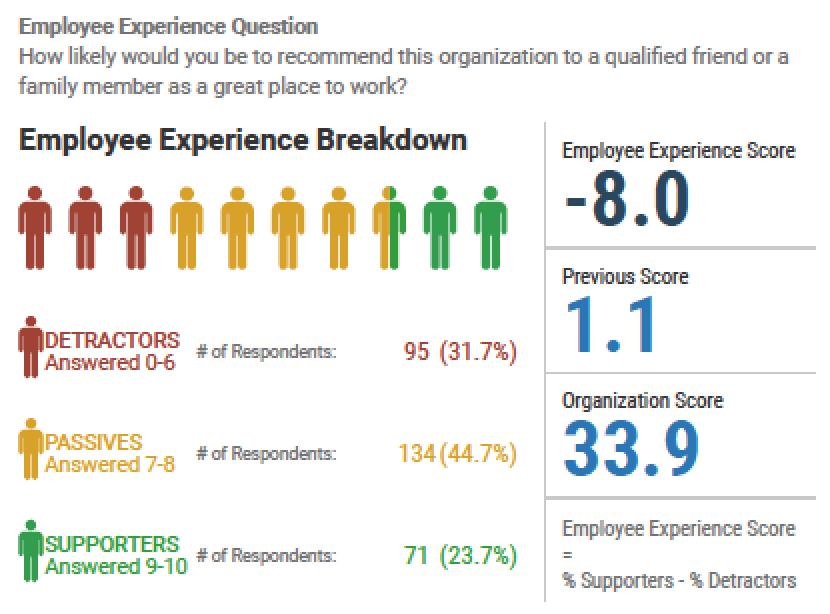 Mind you, this level of disillusionment with CalPERS is despite it being a prestigious, yet not terribly demanding hours-wise employer, offering high pay levels by Sacramento norms, and providing generous benefits, from its pension and health plan to its lovely building and upscale cafeteria.
These falling and poor results are particularly troubling since the fetish of large organizations for decades has been to attract and retain talent. The talent at CalPERS is its investment team. These poor scores are damning. They confirm that the key employees recognize that CalPERS is running on brand fumes.
However, these results reflect far more on CEO Marcie Frost than they do (at this point) on Ben Meng. It is possible that disappointment or dissatisfaction with Meng is part of these results, but Meng has not been there long enough to have much impact on CalPERS' culture.
Recall that one of the justifications for hiring Frost was that she was supposedly a better manager of personnel than her predecessor, Ann Stausboll. That has proven to be as false as Frost's inflated resume claims. We have gotten vastly more complaints and leaks from insiders under Frost's tenure than we did under Stausboll's.
We also received detailed accounts from Frost's former subordinates at the Washington Retirement System of her self-serving, scapegoating behavior, her consistent tendency to take credit for success and blame staffers for failures (note that this is the opposite of the conduct of high performing leaders, as described at length in Jim Collins' classic Good to Great). Former Washington Retirement System employees described how the managers in that small system (roughly 250 employees versus over 2700 for CalPERS) were fearful and demoralized.
CalPERS' investment staff has enough independent expertise and scope for action so as to not be be in Frost's direct firing line, but the spectacle of her misrule has to be weighing on them. Most if not all had to meet specific educational requirements and often professional certifications as well. Falsifying them would be ground for firing. Yet Frost fabricated her educational and career attainments, both before and even after joining CalPERS, and is still in place. Frost's stooges then orchestrated the junior-high-school level stunt of wearing burgundy ribbons and clothing at board meetings to show support. If you look at the list of promoters and enthusiasts in the e-mails we obtained via the Public Records Act, you'll see no one in the Investment Office was a follower. That suggests those employees regarded that exercise with disdain and were secure enough in their positions so as not to feel compelled to kowtow.
Popularity is not the basis for keeping a CEO in place, particularly when weighed against clear evidence of a calculated fabrication that in a well-run organization would be an unquestioned basis for termination.
Frost has also likely not endeared herself to member of the investment office by her repeated nonsensical attempts to discuss CalPERS' investment strategy. She's a textbook case of Dunning Kruger effect. It may have worked with Washington Governor Jay Inslee to parrot "lean" bafflegab while actually increasing staffing levels at Washington Retirement System. But the fact that the unsophisticated and largely captured financial press is too polite to call Frost out on her foot-in-mouth moments does not mean they go unnoticed, particularly among actual investment professionals at CalPERS.
And Meng was clearly forced by Marcie Frost to take actions that were at her instigation but put Meng in the unfortunate position of being her bag man, like the still-unexplained ouster of a star hire, Elisabeth Bourqui, or Meng trying to justify and advance Frost's embarrassingly incoherent and worse, beneficiary-value-destoying private equity "new business model".
Careful readers of the survey results below might argue that the organization as a whole is more satisfied than the investment team. While true, that is less significant. CalPERS has been described by organizational professionals of having two cultures, of the highly paid, credentialed "eagles" of the investment office (and a handful of other senior executives) and the "squirrels" who handle numerous day to day tasks, like running and manning the call center, handling beneficiary payments and dealing with any disputes, processing payments, preparing financial accounting, running the IT systems, and preparing and mailing beneficiary communications. These two cultures have never sat well together. Frost, who herself is a squirrel who made good, prefers to be, as one beneficiary put it, the CEO of the clerk-typists. Her efforts to win over the Investment Office appears limited to raising the pay and eliminating the investment performance requirements of some top officers. That hasn't impressed the rank and file; if anything, they may hold their bosses in some contempt for being able to get what were once performance bonuses without exceeding performance benchmarks.
And it likely has not gone unnoticed that Frost has engineered a massive pay increase for herself when nothing at CalPERS is better, and the troops can see that, particularly in areas that unlike investments, ought to be in Frost's wheelhouse. This example comes from a 2018 post:
We've received an unprecedented number of e-mails from insiders praising our work on Frost and expressing concerns about her leadership. Note that only after Frost became CEO did we get intel from current employees, and the level has escalated dramatically since we exposed her resume misrepresentations. This employee e-mail is one of several examples that recited serious internal management failings:

Marcie is over her head. Nice lady but more focused on the politics and giving the appearance that the work is getting done. She relies on and trusts her executive leadership team and they tell her what she wants to hear. Her lack of focus on internal operations and reliance on execs, particularly Doug Hoffner is a mistake. Doug has been there a number of years and has yet to develop any sort of operational plan/priorities for improvement with his chiefs to try and improve their organizations and as you've pointed out. (I've yet to see or hear a vision from the guy but it's probably because he doesn't have an Ops background). Operations, Human Resources and IT are sub-par, lack internal controls, systems integration, workforce planning or future state operating model and all of these programs are under Doug's watch.

You've picked up on the HR hiring issues and the Board elections (under operations) but contracts and IT are bad as well. Operations doesn't have DGS authority to administer contracts. There's an old board ordained resolution from the 1990s they rely on using prop 162 as the basis of their authority. They have broadened the contracting type beyond what Dept of General Services allows other agencies (spring fed pool contracts are outside state guidelines. I'm not aware of any other state agency that uses this approach). It seems like DGS, CalHR and CDT should periodically audit CalPERS systems and processes to make sure they are sufficient — don't think that's happening….

The place is being run like high school and not like a business.
As Warren Buffett likes to say, when the tide goes out, you can see who has been swimming naked. Perhaps the market downdraft, and the severity of its impact on CalPERS' funded status, will finally lead to pressure for CalPERS to get a CEO who is up to the task.
00 Investment Office Results